Axios Detroit
July 22, 2022
😎 It's Friday. Thousands of Fridays later, Rebecca Black is all grown up.
☀️ Today's weather: Sunny, with a high near 91.
Today's newsletter is 919 words — a 3.5-minute read. Edited by Everett Cook.
1 big thing: Slow absentee voting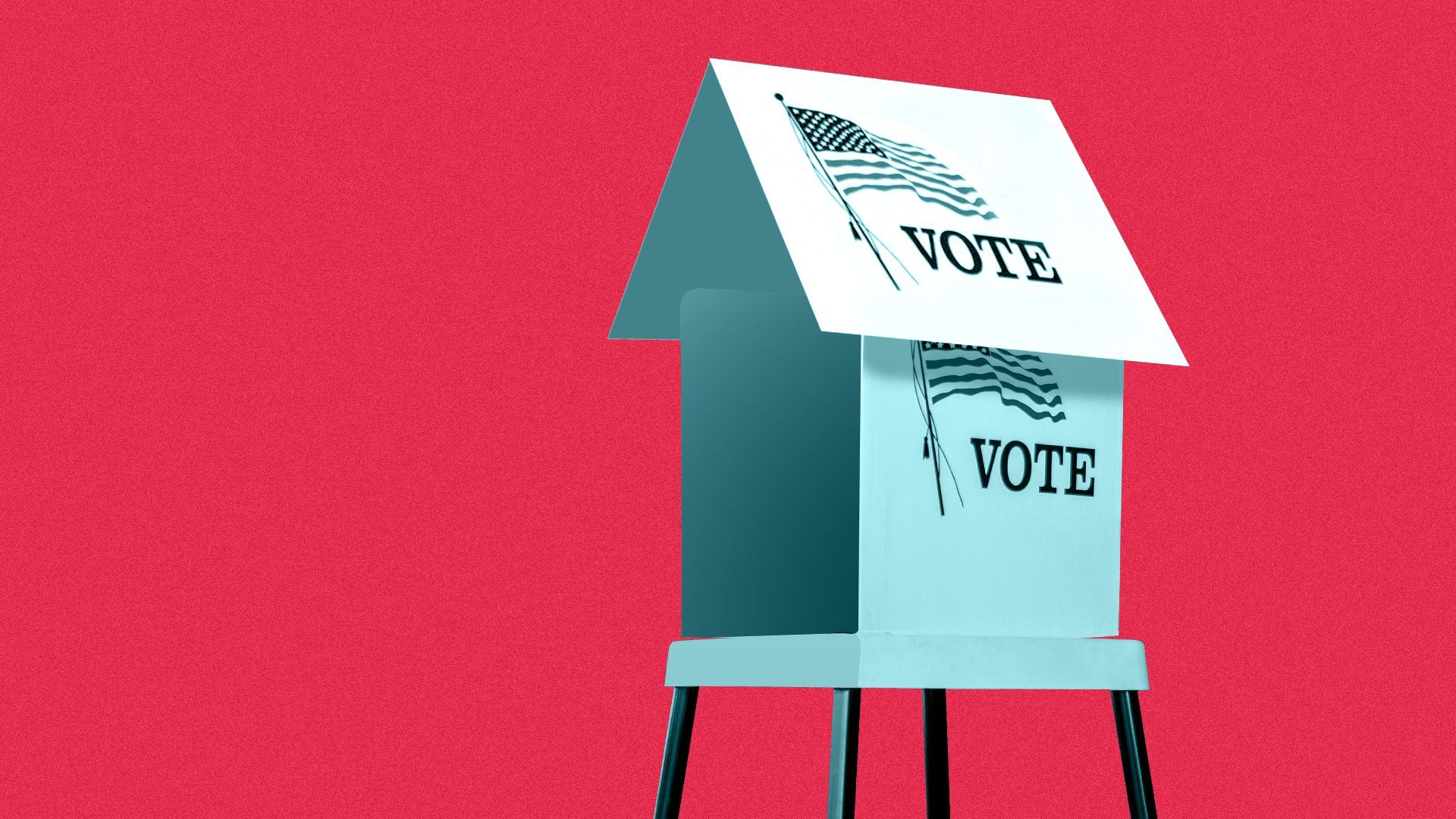 Voters are off to a slow start this election season.
Driving the news: Absentee ballots are being returned at a much slower pace than in 2018, data released by the Michigan secretary of state this week shows.
Just 34% of the state's 1.1 million absentee ballots have been returned two weeks ahead of the Aug. 2 election day — that's 17% less than the same point in 2018.
Why it matters: Slow ballot returns may signal low voter engagement ahead of midterm elections.
What they're saying: Jonathan Kinloch, chair of the 13th Congressional District Democratic Party, tells Axios he predicts primary voter turnout in the city will hover around 15%.
The expected abortion access measure on the November ballot should increase turnout in the fall. But, "Right now, in Democratic primaries, I don't see it being a major factor," he says.
Details: Almost 125k ballots sent to Wayne County voters were not returned as of July 5, compared with 71,340 by July 10, 2018 — a return rate of 9% this year and 28% in 2018, according to BridgeDetroit's Malachi Barrett.
Returned ballots are down in Detroit — 14,319 have been returned, compared with 17,115 at the same point ahead of the 2018 primary.
Context: Secretary of State Jocelyn Benson announced in March her office's decision to not mail absentee ballot applications to all registered voters like it did for the 2020 presidential election.
"We've seen already that a significant number of local clerks are sending out absentee ballot request forms this cycle," Benson told Axios last month. "So any effort for us to do it on a state level potentially would be duplicative and unnecessary."
Several third party groups mailed nearly 120,000 absentee ballot applications to supplement the 108,000 sent to the permanent absentee voter list by Detroit's Department of Elections, Daniel Baxter, Detroit's former director of elections, tells Axios.
2. FOIA Friday: Looking at the Pistons' downtown move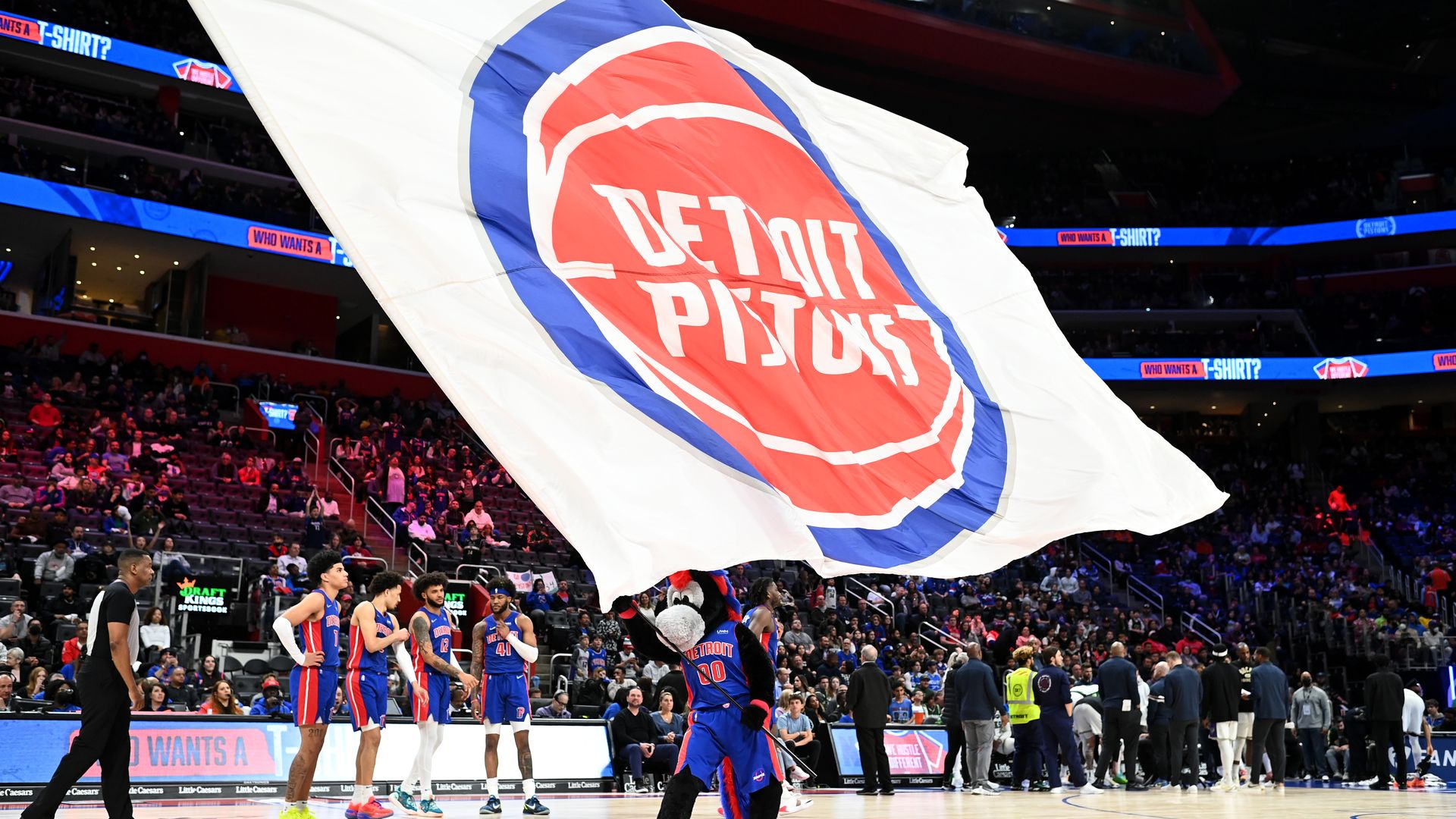 We're exploring the Pistons' use of Little Caesars Arena in our regular public records feature this week.
Why it matters: The public contributed more than $300 million toward building LCA before it opened in 2017, which means public records are available to shed light on the arena's operations.
Context: The Downtown Development Authority — a city-affiliated organization that promotes business growth — owns the arena and leases it to the Red Wings.
The Pistons entered into a sublease with the Red Wings to play home games at LCA when the team moved downtown.
What happened: We filed a Freedom of Information Act request on June 13 with the DDA for any Pistons leases on file and records showing the team's financial performance or revenues.
The DDA responded June 21 with one document: a 2017 agreement adding the Pistons to the master contract between the DDA and the Red Wings.
💭 Joe's thought bubble: The agreement isn't groundbreaking. It lays out previously reported information that the Pistons needed about $35 million in public money to accommodate the move downtown.
What's next: The DDA is a valuable resource for public information about LCA, so we'll be filing more requests with them in the near future.
3. Things to do this weekend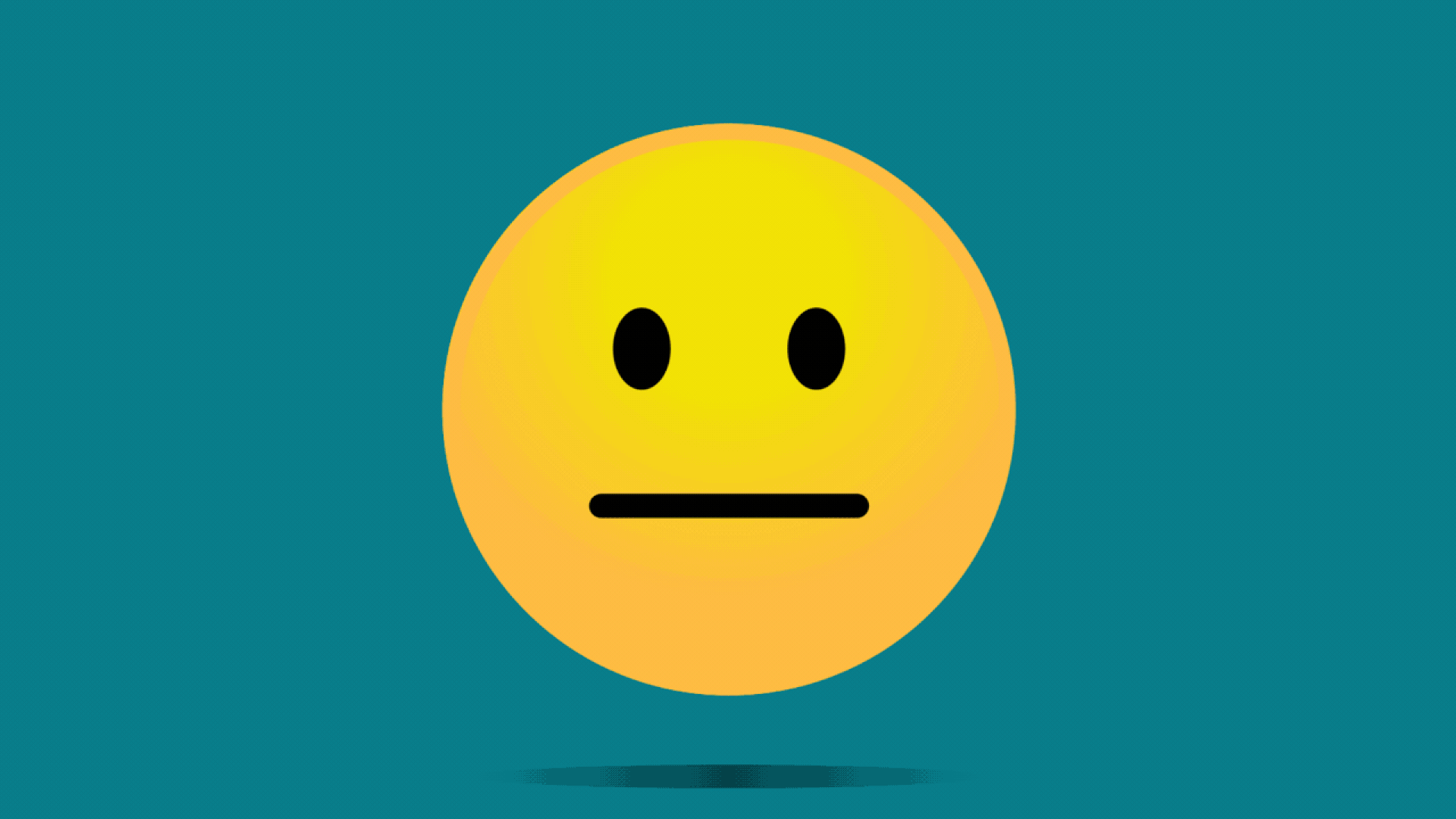 Get ready for another muggy weekend.
If you can stand leaving the house, here are a few things to check out:
🖼️ The Ann Arbor Art Fair, the country's biggest juried art fair, continues today 10am to 9pm and tomorrow 10am to 8pm. It's spread across three areas with nearly 1,000 artists selected through a competitive process.
The fair used to run through Sunday, but it's just three days again this year. See more on what to eat and where to park from MLive.
🕺 Beacon Park is celebrating its fifth birthday with pop-up shops, games, food and more. Feels like just yesterday Annalise covered the DTE Energy-funded downtown park's opening.
Today 12-6pm, all day Saturday and Sunday 1-5pm.
📸 Pray for Us: Curator and Womxnhouse Detroit participant Bre'Ann White is honoring her late mother and exploring how prayer connects "this world and the next" with this month-long exhibition at Norwest Gallery of Art.
Reception tomorrow from 6-9pm.
4. All natural popsicles made in Detroit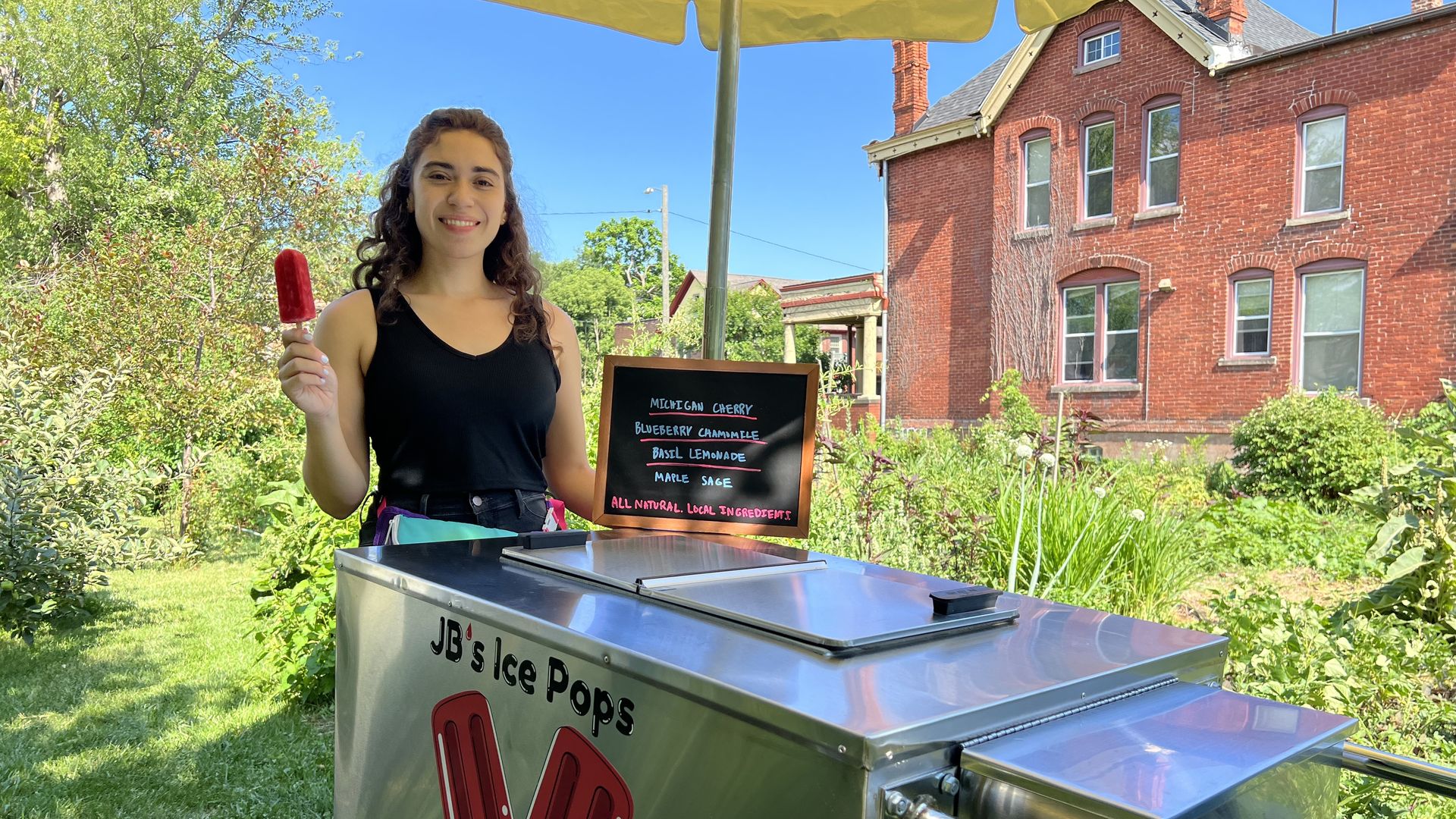 JB's Ice Pops are the perfect summer treat.
Founder Jena Brooker started selling her all natural popsicles made with locally sourced ingredients last year.
The intrigue: Made with herbs, fruit, tea and spices, the popsicles come in a variety of flavors like Hibiscus Lime or Basil Lemonade.
"I wanted to create a tasty alternative to the commercial popsicles on the market that are super sweet and don't really taste like anything," Brooker tells Axios.
What they're saying: "It's really important to support a local food network because it touches on environmental justice, social justice, racial justice," Brooker says. "It's the perfect nexus to try to advance a more equitable world."
Being part of a local food network means buying from local farmers, creating the popsicles inside Eastern Market's shared kitchen, and then selling them at micro groceries and farmers markets. All of these actions mean other local businesses get in on some of the profit.
Details: JB's popsicles are sold at 10 stores across town including Folk in Corktown, Brightmoor Artisans Collective Kitchen and Eastern Market's online store.
5. 1 garden update to go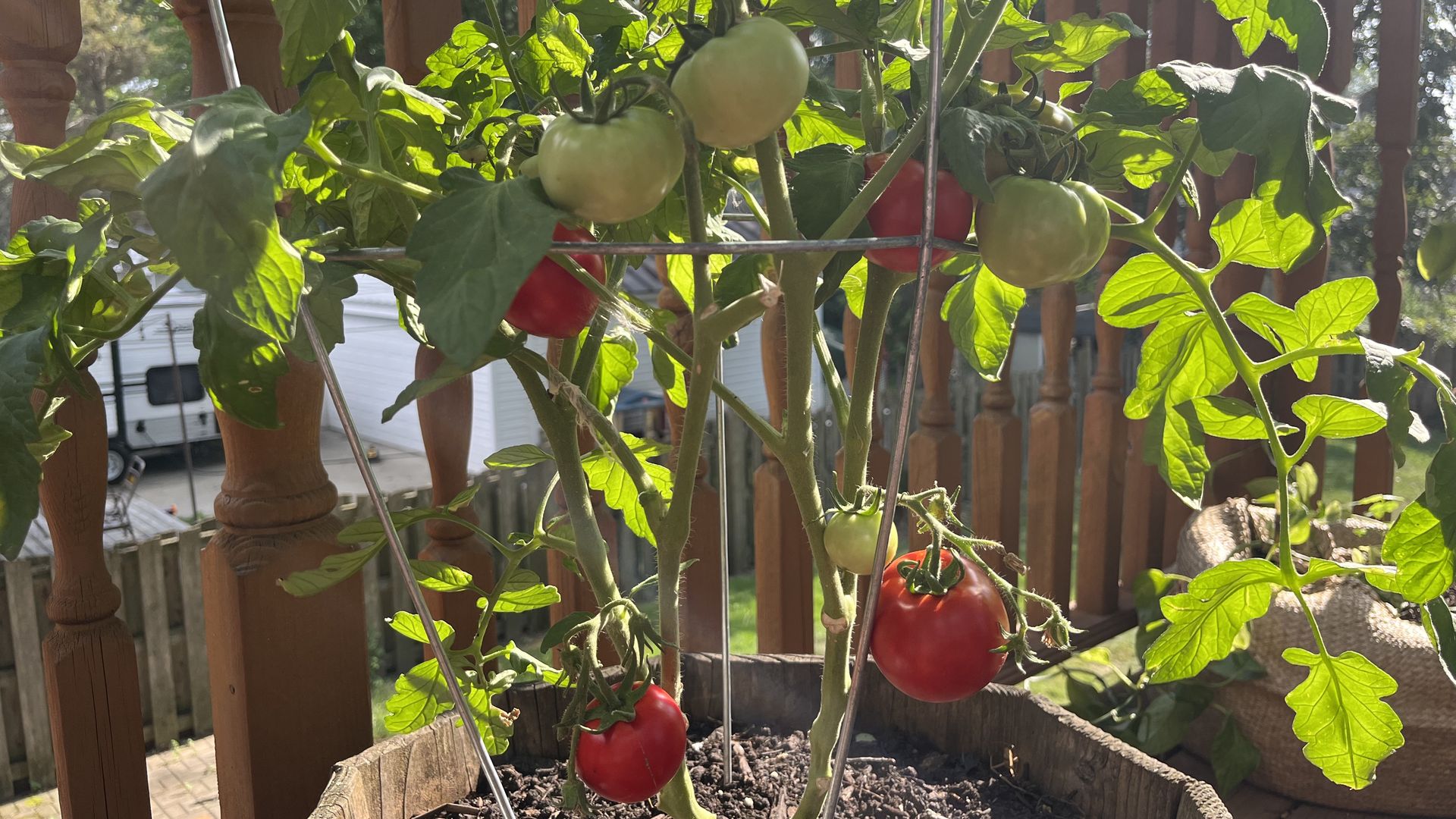 👋 Howdy, Everett here. Remember when I asked for your gardening tips in the spring?
Look! Tomaters!
Plus, there are peppers, jalapeños and green beans on the horizon.
📬 My next ask — what, uh, do you do with 20 tomatoes? Reply to share your best tips.
And have a truly excellent weekend.
Our picks:
🥇 Joe is nominating Mel Tucker as college football's best-dressed coach.
⛱️ Annalise is hoping to get some beach time in this weekend.
🤔 Sam doesn't know what to make of Cade Cunningham's first song.
🥵 Everett is dreading sweating through the weekend.