September 29, 2022
Hey, Thursday. Nice to see you.
🌸 Today's the last day of the Valley Junction Farmers Market for the season.
Today's Smart Brevity™ count is 760 words, a 3-minute read.
1 big thing: College aid applications up
For the first time in four years, FAFSA applications from Iowa high school seniors are ticking up, signaling that a years-long decline in enrollment may be stabilizing.
Why it matters: College financial aid applications are a strong indicator of whether someone intends to pursue a college degree — either at a community college or four-year university.
They've been steadily declining since 2018-19, when the economy was more prosperous and more students chose to earn money right away, rather than go to school, said Meghan Oster of Iowa College Aid.
By the numbers: This year, 18,355 public high school seniors filed a FAFSA, an increase of 112 filings from the previous year.
Yes, but: Even though 49% of Iowa high school seniors filed for the 2022-23 school year, that still represents a four percentage point decline compared to 2018-19.
Between the lines: There's a lot of talk about whether a college degree is still worth it. Students and young graduates have to navigate the spike in costs for higher education and potential debt accumulation.
In a recent report by the Washington Post, two in five U.S. graduates regret their major, primarily if they entered arts and humanities.
Similarly, half of students who went to a for-profit, private school had regrets because of the higher debts they had to pay back.
Of note: President Joe Biden recently announced his administration is canceling up to $10,000 in federal student loan debt.
The bottom line: The advertised price of tuition can be shocking for students, Oster said.
But they'll never have any idea how much savings they can get from grants at the state and federal levels if they don't fill out their FAFSA, which is free, she said.
2.🍺 Iowa breweries' $1 billion impact
Iowa now has more than 100 craft breweries.
That's up from 27 since 2011, according to 2021 data compiled by the Colorado-based Brewers Association
Why it matters: The economic impact of the small, independent breweries in Iowa hit more than $1 billion last year, according to the association's estimates.
State of beer: Toppling Goliath dominated Iowa's craft beer scene.
Yes, but: Big Grove sported the biggest percentage of growth compared to the prior year.
The big picture: The national craft beer industry grew by 8% in 2021, while the overall market inched up 1%.
Craft brews now make up more than a quarter of the overall $100 billion beer market.
Zoom in: Iowans on average drink just under two gallons of craft brew a year, according to the association.
That ranks 32nd in the nation.
Of note: The analysis only includes small, independent breweries that allowed their data to be published.
What's next: This year's projected growth is between 4-5%, according to Bart Watson, the association's chief economist, writes Axios Denver's John Frank.
3. The Ear: News to catch up on
🍳 Mullet's is expanding and opening another restaurant in Ankeny. (Des Moines Register)
📺 Longtime news anchor Jodi Long is saying goodbye to tv news. (WHO-13)
💼 Executives from EMC Insurance announced they're cutting 65 jobs, though they did not specify how many of those will be from central Iowa. (Des Moines Register)
4. 💚 Second mural for Yore Jieng
A second mural at Oakridge Neighborhood is being painted this week in memory of Yore Jieng, a teenager and resident killed by a stray bullet in October of 2016 whose death remains unsolved.
Catch up quick: Jieng, 14, was riding in a car with his sister near Keosauqua Way and 12th Street in Des Moines when he was shot in the head. He died about a week later.
Police still have no suspects and have said Jieng did nothing to provoke the violence.
State of play: Jieng's parents are Sudanese refugees who moved to Des Moines shortly before he was born. He lived with his mom and six siblings in the neighborhood.
What's happening: Artist Jordan Weber first memorialized Jieng last year in a mural on Oakridge's basketball court.
This one, also designed by Weber, is an evolution of the first and depicts foliage from the home countries of many of Oakridge's residents — where refugees from at least 26 countries live.
Go see it: It's being painted across an entire side of one of the neighborhood's most visible apartment buildings — facing Blank Children's Hospital, where he died.
Building 301, along Center Street, between 14th and 15th streets.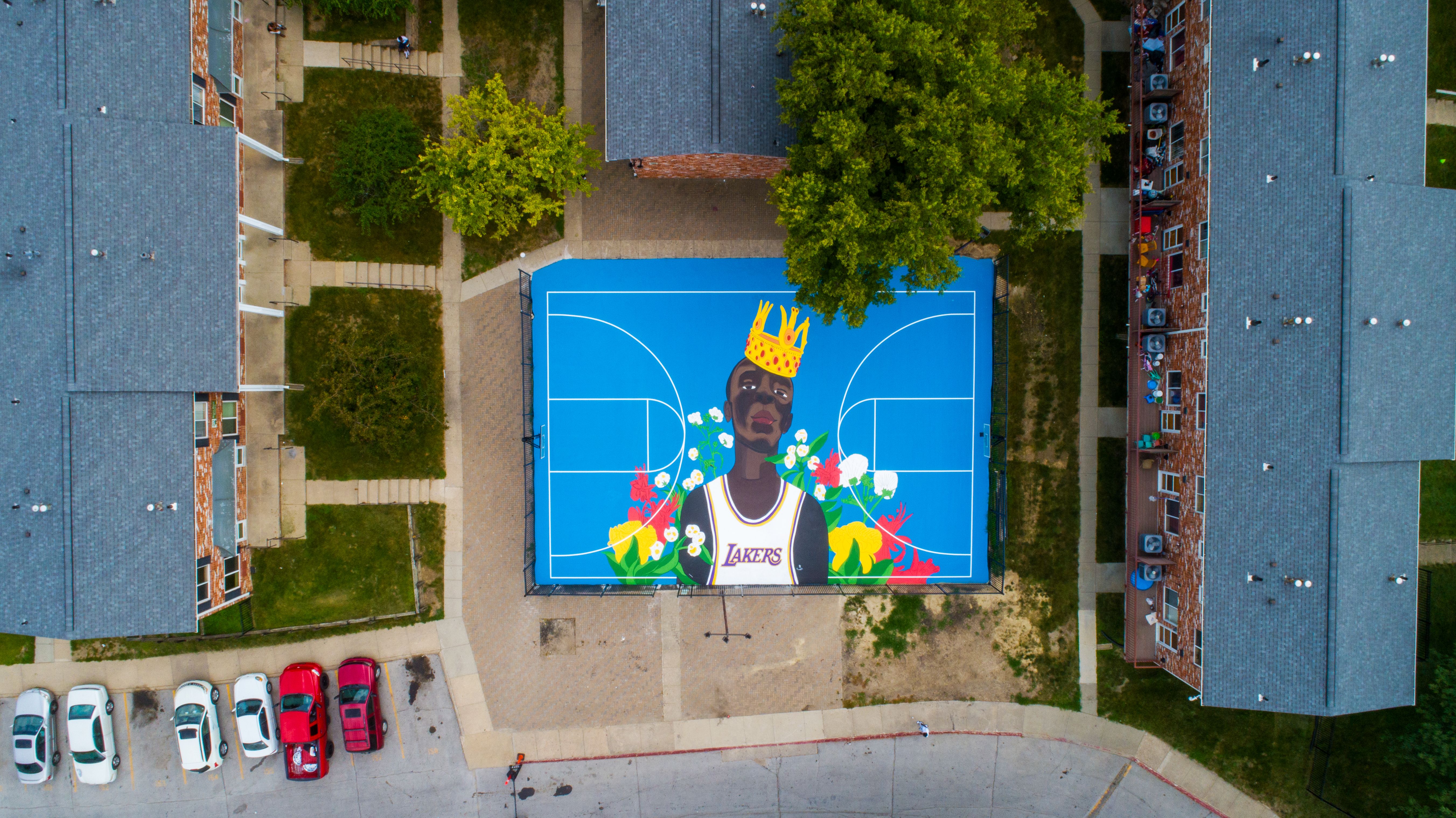 A new career is waiting for you
5. 🕵️ Where's Jason?
Correctly identify where Jason is in the DSM metro and we'll put you in a drawing for some free Axios swag.
Look for the answer — and a story about this spot — in tomorrow's newsletter.
😋 Linh is going to get a wrap at G-Mig's and walk around the farmers market.
📺 Jason is gonna watch "Stand Out" on Netflix. It's billed as the world's largest-known gathering of LGBTQ+ comics.
This newsletter was edited by Ross Terrell and copy edited by Lucia Maher.