May 21, 2021
It's Friday.
🎤 Forget about weekend plans: What are you doing April 24, 2022?
Tickets for Justin Beiber's DSM show go on sale Monday via the singer's website.
Today's Smart Brevity count is 996 words, a 3.5-minute read.
1 big thing: Our slew of Republican-led bills
The Iowa Legislature wrapped up its session late Wednesday night — marking the end of an assembly that was shaken by the COVID-19 pandemic.
Why it matters: The Republican trifecta passed many of their conservative priorities despite this year's abnormalities.
Tax cuts: A major tax cuts bill shifts mental health funding responsibilities to the state instead of property tax payers, according to the Register.
Republicans argue the move will ensure equitable funding and more oversight of the regional authorities that administer mental health services.
Democrats argue there's no guarantee the state will adequately fund mental health in the future.
The "Back the Blue" bill increases penalties for protest-related crimes, making rioting a felony and unlawful assembly an aggravated misdemeanor, according to KWWL.
It also makes it more difficult to sue officers and gives civil immunity to drivers who hit protesters if they are blocking a roadway, unless it's with reckless intentions.
Other bills of note:
2. Police de-escalator sued again
Sgt. Michael Fong, an officer who helps lead DMPD's de-escalation training, was again sued this week for excessive force, as first reported yesterday by the Des Moines Register.
Why it matters: It raises questions about safety and threatens public confidence in the city officials who appointed Fong to train other officers.
Flashback: Fong was suspended for five days in 2007 for striking a handcuffed suspect, according to disciplinary records made public in court documents.
In 2013, Fong and officer Greg Wessels were accused of dropping another man on his face, which caused cracking or breaking of nine of his teeth.
A jury found that the officers used excessive force, leading to an $800,000 settlement.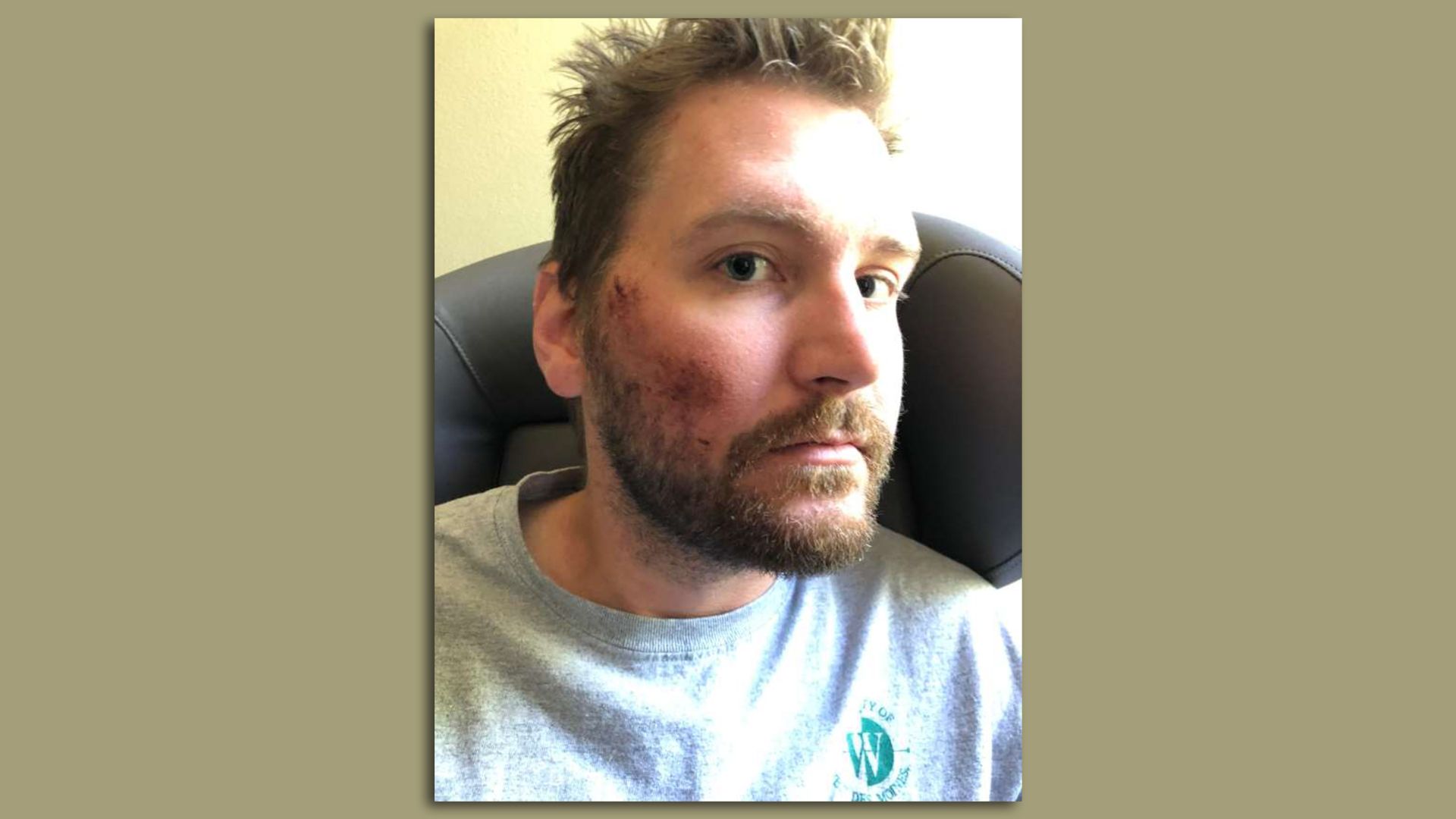 The latest: WDM resident Nicholas Templeton alleges in a lawsuit that Fong and officer Jason Noble "violently" placed him face-down on cement and "hog-tied" his hands and feet together while he was having a seizure in 2019.
Police suspected Templeton was an impaired driver. Templeton allegedly kicked Fong in the chest before he was physically removed from the vehicle, according to a police report.
A drug charge against Templeton was dismissed and expunged from his record after it was determined the drugs were prescription pain pills.
The state of play: Civil rights activists have called for Fong's reassignment or termination for months.
DSM City Manager Scott Sanders told the city council in April that he reviewed the matter with chief Dana Wingert and was convinced that Fong's appointment is appropriate.
What they're saying: Fong was selected by command staff to train based on a complete review of his performance, DMPD spokesperson Sgt. Paul Parizek told Jason yesterday.
"Throughout his nearly 16-year career, Sgt. Fong has grown and developed into an exceptional employee and leader," Parizek said.
3. Whippersnappers and Court Ave.'s blockade
Key sections of DSM's Court Ave. close to traffic and those under 21 at 9pm tonight. (It's a Fri.-Sat. thing and areas reopen at 2am.)
Context: Two shootings in the district left five people injured last month.
DSM, Polk County and biz owners are trying to make the area safer so it isn't stigmatized as violent.
What they're saying: Almost all the area businesses agree with the plan, Polk County Supervisor Tom Hockensmith told Jason yesterday.
Why it matters: If we don't get this right, our entertainment district and its businesses will suffer.
Details: The plan closes a nearly two-block span along Court Avenue and another block along Third Street.
Dozens of security officers and new cameras will be in place.
The late-night road closures allow for expanded patio seating.
The plan will continue through Sept. 4.
Yes, but: 💔 We're already hearing about some heartaches.
Groups with someone < 21 leaving events like those at the nearby Civic Center could find themselves all dressed up with nowhere close to grab a late bite.
Evaluations are ongoing. A limited waiver for minors accompanied by a parent or guardian is possible, Hockensmith said.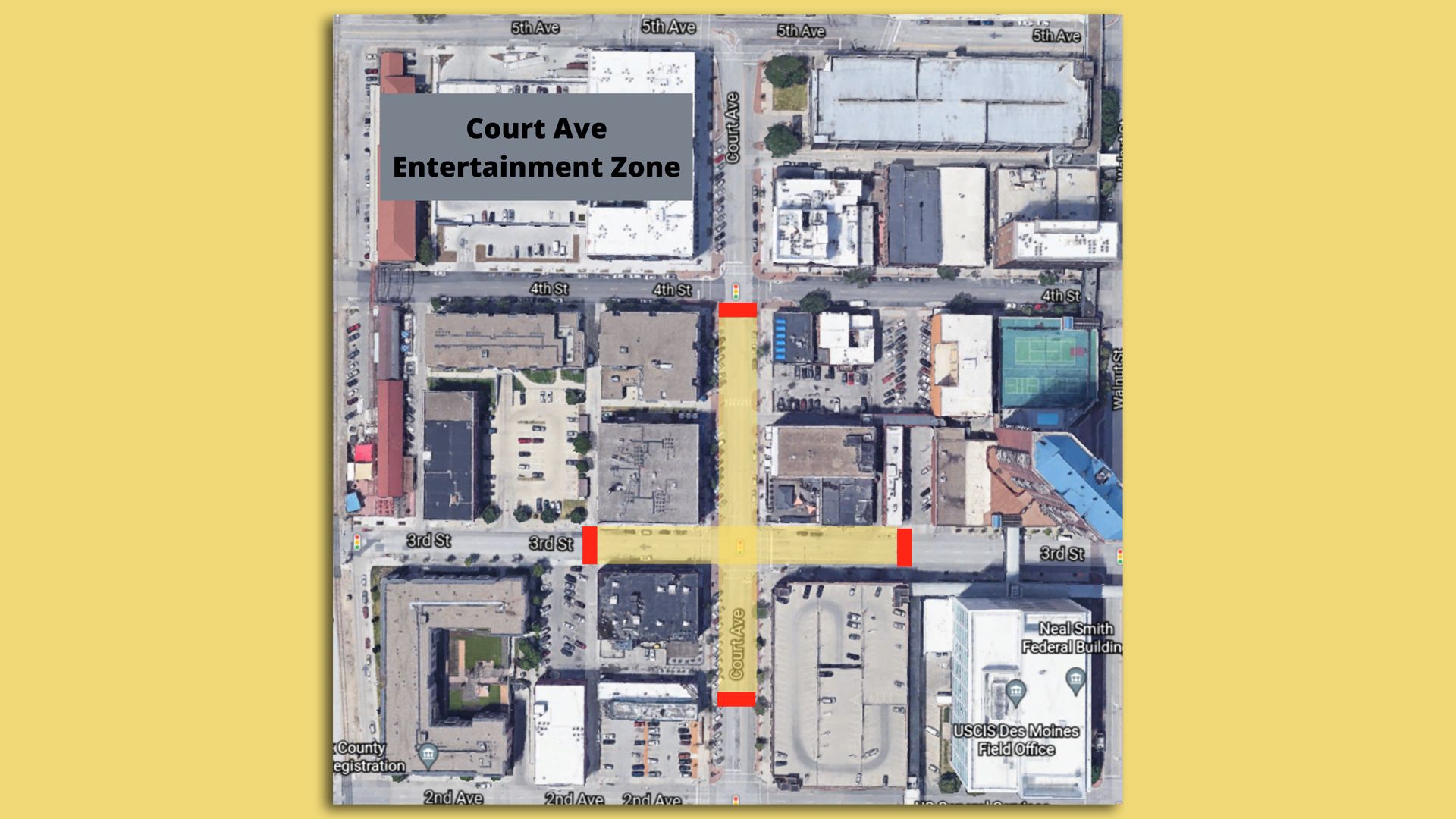 4. The Ear: Stalk to the hand
An officer who interrogated Cristhian Bahena Rivera testified Thursday that Rivera admitted to driving past Mollie Tibbetts three times while she was out jogging before she was killed and said she was "attractive" and "hot." (AP)
Latin King restaurant has a new owner: Whitney VinZant, who also owns Louie's Wine Dive. Longtime owner Bob Tursi will stay on staff as a consultant. (WOI-TV)
DSM Superintendent Tom Ahart, who faces possible license revocation, testified before an administrative judge yesterday, saying the district disobeyed the governor's pandemic orders last year at the direction of the school board. Ahart argued that removed responsibility from him. (KCCI-TV)
(Such a cute corn pun, Lydia Fine of North Liberty!)
5. Scoop: The East Village's newest restaurant
A historic East Village building will soon get new life as a restaurant and bar, thanks to a well-known Democratic strategist.
The state of play: Jeff Link is opening "The New Northwestern," a restaurant inspired by the historic Northwestern Hotel that originally opened on the site in 1916.
Link is part-owner of the building at 321 East Walnut Street, which also houses his consulting firm.
The restaurant will feature small plates, charcuterie, pasta, seasonal vegetables and fish, plus cocktails and wine.
Steve Logsdon, owner of Lucca, is a partner and will be the creative mind behind the menu.
The vibe: The restaurant will pay homage to the hotel, as well as the Chicago and North Western train depot that used to exist nearby.
"It's gonna have a modern touch in a historic setting," Link said.
What's next: It's expected to open in August.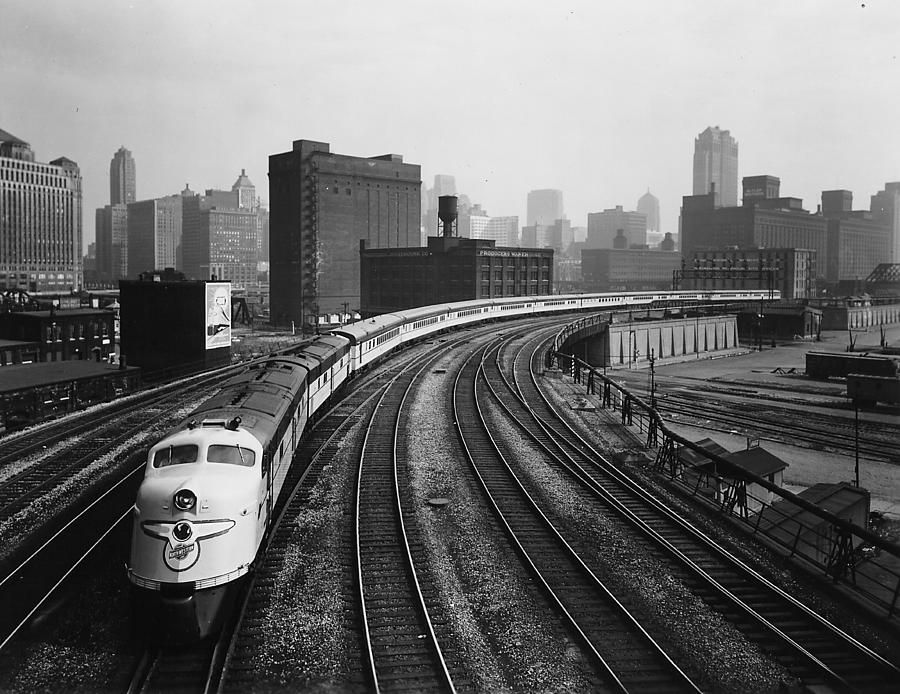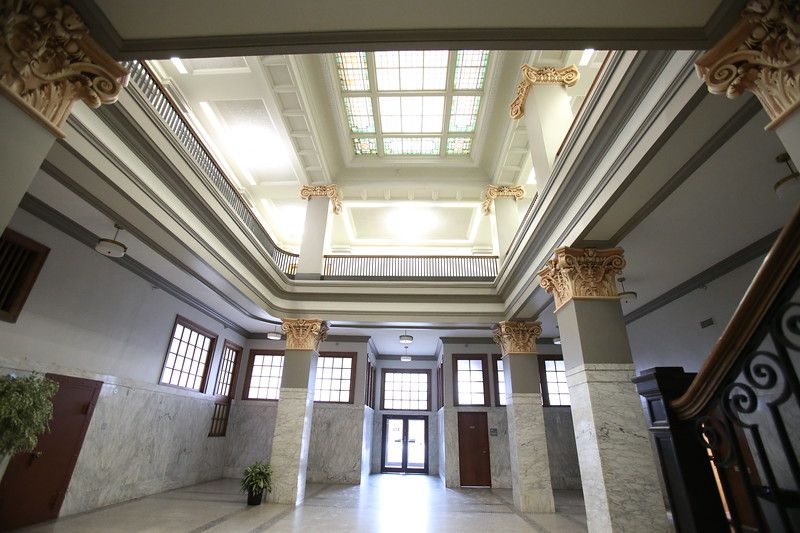 Remembering those we lost: The DSM Art Center is looking for stories of people who died as a result of COVID-19 for its annual Day of the Dead memorial that begins in September.
👋🏼 We'll return Monday.