Axios Des Moines
March 24, 2021
What's up, Des Moines? It's Wednesday.
🛹 Dew Moines: The city will host the 2021 "Dew Tour" — the only U.S.-based Olympic skateboard qualifying event this year. (Whoever said we weren't cool?)
🙋🏽‍♀️ Mary Wells was sworn in Tuesday as Polk County Treasurer.
Today's Smart Brevity™ count is 922 words, a 3.5-minute read.
1 big thing: Sergeant with history of force leads training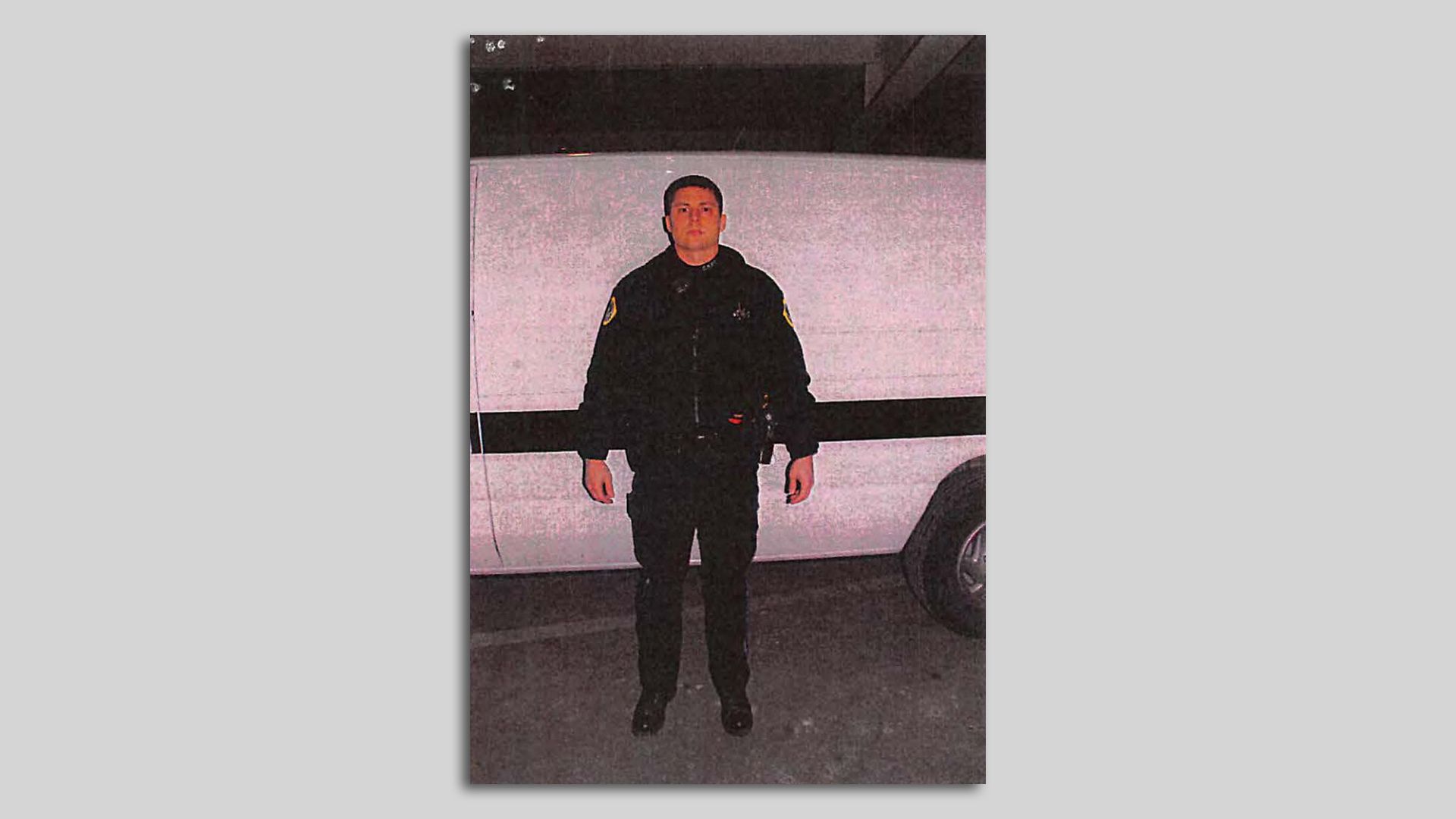 A Des Moines police sergeant with a history of excessive force is leading the department's de-escalation training — a move that activists say is tone deaf to community concerns about overpolicing.
Why it matters: De-escalation training can teach officers how to defuse a confrontation before resorting to force, but who teaches it can influence public trust.
What's happening: Michael Fong has led the department's de-escalation training since 2020, along with Lt. Rodrigo Santizo.
He was named in an excessive force lawsuit that cost the city $800,000 in 2018 — stemming from an arrest in 2013.
A jury found Fong and Sgt. Greg Wessels used excessive force and committed battery when they beat, punched and kneed a man before arresting him in downtown Des Moines in 2013, according to court documents.
Documents show he was also suspended for five days after an internal investigation determined he used excessive force during an arrest in 2007.
What they're saying: DMPD says selecting Fong as an instructor was based on his "complete career performance" — not just a "fraction of it," according to a statement emailed to Linh.
DMPD listed Fong's commendations including a 2019 federal victim service award, demonstrated leadership in Des Moines and serving as an officer in the U.S. Marine Corps.
The other side: Choosing Fong to lead the training hurts community trust, especially when de-escalation is an important part of resident interactions, says Sharon Zanders-Ackiss, donor relations specialist at Iowa Citizens for Community Improvement.
An external and objective instructor should be chosen to ensure internal and systemic biases are addressed, she says.
"When you decide to make decisions like this, you minimize the true concern of the community," Zanders-Ackiss affirms.
Flashback: Gov. Kim Reynolds signed a bill last year requiring de-escalation and implicit bias training for law enforcement statewide.
2. 🤑 PIE Awards: Our sweet savings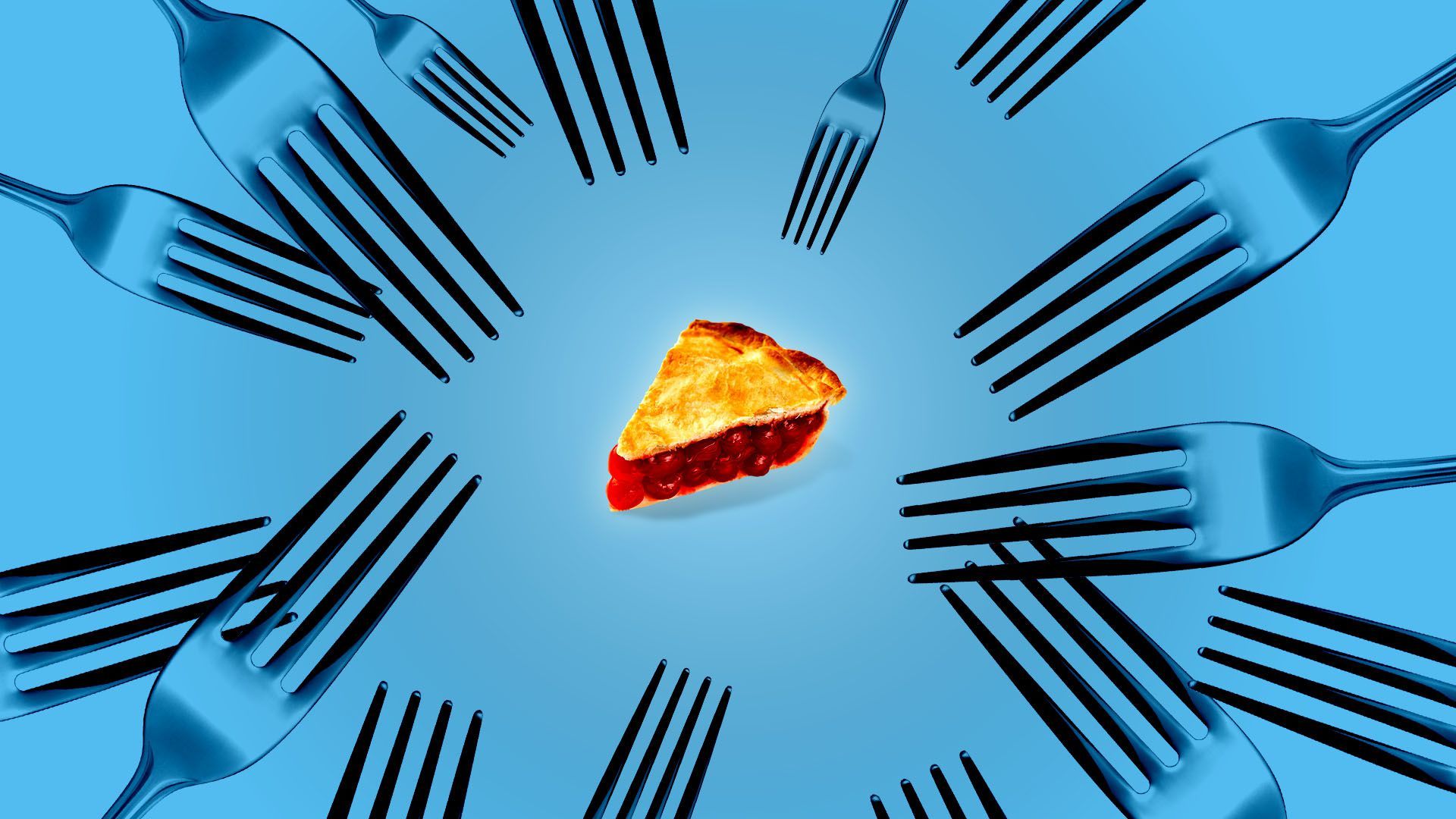 It's that time of year — for the metro-area government's annual "Public Innovations and Efficiencies" (PIE) awards.
Points are awarded based on the number of cost-cutting measures implemented.
Winners were announced last week on "Pi Day."
The payoff: Winners — which this year included Polk County — get a pie of their choice, hand delivered by Iowa auditor Rob Sand.
🤓 Smart ideas should be shared. So Axios made a records request for the entries from all 79 county and 267 city applicants. Highlights:
Polk County
Lights in unoccupied rooms are being turned off via auto sensors.
Printing and paper forms are being largely phased out.
Video conferencing is being encouraged over travel when possible — and will continue to be encouraged even after the pandemic ends.
Alleman
Personal heaters and appliances of employees have been removed or are discouraged.
Installing energy efficient lights and appliances.
Ventilation is checked so it's not blocked by items like furniture that reduce their efficiency.
Johnston
Transitioning to electronic payroll to eliminate paper waste.
Power saving modes have been activated on electronics.
3. A green bonus: We used less energy last year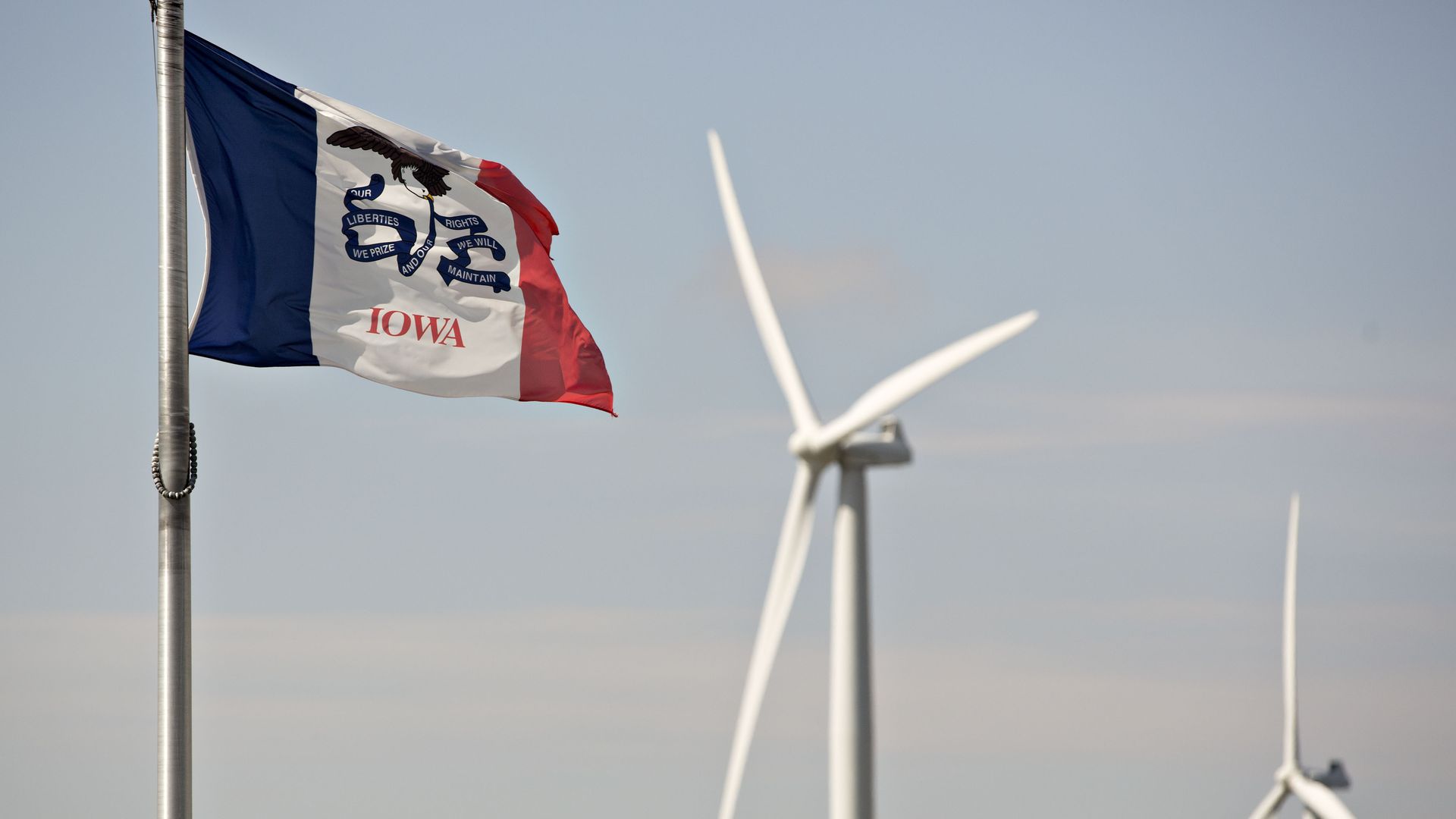 Iowans used 2% less energy in 2020 compared to 2019, one of 22 states that saw a decline during the pandemic year, according to Commercial Cafe.
Residential consumption was flat.
Commercial consumption was down 6% and industrial consumption was down 2%.
How we stack up: National energy use was down 4%.
Of note: Renewable energy has doubled in the last decade. (Thank you, Iowa wind farms.)
💭 Our thought bubble: Maybe all that pie contributed to our statewide energy reduction.
4. 🚲 Pedal on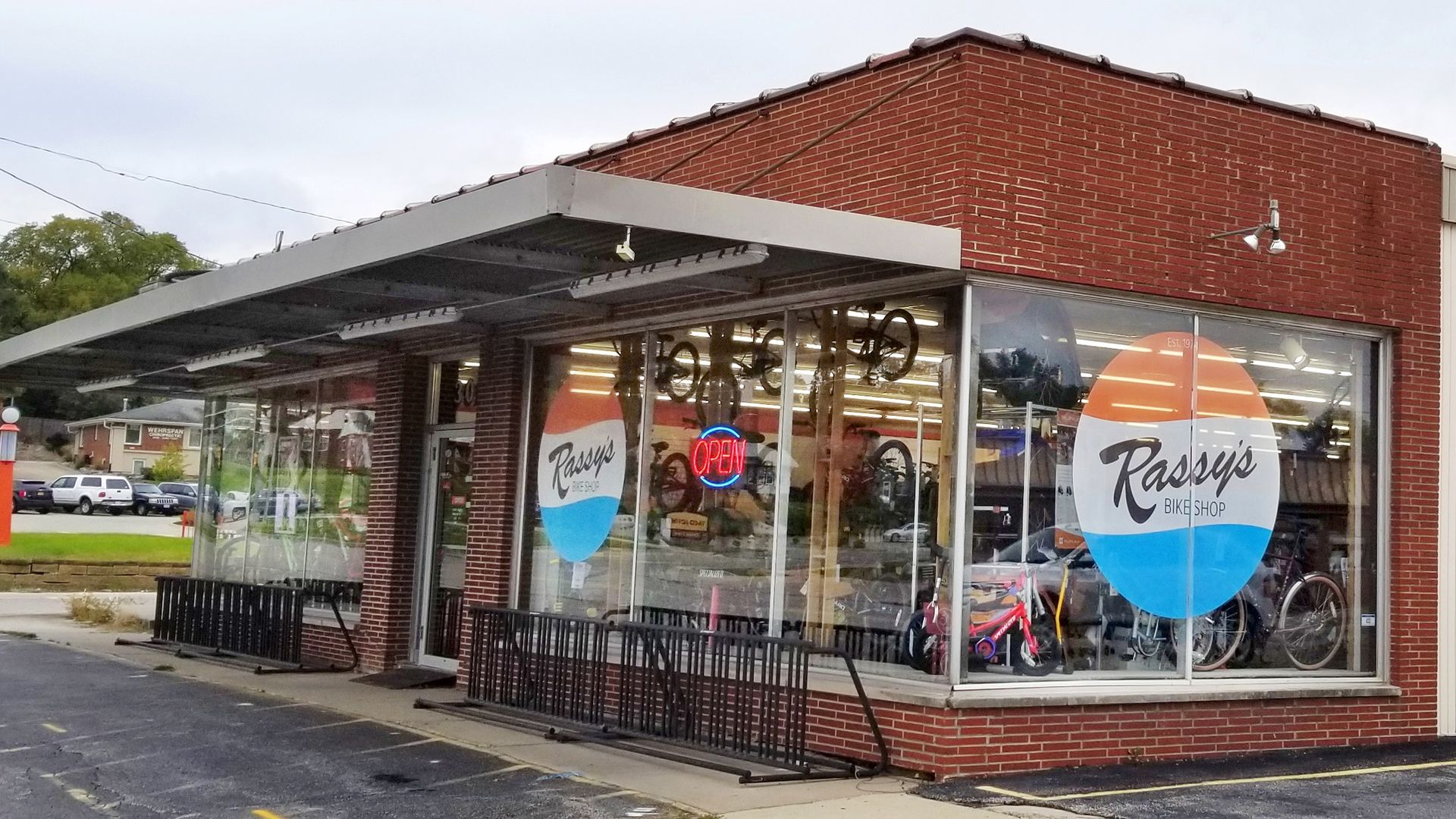 Bikes are still flying off of shelves after the pandemic inspired a two-wheeled renaissance last year.
Driving the news: Rassy's owner Erik Saltvold — who's also behind Erik's Bikes — is moving the beloved West Des Moines bike shop to a larger location by 63rd and Grand in May.
The 8,500 square-foot store will have a second-floor mezzanine for bike maintenance services.
The showroom will take up 6,000 square feet and hold a larger inventory.
He is renaming it to Erik's Bikes and will sell ski and snowboarding equipment like at his other locations.
Driving the move: The City of West Des Moines purchased the current Rassy's location as part of its plans to widen Grand Avenue starting this spring.
Yes, but: You may still have to wait a little while before getting your dream ride.
The big picture: Last year, COVID-19 halted bike production in overseas factories — slowing the flow of inventory when consumer demand was at a fervent high.
This year, freight container shortages are spurring stiff competition globally for crates, including in the cycling industry, Saltvold said.
That's slowing the supply chain and driving up prices.
Even so, Saltvold doesn't expect bike demand to go down anytime soon, especially since RAGBRAI announced it's officially happening in July.
5. Decking out this bridge
The SW 1st Street Bridge is rather bare, and the city is aiming to fix that with a $750k plan.
Context: It's an 84-year-old structure that was converted from auto to recreational uses to become part of downtown's Meredith Trail in 2003.
It was again rehabbed in 2019.
What's next: The city plans to spice it up with multiple planters, bench seating, a shelter to act as a rental facility for events and a hammock-netted rest and relaxation area.
The city will apply for a $200k federal grant to help pay for it and is seeking at least $75k in private donations.
The hope is for construction to begin and finish in 2023 but that's dependent upon financing.
6. The best thing Linh ate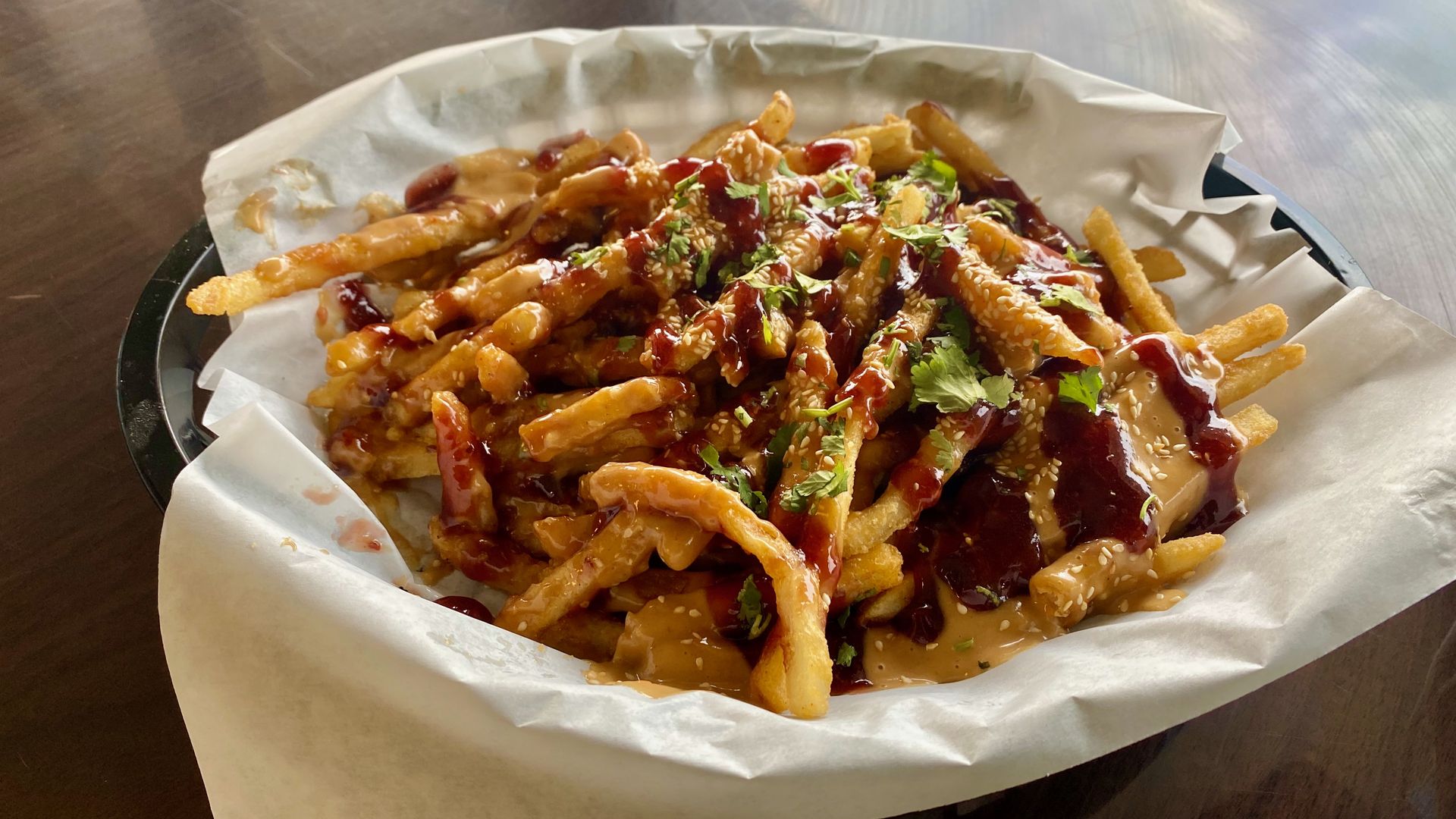 🍟 Step aside, ketchup. Curbin' Cuisine in Beaverdale tops standard-cut fries with a Thai peanut sauce and a raspberry chipotle jelly.
The savory and sweet flavors blended together for a taste of after-school nostalgia. (It was so surprisingly good.)
💸 For $8.25, you can get a full order, but half-orders are also available.
Open 11:30am to 8pm, Tues.-Sat., 2713 Beaver Ave., 515-635-0090
 🌞 Have a wonderful day and thank you for reading.
Forward to your friends, they can sign up, here.