Axios Des Moines
March 12, 2021
Hi, Des Moines. It's Friday.
🚨 Vaccine alert: The Polk County Health Department is expanding appointments on Monday to people 64 years and under with underlying health conditions.
☘️🏃🏻 A sign of recovery: DSM approved street closures for the Des Moines St. Paddy's Marathon, Half Marathon & 5K. (Last year's was postponed to July.)
Today's Smart Brevity™ count is 937 words, a 3.5-minute read.
1 big thing: Polk to push for a $15 minimum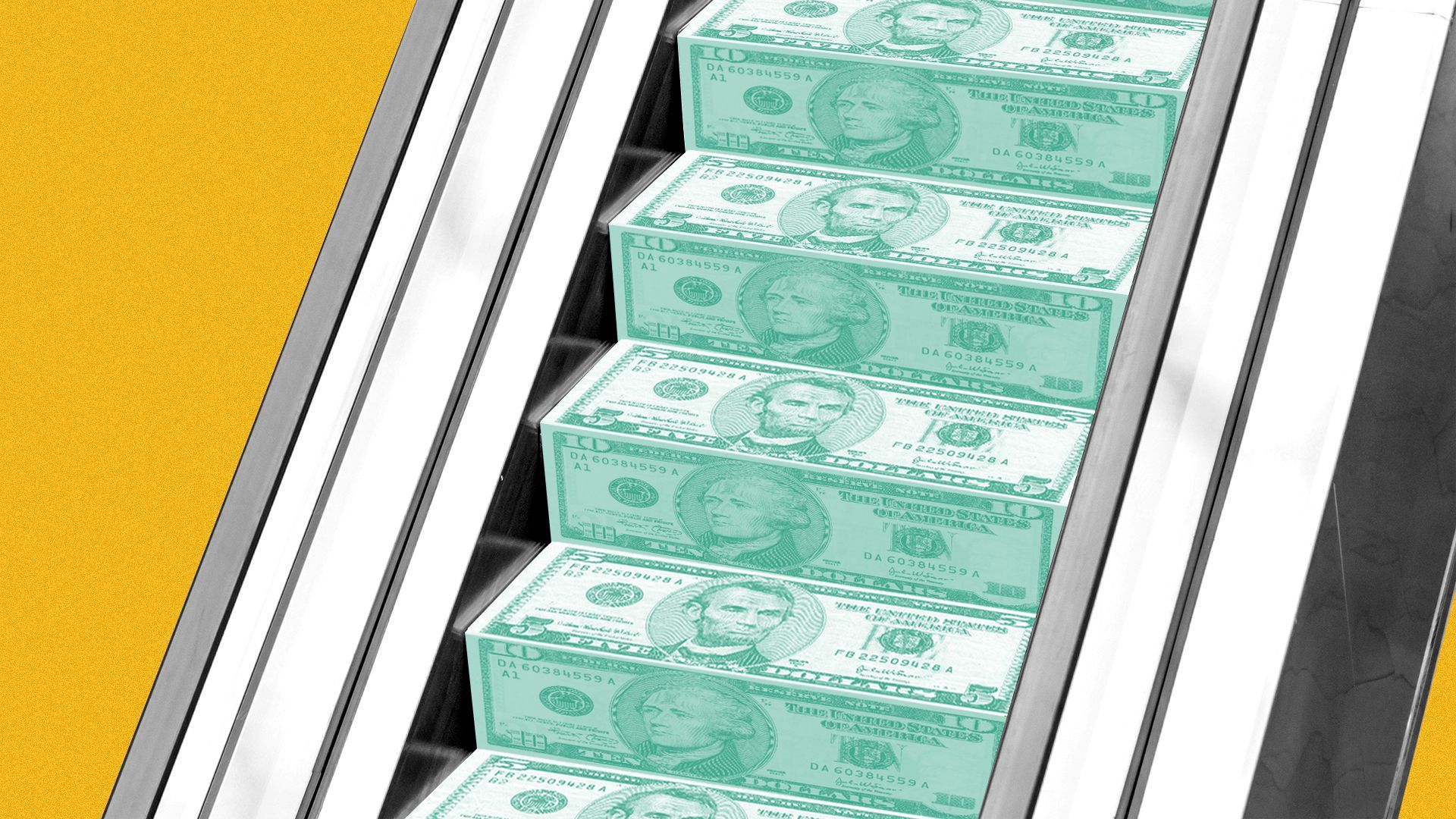 Polk County is resurrecting a plan to raise the minimum wage, this time to $15 an hour and focusing on government workers — possibly severing ties with private contractors who fail to meet the mark.
Why it matters: If you've recently purchased groceries or paid an electric bill, you already know that our $7.25 minimum is not nearly enough to sustain any practical standard of living.
Yes, it would mean a higher cost of doing business for our county government, but supporters say the benefits far exceed any budget pain.
Flashback: We've played this wage war before.
Our state lawmakers have not approved a minimum wage increase in 12 years and multiple efforts on the federal level have flunked.
Local efforts that set higher wage standards across the board were slapped down in 2017 by the Iowa Legislature. But the law still allows local governments to set standards for themselves.
What's new: Polk County Supervisors agreed this week to revisit a wage hike but have not yet drafted a proposal or scheduled public meetings about the idea.
This time the minimum would be limited to county workers and contractors doing business with Polk. Private businesses not doing work for the county would not be affected.
The contractor ban could extend to those that also don't pay the minimum to other workers — even those not working Polk jobs, Supervisor Matt McCoy told Jason.
The vast majority of those impacted by the wage increase would be roughly 60 to 80 seasonal employees who currently make below the proposed minimum.
Raising wages for those workers would cost the county about $200k a year.
Be smart: The United Way ALICE Report for Iowa says a family with two kids would need at least one adult earning $28.43 or both earning $14.21 per hour to cover basic household costs.
Iowa polls have for years shown strong support for increasing the minimum wage.
The other side: Some of our small business owners say raising the minimum could create hardships.
What's next: Expect Polk Supervisors to unveil a proposal in coming weeks.
2. Hy-Vee eyes growth after record year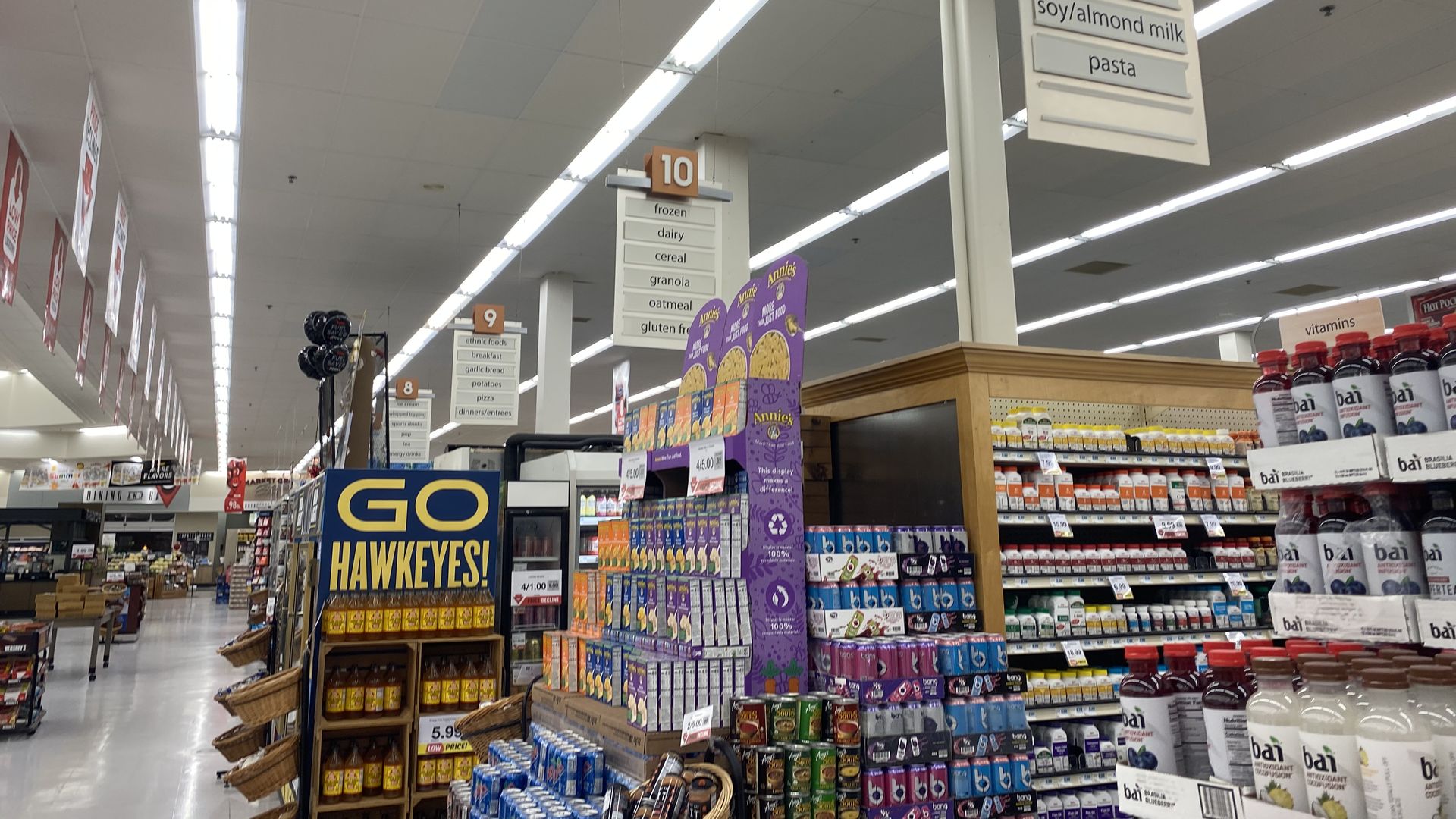 Hy-Vee's 2021 budget for capital projects will be the largest in the company's history, CEO Randy Edeker told the Progressive Grocer.
Why it matters: Hy-Vee is one of the five largest employers in Des Moines and the company has a frequent touchpoint in our lives — whether it's grocery shopping or getting our COVID-19 vaccines.
Expansion plans: The West Des Moines-based grocery company is planning on building a "state-of-the-art" warehouse in the Des Moines metro, Edeker told the trade publication.
The facility is for Hy-Vee's Lomar brand, which focuses on specialty imported foods.
Location and details are still unknown, since the project is several years out, Tina Potthoff, spokesperson for Hy-Vee, told Linh.
Plus: Hy-Vee is also planning on building 14 Dollar Fresh stores, 11 Fast & Fresh convenience stores and 12 typical Hy-Vee stores.
The big picture: COVID-19 forced the grocery company to quickly expand its e-commerce services (think: delivery and curbside pickup) to appeal to consumers seeking no-contact shopping experiences.
The result: Sales in FY 2020 grew to more than $11 billion — a slight bump from $10.6 billion in FY 2019.
3. 🥧 Pie power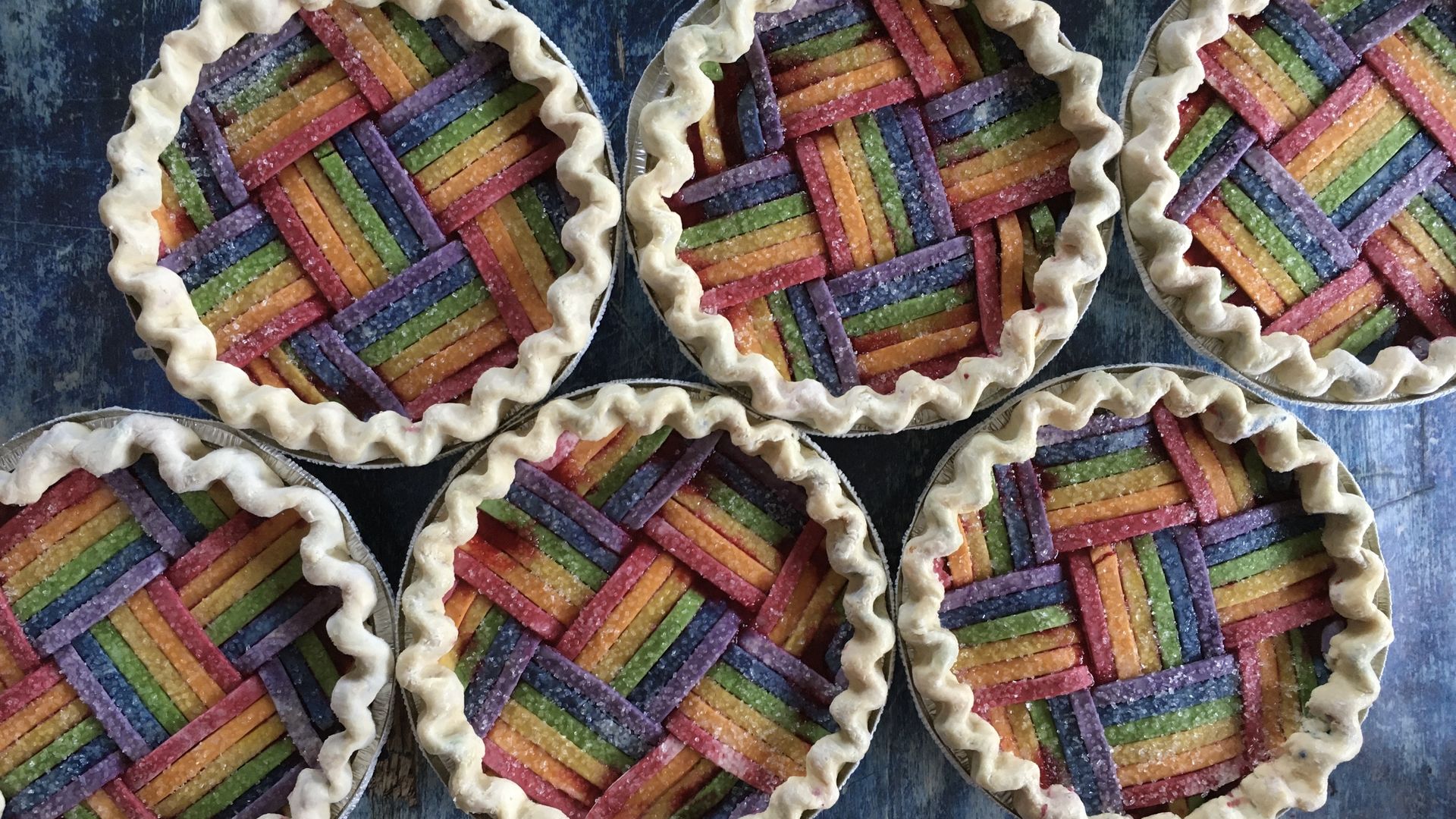 When the creators of Pie Bird Pies, Kristen Daily and Andrea Piekarczyk, first met at work several years ago, they instantly connected over a butterscotch custard pie with a curry-spiced crust.
The intrigue: Other people questioned Piekarczyk's choice to add the savory spice. But not Daily.
"It was to die for," Daily told Linh.
The state of play: The women, who fell in love and later married in 2019, always talked about starting their own business. Then the pandemic hit.
With Daily furloughed from her job and Piekarczyk working from home, they decided it was time.
Pie Bird Pies launched via Instagram and Facebook last summer and as Daily says "it kind of blew up overnight."
Since then, Daily and Piekarczyk have been regularly selling out of their locally-sourced pies through online orders and special pop-ups.
Pie for a cause: Their creations are also their own forms of activism.
They made chocolate-crusted "Black Lives Matter" pies with proceeds going to support local nonprofits.
And rainbow-lattice pies to support One Iowa, an LGBTQ-organization.
What they're saying: "I think sharing food is really important to both of us and that's how we share love and connect to people, and in a larger sense, that's really how we feel like we can support our community," Daily said.
What's next: They're continuing online orders, pop-ups and selling pies at the Beaverdale Farmers' Market.
See their creations here.
4. Catch up quick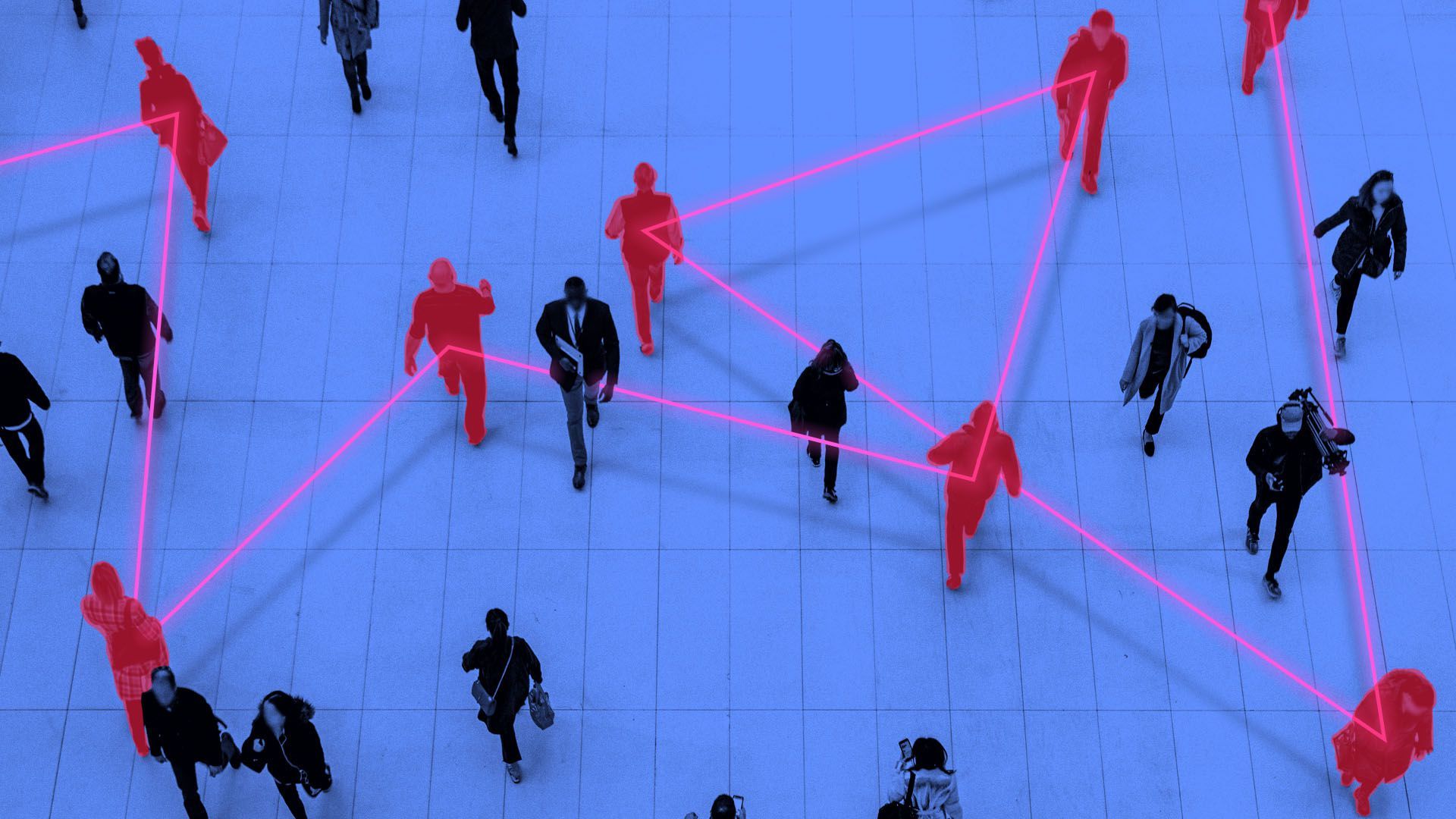 5. Ope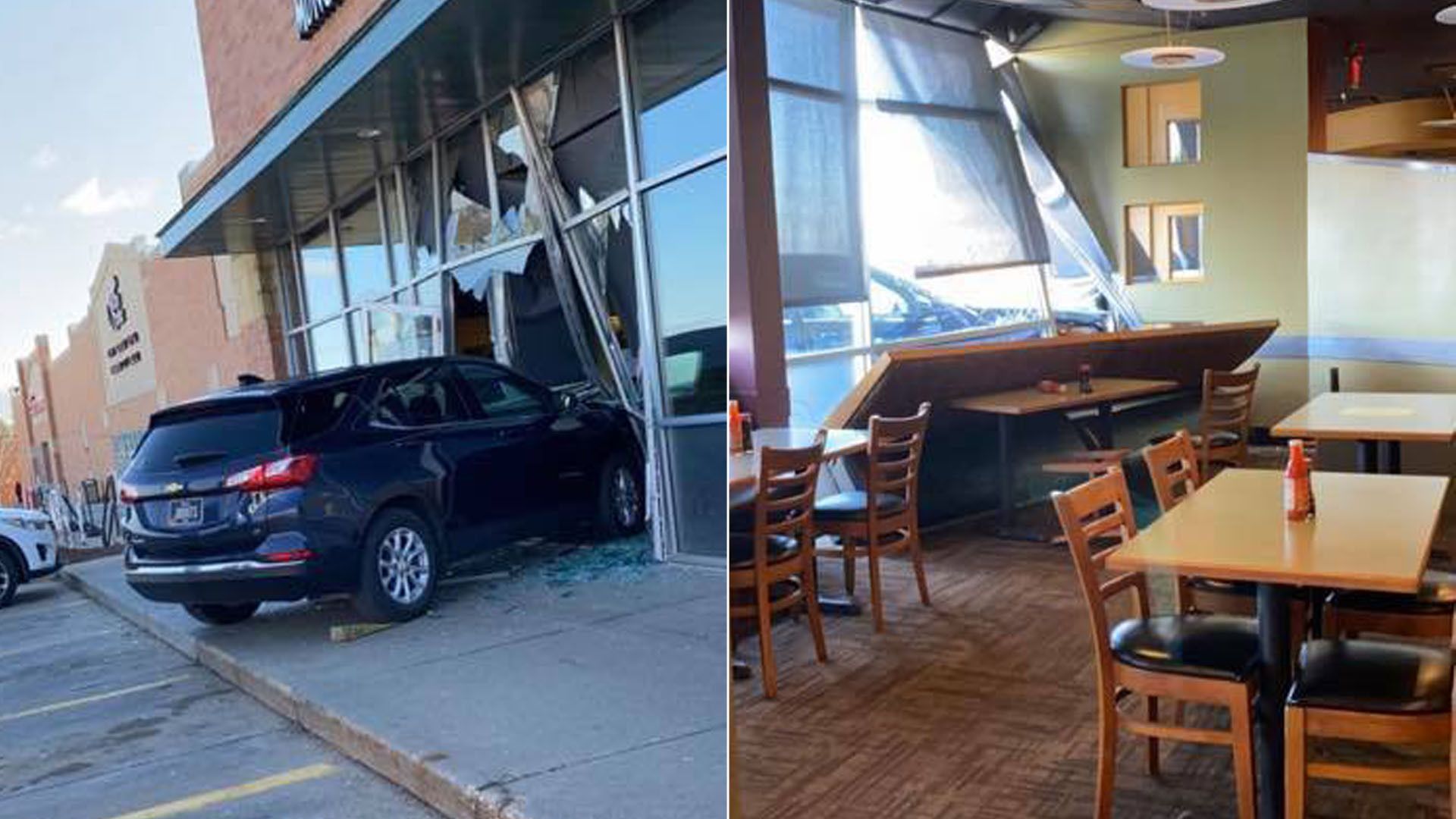 A female driver accidentally crashed into the HuHot Mongolian Grill in West Des Moines on Thursday, according to police.
Around 11:15am, a woman accidentally hit the gas pedal rather than the brake — resulting in the crash, police said.
No injuries were reported and no customers were harmed in the crash.
Yes, but: This isn't the first time a car has crashed into this specific HuHot.
On Aug. 25 2014, a different driver also hit the wrong pedal and crashed through the front door, causing significant damage and minor injuries to customers.
Our take: We'll be ordering carry-out for a while.
📚 Want a good weekend read?
🧑🏻‍🏫 Check out these Women's History Month recommendations from our library staff.
You can check us out again on Monday. And don't forget to tell your friends about us. They can sign up here.