Axios Des Moines
February 25, 2021
Happy Thursday!
🍕 Iowa was right about breakfast pizza this whole time: A nutritionist says the average slice of pizza is better for you than a bowl of cereal.
🛒🥬 Hy-Vee and Creative Visions will give 400 sacks of food — enough for about 14,000 meals — to needy families today from noon to 3pm at the Forest Avenue Library.
It's part of the grocery chain's multistate pledge during Black History Month.
Today's Smart Brevity count is 799 words, a 3-minute read.
1 big thing: Taking meat hyperlocal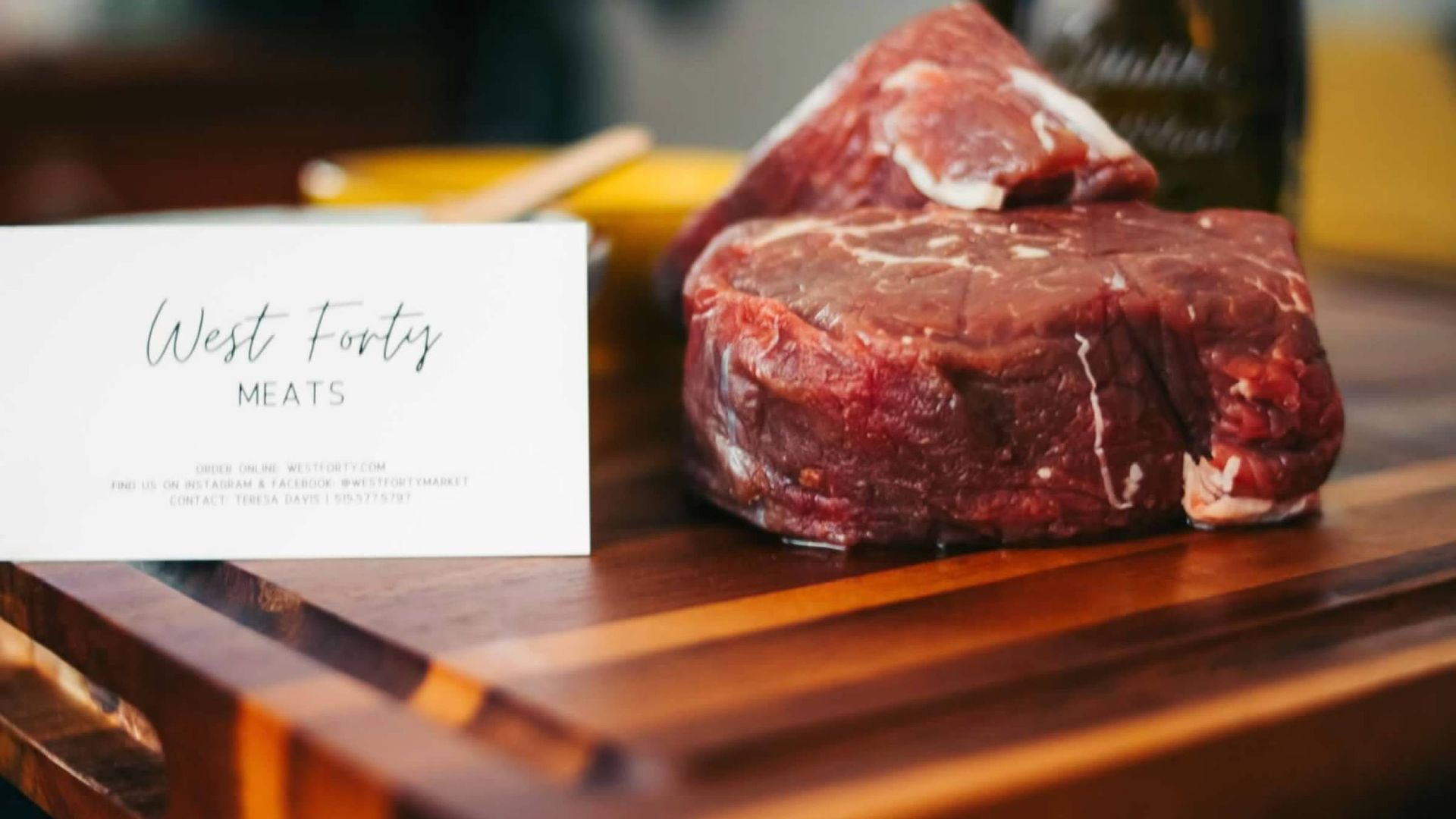 West Forty Market, a rural butcher shop in Greene, is opening a new 1,200 square-foot store in uptown Ankeny at 315 Southwest Maple.
Why it matters: The coronavirus pandemic has exposed the volatility of relying on national meatpacking plants, especially in the early days when consumers experienced meat shortages and price gouging.
Not to mention, large-scale factory farming continues to be a major source of global greenhouse gas emissions, as Axios' Bryan Walsh reported.
How it started: John and Sue Ebensberger started selling cuts of meat from the cows on their hobby farm in 2013.
Their daughter, Teresa Davis, lives in the Des Moines area and sold meat from her home, as well as at the local farmers' market for the last five years.
Her dream was to open her own store, but she had a full-time corporate job. When she was on maternity leave last year, her job was eliminated.
"I kind of took that as my sign of, 'This is your chance to do it, if you're going to do it.' And so — I did," Davis told Linh.
The store: Davis, who plans to open the new spot in the spring, wants it to be a "one-stop shop" where people can pick up a cut of meat for dinner or order half a cow to store in their deep freezer.
She plans on selling beef, poultry and pork, and she's currently looking for a turkey farmer.
The products are grass-fed, grain-finished and raised without antibiotics or added hormones.
She also wants to sell other locally-produced items, such as honey, barbecue sauces and seasonings.
The bottom line: "There's a science to it. It's an art," Davis said.
"Anybody can raise a cow in their backyard ... but to really get quality-marbled meat from every single cow, ... we're very, very consistent with it."
Bonus: Pics du jour- Taking meat (even more) hyperlocal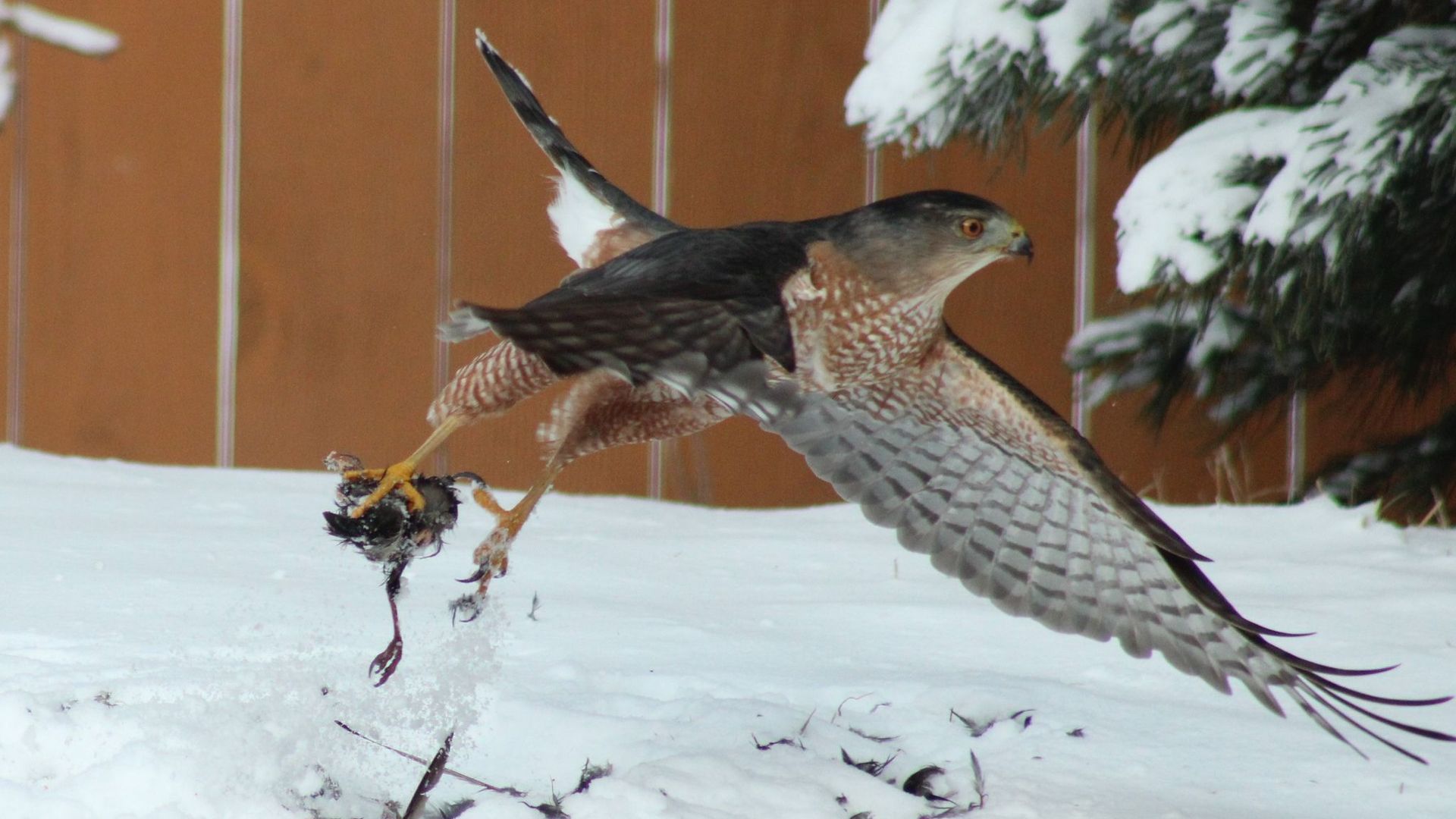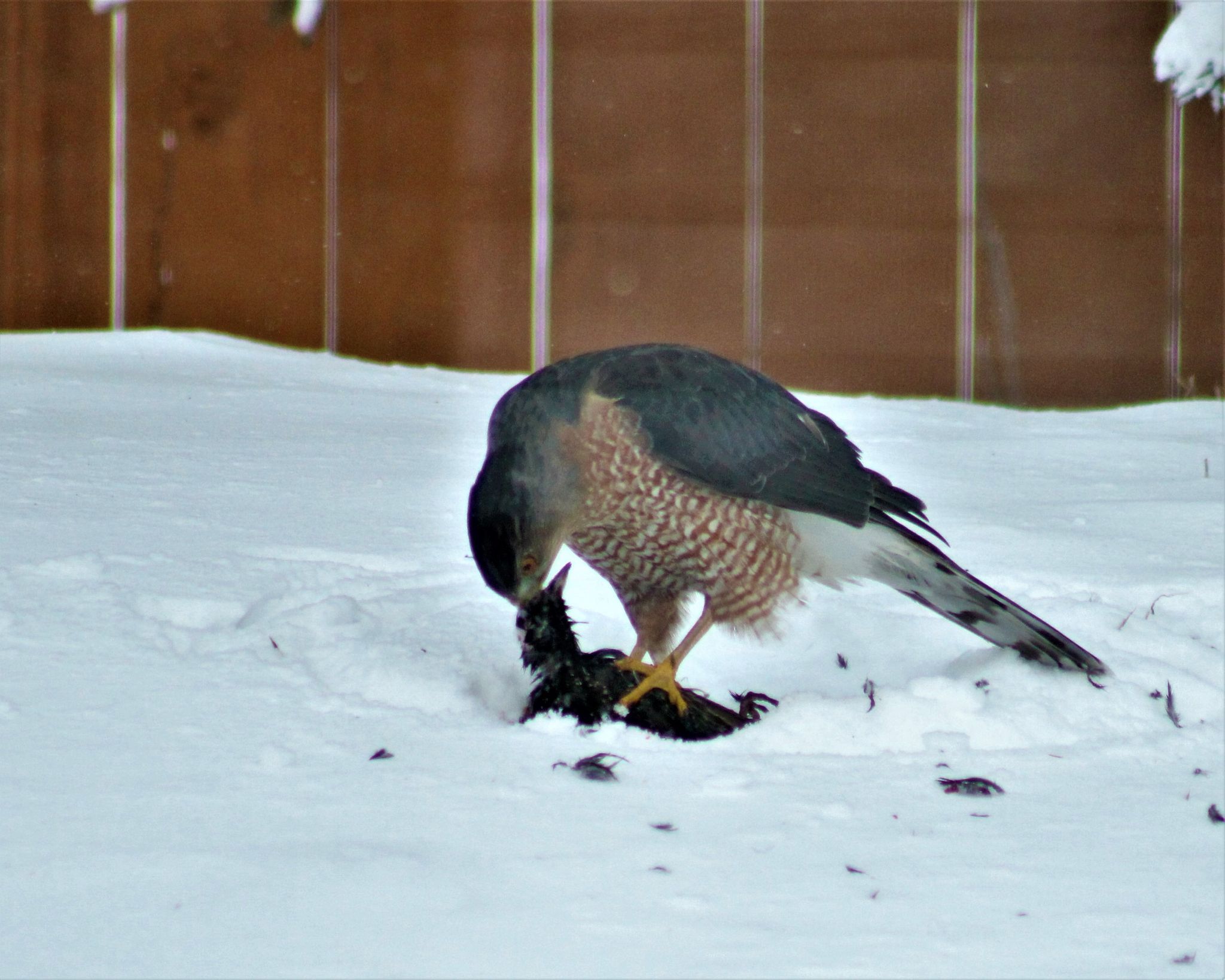 West Des Moines resident Tom Alex took these incredible pics from his backyard near Raccoon River Park earlier this month.
2. 🐕 A new shelter gets a new price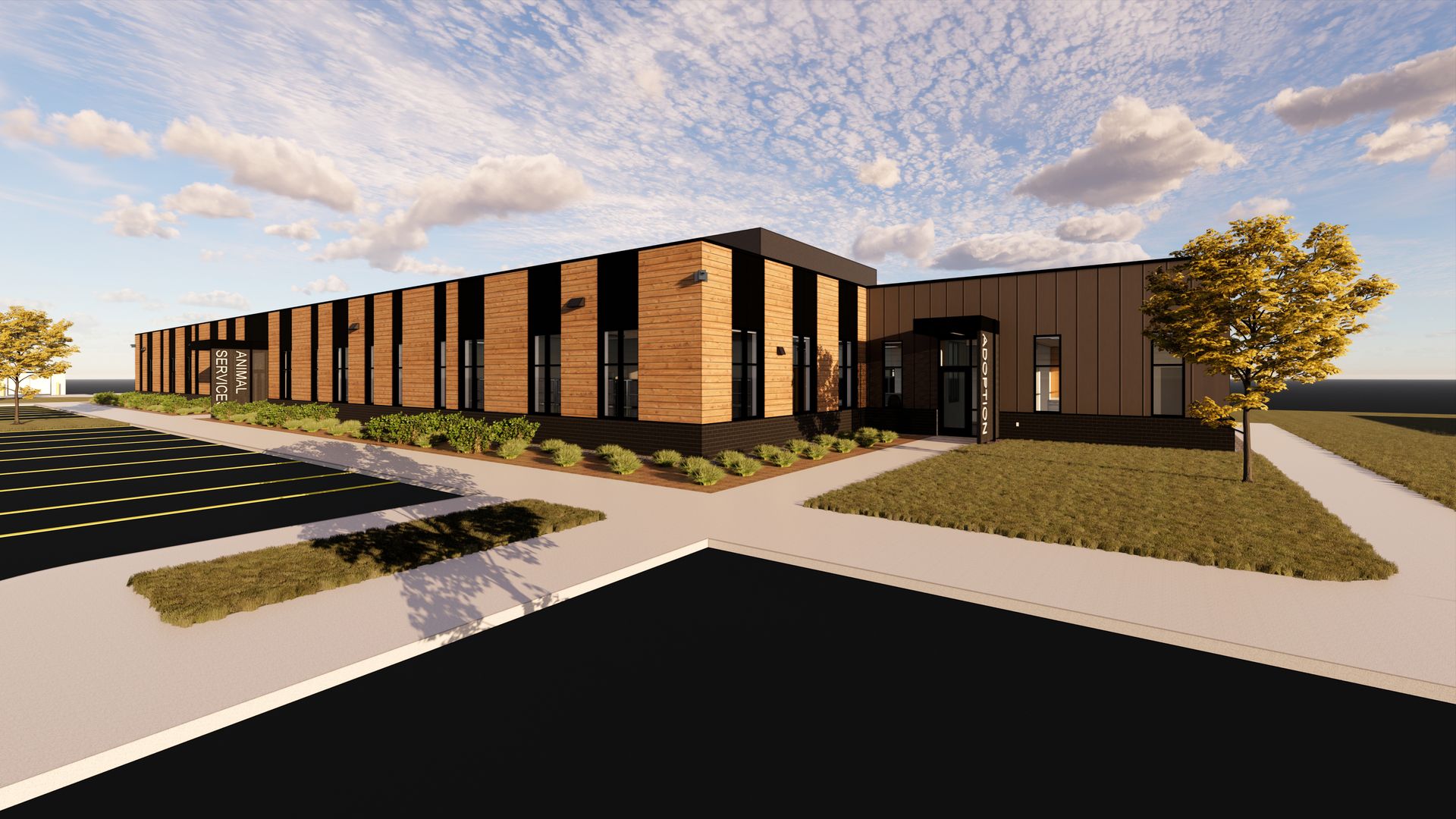 The cost to replace Des Moines' animal shelter is now estimated at $6.8 million, much higher than the $5.5 million estimate announced in 2019.
The budget grew as city officials realized the initial design wasn't adequately sized and equipped.
Why it matters: It's necessary to meet animal adoption and wellness goals as the city grows. The Animal Rescue League of Iowa will continue to provide the city's animal control services.
The new building at 1441 Harriet St. will be nearly 17,000 square feet, roughly twice the size of the current facility.
What's next: The city council will hold a public hearing March 8 to approve construction and development bids of the five-acre site.
Construction will begin this spring with a fall 2022 expected completion.
3. Major park improvements take shape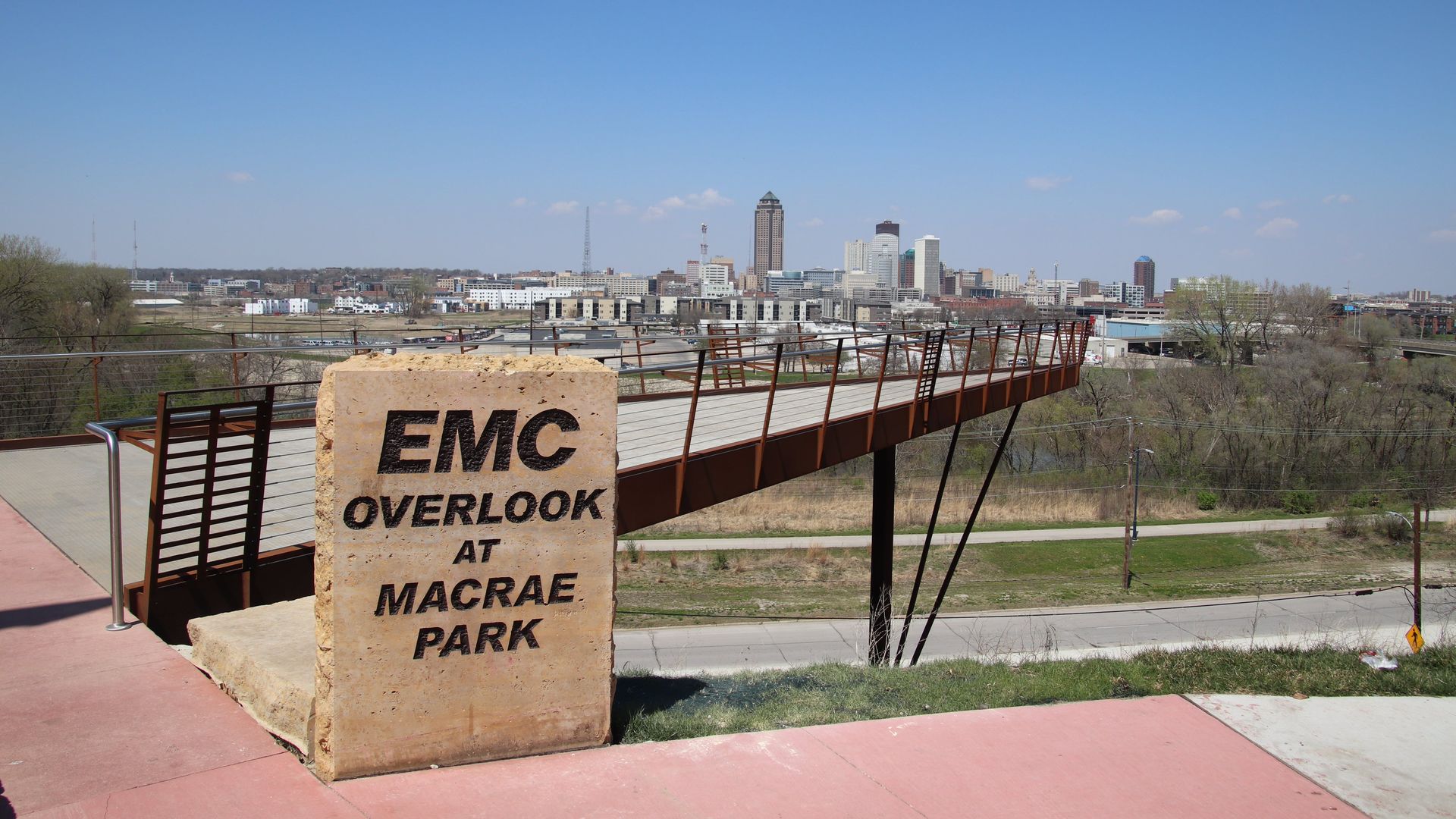 Check out the ongoing $4 million facelift at MacRae, one of DSM's signature parks just south of downtown.
Among the the completed upgrades in the last two years:
The EMC Overlook, which jets out from a bluff and provides a picturesque view of downtown.
New and improved shelters.
What's next: The final $2.7 million phase will begin this year, Ben Page, DSM's park and recreation director tells us.
New features — in addition to those in the drawings below — include a nature playscape and fishing pier.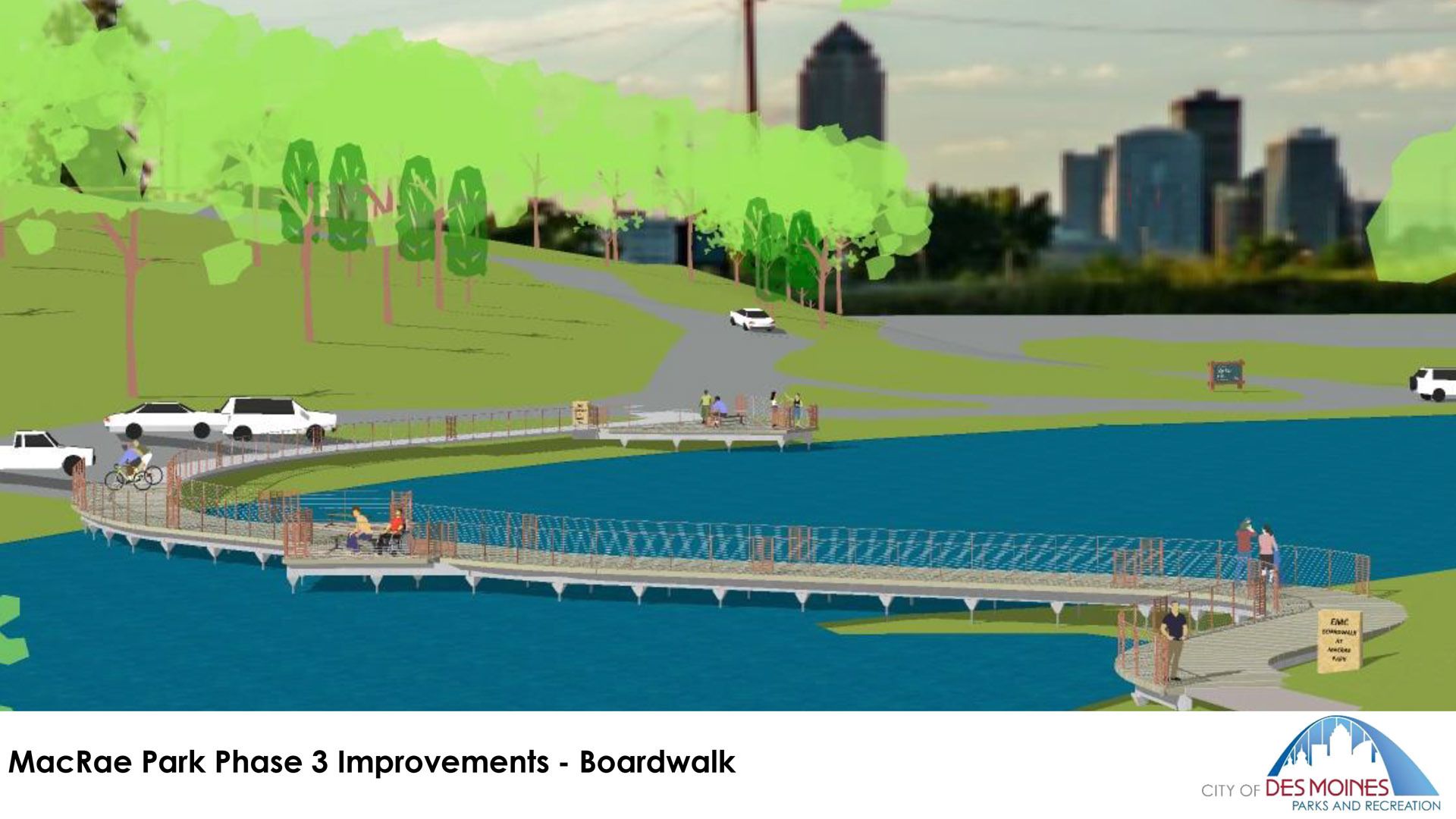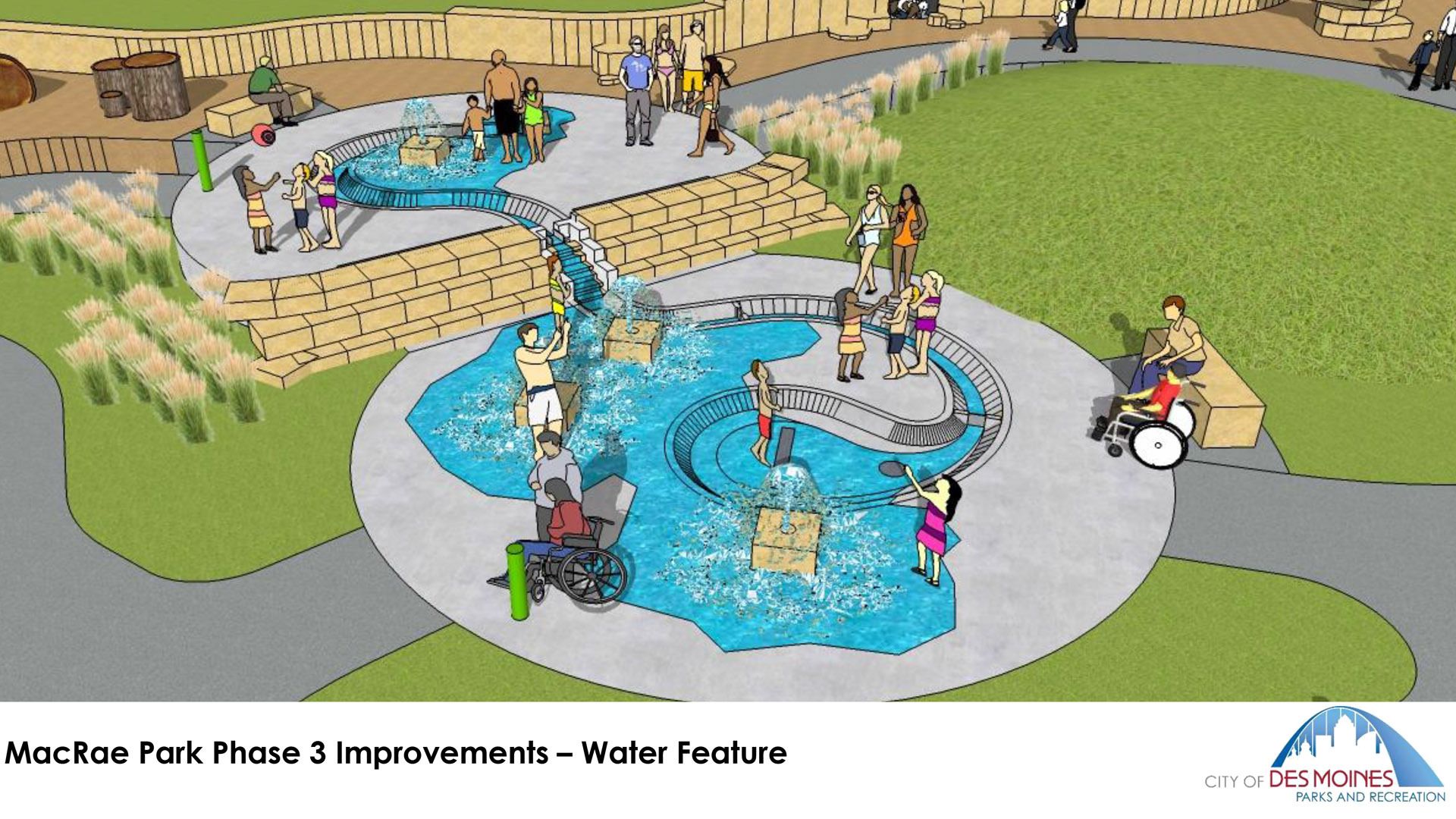 💰 The improvements are being paid for partly by philanthropists, but donations are still being accepted by the Friends of Des Moines Parks.
Completion is anticipated in 2022.
4. Prices will climb even higher for new homes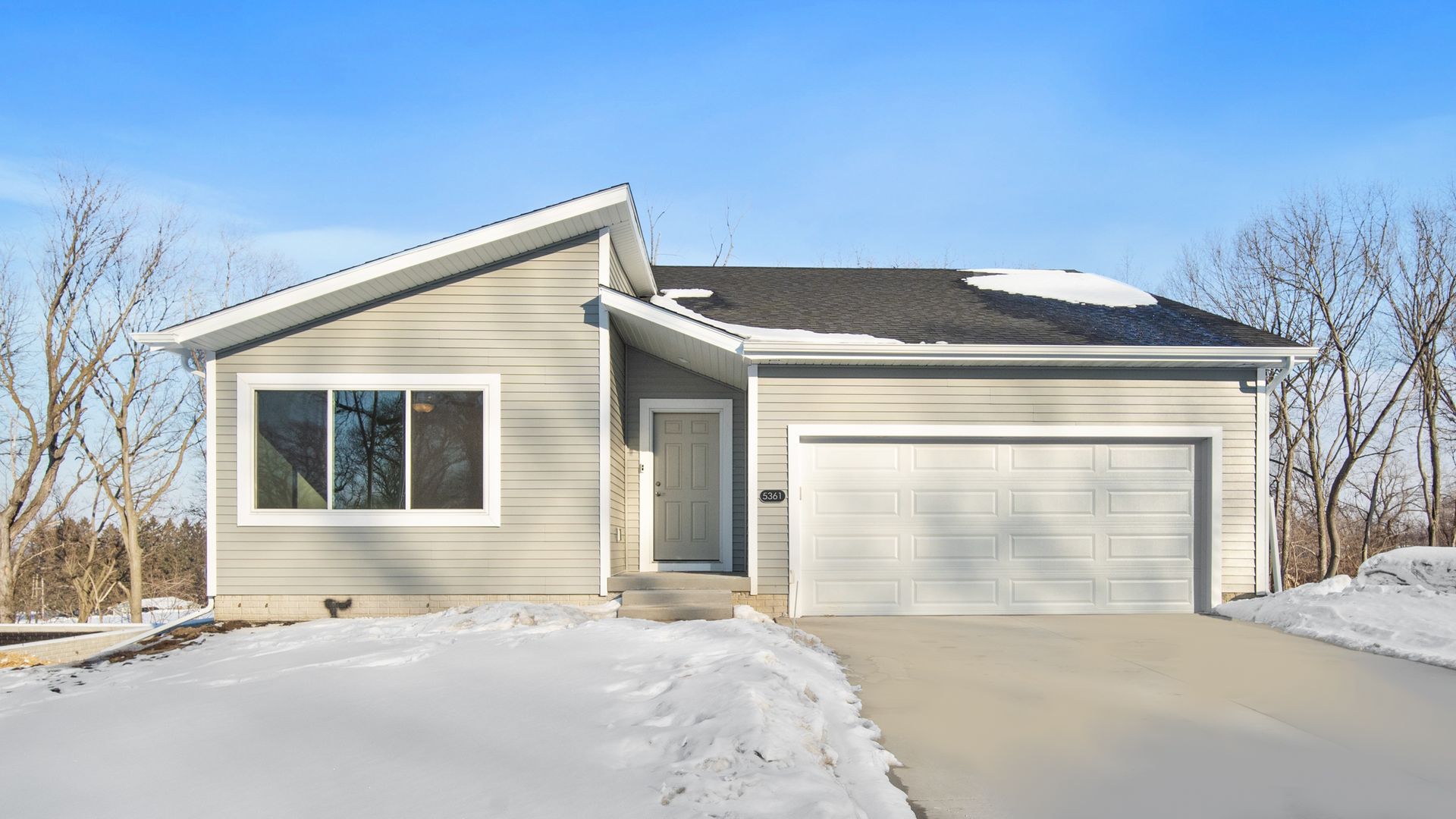 We're nearly a year out from the start of the pandemic, but the material costs for new home construction are still abnormally high, according to Rachel Flint, vice president of Hubbell Homes.
Why it matters: Those costs will be absorbed into homes under construction this year, meaning already sky-high prices will rise in the future.
It also means now is the time to buy a new home, Flint said.
By the numbers: Rising lumber costs are adding $24,000 to the average price of new homes, according to the National Association of Homebuilders.
Interest rates are still low, but they ticked back up to 2.8% for a 30-year fixed loan this month, according to money.com. Some borrowers could get 2.5% or lower in December.
The state of play: Affordable newly constructed homes under $275,000 are in high demand in the metro, Flint said.
"We can't build those fast enough," Flint said.
❄️ The weather affects everything: The last two weeks of record-low temperatures also slowed the homebuilding season, said Dan Knoup, executive officer of the Homebuilders Association of Greater Des Moines.
5. 1 dream home to go (for just $1 million)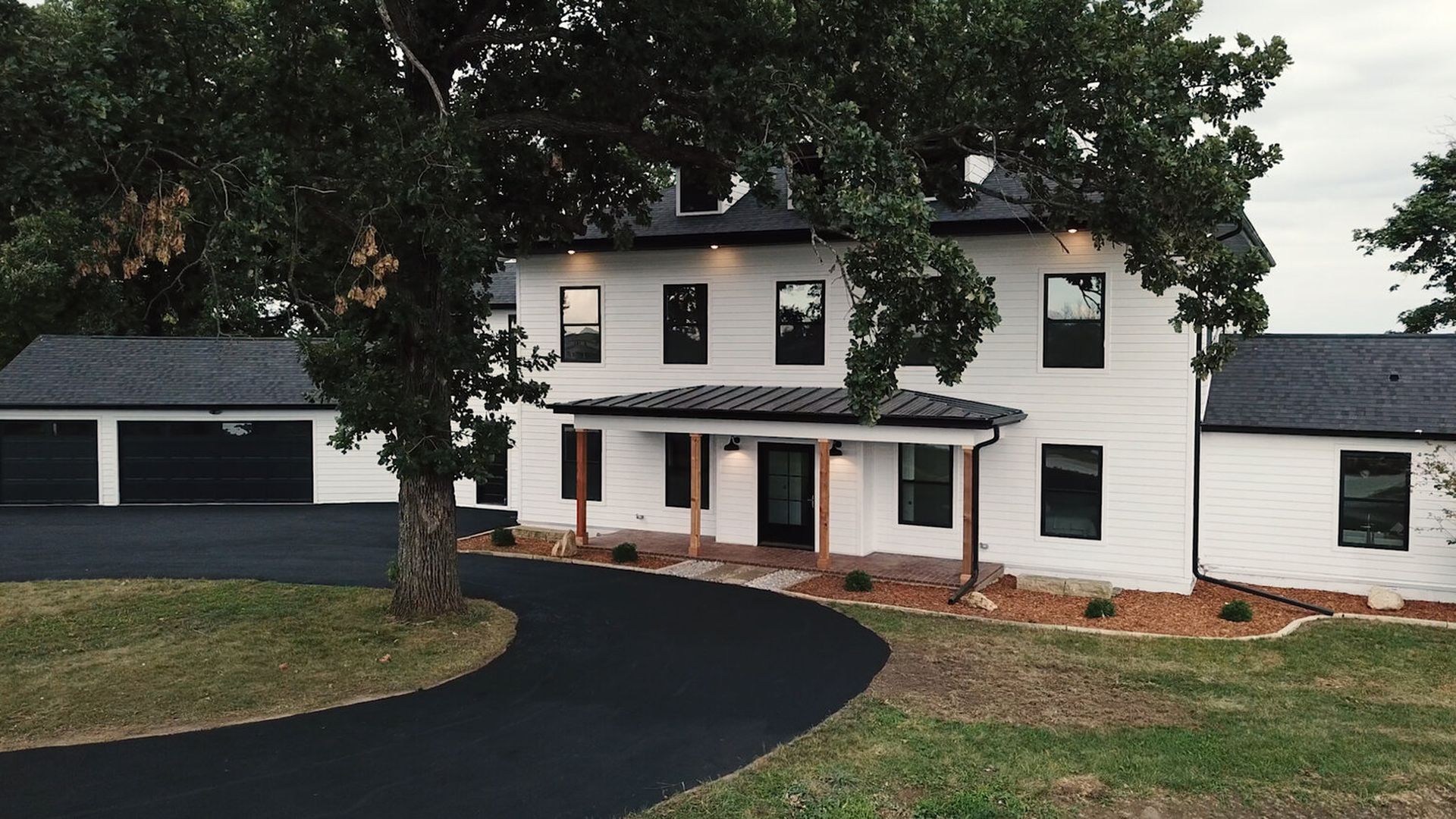 For $997,000, you can live in a newly renovated five-bed, eight-bath home in Booneville — just outside West Des Moines.
Built in 1941, the home was originally constructed for David Kruidenier, and his wife, Elizabeth. David was the former chairman and CEO of the Des Moines Register.
🪑 Sit by one of the five wood-burning fireplaces or gaze outside in the four-seasons room.
🚗 Park in the three-car garage or work out in your private exercise room with an en-suite bathroom.
🧑‍🍳 Stretch out across the 1.3-acre lot and cook dinner for all your friends (and their friends) in the upgraded kitchen and dining room.
🇺🇸 Sen. Chuck Grassley told reporters that he plans on announcing his re-election plans sometime between October-November.
💃 Yes, and: Cher announced her farewell tour in 2002, and she was still going until the pandemic hit.
Thanks for starting your day with us. We'll see you back here tomorrow.