Axios Des Moines
April 25, 2023
🏃‍♀️ Hey there, Tuesday, and happy Drake Relays eve. (Go bulldogs!)
🌧 Weather: Chance of rain with highs around 57°.
⚡️ Situational awareness: President Biden officially announced his re-election bid this morning.
🙏 Thank you to our dedicated members for their support of our local newsroom! Make an impact today by becoming a member.
Today's Smart Brevity™ count is 907 words, a 3.5-minute read.
1 big scoop: Late-night skywalk lockdowns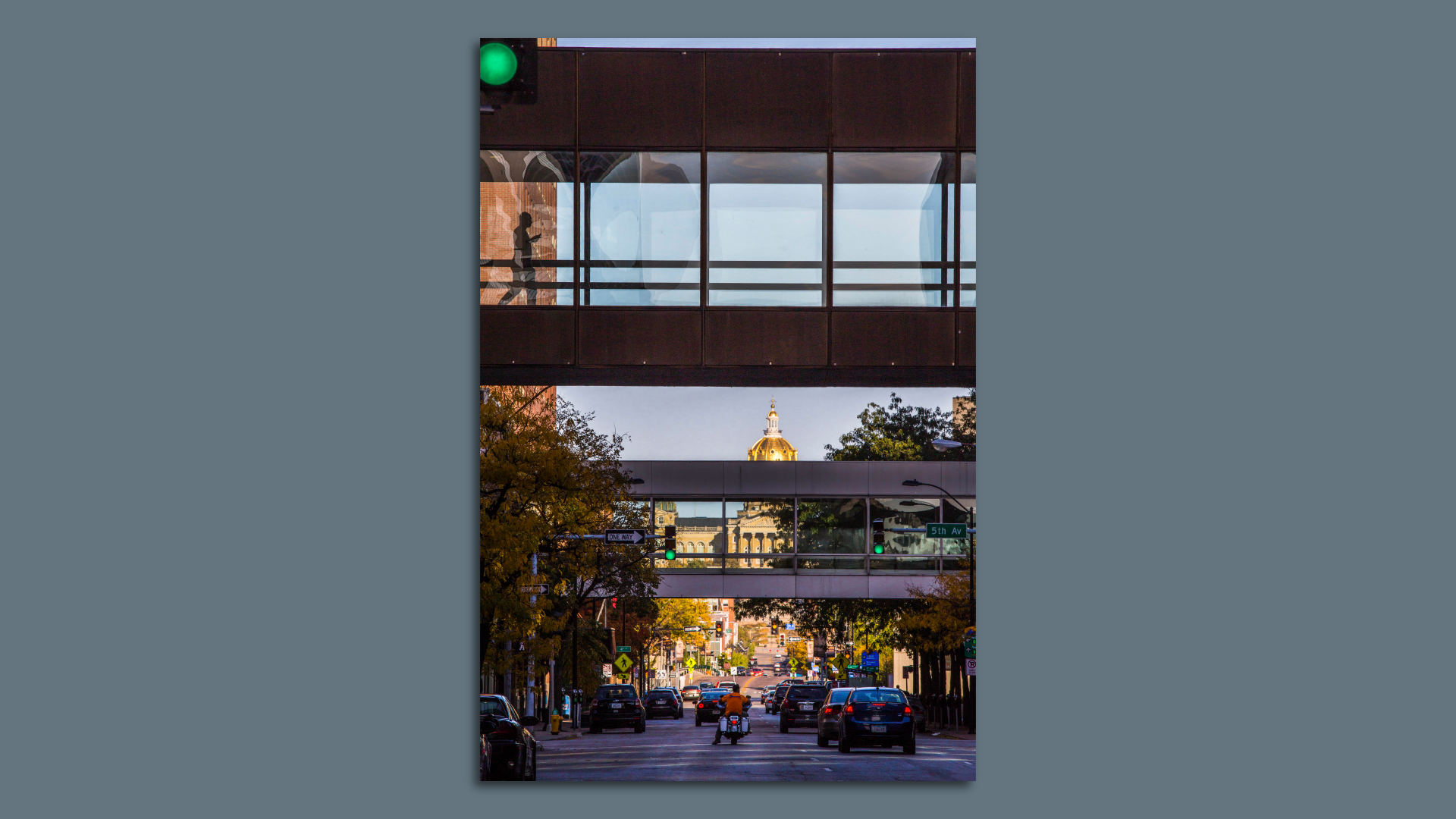 A large section of downtown's skywalk system would be locked overnight under a pilot project being considered by Des Moines' Skywalk Committee.
Why it matters: Advocates want to better protect public health and safety following a string of assaults and an attempted child abduction in the system, Councilperson Josh Mandelbaum tells Axios.
People urinating, defecating and sleeping there has also caused ongoing problems, he says.
Catch up fast: The first pieces of the skywalk system were constructed more than 40 years ago to protect office workers and visitors from extreme weather.
Today it is more than four miles long, connects with 55 buildings on the west side of downtown and has become a selling point to help attract events and tourists.
State of play: The system's hours of operation are 6am - 2am daily but many areas don't have locking doors and remain accessible.
Association members are discussing upgrades to door systems that would allow people to exit but not re-enter during off hours, Mandelbaum says.
Zoom in: The general pilot area would be the eastern portion of the system, starting around Sixth Avenue. That would limit skywalk access to places like Capital Square and the Polk County Administration building, Mandelbaum notes.
Hours of closure could begin around 10pm, with the test launching as early as next month, Chad Bentzinger, chairperson of the Skywalk Committee, tells Axios.
Yes, but: Doors would not lock for at least two hours after the conclusion of events at places like the Civic Center or the Iowa Events Center, he notes.
Of note: Mandelbaum's ward includes much of downtown.
He has met with committee members about the idea and says he supports the concept.
What they're saying: Polk County supervisors chairperson Tom Hockensmith, who helped lead a recent effort to add security cameras to the skywalk, told Axios yesterday that he wasn't aware of the proposal but is open to the idea.
Chris Connolly, GM of the Iowa Events Center, tells Axios that he doesn't foresee overnight closures causing problems for its visitors.
The other side: Support from the Downtown DSM Neighborhood Association will hinge on specifics, like whether there are safe alternatives or access for residents who live in skywalk-connected buildings, president Brandon Brown tells Axios.
The association generally supports the committee's efforts to address skywalk problems, he notes.
2. Councilperson hospitalized; resignation calls grow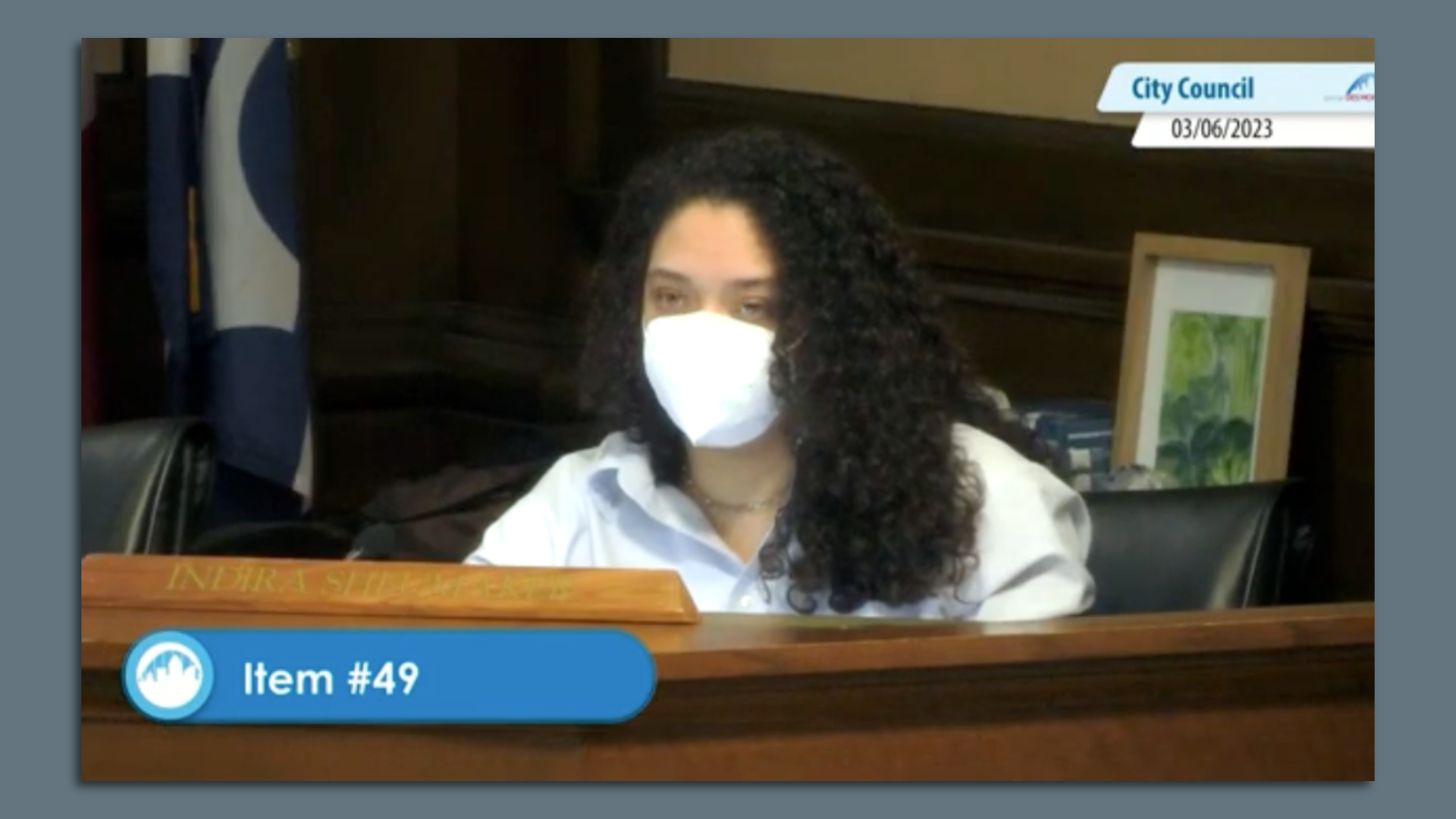 Councilperson Indira Sheumaker missed two more council meetings yesterday, a day after her father told the DSM Register that she was being hospitalized.
Driving the news: More than 125 people have signed a petition launched last week calling for Sheumaker to step down.
Flashback: The councilperson's absences made headlines last year after she missed more than a month of meetings without explanation to the mayor or city manager.
Sheumaker then released a statement in July saying she was suffering from COVID-19 and depression and intended to seek accommodations.
State of play: We reported last week that Sheumaker has missed about 20 council meetings and work sessions since taking office in Jan. 2022 — more than the other five council members and mayor combined.
The most recent regular council meeting she attended was March 6.
Her family declined to say this week why or how long she has been hospitalized, the Register reported.
What they're saying: Sheumaker deserved a second chance after last year's attendance issues were raised, Angelo Thorne, the Riverbend neighborhood resident who launched the petition, tells Axios.
But the absences continue and Sheumaker has also not been responsive to constituents, says Thorne.
Meanwhile, civil rights activist and DSM school board candidate RJ Miller also called for Sheumaker to resign in an email last week to all council members.
Miller wrote he supports Sheumaker getting health care but it appears "that whatever is going on with you has affected your ability to represent our ward."
Of note: Multiple council members told us last week that they don't support and aren't aware of city plans to impeach her.
Sheumaker has not responded to multiple inquiries from Axios.
3. Pic du jour: Reynolds take on Bud Light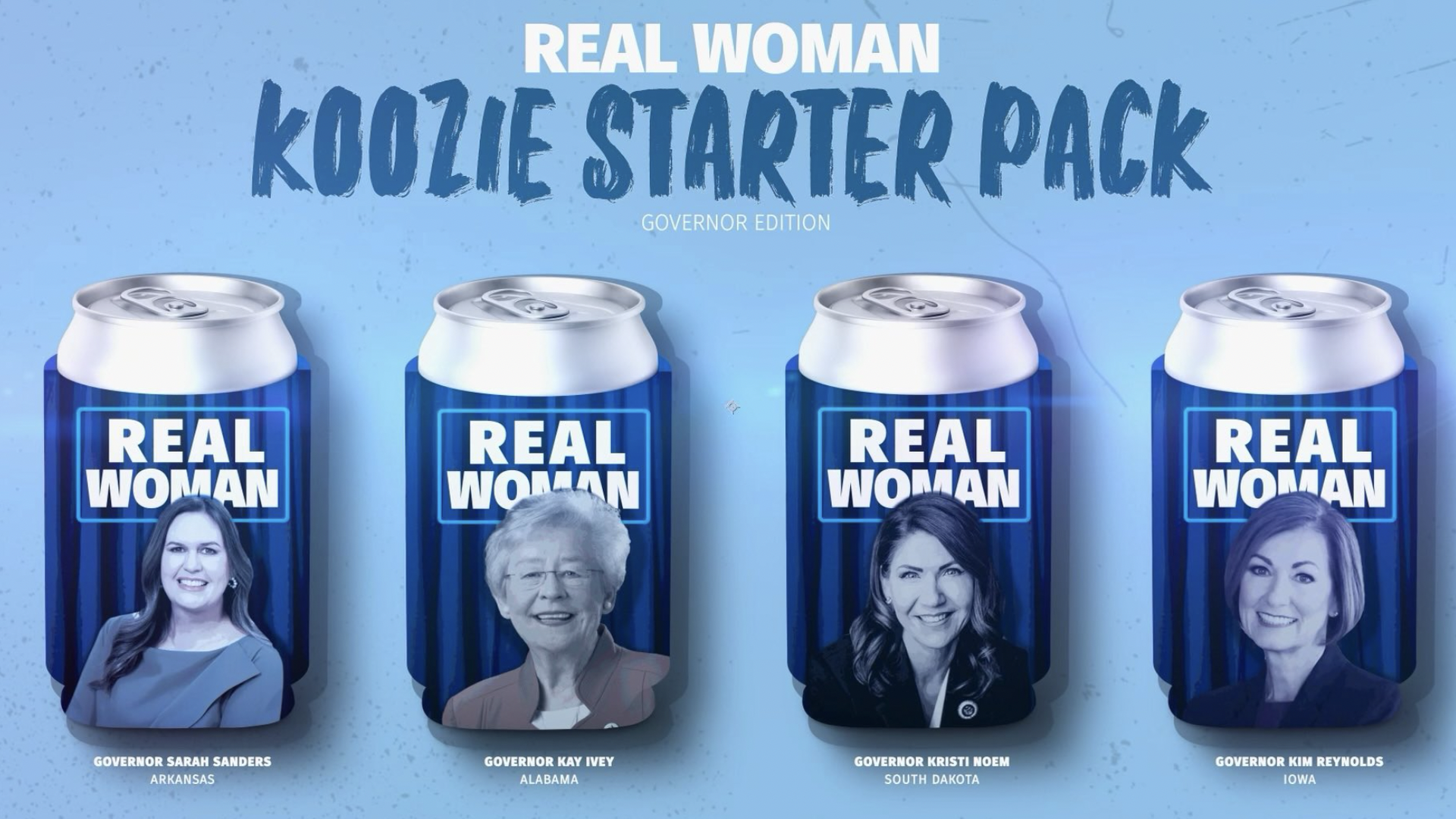 Gov. Kim Reynolds is promoting a koozie parodying Bud Light's recent trans-inclusive ad.
The funds for the koozies ($15 for two), each feature a Republican governor and support Arkansas Gov. Sarah Huckabee Sanders.
4. The Ear: Corn and the city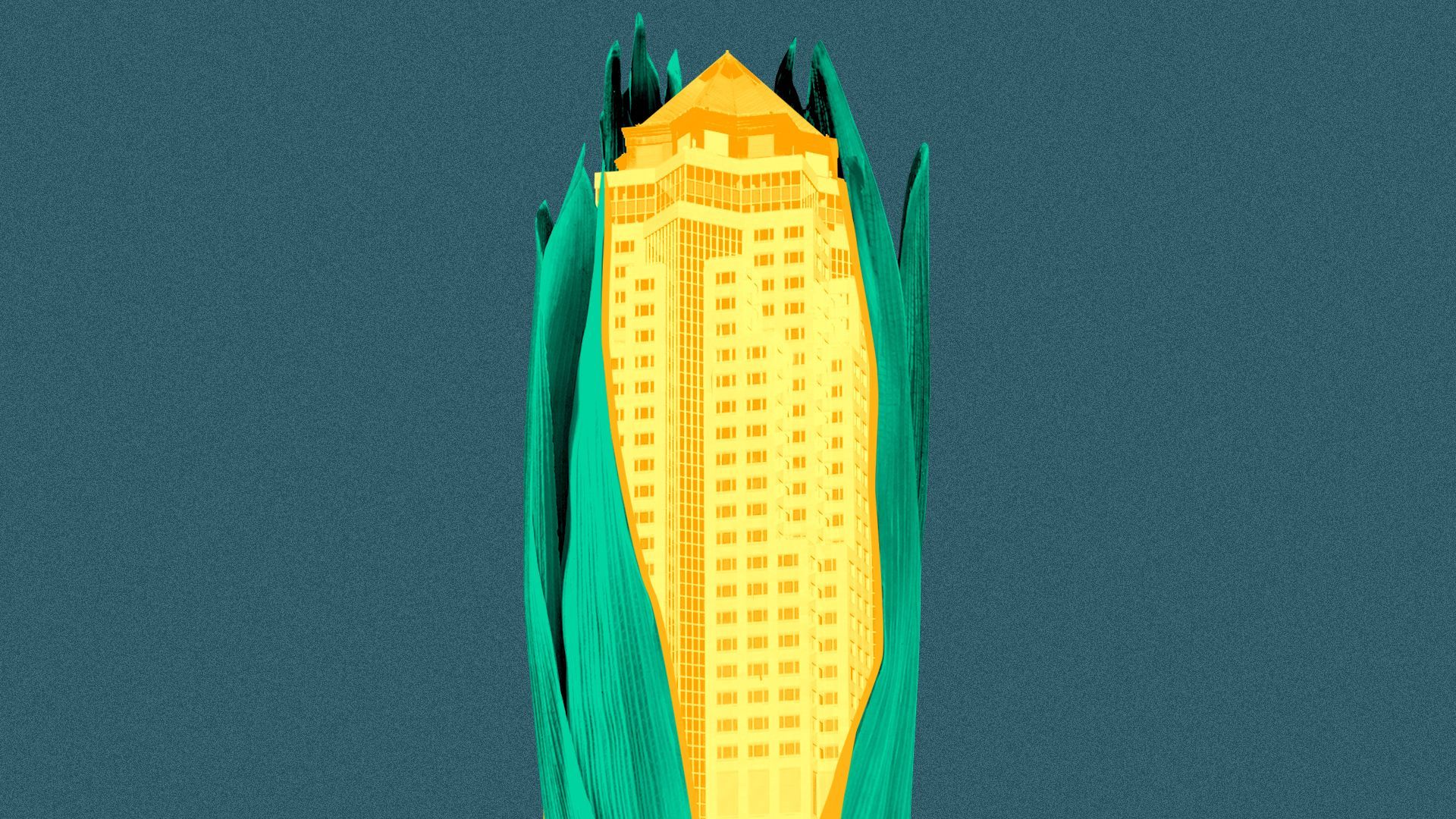 🛍 After filing for bankruptcy, Bed, Bath & Beyond is closing its Clive and West Des Moines stores. (Des Moines Register)
Rape crisis centers are scrambling to find a way to pay for emergency contraceptives after the Iowa Attorney General's Office announced it would stop paying for the morning-after pill for victims. (Des Moines Register 🔒)
👩‍🎓 A man left behind $3 million to help low-income kids go to college following his death. Now, they're paying it forward. (KCCI)
⭐️ Today's headline maker: Christine Marchand of Cumming.
Take your career to the next level
5. Charted: Rich renters
Metro-area renters earning $150,000 or more in annual income grew almost 62% between 2016 and 2021, according to U.S. Census data.
Nationally, the average increased 86%.
The big picture: The trend is influenced by high listing prices and mortgage rates that make home buying less desirable, Axios' Sami Sparber and Tory Lysik report.
6. A new book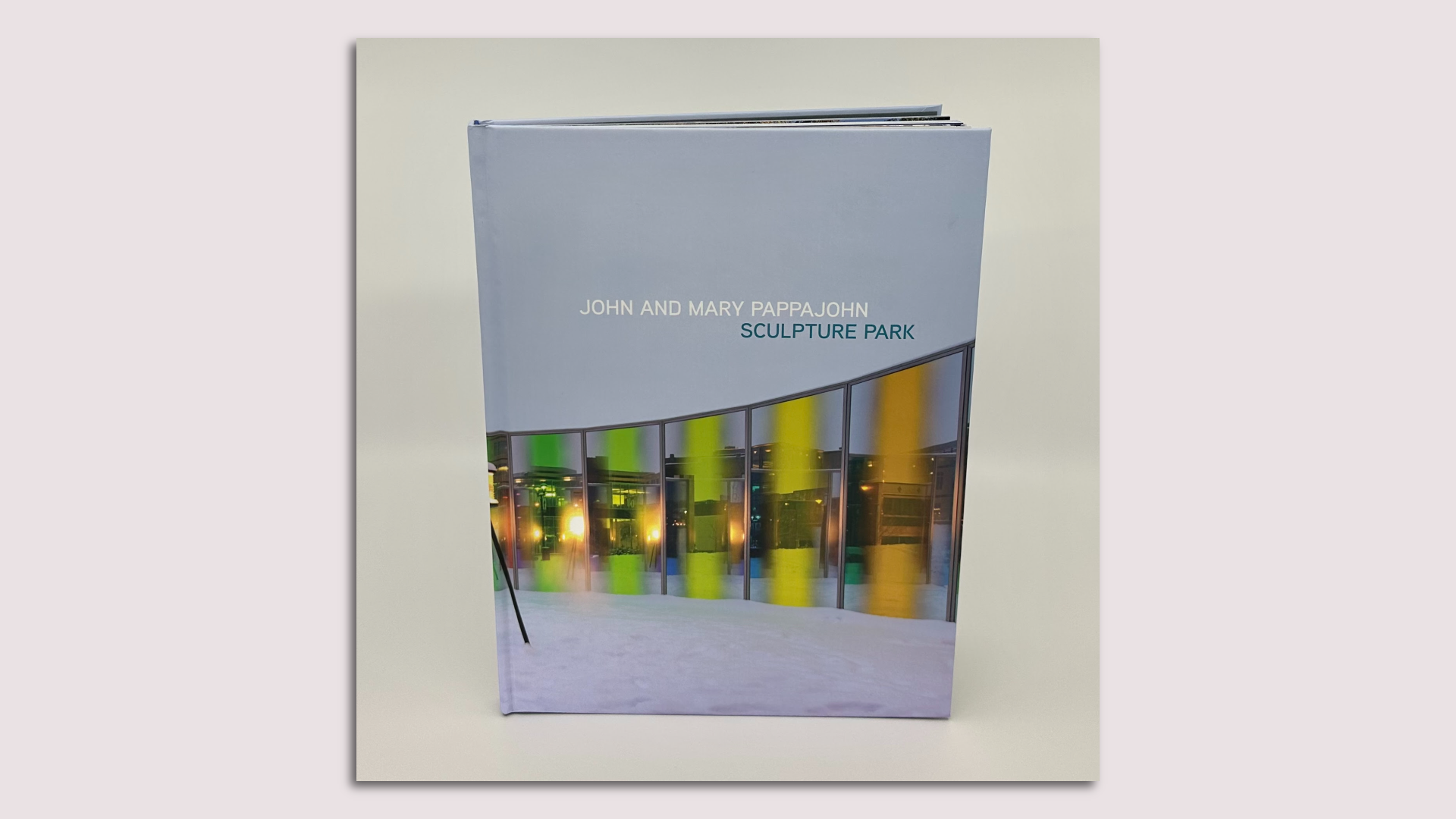 The Des Moines Art Center released a new book showcasing some familiar sights around town.
Driving the news: In honor of the center's 75th anniversary, the book features photos of the downtown Pappajohn Sculpture Park.
It spans 144 pages with color images of 32 sculptures, as well as essays from writers around the country.
The book honors the late Mary Pappajohn.
Where to find it: It's available for $50 at the art center's shop or online.
👋 Thanks for reading. If you like our newsletter, subscribe for free here.
Today's newsletter was edited by Everett Cook and copy edited by Lucia Maher.