Axios Des Moines
March 13, 2023
🐾 Happy Monday. We're all Drake Bulldogs today.
☁️ Weather: Sunny and breezy with a high around 29°.
Today's Smart Brevity™ count is 800 words, a 3-minute read.
1 big thing: Pothole reports on the rise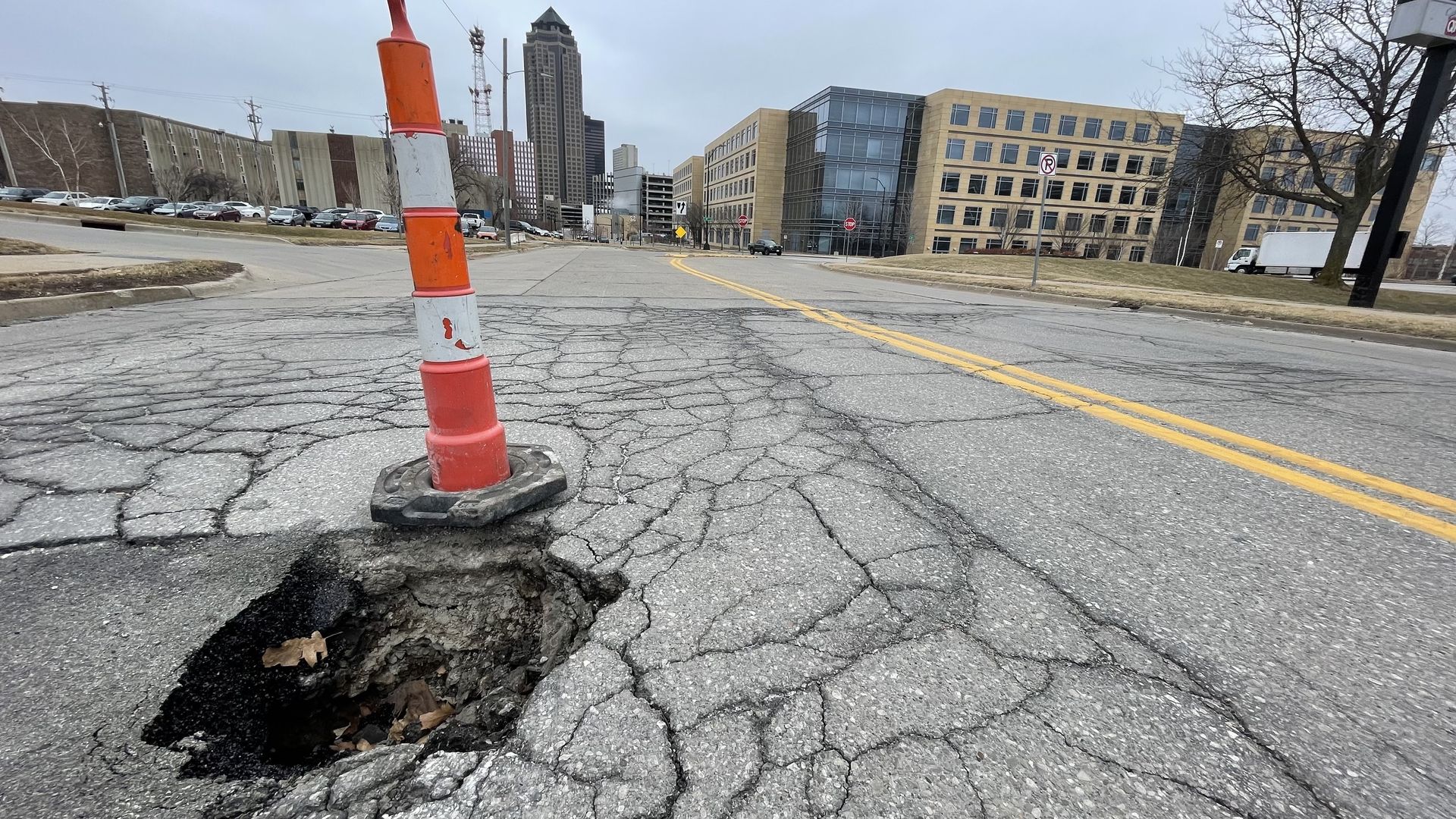 More than 1,200 pothole reports have been filed in Des Moines so far this year, more than double the number reported over the same period last year, according to city data obtained by Axios.
Why it matters: The typical repair may take longer during the ongoing peak period, DSM Public Works director Jonathan Gano said in a city video Friday.
State of play: There were just 578 reports between Jan. 1 and March 7 2022.
While the overall numbers this year are far higher, it's too early to predict a record.
That's because pothole prevalence is linked with weather patterns that can change dramatically from week to week.
Between the lines: In context with a typical year, DSM's not on pace to reach a record.
The city generally fields between 5,000 and 7,000 reports by late April, Gano told us a few years ago.
👻 The intrigue: You might not be dreaming if you think the same pothole is haunting you.
Crews use an asphalt mix in the winter that's more pliable, but less durable, than one used in warmer months.
As a result, some must be repaired multiple times, Gano said.
Be a pothole reporter: Residents can use the myDSMmobile app, visit the city's website or call 515-283-4950.
Is a new job in your future?
2. Bicycle tourism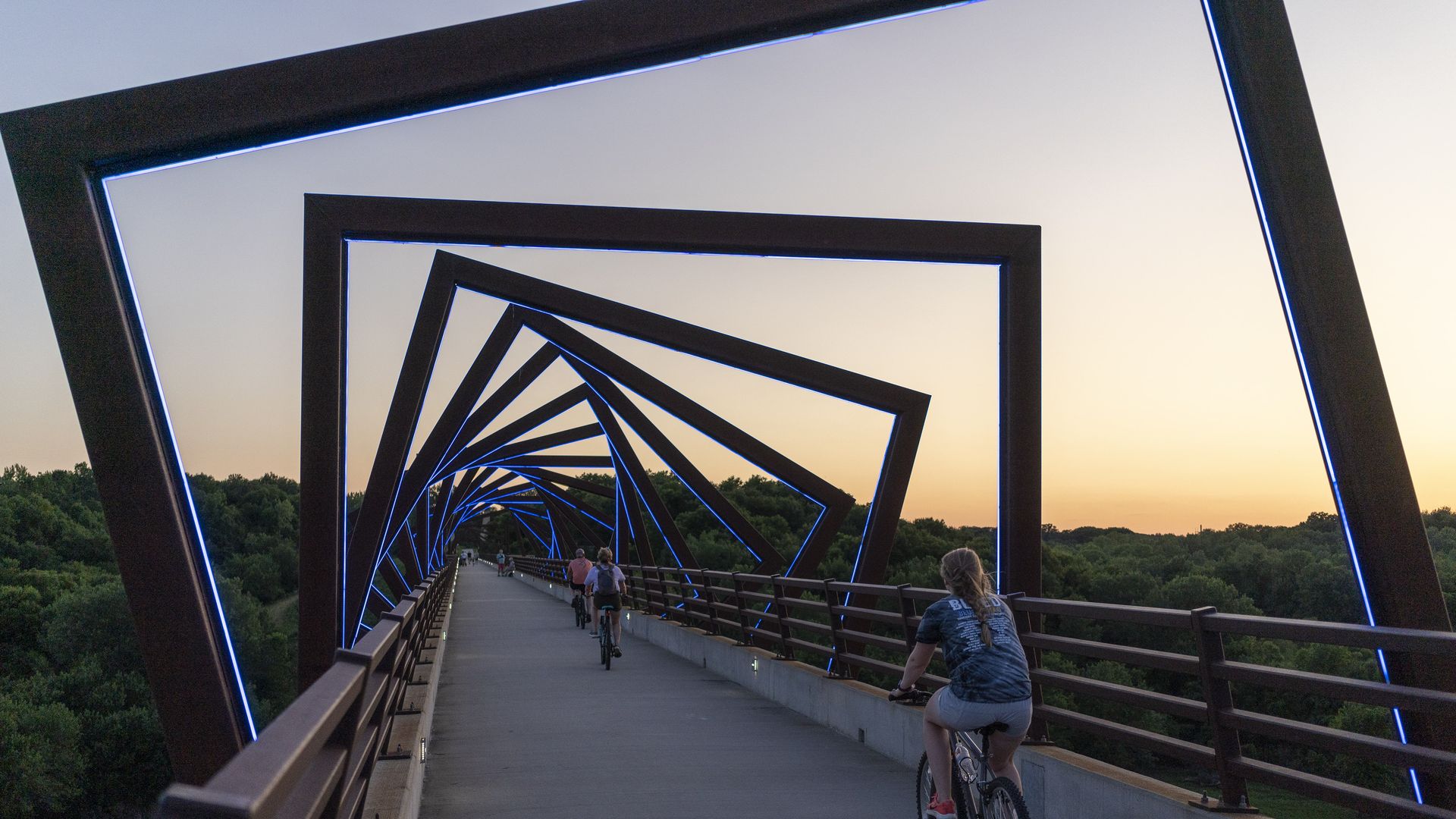 Two new hotels in Ankeny aim to take advantage of bicycle tourism from the High Trestle Trail.
Driving the news: Staybridge Suites is scheduled to open adjacent to the trail this fall, while a nearby Holiday Inn Express opened last year.
The hotels, which offer 107 rooms and 94 rooms respectively, are both near the new High Trestle Trail overpass over Oralabor Road and off SE Hulsizer Drive.
Why it matters: The 25-mile High Trestle Trail route goes from Ankeny to Woodward and features one of the longest trail bridges in the world.
The hotels are a part of Ankeny officials' plans to leverage the trail and attract cyclists to the city.
Zoom in: For years, it was difficult for cyclists staying in Ankeny to connect with the trail from a hotel. Lodging options were on the east side of the interstate while the trail was on the west side, Derek Lord, Ankeny's economic development director, tells Axios.
The new hotels on the west side of I-35 will make it easier for visitors to hop on their bikes and ride.
By the numbers: In 2019, the city of Ankeny conducted a study showing that 250,000 people visit the High Trestle Trail bridge annually and around 18% of them are from out of state.
Surveys of trail users also showed that out of 200 people riding the trail, 10% of them stayed overnight at a hotel, while 90% said the trail was an important part of their decision to stay in Ankeny.
The big picture: There's big money in being a bicycle destination, Lord says. City officials estimate overnight visitors spend about $242 a day in Ankeny and on the trail.
What's next: Officials are currently discussing adding more amenities to the Ankeny side of the trail which would serve as a "bookend" to the bridge at the north end.
3. The Ear: Cob as you are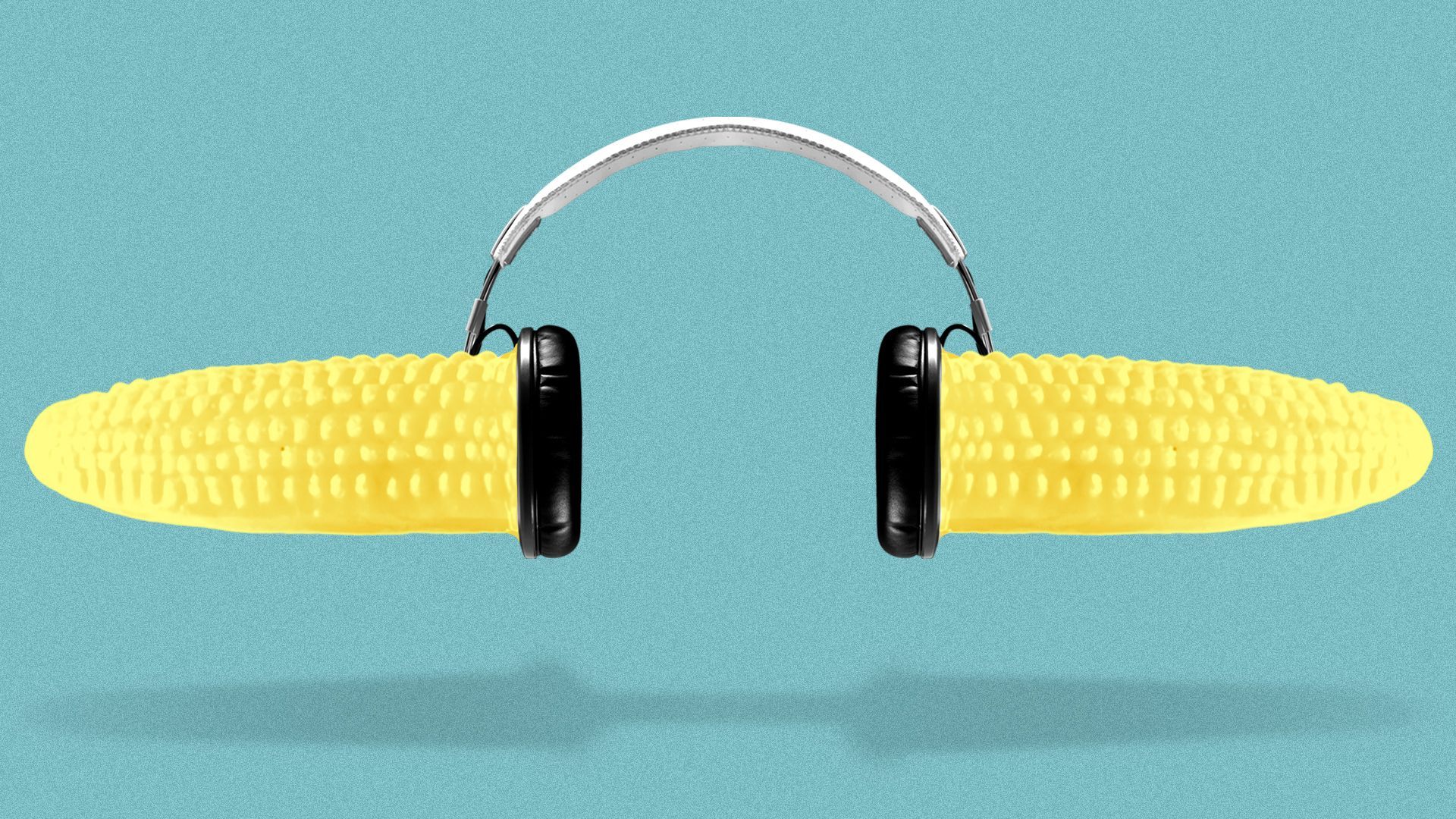 🎨 Fewer arts and language classes would be required for some students under a bill that passed the Iowa House last week. (Iowa Capital Dispatch)
🛑 Another bill limiting the powers of Iowa's auditor would put federal funding in jeopardy, former U.S. Comptroller General David Walker — a Ronald Regan appointee — is warning lawmakers. (WHO-13)
🏀 Drake, Iowa and Iowa State men and women are all heading to NCAA tournaments. (KCCI)
🚲 See the full 50th anniversary RAGBRAI route. (Register)
4. 🪓 Chop, chop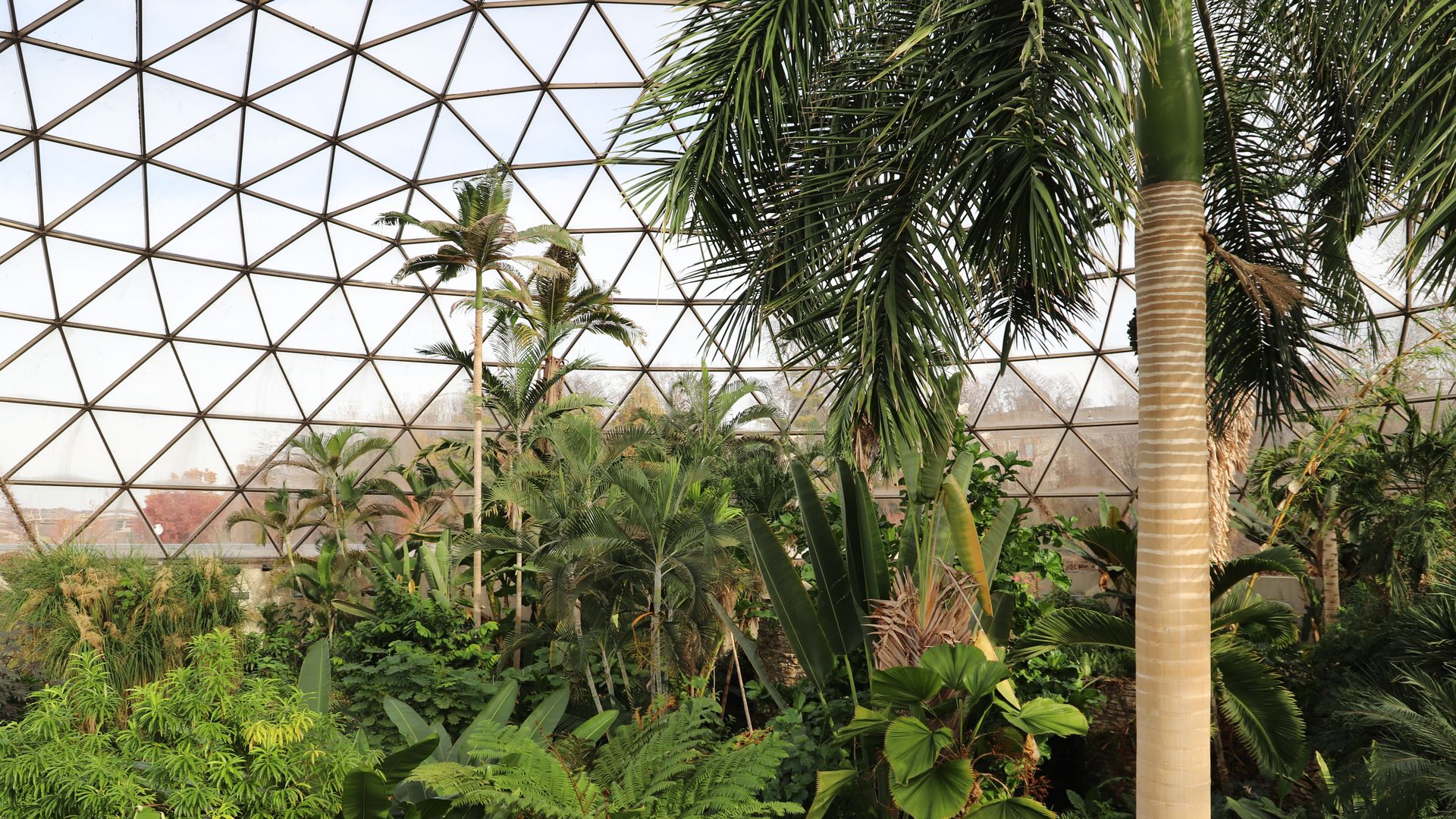 A Cuban royal palm — the tallest plant inside the Greater Des Moines Botanical Garden dome — will be chopped down next Monday.
Why it matters: This week is your last chance to get a selfie with the nearly 70-foot giant, which the conservatory says has outgrown the dome.
State of play: The palm was added to its current spot around 2010 and is one of the first things guests notice when entering.
Its fronds are now touching the top of the dome and could apply enough pressure to damage panels and risk guest safety, horticulture director Aaron Harpold said in a press release.
What's next: The garden recently started growing foxtail palms from seed, a species common in a remote area of Australia that only reaches about 30 feet tall.
The healthiest foxtail sprout will be selected for the Cuban palm's location.
What's happening: Garden officials are asking the public to help its staff bid the palm farewell before it comes down by taking pics and sharing them on social media using the #frondfarewell hashtag.
The garden is open Tuesday-Sunday, 10am-5pm; and 6-10pm Fridays through March for Dome After Dark.
General adult admission: $10.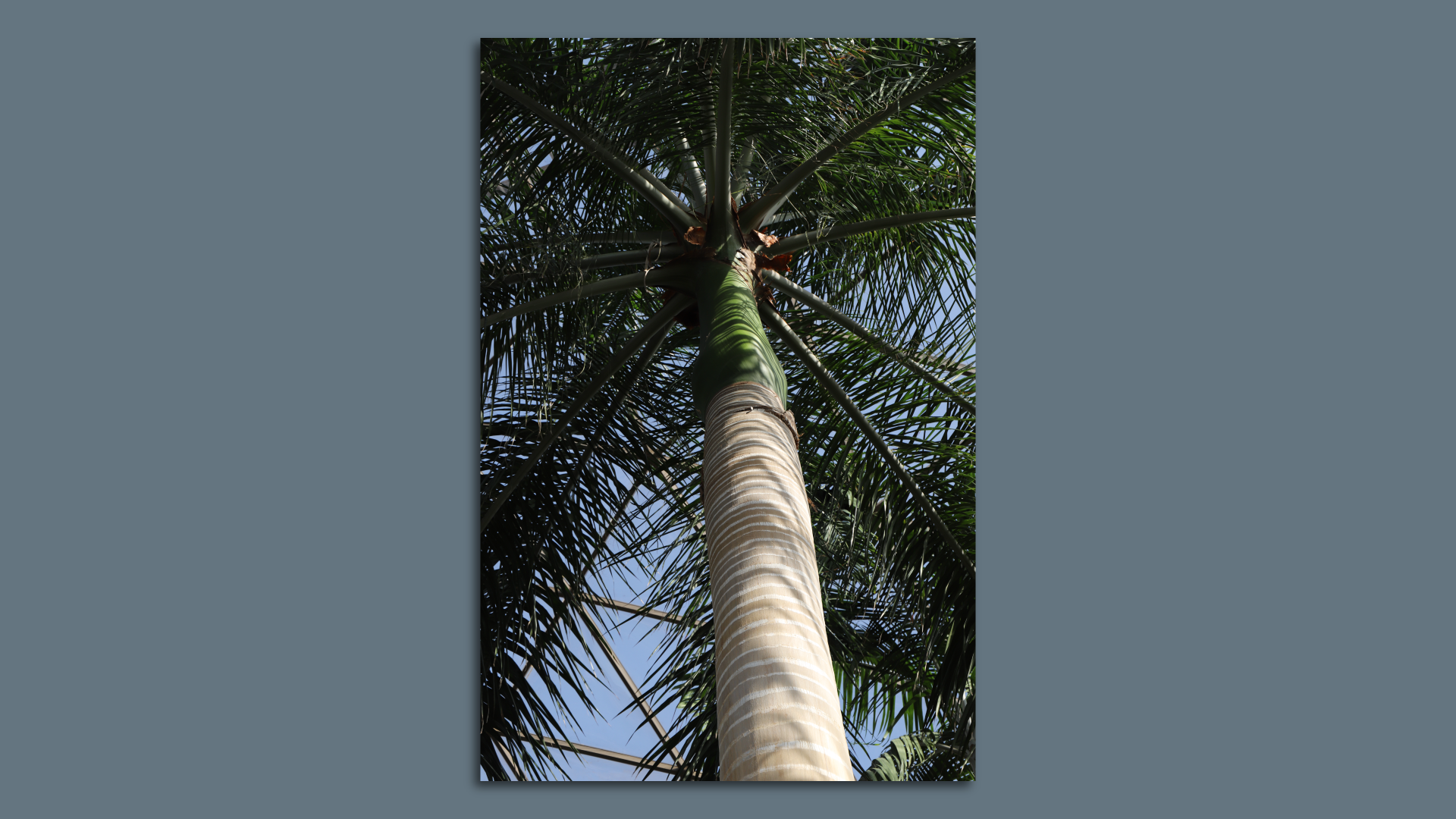 👗 Our Oscars attire:
Linh wore a sharp pair of sweatpants with an eye-popping sweatshirt.
Jason sported the same lower-half style, accompanied by a keenly picked "America needs pizza" T-shirt.
Today's newsletter was edited by Everett Cook and copy edited by Lucia Maher.