June 18, 2021
🥵 It's Friday. It'll be a bit cooler but still steamy.
💃🏽 The first Des Moines Latino Film Festival starts today at 5pm in Riverview Park.
The three-day event includes food, music and other performances. Free admission.
Today's Smart Brevity count is 774 — a 3-minute read.
1 big thing: Laws that still exclude LGBTQ people
Public sentiment is growing in support of LGBTQ rights, but activists say Iowa's laws need some updating to ensure they're inclusive of everyone.
Driving the news: Local LGBTQ and progressive groups released a new report listing Iowa's existing laws they believe are exclusionary towards the community.
What they noted:
There are no anti-discrimination laws for LGBTQ parents wanting to adopt or foster.
Iowa doesn't recognize gender identity as a basis for prosecuting a hate crime.
Transgender Iowans who want to change their gender listed on official documents have to get a signed affidavit by a doctor saying they have irreversibly changed their gender.
The big picture: Nationwide polling shows there's growing support for cisgender gays and lesbians, but there's mixed views on transgender issues, such as military service and youth sports, Gallup reports.
Iowa and the rest of the U.S. saw a surge in bills targeting the trans community this year.
In 2019, 35 bills were introduced nationwide. That jumped to 150 in 2021.
The bottom line: It's great to see support during Pride Month, but companies and leaders at the Capitol have more work to do behind the scenes to keep LGBTQ Iowans in our state, said Keenan Crow, policy director for One Iowa.
Read the full report here.
2. Record 70% support same-sex marriage
Gallup reported this month that U.S. support for same-sex marriage hit a record 70%.
That's a ten-point gain since 2015, when the Supreme Court ruled that states must recognize same-sex marriage.
For the first time, Republicans show majority support (55%).
Age breakdown: 84% of young adults, 72% of middle-aged adults and 60% of older adults.
3. The Ear: Pluck the tassel
Pro-Trump supporter Michael McKinney pleaded guilty Wednesday to felony charges for shooting into a vehicle of Black girls who were arguing with him at the Iowa Capitol in December. A 15-year-old was seriously injured. The St. Charles resident's sentencing hearing is Aug. 9. (AP)
Iowa enhanced penalties for some protest activities under a bill signed by Gov. Kim Reynolds yesterday. Civil rights activists criticized the new law as an effort to silence criticism about police abuse. (AP)
The Ankeny Community School District surrounded a kindergartener's desk with plexiglass and required her to sit alone after her mother provided a doctor's note saying the child couldn't wear a mask because of a staph infection. Mother Kimberly Reicks, an anti-vaxx activist, has filed a lawsuit against Ankeny schools. (Des Moines Register)
🌽 Ear pun thanks to Sheilah Lizer of Clive.
4. Report trail hazards on this new app
DSM-area developers recently unveiled a new app to report hazardous recreational trail conditions, like debris just under the surface of riverways.
Why it matters: It aims to make water and land trail recreation safer by preventing injuries or deaths, owner Greg Rhames told Jason.
Details: The system developed by the folks at Quarry Springs Outfitters allows recreationists to drop an electronic GPS pin on a map and flag others to dangers in real time.
The info can also immediately inform trail supervisors of urgent maintenance needs.
The more people who use it, the more beneficial it becomes.
It's not yet available for Androids, but that's coming soon, Rhames said.
Of note: Quarry Springs Outfitters was also given city approval this week to begin kayak, canoe and paddleboard rentals from Captain Roy's at Birdland Park and Marina.
The rentals should be available around the Fourth of July.
5. A $54 million Birdland upgrade
Birdland Park and Marina is the hub for the water rentals that will start next month — part of the inspiration for that new trails app.
Why it matters: The area has tons of untapped potential, and it's in need of some love.
The marina has nearly filled in with sediment, the river's bank is eroding and surrounding amenities like parking are crumbling.
Details: The timeline for the five-phased plan adopted this year is dependent upon grants and fundraising, but it could take anywhere from five to 20+ years.
Hint: You need to donate, DSM philanthropists.
A few highlights:
Phase 1: An ice-skating ribbon like the one in Chicago's Maggie Daley Park, a splash pool and a playground.
Phase 2: The lagoon will be dredged and Birdland Drive will be relocated to go around it.
Phase 3: A new two-story boathouse with the top floor being Captain Roy's bar and grill. A "River Gateway" pedestrian and vehicular bridge will connect over the lagoon and to the boathouse.
Phase 4: Marina improvements, including more than doubling the number of boat docks. (There are currently 63.)
Phase 5: A river overlook.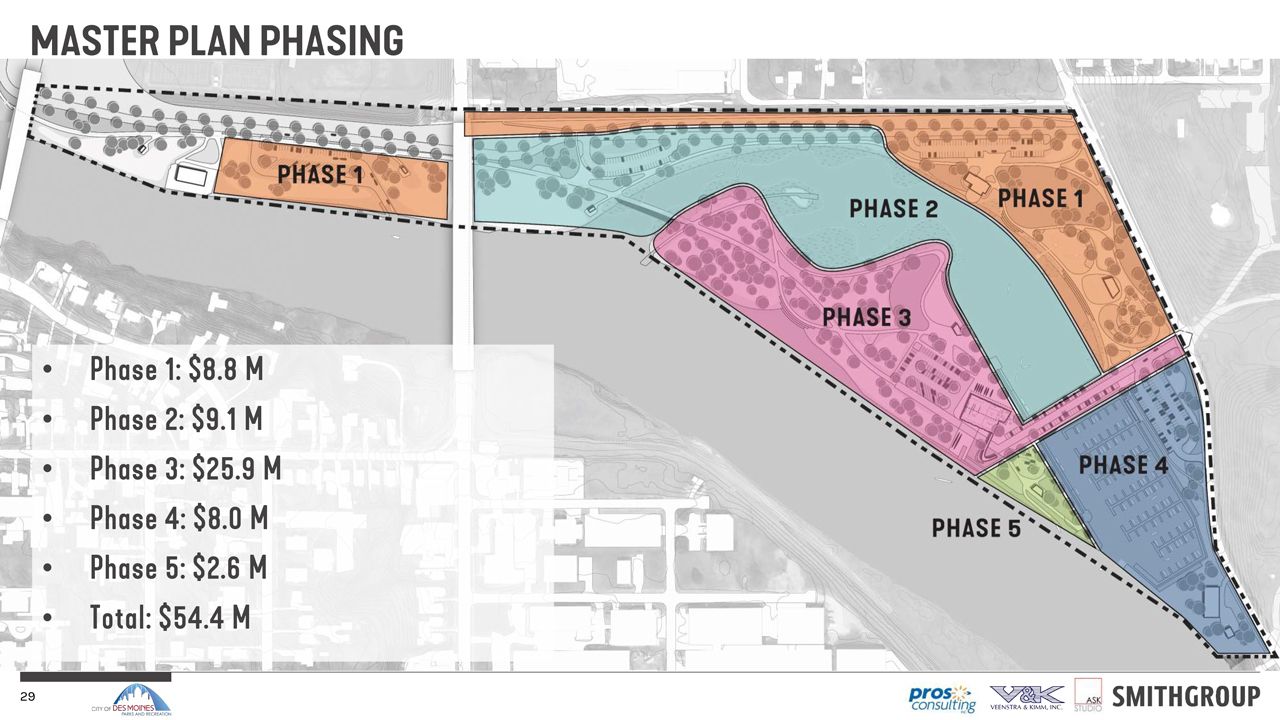 🚨 Clean up your act: Saturday is DSM's final "MEGA SCRUB" until September. Dump your bulk items, household hazardous waste and tires for free.
DSM residents only. Sorry suburbs, but we still love ya.
🍽 A free meal challenge: If you convince the most people to subscribe to our newsletter before our promotion ends July 8, we'll take you to dinner.
Or they can sign themselves up, here.
❤️ Don't forget: Sunday is Father's Day!