January 13, 2022
Hi, Thursday. Get outside before the snow hits on Friday.
🍎 $1K bonuses: Teachers in districts like Des Moines that defied the governor and went virtual for part of the 2020-21 school year will still qualify for the state's $1,000 retention bonus, spokesperson Alex Murphy told Axios.
More details will be released soon.
Today's Smart Brevity™ count: 782 words, a 3-minute read.
1 big thing: Renting beats buying in Des Moines
It's cheaper to rent a three-bedroom property in the majority of the Des Moines metro than it is to buy a median-priced home, according to a new report by real estate database company ATTOM.
Why it matters: While home prices in Des Moines are more stable than many parts of the U.S., the metro's median price is continuing to rise.
By the numbers: The median sales price of homes in the Des Moines area was around $252,000 in November 2021, compared to $215,000 in 2020, according to the Des Moines Area Association of Realtors.
Meanwhile, the estimated monthly rent for a three-bedroom in the metro for 2022 is $1,363, according to ATTOM.
Yes, but: While renting makes more sense in big metropolitan areas like Polk, Dallas and Story, homeownership wins in the rural and suburban areas that make up most of the state, where property prices are lower.
The bottom line: Everyone's situation is different, market conditions change all the time, and all real estate is local, so studies like these are more of an interesting reference point than a buyer's guide.
Read more: Home sellers reaped record profits in 2020
2. 🐕 DSM's new shelter to cost $10 million
Replacing Des Moines' animal shelter is expected to cost nearly $10 million, according to a new estimate shared by city engineer Steve Naber.
Why it matters: Projected costs have gone up about 80% since the plan was announced in 2019.
The City Council rejected a $5.8 million bid last year and delayed construction to create a better design, invest in energy-efficient materials and seek federal assistance, Mayor Frank Cownie said.
Of note: The city has not obtained additional federal grant money for the project since last year's delay.
Catch up fast: The Animal Rescue League handles DSM's animal control services and has called for a new facility for a decade.
ARL has said that the current shelter at 1615 SE 14th St. is inadequate to handle the city's needs.
The new building at 1441 Harriet St. will be nearly 22,000 square feet, more than twice the size of the current facility.
Details: The new plan is roughly 30% larger than the one rejected last year, which is necessary for extra animal housing and community outreach needs, Naber told Axios.
The city will now split the project into 17 different bids, using The Weitz Company as a manager, rather than its traditional system of handling the project in just one, Naber said.
What's ahead: A public hearing on the first $455,000 portion of the project is set for Feb. 1.
Construction is expected to begin this summer and be completed in the fall of 2023.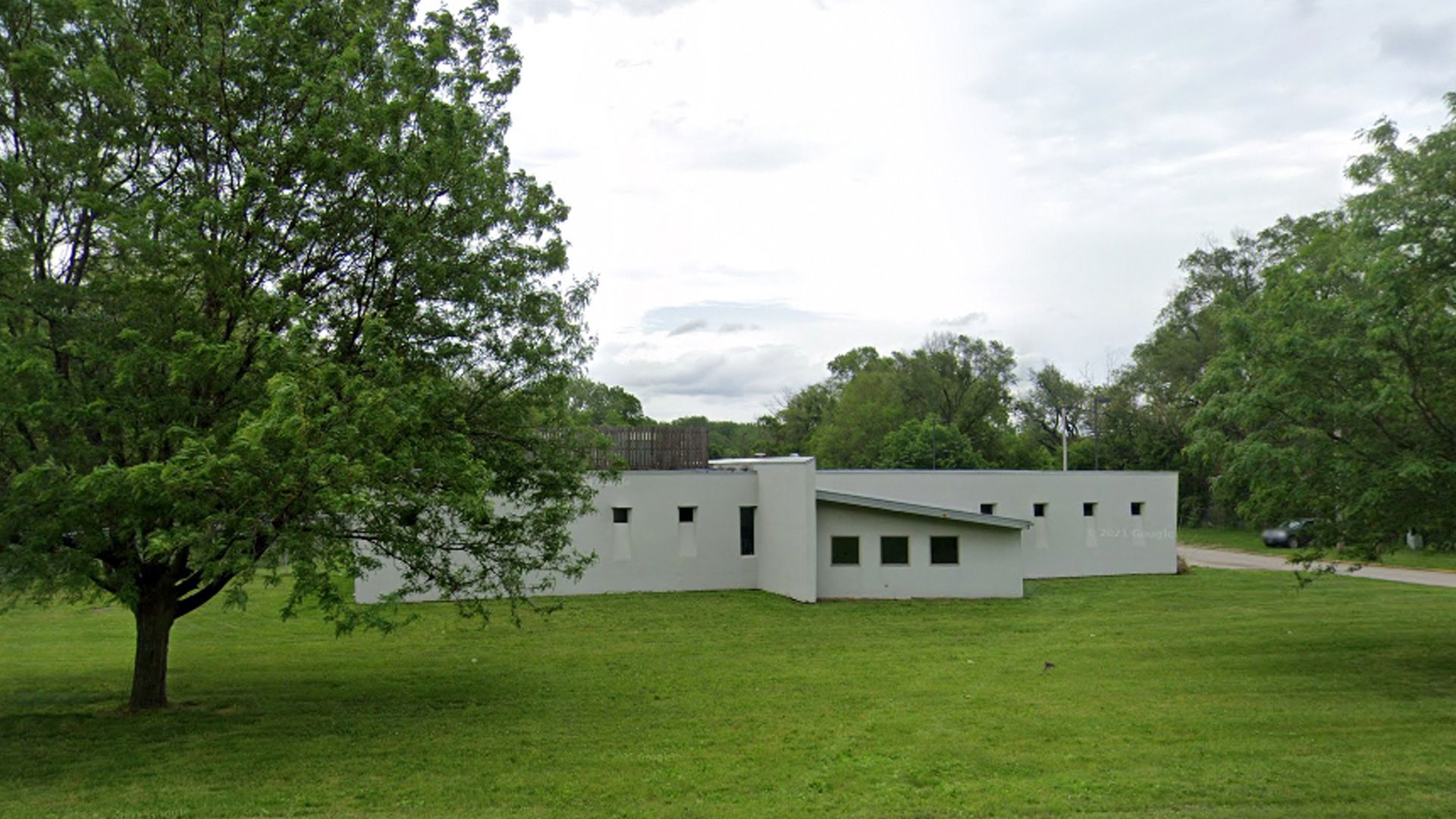 3. The Ear: Breath of fresh ear
🗞 The Des Moines Register is ending home delivery on Saturdays, starting in March. Multiple other newspapers owned by Gannett made the same announcement yesterday. (The Register)
👩‍🎓 Standardized testing was removed as a requirement for admission to Iowa's public universities Wednesday. (Iowa Capital Dispatch)
🏥 COVID-19 hospitalizations have surged 16% in Iowa in the past week, according to state health data released Wednesday. They're at the highest level since Dec. 4, 2020. (AP)
🏭 A third pipeline project proposal is in the works, this one to transport carbon dioxide from Cedar Rapids facilities to a site in Illinois. (Iowa Capital Dispatch)
💔 Iowa native Jason Momoa and Lisa Bonet announced they're splitting up after a 16-year relationship. (NBC)
⭐️ Today's pun maker: Cheryl Benson of Okaloosa.
4. 🫁 Iowa organ donations hit record high
Organ donations and transplants hit record highs last year, according to the Iowa Donor Network.
Driving the news: Medical advancements are the biggest factor, Heather Butterfield, a network spokesperson, told Axios this week.
Of note: Iowa had its first HOPE Act donor last year — which allows an HIV-positive donation to be made to a HIV-positive recipient.
The big picture: Donations also hit a national record last year with more than 40,000 transplants, according to the United Network for Organ Sharing.
5. Pic du jour: A special cake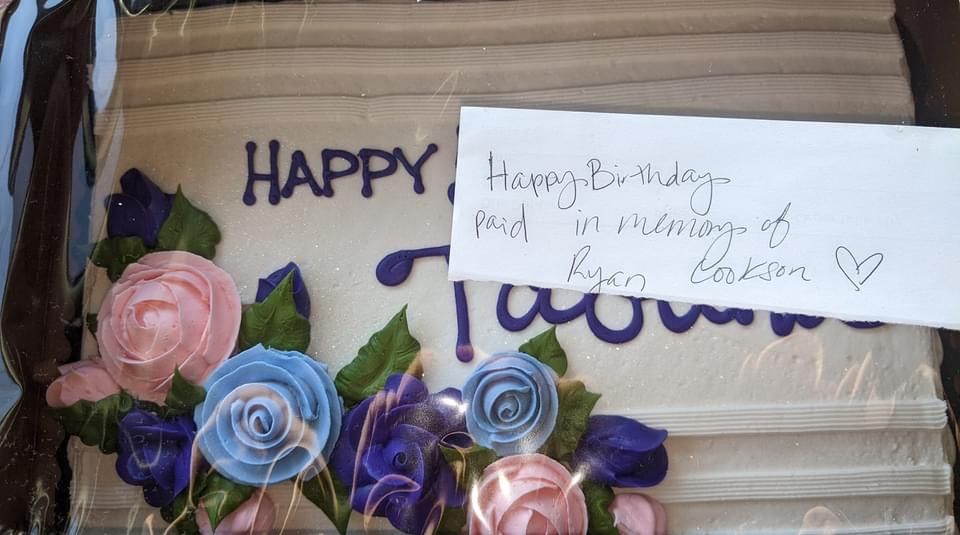 When Barry Blessing went into an Ankeny Hy-Vee to pick up his wife's birthday cake Wednesday — he learned that a complete stranger had already paid for it.
All that was left behind was a note: "Happy Birthday paid in memory of Ryan Cookson."
What he's saying: "I didn't know a Cookson family (or Ryan's friends) before today, but I feel & acknowledge their presence tonight and know they're out there somewhere within earshot or screenshot, and I hope this post reminds them of all the things they knew and loved about Ryan," Blessing shared on Facebook.
Blessing wasn't the only one — other people also shared online that their birthday cakes were paid for in honor of him.
🎂 Our thoughts: Happy Birthday out there to you, Ryan.
😋 There's lots of exciting restaurant news to look forward to in 2022:
The Breakfast Club is opening a second location at West Glen in West Des Moines, dsm Magazine reports.
And expect to see a new cinnamon roll place in the East Village, according to the Business Record.