May 11, 2021
Hey, Des Moines — it's Tuesday!
Today's high is 61. Get at it.
🥩 Situational awareness: Fareway's rezoning request for a parking lot at its proposed stand-alone meat market in Beaverdale received unanimous support from the DSM City Council last night, despite neighbors' apprehension.
Today's Smart Brevity count: 887 words, a 3.5-minute read.
1 big thing: Worker shortage, despite higher unemployment
There's no doubt you've stumbled across a "Now Hiring" sign at the drive-thru or grocery store.
Like the rest of the U.S., Iowa employers say there's a shortage of available employees in industries like construction and hospitality as the economy picks back up.
Why it matters: The inability to fill open jobs has an immediate impact on our everyday lives, like long waits at our favorite restaurants.
Long-term though, it slows our economic recovery and stifles business expansions.
Driving the news: The U.S. economy added a mere 266,000 jobs last month. Forecasters had floated gains close to one million, making this the biggest miss, relative to expectations, in decades.
But the reasons why we're dealing with a worker shortage are still up in the air, despite the state's higher unemployment rate.
Iowa's unemployment rate was 3.7% in March — up from 2.9% a year ago, according to Iowa Workforce Development.
One argument is that the extra $300 in weekly unemployment benefits introduced during the pandemic dampens motivations to go out and work.
"Who wants to work when you can make about the same being at home? I think we'd all take that deal," Matt Everson, state director of NFIB told Axios.
The other side: Unemployment benefits may delay job searches, but they don't end them altogether, said Dave Swenson, an ISU economist. For one, many people want the health care benefits that come with a steady job.
Plus, you have to prove you're job searching to keep qualifying for benefits — a strike against the idea that people are simply sitting at home raking in cash.
Other Iowa-specific factors that may play a role:
Pre-COVID, Iowa already didn't have enough workers to fill open jobs. Our latest census numbers show stagnant population growth, continuing the problem, Everson said.
The state saw an abnormally high number of people exit the workforce altogether in 2020, including moms and older Iowans taking early retirement, Swenson said.
Of note: Some economists say the surge in job creation could also just be outpacing hirings and search efforts, according to the New York Times.
2. Fix it: Our low blood supply
Our emergency blood supply in central Iowa is low, Danielle West, a spokesperson for LifeServe, told Jason yesterday.
The blood center has less than half of the desired three- to five-day supply. (It serves more than 120 Iowa, Nebraska and South Dakota hospitals.)
Why it matters: The supply saves lives.
Increasing supplies now is particularly important as we head into the summer months, which is when demand often spikes.
The big picture: Nearly 2,700 blood drives have been canceled over the last year due to coronavirus concerns, resulting in tens of thousands of fewer donations, according to the American Red Cross.
All but one of the Midwest region's 19 community blood centers have less than a three-day supply, according to tracking posted yesterday by America's Blood Centers.
Four (21%) have a day or less of supply, which is almost twice the national rate.
Take action: People may go online to schedule a donation at dozens of donor centers or mobile drives scheduled in central Iowa in the next month.
One opportunity: LifeServe's mobile buses will be located at MercyOne Des Moines Medical Center's parking lot (near the helipad) downtown, 1111 6th Ave. from 9am-4pm Friday.
Of note: People who recently got the COVID-19 vaccine are eligible to give blood.
3. Ask Axios: Drake vs. DMACC?
Got a question about our city? Hit reply and ask away.
Question: "Why is Drake University launching a two-year college when we already have DMACC?" — Steve Dunn, Des Moines
Context: Drake launches Bright College this fall, named in memory of Johnny Bright, a 1952 graduate and football player.
It's intended to help underserved communities attain higher education, with a focus on helping students graduate with little to no debt.
Answer: The college is far different in its goals, techniques and outreach — it is not of any significant competition with other schools, Craig Owens, Bright College's dean, told Axios.
The school is financed largely by donors and has a different business model than many other community colleges. It allows for more one-on-one learning and far smaller class sizes, according to Owens.
The inaugural class will have 45 or fewer students as compared to more than 70,000 at DMACC. (Bright College may grow in future years but unlikely beyond 120 students.)
The college is hopeful that this individualized approach will entice students who wouldn't otherwise pursue higher education.
"We are really providing an educational product that does not exist in the marketplace," Owens said.
4. Storyhouse to go from garage to storefront
Storyhouse Bookpub is moving from Abigail Paxton's Windsor Heights garage into a permanent East Village storefront.
Flashback: Paxton filed paperwork for her pop-up style business in March of 2020, just as the pandemic hit.
Its first incarnation was a miniature children's bookstore inside of MoMere in Valley Junction last summer.
A free socially distanced book swap from her yard in October was well attended, inspiring her to turn her garage into a makeshift store for a series of holiday events. (Yes, the garage door was open and it was cold.)
"It was fun but it was something that probably wouldn't have worked if we weren't in a pandemic," Paxton told Jason.
What's new: Paxton yesterday announced she's opening a store at 505 E. Grand Ave. Suite 102 — the former site of Domestica — next month.
Author readings, regular children story times and other community events are in its future.
5. 1 meme to go: How national media sees DSM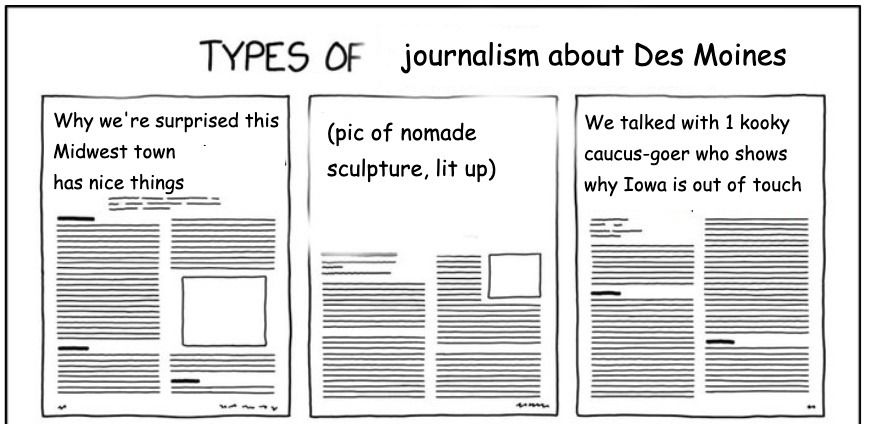 Editor's note: Yesterday's story about voting used an incorrect first name for Polk County auditor Jamie Fitzgerald.
🎵 We've got some local jingles and sayings running through our head lately.
There's the catchy Lebeda song. And that one about where "real" men go to pick up wood that's uh, not Menard's.
Tell us your favorite catchy jingles and phrases and we'll share them later, so we can all have them stuck in our heads together.