Axios Des Moines
March 09, 2021
Welcome to Tuesday. Today's high is 74.
 💉 🚌 Don't miss your shot: DART is offering free rides to those going to get vaccinated. Riders are asked to bring proof of their appointment.
Today's Smart Brevity count is 862 words, a 3-minute read.
1 big thing: Iowa's "artificially low" unemployment
Fewer Iowans are actively looking for jobs or participating in the workforce when compared to the national average, according to updated numbers from the Bureau of Labor Statistics.
Why it matters: Workforce dropouts can slow down the state's post-COVID recovery and compound financial hardships, especially for low-income Iowans.
Over the long term, lower workforce participation could result in labor shortages — an issue Iowa already faces due to "brain drain."
The state of play: Officials tout our 3.1% unemployment rate as the third-lowest among states, but that doesn't count people who aren't actively looking for work, Dave Swenson, an economist at Iowa State, told Linh in a recent interview.
"We have artificially low unemployment rates because of exits from participating in the labor force," he added.
The potential causes, per Swenson:
More women stayed home starting last spring and summer because of child care responsibilities.
Older people felt it was more advantageous to drop out of work than risk COVID exposure.
The dining and hospitality industries experienced severe cuts and aren't expected to fully recover.
Worth noting: People may assume these unemployed Iowans are just "lazy" — an often-used trope. But that's not the case, Swenson said.
"Why would you sit at home with a quarter or a third of your paycheck you're normally getting, rather than go to work where you get full pay plus benefits?" Swenson said. "It doesn't make sense."
What's next: Iowa-specific unemployment numbers will be released Monday by BLS.
2. DSM accused of redlining with rezoning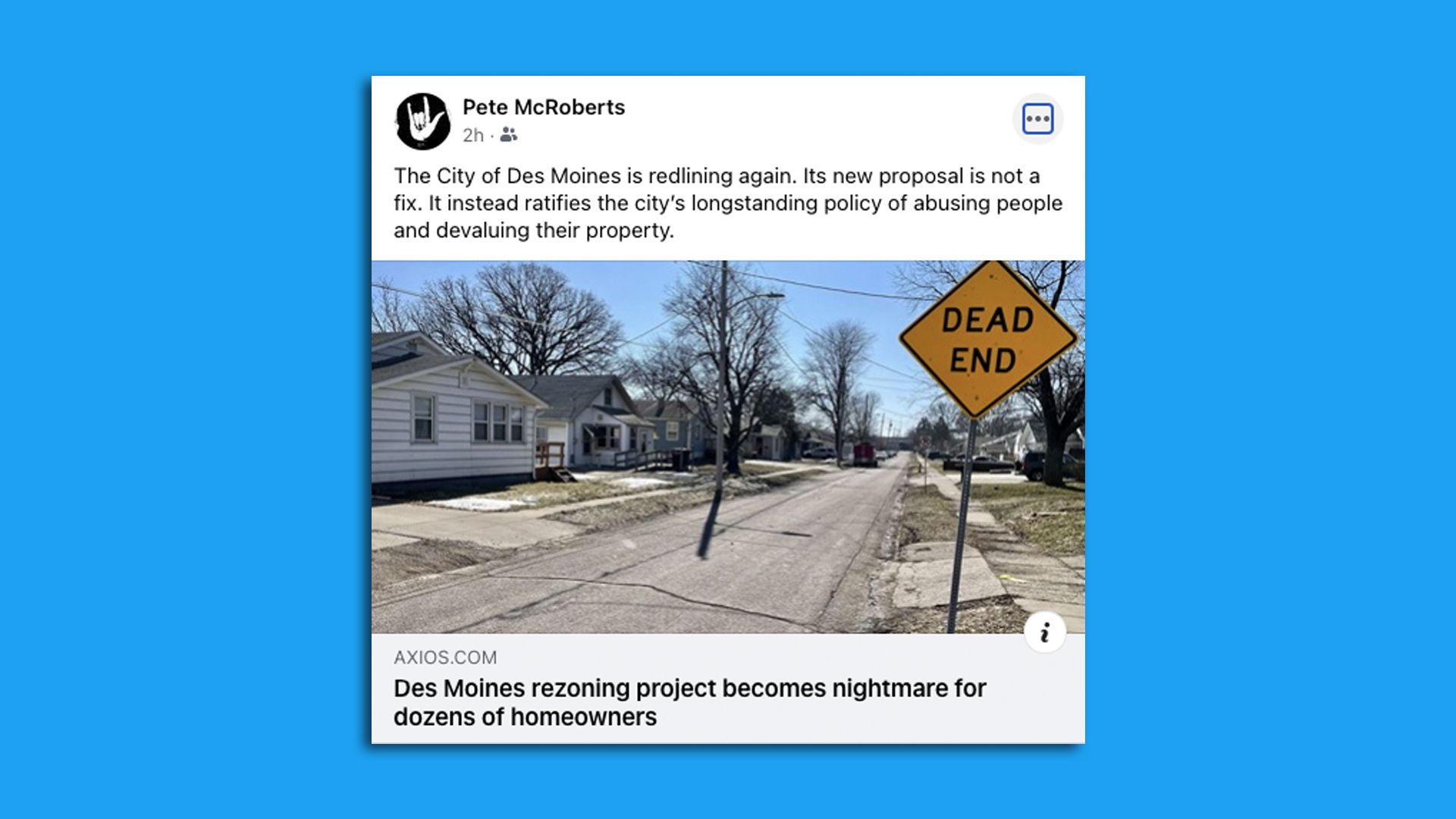 Des Moines is being accused of redlining by an attorney who read our story about how rezoning has crippled the ability of homeowners in a few (mostly poor) areas to get loans and permits to fix, modernize or sell their properties.
Catch up quick: Des Moines rezoned nearly every single parcel of land in the city as part of a massive long-term plan in 2019.
About four dozen homes — mostly sandwiched between industrial areas and I-235 — were rezoned as industrial, greatly limiting their construction options.
Why it matters: Redlining is illegal.
Systematic denial of services to certain neighborhoods — especially those tied to finances — limits investment opportunities and paralyzes their housing markets.
"They have to rezone these houses and properly classify them as residential. Otherwise, they're flushing people out," Pete McRoberts, a West Des Moines attorney who advocates for property owner rights, told Jason.
The other side: The accusation is unfair because the zoning was part of a citywide comprehensive plan, according to Michael Ludwig, deputy director of the Development Services Department. And he argued the city has acted to help homeowners.
DSM provides "rebuild letters" to lenders outlining how the homes can be fixed or rebuilt after disasters to help owners get loan approval.
Garage construction and limited expansion is now possible thanks to a Feb. 22 action by city council.
If the council wants to change zoning for those affected homes, that would be its prerogative, Ludwig said.
What's next: Multiple council members have called for a special public meeting. We'll keep you posted.
Fairmont Park Neighborhood will discuss the issue during a meeting tonight at 6pm at the Capitol Hill Christian Church, 3322 E 25th St.
3. Catch up quick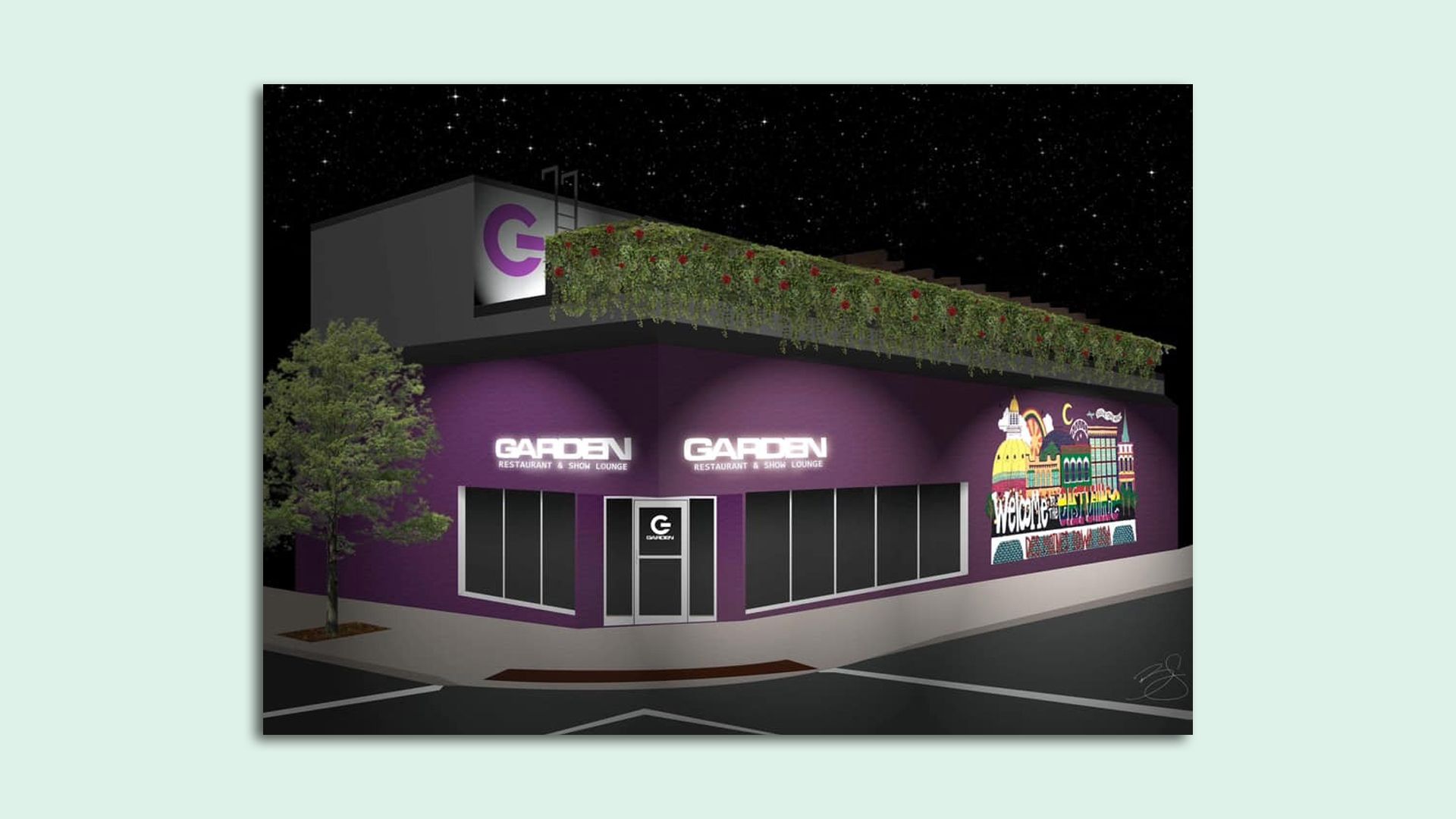 4. We're gonna have the sexiest balustrade ever
Riverwalk improvements this year include replacement of this broken down wall between the walk and the Des Moines River near the Martin Luther King Jr. Parkway bridge.
It's the second of four phases of a replacement project that is anticipated to conclude in 2026.
Estimated costs this year: $195k. (The first phase was almost $220K.)
What to expect: The replaced sections will be cast stone and look similar to those along the Riverwalk adjacent to City Hall.
5. Pandemic positives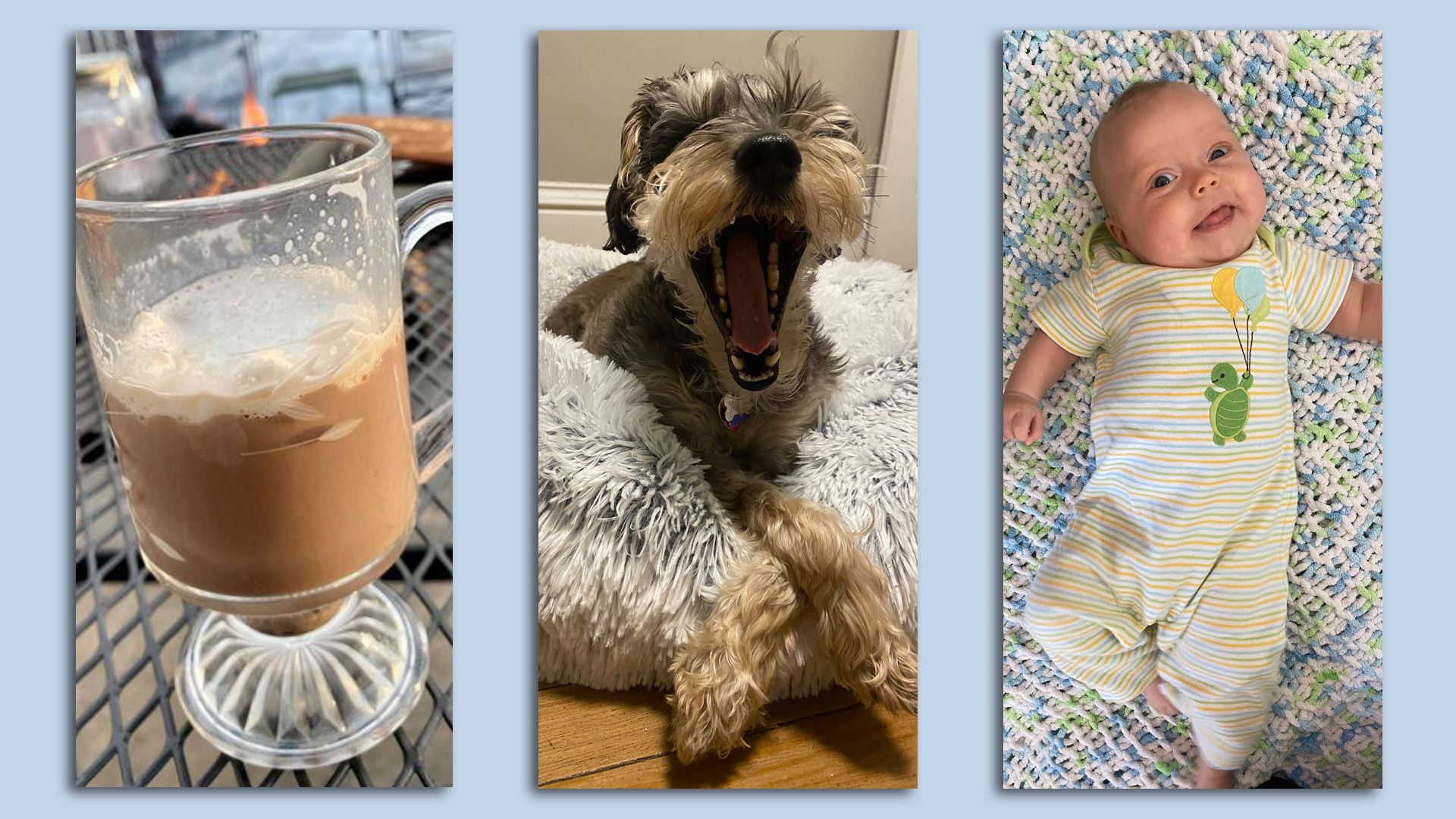 Lots of you discovered some bright sides to our pandemic year. Here are a few of our favorite responses to our "silver lining" question:
"My dog has had the best year of his life! I honestly don't know how he'll manage when we go back to the office everyday." — Lauren Kollauf, Des Moines
"A beautiful baby girl." — Will Daugherty, Windsor Heights
"Weight loss (15 pounds). And all because I wasn't eating out at all, I wasn't going to friends' homes for dinner, and I wasn't going out with hubby for drinks and snacks at Noce." — Mary D, downtown Des Moines
"People helping people. There are so many hidden heroes in our midst." — Amy Miner, Johnston
"The acceptance of distance learning as a positive education tool for many." — Dana K. Hols, Oskaloosa
"The ability of the local hospitality scene to adapt, innovate and collaborate. ... The creativity we have seen through projects like virtual wine dinners, pop-up ghost kitchens, themed holiday packages and to-go cocktails has been amazing." — Chris Diebel, Des Moines
"A few friends and I decided to read a book together during the two-week lockdown in March. That led to a book club that meets weekly and is on book #13." — Ben Weinberg, Clive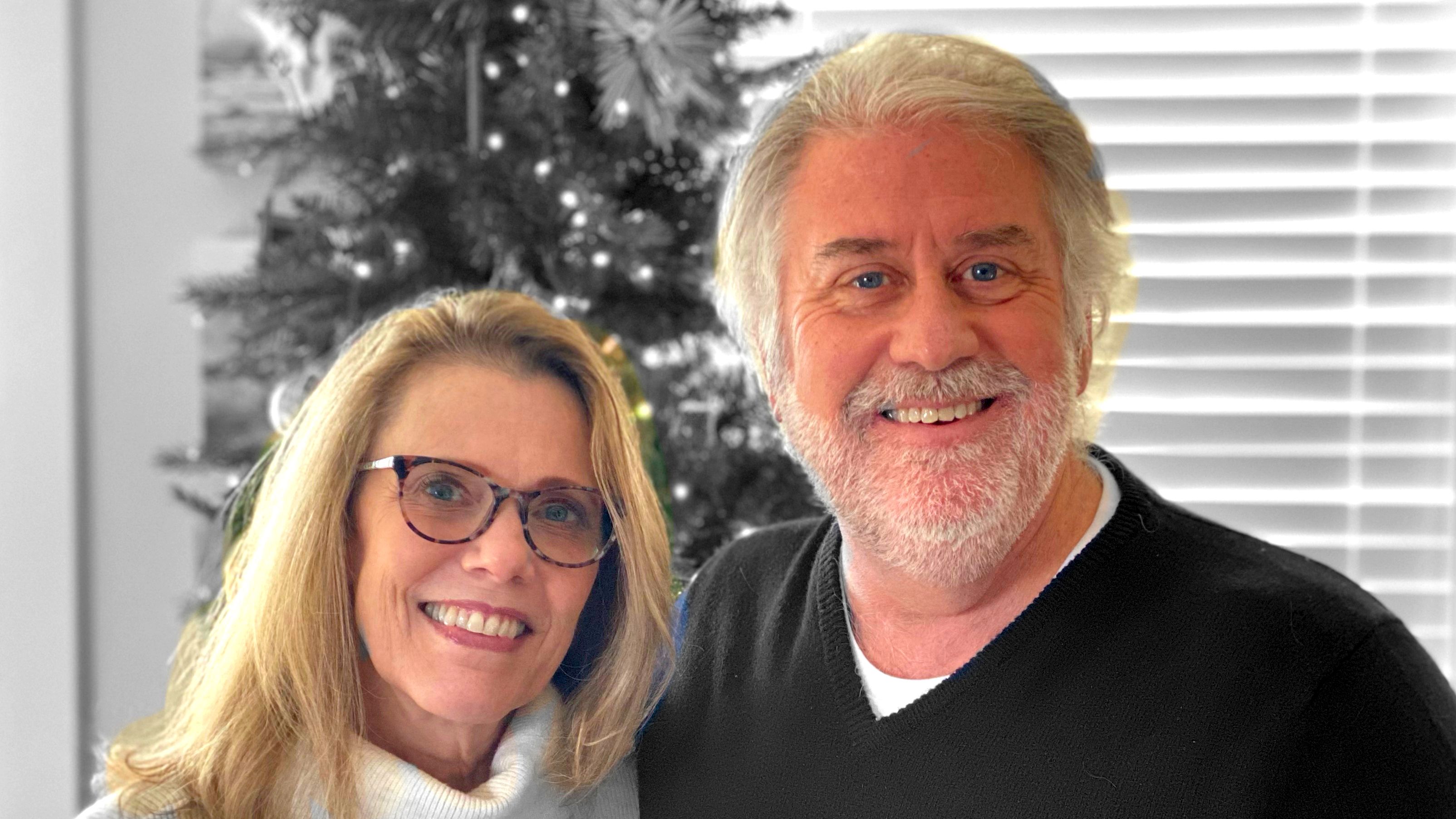 "I love my wife even more!" — John Stark, West Des Moines
"Outside gatherings around a fire pit with my Group Therapy friends." — Cheryl Benson, Oskaloosa
🏆 DSM's East Village and the Pappajohn Sculpture Park got some love in Midwest Living's new "Best of the Midwest" rankings.
🥰 How about you give us some love? Forward to a friend. They can subscribe here.
👋🏼 Thanks for reading!