Axios Des Moines
March 17, 2023
☘️ Happy Friday! Hope you have a fun St. Patrick's Day.
☀️ Weather: Mostly sunny with high of 33°.
📄 Situational awareness: A bill banning transgender students from using the bathroom that aligns with their gender identity is heading to Governor Kim Reynolds' desk.
Today's Smart Brevity™ count is 885 words, a 3.5-minute read.
1 big thing: RAGBRAI preparations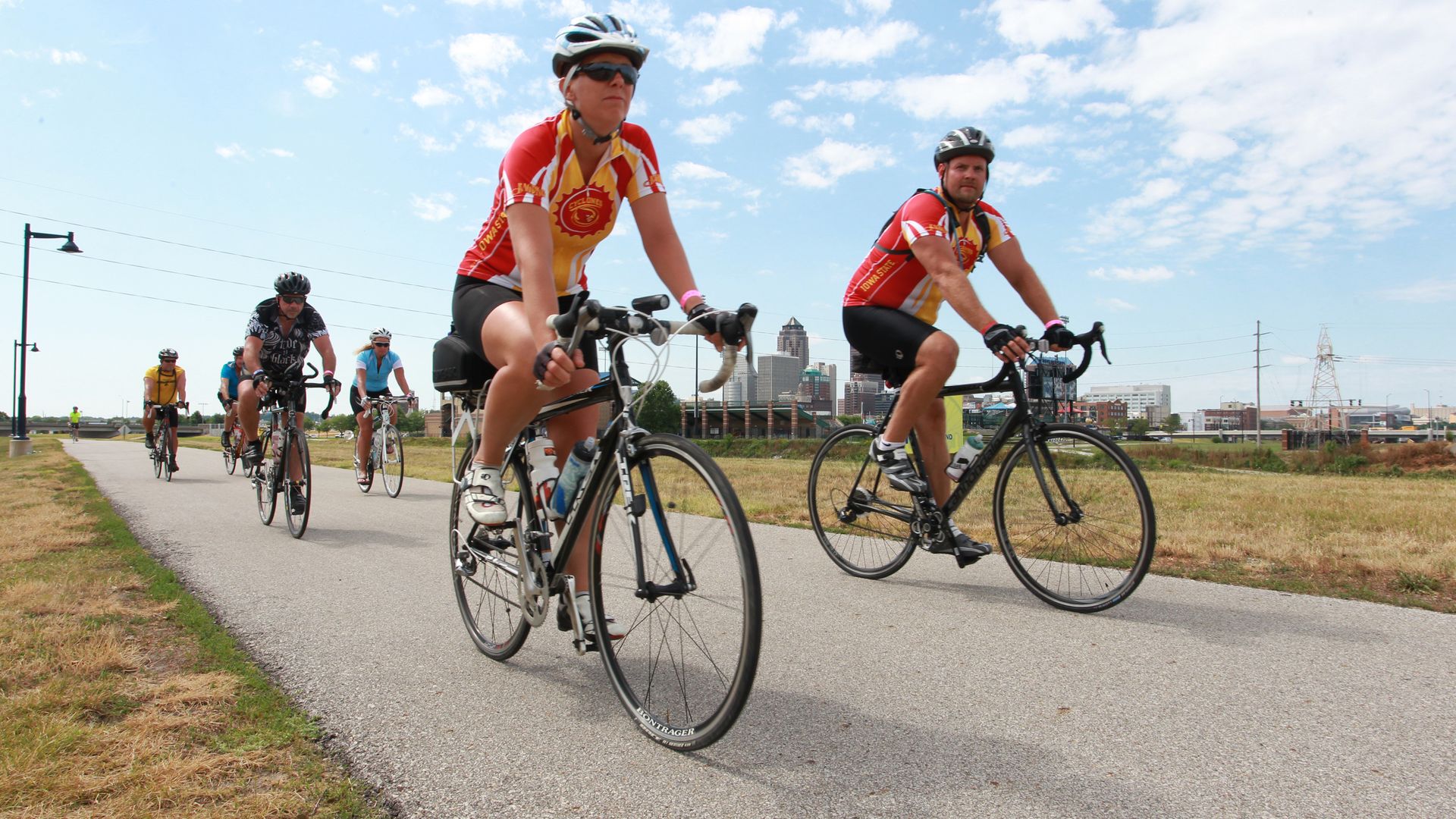 RAGBRAI's 2023 route is expected to take over a section of East 14th Street in both directions and will likely require the assistance of hundreds of traffic, law enforcement and emergency personnel.
Why it matters: While plans have been ongoing for months, decisions on things like a specific metro route and emergency contingency plans kick into high gear next week after the NCAA basketball tournaments.
Minimizing disruptions while maximizing public safety efforts for the world's largest bike-touring event is what deputy DSM city manager Matt Anderson describes to Axios as "a big lift."
State of play: RAGBRAI's 20,000-plus cyclists and tens of thousands of spectators last visited DSM in 2013.
In celebration of the ride's 50th anniversary, organizers are trying to beat a world record for the largest parade of bicycles —set in Italy in 2000 with almost 49,000 participants.
There could be around 100,000 riders participating in the 50-mile route from Ames to DSM this year, RAGBRAI ride director Matt Phippen told KCCI in January.
Flashback: There were 30 police officers stationed along the route on the DSM Water Works campgrounds and in downtown for 2013's DSM route. That was equivalent to an entire police patrol shift, the Register reported at the time.
At least $100,000 in corporate donations was raised to help cover that cost.
Zoom in: This year's route is far different than in 2013, Anderson says.
Riders will likely stay in the southbound lanes for much of the U.S. Highway 69/East 14th street route from Ankeny.
Yes, but: It's probable the event will require both directions of the highway after Euclid Avenue as the route heads towards downtown because of fewer medians.
Planners are still evaluating where the route will jog west from East 14th Street before reaching the Capitol grounds, Anderson says.
2. Caitlin Clark takes center stage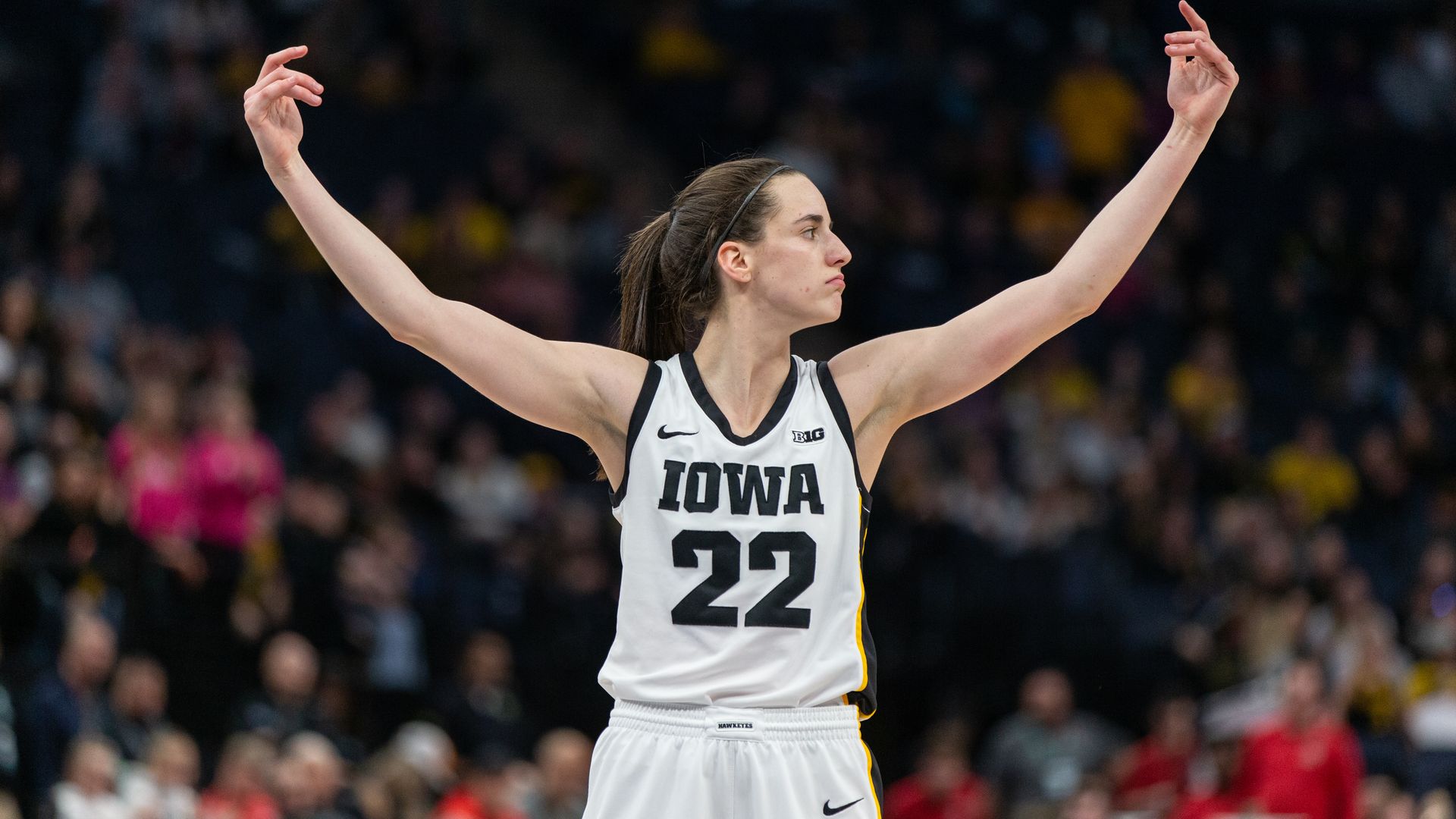 As the nation turns its eyes to Caitlin Clark, Des Moines begins to hold its breath.
Why it matters: The first round of the NCAA Tournament this weekend could be something of a basketball nirvana for Iowans.
Clark and the rest of the No. 2 seed Hawkeyes take on Southeastern Louisiana at home at 3pm today.
Driving the news: Eye-popping stats and national commercials have become normal for Clark.
That said, she had an excellent individual year last season and the Hawkeyes still lost in the second round.
And they haven't made the Final Four since 1993, roughly nine years before Clark was born.
Yes, but: This year could be different.
Clark, Monika Czinano, Gabbie Marshall, Kate Martin and McKenna Warnock have started 86 career games together, per ESPN.
The Hawkeyes lead the country in scoring by a comfortable margin.
Iowa wouldn't have to play South Carolina — the most dominant team in college basketball this season — until the semifinals.
And while the team can shoot well enough to cover up most mistakes, the defense has also improved from last year.
How to watch: The 3pm game is on ESPN.
What's next: Next up is Drake, whose men's and women's teams both made the tournament as No. 12 seeds. The men take on Miami tonight at 6:25pm and the women play tomorrow at 6:30pm against Louisville.
Of note: The Iowa men lost against Auburn last night— 83-75.
3. A financial soccer punch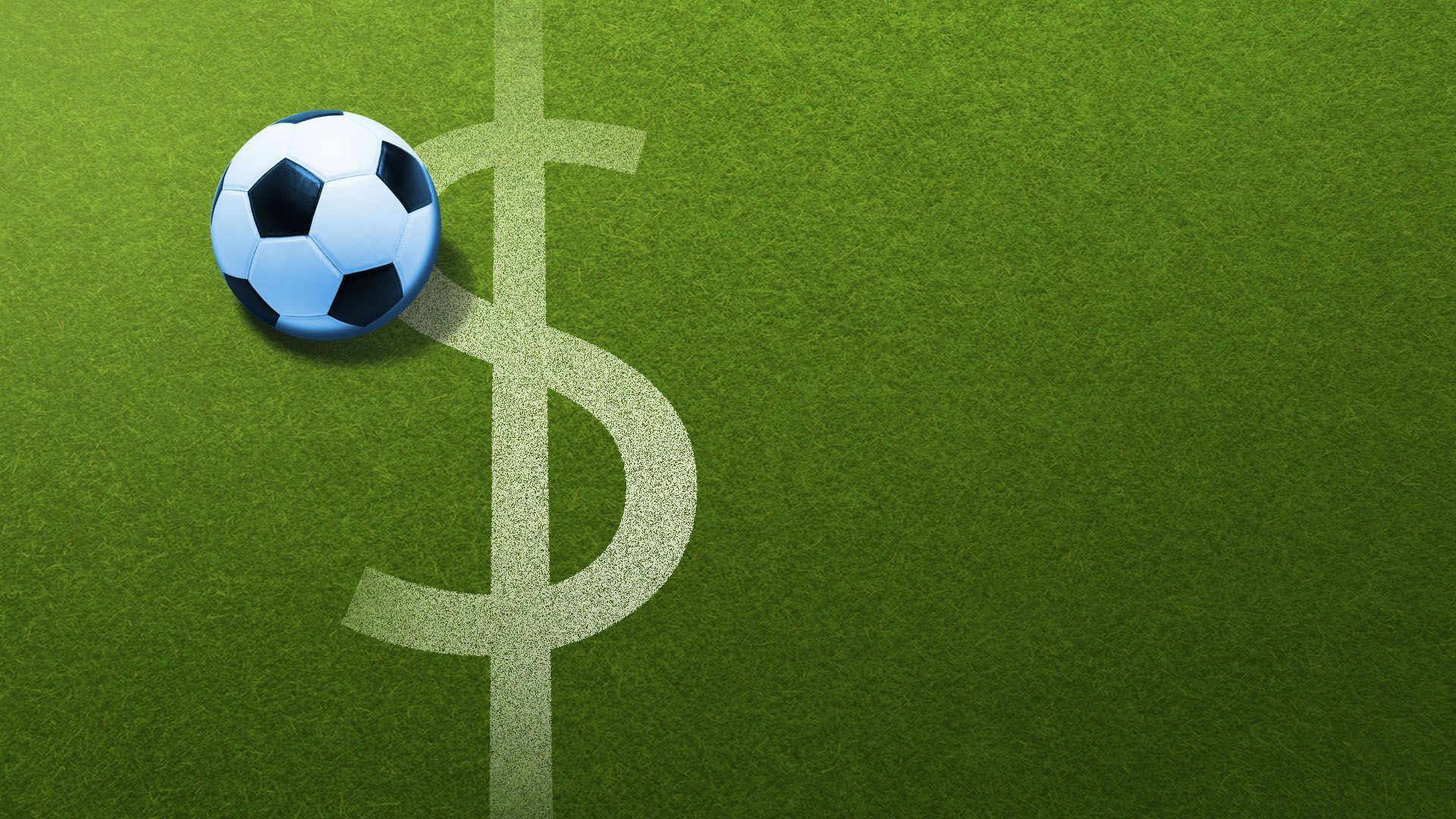 An Italian soccer team purchased in late 2020 by Kum & Go owner Kyle Krause lost $116 million in the first 17 months he owned it, the Des Moines Register reports.
Why it matters: It could foreshadow challenges in DSM, where a USL tier-two men's soccer league would be a new venture.
Krause is leading local efforts to build an $84 million professional soccer stadium in downtown, which has already been delayed for supply chain and cost challenges.
Yes, but: The project is independent of Krause's other ventures and is still in the works, Dan Jansen, program manager for the Iowa Soccer Development Foundation, tells Axios.
Catch up fast: Krause has been working to bring a USL Championship team, the second tier of U.S. pro soccer, to Iowa for more than a decade.
As a result, Pro Iowa and Krause+ — the real estate arm of the Krause Group — have been planning a 6,300-seat stadium at the Dico Superfund site near 15th Street and Martin Luther King Jr. Parkway.
State of play: Stadium project officials have spent recent months working through environmental cleanup requirements and reviewing stadium design options, deputy city manager Matt Anderson tells Axios.
Stadium developers are exploring construction techniques to save time and money, he says.
Meanwhile, Kum & Go is exploring a sale, as reported by Reuters and confirmed by Axios last month.
Full story: The stadium's current timeline
4. Your weekend plans: St. Patrick's Day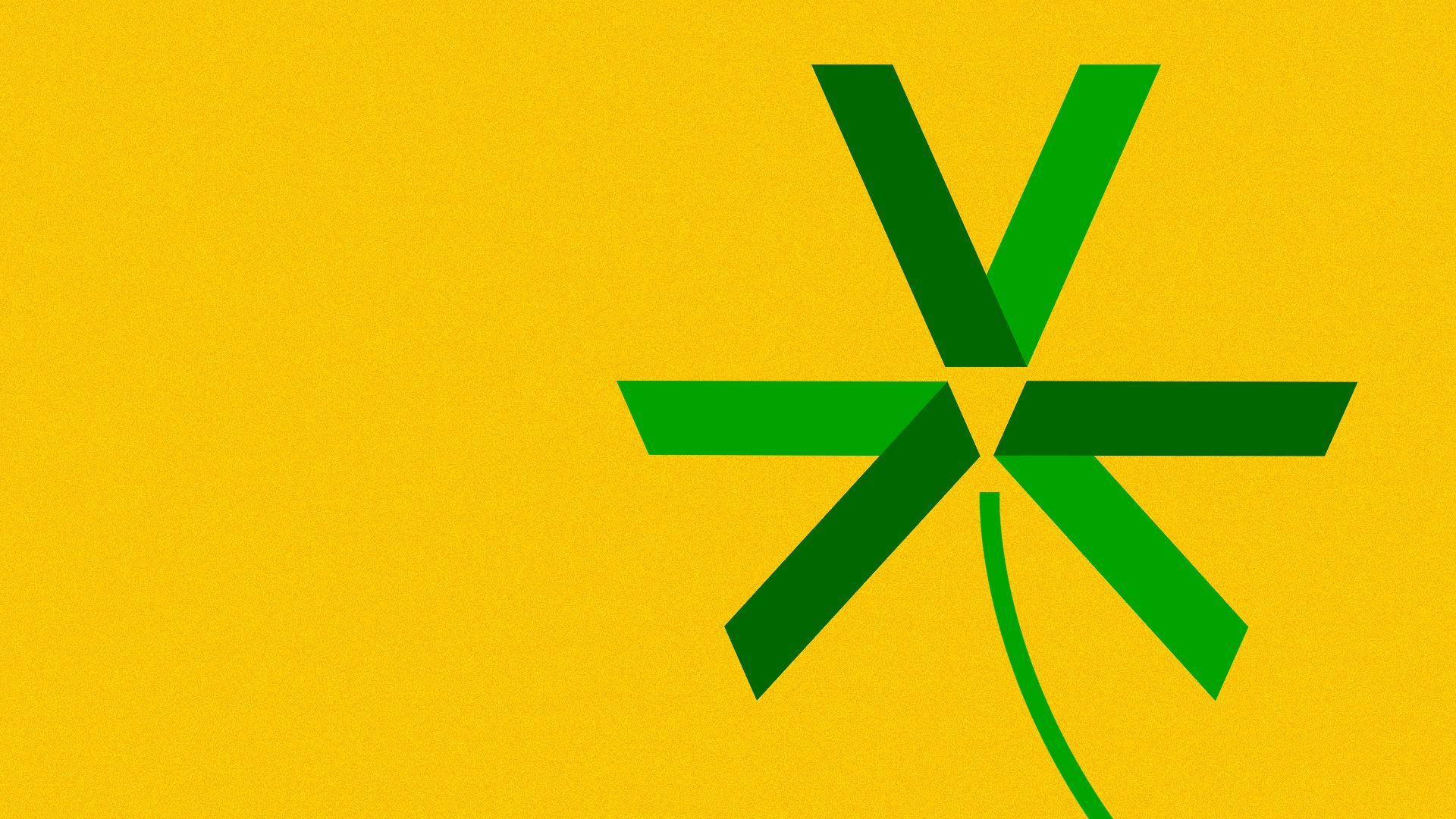 Friday
🍀 Des Moines' annual St. Patrick's Day parade starts at noon at 16th & Mulberry streets and ends at 8th and Grand Avenue. Details
🏀 Get into March Madness during Hoops and Hops through Saturday in Cowles Commons. 10am to 10pm.
Saturday
🏃‍♀️ Tie up your running shoes for the downtown St. Patrick's Day marathon or half marathon. Starts at 7:45am.
Sunday
🌟 Look for "gold" during a St. Patrick's Day-themed hike with Pollinate Ritual at Brown's Woods. Starts at 2pm.
New readers can subscribe to our free newsletter here.