Axios Des Moines
October 22, 2021
It's Friday and it finally feels like fall.
When do you finally break down and turn on the heat?
♨️ Jason fired up his furnace, lit his gas fireplace and plugged in the space heater under his desk the moment the inside temp dropped to 63.
🥶 Linh caved when her thermostat hit 64 last night.
Today's Smart Brevity count is 916 words, a 3.5-minute read.
1 big thing: Absentee requests rejected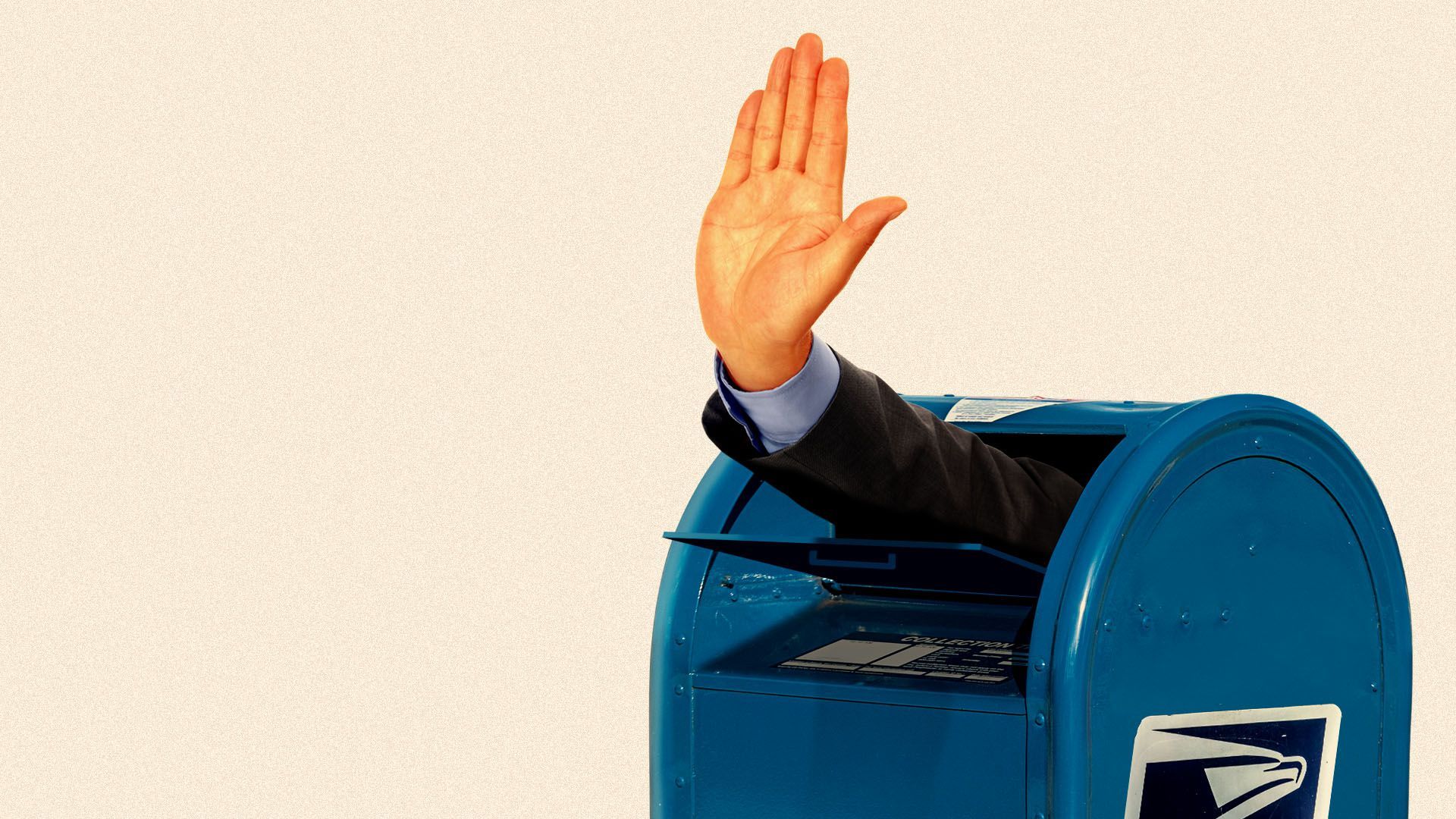 At least 130 Polk County voters submitted absentee ballot requests via mail after Monday's 5pm deadline, according to a county auditor's report provided to Axios by Polk County Democrats.
Why it matters: The Nov. 2 elections mark the first time voters head to the polls since Gov. Kim Reynolds signed new voting rules into law.
Shorter timeframes and far more restrictive rules could make it harder for communities of color, individuals with disabilities and elderly voters to cast ballots, groups like LULAC Iowa argue.
Catch up quick: Monday's deadline to submit a completed ballot request via mail was 11 days earlier than in prior years.
Applications can also now only be requested by the voter. Some auditors had previously mailed them without requests.
State of play: About 7,100 people in Polk County have requested absentee ballots, county auditor Jamie Fitzgerald said on Twitter yesterday.
Of those, 58% did not vote in the 2019 city/school elections. (The overall turnout in 2019 totaled more than 49,600 voters.)
What they're saying: School/city elections generally have low turnout, but polarizing issues like mask mandates could influence whether people whose ballot request was rejected will vote in person, said Drake University political science professor Dennis Goldford.
Meanwhile, county chair Sean Bagniewski told us yesterday that Democrats will reach out to those whose ballot requests were rejected, including Republicans.
Republicans have not heard any complaints about the absentee requests. Most of their voters go to the polls rather than vote, county chair Gloria Mazza told us yesterday.
What's next: County auditors are required to notify voters within 24 hours of when their absentee ballot request is rejected and outline the ways they may still participate in the election.
Early in-person voting at county auditor offices is open through Nov. 1. (Polk's is at 120 2nd Ave, Monday-Friday from 8am-5pm.)
Election Day voting will take place at your precinct, which you can find here.
Read our full story for more resources.
2. Second redistricting map released
Iowa's second round of proposed redistricting maps are out and analysts say Republicans should feel more agreeable toward them than the first ones they rejected earlier this month.
Why it matters: The map legislators ultimately choose will determine the distribution of political power at the legislative and Congressional levels for the next ten years.
And if these don't pass — legislators will move on to a third round of map proposals that a GOP-dominated Legislature can amend.
The big picture: The map breaks up Iowa's urban strongholds that typically lean left: Des Moines, Ames, Iowa City and Cedar Rapids, tweeted Dave Wasserman of Cook Political Report.
"This is a dream GOP map," Wasserman said.
Zoom in: It also pits Democratic Rep. Cindy Axne against Republican Rep. Mariannette Miller-Meeks.
Wapello County, where Miller-Meeks resides, is drawn into the third district, which Axne represents.
Axne's seat becomes more competitive because the Third District loses more urban areas, like Warren County, which covers portions of Norwalk and West Des Moines. Instead, it gains more rural and red-leaning counties like Wapello and Davis.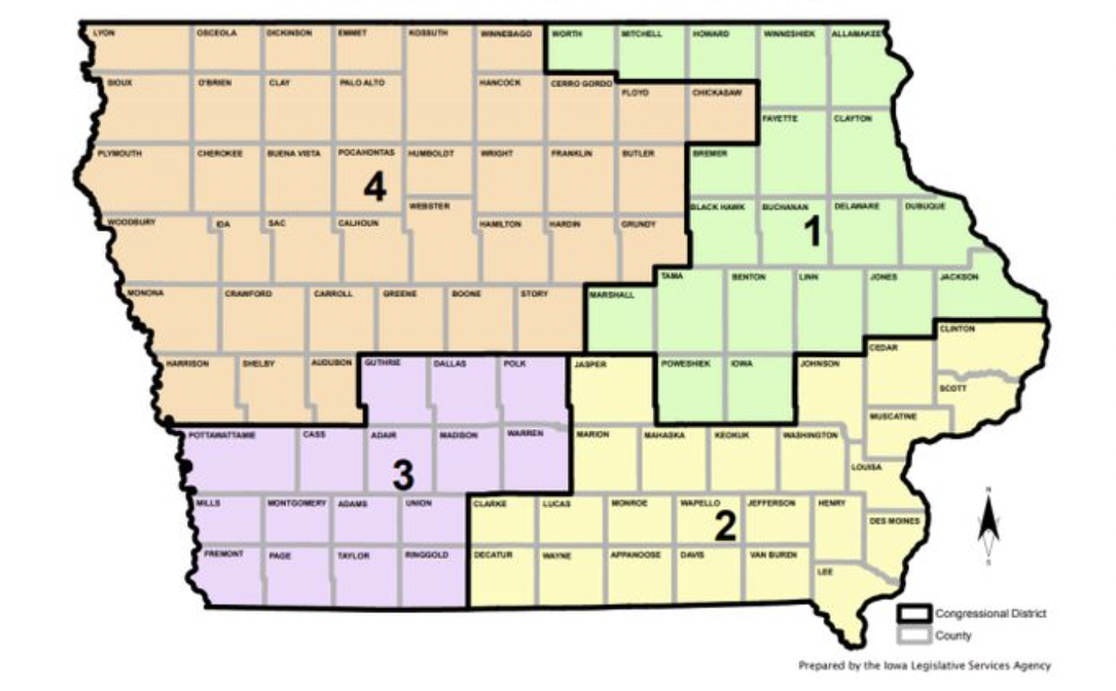 What they're saying: Republican legislators have remained mum on the maps, but House and Senate Democrats already said they plan to approve them.
What's next: The Legislature will reconvene Oct. 28 to make a decision.
3. Pics du jour: We drove a bus!
DART challenged us to test our abilities and navigate a 40-foot bus through an obstacle course at the Iowa State Fairgrounds yesterday.
Why it matters: You could give the bus a spin yourself.
DART is trying to hire about 35 more drivers and is offering up to $3,000 sign-on incentives. Starting wages range between $17-25/hour.
⏰ Details: Try it out Friday 1-5pm and Saturday 8-10:30am at the fairgrounds. (Enter through the gates off University Ave.)
Bring your license. Drivers must be at least 21.
💬 Our thought bubble: We had so much fun, but may need a little more training...
4. Proposed train route connects Chicago/Des Moines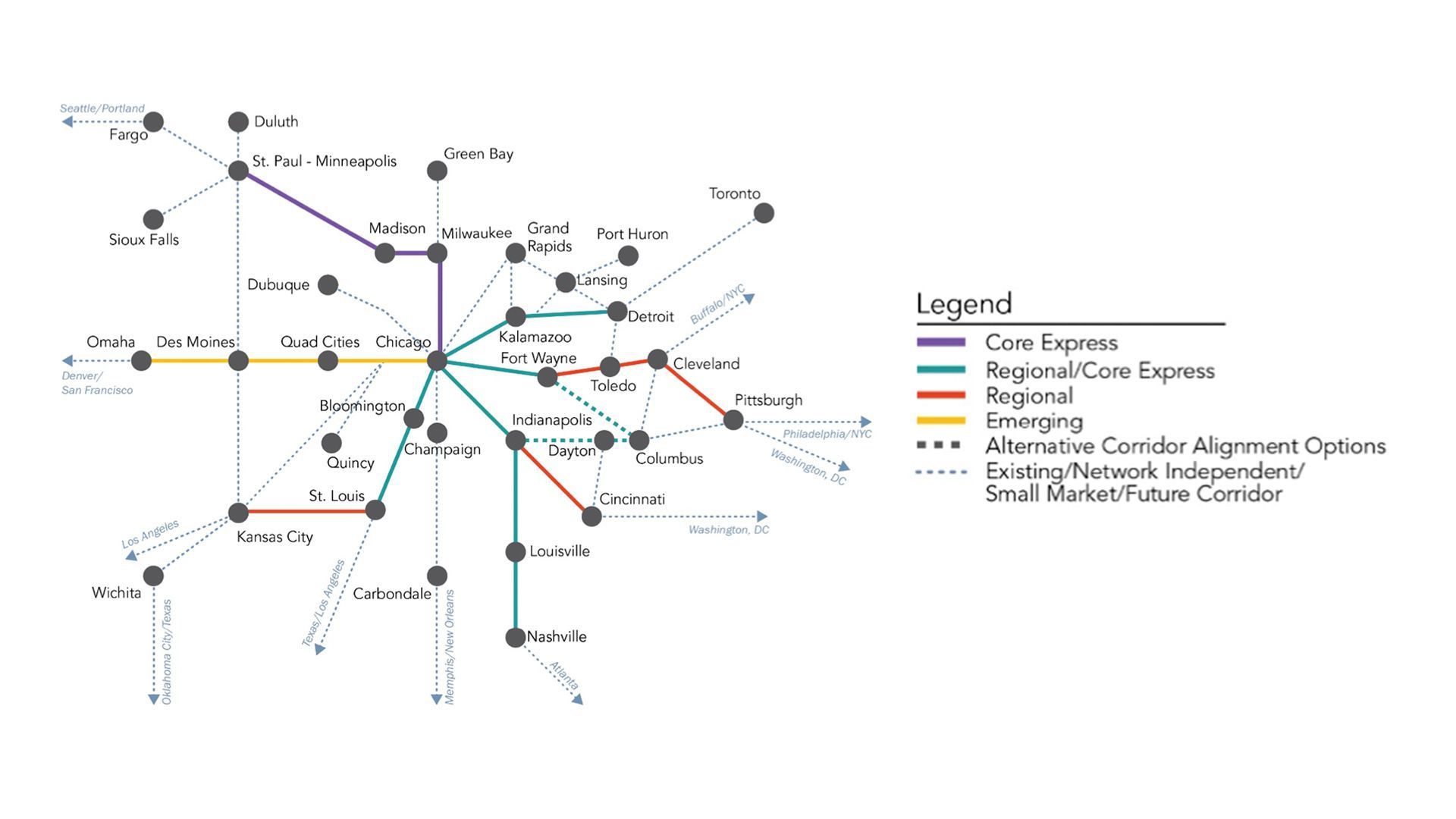 A newly released plan from the Federal Railroad Administration would allow Des Moines residents to travel via train to Chicago or Omaha, Nebraska.
Why it matters: Traveling from Des Moines to other states without a car isn't easy.
This dream proposal by the federal transportation agency helps take us a step closer to better commutes.
Zoom out: The plan would make Chicago the hub of the Midwest, with four pillar locations — Twin Cities, Detroit, St. Louis, and Indianapolis — that would have high frequency service.
A new route from Chicago goes through the Quad Cities — and then Des Moines and Omaha.
Yes, but: Don't book that trip just yet. As the Chicago Tribune notes, the concept is only in the early stages and is intended to be a 40-year framework.
It also depends on state and federal funding.
5. The "proper" trick-or-treating age
The majority of our Axios Des Moines readers are not Halloween Grinches and said they'd willingly give candy to anyone at their door.
60% of our 165 survey respondents said no age is too old for trick-or-treating.
22% of you said around age 13 is when we're teetering on "too old."
What you said: "Teenagers are great. Would folks rather they be out drinking and vandalizing? Give them candy!"
"If they look like they are in high school, they should have a younger sibling with them and not ask, but let me offer them candy."
"If a high school student comes dressed up, I'll give them candy. And I'll give them more if it's a creative costume."
What Linh's saying: I don't care if you're 65 or five — you're not getting anything from me without a joke.
Facebook plans to change its name next week. Got any ideas on what it should be?
⚜️ We're suggesting they go nameless like 1993 Prince.