Axios Des Moines
March 14, 2023
🍕 Happy Pi Day! Where do you go for the best pizza in the metro?
Hit reply. We'll share your ideas in an upcoming newsletter.
☀️ Most sunny with a high of 36°.
Today's Smart Brevity™ count is 876 words, a 3.5-minute read.
1 big thing: 🔥 It's getting hot in here
Our winter seasons are part of an alarming warming trend.
Driving the news: The average temperature recorded in Des Moines between December 2022 and February was 27°.
While not the hottest on record, average winter temperatures have trended upwards since 1970.
That's according to a new analysis of National Oceanic and Atmospheric Administration numbers from Climate Central, a nonpartisan research and communications group.
Why it matters: Warm winters can exacerbate drought and other ecological problems, Axios' Andrew Freedman reports.
The big picture: Winter is the fastest-warming season for much of the continental U.S., including Iowa.
About 80% of the country now has at least seven more winter days with above-normal temperatures compared to 1970.
State of play: Iowa's drought conditions have improved in recent weeks thanks in part to unusual February rains that dumped more than a month's worth of precipitation in one day in some places.
Yes, but: Partially frozen ground means that not as much of that water could be absorbed into the soil.
Much of the state remains abnormally dry or in drought conditions, according to the U.S. Drought Monitor.
Threat level: Not only are winters warming overall, but cold snaps are becoming less severe and shorter in duration, research shows.
That's partly because the Arctic is warming at three to four times the rate of the rest of the world.
The bottom line: Over the coming years, most of us can expect to feel climate change's effects more acutely during winter months.
2. Newspaper decline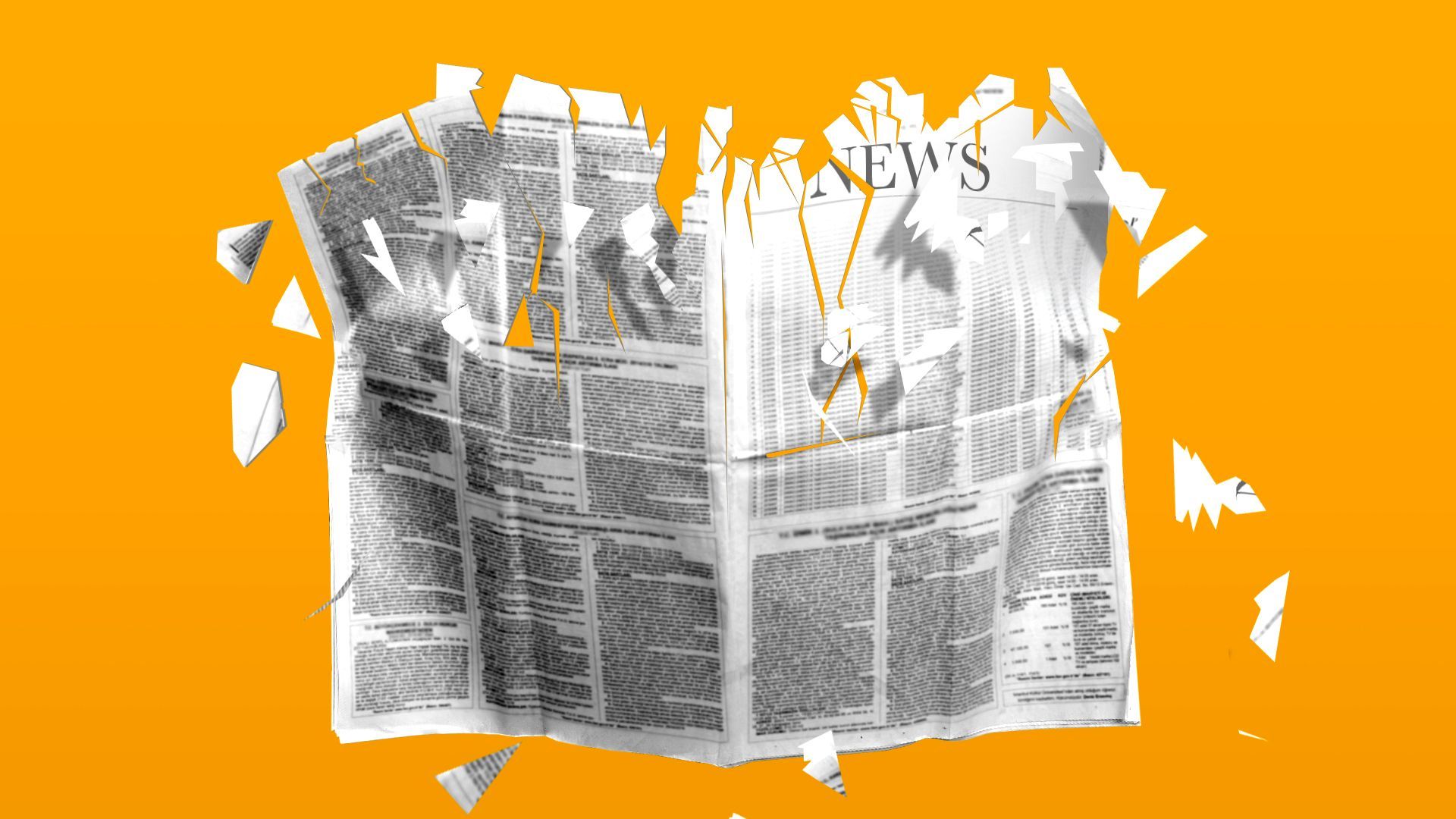 The Des Moines Register has lost nearly 70% of its Sunday circulation since 2018, according to a recent column in journalism outlet Nieman Lab.
Why it matters: At a time when we're bombarded with more misinformation than ever, reputable reporting from news outlets like the Register is even more crucial.
Driving the news: Every major local paper under Gannett, the Register's parent company, experienced a decline in its Sunday circulation since 2019, per Nieman Lab.
On average, Gannett's major local newspapers lost at least 52% of their Sunday circulation during that time period.
The Register's Sunday circulation declined from 129,462 in 2018 to just 39,773 in 2022, according to the Alliance for Audited Media.
Of note: Direct year-to-year circulation comparison is difficult, according to AAM, since Gannett may voluntarily choose to report different sets of numbers.
For example, in 2018 the Register shared print circulation, affiliated publications, readership data and website activity. But in 2022, it only shared print circulation.
Flashback: In 2019, Gatehouse and Gannett merged to create the country's largest newspaper chain.
But since then, the company has been fraught with furloughs and high turnover, going from a total of 27,600 employees in 2018 to just 11,200 remaining at the end of 2022.
What they're saying: "A recent Nieman Lab article utilizes Alliance for Audited Media (AAM) data to inaccurately depict Gannett's circulation and subscriber figures. We have requested a correction," a Gannett spokesperson tells Axios.
AAM data is used to help advertisers understand publisher reach in specific markets, the spokesperson said, not to infer readership or paid circulation.
Gannett declined to share the Register's circulation numbers.
A Nieman Lab spokesperson declined to speak on the record.
What's next: The Iowa Legislature is considering eliminating public notice requirements in newspapers — another potential financial blow that could hurt the Register.
Statewide government actions must be published for the public to see. Those are typically placed in local newspapers, which are paid to share the notices.
💭 Our thought bubble: We need investment in thoughtful journalism from reputable outlets like the Register more than ever right now.
3. The Ear: I feel the Earth move under my seed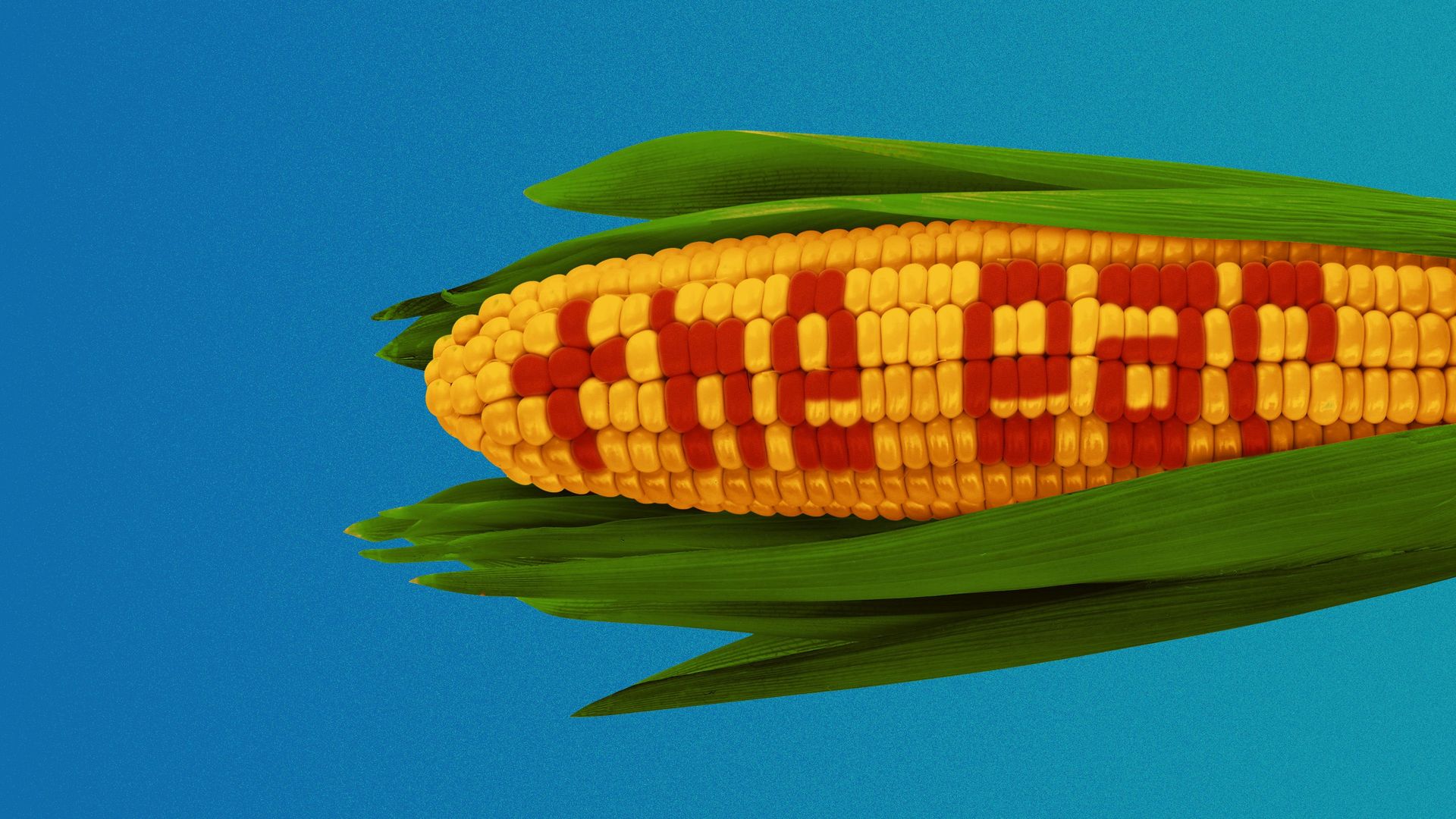 🎰 Iowa casinos had an economic impact of more than $1 billion in the last fiscal year. (Radio Iowa)
✍️ Gov. Kim Reynolds indicated she will sign a bill banning Iowa doctors from providing gender transition treatment to minors. (Radio Iowa)
🏀 There are plenty of free March Madness events around town! (Des Moines Register)
4. Charted: Tampon tax
This is the first year that Iowa has exempted period products from its sales tax.
Why it matters: As the U.S. celebrates Women's History Month in March, progress in efforts towards gender equity still lags when it comes to how much money women spend on everyday items, writes Axios' Kelly Tyko.
By the numbers: The average cost of menstrual products such as tampons, pads and menstrual cups is about $20 per cycle. That adds up to about $18,000 over the average woman's lifetime, the National Organization for Women estimated in 2021.
One in four people in the U.S. who menstruate can't afford period products, according to the nonprofit Alliance for Period Supplies.
And tampon prices rose in the first half of 2022 by nearly 10% and pads by more than 8%, a NielsenIQ report found.
What they're saying: The Iowa Legislature unanimously approved a bill last year categorizing period products as "essential" and similar to health items like glasses and prescription medication.
Take your career to the next level
5. Pic du jour: I came, I thawed, I conquered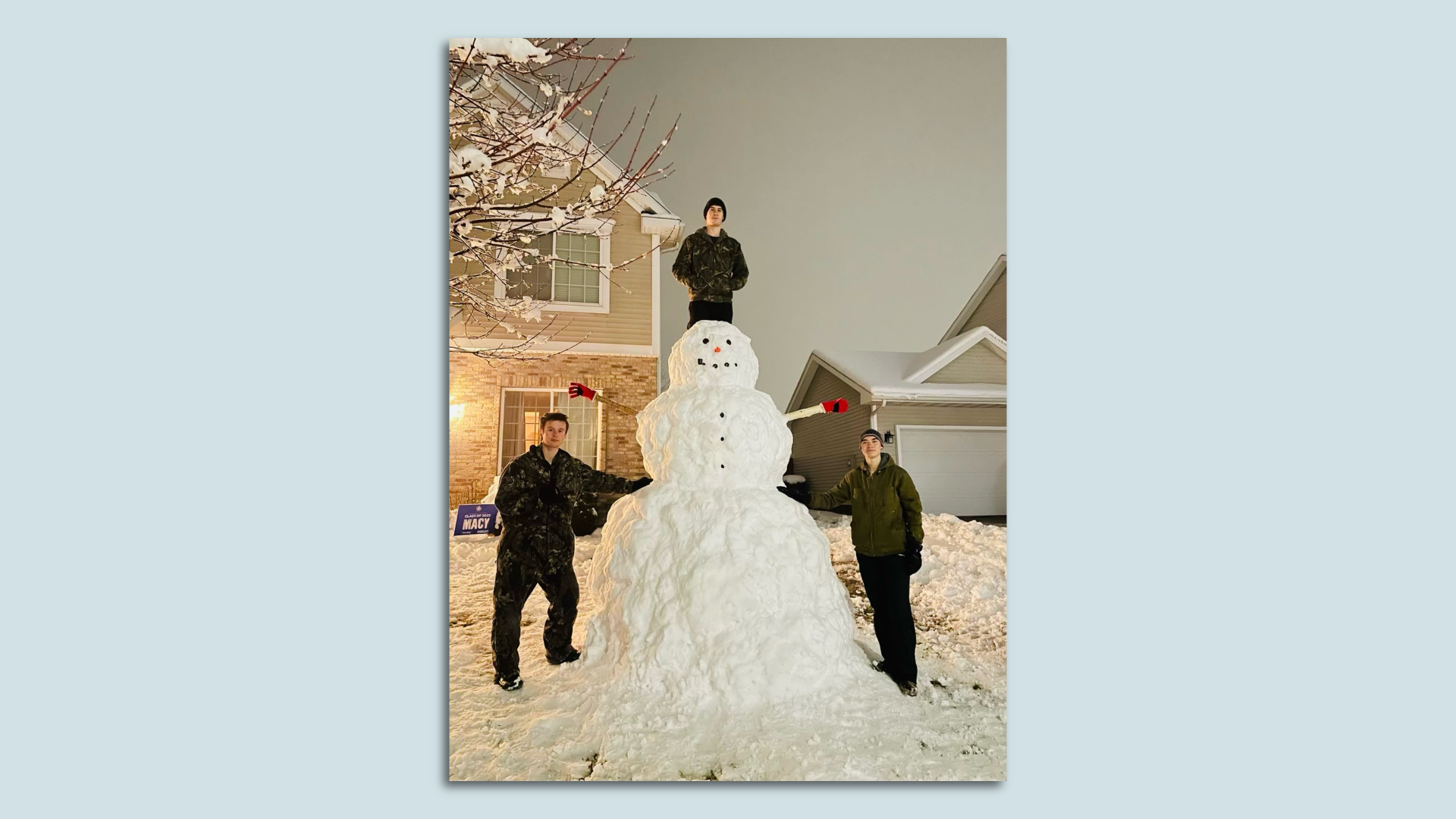 While it's technically spring break this week, in true Iowa fashion, the weather is anything but predictable.
Driving the news: Some returning college students — including Linh's cousin — decided to have some fun with the 6+ inches of snow we received last weekend by building this giant snowman.
Yes, but: Say goodbye to the towering behemoth tomorrow, when we reach a balmy 51 degrees.
🛒 Q: Why was the snowman embarrassed at the grocery store?
🥕 A: He got caught picking his nose!
Today's newsletter was edited by Everett Cook and copy edited by Lucia Maher.