Axios Denver
February 25, 2021
❄️ It's Thursday, and time to find your shovel. The Denver area is digging out from the biggest storm of the season. 
💻 Join us today: Axios will host a Smart Take virtual event on health care with Sen. Michael Bennet and Denver Health's chief medical officer, Dr. Connie Price. Register here.
Today's newsletter is 995 words — a 3.5-minute read.
1 big thing: GOP trumpets "stolen" election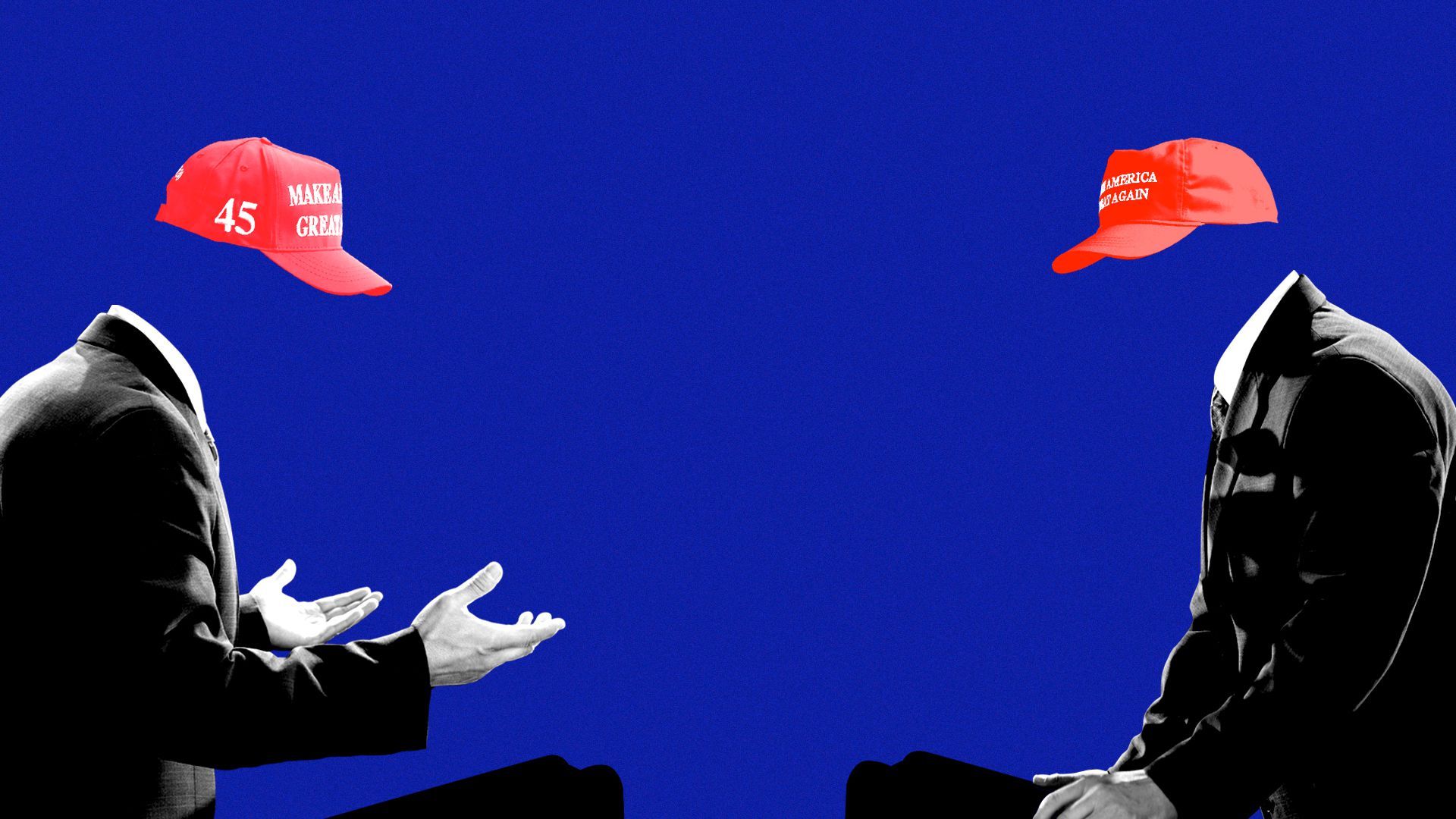 Top leaders in the Colorado Republican Party are doubling down on the baseless idea that voter fraud cost President Donald Trump the 2020 election.
Republican state lawmakers cited the potential for fraud as the reason they introduced a handful of bills that would make it harder to vote.
The top contenders for Colorado GOP chair, former Secretary of State Scott Gessler and current party vice chair Kristi Burton Brown, are advocating for a recount of the 2020 vote and review of the Dominion Voting Systems equipment in Colorado.
Why it matters: The Colorado GOP is embracing the same debunked claims of a stolen election that helped propel a mob of Trump supporters to attack the U.S. Capitol on Jan. 6.
Gessler, who worked with the Trump campaign on legal challenges in Nevada and Pennsylvania, recently wrote on Facebook that "a full and complete investigation will prove widespread election fraud. And maybe show that President Trump rightfully won the election!"
Reality check: Colorado's voting system is considered one of the safest in the nation because it conducts risk-limiting audits that double-check the vote counts and machine integrity.
Outgoing Colorado GOP chair Ken Buck, a Windsor congressman, says Trump deserves some blame for the riot and doesn't believe fraud altered the state's election results.
Outgoing Colorado U.S. Attorney Jason Dunn, who was appointed by Trump, told The Colorado Sun he had concerns about misinformation from the president's team about the election.
Our thought bubble: The state's most fervent Republican activists remain loyal to Trump, according to polls, so it's no surprise to see the issue define the race for the Colorado party's next leader.
"It will be dominated by Trump loyalists who believe the election was stolen, including here in Colorado, and (this) plays into their most basic fears and conspiracy theories," said Dick Wadhams, a former state party chair.
Flashback: In December, an internal GOP investigation — led by Gessler — dismissed a complaint about its party caucuses in despite evidence of fraud.
2. Denver mayor explains his evolution on campsites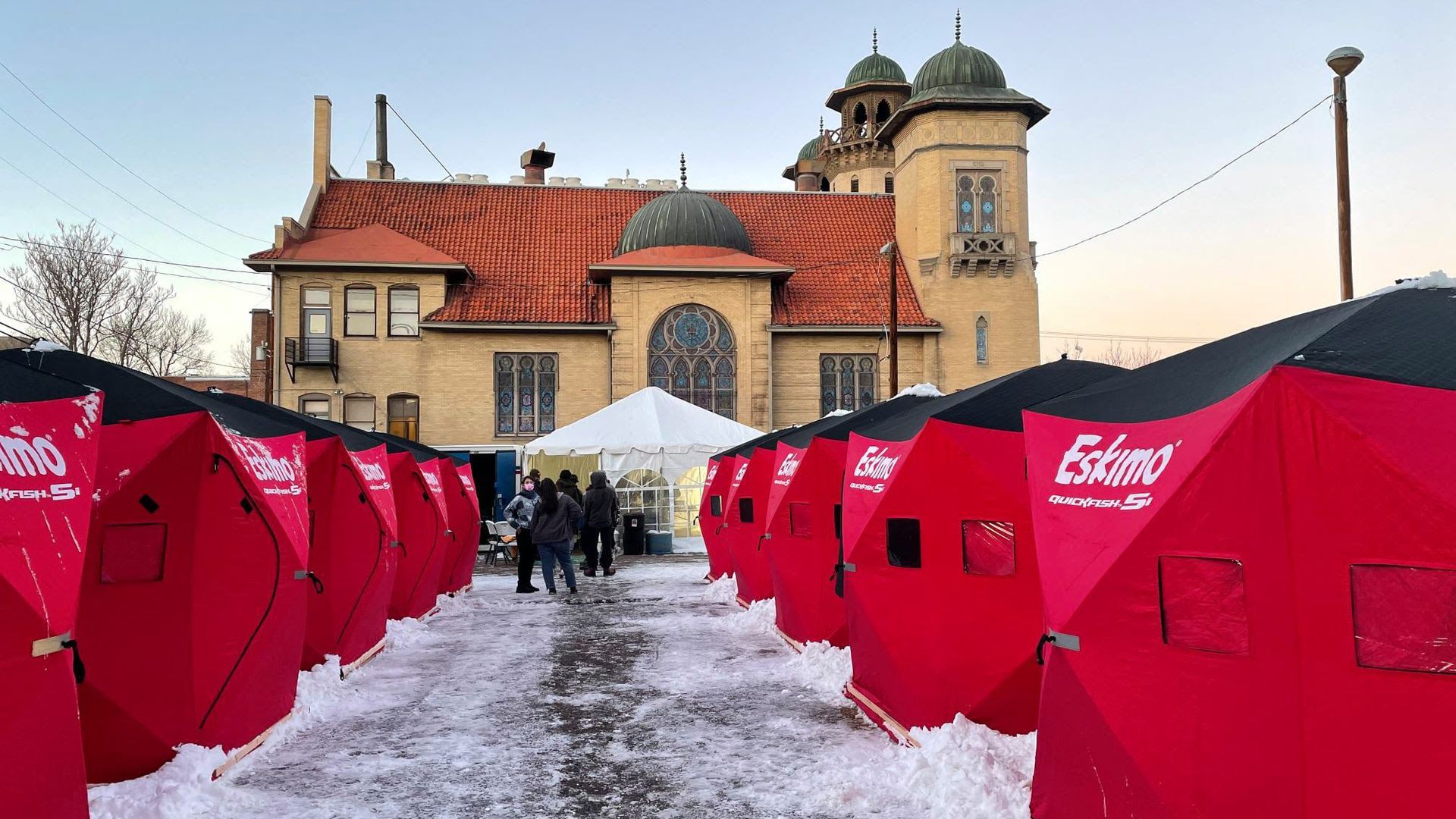 Denver Mayor Michael Hancock was initially reluctant to embrace temporary city-sanctioned campsites for people experiencing homelessness, but now he's trying to understand if they could work permanently.
What's happening: With city council approval, the administration extended the Colorado Village Collaborative's (CVC) contract through the end of 2021, giving the nonprofit nearly $900,000 to run two local camping sites for residents in need, one of which is still in the works.
Interfaith Alliance of Colorado operates a third campground.
What they're saying: The concept "makes a lot of sense," Hancock told Axios, and the campsites are "phenomenally managed."
Why it matters: Denver voters overwhelmingly upheld the city's urban camping ban in 2019, but so far city officials say there has been very little criticism of the sanctioned sites.
The bottom line: Early data show that "Safe Outdoor Spaces" are working, says CVC executive director Cole Chandler.
Not a single resident at his group's campground over the last two months has tested positive for COVID-19 (screenings are done daily), achieving the initiative's primary goal.
Service providers have been able to connect dozens of people to case management services, long-term housing opportunities and health care.
Yes, but: Hancock won't make any major policy changes unless he's convinced this pilot "really has a high efficacy," and he'll "need to see at least three" sites to know.
What's next: The mayor says he's interested in expanding CVC's tiny homes program, into which at least five campsite residents have already advanced.
And Chandler predicts "Safe Parking Sites" — a sanctioned spot to sleep in your car — could roll out next in Denver. It's an idea that has gotten traction in the metro area and taken off along the West Coast.
3. Church turned luxury condo asks $3.7M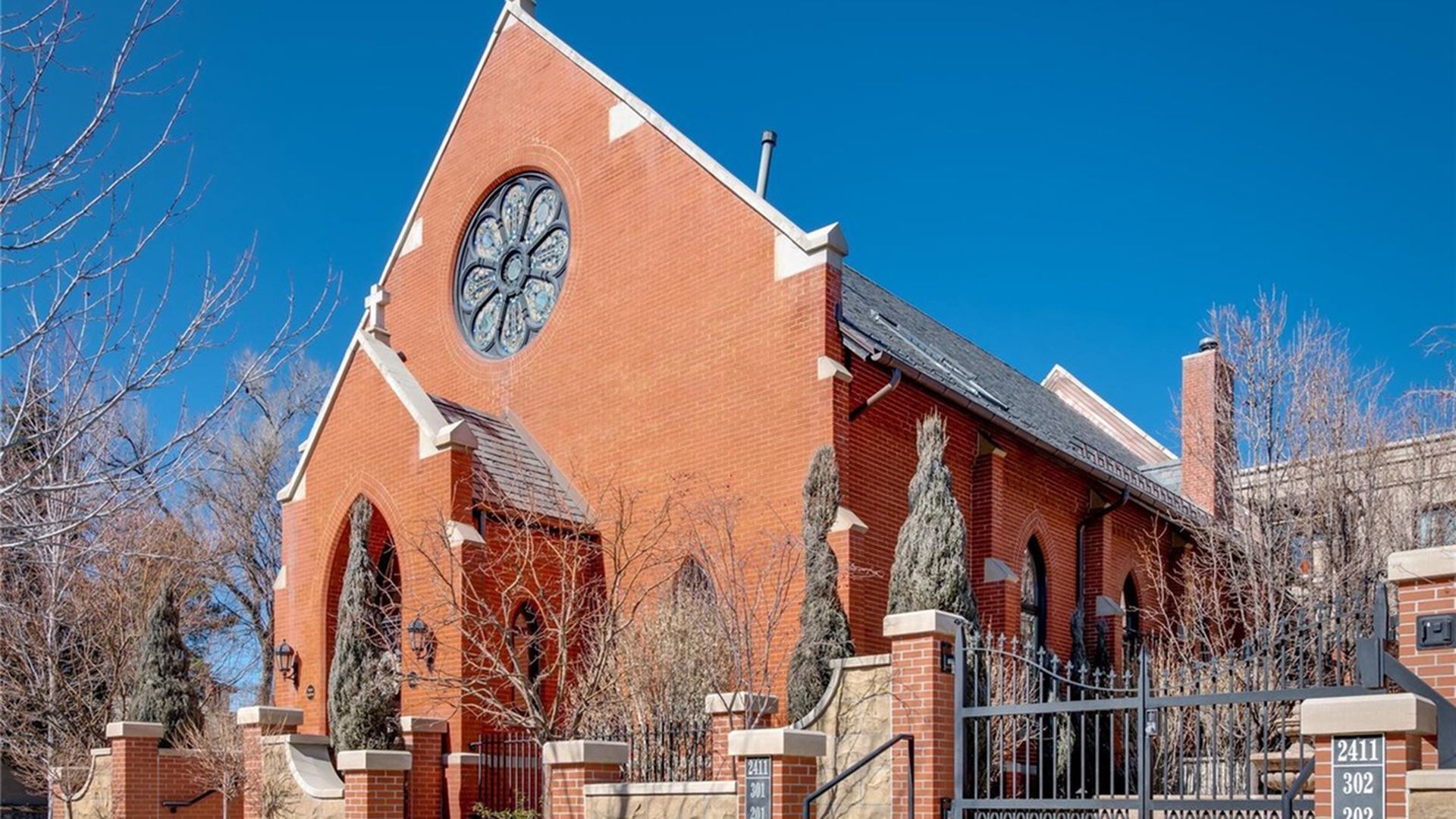 The interior of this former church was converted into an expansive condo in 2008. Now it's on the market for $3,695,000, Axios' Brianna Crane reports.
The exact address is 2401 E 5th Ave #1. At 5,358 square feet, it has 3 beds and 4 baths.
This points to a larger trend of older churches being developed into newer concepts, from apartments to night clubs.
4. Time for a beer bath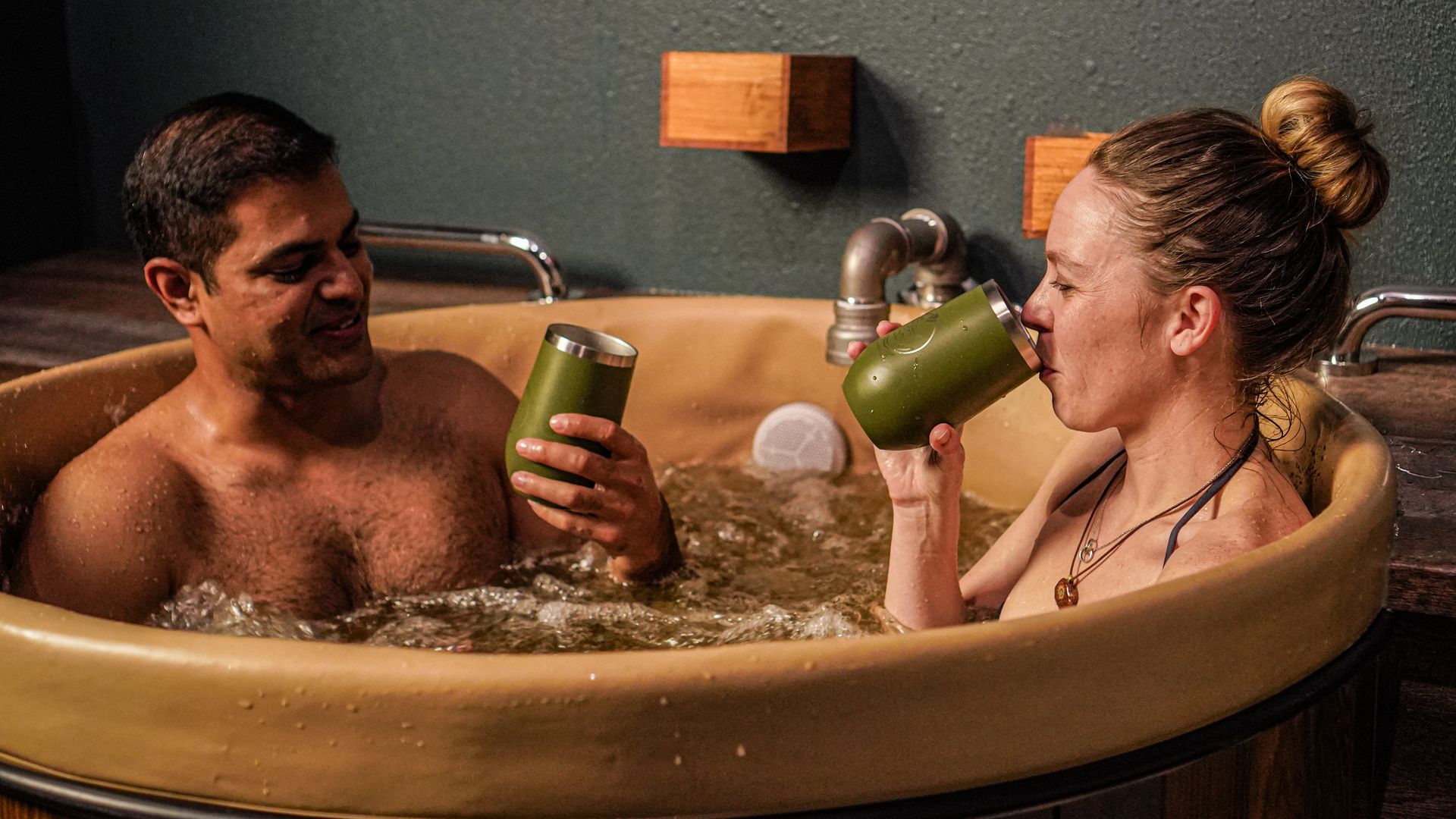 Every now and then, John gets so enamored with a beer that he facetiously proclaims a desire to bathe in it.
Wait! It's not that crazy. The fruity rainbow of hop aromas are invigorating and the malt's smell of fresh-baked bread is comforting.
Reality check: Don't bathe in beer. It's sticky — and a waste of good beer.
A better alternative: Visit the new Beer Spa by Snug, a first-of-its kind wellness facility that opens Friday in Denver.
How it works: A 30-minute beer hydrotherapy session in a private room includes a small bag with a blend of hops, malted barley and other herbs to hydrate and soften your skin.
The room smells faintly like malt and hops, and the jets around the edge of the barrel-like tub froth like bubbles inside a glass.
The spa's other amenities include 10 taps with beer, cider and wine; private infrared saunas; and massage chairs.
What they're saying: "We are not here to create a gimmicky thing," said Damien Zouaoui, who co-owns Beer Spa with his wife, Jessica French. "We really want to impact your state of mind and wellness."
Beer pick: If you go, Ratio Beerworks is pouring. Try the malty "Copper & Stars" dunkelweizen to pair with the beer bath aromas.
5. Nuggets: The plumb headlines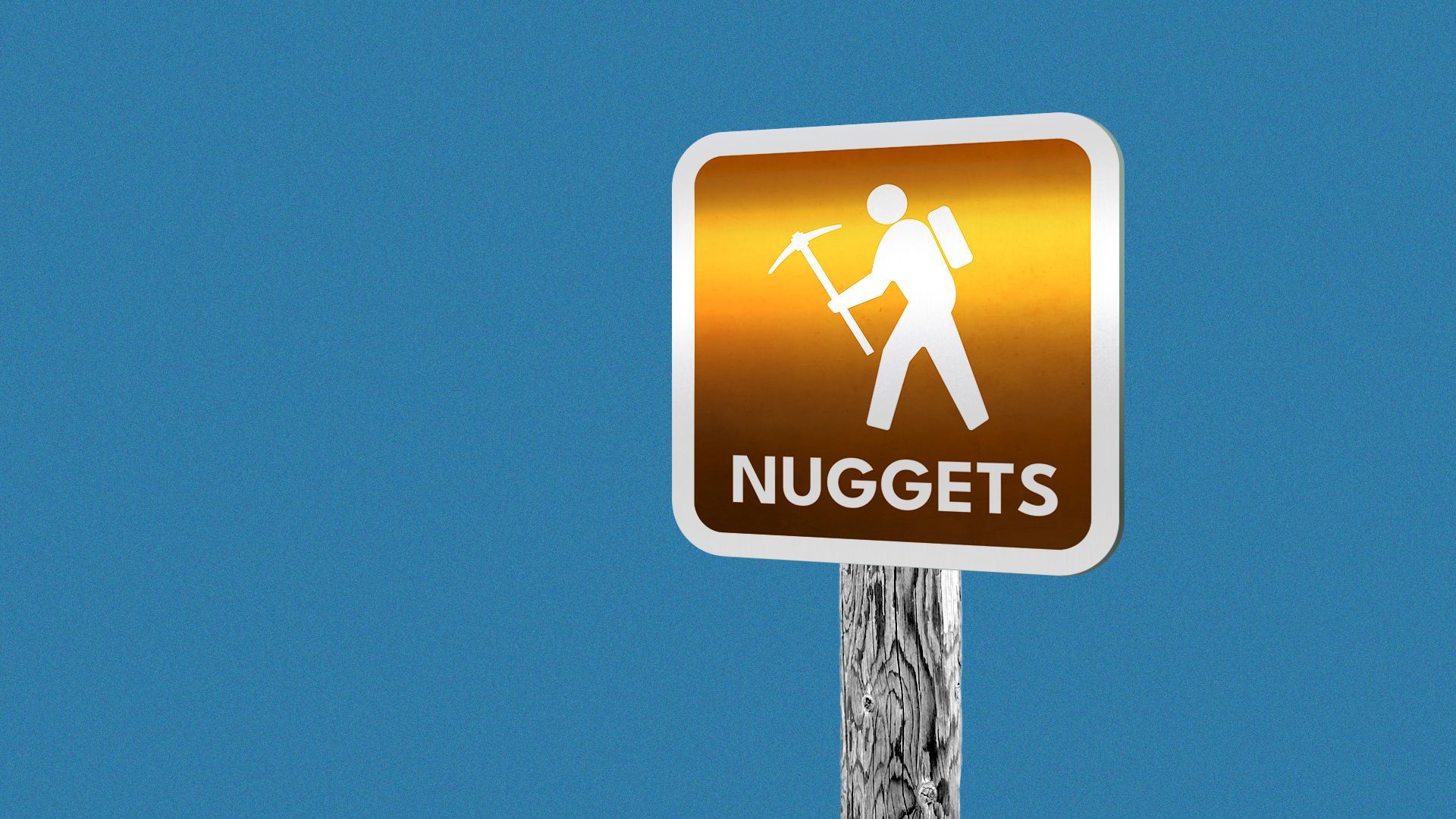 The sexual assault allegations against the founder of the CRUSH Walls street art festival go deeper than initially reported, an investigation found, and some want more accountability from RiNo Art District leaders. (Denverite)
Hand washing and mask wearing have led to an "extraordinary" reduction in serious flu cases. The state has recorded a total of 23 hospitalizations for the flu so far, compared to 2,430 at this point last year. (The Denver Post)
Elitch Gardens plans to reopen May 1 after being closed all of 2020. The city still needs to approve the public health protocols proposed by the amusement park on the edge of downtown Denver. (9News)
6. Screen time: A mayor who uses TikTok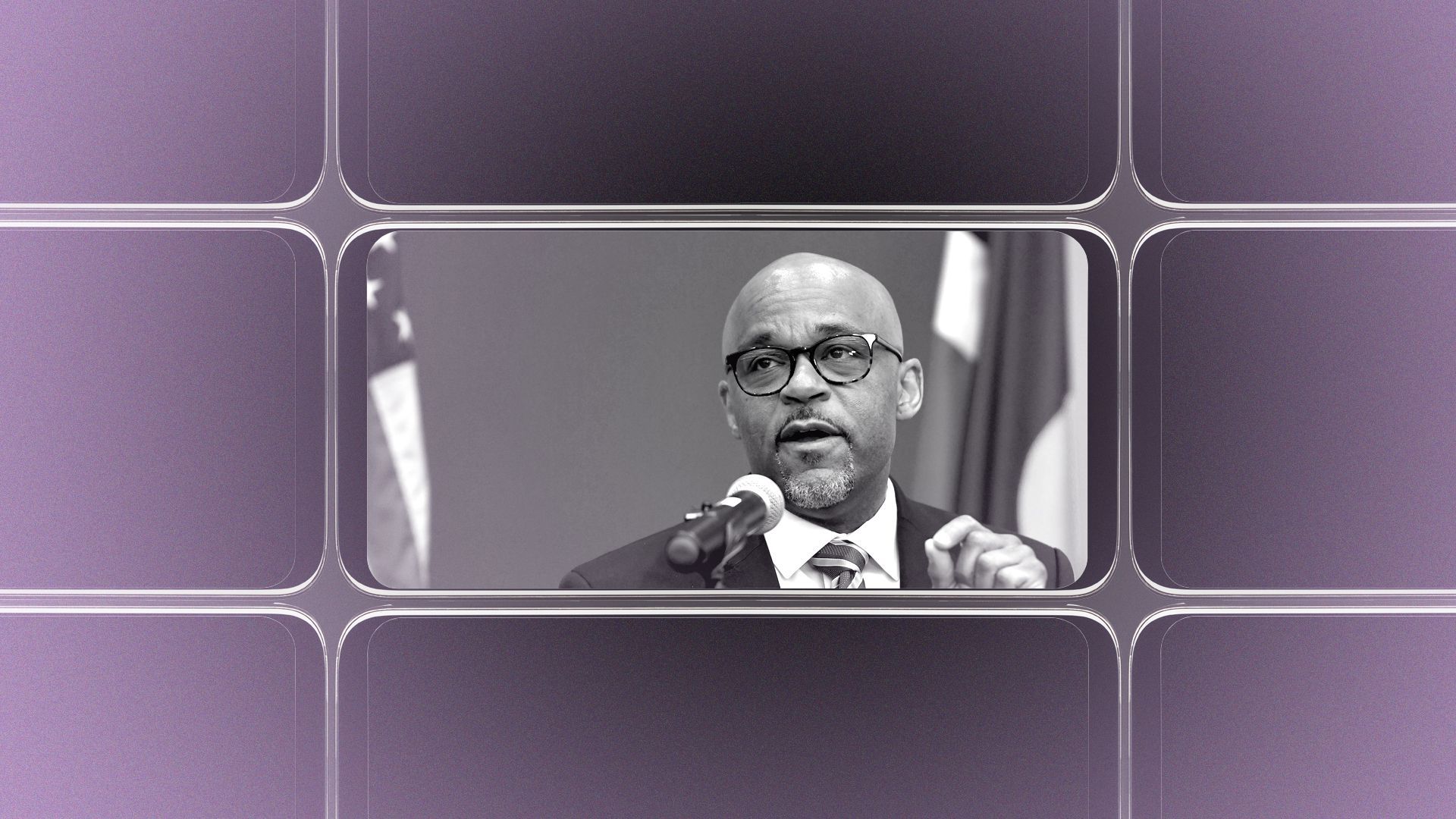 Over his three-term tenure, we've grown pretty familiar with the mayor. But what about the way the city's chief executive interacts with tech and entertainment?
Here's what he told us:
📱 Device of choice: iPhone 11
👉 First tap of the day: The Denver Gazette, a daily, digital newspaper
📰 Go-to news sources: The New York Times and CNN. (Watch how the mayor prepped for a CNN interview last year.)
📚 Reading list: "Caste" by Isabel Wilkerson and "Halftime: Moving from Success to Significance" by Bob Buford
🎤 Podcast queue: None on deck at the moment.
😎 Most used app: TikTok — Hancock keeps it hip.
📬 Who should we spotlight next? Hit reply and nominate someone for this recurring feature.
One final thing:
🍻 John is shopping for this after seeing it at the Beer Spa.
🥬 Alayna is thinking of a recipe to make with her produce basket from this restaurant.
See you again Friday. And tell a friend to subscribe. Here's the link.