Axios Denver
January 31, 2023
☕ Good Tuesday morning. Thanks for starting your day with us.
☀️ Today's weather: The warmup begins. Sunny, with a high near 35° (but wind chills as low as -12°, yikes!)
🚴 Situational awareness: Denver's next round of e-bike rebates goes live at 11am today. Apply here.
Today's newsletter is 839 words — a 3-minute read.
1 big thing: Colorado's wet winter a drop in the drought bucket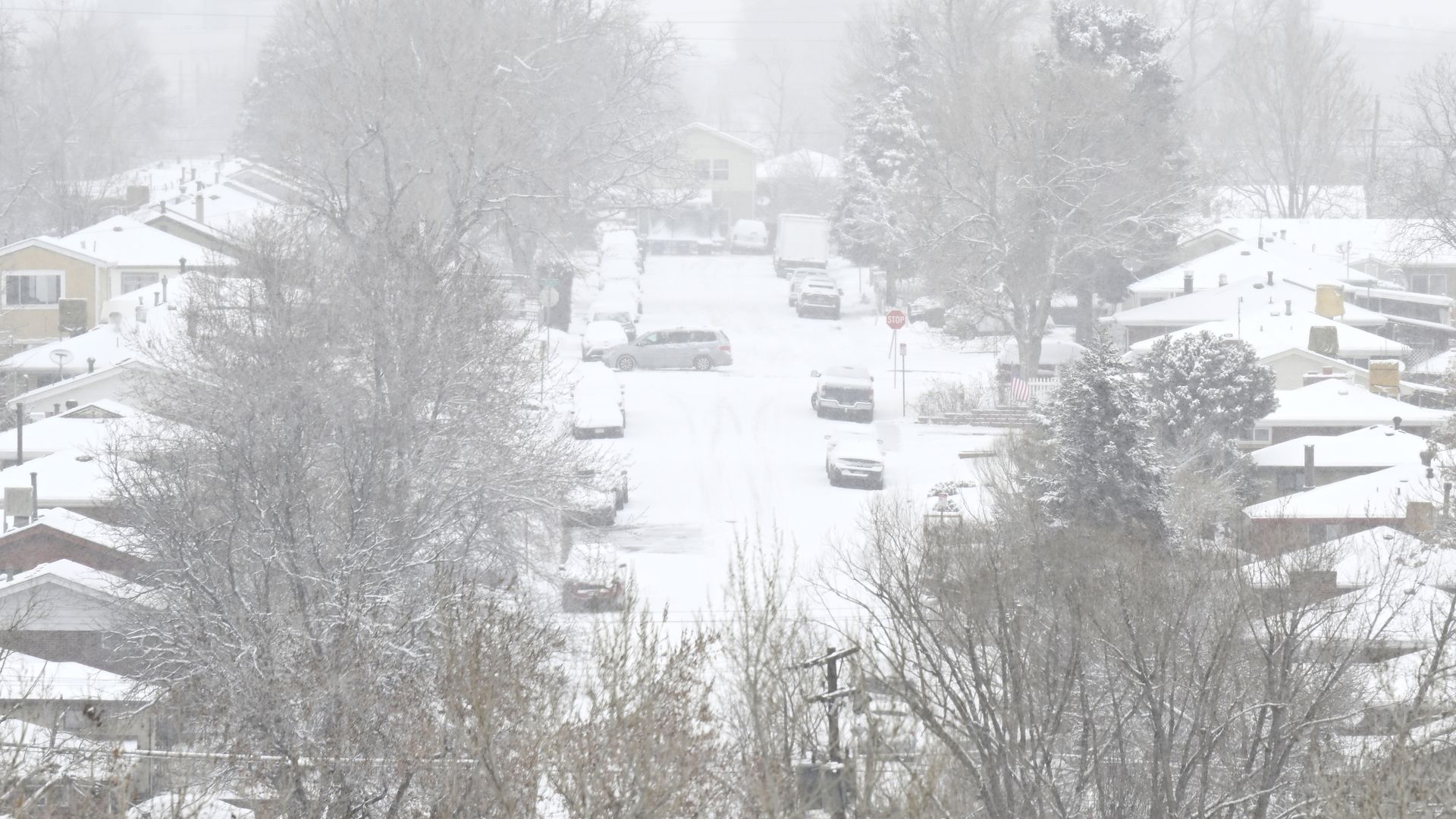 The heavy snow blanketing the Rocky Mountains this winter is a welcome respite for the shrinking Colorado River.
Yes, but: Climate experts say it still falls short from saturating the state's drought-ridden reservoirs.
State of play: Colorado and other Western states that make up the Colorado River Basin are in the midst of a megadrought — the region's worst in 1,200 years.
Driving the news: Western Colorado and much of the Front Range have been buried under above-average snowfall this season, National Weather Service hydrologist Aldis Strautins tells Alayna.
Snowpack at the Colorado River's headwaters is 133% of average compared with the 30-year median between 1991 and 2020. Other nearby mountain ranges are between 140% and 160% of normal levels, he says.
The big picture: Although the extra precipitation has helped curb Colorado's drought levels in the short-term, climate experts say the snow accumulation falls short of making a lasting impact.
What they're saying: "It would take multiple years like this in a row to really help with the long-term drought that those reservoirs are seeing," Strautins notes.
Brad Udall, a water and climate researcher at Colorado State University, told KUNC: "We would need five or six years at 150% snowpack to refill these reservoirs. And that is extremely unlikely."
By the numbers: 36% of the state is experiencing moderate to "exceptional" drought, compared with 88% a year ago, according to the U.S. Drought Monitor.
2. Mapped: Where Colorado is driest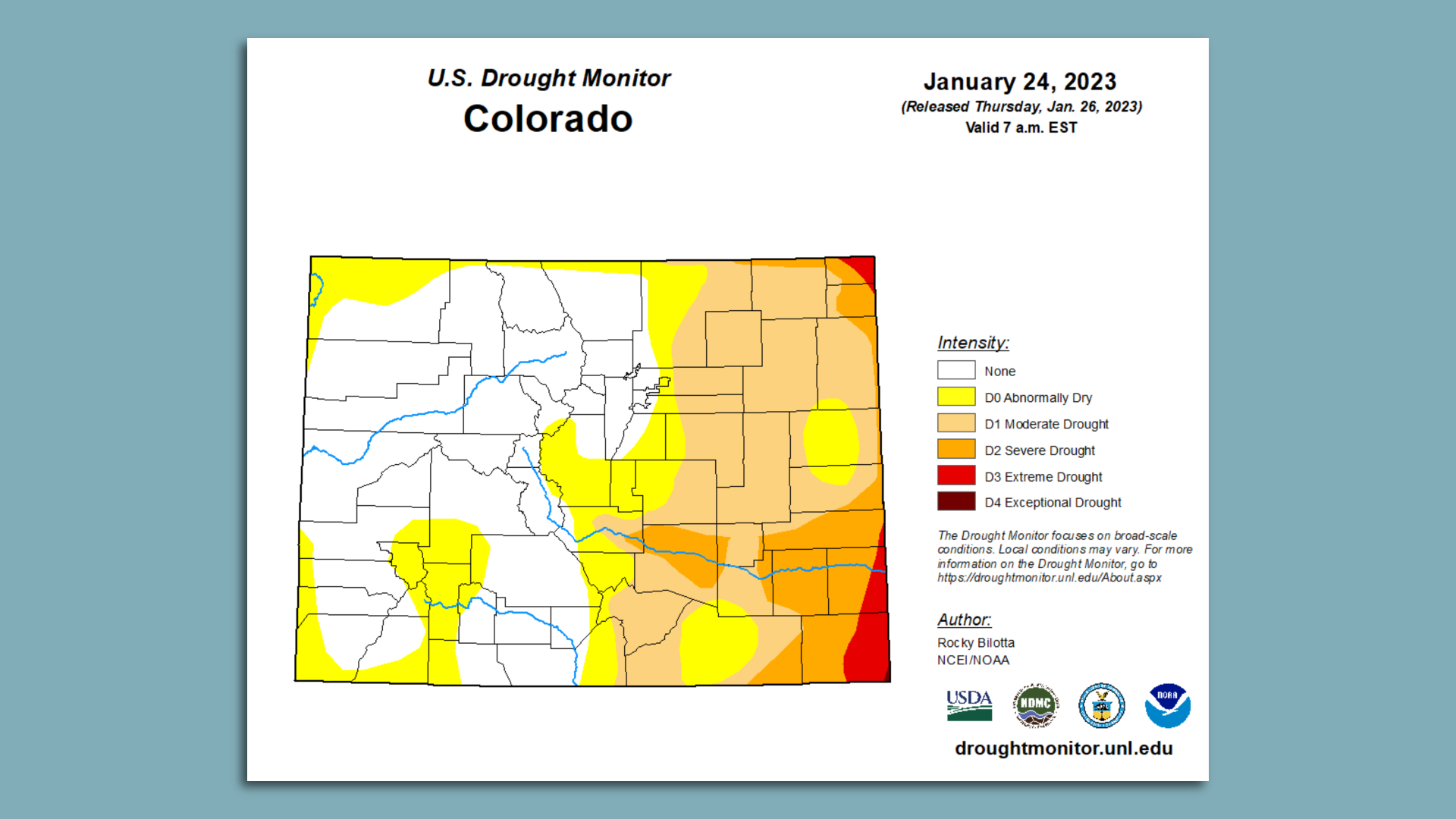 Colorado's drought may be improving a bit, but parched conditions persist in the east, the latest U.S. Drought Monitor map shows.
Of note: None of Denver is currently experiencing moderate to exceptional drought, compared with all of it this time last year.
3.🚶Jaywalking decriminalized in Denver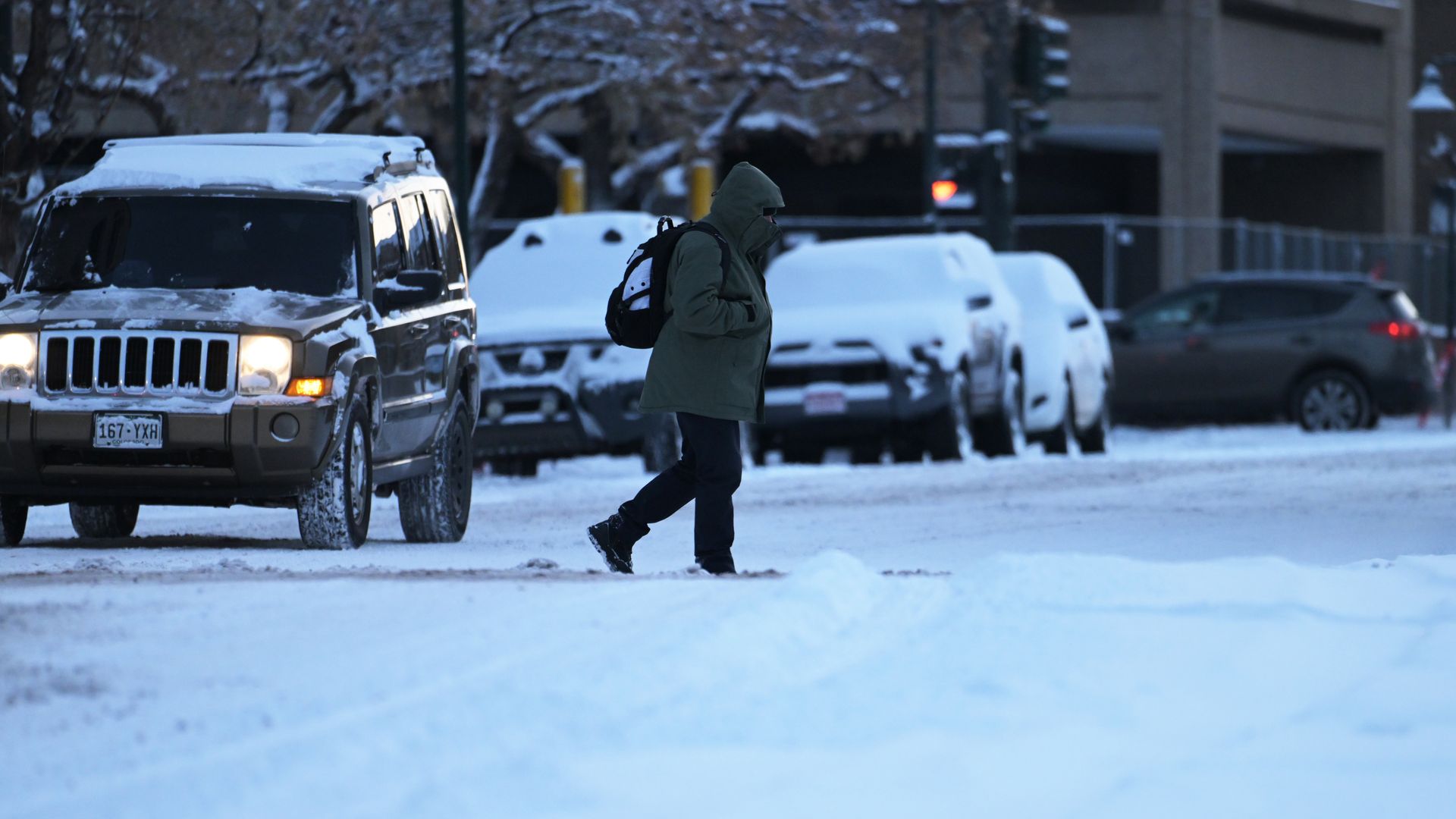 It's going to be a lot harder to get a jaywalking ticket in Denver.
Driving the news: The Denver City Council voted 10-3 on Monday night to adopt a measure decriminalizing jaywalking.
The bill makes tweaks to several city laws, including removing language requiring pedestrians to use crosswalks on roads, and asking police to make enforcing jaywalking measures a low priority.
Why it matters: Supporters of the measure say it will make streets safer for pedestrians by letting them choose when to cross the street instead of waiting for areas like crosswalks.
Of note: While jaywalking tickets are relatively uncommon in Denver, advocates say the people who do get cited are disproportionately people of color or experiencing homelessness.
Yes, but: Council members Kendra Black, Paul Kashmann and Chris Herndon voted to oppose the bill, with Black noting jaywalking is still illegal at the state level.
4. Mile Highlights: Get smart, fast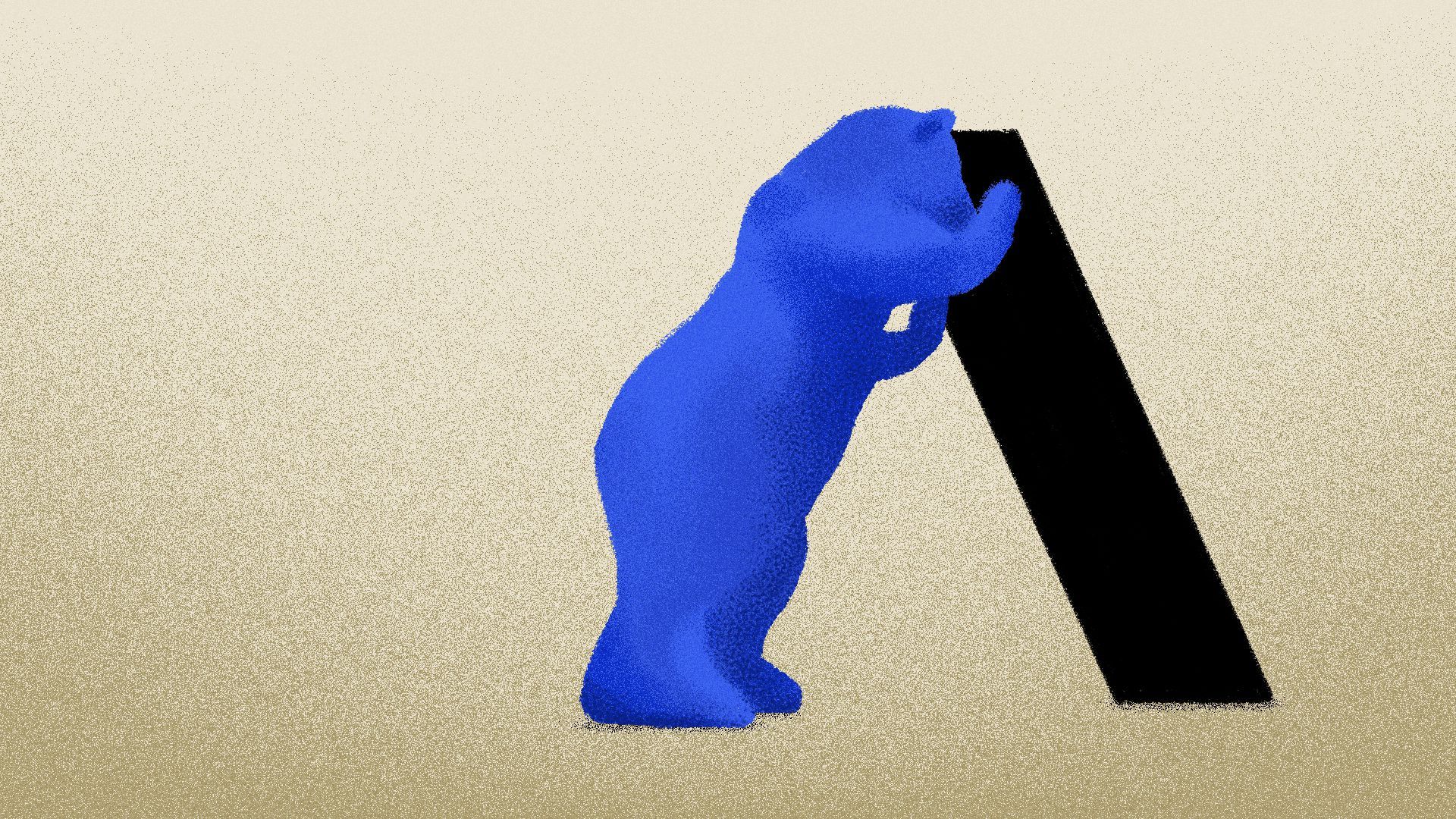 ⚖️ Two Clear Creek County sheriff's deputies indicted for their involvement in the June 2022 killing of Christian Glass are asking a judge to dismiss charges against them on grounds that prosecutors lack evidence. (Denver Post)
💦 Six western states in the Colorado River Basin, including Colorado, have agreed on a strategy to cut their water use, months after the federal government deadline has passed. (Colorado Sun)
✈️ Denver Mayor Michael Hancock and other local leaders are traveling to Egypt and Ethiopia this week on an economic development trip that costs over $100,000 — 18% of which is funded by taxpayers and the rest by DIA's enterprise fund. (Denver Gazette)
🚆 RTD is considering a ban on passengers caught "riding on the system indefinitely." The proposal has drawn criticism from some who say it targets unhoused residents. (Denverite)
🚓 Aurora police are preparing to start using a new AI system that analyzes officers' body camera footage and flags problematic encounters — as well as commendable ones. (Axios)
🏈 Former Denver Broncos coach Vic Fangio has reportedly reached a deal with the Miami Dolphins to become their defensive coordinator. (AP)
Take your career to the next level
5. "Brewery" = fair game. "Seltzery" not so much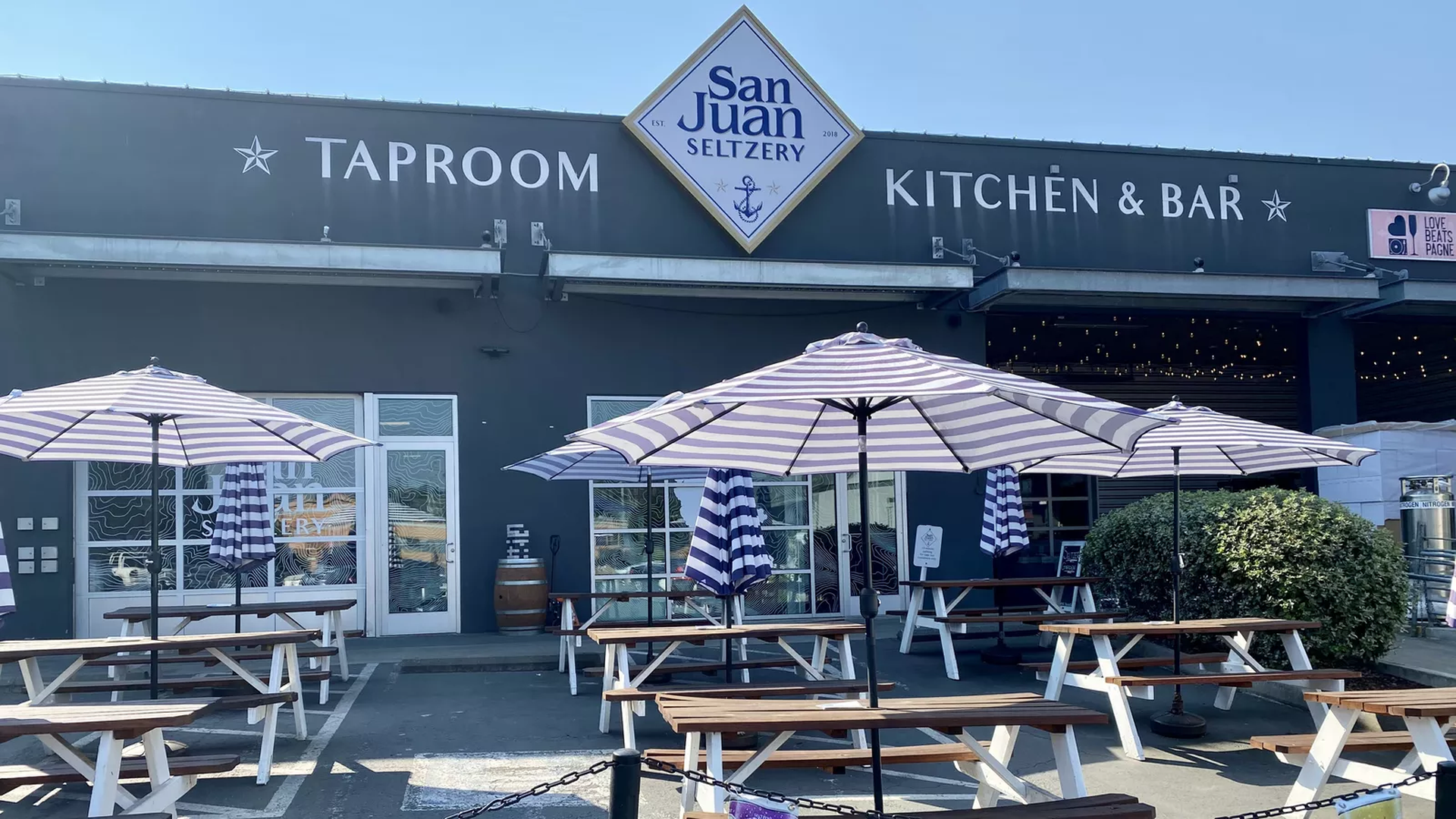 A Colorado seltzer maker is at the center of an ongoing debate about whether it can call itself a "seltzery."
What to know: San Juan Seltzer, a Seattle company that prides itself on being the nation's first and only "seltzery," has threatened to sue other businesses that try to use the term, Axios Seattle's Melissa Santos writes.
What's happening: Elevated Seltzer in Arvada received a cease-and-desist letter from San Juan in 2020, which led them to redesign their packaging to remove the word.
What they're saying: Garrett Graff, a Denver-based lawyer who sometimes deals with intellectual property issues, told Axios there may be "a legitimate argument" that the word "seltzery" is a descriptive word that falls under fair use.
"They chose a term that, arguably, is capable of near descriptiveness," Graff told Axios.
He said the U.S. Patent and Trademark Office has sometimes canceled registered trademarks if they later decided they should not have been issued — but he added it's unclear how a judge would rule on this issue.
Zoom in: Hunter Wood, the co-founder and CEO of Elevated Seltzer, said it never occurred to him that someone would try to trademark the word "seltzery," as it seemed like the obvious way to describe his and others' businesses.
"It would be like Budweiser trademarking the word 'brewery,'" Wood said.
Our picks:
🤔 John is reading this New York Times story on how to live life better.
🎥 Alayna enjoyed this dark comedy directed by B.J. Novak (though she has mixed feelings about the ending).
🤠 Esteban had a blast watching this Western.
Editor's note: A story in yesterday's newsletter was corrected to show DeMeco Ryans is the defensive coordinator for the 49ers, not the offensive coordinator.
Thanks to our editor Ross Terrell and copy editor Eileen O'Reilly.