Axios Denver
March 25, 2021
Good morning, it's Thursday. Today's clouds will increase and highs will hit 51 degrees.
Look ahead: A chance of snow Friday, but sunny and warmer this weekend.
Check it out: Go to our Facebook page to read our latest stories and learn more about our Denver favorites.
Today's newsletter is 950 words — a 3.5-minute read.
1 big thing: The neighbors we lost in Boulder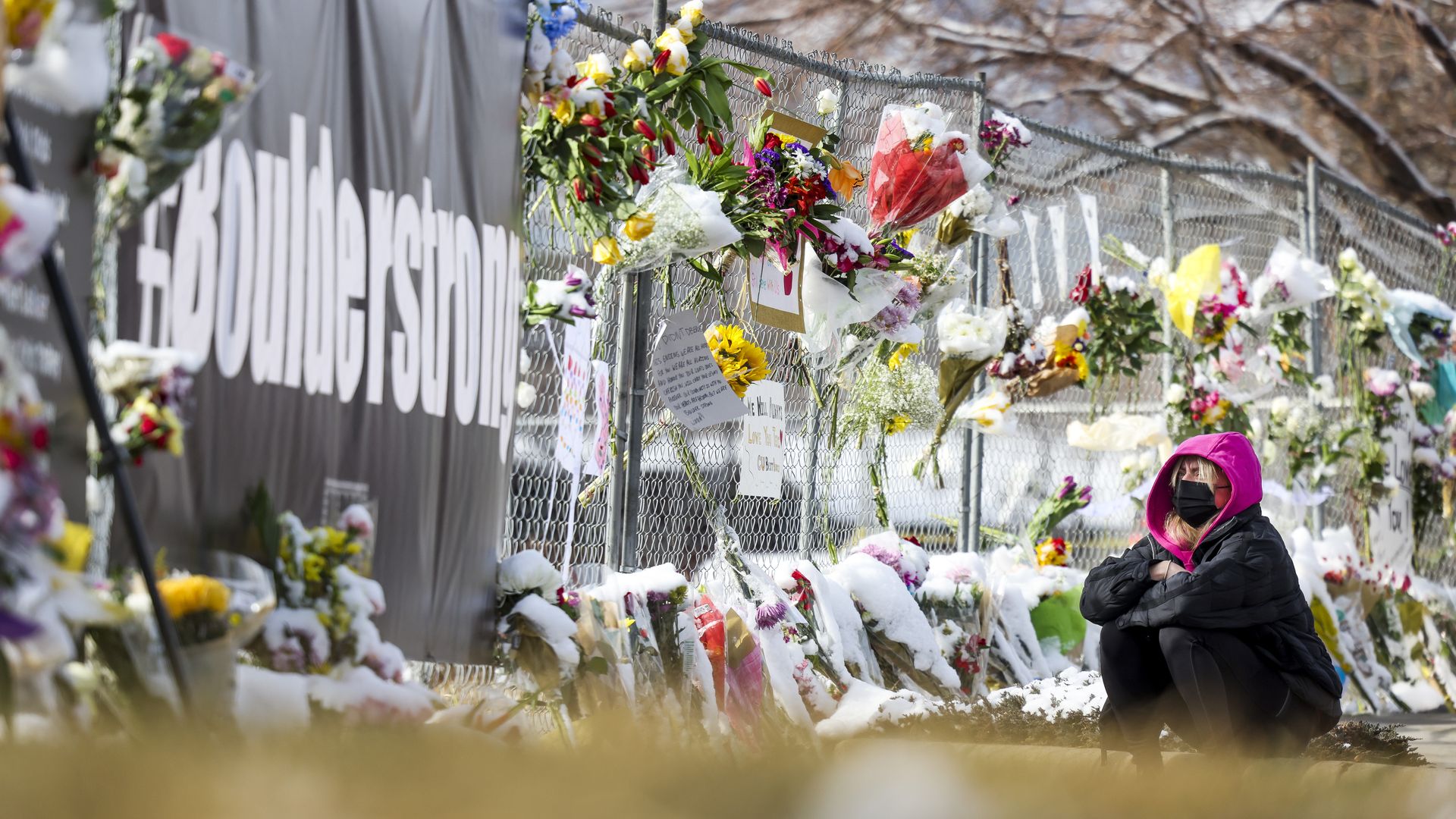 They were daughters and sons, parents and grandparents, friends and colleagues — 10 lives were cut short Monday when a gunman opened fire inside a King Soopers in Boulder.
We are now learning more about them.
Denny Stong, 20
Neven Stanisic, 23
Stanisic was the son of refugees from Bosnia who began working right after high school and held two jobs, including for a company that repaired Starbucks machines. He had just finished fixing a machine at the King Soopers when he was killed in his vehicle.
Rikki Olds, 25
The King Soopers manager could always be counted on to make her friends smile with her funny dance moves and bubbly personality. Her high school softball coach said she was his most valuable person on the team.
Bartkowiak owned Umba Love, a clothing store in town, with her sister and was closely connected with the local music and festival scene. She was the eldest of four siblings, had just gotten engaged and owned a Chihuahua named Opal.
Suzanne Fountain, 59
Fountain was a prolific gardener, worked as a financial counselor at Boulder Community Health and volunteered at eTown Hall, a musical and theatrical nonprofit in Boulder.
Teri Leiker, 51
Eric Talley, 51
The Boulder police officer was a father of seven children, ages 7 to 20. After a friend died in a DUI crash, he left a job in information technology and joined the police academy at age 40. He was the first responder to arrive on the scene of the shooting.
Kevin Mahoney, 61
The father of two, who had retired early from the hotel business, was looking forward to becoming a first-time grandfather. His daughter, who is pregnant with a girl, tweeted Mahoney was her hero and represented "all things Love."
Lynn Murray, 62
The retired photo director worked for several New York City magazines, including Cosmopolitan and Glamour. She was her family's "spiritual guide," her husband told the Washington Post.
Jody Waters, 65
Waters was a businesswoman, a fashion lover and a boutique owner on Boulder's Pearl Street Mall. She was also the first to bring Beanie Babies to Boulder.
2. The latest: Boulder shooting developments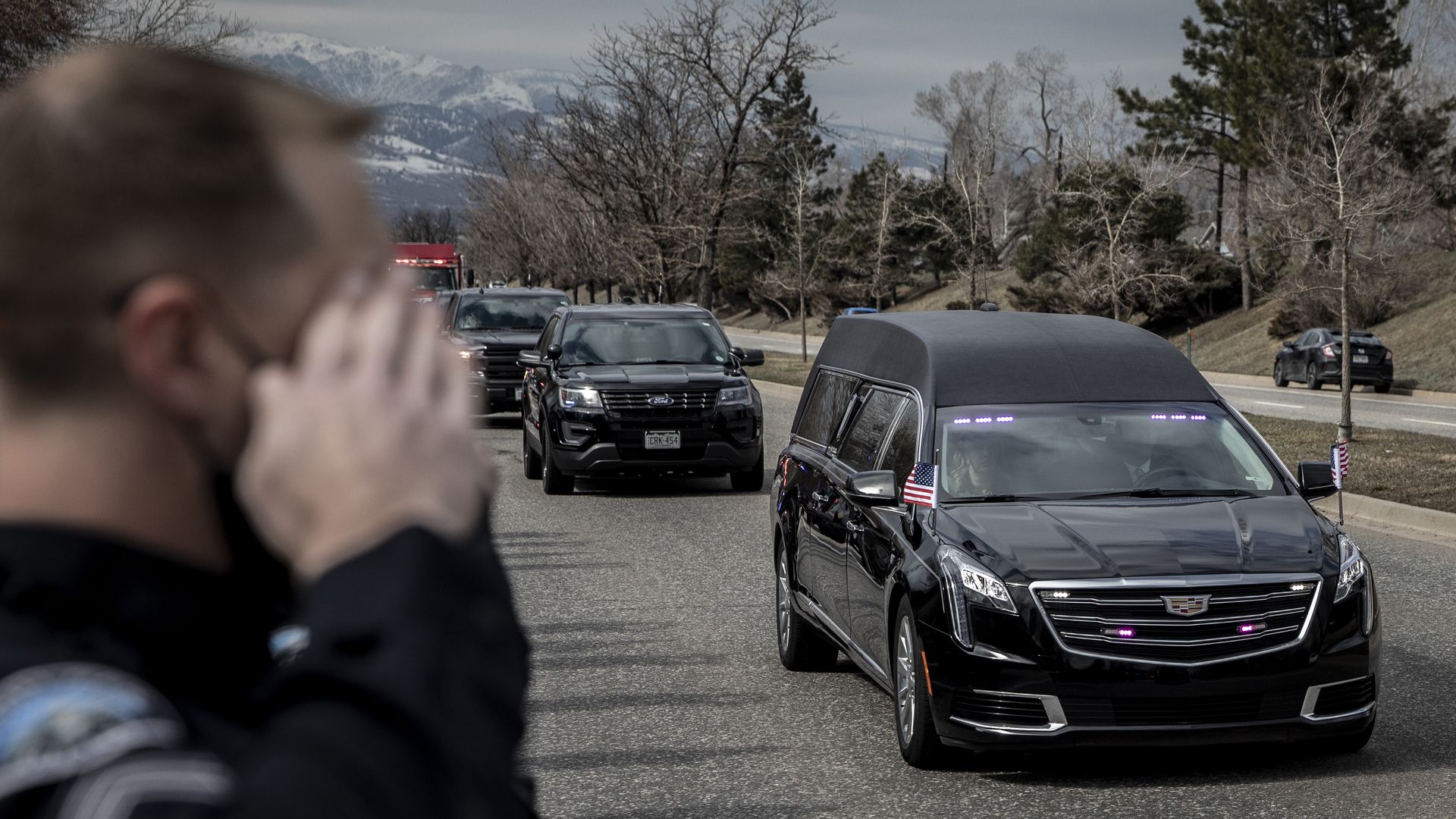 3. Colorado eases mask rules and COVID protocols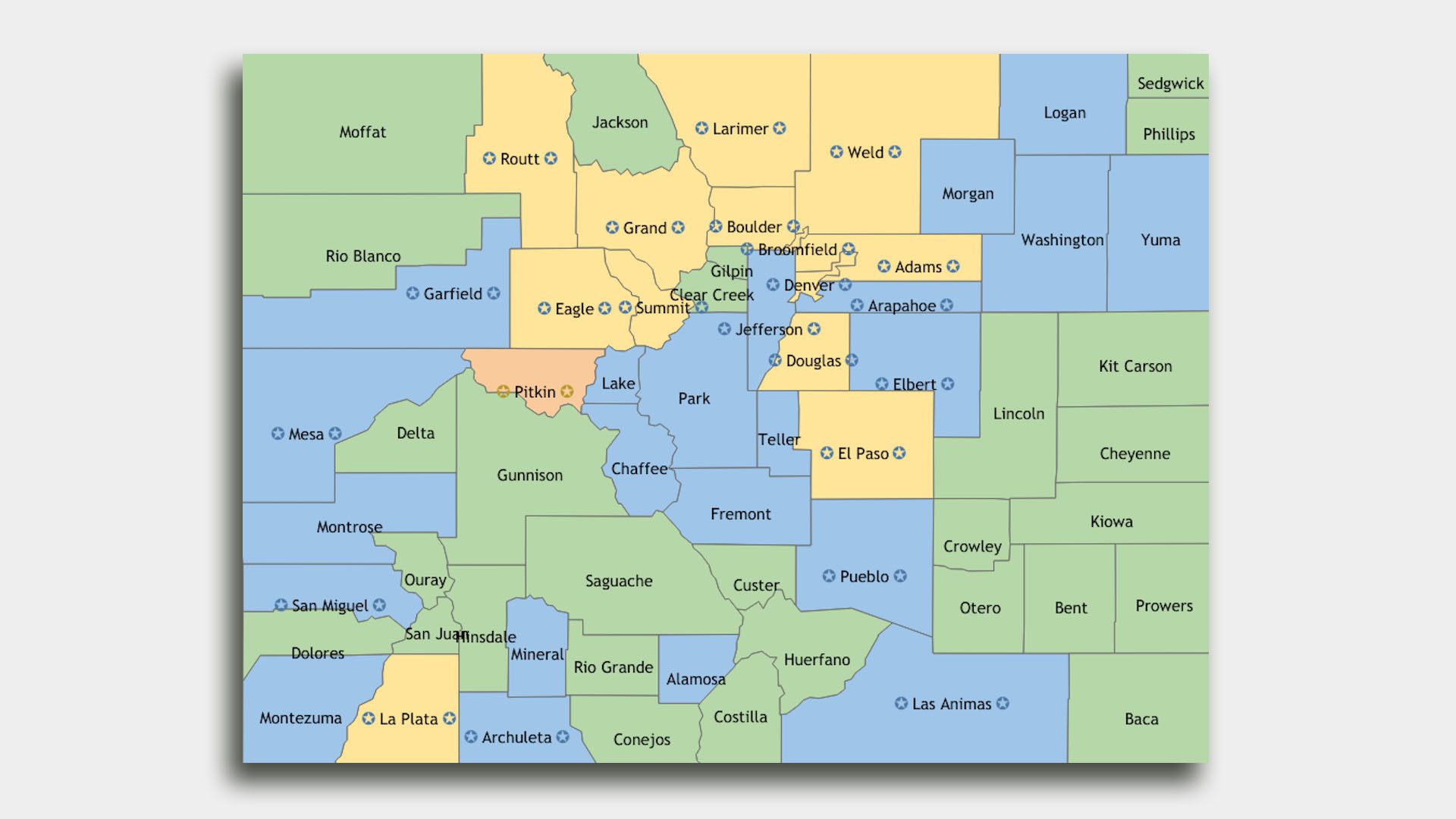 Gov. Jared Polis' administration on Wednesday removed most state COVID-19 restrictions for nearly half of Colorado.
Why it matters: Colorado is one of 19 states where coronavirus infections are on the rise.
Driving the news: The new "Dial 3.0" public health order means 28 counties are at Level Green, the lowest mark signifying 35 cases or less per 100,000 residents and sufficient hospital capacity.
The state-level rules that no longer apply include:
Mask requirements, which counties can lift after approval from state public health officials.
Distancing or capacity limits at restaurants, offices, gyms and retail stores.
The only remaining statewide restrictions cap capacity at bars, indoor events and group sports at 50% or 500 people, whichever is less.
State of play: The new orders also reduced restrictions at other levels and made it easier for counties to reach them.
For Level Blue counties, bars can open for the first time.
The big picture: The shift is Polis' first move toward putting counties in control of public health restrictions for good.
The new order remains in place until mid-April when the state will retire the "dial" guidance entirely.
The statewide mask order stands until April 3, and Polis is considering whether to eliminate it.
4. Avy deaths reach grim milestone
Colorado reached a grim milestone this week: Tied the mark for most avalanche deaths in a century.
The state recorded its 12th avalanche fatality of the season Monday when a skier triggered a slide in the backcountry near Beaver Creek Resort and traveled 1,000 feet down a steep rocky chute, officials reported.
The death count matches the 1992-1993 season, which is the highest in the last 100 years, said Ethan Green, director of the Colorado Avalanche Information Center.
What's happening: A bad base layer known as depth hoar, or sugar-like crystals, is making avalanches more probable.
The recent avalanches are several feet deep and breaking at the ground layer.
The big picture: The pandemic is driving a surge in interest for backcountry exploration — from skiing to snowmobiling.
Colorado officials recently launched a major safety campaign aimed at new adventurers.
Nationally, the statistics are similarly bleak. The 35 avalanche deaths this season are one shy of the record 36 last reached more than a decade ago.
Colorado has the most avalanche deaths of any state.
Be smart: Learn how to travel safely in the backcountry.
5. Rockies tickets now on sale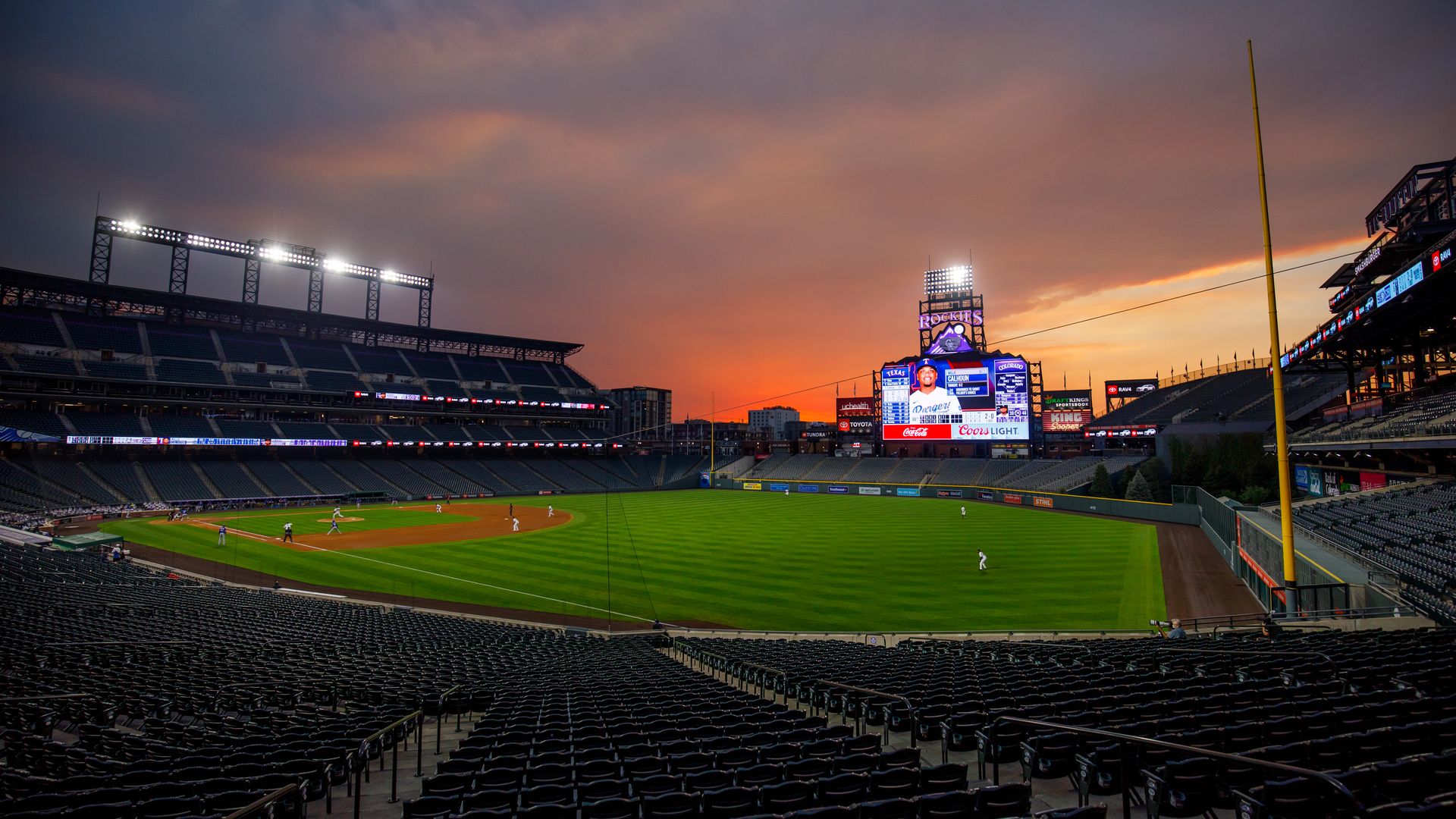 The return of Major League Baseball is so close you can smell it.
The Colorado Rockies put single-game tickets on sale this week for the first two homestands:
Los Angeles Dodgers, April 1-4
Arizona Diamondbacks, April 6-8
What's next: Expect tickets to be released in blocks as the team manages pandemic-allowed capacity throughout the season.
The first games will include 21,363 fans.
Our top picks:
🍺 John is looking forward to trying this Pink Boots Society beer on Friday.
🚀 Alayna is reading this story about that rocket ship on West Colfax.
Like what you read? Tell your friends to subscribe.