Axios Denver
March 17, 2022
It's Thursday. Happy St. Patrick's Day. 🍀
Our amazing visuals team prepared three maps for you that summarize the news and where Colorado stands.
❄️ Today's weather: A winter storm warning continues until noon today. Expect 2 to 4 inches of snow and a high near 39°.
⚾️ Situational awareness: The Rockies signed four-time All-Star and former National League MVP Kris Bryant to a seven-year, $182 million deal. The 30-year-old is expected to bring offensive power to the lineup.
Today's newsletter is 922 words — a 3.5-minute read.
1 big thing: Colorado to close COVID-19 testing and vaccine sites
Gov. Jared Polis is washing his hands of COVID-19.
What's happening: Colorado will close its 14 community testing and vaccine sites March 31 as it reduces its role in fighting the coronavirus.
On Wednesday, the state also stopped shipping at-home rapid tests to residents, telling Coloradans to instead request them through the federal government.
Why it matters: Hundreds of thousands of people relied on the convenience of at-home kits and drive-through sites in the ongoing fight against COVID-19.
Now, definitive PCR tests and vaccines — including booster shots — will need to come from battle-weary health care providers.
Between the lines: Although cases have dropped dramatically, the Polis administration's shift comes at a dicey moment.
Coronavirus cases are surging again in Europe and the trend may soon appear in the U.S. just as people unmask and resume once-risky public activities.
Colorado is even starting to see a slight increase in cases with the single-day and seven-day rates, per state data.
Only 51% of the state has received all three of the vaccine doses experts say is necessary to prevent severe disease.
Details: The governor began to dial back the state's response in February, declaring it was time to return to normal life with the retreat of the Omicron wave.
In addition to reducing testing availability, the state issued a public health order Tuesday that no longer requires:
Daily reports of hospitalizations from COVID-19, opting for twice-weekly figures.
Masks for all people in vulnerable settings, such as hospitals, homeless shelters and prisons, unless they are at medium or high transmission levels according to the CDC.
Of note: The state will continue to operate mobile vaccination clinics through at least June 30, as well as pop-up sites for hard-to-reach communities of color.
2. March Madness will drive record wagers
March Madness begins in earnest today, and the games are expected to draw the most betting in NCAA tournament history.
State of play: Nine more states allow legal sports betting this year than last, including Wyoming.
All told, the American Gaming Association says an estimated 45 million Americans could wager a combined $3.1 billion on the 2022 men's tournament, Axios' Jeff Tracy writes.
81% plan to wager via bracket contests, while 46% expect to place other bets on games.
Zoom in: Colorado legalized sports wagers in May 2020, making this the second year residents can legally bet on the NCAA basketball tournaments.
In 2021, the state counted $78 million in wagers on NCAA basketball in March and April, with $74 million in payouts.
NCAA basketball ranked as the second largest betting category last March at 24% of all wagers, but it still trailed the NBA.
Of note: The popularity of sports betting continues to increase exponentially in Colorado. January set a new record with $573 million in wagers, the state reported.
3. 6 Colorado women honored in statue collection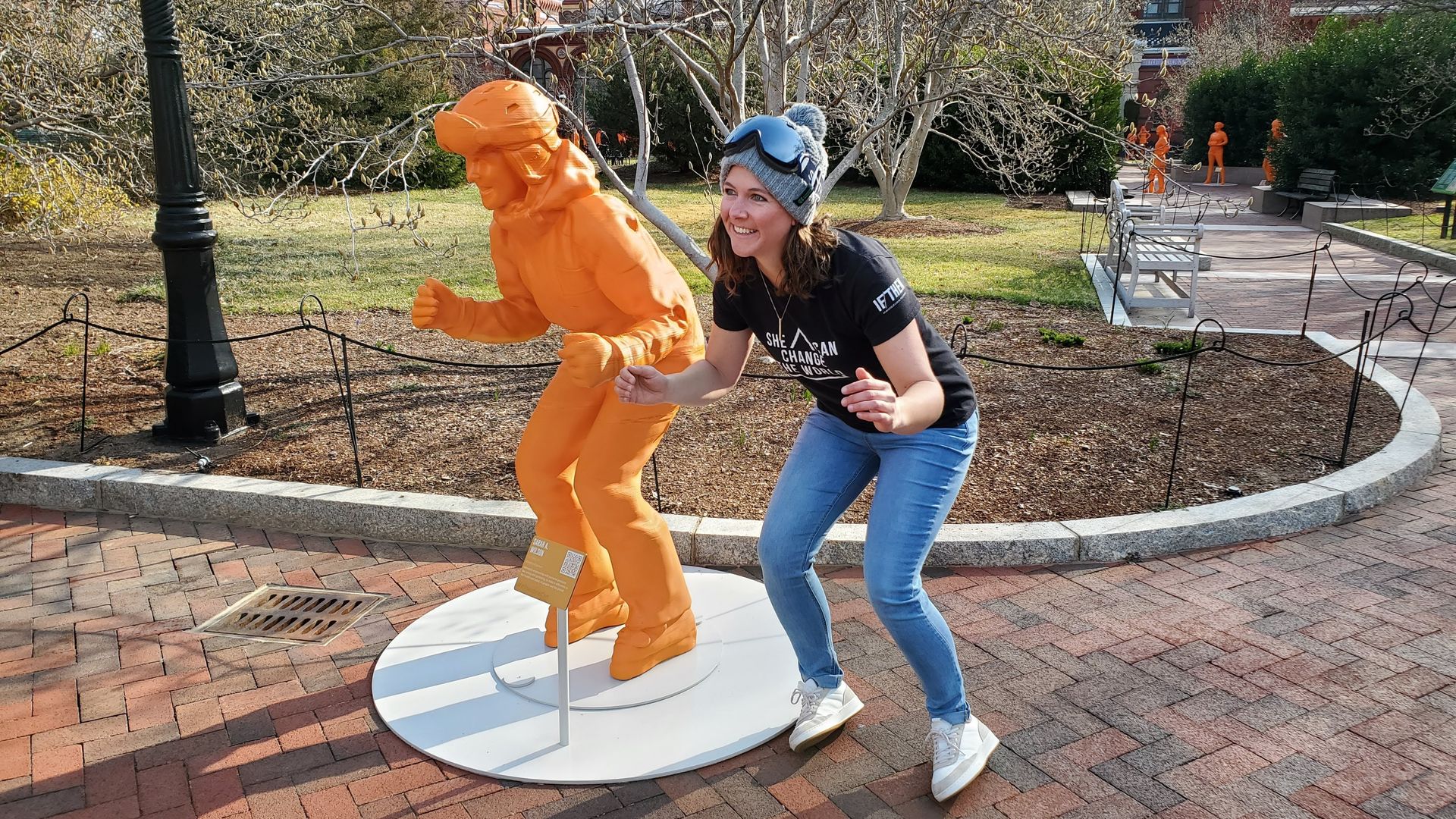 Outside the Smithsonian, one woman holds a clipboard, another a camera. And one poses in a tucked ski racing position.
All are 3-D printed and orange.
Why it matters: They are part of a group of 120 statues celebrating Women's History Month, and the largest collection of statues featuring real women that has ever been assembled.
What's happening: The exhibition, called IF/THEN, highlights contemporary women innovators in science, technology, engineering and math (STEM). Many of the statues hold props emblematic of the women's professions. Six are from Colorado:
What they're saying: The obstacles to seeing more women in STEM are pervasive, Briggs tells Axios Denver.
"I feel like there's a genetic, social and cultural pressure, both consciously and unconsciously among everyone — kids themselves, teachers and families," she said. "I think girls need more encouragement all along the way."
4. Nuggets: The news to know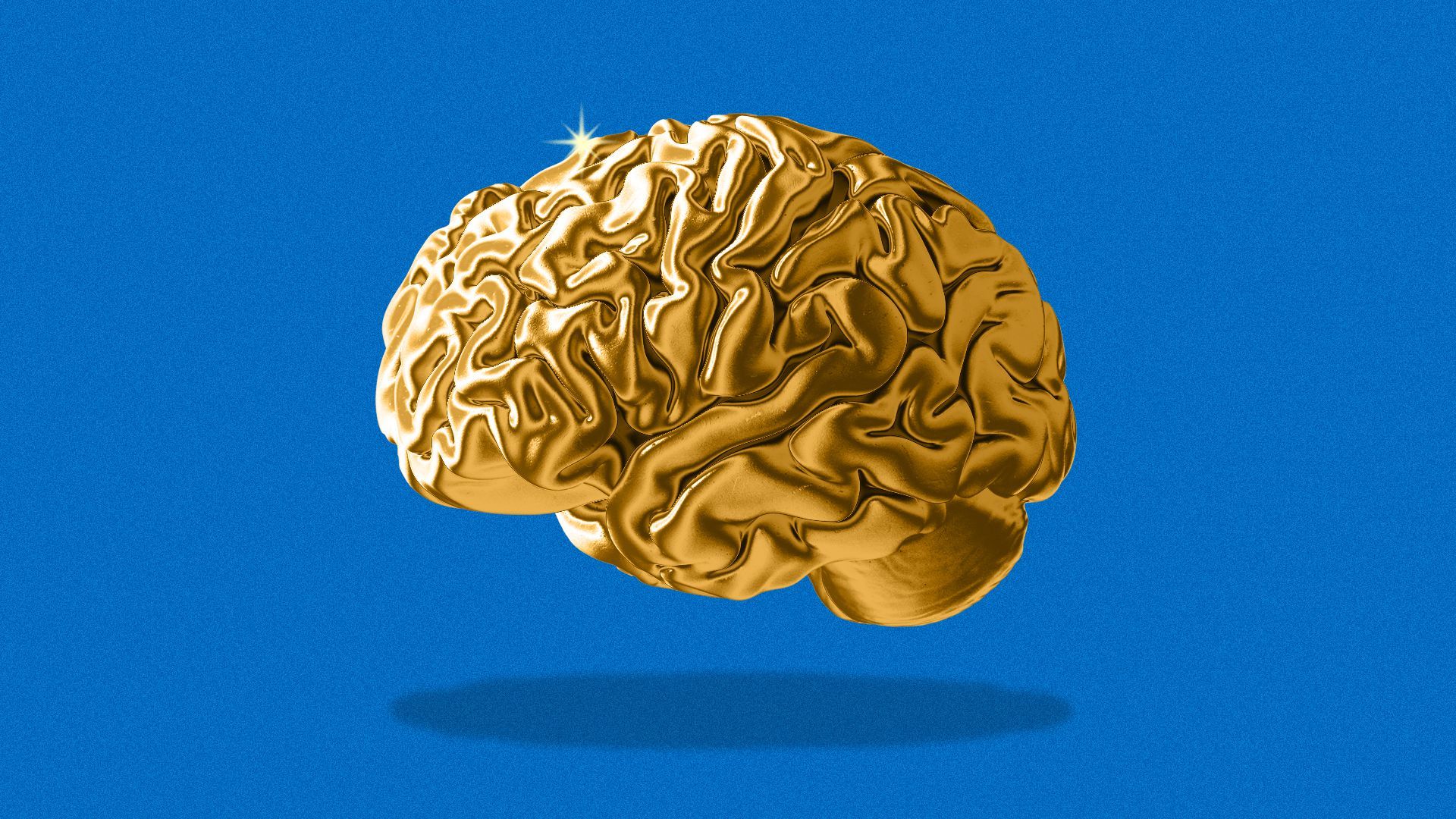 🏔 An avalanche near the top of Loveland Pass, near a spot known as Idiot's Cornice slid 600 feet, temporarily shutting down the road Wednesday. No one was injured, per reports. (Denver7)
💻 Amazon.com Services purchased a 152-acre property in Loveland near the Northern Colorado Regional Airport for $9.4 million. It's the potential site for a distribution center. (BizWest)
🚗 A bill we first told you about that would fine drivers who illegally use the closed toll lanes of Interstate 70 is now law. Transportation officials will use license plate cameras to issue $250 fines starting in August. (Colorado Sun)
🎟 Colorado park officials are considering a requirement for vehicle reservations to enter Eldorado Canyon State Park. If approved in May, the new system would take effect as early as August. (9News)
⛔ The Broadway Market food hall will not reopen after all. The owners hoped to revive the spot after a COVID hibernation, but the lease was terminated in December. (BusinessDen)
🏆 Five Colorado chefs will compete against each other as the newly named James Beard finalists for Best Chef: Mountain states.
Do you see yourself with a new career?
5. 🍀 1 map to go
To find the luck of the Irish in Colorado, you have to travel to the Western Slope.
San Juan, Ouray and Rio Blanco counties boast the most Irish ancestry, according to census figures analyzed by Axios. All have more than 12%.
Denver's population — despite its colorful parade — is just 4% Irish.
Our picks:
🏀 John is picking this men's team and this women's team to win the NCAA tournaments.
🌴 Alayna is back soon.
Don't miss a story. Check out our Axios Denver website.