Axios Denver
February 21, 2023
Hello, it's Tuesday. Today's date is a math equation: 2 + 21 = 23. 🤓
Today's weather: Mostly sunny with highs near 61°. Enjoy it while you can — rain and snow arrive overnight and into Wednesday.
Today's newsletter is 868 words — a 3.5-minute read.
1 big thing: The Nuggets' banner chase
This could finally be the year for the Denver Nuggets.
Driving the news: The second half of the NBA season starts this week and the Nuggets currently have the best record in the West at 41-18 after a three-game winning streak.
Only two teams in the NBA have a better overall record, the Boston Celtics and Milwaukee Bucks.
Yes, but: The Nuggets historically have run out of party tricks when they hit the playoffs.
They are one of six teams without an NBA Finals appearance despite making it to the Western Conference title game four times.
Reason for hope: The pieces are in place for a deep playoff run. It starts and ends with the triple-double machine and reigning league two-time MVP Nikola Jokić.
Jamal Murray — who earlier this month posted a season-high 41 points — is having a phenomenal season after missing last season as he recovered from ACL surgery.
The team also traded for solid perimeter defender and shooter Kentavious Caldwell-Pope last summer. Nuggets head coach Michael Malone labeled him as "the missing piece" for the team.
Threat level: The Golden State Warriors loom. Though ninth in the West right now, they are still the defending champs.
The Phoenix Suns' recent acquisition of superstar Kevin Durant makes the Nuggets' path to winning the Western Conference tougher, writes local sports analyst Jake Shapiro.
2. Scoop: Poll shows scrambled mayoral race
Denver's race for mayor is so wide open that no candidate has reached 10% support.
Driving the news: An independent poll commissioned by business leaders, first obtained by Axios Denver, finds only three candidates in the 17-way contest even exceed the survey's margin of error.
Kelly Brough, the former Denver chamber leader, sits atop the pack with 7.6% support among likely voters. Leslie Herod, a state representative, received 5.8%, just ahead of former state Sen. Mike Johnston at 5.3%.
The remaining top-tier candidates each received less than 4% support. The poll's margin of error is plus-or-minus 4.86%.
About 60% of voters say they are undecided.
Why it matters: This is the first major public poll since the ballot was finalized earlier this month.
The unsettled landscape will send the candidates into hyperdrive to distinguish themselves, setting the stage for a furious scramble ahead of the April 4 election.
Between the lines: Denver business leaders, under the newly formed organization "A Denver for Us All," commissioned the Feb. 9-10 survey, which was conducted by a bipartisan team of pollsters.
The group was founded by David Carlson and Chris Romer, who lost the mayor's race to Michael Hancock in 2011.
Zoom in: Beyond the candidate questions, the survey looked at voter attitudes about homelessness, with 96% labeling it a "crisis" or "major problem."
57% support the city's "sweeps" to remove homeless encampments with 72 hours of notice — 34% opposed it.
3. 😎 Check out our new website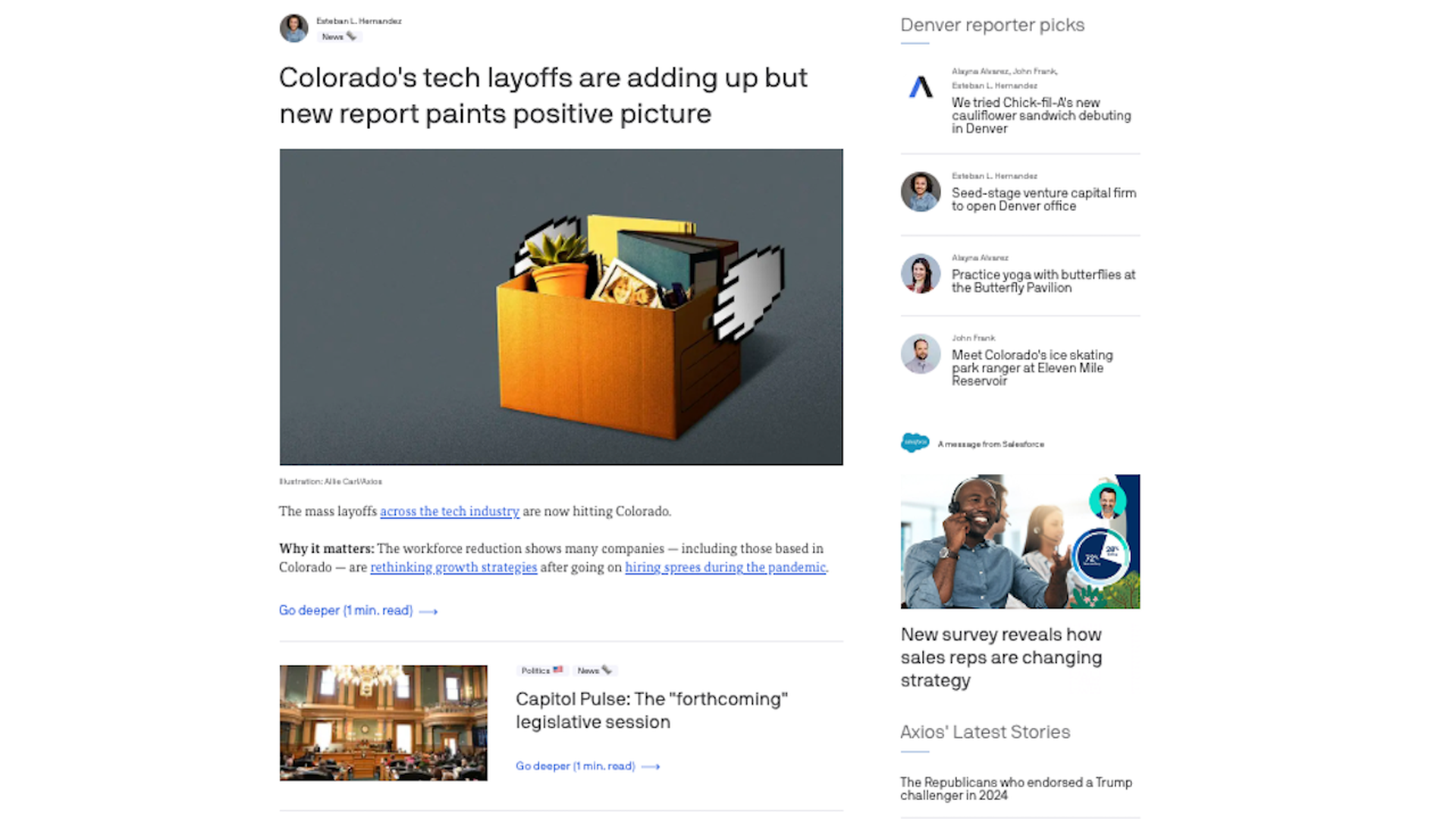 We interrupt your daily dose of news and fun with an important announcement: Axios Denver has a new website!
What's new: The layout now makes it easier than ever to find exclusive website content, stories you may have missed, our improved job board and reporter story picks all in one place.
What to watch: Starting this week, we're also debuting new editions on Saturday and Sunday that dive deep on particular topics and get you ready for the week ahead.
Why it matters: Our expansion at our two-year mark is all thanks to your support!
We appreciate it — and we want to celebrate with you at our birthday party Thursday. Details.
4. Mile Highlights: Catch up quick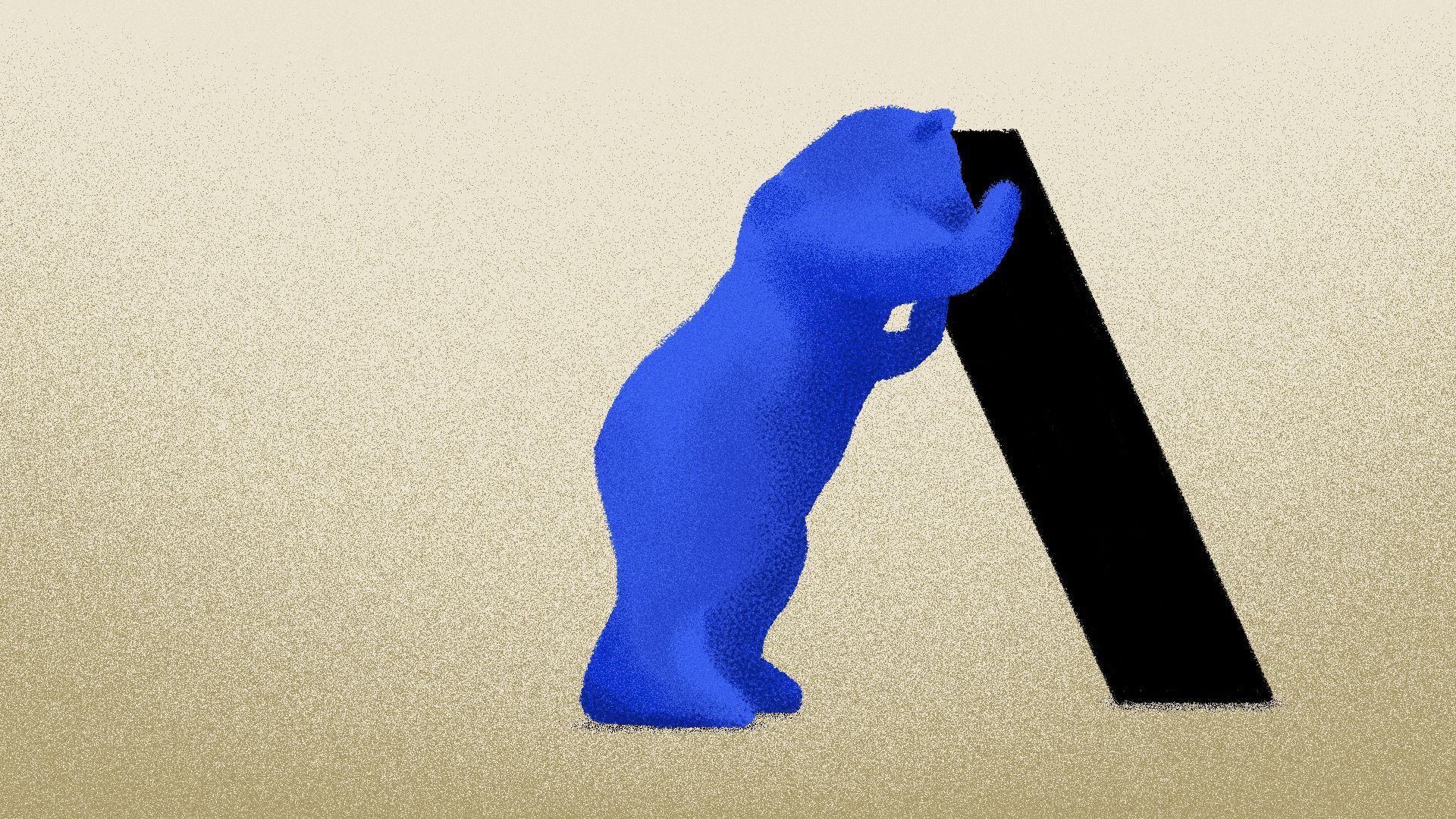 🚫 The opponents of developing the Park Hill Golf Course filed a lawsuit Friday to try to block the plan, saying the 155-acre parcel is "protected land." (Denver Post)
🚨 The son of RTD police chief Joel Fitzgerald was killed Saturday in Philadelphia. Christopher, who served as a Temple University police officer, was shot in the head while on duty. (9News)
🍄 Colorado lawmakers are facing pressure from magic mushroom advocates as they work to implement Proposition 122 and fight misinformation about efforts to crack down on the newly legal product. (Denver Post)
🍏 Discontent with public education remains elevated, with 47% of respondents saying schools are on the wrong track, according to a new poll from a group that supports more educational choice. (Chalkbeat)
🔥 Colorado legislative leaders are convening a special panel to examine escalating energy bills, following the lead of Gov. Jared Polis, who is taking steps to lower rates. (Denver Post)
Take your career to the next level
5. 🎊 Where to celebrate Fat Tuesday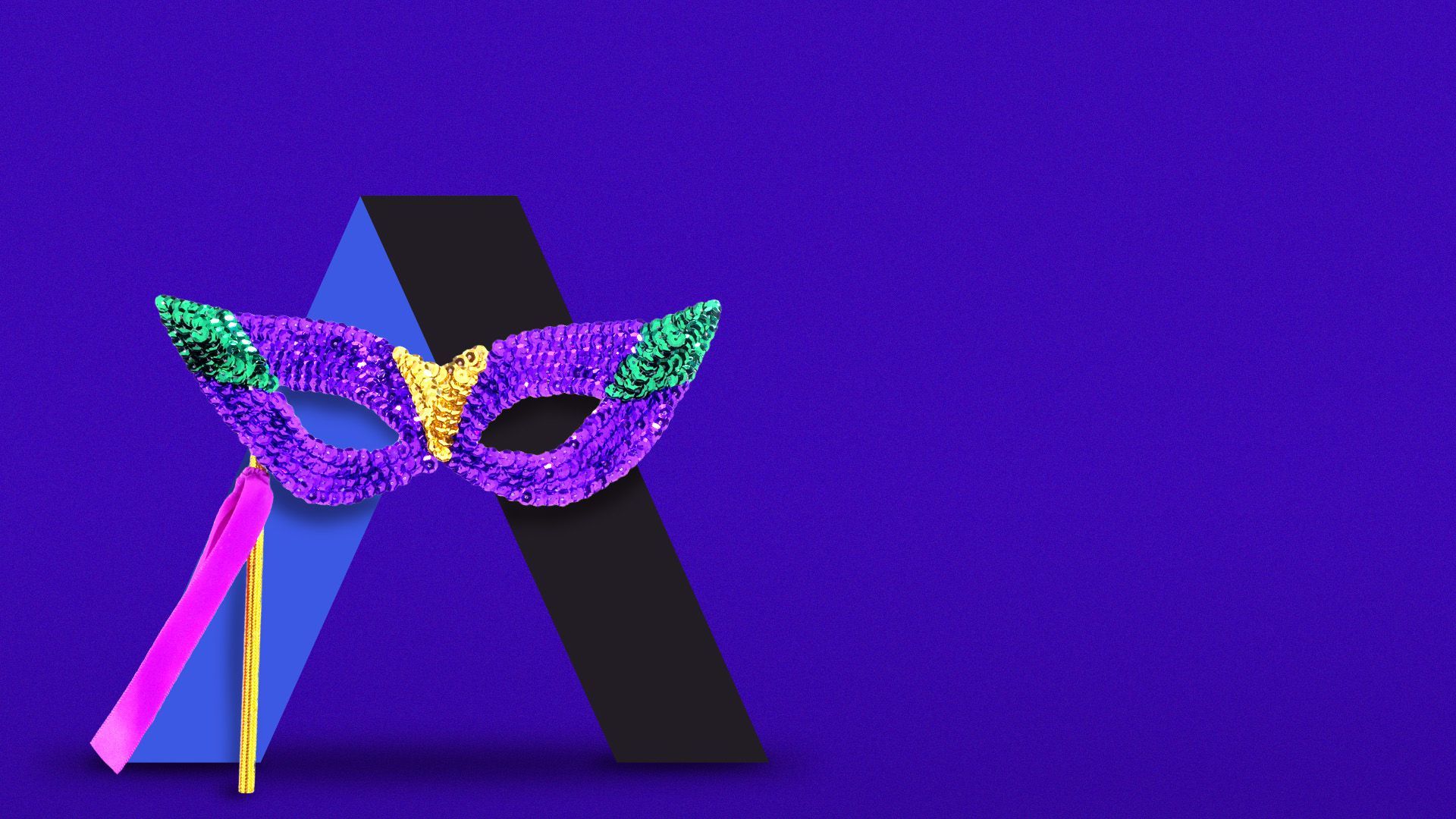 If you couldn't land a flight to New Orleans for Mardi Gras, you can still find a good time in Denver.
Here are three local events marking the celebration:
🍺 Outworld Brewing. The brewery will have live music today from the Brothers of Brass and others, and include a mask contest, with gumbo and jambalaya available for grub. Runs from 3-10pm. Tickets start at $5.
🍤 Meow Wolf. The immersive museum will have creole food from HELLOFOOD, a parade and live music. The festivities start this afternoon at 4:30. Tickets start at $45.
🏨 The DoubleTree by Hilton Denver Tech Center will host a Denver Mardi Gras hotel takeover on Saturday. Drink and bottle specials will be available, with cajun food and king cake. Tickets start at $49.
Our picks:
🎉 John is celebrating Mardi Gras with the delicious king cake from this Denver bakery.
📱 Alayna started following this Denver-based foodie on Instagram, whose recipes look delicious.
😌 Esteban wrote the newsletter listening to this sunny, laid-back playlist.
🍕 FWIW … Chicago won the Axios Local pizza tournament. Shocker.
Thanks to our editor Ross Terrell and copy editor Bill Kole.