July 31, 2021
Good afternoon and welcome to a Deep Dive on jobs by the Axios business team, led by managing editor Aja Whitaker-Moore.
Smart Brevity™ count: 1,188 words, or 4½ minutes
1 big thing: The worker's job market
The Great Resignation has companies across the country trying desperately to hold on to staff as employees act on pent-up demand for job changes, writes Axios Markets correspondent Sam Ro.
By the numbers: 6.7 million fewer Americans are working now than before the pandemic. The unemployment rate is 5.9%, compared to 3.5% in February 2020.
On the plus side, about 16 million net jobs have been filled since April 2020.
Four metrics from the Bureau of Labor Statistics' "Job Openings and Labor Turnover Survey" paint the picture:
1. Job openings are at a record high of 9.2 million.
For every one opening, there's one unemployed American — vs. April 2020, when there were five unemployed people per opening.
2. Hirings aren't even close to keeping pace with new job openings.
In May, the ratio of hires to openings fell to an all-time low of 0.64.
3. Layoffs and firings are at an all-time low.
The more that companies struggle to hire, the less they are letting go of workers they do have.
4. Quits are at record highs.
The share of departing workers (layoffs, firings, retirements, deaths) who quit is 67.8%, the second-highest ever.
Between the lines: The labor market optimism seems to conflict with 9.5 million Americans saying they're unemployed.
Fed Chair Jerome Powell, during a press conference Wednesday, said the real-world process for securing a job is a "time intensive, labor intensive process, and there may be a bit of a speed limit on that."
2. Overheard in the trenches
Some job seekers are taking their time ...
"There were endless amounts of roles. I could be extremely picky."
— Ashley Taylor, who works in software sales
Taylor left her last job in January — and within two days had an offer to join another startup. She waited six months and ended up getting an even higher offer from the same company.
While others are struggling ...
"I haven't even been able to get the jobs that I don't want. And that's with five years of college."
— Gaeble King, an attendant at a county park in Washington state who's looking to advance.
Parks have gained popularity during the pandemic, and there are an abundance of open jobs. But "they want to hire people that they don't necessarily have to train," says King.
And employers are getting desperate ...
"We have people that will flat-out tell you they don't want a job. They say their unemployment has not run out and they don't want to go back to work until that does run out."
— Kim Whitworth, who runs an Express Employment staffing agency in Decatur, Ala.
Whitworth's agency has around 170 job openings to fill in manufacturing, warehousing, IT and other industries. In normal times, a firm her size has about 30 positions to fill, she says.
— Reporting by Axios What's Next reporter Erica Pandey
3. Unemployment cutoff isn't juicing jobs
More than half the states are embarking on a grand experiment to spur people back to work by prematurely ending enhanced unemployment benefits, writes Axios Closer author Courtenay Brown.
What's happening: Despite the uproar over the higher payouts, early evidence suggests canceling them only marginally helped employers find workers — that is, if there was any effect at all.
State-level data analyzed by Reuters show that job gains in states that cut off benefits and those that didn't were roughly the same.
A study by JPMorgan Chase Institute notes that supplemental unemployment benefits "played a small role in deterring jobless workers from finding a new job."
Payroll processor Gusto found that job growth among service-sector small businesses in states that snipped weekly benefits was about the same as those that didn't.
Catch up quick: 26 states — all but one (Louisiana) led by a Republican — stopped paying the extra $300 in unemployment benefits, or plan to ahead of the September cutoff.
The bottom line: Economists say increased unemployment benefits alone aren't holding back the job market — they're helping keep the finances of would-be workers afloat.
4. Pics of the day: Help wanted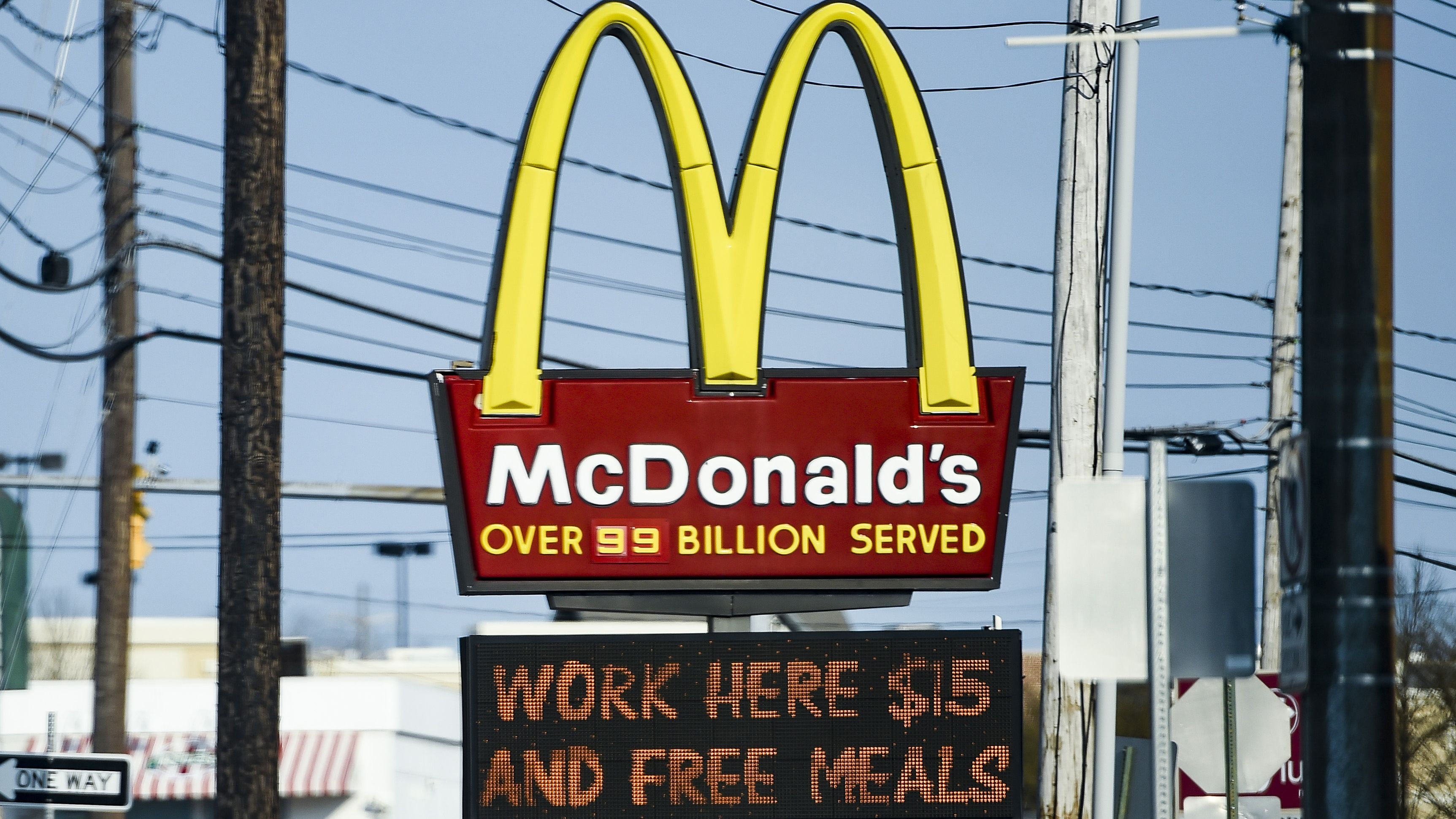 An aggressive offer in Sinking Spring, Pa.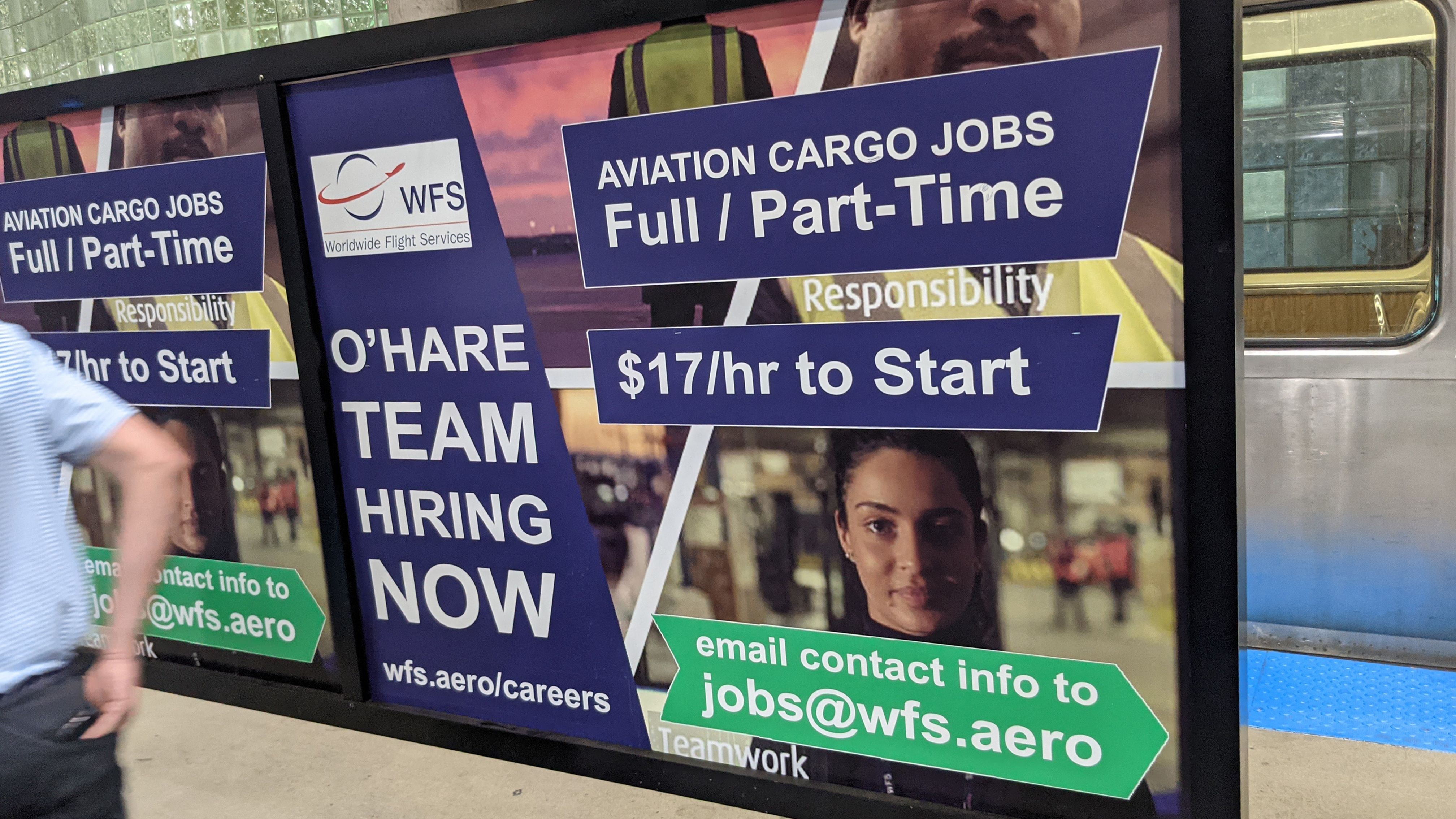 Spotted at Chicago O'Hare.
5. Up and to the right 📈
When the demand for workers outstrips the supply, wages go up — exactly what we're seeing now, writes Felix Salmon, Axios' chief financial correspondent.
Why it matters: The least-loved jobs are often seeing the fastest pay rises.
By the numbers: Food service employees now earn an average of $17.23 per hour. That's hardly a white-collar salary. But it does represent a rise of a full $1 per hour, or 6.2%, just in the four months between January and May.
Be smart: The "headline" rise in worker pay, if anything, understates the degree to which wage costs have risen, since it excludes signing bonuses and some other incentives.
Between the lines: Employers love signing bonuses because they're a way of hiring new workers into existing jobs without having to raise the pay of everybody already in that job.
And bonuses don't become part of the pay that's subject to periodic raises.
The bottom line: Wealthier workers tend to place less value on one-off bonuses vs. higher regular wages. So employers of low-income workers are best placed to use bonuses to keep their wage bill down.
6. New workplace minefield
Employers are walking a tightrope with vaccine requirements, which can be a legal minefield, writes Kia Kokalitcheva, author of the Axios Pro Rata weekend edition.
Between the lines: Mandating that all employees be vaccinated will make some workers feel safer about returning to the office — but it risks alienating those who are opposed to getting the jab.
And with employers trying desperately to hang on to workers — and attract new ones — they may find themselves in a no-win situation.
What we're watching: Unions representing health care workers, firefighters, teachers and police forces, among others, are pushing back.
They argue mandates would be unfairly risky, often citing the fact that the vaccines have not yet received full FDA approval.
The legality of mandates is complicated, given the range of local laws.
The U.S. Equal Employment Opportunity Commission says that federal law doesn't bar employers from requiring vaccinations.
But some states have taken matters into their own hands and moved to ban vaccine mandates.
7. 👀 What we're watching
Projections for July job growth would push the unemployment rate down to 5.8% — matching a pandemic-era low, Courtenay notes.
8. 🌮 1 fun thing: A job for taco lovers
Wanted: Director of Taco Relations
Spice company McCormick announced it's hiring for that tasty title — a four-month gig that pays $100,000, Sam writes.
Responsibilities include: "Taste test and consult on inspirational and approachable taco recipes" ... "Debate the ultimate controversial taco topic: soft or hard shell taco?"
Between the shells: With so many choices for workers, short-term gigs have become a lot more interesting.
📊 Thanks for reading! Please treat yourself to our business newsletters: Sam Ro's morning Axios Markets ... Dan Primack's daily deal scoops in Axios Pro Rata (with a new weekend edition by Kia Kokalitcheva) ... Courtenay Brown's happy-hour Axios Closer ... and Felix Salmon's weekly Axios Capital.