Axios AM Deep Dive
August 10, 2019
"For the heart, life is simple: it beats for as long as it can. Then it stops."
— Karl Ove Knausgaard, in his book "My Struggle"
No topic is more defining — and more taboo to discuss — than death. It's the one thing all of us will share.
🎬 Our friends Perri Peltz and Matthew O'Neill, the directors and producers of "Axios on HBO," have spent two years and traveled to 10 states to produce a landmark documentary on death and dying, "Alternate Endings: Six New Ways to Die in America."
It premieres this Wednesday, Aug. 14, at 8 pm ET on HBO.
This Deep Dive looks at how quickly and radically the way we die is changing for all of us.
Please share your stories with us, too. Just reply to this email, or write me at [email protected].
Smart Brevity count: 1,855 words, ~7 minutes.
1 big thing: The new art of dying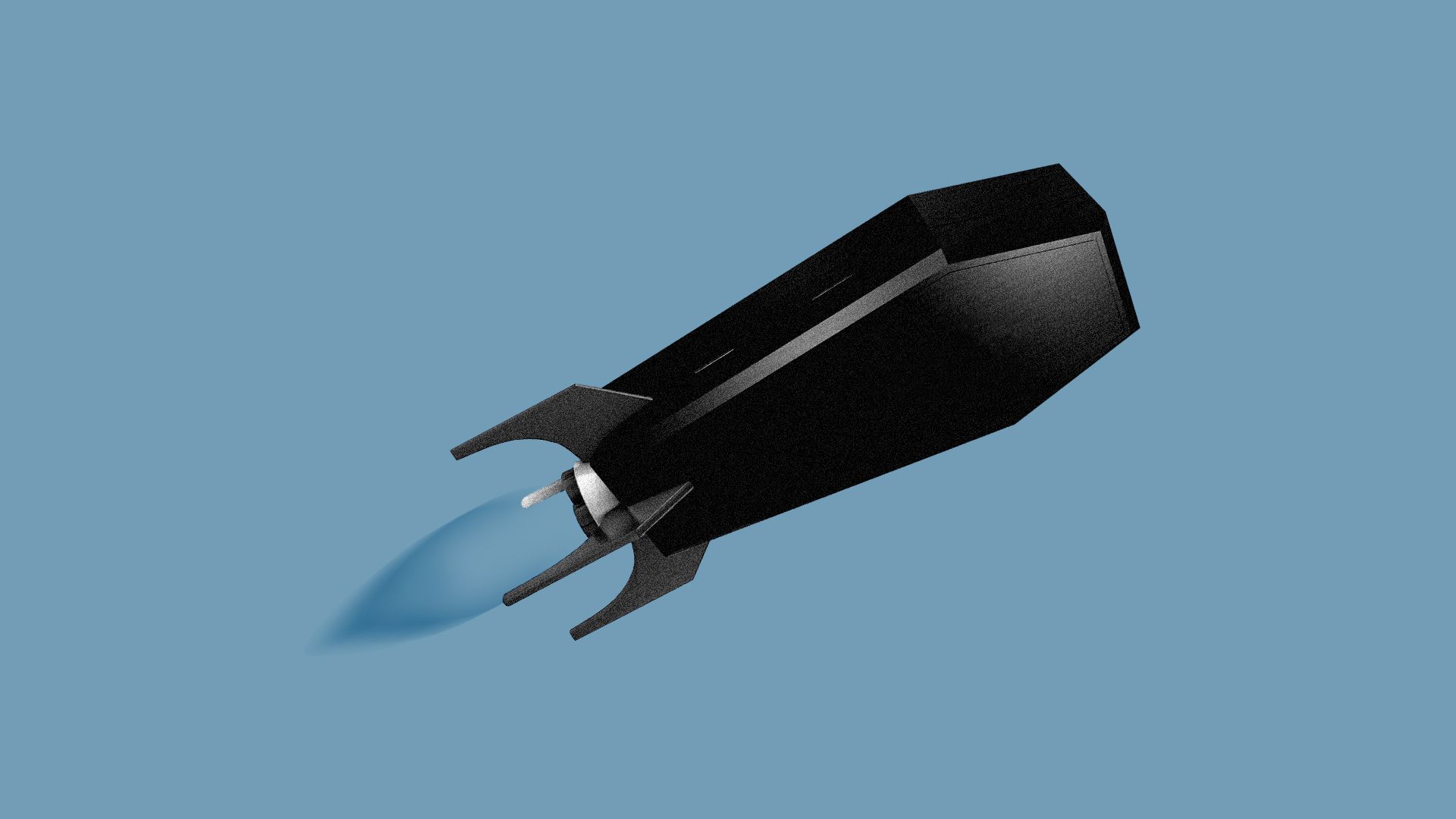 Modern burials and death practices are changing how we die, and where we go when we die, Jessie Li writes.
Why it matters: Today, the funeral industry is worth $17 billion. Businesses are innovating on traditional practices and more people are taking control of how they wish to die and be buried.
It now ends with most of us getting turned into dust and posted online. Some new burial practices and places include:
2. More Americans want to be cremated
More Americans are choosing to be cremated rather than buried after death, according to data from the Cremation Association of North America (CANA), Stef Kight writes.
By the numbers: In 2004, less than 1/3 of the deceased were cremated in the U.S. In 2016, half of American deaths resulted in cremation. CANA projects that will rise to 65% in 2028.
Areas with high affiliation to Christianity as well as lower income and lesser educated populations tend to prefer traditional burials.
Cremation is more popular in areas of the country with more immigrants, other religious groups and higher income people.
New preferences have rattled undertakers, who make significantly more money off burials than cremations and are now facing urn and casket competition from Amazon and Walmart, the Economist reports ($).
Relatives and friends have asked for pizza and margaritas, karaoke and tiki huts and even fireworks to shoot their loved one's ashes into the sky.
The bottom line: The popularity of traditional, more expensive embalming, caskets and funerals is dying along with the silent generation and baby boomers.
3. Q&A with the filmmakers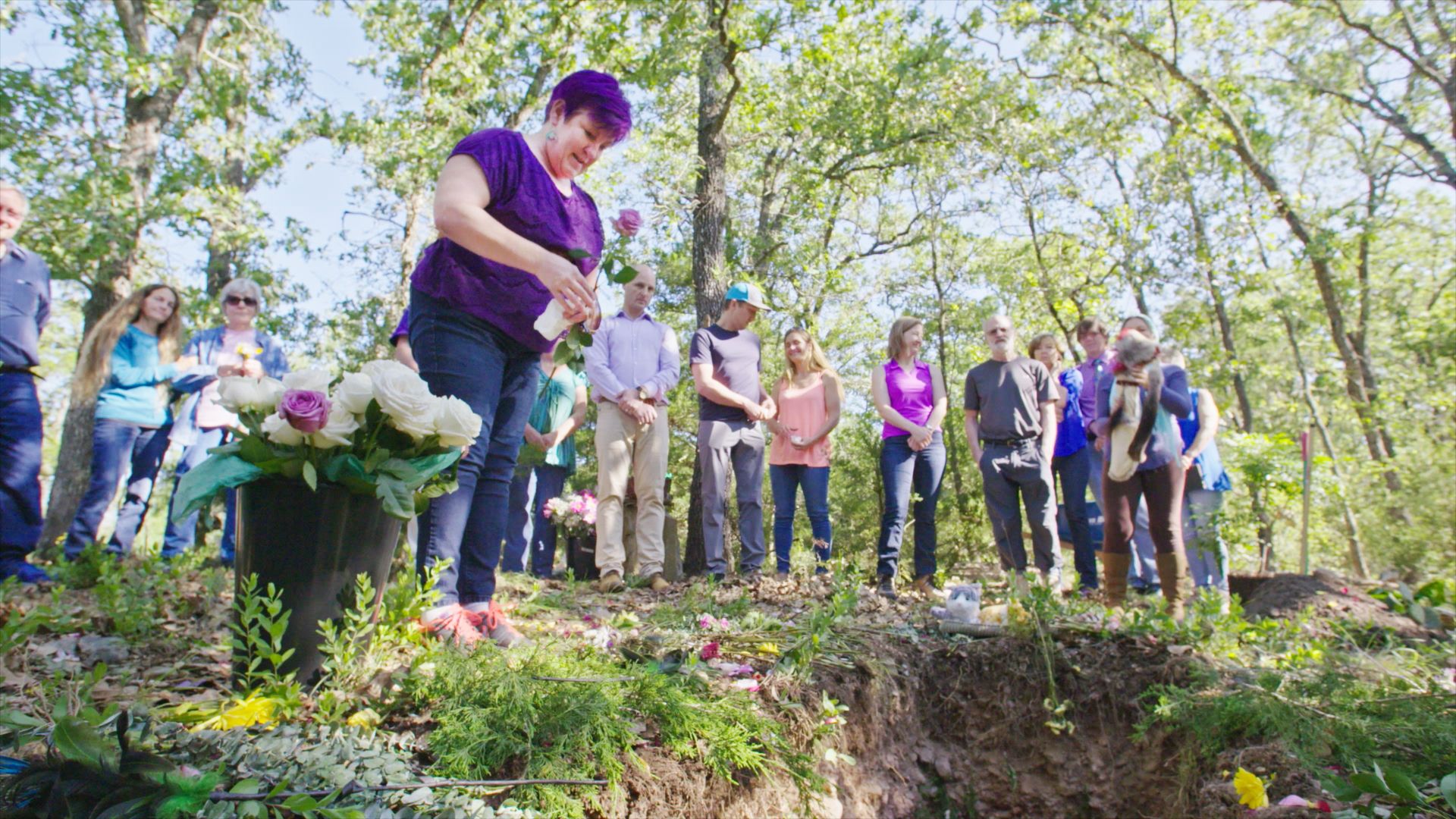 The filmmakers of "Alternate Endings" — a documentary on death and dying, premiering Wednesday on HBO — repeatedly hopped on planes over the past two years when they heard one of their subjects wasn't doing well.
Here's a bit of a long conversation I had with Perri Peltz and Matthew O'Neill, the producers and directors:
Your subjects were really talkative. Some of them were even funny.
O'Neill: "The humor is because there's a great deal of comfort and affection in each of these stories. If there's one thing in each of these stories besides death, it's love. And out of that love comes humor and comes teasing and intimacy and smiles."
Why do we have so much trouble talking about death?
O'Neill: "The baby boomer generation has had a greater degree of control over their lives than any other generation before them. It's because every topic that's taboo — be it sex, be it drugs — it's all on television and it's all being talked about. And death is the last taboo."
Peltz: "As Axios would say, 'Why does it matter?' We both believe that if this film can at least begin a conversation about death, that's going to take us to a better and more informed place."
When you screened a segment at the Aspen Ideas Festival, people cried.
O'Neill: "What we've been hearing is some variation of: 'I was nervous about watching this, I was afraid to watch this, but since watching it, I can't stop talking about it. I talk to my husband about it. I talk to my kids about it. It made me have a conversation with my kids here that I've been putting off.'"
How did making this documentary change you? 
Peltz: "My mother has been trying to talk to me about her end of life for a good 10 years now. And every time she says, 'We really should talk about the end and what's going to happen and about my will,' I basically put my fingers in my ears and say: 'No, no, no, no, no —another time.' And what I've learned from this film is we have to talk about it. I went back to my mother and I said: 'You're right. Let's talk about it.' And that, for me, was a big difference. I'm still afraid of dying. But I'm willing now to have a conversation about it."
🎬 Watch a clip.
4. How death cafes are de-stigmatizing death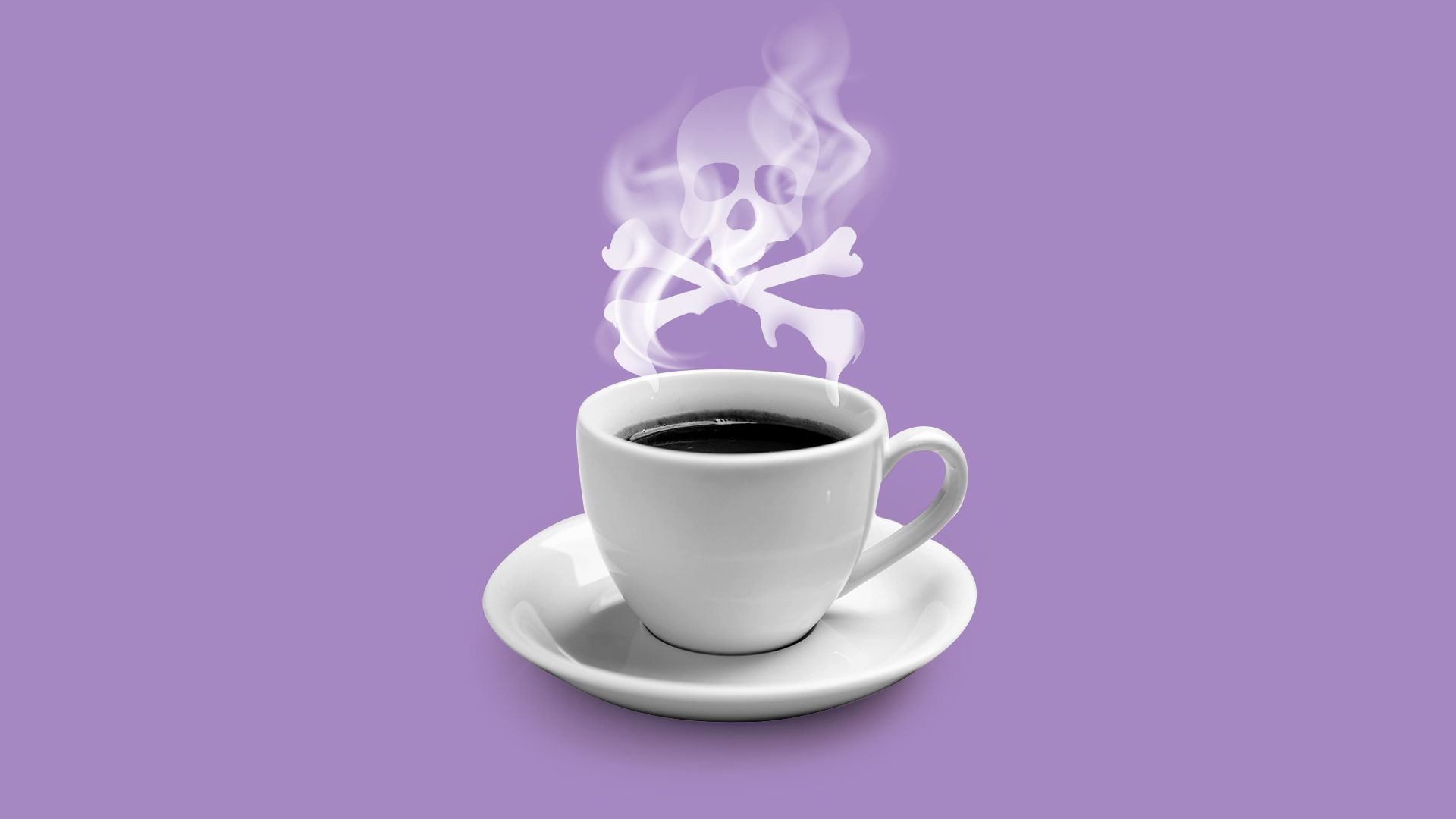 An ongoing movement of "death cafes" — open salons for discussing death, with no set agenda — is spreading across America with the goal of ending the taboo around talking about dying, Jessie Li reports.
The big picture: The number of Americans 65 and older is on course to double from 46 million to over 98 million by 2060. Aided by a growing culture of sharing and openness in society, the future of these aging boomers is spurring conversations about aging and dying.
Between the lines: Step into a death cafe and the first thing you'll notice is that it doesn't necessarily look like a group of people conversing about the end of life.
There's cake. There's tea. There's laughter.
That's part of the approach, says Sarah Farr, founder of Death Positive DC and a death cafe organizer. "Life is funny. And sometimes using humor can lighten the conversation a bit."
Anyone can host a death cafe at a local coffee shop, library or public space. Anyone can show up. Anyone can contribute, or just listen.
At death cafes, topics can range from logistical to mystical: from writing your will to what happens to the soul after death.
"Coco comes up a lot. It's a Disney kids movie. But it's such a beautiful movie about death and staying connected to our dead loved ones," Farr says.
Death cafes aren't just for those who are aging or have terminal illnesses.
High school students who have lost a parent, a sibling or a friend; ICU nurses burnt out from seeing how death is treated in hospitals; government desk workers — these are all people who have participated in death cafes run by Nicole Heidbreder, a D.C.-based hospice nurse.
The bottom line: Today, death cafe organizers are seeing more momentum around talking about death.
Greater attention from the news and social media, grassroots work, awareness from mass shootings and the rise of doctors who have become household names — like Atul Gawande and BJ Miller — is changing how Americans talk about death.
Farr says, "In all these conversations, what we're really getting at is looking at our own lives. How do we want to live? What are we going to do with the time that we have?"
5. How the health care system fails dying patients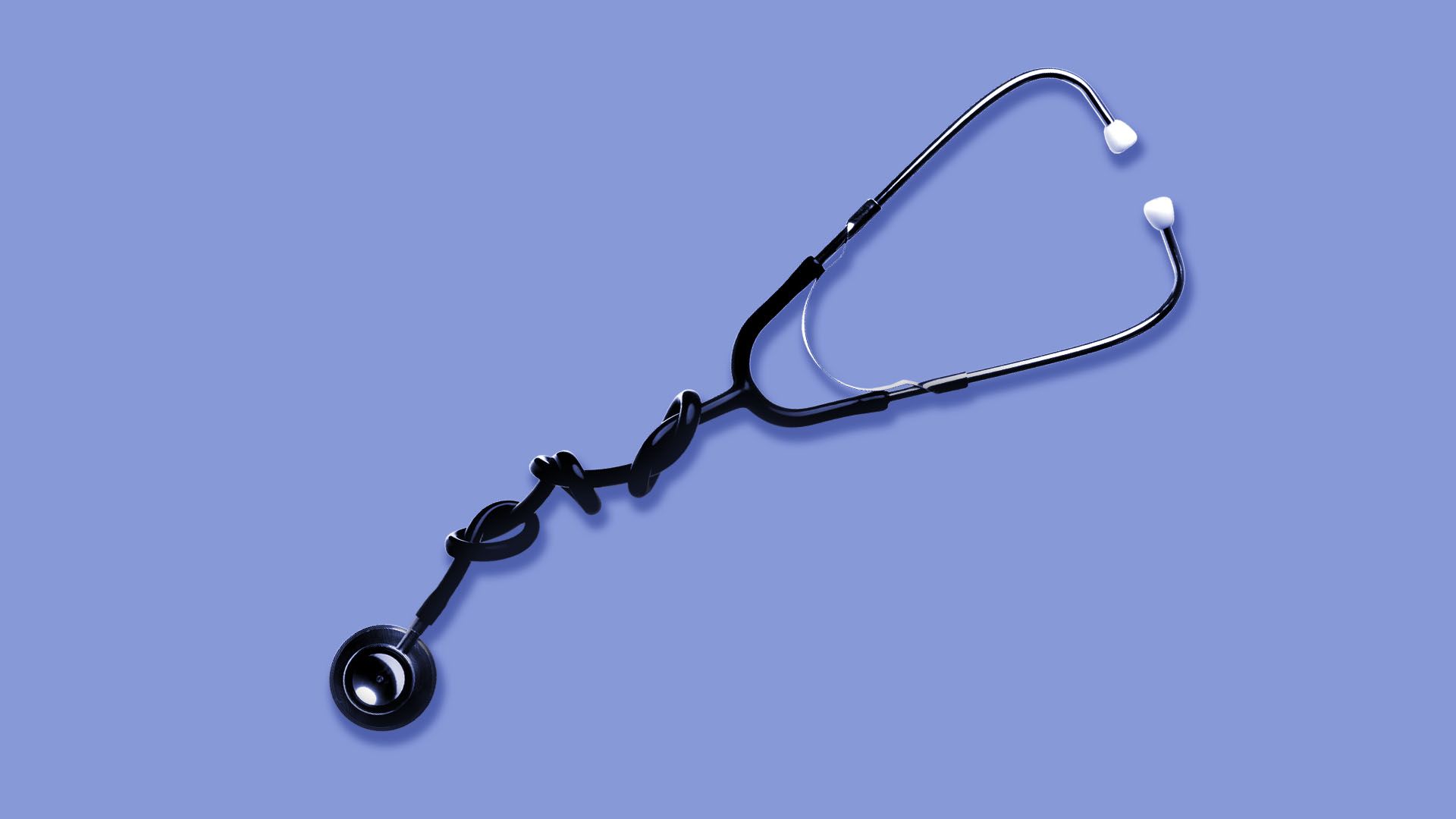 Medical culture has often framed death as a binary decision: Preserve a patient's life at all costs, or give up and accept what happens.
That framing does a disservice to the fear, uncertainty and philosophical questions about life and death that patients and their families experience, Bob Herman writes.
Why it matters: The health care system isn't helping patients wrestle with these difficult questions, while advances in medicine are making them even harder to answer.
Today's technology can make it difficult to define what "dying" is, according to doctor and author Atul Gawande.
"We shouldn't set our patients up with false hope that medicine can solve anything," said Sunita Puri, a palliative care doctor and author.
"I would like to believe that I will be very clear-eyed and rational, that I will know when it's time to stop treatment," Diane Meier, a leading expert on palliative care, said when asked how she would like to die. "But I am not so arrogant as to think that I might not choose [more treatment] out of fear."
Where it stands: Experts say we have designed a system that fails to support both the chronically ill who are the costliest to treat and those who are closer to death.
Medical schools often cast aside courses on geriatrics and palliative care as "optional," and many schools "graduate young physicians who have never been adequately trained to listen to people," said Ira Byock, a physician and author.
Medicare's hospice benefit is restrictive. And despite some recent changes in policy, physicians don't have a strong financial incentive to spend their time listening to patients' concerns.
There's some cause for hope. The hospice and palliative care movement has expanded rapidly: 75% of all hospitals with at least 50 beds now have some kind of palliative care program.
Plus, more people are dying at home, where they'd rather be, instead of in a hospital.
The bottom line: "Is death a friend or an enemy, to be acquiesced to or to be fought? American medicine is simply not sure about the answer to that question," bioethicist Daniel Callahan wrote in 1995.
6. How tech platforms handle a user's death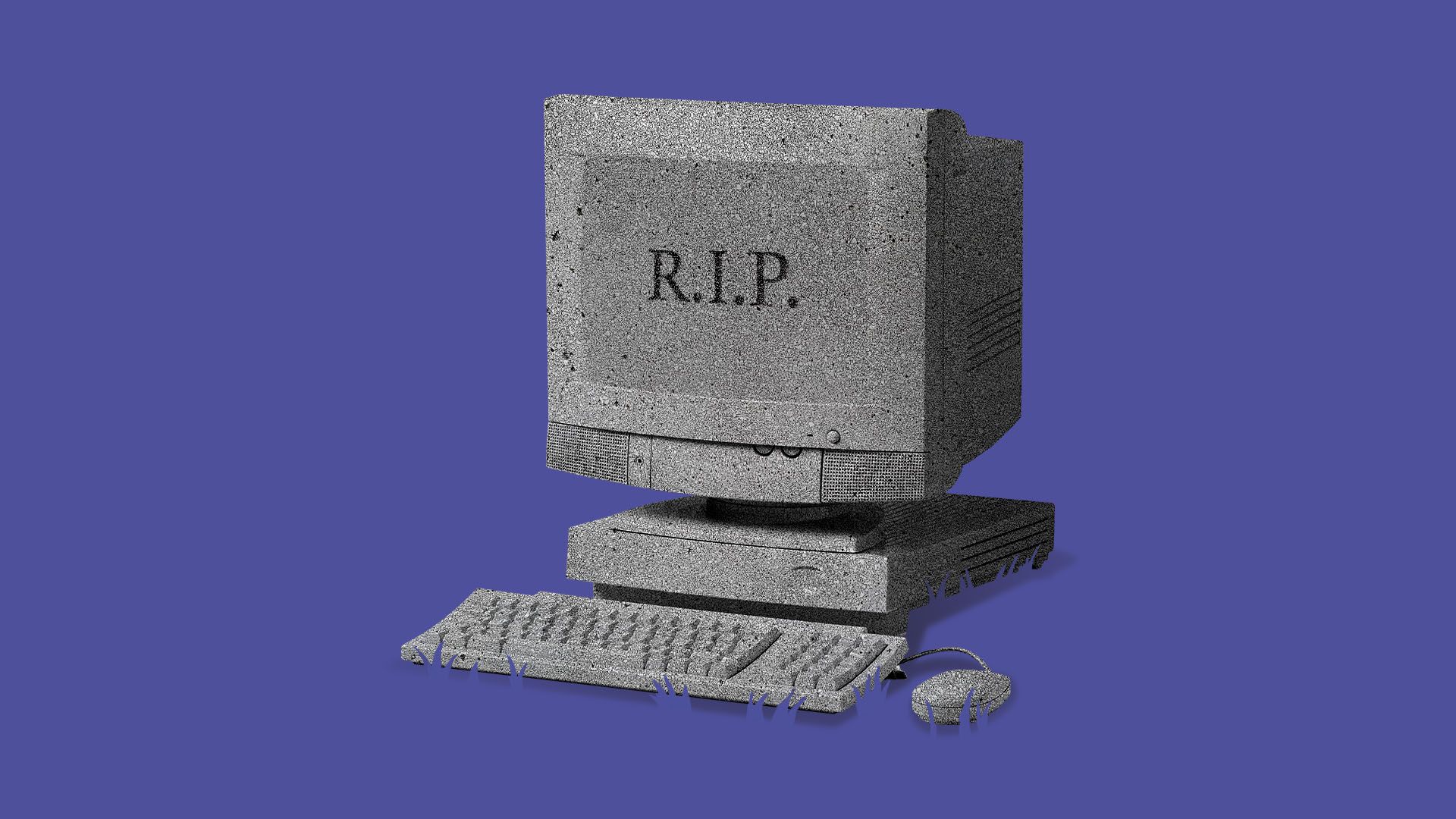 Online platforms built for the living increasingly have to confront what to do when one of their users dies, leaving an account behind, David McCabe writes.
Facebook will "memorialize" a deceased user's account — turning it into a remembrance page — at the request of family members or friends.
Instagram will also lock the contents of someone's account when they die.
Twitter will deactivate a deceased user's account in collaboration with a "person authorized to act on behalf of the estate, or with a verified immediate family member."
Google will work to secure a user's account after they die, closing it "where appropriate," the company says. "In certain circumstances we may provide content from a deceased user's account."
Several platforms encourage users to plan ahead for their own death, often by designating an individual to handle their account. Facebook users can also tell the service to delete their account when they die.
The big picture: Social networks have repeatedly grappled with how to handle this question, developing their policies over the years — and facing criticism along the way.
Last year, a writer for Mashable noted that effectively anyone could memorialize a Facebook account, based on the way the system worked at the time.
Facebook's Sheryl Sandberg announced earlier this year that the site was now "only allowing friends and family members to request to have an account memorialized."
She also said the company uses artificial intelligence to keep content from non-memorialized accounts belonging to deceased users out of other users' feeds.
A Facebook spokesperson wouldn't specify how the platform identifies whether someone has died but said that there "are any number of signals we look for to indicate a person may be deceased."