Axios D.C.
September 22, 2022
Good Thursday morning, D.C.
🌦Today's weather: Possible thunderstorms with a high around 83 and a low around 53.
🍣 To help you answer the tough questions — like what's for dinner? — follow our Instagram for more food and drink content.
Today's newsletter is 846 words — a 3-minute read.
1 big thing: 🎃 Gird your gourds, it's finally fall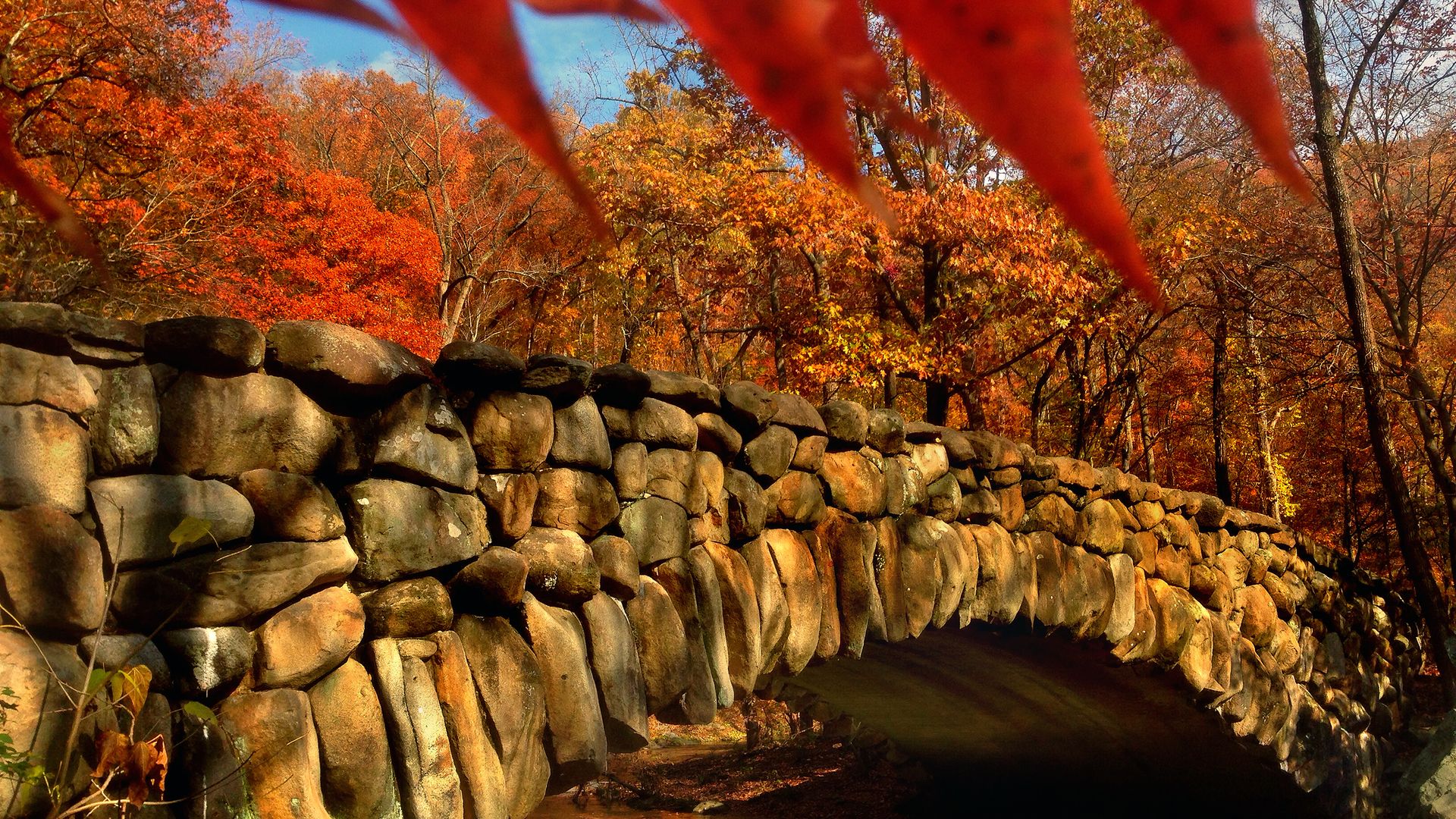 Today we officially say goodbye to summer and 'tis the season for sweater weather, pumpkin spice lattes (yes, we're judging if you've already been drinking them), and of course, leaf-peeping. Let's start there…
🍁 Look at those leaves: SmokyMountains.com's interactive map predicts that the Washington region will be in peak fall foliage from Oct. 24 to Oct. 30.
Virginia's fall foliage report says that plentiful rain this summer will likely result in leaves staying green a bit longer.
Maryland's preview says weather conditions this year were similar to 2021 and so the leaves will change around the same time. Last year, the southern parts of the state started seeing significant color changes by late October; peak season ended by mid-November.
🍏 Time to make apple-picking plans: Butler's pick-your-own fields have apples plus six other crops available, plus their annual Pumpkin Festival starts on Saturday. Homestead is also open for apple picking and with a variety of other crops for sale in the market. 
🚶‍♀️Take a hike: Enjoy the beautiful fall views and get some fresh air while you do it. Here's a roundup of NoVa hikes perfect for you and your canine friend(s), and quick hikes through the Shenandoah National Park from our Richmond team's fall guide:
🎃 Break out your fall decor: The Halloween decor competition is steep in D.C., so bring your A game. Take a look at this inspiration, and this, and one more here.
2. 🤑 Rising tech paychecks
As the Washington region continues to attract tech companies, local tech salaries keep rising.
What's happening: Hired's State Tech Salaries report found that D.C.'s tech salaries had grown 7% in the last year, putting the city fourth in the nation for tech salary growth.
That's faster than Silicon Valley, where salary offers are still the highest but only rose 3.7% in the last year.
The big picture: Even as layoffs and hiring freezes have become more common across tech companies large and small, salaries have continued to climb amid an overall shortage of skilled workers, Axios' Ina Fried reports.
The local angle: In the District, the growing tech sector is key in diversifying the local economy, which is heavy on government jobs.
3. Around the Beltway: 🚫 No guns on Metro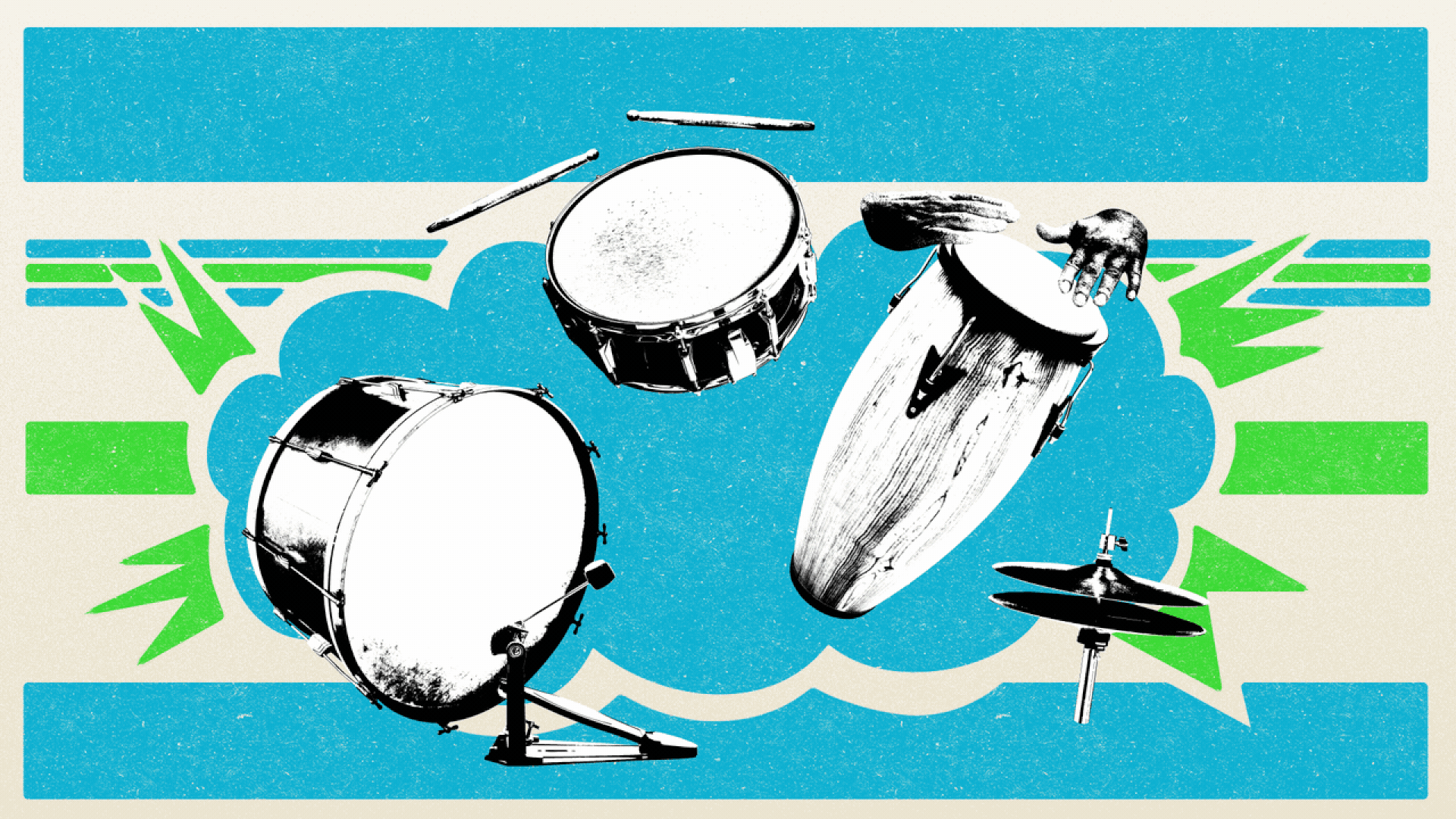 🚨 An Indiana man was arrested after the Washington Monument was vandalized with red paint late Tuesday night. The marble was washed off yesterday. The 44-year-old was charged with trespassing, tampering, and vandalism. (Washington Post)
🚧 A contractor has been picked to build toll roads on I-270 and the Capital Beltway. Maryland Gov. Larry Hogan is a top proponent of the highway-widening project, which has some local opposition. (Washington Post)
⚖️ D.C. Attorney General Karl Racine argued in court that guns should stay banned on Metro. (WTOP)
🏙 The Shakespeare Theatre Company's redevelopment proposal in Southwest is moving forward. The four-story building was originally approved to have 64 condos, but tweaks are in order, including downsizing the number of apartments for actors. (UrbanTurf)
4. 🍻 2 miles, 7ish beers, 1 Saturday afternoon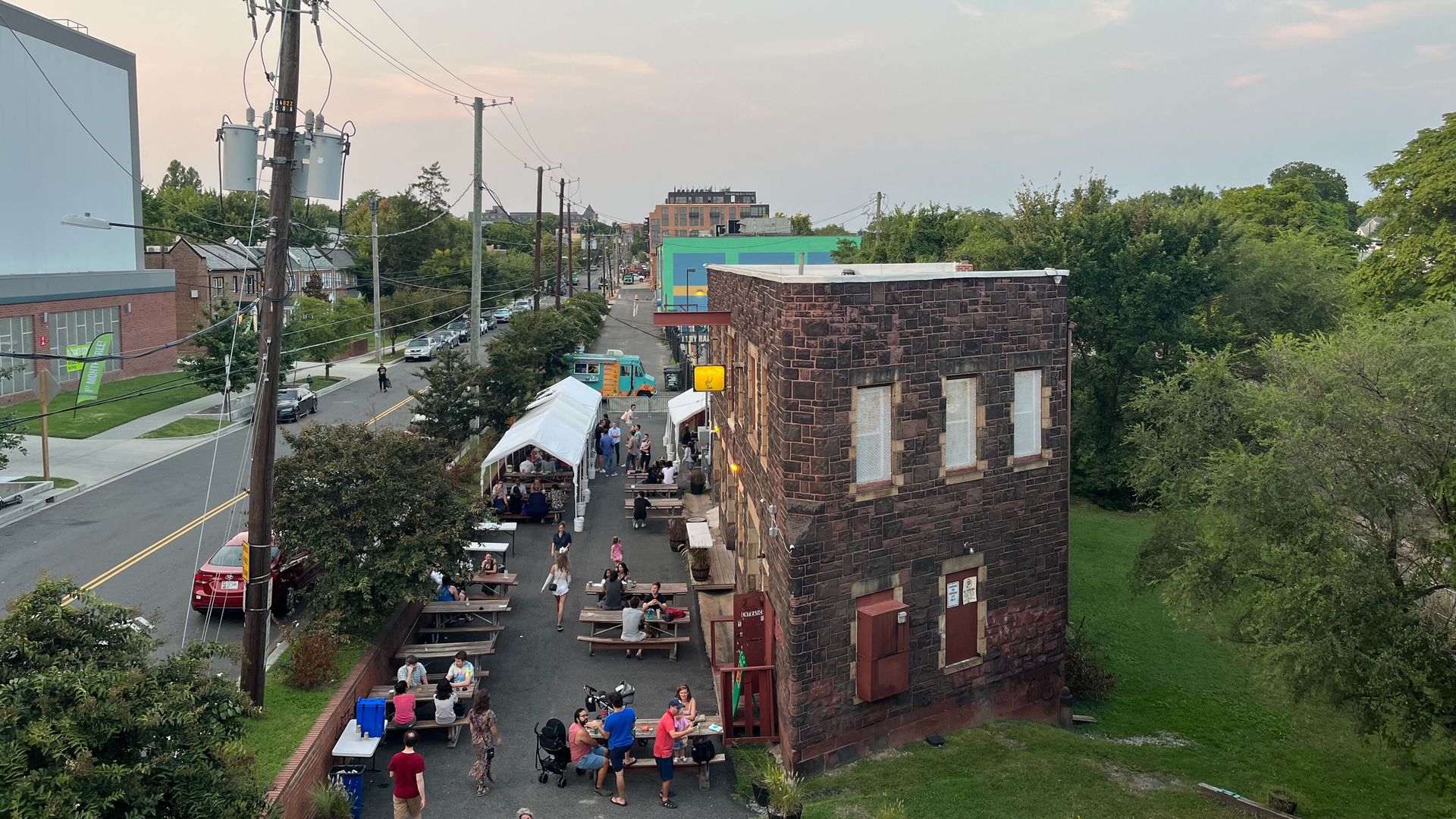 👋🏻 Hey, Cuneyt here!
When I first heard about biking the Metropolitan Beer Trail, I didn't know it was only 2.2 miles long. So instead, a buddy and I decided to venture out on foot. By the end, we visited every spot…I think.
The popular beer trail is a series of seven breweries, bars, and beer gardens along a portion of the Metropolitan Branch Trail, which runs all the way from Silver Spring to Union Station.
🚶🏻 Here's my guide, with some bonus spots to hit:
First stop: Wunder Garten, the German-style beer garden with picnic tables in NoMa.
Second: Red Bear Brewing Co., a craft brew pub that's just a block up the street.
Third: The Eleanor, a bar and lounge on Florida Avenue NE where you can go mini-bowling.
Fourth: Metrobar, the laid-back beer garden with a Metro train car on display. It's a 1.3-mile jaunt up the Branch Trail. (At this point, if you're four — and hopefully not more — beers in, you will be glad you're not on a bike)
Fifth: City-State Brewing, another D.C. brewery up the trail in Edgewood. The no-frills atmosphere includes bench tables and arcade machines.
🔑 Bonus: This one's off the trail, but there's no better place to soak up the beer than at classic Brookland pizzeria Menomale. The Brooklandissima pie includes roasted zucchini, peppers, and eggplant.
Bonus x2: You can opt for a faster bite at the Tastemakers food hall nearby. I recommend a pupusa at Jaddi's Salvadorian & Latin-American Cuisine.
Sixth: The Dew Drop Inn, where you need to try the Dickel and A Pickle combo. It's a shot of George Dickel Sour Mash Whiskey with a pickleback chaser.
Seventh: Last but not least, take a short walk to Right Proper Brewing Co. Have another local pint; I'm a fan of Raised by Wolves!
Or … if you're drunk, exhausted, and/or tapped out, at least check out the literal piano inside its bathroom.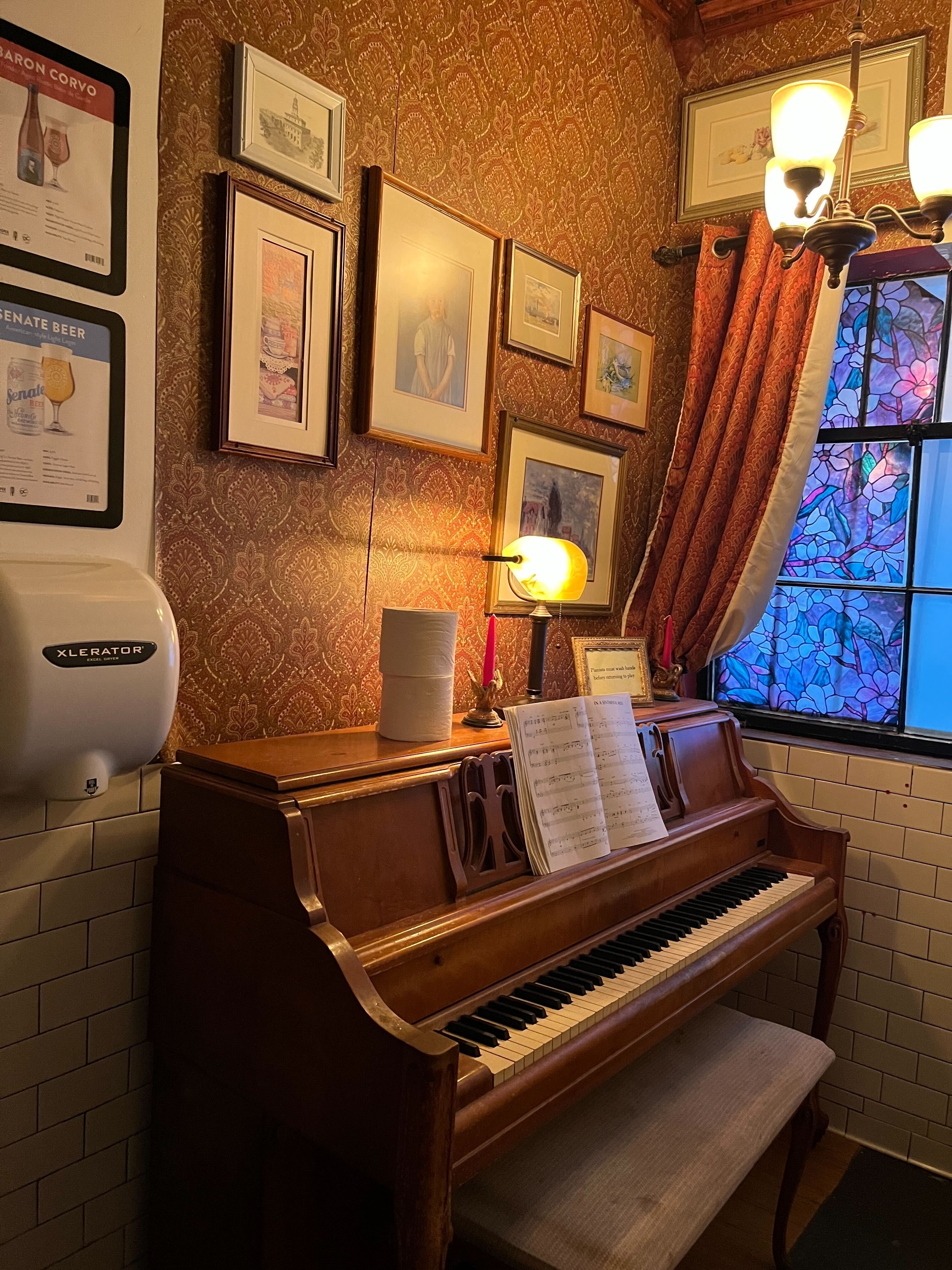 📖 As a part of Banned Books Week, Dr. Ibram X. Kendi is back in town for a free event with Rep. Cori Bush (D-Mo.) to talk censorship and the implications of book bans at Busboys and Poets' Anacostia location at 7 tonight. Register here.
Today's newsletter was edited by Kayla Sharpe and copy edited by Patricia Guadalupe.