Axios D.C.
March 28, 2022
Good morning! 🎶 It's just another Manic Monday 🎶
🥶 Today's weather: It's mostly sunny and a high of 42. Temps dip down to 24 at night.
🏆 The movie CODA last night won an Academy Award for best picture — and includes two actors who attended Gallaudet University. Congrats to our local winners!
📍 Situational awareness: Amtrak is tweaking its Northeast train schedule starting today due to track work.
Today's newsletter is 781 words — a 3-minute read.
1 big thing: 🕯️ Memorializing COVID-19 deaths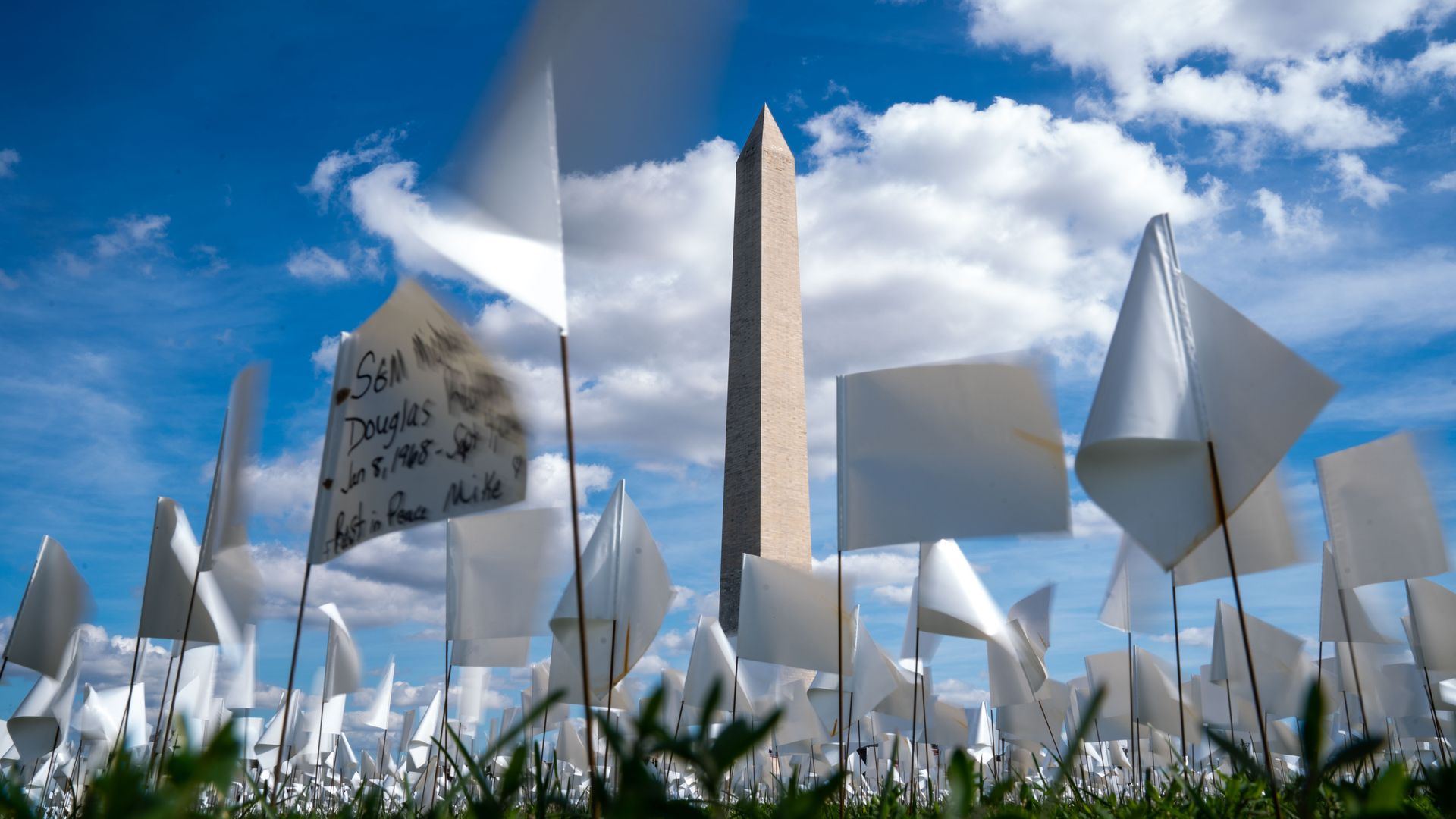 More than 35,000 people have died of COVID-19 in D.C., Maryland, and Virginia since the pandemic began. Now, over two years later, one local county is considering how to permanently memorialize lives lost.
Driving the news: Local agencies in Fairfax County are working on designing and estimating the cost of a permanent COVID-19 memorial in a park, under the direction of Fairfax County Board of Supervisors chair Jeffrey McKay.
Nearly 1,500 people have died of COVID-19 in the county.
What they're saying: McKay began thinking about more permanent ways to help residents process and heal after holding a vigil for victims last summer.
"We have some very beautiful, serene, calming park properties throughout the county where people on a daily basis go to reflect, be one with nature and rejuvenate," McKay says.
The idea wouldn't be to list names, McKay says, but rather design a memorial that speaks to anyone who has experienced loss.
What's next: The county is working with the local arts community on potential designs. The project is expected to take a year before actual construction starts and cost between $100,000 and $300,000, McKay adds.
Zoom out: An advocacy group is pushing Congress to establish a national remembrance day. A congressional resolution to do so has 67 sponsors in the House, but hasn't moved forward since being introduced last February.
2. 🏘️ What $300K gets you in D.C. real estate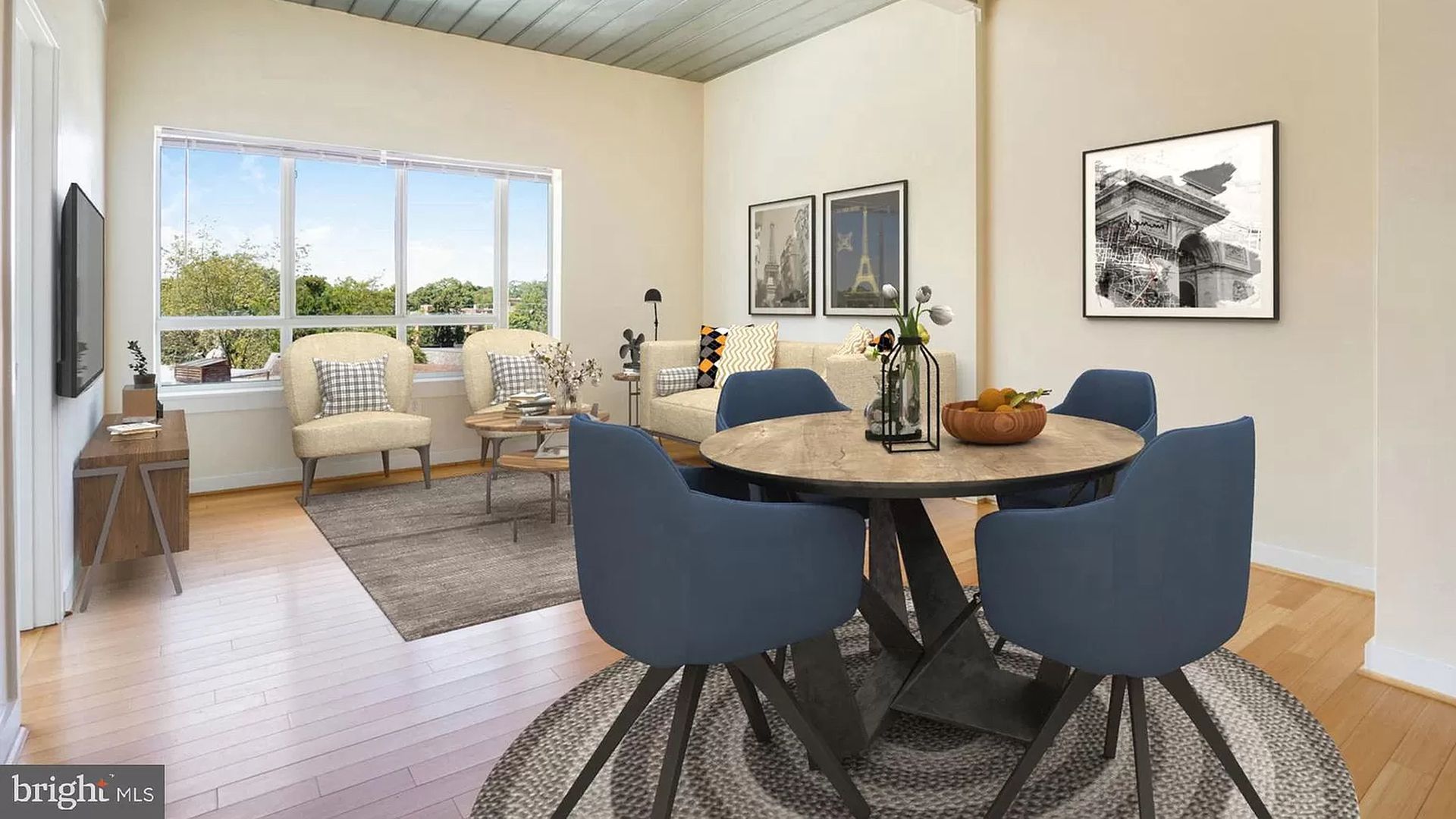 The median home sales price in D.C. was $645,000 in January, so Axios wanted to see how much house you can get below that price point.
Heads up: You can buy in D.C. for $300K, but you'll get more for your money looking beyond the District's boundaries.
Here's a comparison of three homes around the metro area that recently sold for around $300K, and one listed below:
5885 Colorado Ave. NW., Apt. 201 — $300,000
Brightwood; 1 bedroom, 1 bath; 602 square feet
Features: 10' ceilings, bamboo wood flooring, black stone countertops, walk-in bedroom closet, stacked washer/dryer in unit, parking garage.
Asking price: $295,000
Sold for: $300,000
Listing agent: Philip C. DiRuggiero
3. D.C. struggles to retain millennials
The District is no longer attracting as many of the young and well-educated adults who have fueled its recent population growth, census data shows.
Why it matters: The migration of young people over the past two decades led to an increase in public school enrollment, new development, and more tax revenue for the District.
But the number of people aged 25 to 34 moving into the city has slowed in the past four years, further declining during the pandemic, local think tank D.C. Policy Center found.
In 2020, 54% of the residents who moved out of the city were aged 25 to 34. There was a net loss of nearly 16,100 residents in that age group.
What they're saying: "The outflow of office workers, young adults, and commuter activity puts the District's income tax base at risk," wrote researcher Bailey McConnell.
By the numbers: Among income brackets, the greatest decline in population occurred for households earning between $50,000 to $75,000 annually, accounting for 18% of households moving out of the city in 2020.
"While it is difficult to determine with certainty why these residents moved out of the District, past data suggest that housing and work-related reasons are likely explanations," the analysis says.
4. Around the Beltway: 🏨 End of Trump Hotel
🏨 The District's Trump International Hotel, which opened just before Donald Trump was elected president, will soon be a Waldorf Astoria, after the General Services Administration approved a lease transfer. (Washington Business Journal)
🏛 In the summer of 2020, Mayor Bowser promised to remove the names of slave owners from dozens of D.C. buildings. Nearly two years later, that pledge remains unfulfilled. (The Washington Post)
🏳️‍🌈 Transportation Secretary Pete Buttigieg and his husband Chasten were among the first visitors to As You Are, a new LGBTQ+ bar on Capitol Hill. (The Washington Blade)
📍Maryland will have to redraw its congressional district map after a judge declared the newly drawn map unconstitutional, a decision celebrated by Republican lawmakers. (Associated Press)
5. 📷 Postcard from Charlotte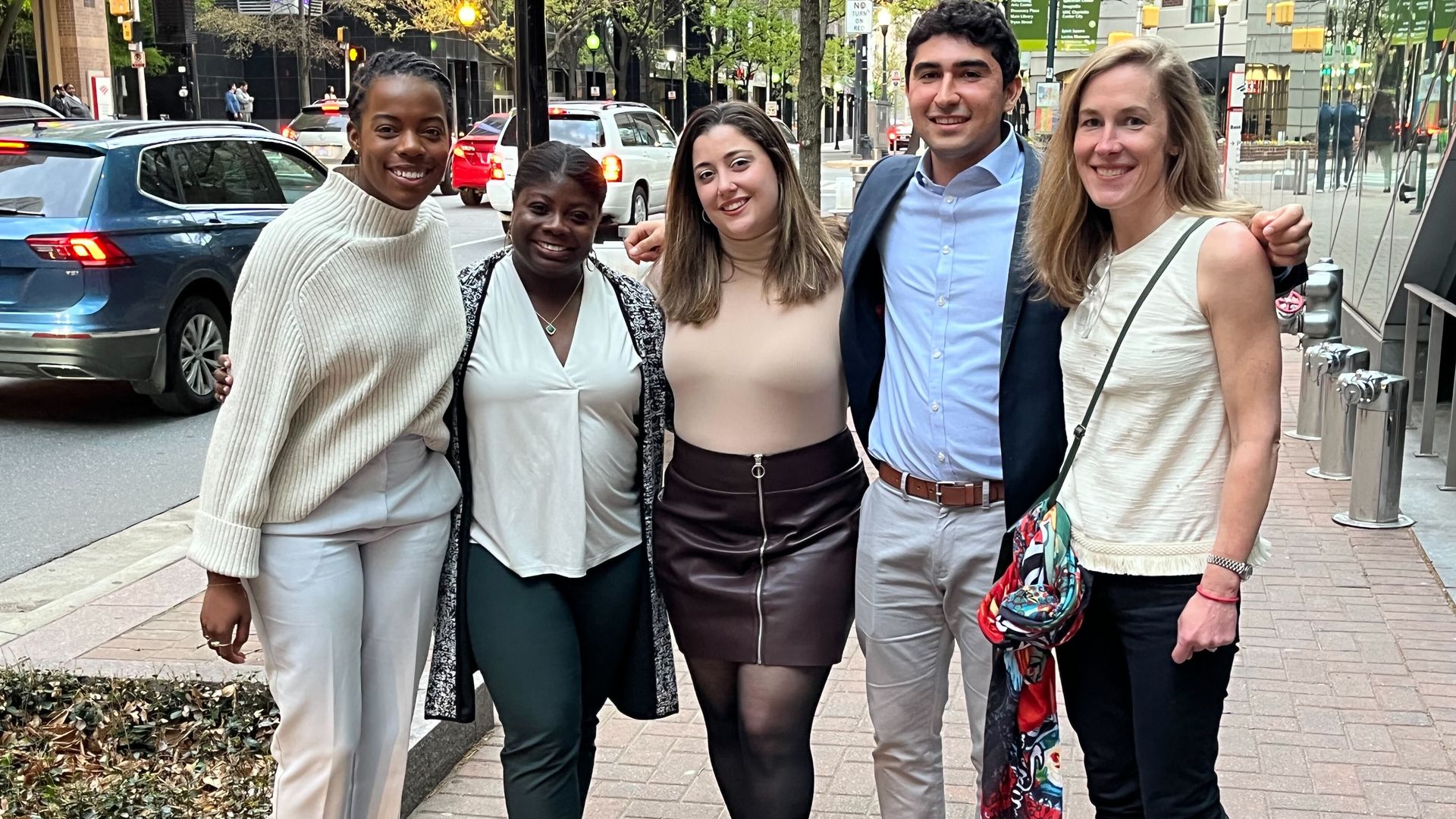 We're back home after a fun couple of days in Charlotte for the first-ever Axios Local retreat.
We got to meet other Axios Local writers in real life (including Karri from soon-to-launch Richmond).
We grabbed drinks at a dive bar that hosted Mick Jagger last fall.
We took a ride on Charlotte's streetcar (which seems to be just as empty as D.C.'s usually is).
And, most importantly, we got a bunch of new ideas for ways to keep you smarter, faster.
Check out our full lineup of current and upcoming Axios Local cities, and pass it along to a friend or loved one who could use some "Smart Brevity" in their lives.
🌸 Our cold snap means an end to peak bloom. Nothing gold can stay. It'll come back next year, though.
See you tomorrow!