Axios D.C.
December 16, 2021
Happy Thursday, D.C.
🌤️ Today's weather: A mix of clouds and sun with a high of 66. Get outside!
💉 Situational awareness: Georgetown University will require Covid-19 booster shots after one of the District's first Omicron cases was reported within the GU community. American University and George Washington University also announced that they will require boosters.
Today's newsletter is 762 words — a 3-minute read.
1 big thing: ✏️ Quitting the classroom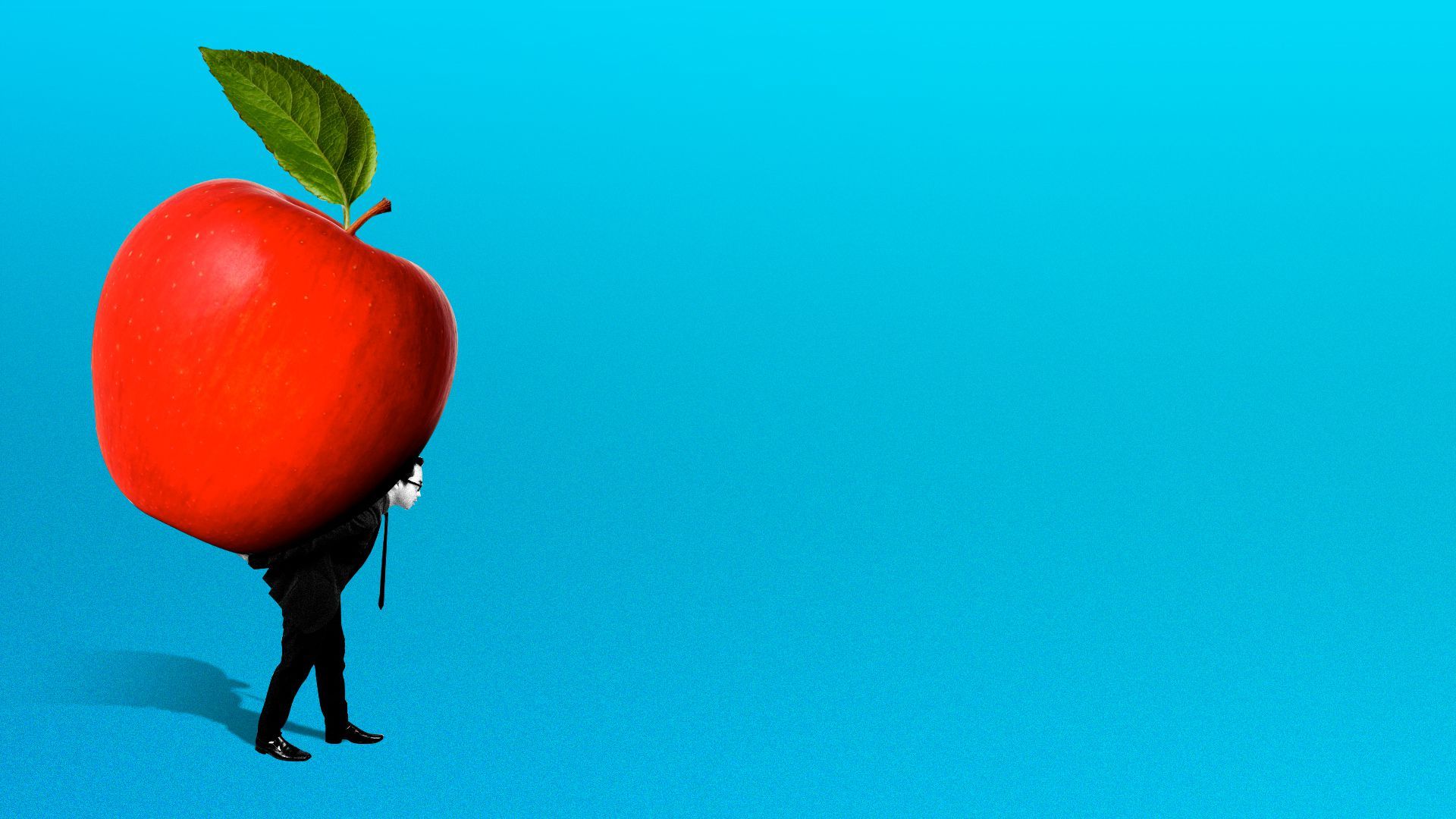 A new educator survey by the Washington Teachers' Union and EmpowerEd found that teacher morale in the District is plummeting.
The survey included over 640 DCPS and D.C. public charter school teachers across all wards.
Why it matters: The pandemic's impact on schools has been brutal, and teacher turnover is one of the costly consequences as educators are tasked with more responsibilities both in and out of the classroom.
By the numbers: The survey found that 47% of respondents were either seriously or somewhat seriously considering leaving their roles.
Of those, 14% were seriously considering leaving before the end of the school year.
Zoom in: When asked to rank which actions would keep them from leaving, flexible scheduling options and higher pay were the top two.
The majority of respondents said if they were to leave teaching, DCPS/D.C. citywide policies would be their top reason for leaving.
Between the lines: Low teacher morale leads to high teacher turnover, which leads to more work for teachers, and subsequently lowers morale even more. This cycle, which is worsened by substitute teacher shortages around the DMV, has continued throughout the pandemic.
Meanwhile, D.C. students are falling behind academically. 
A report by the nonprofit group EmpowerK12 found that students across grades kindergarten through 8th ended the last academic year with lower math and reading achievement than before the pandemic.
2. 🚴 Connecticut Ave. redesign moves forward
Mayor Muriel Bowser on Wednesday advanced plans to build protected bicycle lanes on Connecticut Avenue NW, part of a 2.7-mile remake of the major commuter thoroughfare.
Driving the news: The Bowser administration picked a redesign for the avenue after criticism from activists that the city is not moving fast enough on bicycle lane enhancements during a spike in traffic deaths.
Bowser set a goal earlier this year to build 10 miles of protected bicycle lanes annually.
The Washington Area Bicyclists Association praised the news and called the Connecticut Avenue project a "transformative change."
The redesign of Connecticut Avenue removes reversible rush hour traffic lanes and installs one-way, protected bicycle lanes. The project runs from Legation Street to Calvert Street.
"After considering several options, it was clear that this design best meets the needs of our city and moves us closer to a greener DC, a safer DC, and a DC that is less reliant on cars," Bowser said in a press release.
Before the pandemic, 1,500 crashes were reported over a three-year review period when the reversible lanes were in service, according to the District.
The city believes removing reversible lanes will decrease crashes by about 17% and the bicycle lanes will slow down traffic, aiding pedestrian and bicycle safety.
Yes, but: Final redesign is expected to take 18 months, the District Department of Transportation said. 
3. Sky-high assisted living pricetag
Washington, D.C. ranks fifth among states for the high cost of assisted living facilities, research from the company Seniorly shows.
The average monthly rent stands at $5,369.
Why it matters: The baby boomer generation is hitting retirement age, meaning there are more senior citizens in America than ever before. 
12.5% of the District's residents are aged 65 and over, according to U.S. Census data.
Seniorly notes that the cost of assisted living is "comparable in price to the mortgage payments on a million dollar home," and often it is not covered by Medicaid.
There are 13 assisted living facilities in the city, according to the D.C. Department of Health, with a combined capacity for 950 residents.
4. Around the Beltway: Testing at home
🍂 D.C. has fallen behind on leaf cleanup. The Department of Public Works is behind schedule on collecting leaves, which have piled up across neighborhoods, the Washington Post reports.
The department hasn't said what's behind the holdup. 
🧪 Montgomery County will offer free at-home coronavirus rapid test kits. 
Officials will target those high at risk for infection and areas with lower vaccination rates, WTOP reports.
✏️ Three schools in Prince George's County are closing due to a spike in COVID-19 cases.
Benjamin Tasker Middle School, EXCEL Public Charter School, and Kettering Middle School will go virtual-only until Jan. 3, 2022, Fox 5 reports.
Last night DCPS announced that Whittier Elementary School would also transition to virtual learning until Jan. 3 following an increase in positive COVID cases.
5. 🍪 When you give a Washingtonian a cookie...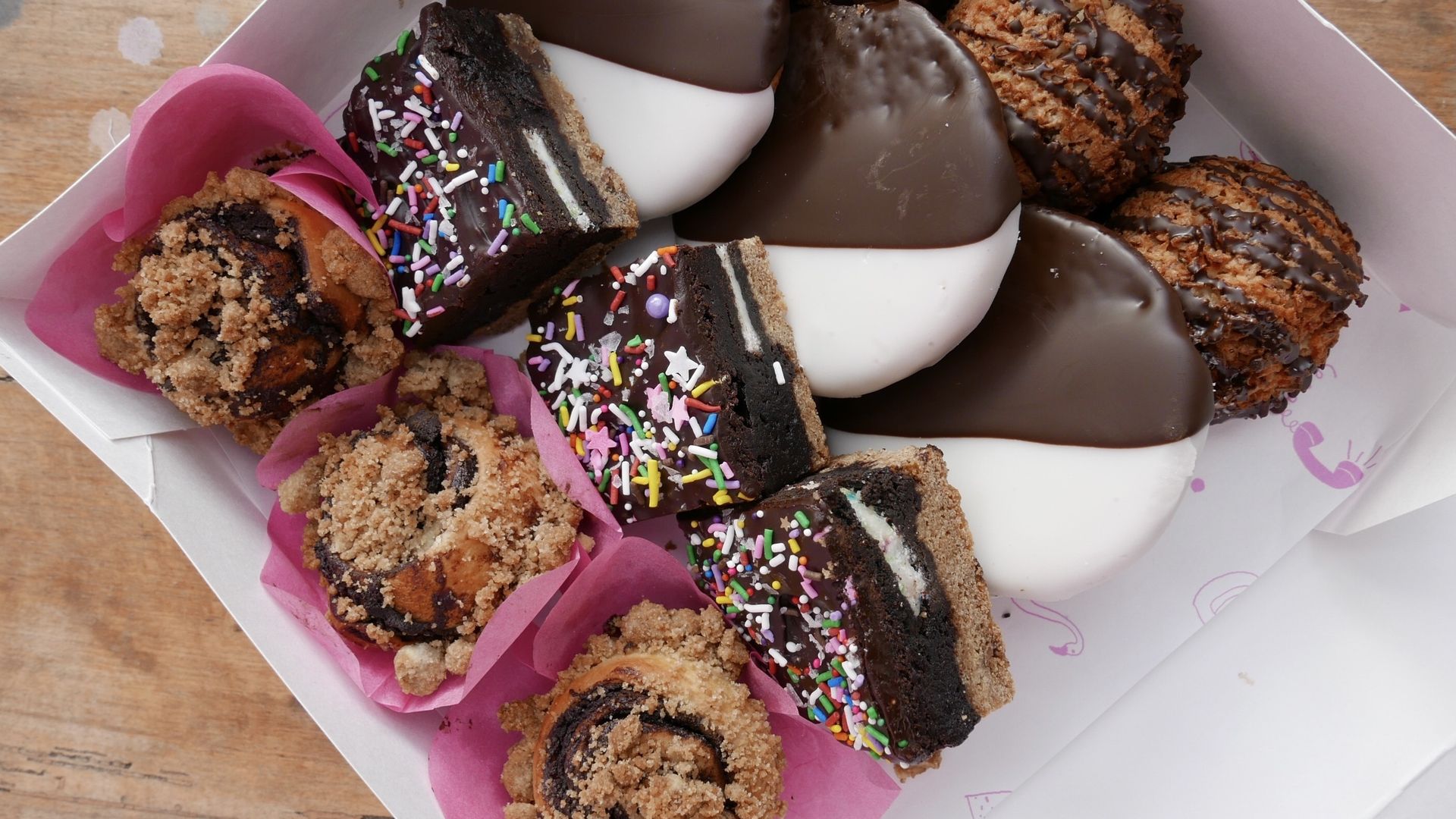 Call Your Mother executive chef Dani Moreira is partnering with pastry chef Bria Taylor of Killa Cakes to create the Chocolate Lover's Holiday pastry box.
The box includes three of each of the following: chocolate-dipped macaroons, black and white cookies, a mini babka muffin, and atomic brownies.
The box is $35, and is available for preorder now.
$1 from each box sold will be donated to Girls Inc.
👀 Celeb sighting: Angelina Jolie was in D.C. this week. She reportedly dined at Rasika West End on Thursday night.