Axios Crypto
June 07, 2023
Hello! I mean, it's obvious what we're going to write about today, right?
Today's newsletter is 1,387 words, a 5-minute read.
🥊 1 big thing: The main event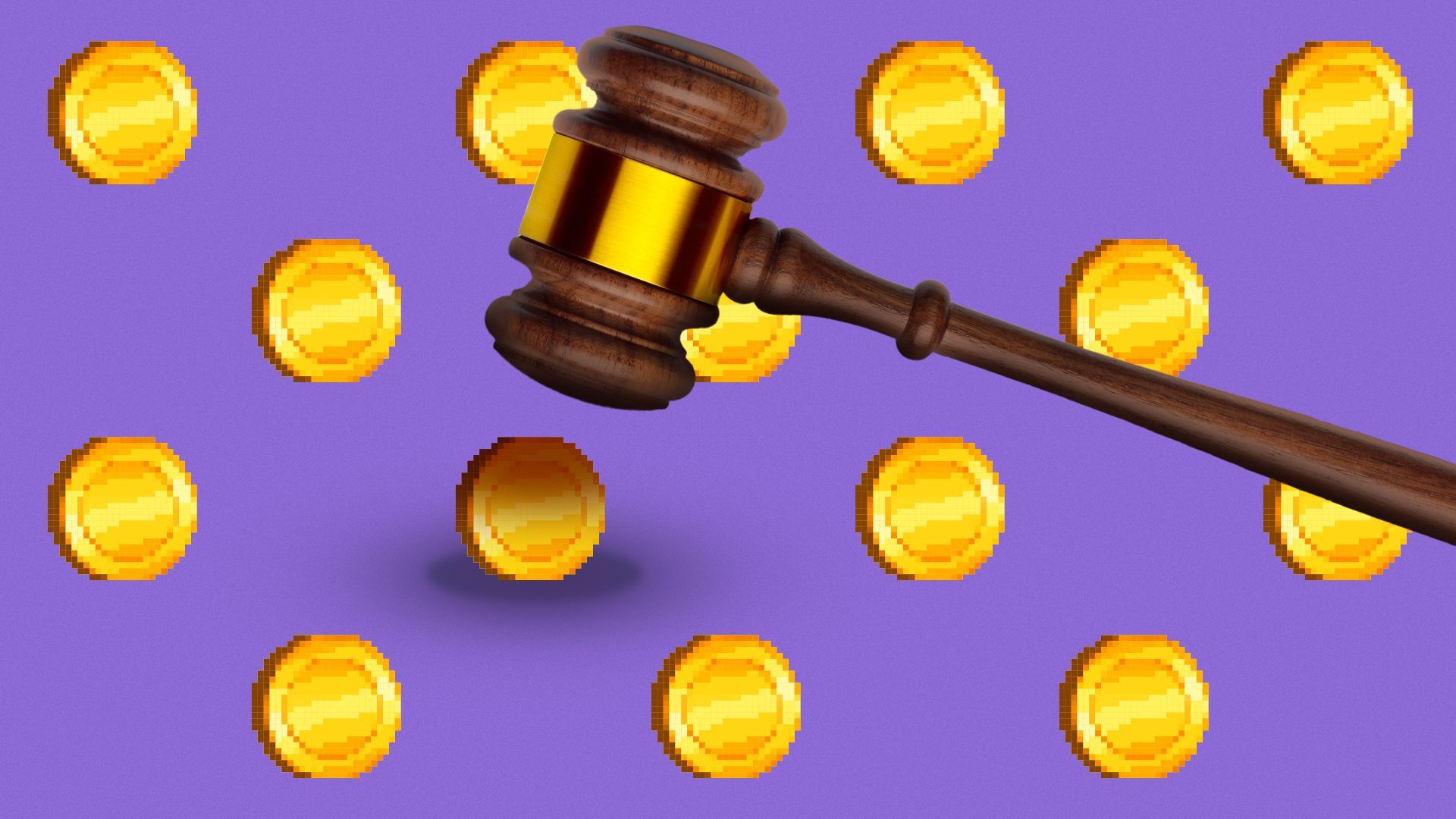 Big examples make a point, Crystal writes.
Why it matters: The SEC's pair of suits this week against Binance and Coinbase punctuates the steady drumbeat of enforcement action levied at the industry with the bang of a gong.
Zoom in: "It's a big step for the SEC," Jeremy Senderowicz, a lawyer at Vedder Price, says of the case against Coinbase. "This is where they take the most detailed position, with analyses as to why those tokens are securities."
State of play: Much of what the industry has to offer has now been addressed through the spread of enforcement actions on companies like Kraken, Gemini with Genesis, Terraform, and Bittrex.
The SEC has covered a range of allegations of securities laws violations from the way platforms list tokens, offer staking services, lend or strike lending agreements with their partners, plus straight-up fraud.
The list of tokens alleged to be securities across the SEC's lawsuits also covers the big ones — Cardano, Solana, and Polygon's MATIC — representing billions in market capitalization.
The big picture: This week's lawsuits "will make every U.S. exchange fearful of the assets they have," Clara Medalie, Kaiko's director of research, tells Axios, saying Coinbase's exchange is similar to others in the U.S.
"The Binance suit lists BUSD as unlicensed security, how is that different from Tether's and Circle's?"
A spokesperson for Circle maintained that USDC is a stablecoin, not a security.
The other side: The suit was "disappointing," "not surprising," and Coinbase intends to make its own case in court, legal counsel Paul Grewal tells Axios. "We are confident that the SEC has simply got it wrong."
Separately, "unwarranted" is what Binance.US called the SEC's motion to freeze the exchange's assets — the latest development in that thread. It also said that "user assets remain safe and secure" on the platform.
Binance, and founder Changpeng "CZ" Zhao, who is also named in the SEC's suit against the company, said they would fight their suit too.
Zoom out: These cases may take months to years to resolve by the looks of others.
And precedent-setting cases like Brad Garlinghouse's Ripple and the SEC might help ease any tension among the smaller crypto firms bracing for their own penalties.
We said before that compliance costs are rising and that even remediating enforcement action, less fighting it, would take substantial resources.
What we're watching: If the SEC is following a thread, it'll go after a comparable firm over similar issues, but if the SEC is trying to go big one more time, perhaps it'll pursue a case against a stablecoin issuer.
Paxos — previously the issuer of Binance's namesake stablecoin BUSD — received a Wells Notice in February. BUSD was implicated as a security in the SEC's suit against Binance.
Paxos has not received formal regulatory action from the SEC since the Wells Notice, according to a spokesperson for the firm.
Yes, but: Maybe it will be all downhill from here.
"This is standard operating procedure. The SEC historically goes after bigger and bigger targets as they get comfortable," Matt Hougan, chief investment officer of Bitwise Asset Management, says. "Though, there is no way to know."
The bottom line: As the majors make their cases in court, what lines can be crossed, and which shouldn't be, will be made plain to those smaller crypto companies down the chain.
🍊 2. Charted: Bitcoin recovers, mostly
There are many thousands of cryptocurrencies out there, but most of them don't matter at all, as CFTC chairman Rostin Behnam advised Congress during a hearing yesterday. Even of the handful that matter, they are all highly correlated with Bitcoin, Brady writes.
As this chart illustrates, lots of bitcoin holders sold after the news about Binance and Coinbase.
Then they (or others) bought again, and the price largely recovered to what seems to be the Crypto Winter floor price of something-like-$30K.
Be smart: The reports of crypto's death will be plentiful in a season like this, but until the price of bitcoin falls below $20,000, such reports are wildly premature.
Remember that the price is a measurement of how much the world demands bitcoin. That price is still well above the all-time high in the prior out-of-control boom of 2017, which was just under $20K.
🤔 3. It was all priced in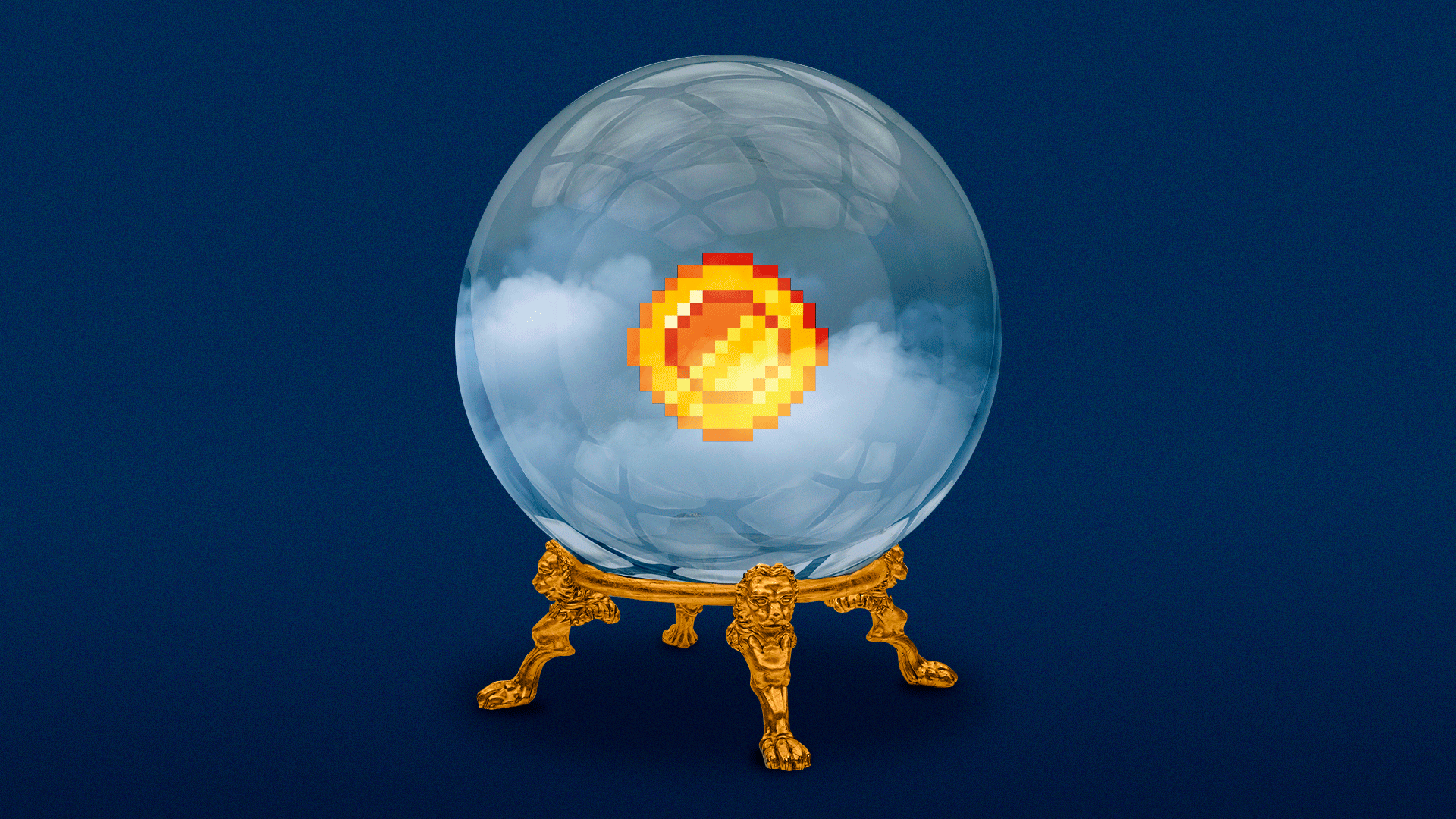 Something jumps out when looking at the inflows and outflows of the two exchanges sued by the SEC this week: Not much happened.
It's as if the market had been expecting this, Brady writes.
Driving the news: Flipside Crypto put together a dashboard from the known wallets of Binance and Coinbase to see what kind of asset movements have been happening from each exchange following the news this week.
Context: The main data point they have is movements of Ethereum's ether (ETH). So this isn't a complete picture, and of course, there's a possibility that there are wallets that Flipside doesn't know about.
Probably this data is pretty accurate.
Big picture: Inflows and outflows of ETH on Binance look pretty similar to how they've been. There's been a slight net outflow over the last couple days, but not much.
Coinbase did show a big spike in activity this week, but it was just about as much going in as out.
Yes, but: About $500 million in the stablecoin tether has left Binance this week.
By the numbers: The data firm Nansen told Axios yesterday that, as of 3pm UTC, they'd seen $1.43 billion in net outflows from Binance in ETH.
However, CoinGecko shows that Binance has $65 billion in reserves. Nansen reported that it had $17 billion in Ethereum assets alone.
Coinbase reports more than $100 billion in crypto assets, but that's not all exchange assets. It also runs a custody program, which averaged over $50 billion during the first quarter.
Flashback: Outflows at Binance were much more severe after FTX collapsed, with some $3 billion rapidly leaving the exchange (with no untoward consequences to other users).
💭 Brady's thought bubble: Humans are inclined to think if something bad happens in one place, a similar place will have a similar bad thing happen.
Binance probably hasn't lost any customer money. It may well have serious problems, but those problems probably won't look like FTX's problems.
The bottom line: The SEC had hit Paxos with a warning of a lawsuit over binance usd (BUSD), Binance's stablecoin, and Coinbase.
So no one was surprised to find out that the companies were sued, thus few people acted surprised.
Top coins
📢 4. Catch up quick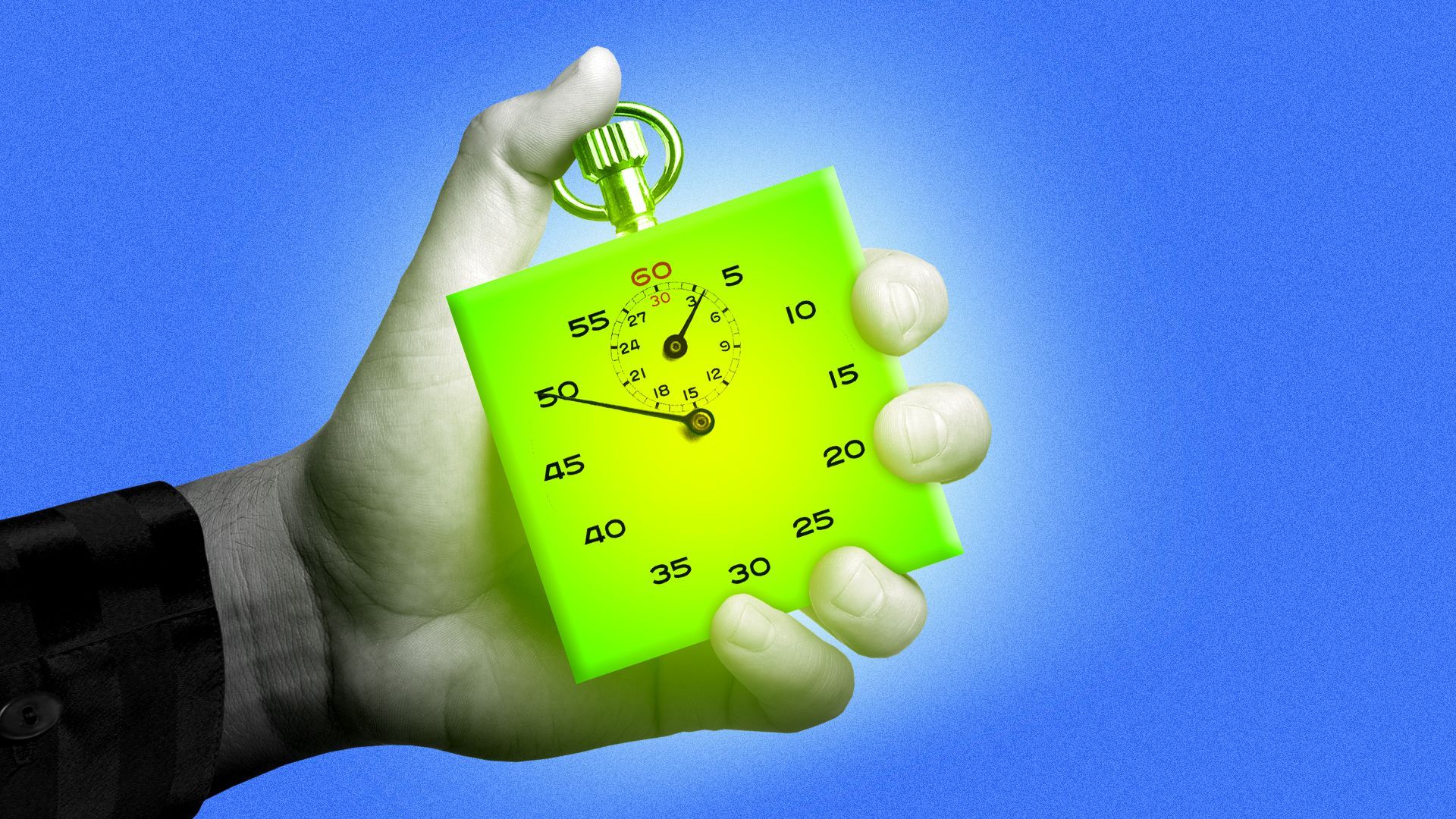 👻 Aave's GHO stablecoin is headed into the final phase before launch. (The Block)
🦾 FTX's bankers are shopping a stake in an AI startup called Anthropic. (Semafor)
🏦 Treasury Secretary Janet Yellen wants Congress to pass crypto regulation. (CNBC)
📚 BONUS: This report breaks down why the claim that a crypto exchange could easily register doesn't hold up to legal scrutiny. (Committee on Capital Markets Regulation)
🙏 5. Culture hash: The patron saint of Crypto Twitter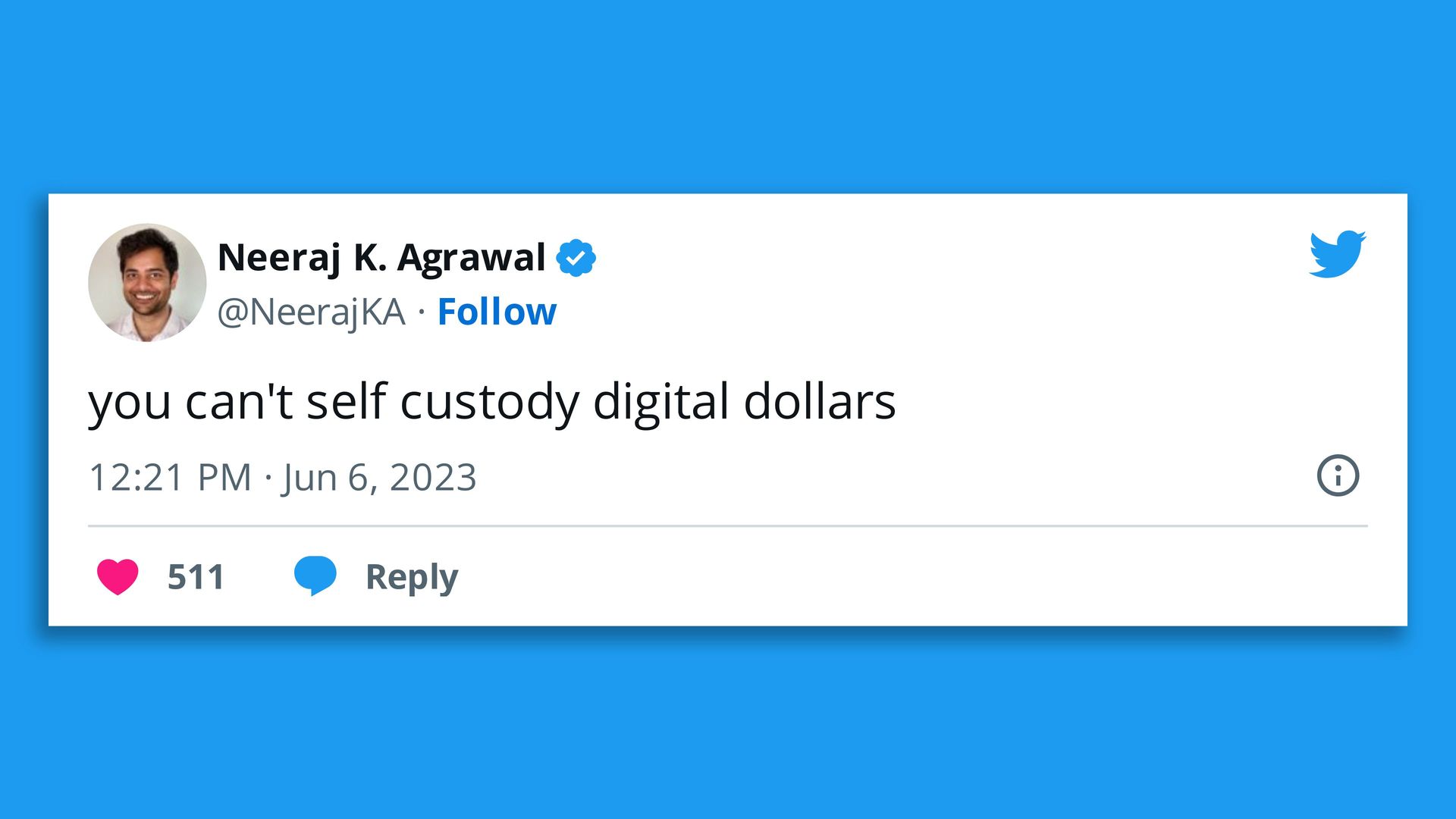 The chief feature of Bitcoin is that it stewards a digital asset (bitcoin) that a person can hold on their own, like cash, Brady writes.
A person can also hold actual cash without help, but they can't hold digital cash the same way. For that, they need a regulated entity (usually, a bank).
This has had negative consequences for some. Before it went under, Vice used to do a story about every three months (as if they had just discovered it) about sex workers' struggles with banking, for example.
Driving the news: Yesterday, SEC chair Gary Gensler went on CNBC to say that the people of the world have no need for new digital currencies, however.
Dollars, yens, euros... those all work just fine for everyone online, in the chair's view.
Context: This is what Agrawal is responding to. His tweet got picked up by some big guns.
Zoom out: A while back, we wrote about how crucial Twitter is to the crypto conversation.
Of note: Ostensibly, Agrawal is on comms at Coin Center, the longstanding DC think tank focused on this industry. It is suing the U.S. Treasury Department over Tornado Cash's sanctions.
It could also be said, though, that Agrawal is the patron saint of crypto Twitter. Agrawal has been hitting meme home runs on blockchain topics for as long as people have been talking about crypto on the site.
This is a good one for this room. If you don't get the joke though, this should help. ROFL for real y'all.
This newsletter was edited by Pete Gannon and copy edited by Carolyn DiPaolo.
🧐 Nice essay from Fortune on the one-upmanship on crypto between the executive and legislative branches. —C & B