Axios Crypto
November 28, 2023
Hello again! Bitcoin briefly broke $38,000 on Black Friday. We're back in the saddle after a holiday break — Crystal is in D.C. for an industry event and Brady is at the keyboard.
Today's newsletter is 1,197 words, a 4.5-minute read.
1 big thing: A sign of bull times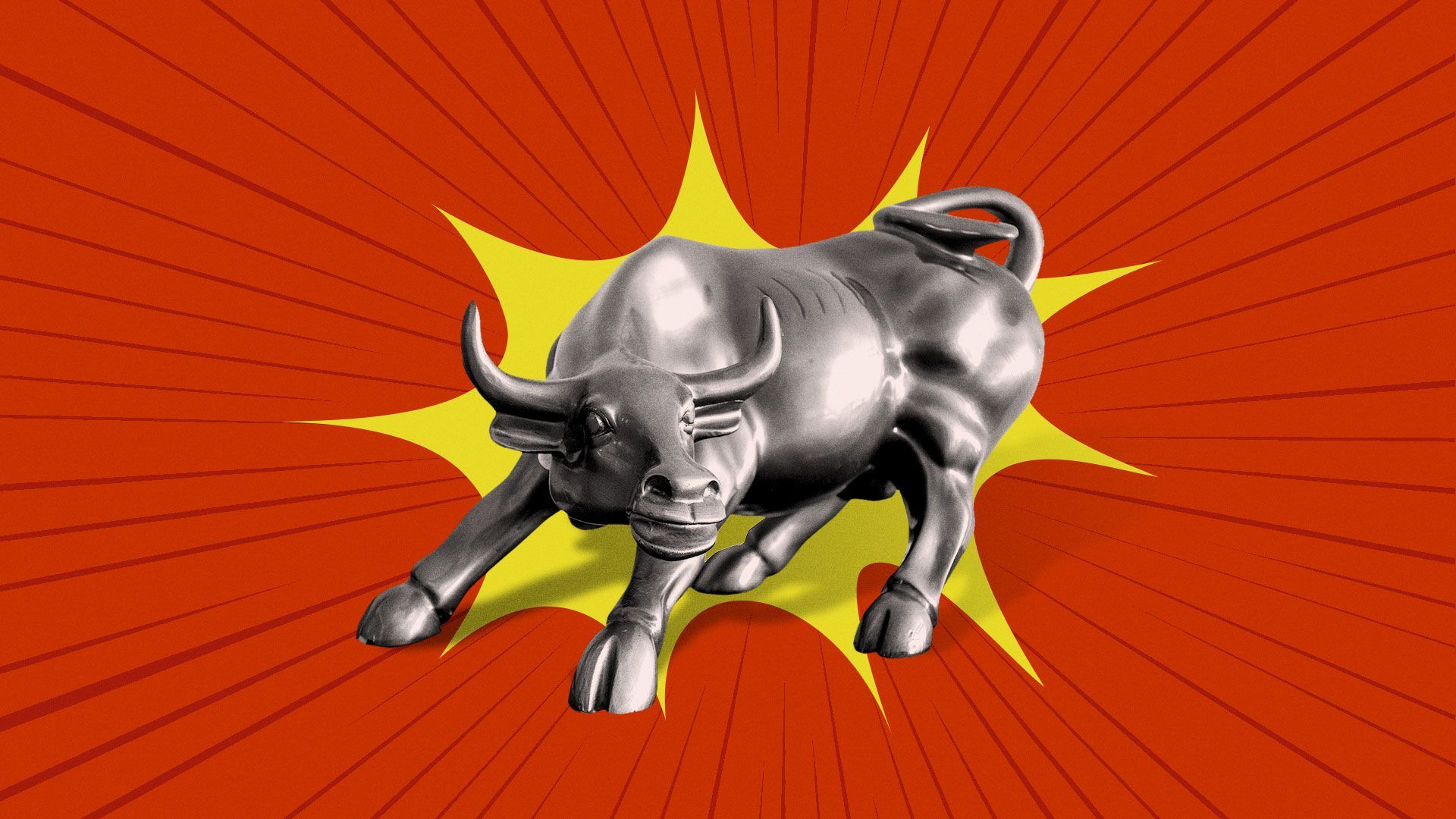 Someday, crypto may be a boring part of the larger financial system — but until then, risky, potentially ill-advised leaping at new blockchains in hopes of market-beating gains is likely to remain a fixture of bull markets.
Why it matters: Crypto is not officially running with the bulls yet, but there's a fresh $500 million sign that degenerate days may be ahead, Brady writes.
Driving the news: Layer-2 chain Blast kicked off just before Thanksgiving and investors have already dumped more than a half-billion dollars' worth of assets into it, despite the fact that they can't withdraw it until early next year.
Catch up fast: Blast is the latest project by MIT dropout Tieshun Roquerre, aka Pacman. We've been telling you about Pacman all year long. His NFT marketplace, Blur, has been the first to actually threaten OpenSea, the market leader.
He then launched a money market (like Aave or Compound) called Blend, though that has been more modest.
How it works: Blast's headline selling point is that users will get yield just by using it. Ethers (ETH) bridged to Blast will earn 4% because it will be automatically deposited in Ethereum staking pools, while stablecoins will earn 5% (presumably by investing in treasuries, perhaps courtesy of Superstate).
Yes, but: It's not the yield investors are after — they can get that themselves directly. Instead, it seems that the excitement is driven by hopes of a healthy airdrop of some kind of Blast token.
For now, depositors are earning points that will count toward their airdrop earnings.
Of note: Blast isn't live yet, so that half-billion deposited just has to sit there until it is (but it can still earn the points, and the yield).
The intrigue: One of Blast's investors has questions about the approach the project has taken — namely, putting hype before execution.
While funds sit there, they are protected by a multi-sig wallet (basically, five people share control, majority rules), not dissimilar to the protocol followed by the Ronin bridge, which lost $600 million to a hacker in 2022.
What they're saying: "We don't agree with the decision to launch the bridge before the L2, or not to allow withdrawals for three months, since we think it sets a bad precedent for other projects," Dan Robinson, a researcher at Paradigm (one of Blast's investors) wrote on social media.
"We also think much of the marketing cheapens the work of a serious team."
The bottom line: Blur + Blend + Blast = Bluster.
🍄 2. Charted: Stablecoin season looms
If the market perks up again, you can guarantee that the wild world of stablecoins will start to get spicy, Brady writes.
There will be more experiments in keeping prices stable in more interesting ways than simply holding dollars in the bank.
Driving the news: A new DeFi project, f(x) Protocol, is teasing a new stablecoin using its volatility softening mechanisms.
This follows the complex but intriguing stablecoin from the decentralized exchange Curve released in May.
Catch up fast: We checked in with the top two here six months ago.
Of note: Yes, that green line that totally popped yesterday is that terra — the one that self-immolated in May 2022. A small community has stayed loyal to that chain, crazily enough.
Be smart: Its market cap may be up but it remains wildly, wildly off its $1 peg, trading at $0.04 right now (up from about $0.01 a few days ago).
🧐 3. How to think about the Binance news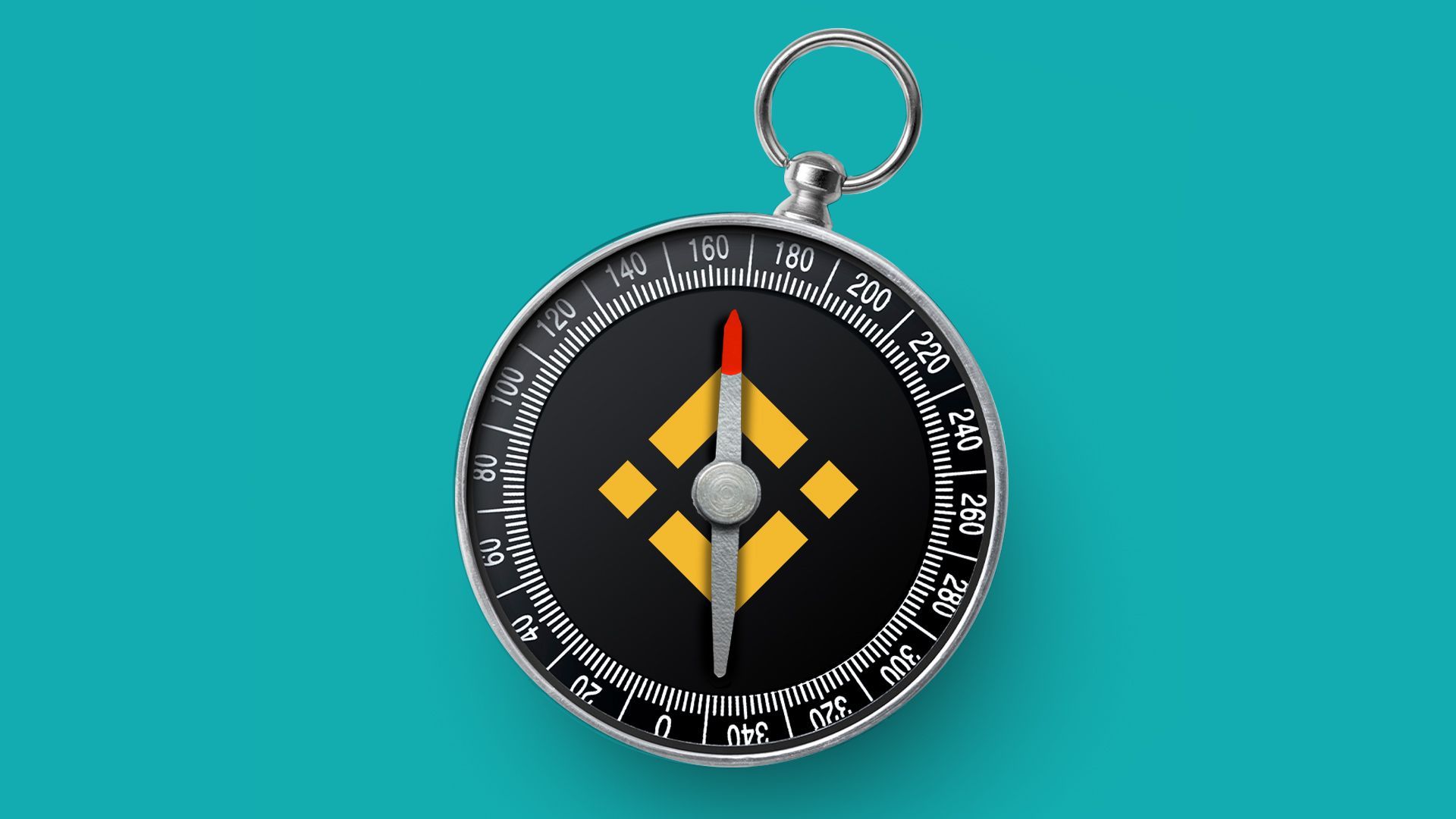 The resolution of the U.S. Justice Department's long inquiry into the top crypto exchange, Binance, is another black mark on the industry, but just how bad it looks depends on where you sit, Brady writes.
Why it matters: There have been many inquiries into the exchange over the years, but they became more urgent since the FTX collapse.
With these actions, the Binance questions have all been resolved, and there's no allegation that it misused customer funds (the core problem at FTX).
Catch up fast: Binance got hit with $4.3 billion in fines for money laundering and sanctions violations — including the largest settlement from the U.S. Treasury ever — and its CEO and founder, Changpeng Zhao, was ousted from his place at the company's helm, with criminal sentencing coming in February.
Despite it all: The exchange remains operational.
The big picture: There was plenty of red meat for industry critics, with the DOJ laying out details that hit many of the main complaints about crypto and whom it enables.
U.S. officials found evidence of Binance serving terrorist organizations and money launderers, and of its staff making light of serving criminals.
Yes, but: Within crypto, investors are relieved.
Few industry veterans believed that Binance had stolen funds like FTX had, but there was no way to know. It appears that law enforcement got a look inside and found no evidence of theft, however.
Still, the U.S. might have found a way to shut the exchange down, which would have been a cataclysmic disruption. Binance does more volume than the No. 2 and No. 3 exchanges combined.
It did not.
What they're saying: "For crypto investors the prospect of settlement would see the elimination of a potential systemic risk emanating from a hypothetical Binance collapse," JPMorgan analysts told The Block.
By the numbers: Binance currently has roughly $65 billion in assets deposited, according to blockchain analytics firm Nansen.
Immediately following the indictments, there were withdrawals of about 1.5%. But even that has since been largely restored, with net outflows over the last week of about $525 million.
What we're watching: Whether or not CZ serves any jail time. It's looking more likely.
The WSJ details the forces that eventually convinced the rebellious founder to surrender.
The bottom line: Outside crypto, the Binance settlement looks like more bad news. But inside it is, by and large, seen as good; one of the last giant clouds of uncertainty has been removed.
⏲ 4. Catch up quick
👯‍♂️ Who SBF hangs out with in prison. (WSJ)
😶 Author Michael Lewis has a bestseller and an estimated $5 million from Apple for media rights but he can't get over the fact that some folks didn't like his book. (Puck)
🥱 Richard Teng, the new Binance CEO, sits for his first interview and says absolutely nothing at all surprising. (Fortune)
🧙‍♀️ After suing him, the U.S. government can't seem to find the founder of Hex. (Decrypt)
🪓 5. Culture hash: The woodsman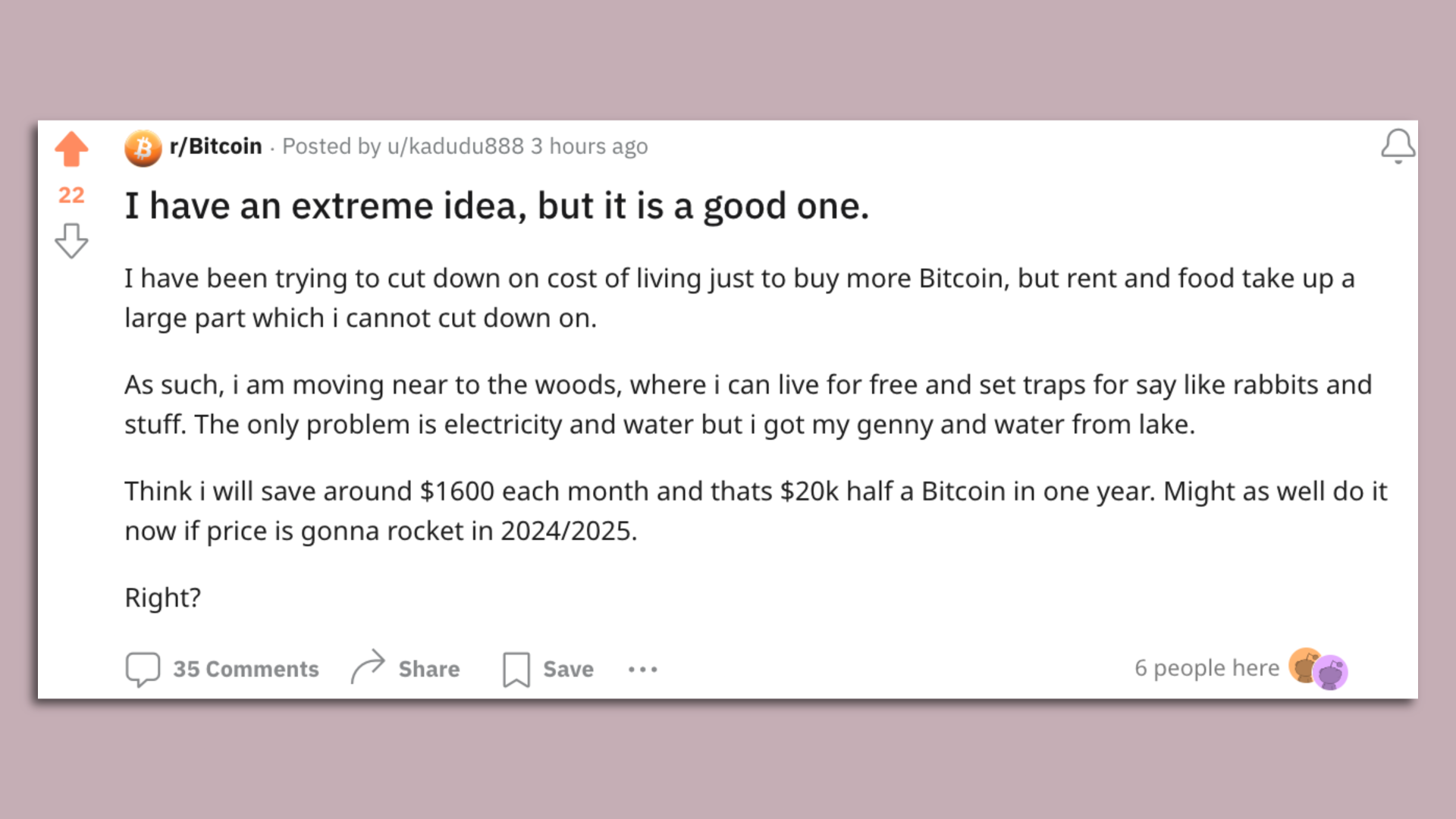 I hit this Redditor up and said to keep in touch if they really do this. We all want to know how this turns out, right?
The replies are less evangelical than you might expect, Brady writes.
What they're saying: "Welcome to the Hotel Bitcoin. Once you check in, you never check out," u/JeremyLinForever writes.
"It sounds like you're seeking permission to pursue a fantasy, " u/Wood_Ring writes. "If it turns out the lifestyle isn't what you thought it would be, and your thesis on bitcoin's price doesn't work out and you're stuck, you need to accept that you chose to assume these risks."
Yes, but: "Life is for living... that said btc is life right? Righhh...t? RIGHTTT!!??" u/RuthlessWolf replied.
"The price is going to shoot up in a month," u/BTCMachineElf writes. "You should've done this in 2022."
Quick take: OK, BTCMachineElf, settle down.
This newsletter was edited by Pete Gannon and copy edited by Egan Millard.
We don't think that guy should move to the woods and live on rabbits so that he can buy bitcoin, but if he does we want to know what happens next. —C & B