Axios Crypto
June 02, 2023
TGIF! Today we offer one of our explainers for one of the abstract features of the crypto world. Composability is one of the things that makes blockchain software different.
Is there anything in the industry that has you scratching your head? Email us at

[email protected]

.
Today's newsletter is 1,049 words, a 4-minute read.
🧱 1 big thing: Composability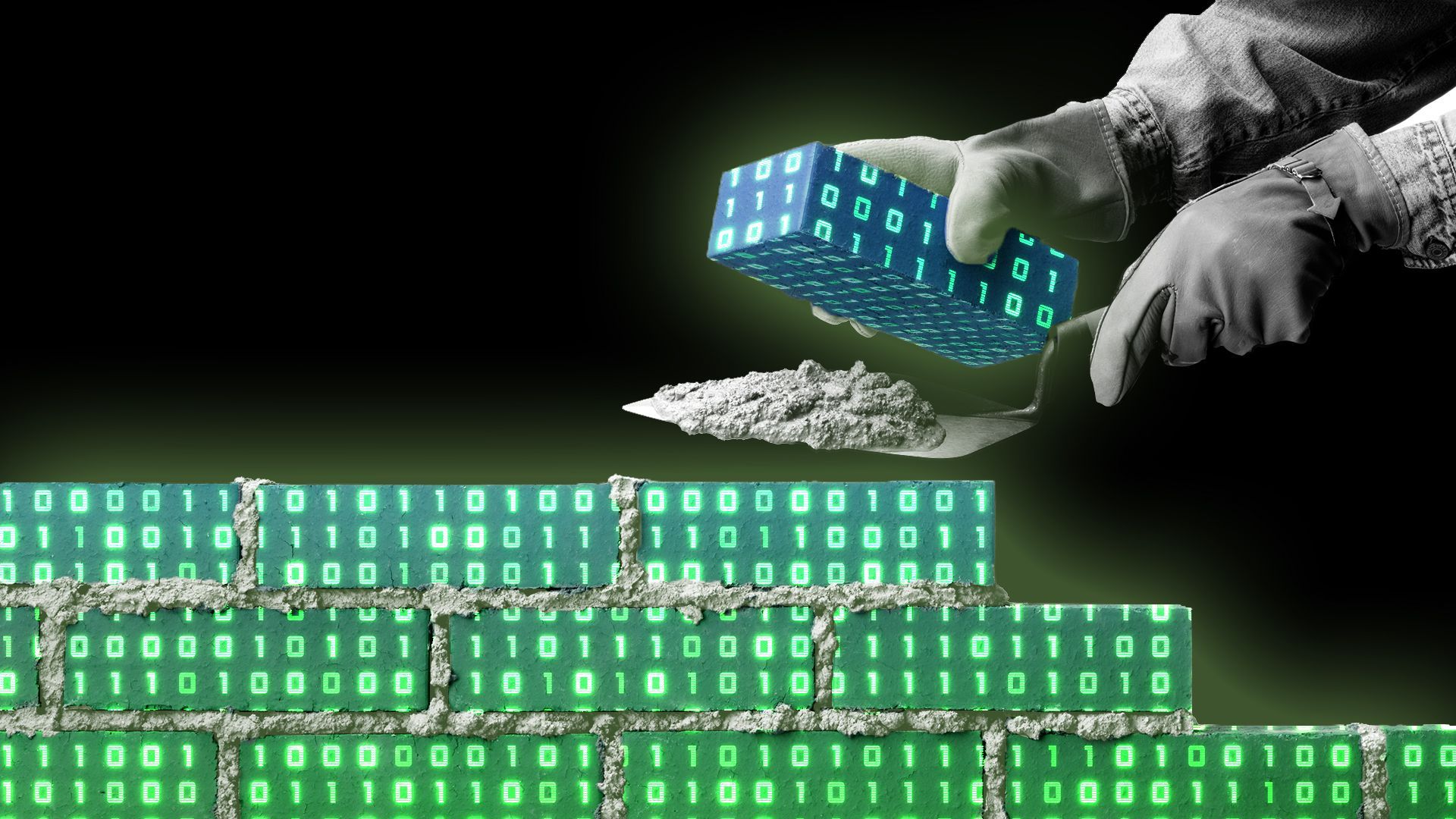 One of the ways blockchain networks promise to work differently than technology as we know it is by offering composability, but what is it?
Why it matters: Composability is one of those things that opens up surprising new applications. What kind of applications? Well, it's hard to say because they're ... surprising, Brady writes.
How it works: When developers build composable applications, they release a lot of control over how their creations can be used. Other creative people can build on top of their code without asking permission.
Zoom out: You're already familiar with composability, you just don't realize it.
Every building is composed of dozens or hundreds of products from different companies (bricks, cement, screws, sheetrock) — none of the makers of which have any real visibility into how their output will ultimately be used.
Be smart: This is why so many physical products try to create some kind of standardization. If you know, for example, that there are lots of quarter-inch screws out there, you can just make quarter-inch holes in your product where it needs them instead of also making custom screws.
Online it's trickier. For example, Twitter has been fighting with its users lately, putting limits on how they can make use of the outputs from their platform.
Do you use a fitness-tracking app? Good luck exporting the data in that when you want to switch to a competitor.
Composability in crypto is largely enabled by outputs. Imagine, for example, that someone decides to participate as a liquidity provider on a decentralized exchange (such as Uniswap), so they deposit $5,000 in assets.
When that happens, they get a token (think of it as a receipt) that represents that deposit. The token does not have their name on it. They could send it to someone else.
Later, imagine they needed a little money short term. Another product might let them deposit that token as collateral to take out a loan (the money market C.R.E.A.M. does it, for example).
Functions can be stacked. So, for example, there are many places to trade different tokens and they can have slightly different prices at different times.
Products like 1inch, ParaSwap and Matcha allow a user to check a trade on multiple exchanges at one time and then actually execute the trade for them.
Morpho Lending is a peer-to-peer marketplace for lenders and borrowers that grows on top of existing lending platforms, like Compound and Aave.
Funds ready to be lent out basically wait in those markets until Morpho finds them a willing borrower.
Functions can be broken out, too. Imagine someone is holding a governance token (basically, a vote on how a protocol changes) worth a lot of money. They might want to deposit it with a custodian, but they might also want to vote.
Composability enables both — they can custody it someplace secure and designate another wallet or entity to cast votes for those tokens.
In fact, this is a whole business. Professional governance firms vote on behalf of large holders who entrust them with such rights.
The metaphor crypto types prefer for all this activity is "Lego blocks."
🪑 2. Charted: Ether staking at an all-time high
Staking ether to secure the second-largest blockchain (and earn yield) had its best month ever in May, Brady writes.
Catch up fast: Ethereum upgraded in April, so entities who had committed ETH to securing the network could actually withdraw it.
The big question following that upgrade: Would withdrawals outpace deposits or vice versa?
We now seem to have something of an answer.
Be smart: The SEC had somewhat taken its eyes off Ethereum until it switched from proof-of-work to proof-of-stake.
SEC chair Gary Gensler said that staking might make ETH a security.
Then Kraken shut down its staking services in the U.S. under SEC pressure.
Coinbase, the largest exchange here, also has been threatened with a lawsuit from the regulator over staking, but it's vowing to take the matter to court.
And yet the stakers stake.
🍊 3. The Bitcoin industry feels good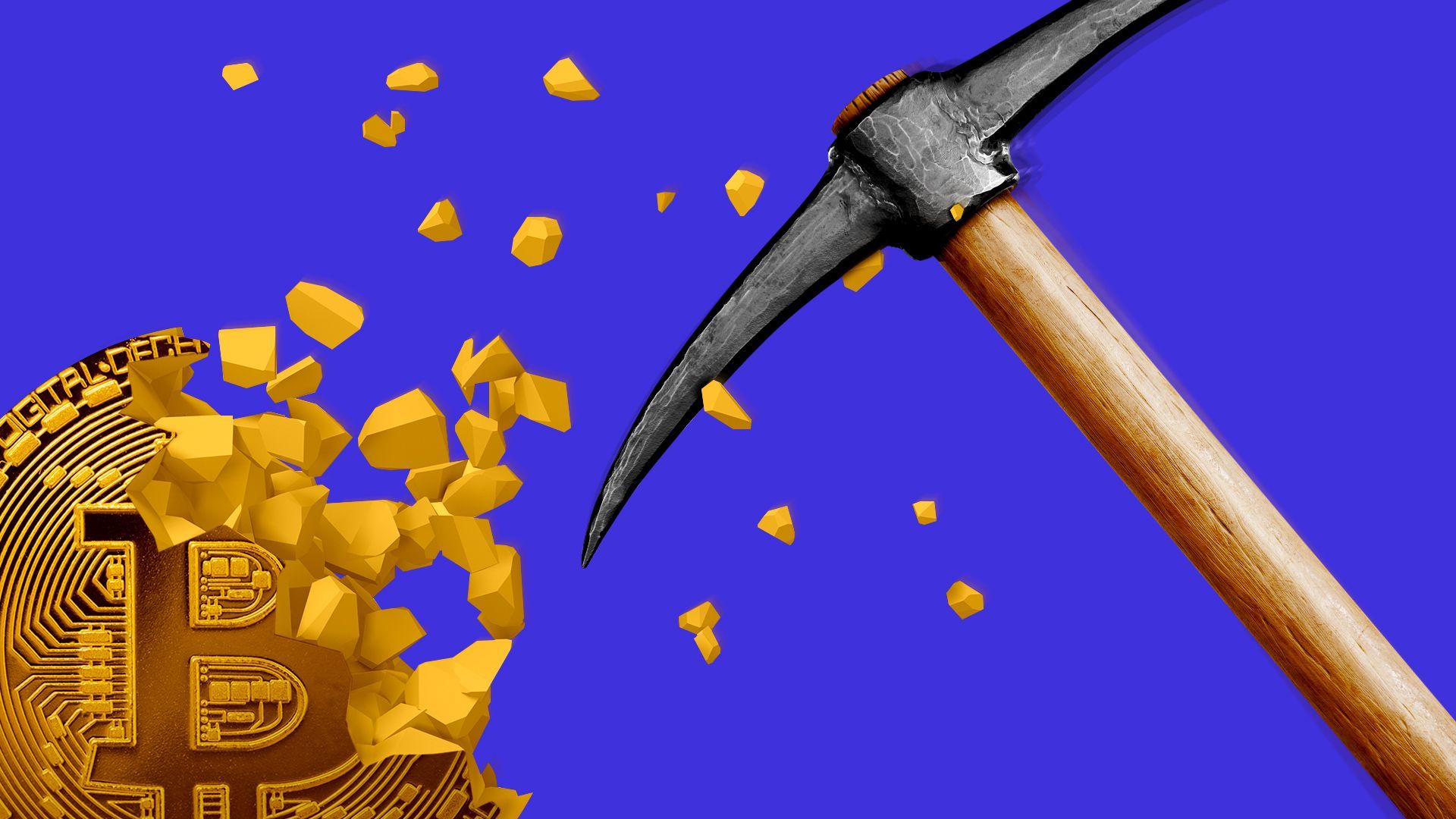 Bitcoin mining looks so good right now, even Tether wants in, Crystal writes.
What's happening: Mining revenue rose to $916.6 million in May, higher than both the prior month and the same period last year, according to the Block's data.
Of note: The surge in popularity for Bitcoin Ordinals helped (which enable NFTs and meme coins on the oldest blockchain), boosting transaction fees to two-year highs.
Meanwhile, bitcoin mining difficulty continues to climb to fresh peaks, meaning that more computing power is at work than ever before.
Zoom in: Between the bounce in the price of bitcoin so far this year and revenue up from block subsidies and fees, the latest updates from big mining shops are rosy.
CleanSpark just picked up 12,500 Antminer S19 XPs for $40.5 million.
Marathon Digital in its latest update said it produced 1,245 bitcoin in May, up 77% from last month and 366% from May 2022.
Cipher Mining produced roughly 493 bitcoin in May, 23% more than the prior month; its Odessa data center in Texas closed out its first full month of operations with about 59,000 rigs.
The intrigue: Stablecoin giant Tether also announced plans for a bitcoin mining operation based in Uruguay, partnering with a licensed company there.
By the numbers: Stocks of publicly traded Marathon and Cipher are up by at least 195% year-t0-date respectively, outperforming bitcoin, up 62%.
Top coins
🏃 4. Catch up quick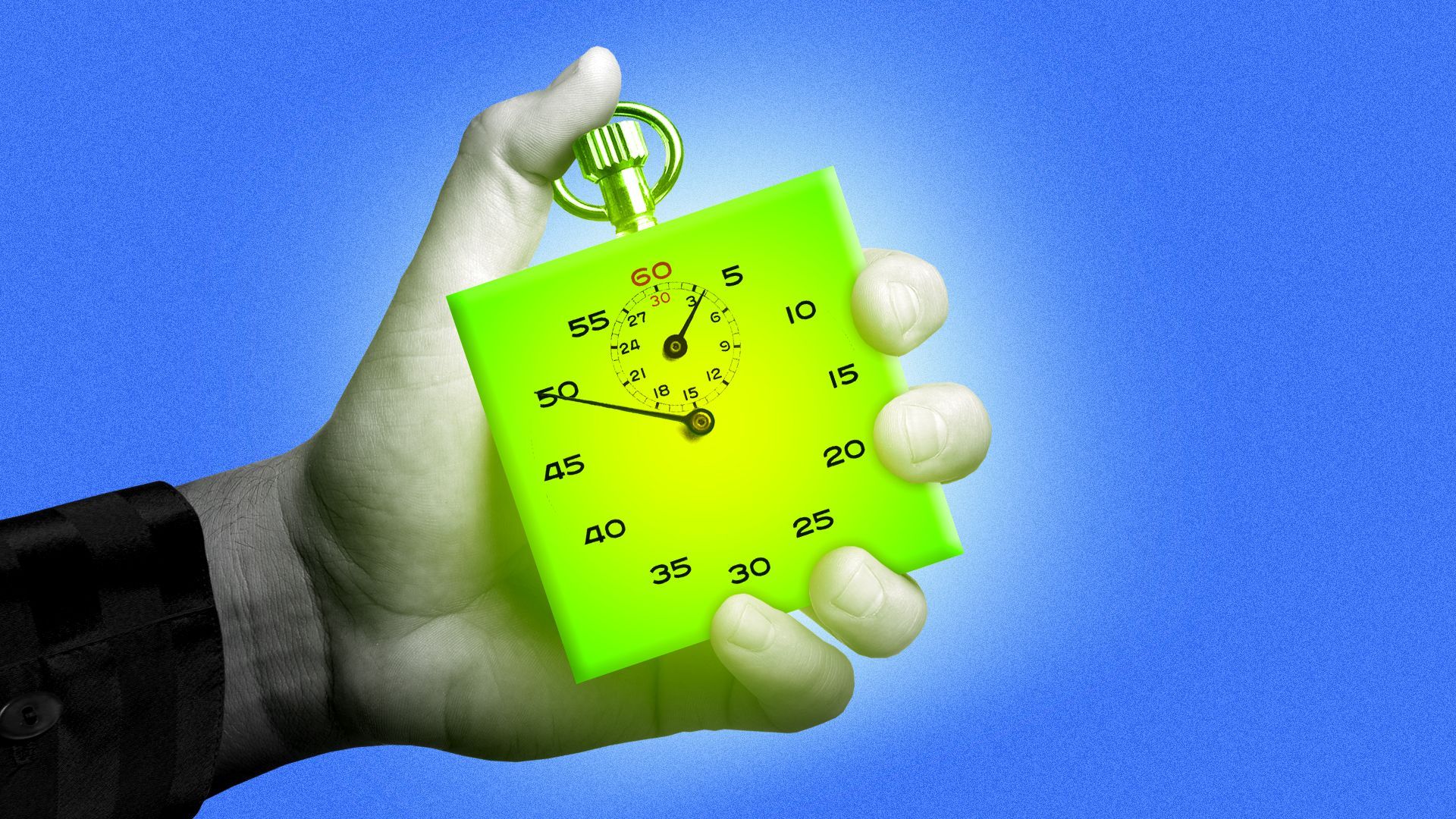 🦘 Binance Australia stopped AUD deposits and withdrawals conducted via bank transfers as previously announced. (CoinDesk)
🤳 TikTok influencer Danny Devan used bitcoin to launder COVID relief loans. (Decrypt)
↪️ The CFTC proposed an overhaul of risk-management requirements that could factor in digital assets. (CoinDesk)
⏳ 5. Culture hash: What's old is new again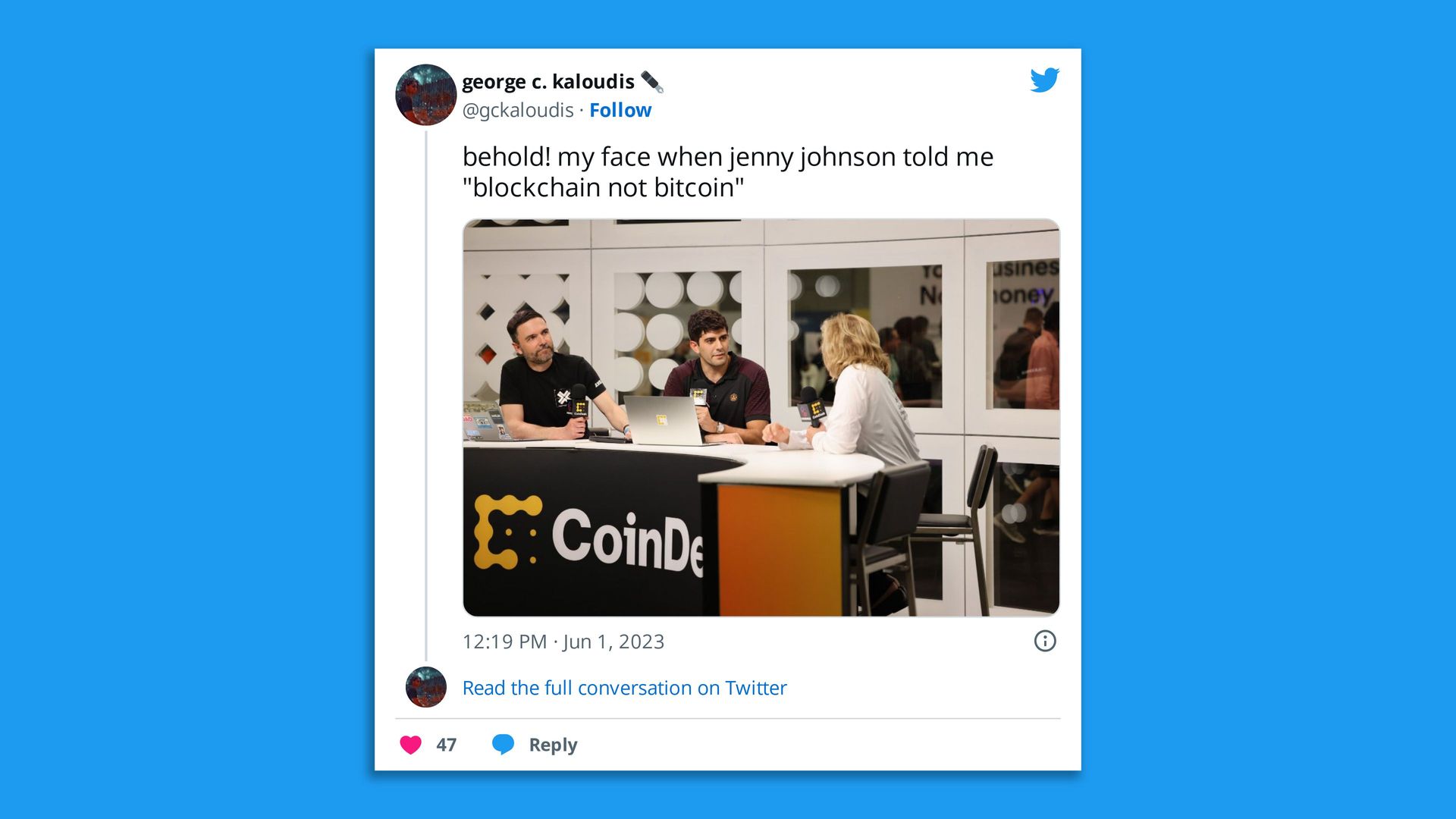 Back when "blockchain" first became a buzzword in corporate America, this phrase kind of caught on: "blockchain, not bitcoin," Brady writes.
I remember hearing it again and again at my first-ever Consensus conference in 2016, back when it was still in Manhattan.
Then the 2017 boom happened, and the phrase disappeared. It didn't resurface again after the boom busted, probably because the corporates were so scared about the government crackdown of those days.
Now the sentiment is resurfacing with nearly all the same points.
Case in point: CoinDesk quoted Franklin Templeton CEO Jenny Johnson who said that, for the global financial system, "Bitcoin is the greatest distraction from the greatest disruption, and that's blockchain."
This newsletter was edited by Pete Gannon and copy edited by Gail Hughes.
🤖 Have you noticed how many days we've gone without writing about AI in here? We're not going to pick the topic up till it's genuinely compelling and not just buzz-chasing. —C & B