Axios Crypto
March 24, 2023
The plight of many opens up a window of opportunity for some. Plus, what's metal.
Today's newsletter is 1,290 words, a 5-minute read.
1 big thing: Open Exchange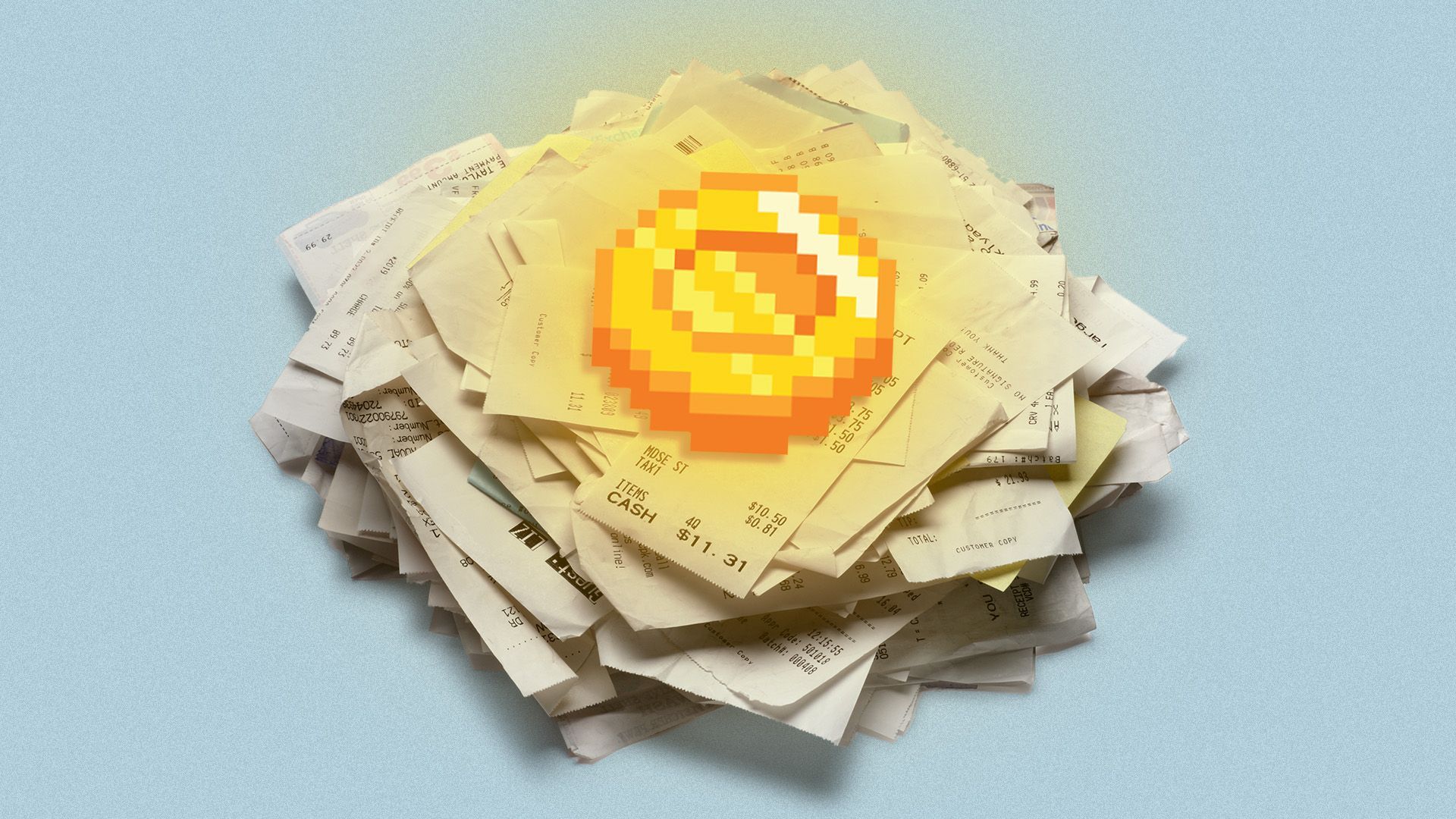 No one in crypto is beyond redemption. That's the pitch to bankrupt crypto platform claimants from Open Exchange, Crystal writes.
Why it matters: Open Exchange, or OPNX, will help people access liquidity from money owed by failed crypto companies. And a lot of people are owed money from failed crypto companies, such as Celsius and FTX.
What they're saying: "Do you have money stuck on a crypto platform?" the landing page of the platform asks, before following up with: "Immediately unlock the value of your claim by trading it into crypto or using it as collateral."
The pitch comes from the founders of Three Arrows Capital's Su Zhu and Kyle Davies, plus CoinFLEX's Mark Lamb, who are staging a comeback after their respective firms collapsed amid the credit crisis last year.
Who better to help them access that liquidity than the founders of some of the most notorious companies whose failures left them high and dry?
Zoom in: Open Exchange CEO Leslie Lamb likens the new exchange to a public good for those "trapped" in bankruptcy proceedings.
"What people get caught up in is the byproduct with success, which is greed," she said. "For us, it's different. We're unlocking dead capital that is otherwise tied up for good."
State of play: The claims trading feature is set to come later, after Open Exchange's initial start, though Ms. Lamb says it should follow spot and futures trading shortly.
The launch date is "for sure" a month away, but no firm date has been set as of this week, according to the company.
It was previously expected to open in February.
Details: When the claims-trading feature side is launched, it will require users to pay an upfront fee and go through a multistep process before they see any funds. Per the CEO:
Folks have to apply to transfer their claim to Open Exchange, which includes putting in personal information as well as claims details.
It would then establish control of the user's estate account.
Assuming everything is found to be in order, Open Exchange issues credit to the account that corresponds to the claim.
With that credit extended against the claim, a user could "cash out" or use that credit to "leg back into a trade, buy bitcoin or whatever."
The big picture: The users that walk away — "that's not our optimal user," she says.
There were plenty of "ex-FTX traders" over, say, Celsius Earn account holders that are thinking — "I wanna use my claim as collateral to trade crypto futures," Ms. Lamb said.
She declined to disclose the fee structure because it remains under discussion.
What we're watching: OPNX is acquiring CoinFLEX, which emerged from its own bankruptcy proceeding in Seychelles this month, according to the CEO.
The bottom line: "As much of this stuff we can accelerate, the better for the industry," she says. "Because then, we can recover and heal faster, right?"
😬 2. Charted: In-FLEX-tion?
Distressed assets can find new life in crypto land, Crystal writes.
Zoom in: Just take a look at CoinFLEX's native fee-paying utility coin called FLEX.
When the crypto exchange halted withdrawals in June, alleging that Bitcoin Jesus Roger Ver owed it an outstanding sum, the coin tanked.
Shortly after, Ver said he didn't owe CoinFLEX a thing — that, in fact, the exchange owed him.
State of play: FLEX started climbing in mid-January after it became known that it would be the centerpiece of the new Open Exchange.
Of note: One FLEX buyer Axios spoke with said they weren't a bankruptcy claimant nor interested in the new exchange — they just figured the coin might be worth more after OPNX's launch.
🚔 3. They got Do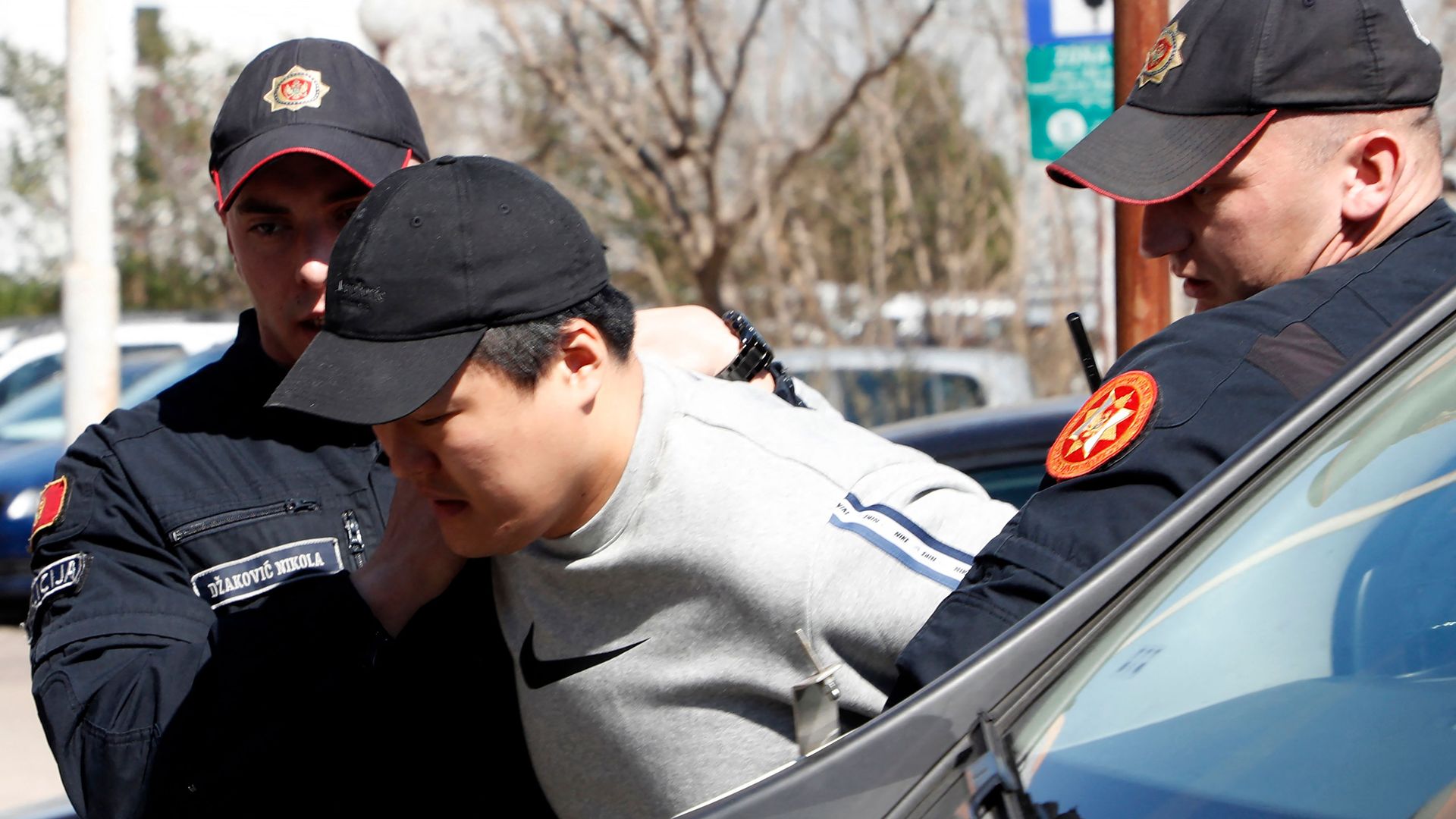 The cops have Do Kwon, the Korean citizen who founded Terraform Labs, the company behind the terra usd stablecoin that crashed spectacularly in May 2022, Brady writes.
Driving the news: Authorities in Montenegro confirmed on Twitter that they had Do and the firm's chief financial officer, Hon Chang Joon.
Both were snagged attempting to use fake documents to board a flight to Dubai.
Flashback: Crypto Winter had been quietly blundering on into a new boring season of entrepreneurs tweeting about how they were happy to be building again. Then an algorithmic stablecoin running on the Terra blockchain fell to pieces.
The token, terra usd (UST), had reached a value of $18 billion before crashing to close enough to nothing.
Similarly, the coin used to defend UST's value, luna, had attained a market cap of over $40 billion.
Be smart: Market capitalizations in crypto are always a bit specious, but even if you discount those numbers by two-thirds, you still have $20 billion in wealth that evaporated in a few days.
And that turned out to only be the beginning for cryptocurrency and the terrible, horrible, no good, very bad year.
🙀
Catch up fast: Reports about what's up with Kwon have been mixed. On the one hand, the cops have said that there was an international arrest warrant out for him.
On the other hand, Kwon has said he's very expressly not on the lam.
On the podcast "Unchained" he said he's being cagey about his location only because he had been getting lots of threats and hostile attention.
What they're saying: "The main reason I don't want to talk about my location to the media [is] because when the crash happened in May, there were lots of situations where personal security was threatened," Kwon said on the show in October.
He said that his homes had been broken into and that some of the people who did it were reporters, and others were folks that seemed dangerous.
Note to self: When the question is, "Are the cops after a person?" it makes sense to take the cops' word for it.
Zoom out: The Terra blockchain is not dead, crazily enough. In fact, there are now two, crushing out blocks.
Terra, a fork of the original chain, has a market cap of $332 million, the 117th largest according to CoinMarketCap.
Terra Classic, what remains of the original that blew up last May, has a $740 million market cap, the 64th largest because ... crypto. That's just crypto.
🏌️4. Catch up quick
💈NFT and gaming investor Animoca Brands cuts target fundraising for its metaverse fund, again, to $800 million. (Reuters)
⚠️ Binance briefly suspends spot trading on the exchange. (CoinDesk)
📈 Nasdaq expects to launch crypto custodial services at the end of the second quarter. (Bloomberg)
🤝 Mysten Labs agrees with FTX bankruptcy estate to buy back equity and token warrants for $96 million. (CoinDesk)
Top coins
🗿 5. Culture hash: Based Greenpeace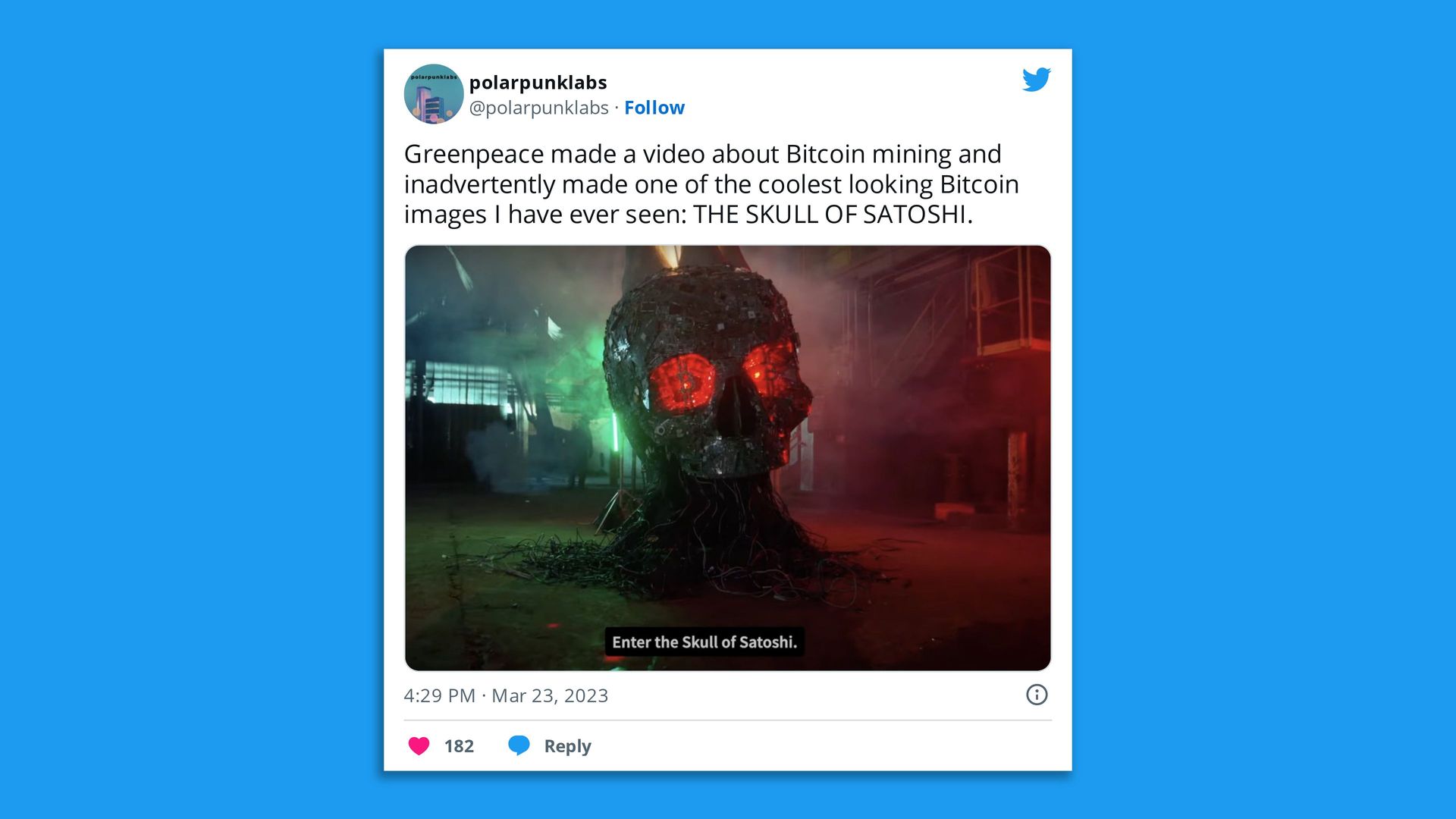 Not to get all post-modern on everyone, but it doesn't really matter how an artist intends a piece of work, it's how the public receives it, Brady writes.
The intrigue: Crypto folks kind of love it.
"Greenpeace made a video about Bitcoin mining and inadvertently made one of the coolest looking Bitcoin images I have ever seen: THE SKULL OF SATOSHI," Paul Dylan-Ennis tweeted.
"Greenpeace accidentally made the most metal bitcoin artwork to date in their misguided anti-PoW campaign," Nic Carter chimed in.
Put more simply, "Art is cool AF," Swan Bitcoin's Benjamin Quittem wrote.
Flashback: Last year at Bitcoin 2022, the city of Miami unveiled a cringey Bitcoin statue that aped Wall Street's Charging Bull.
Context: Greenpeace has been running a campaign funded by the co-founder of a company behind another top-10 cryptocurrency, Ripple, to get Bitcoin to switch to proof-of-stake, a security model that's less energy intensive.
Fun fact: Even the artist who made it, Benjamin Von Wong, doesn't buy in to proof-of-stake as an alternative security model for the world's oldest and biggest cryptocurrency.
This newsletter was edited by Pete Gannon and copy edited by Carolyn DiPaolo.
If Brady is ever an internationally wanted criminal with millions of dollars in cryptocurrency on a thumb drive, he's going to stick to boats and backwoods as he runs. Guaranteed. Like Harrison Ford in "The Fugitive." No airports for this crook. No, sir. —C & B