Axios Crypto
April 19, 2022
Hi! Today we're diving into bitcoin mining, an ascendant stablecoin and sports NFTs.
Our phone lines are open, and by that we mean email: [email protected].
This newsletter was edited by Pete Gannon. It is 1,085 words, a 4-minute read.
⛏ 1 big thing: It's a good time to mine (bitcoin)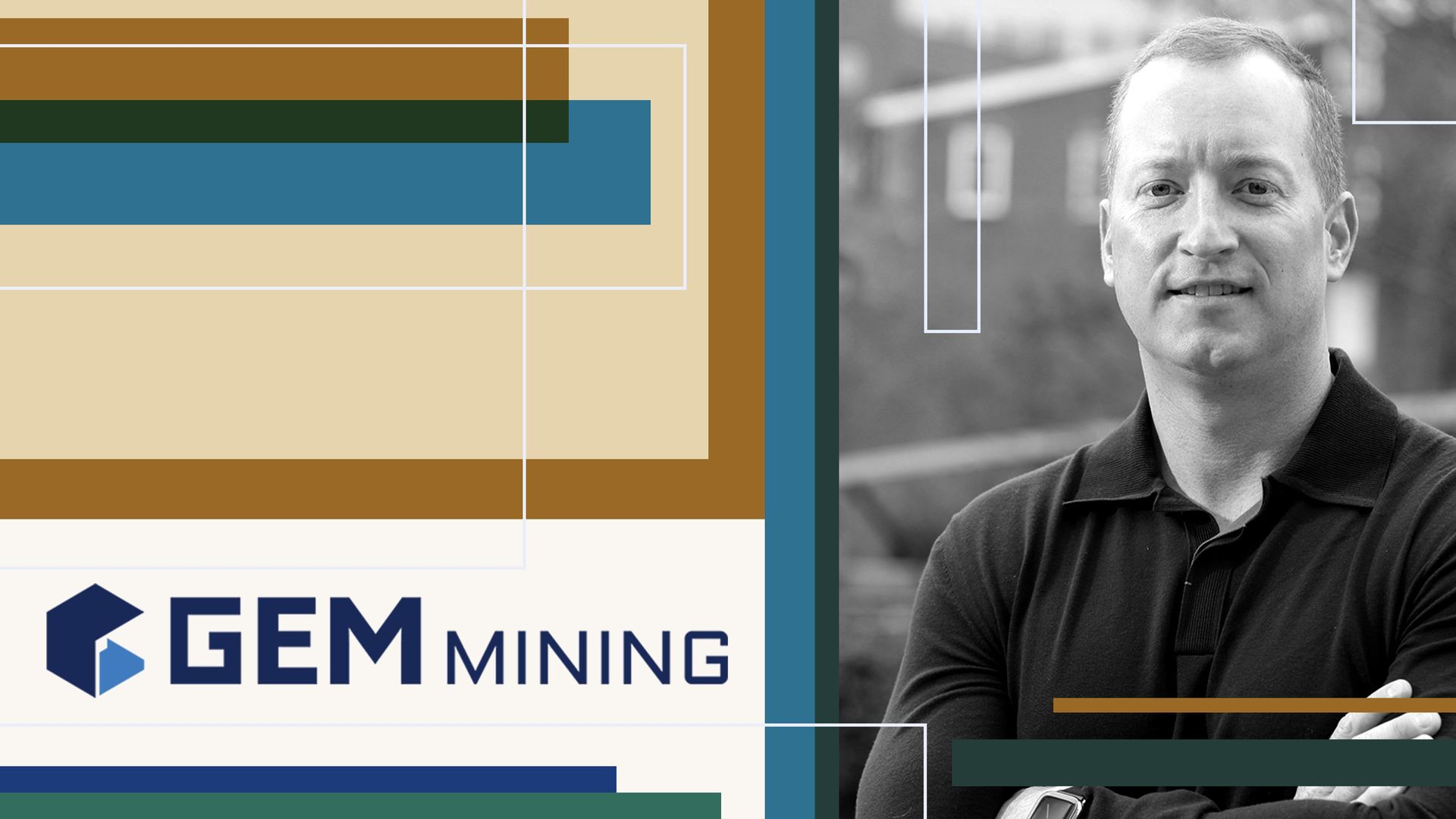 There's an arbitrage right now between mining bitcoin and buying it on the open market, according to John Warren, CEO and one of the founding partners of Gem Mining, a South Carolina-based company that runs mining operations all over the country.
Why it matters: The fact that lots of people are motivated to "mine" bitcoin makes it the most secure network in the world, but most people find it difficult to understand why mining is necessary or valuable.
Catch up quick: Mining refers to bitcoin's "consensus mechanism," where computers compete to solve ever more difficult puzzles to win the right to add the next set of entries to Bitcoin's ledger and earn fresh new bitcoins.
Quick take: Mining presents opportunities for the most sophisticated investors to edge out slight advantages over their competitors at key moments.
It's not always this way, but "right now there's a huge arbitrage between mining and buying the currency," Warren explained.
"Arbitrage" refers to the buying and selling of an asset in different markets to take advantage of differing prices for the same asset.
Investors in Gem Mining can opt to get bitcoin in exchange for their backing. Today, on a per dollar basis, they can get more bitcoin backing a highly scaled miner than they would buying it on the open market.
This arbitrage only works for a large scale business, one that can get a better price on electricity and equipment because of its size, Warren explained.
Yes, but: Energy consumption. This is a topic that has dogged the industry and is something miners have been trying to reshape opinions on.
"The U.S. might not have the cheapest energy," Warren tells Axios, "but relatively speaking, it's got very, very efficient energy."
Warren points to his rigs, which run almost entirely on renewable energy. "Frankly, the cheapest forms of power are the most sustainable: hydro and nuclear. Those are clean forms of energy," he said.
What's next: Gem owns all its miners, but that doesn't mean it operates all of them. Most of them are run out of third-party facilities that already have large spaces devoted to bitcoin mining.
It will soon be running immersion miners there (where the machinery is immersed in liquid). Such machines have longer shelf lives and fewer maintenance issues.
🥉 2. Charted: TerraUSD pulls ahead
There's a new No. 3 in the race to be the biggest stablecoin: TerraUSD, the algorithmic stablecoin that runs on the Terra blockchain.
Why it matters: Stablecoins are useful to exchange traders because they make it easy to lock in gains or losses after a trade. Crypto is all about the horse races, but the No. 1 and No. 2 stablecoins (tether and usd coin) are so far out ahead that the No. 3 spot is the competitive one.
What's happening: Because stablecoin values are fixed, in dollar terms, market cap is the same as supply. There are now more TerraUSD on the market than BUSD.
The intrigue: Binance USD is a fully collateral-backed stablecoin that was created in a partnership between the giant exchange Binance and crypto infrastructure company Paxos.
Binance wins either way. It backed Terra before it launched its blockchain, all the way back in 2018.
🏀 3. Golden State Warriors NFTs change with record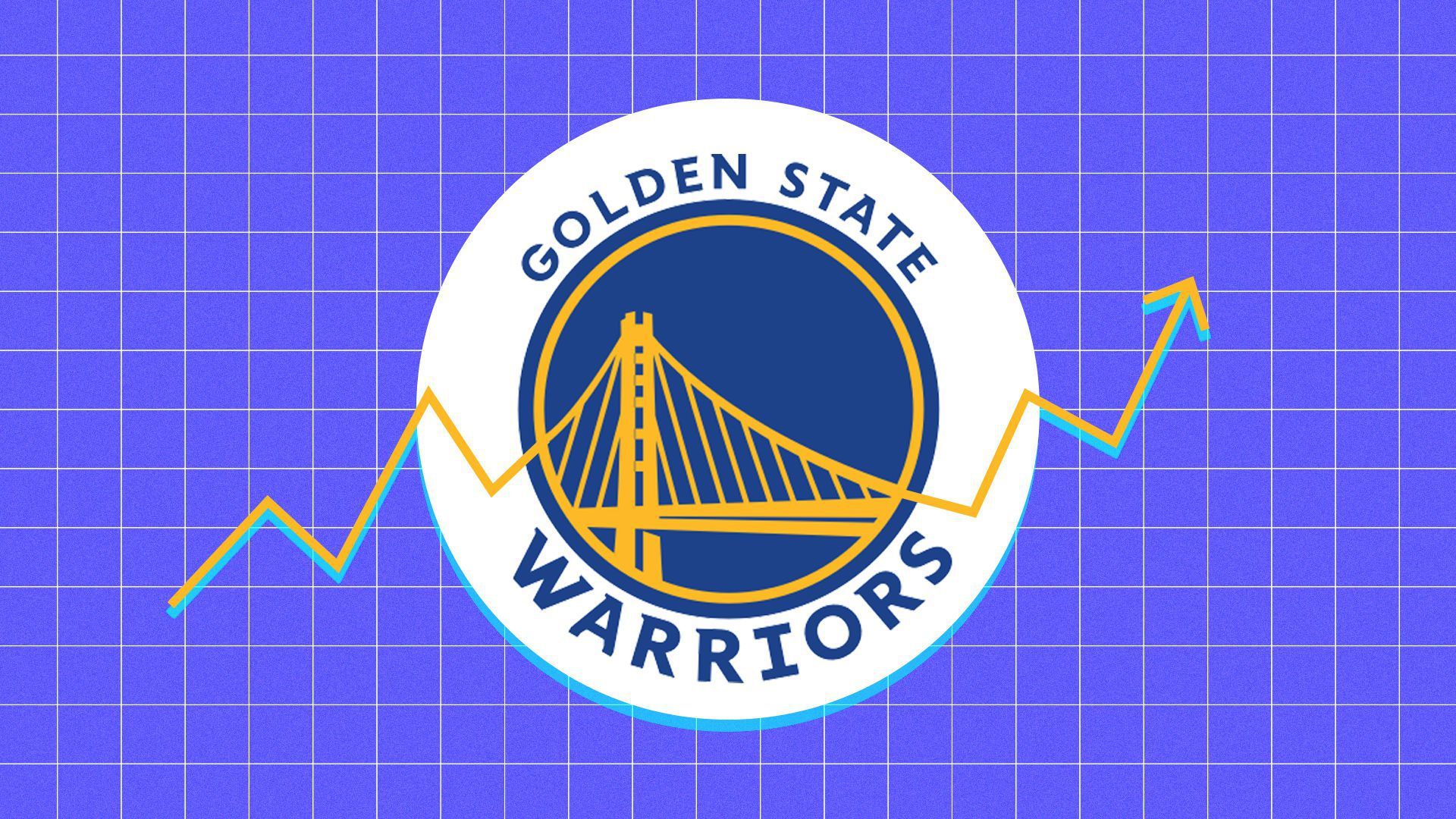 Medium Rare partnered with the Golden State Warriors on a slate of "reactive" NFTs, in which the value increases the further the Warriors advance in the NBA Playoffs, Tim Baysinger writes on Axios Pro.
Why it matters: As NFTs become more mainstream, it's important to show novice collectors they can be more than just a new version of trading cards.
By the numbers: Since the NFTs minted Friday, they've sold for more than $575,000, according to the team.
Last year's collection with the Warriors netted more than $2 million in total, with $871,000 alone for the 1-of-1 Warriors 6x World Championship Ring NFT — a record for a single-item sports NFT.
Details: Medium Rare has been carefully pivoting to NFTs by partnering with some of the biggest U.S. sports brands.
The NFT's value lies in the physical world: NFT holders could gain access to future playoff tickets or get autographed memorabilia. The biggest prize? Some of the NFT holders could get to ride on a potential Warriors championship parade float or get their own championship ring.
"It sort of has this mix of the stock market and gambling," Medium Rare co-founder Adam Richman tells Axios.
Catch up quick: Medium Rare began as an event producer but shifted due to the pandemic into partnering with celebrities and athletes for streaming-first specials.
"We looked at it from an entertainment point of view. How would we launch a new event? How would we sell tickets? How would we get people interested in this event?" Richman says.
The big picture: Richman and his co-founder Joe Silberzweig are taking a cautious approach to their growing NFT business.
"Too many teams, too many organizations and too many IP holders have dove headfirst into the NFT space — probably too quickly — without really embracing or building the community needed to be successful," Silberzweig says.
Rather than take a flat fee, Medium Rare only makes money on the NFTs if they actually make money. "We can even lose money on it," Richman says. "We only do as well as our partner does."
🏃‍♂️4. Catch up quick
👿 Many Twitter users with large followings (that your correspondent has never heard of) are allegedly accepting payments to pitch random token or NFT investments to their followers. (Motherboard)
🏦 Crypto-focused Silvergate Bank, which went public in 2019, posted a 40% increase in earnings per share over Q1 2021. (CoinDesk)
🎮 Sandbox, a crypto videogame platform, is looking to raise $400 million at a $4 billion valuation. (Bloomberg)
🔃 Indian crypto exchange CoinDCX raised $135 million in a round led by Pantera and Steadview. (Axios)
🪞5. Culture hash: Andre is back (on his blog)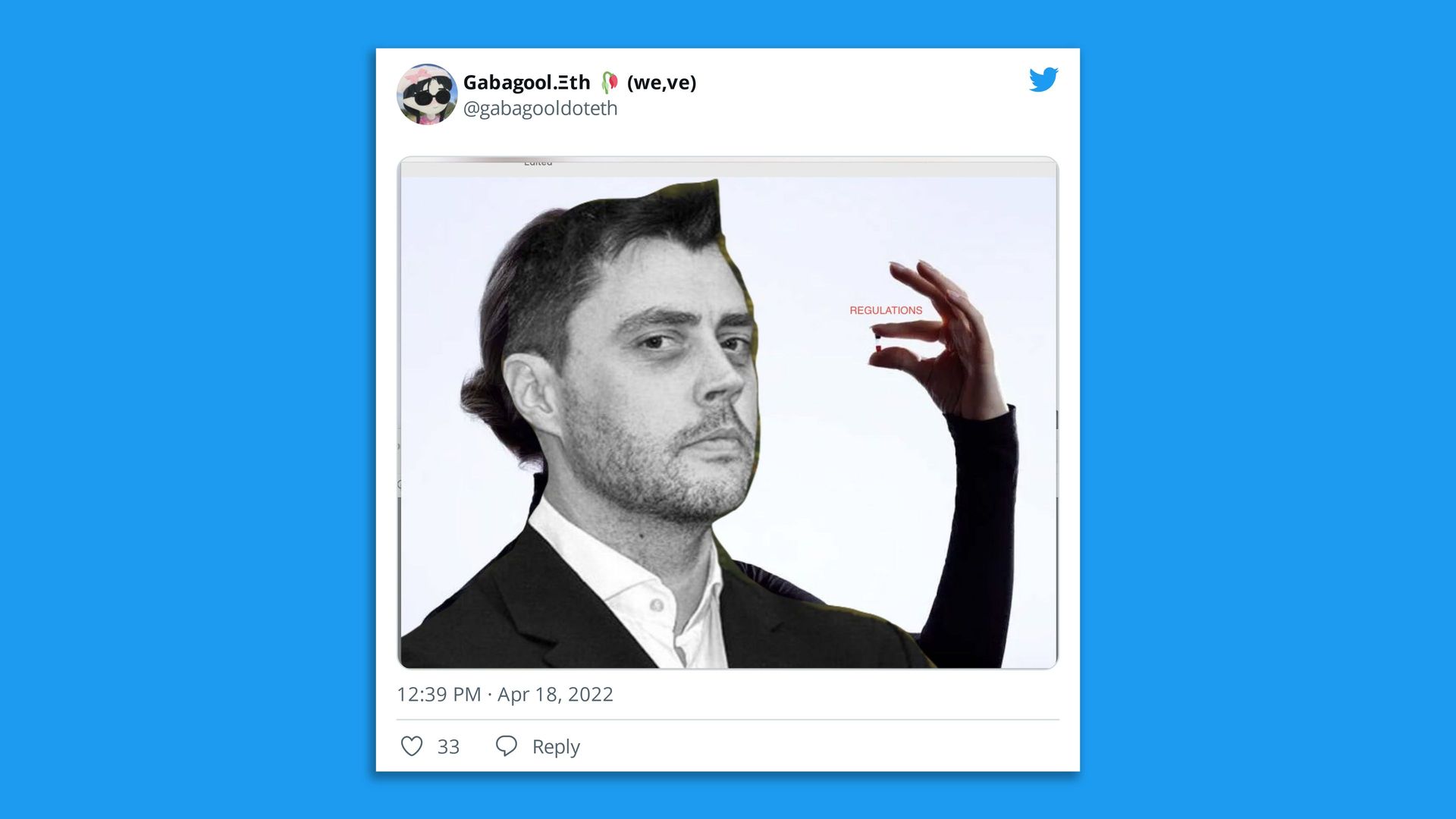 South African Andre Cronje (whose face is seen in the tweet above) was one of the most prolific developers in the Ethereum ecosystem until he suddenly quit in March, going from inventor to dropout.
He resurfaced via his blog Monday, however, to shake his fingers at everyone who's stuck around. He wrote:
"I now more than ever see the need, or even necessity for regulation, not as a mechanism to prevent, but as a mechanism to protect. It's like a child trying to stick their finger into an electric outlet, you stop them, before they can learn why they shouldn't."
The bottom line: Fortunately, this is an industry where everyone's always available for honest feedback from peers. There shouldn't be any bad blood.
Are you seeing any crypto news you don't understand? Let us know! —Brady