Axios Crypto
October 14, 2022
How stable are you feeling? Today we are talking Tether, a familiar topic here by now, we hope.
Today's newsletter is 1236 words, a 5-minute read.
🇺🇸 1 big thing: Tether goes all in on U.S. Treasuries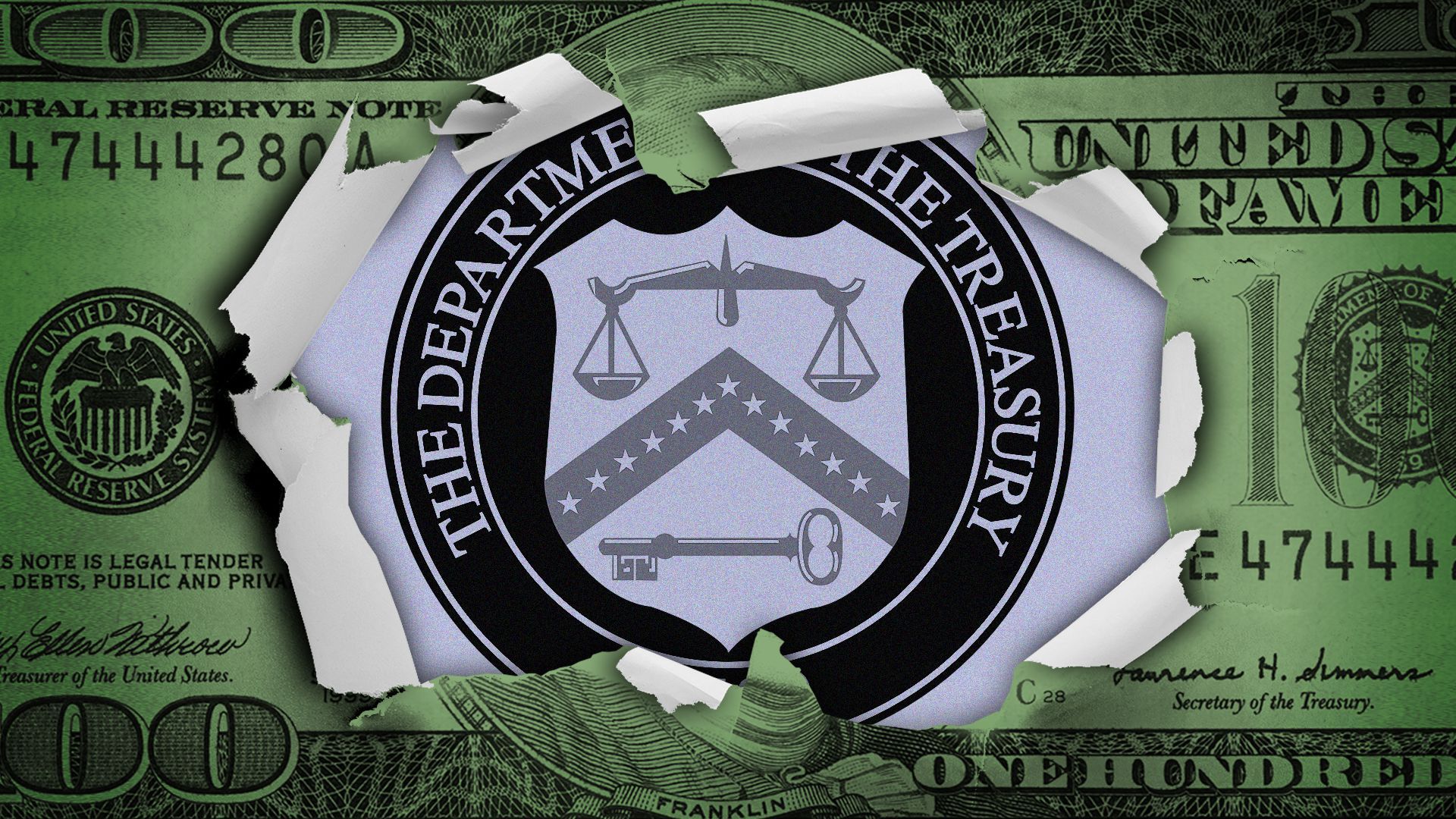 The U.S. Treasury has been hard on crypto this year, but the world's largest stablecoin is all in on U.S. Treasuries now, Brady writes.
Driving the news: Tether announced on Thursday it had completely gotten out of commercial paper in favor of treasuries.
Why it matters: Tether (USDT) is the liquidity lubricant of the international crypto markets. It has a $68.5 billion market cap and, on centralized exchanges, it's in trading pairs with basically every token of any consequence.
Tens of billions of dollars of tether changes hands daily.
What they're saying: "Reducing commercial papers to zero demonstrates Tether's commitment to backing its tokens with the most secure reserves in the market," Tether's announcement said.
Be smart: Stablecoins are useful for traders as a way to lock in gains. Say one pulls some weird trade between two or three tiny tokens and makes a small gain?
They can exit the trade into bitcoin, where a sudden turn can wipe out their gains, or they can exit to tether and lock it in (at least in dollar terms).
Flashback: Tether has always been controversial.
In May, tether briefly broke its peg to the U.S. dollar as the decentralized stablecoin terraUSD unwound dramatically (there was no relationship — the market just spooked badly).
A month later, rumors began to swirl that tether was heavily backed by dodgy commercial paper investments.
Transparency has never been the stablecoin's strength. While it releases financial statements quarterly, they only actually provide some clarity about one day each quarter.
It has yet to release an audit.
By the numbers: Returns on 10-year treasuries have gone from well under 3% to almost 4% since May.
Today's announcement shows it holds approximately $40 billion in treasuries, roughly the same amount it said it held in treasuries in May.
The reserves for its main competitor, USD coin (USDC), are also in treasuries and cash, according to its monthly attestations.
How it works: Users of tether turn over actual fiat to the company and are given tether tokens in exchange. These tokens promise to always be redeemable for fiat.
In the meantime, Tether, the company, can keep anything it earns on those deposits while they wait for users to redeem them.
If it earned just 3% on its $40 billion in treasuries, that's a $1.2 billion annual return, more than enough to fund side ventures into secure messaging — or whatever else.
💭 Our thought bubble: For what it's worth, commercial paper yields have also been trending up, but it's more valuable to Tether to solidify trust and hold onto market share than to chase yield sources that might undermine confidence in its tokens.
👛 2. Charted: The gap widens again
We have published versions of this chart quite a few times as the bear market has proceeded, Brady writes.
Right after the Terra ecosystem collapsed in May, there was a mass exodus from the world's leading stablecoin, Tether (and probably from crypto altogether).
Some, but definitely not all, of those users seemed to retreat to Circle's USDC (see how USDC goes up as USDT goes down early on).
State of play: That gap never closed, though, and now USDC is losing ground again.
Of note: USDC fell pretty hard all through September, following an announcement by the world's largest exchange, Binance, that it was effectively delisting the stablecoin.
Going on Cosmos (the 24th largest blockchain by market cap) hasn't been enough to make up for the lost ground so far.
Zoom out: CoinGecko actually tracks 88 stablecoins, but only the top five really matter.
Top coins
🔭 3. Catch up quick
💰 Binance has put up $500 million to support bitcoin miners in the bear market. (The Block)
🧹 Bitcoin miner Stronghold is clearing away piles of coal waste in Pennsylvania to power bitcoin mining. (WPVI)
✂️ Meanwhile, Stronghold is looking to cut costs elsewhere. (CoinDesk)
🚪 Bitcoin finance firm NYDIG laid off a third of its staff last month, roughly 110 people, despite a recent statement that it was on track for a record year. (Wall Street Journal)
❄️ 4. Stablecoins' frozen funds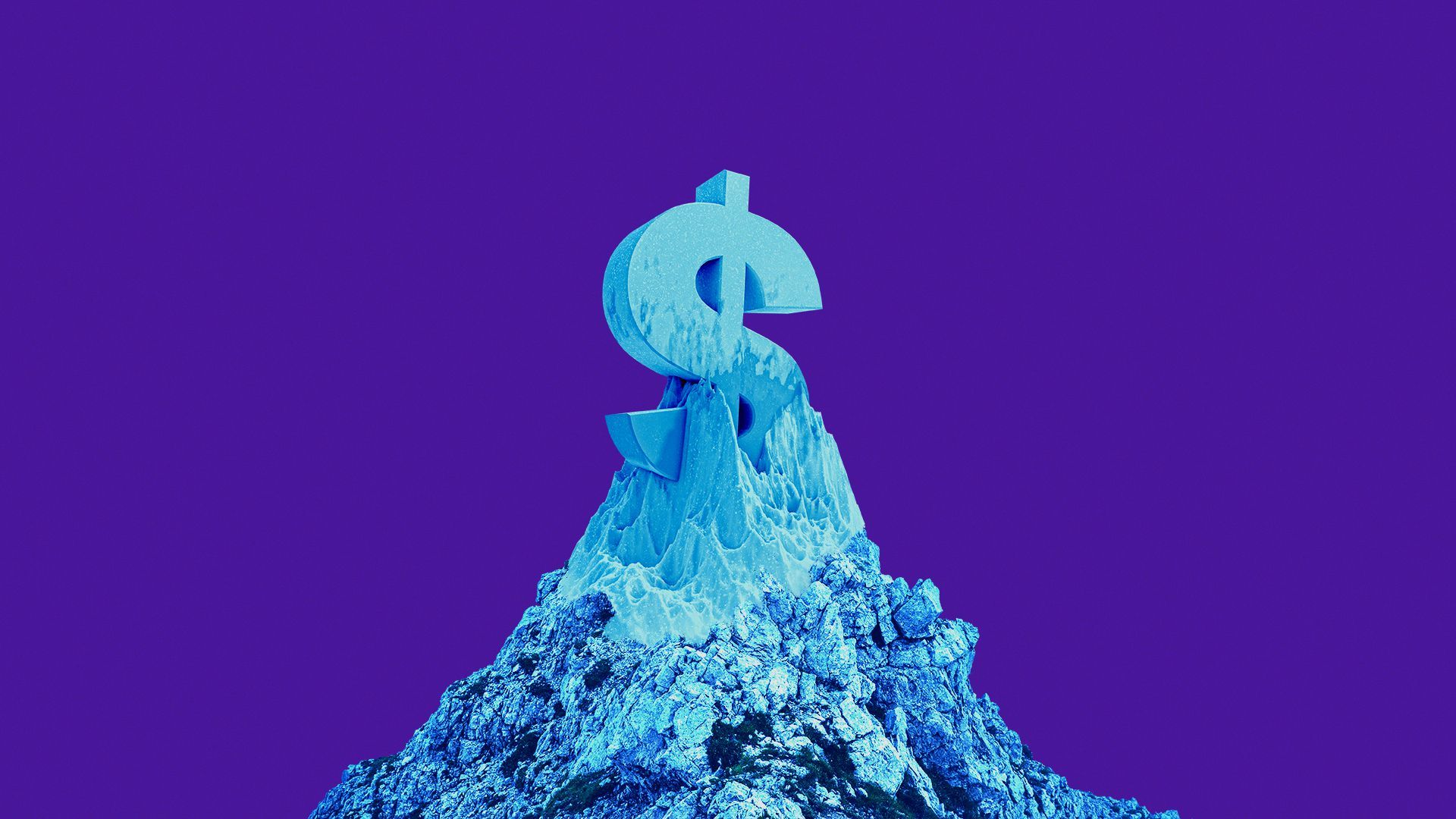 A new dashboard that showed up on Dune Analytics on Oct. 7 shows Tether has frozen $444 million worth of its stablecoin, and Circle $7 million backing USD coin, for a total of $451 million, Brady writes.
Tether puts its number at $360 million, however.
Why it matters: That's almost a half billion dollars in a strange sort of limbo.
Funds get frozen for various reasons. For example, if funds were known to have been stolen in some way, such as through an unauthorized computer breach, stablecoin issuers might just freeze them.
How it works: Tokens — including Tether's USDT and Circle's USDC stablecoins — are really an output of computer programs that run on blockchains (whereas coins, like ether and bitcoin, are fundamental to the operation of the chain where they make their home).
To freeze the tokens in a given account, the issuer simply has to call a function in that software. Basically, it keeps a list of addresses that can't transact in the stablecoin any longer.
Of note: Because that call is made publicly on the Ethereum blockchain, it can be checked by outside observers, such as the Dune user that made this dashboard.
Threat level: With the U.S. government cracking down on more and more crypto projects, who knows what decentralized application might run afoul of the U.S. Treasury next.
While Circle only accounts for about 1.5% ($7 million) of the $451 million in frozen funds across the two stablecoins, it was quick to react to Tornado Cash.
When the privacy protocol was sanctioned by the U.S. government, Circle promptly froze the assets in 44 addresses that had deposited them on the app (though it was only $75,000 worth of stablecoins, a sliver of the $437 million on the protocol at the time).
Tether has held out.
Between the lines: In theory, a stablecoin issuer could keep earning interest on funds in limbo.
Circle removes that incentive. "No interest or return is earned on USDC that is held as a frozen asset," spokesperson Rachel Busch tells Axios. The company "moves the corresponding reserves funds into a separate, segregated account in accordance with the Centre Access Denial Policy."
Tether, meanwhile, was less clear on what it did with deposits while locked, but said it does not keep the dollars. "Tether works with law enforcement and legitimate owners to ensure the frozen funds are reissued once all claims are properly addressed," according to Tether, via Leah Attia of communications firm Variable X.
The intrigue: Tether puts the amount it has frozen at $360 million, of which $101 million has been re-issued, or will be.
Tether's statement did not address the difference between its figure and what Dune Analytics shows.
🫤 5. Culture hash: Bitcoin the stablecoin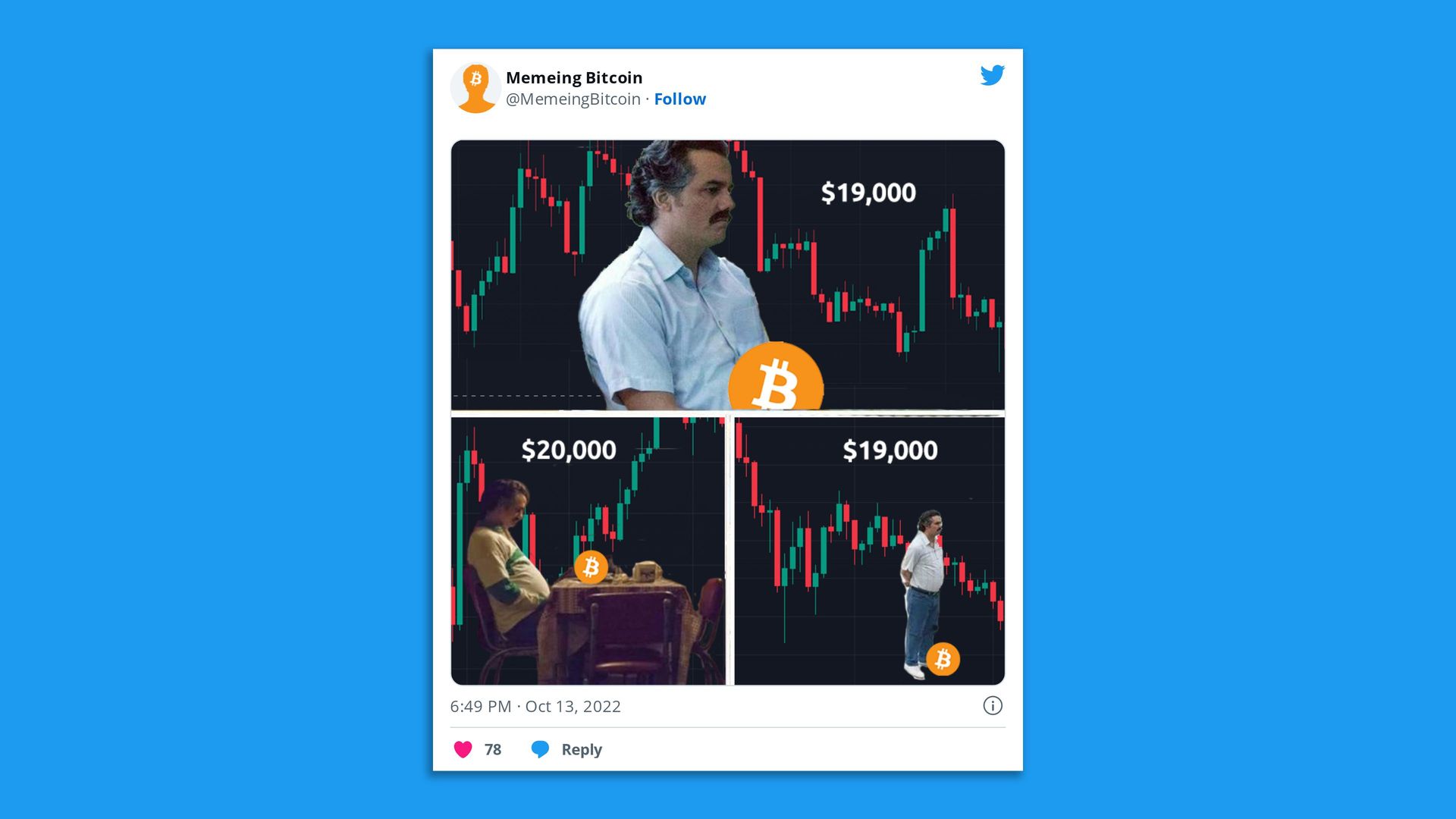 There's a joke in crypto conversation now about how bitcoin is basically a stablecoin these days, Brady writes.
It's an exaggeration, but the point is that the price has not done much for a while. Since mid-June, it's been dancing around $20,000, going as high as $24,000 in August and a low near $18,000 in September, but mostly flat.
Here's a couple terms you might see people throw around out there:
"Sideways." This refers to how the chart looks. The price is just moving to the right over time, without much notable up or down.
"Crab walk." This is just another way of saying sideways, because crabs walk sideways.
💭 Our thought bubble: It's best not to watch charts anyway.
This newsletter was edited by Pete Gannon and copy edited by Nick Aspinwall.
🛣 FWIW: Brady is out next week, mostly somewhere in Vermont. It will be all Crystal all the time. —C & B