Axios Crypto
March 28, 2023
⚰️ Binance's death might be greatly exaggerated. Plus, going around the rules.
🚨 Situational awareness: FTX's Sam Bankman-Fried is hit with a new indictment. DOJ alleges he paid over $40 million to bribe at least one Chinese government official.
Today's newsletter is 1,146 words, a 4-minute read.
🤳 1 big thing: The CFTC's complaint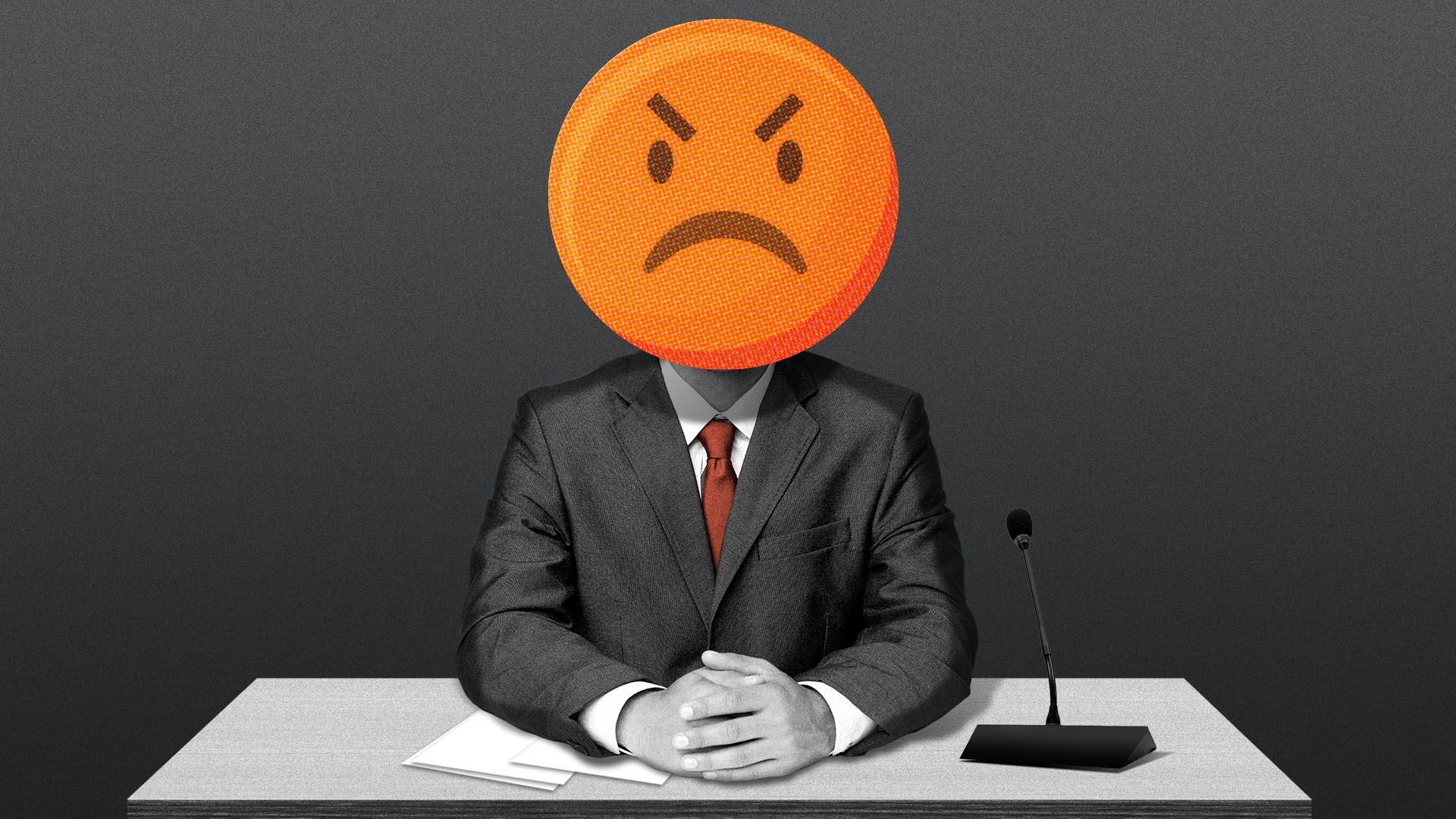 Moving "offshore" to escape the scrutiny of U.S. regulators would appear to be a threat without teeth given the latest charge against Binance, Crystal writes.
Driving the news: The Commodity Futures Trading Commission (CFTC) yesterday filed a civil action against the company for regulatory arbitrage, plus operating an asset derivatives exchange illegally — or what was described as "willful evasion" of federal law.
The intrigue: The world's largest crypto exchange is famous for not operating in the U.S., save for its small U.S. unit that the company has repeatedly claimed is separate and has its own boss.
The CFTC says Binance found a way around the rules. (How? Read more about that below.)
Zoom in: "Trading activity on Binance peaks at 10am EST and is generally elevated during U.S. trading hours," according to Kaiko Research's director Clara Medalie.
"The quantity traded is high and corroborates the findings in the CFTC's report, alleging that a large percentage of trade volume comes from U.S. investors," she tells Axios.
Meanwhile, crypto Twitter is more agog by allegations in the complaint that Binance founder and chief Changpeng "CZ" Zhao was on the other side of customers' bets using hundreds of in-house accounts.
CZ was charged in the complaint along with a former executive.
What they're saying: CZ in a blog post said the company would respond to the complaint in full later, but spent the most amount of ink denying that Binance manipulates markets or counters customer trades.
What others are saying: Some on crypto Twitter called it a "fatal blow," or called for the exchange's ultimate demise: "Binance is going down."
"At this moment there are too many unknowns to understand the magnitude of fines or bans that Binance could face," Kaiko Research's Medalie said.
Flashback: "Binance was already aggressively trying to capture market share with an eight-month zero fee trading program, which let it gain +20% versus its competitors," she noted. "Just five days after it halted this program [last week], the exchange lost 10% market share."
"This suggests that Binance's trader base may not be that sticky, in which case a prolonged legal battle could further dissuade traders."
Of note: It was hard not to notice the impact of the CFTC's complaint on coin prices, Rory Doyle, financial crime policy manager at regtech solutions provider Fenergo tells Axios.
"Will this sink Binance? I don't know, depends on what else comes down. It's serious enough that the market has reacted."
Context: Binance says that at the end of 2022 it was averaging $65 billion in daily trading volume — huge compared to Coinbase's recent daily average of roughly $1.3 billion per CoinGecko.
So even if Binance.com's trading activity were cut by 20%, it would still have a much larger footprint than the U.S.' largest crypto exchange.
What we're watching: This still isn't a criminal matter, but that doesn't mean it won't become one.
The CFTC is a civil overseer of commodities markets, but the suit describes a lot of things that one would think law enforcement would be interested in.
The bottom line: What's more concerning is the possibility of multiple regulatory actions against Binance.
👩‍💻 2. What's this: Virtual private network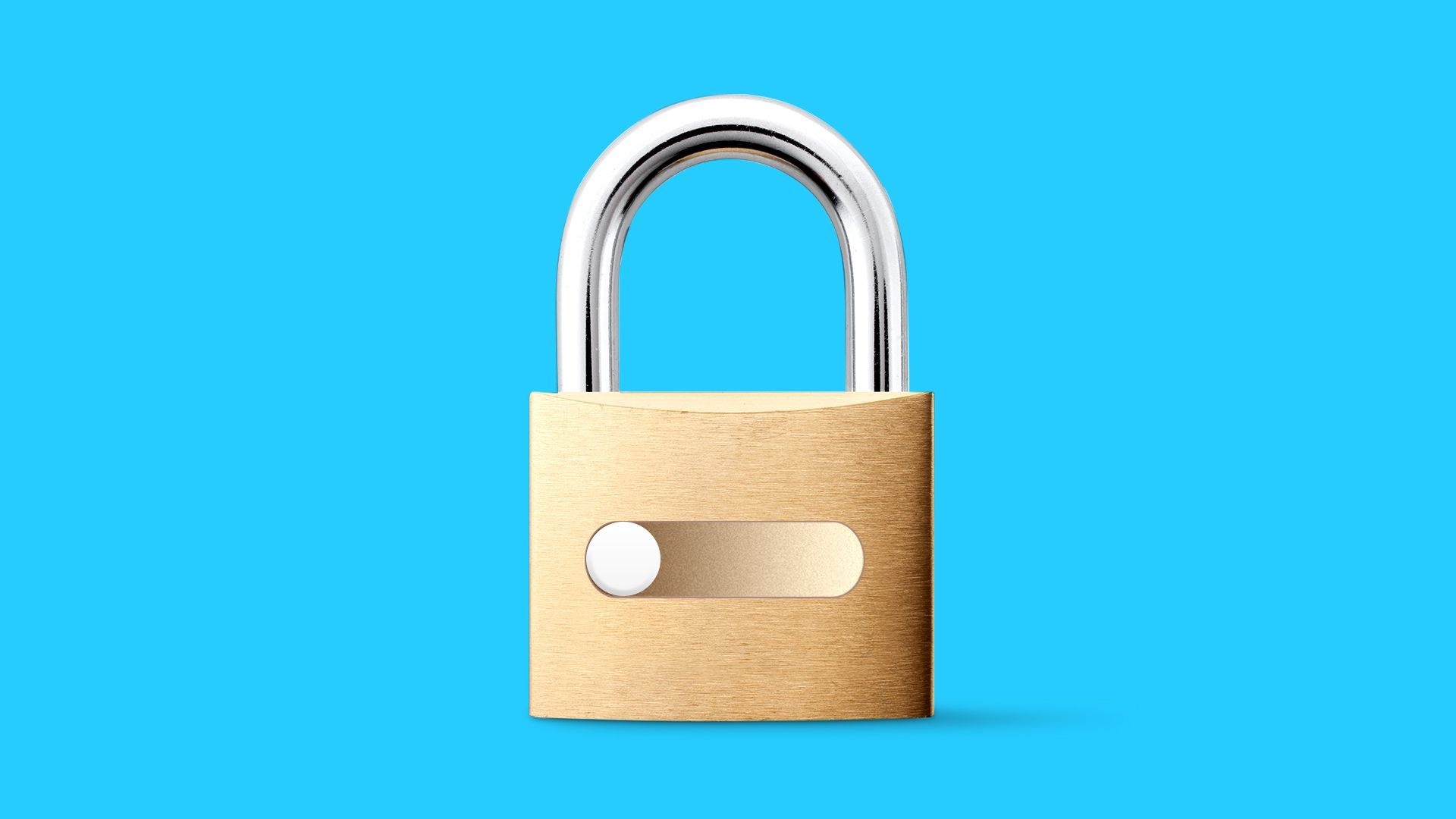 Security technology is making some regulators uneasy, Crystal writes.
A virtual private network (VPN) is just software that keeps one's data safe, Deyan Georgiev, managing editor and resident expert at VPNCentral.com, tells Axios.
"We all know companies are spying on us, big advertising companies and agencies and institutions," Georgiev says. "VPN protects your data."
Yes, but: It can also spoof your IP address so that a user in Bulgaria could use one to make it appear as if they are using a device in the U.S., he says.
Flashback: A Microsoft employee in the mid-1990s developed a peer-to-peer tunneling protocol — the precursor to modern VPNs that would better secure the connection between a device and the Internet.
The big picture: Some people now use the technology to make secure calls over the Internet and others to access blocked content, like K-dramas or offshore crypto exchanges.
There are how-tos on the latter all over the Internet.
That's how FTX's Sam Bankman-Fried watched the Super Bowl and got in trouble for it.
And that's how the CFTC is saying some U.S. investors access offshore exchanges like Binance that would otherwise be blocked for them.
Of note: VPNs allow customers to access offshore crypto exchanges, but "the downside is there might be challenges to withdrawing that crypto" because most require some valid ID, Georgiev says.
What could the CFTC do to stop folks from using VPNs to access crypto exchanges?
Police the internet, which seems unlikely.
The bottom line: "China did with their Great Firewall but that's complete internet censorship. People have rights," Georgiev said.
"I don't see this happening in the near future, otherwise we'll be living in a post-Communism state."
🫧 3. Charted: Wash-trading
A closer look at trading volume and the market share of certain coins can reveal evidence of market manipulation, Crystal writes.
Driving the news: The SEC last week accused Justin Sun, founder of Tron, of just that.
"The U.S.-based exchange Bittrex was specifically cited as one of the principal venues, so we thought we'd try to identify some patterns in the old historical data," according to Kaiko Research.
Zoom in: See those spikes in TRX market share?
At face value, it would appear that there was great demand for TRX, but it could also indicate wash-trading, which is when an asset is traded back and forth to make it seem like there's a spurt of activity when it's just a single person or people in cahoots.
The SEC fingers Sun over certain time periods and the dates line up with those spikes, according to Kaiko.
Of note: Don't blame Lindsay Lohan nor Akon — their marketing tweets landed in 2021, after the periods shown here.
🥊 4. Catch up quick
💂‍♂️ The U.K. canceled a previously announced NFT launch. (The Block)
🔵 Circle's usd coin will be natively issued on the Cosmos network by Noble. (Mirror)
🎢 Walt Disney Co. nixes its metaverse plans amid layoffs. (WSJ)
👨‍⚖️ Judge rules the BZX DAO is a general partnership, making holders of its governance token liable. (The Block)
Top coins
🩴 5. Culture hash: Crypto taxonomy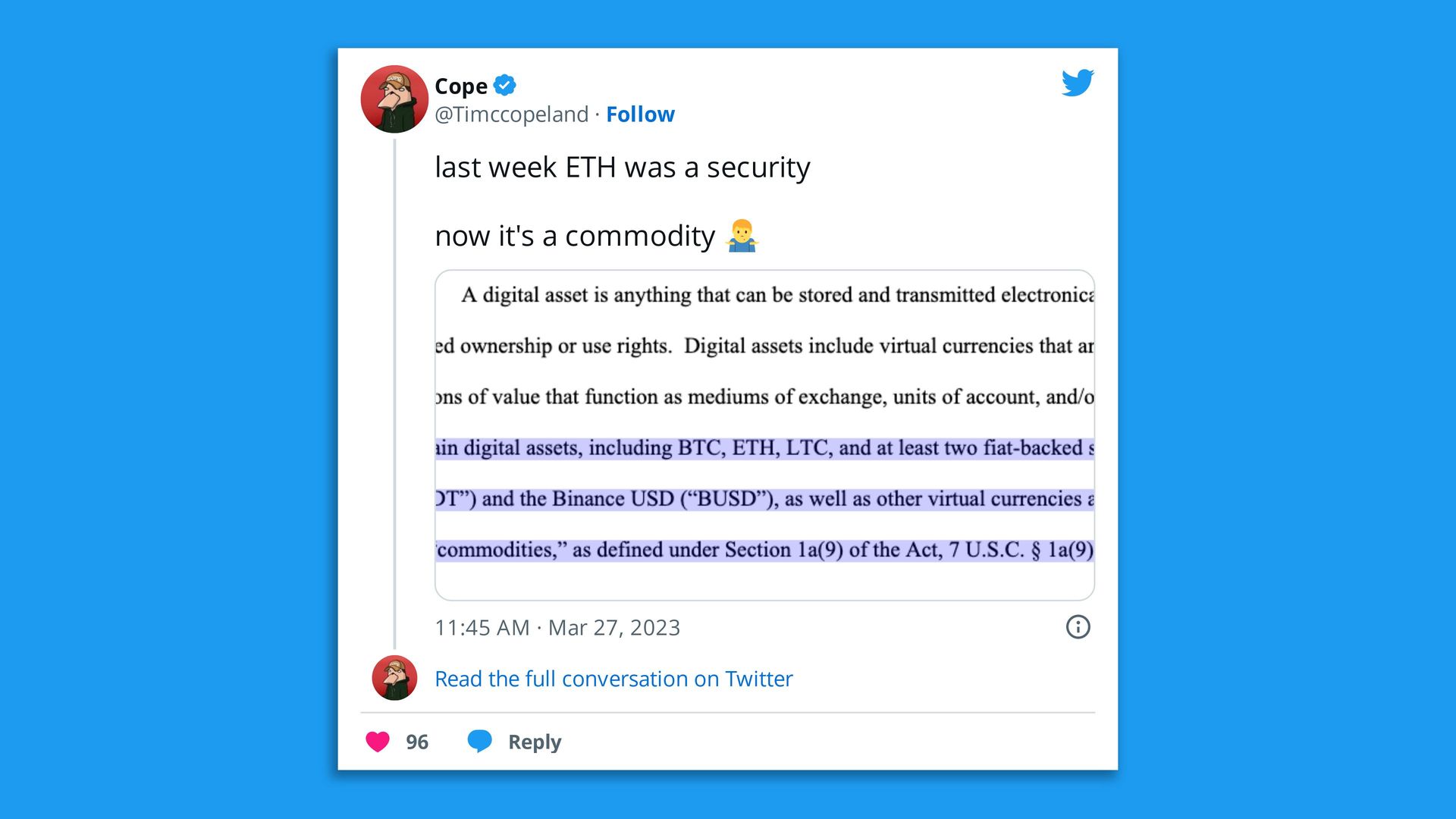 Token taxonomy is caught in the middle of a jurisdictional battle between two top financial regulators, Crystal writes.
What's happening: When the SEC was bearing down on the U.S.' largest crypto exchange, Coinbase, ETH was a security. And when the CFTC comes for the world's largest crypto exchange, ETH is a commodity.
The other side: A good parallel case to compare to Binance's might be Bitmex, says Kaiko Research's Medalie.
Flashback: Bitmex was also sued by the CFTC and forced to pay a $100 million fine, and as a result, suffered years of declining market share, she says.
Of note: The major difference between them is size: "Bitmex only offered derivatives markets at the time, while Binance has captured massive market share for both spot and derivatives."
What we're watching: How the industry uses what would appear to be conflicting complaints in court.
This newsletter was edited by Pete Gannon and copy edited by Carolyn DiPaolo.
The courts have put SBF back on flip phone life, which, honestly: kinda jealous. —C & B