Axios Crypto
April 07, 2023
Bitcoin and gold are the power couple of doom. Plus, DeFi and crime.
🪺 Happy Easter weekend for those who celebrate. [email protected]
Today's newsletter is 1,268 words, a 5-minute read.
🤝 1 big thing: Bitcoin hearts gold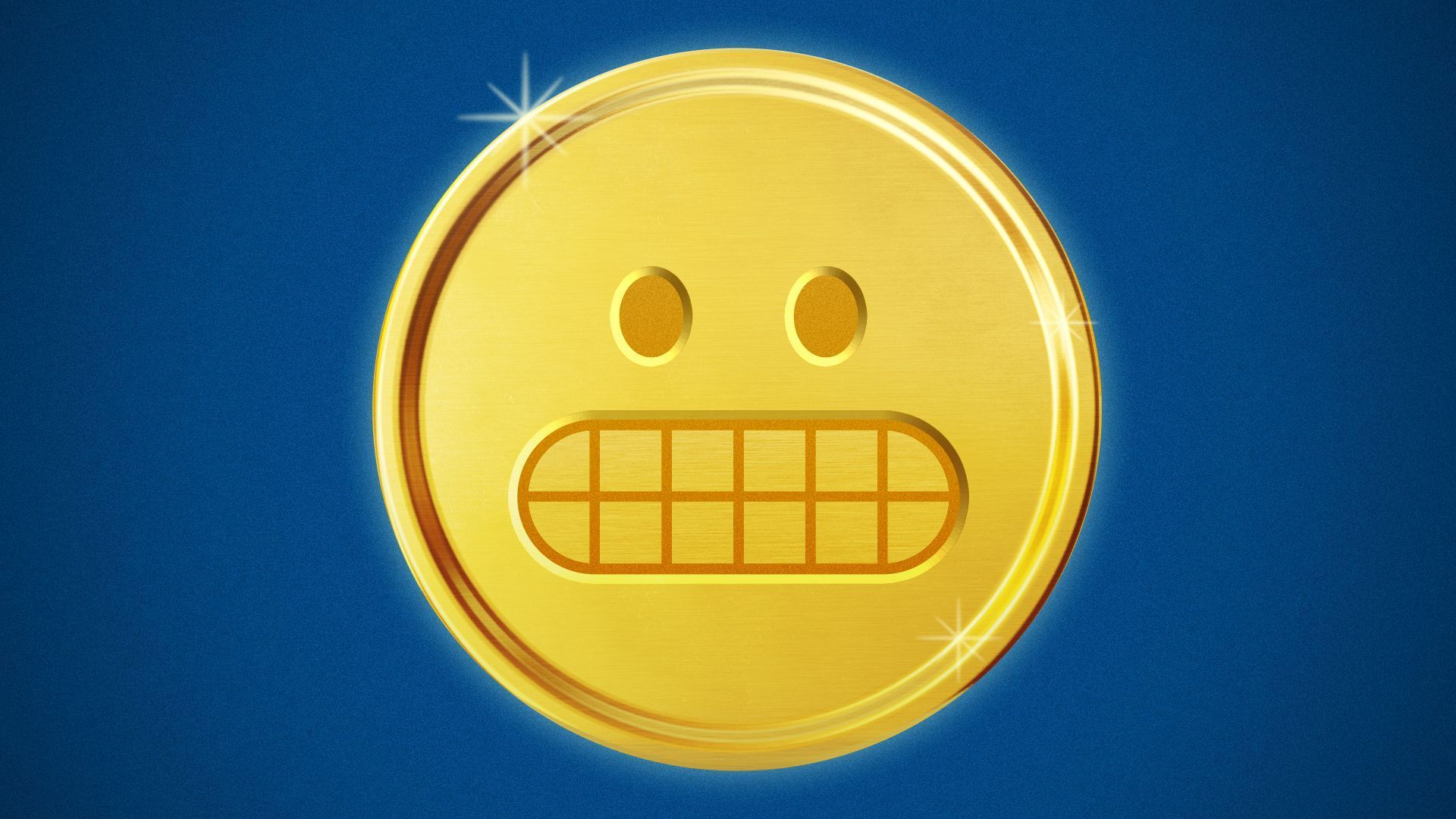 Investors are taking cover from the doom cloud looming over the U.S. economy — by hanging out in gold and bitcoin, Crystal writes.
Why it matters: Bitcoin's backers have long viewed it as "digital gold" or a refuge from global financial mayhem.
Driving the news: The correlation between bitcoin and gold hit a multiyear high recently—rising in step after a period of moving independently of one another. (Yes, that means bitcoin is not hanging out as much with stocks.)
Quick take: Market experts tell Axios that the multitude of possible catastrophes awaiting the U.S., coupled with investors' lack of faith in policymakers, is putting the sparkle back in bitcoin and gold.
By the numbers: Bitcoin had its second-best first-quarter performance in a decade, according to Bloomberg data. Gold's up too, but not as much.
The big picture: "The world woke up to the incredibly challenging tightrope facing policymakers and realized that the risk of fiscal or monetary policy error was high," Matt Hougan, chief investment officer at Bitwise Asset Management, tells Axios.
"Bitcoin and gold have come up a lot in my conversations with advisers recently," Hougan said.
Investors are hanging out in asset classes that appear to offer some level of safety from those macroeconomic factors, he said.
Be smart: When banks go down, bitcoin goes up, we said.
Zoom in: "What we're seeing now is a full-on stagflation narrative, triggered by the economic data this week," Noelle Acheson, writer of the Crypto is Macro Now newsletter, said.
BTC and gold sparkle because those assets don't have earnings or credit risk, Acheson said. Whereas, companies in the S&P 500 do.
Context: Investors have always turned to gold (and more recently, digital gold) in times of uncertainty because, while even a great company can go bad, the value of gold is eternal.
Yes, but: Bitcoin is a many-faced asset—both safe haven and risk asset.
Zoom in: Bitcoin and gold serve a similar function in society, Hougan said, but also pointed out that the world's largest digital asset also has not reached the "mature state" of the precious metal.
"The high correlation may not hold forever," he said.
The intrigue: "Risk assets typically rise and fall on the back of liquidity and plunging U.S. money supply, and bank deposits indicate headwinds for cryptos," Mike McGlone, Bloomberg Intelligence senior macro strategist, wrote in his April crypto outlook.
Between the lines: Dwindling liquidity in the global economy is ultimately not good for bitcoin prices.
The bottom line: "Bitcoin is poised to keep outperforming most cryptos, but if the stock market does a typical recession rollover, the benchmark crypto should face pressure," he said.
🌎 2. Charted: LatAm sees it differently
The narrative around cryptocurrency abroad is shifting, Brady writes.
Why it matters: For years, crypto advocates publicly touted the benefits of blockchain technology in the developing world but privately bemoaned the lack of uptake. That seems to be changing.
Polling by Morning Consult sees a much brighter outlook for cryptocurrency, particularly as a payment medium, among our neighbors to the south — even among those who don't hold it.
In the weeds: The firm sampled opinions from Argentina, Chile, Colombia, Mexico and the U.S.
By the numbers: In addition to the contrasts seen in the chart above, the decision intelligence company found:
Among all adults in the U.S., only 38% saw a future for crypto as an investment, compared to about 60% of adults across all surveyed countries.
About 50% of U.S. adults think crypto will exist in 10 years, while comparable opinions in Latin America were around 70%.
For more nuance, check out the full report.
🔬 3. U.S. Treasury looks at DeFi and crime
Criminals and terrorists are using decentralized finance (DeFi), according to a new threat assessment from the U.S. Treasury.
Why it matters: Such assessments can portend new regulations from Washington, which is already thought to have crypto in its crosshairs, Brady writes.
What they're saying: "Our assessment finds that illicit actors, including criminals, scammers and North Korean cyber actors are using DeFi services in the process of laundering illicit funds," under secretary for terrorism and financial intelligence, Brian E. Nelson, said in a statement.
The report reiterates that decentralization does not free a project from the obligation to engage in anti-money laundering frameworks established by laws like the Bank Secrecy Act.
The other side: "Those frameworks were developed based on how the global economy worked in the 1970s, and are predicated on the assumption that transactions must occur through custodial financial intermediaries," DeFi Education Fund CEO Miller Whitehouse-Levine said in a statement.
Details: The report details a variety of instances where different crimes were committed with, or abetted by, DeFi applications, including:
Of note: The report distinguishes between different aspects of the blockchain, breaking settlement layers out from tokens and coins, the applications themselves, and the websites used to easily access them for non-technical users.
Yes, but: The report does not really grapple with the fact that DeFi can operate without any of the humans who made the applications continuing to be involved.
It makes much of the fact that creators often have inordinate control of changes to applications, which is true.
But it does not deal with the fact that if all those creators disappeared, the application would keep running as is, as long as people kept using it.
Be smart: "Other DeFi service users say they value the transparency of DeFi services operating on public blockchains, citing the ability to view and confirm transactions and, in many cases, view the source code of DeFi services," the report says.
That should actually say "all cases." If the code can't be audited by everyone and anyone, it's not DeFi.
In DeFi's heyday, certain centralized firms, such as the failed lender Celsius, tried to claim the DeFi mantle because it was buzzy and crypto-adjacent.
What we're watching: The industry often urges regulators to regulate it at the edges, at the centralized services where bitcoins and dollars flip back and forth.
The report notes that's not adequate, laying out a series of recommendations that hint toward new rules and encouraging private sector compliance programs.
The intrigue: "This risk assessment recognizes that most money laundering, terrorist financing, and proliferation financing by volume and value of transactions occurs in fiat currency or otherwise outside the virtual asset ecosystem via more traditional methods," Treasury acknowledged.
🦋 4. Catch up quick
🐦 Twitter puts the bird back on its site, and dogecoin plunges. (Decrypt)
🏔 From the ancient history files, Mt. Gox users will finally start getting repaid from the infamous 2011 cybertheft. (The Block)
🚔 Lawyer leading the class action suit against Bitboy has called the police over threatening behavior. (Decrypt)
Top coins
🧠 5. Culture hash: Keep bitcoin in your brain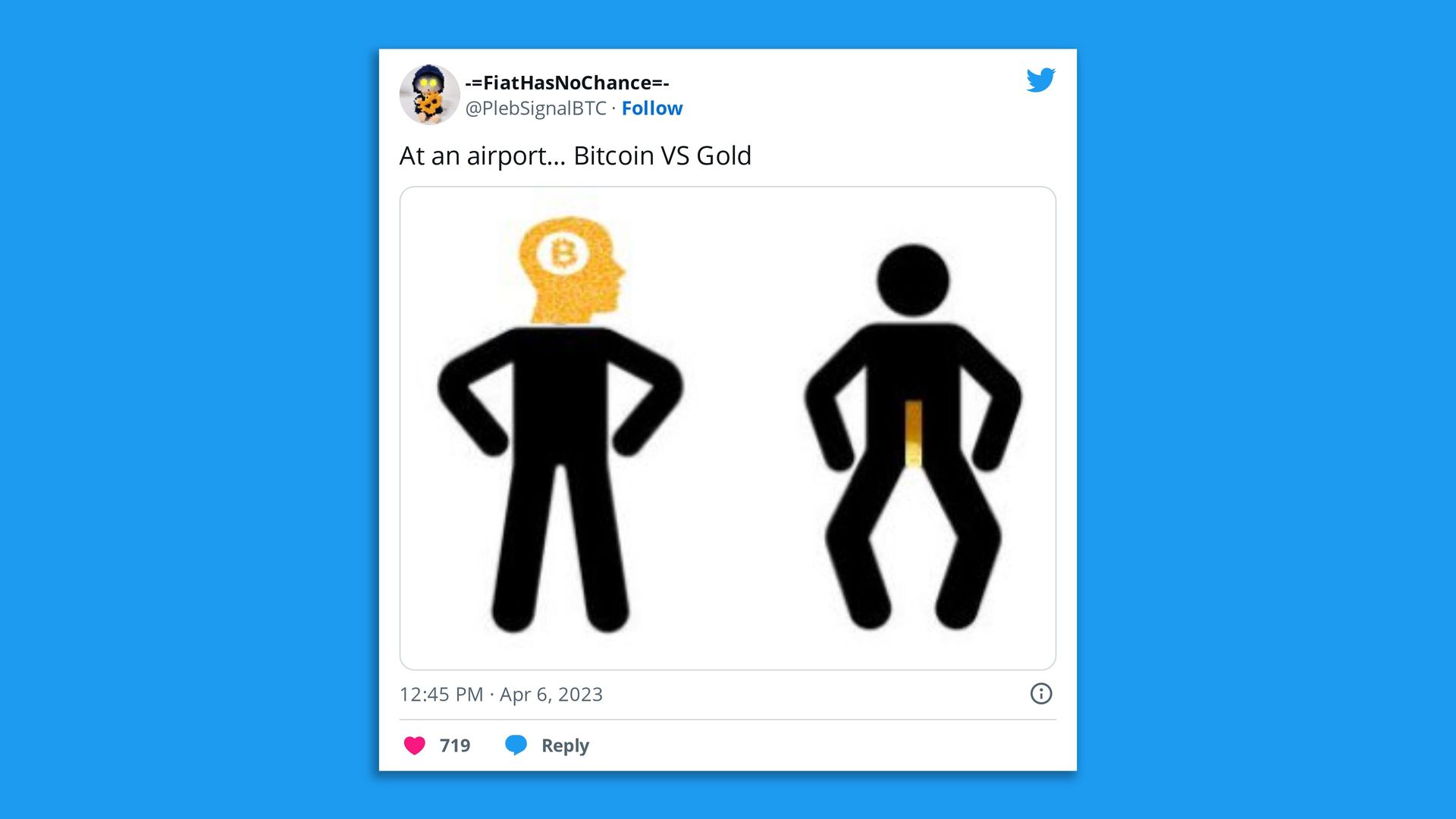 A better store of value might be the thing that's easiest to store, Crystal writes.
Case in point: Would you rather walk through the airport with $100K in bitcoin on your person or $100K in gold?
Quick take: The answer's in the crude picture.
Be smart: It's saying one can memorize the seed phrase of your crypto wallet, so you don't necessarily have to carry it. The keys are in your brain.
Our thought bubble: Cross borders, buy a Ledger or Trezor on the other side, enter in your seed, and there's your bitcoin. No physical search possible.
Thanks for reading. —C & B.