Axios Crypto
May 17, 2023
Hello, hello! Today's stories concern two of the bigger companies in the blockchain space making moves: Ripple and Ledger.
Tomorrow will be about stablecoins. What do you want to read about?

[email protected]
Today's newsletter is 1,113 words, a 4-minute read.
🔐 1 big thing: Ripple's custody investment
Warren Buffett's investing maxim, "Be greedy when others are fearful and fearful when others are greedy," has inspired a longtime crypto denizen to dig in even as others are retreating, Crystal writes.
Driving the news: Payments giant Ripple announced it would buy Swiss-based crypto custodian Metaco for $250 million in cash and equity.
Why it matters: "This is the first significant acquisition we have ever made," Brad Garlinghouse tells Axios, saying its investment in critical crypto infrastructure such as custody dovetails with Ripple's overall strategy in payments.
Zoom out: Ripple serves customers in over 55 countries, with payout capabilities in more than 70 markets.
Total XRP sales by Ripple, net of purchases, were $361.06 million in the March-end quarter vs. $226.31 million in the prior quarter, according to the company.
Details: Metaco was founded in 2015 and primarily provides custodial services to institutions, often going head-to-head with the likes of platforms like Fireblocks.
It partnered with the likes of Citi, Societe Generale and BNP Paribas, and their customers span jurisdictions, including Switzerland, Germany, Turkey, France, the United Kingdom, the United States, Singapore, Australia, Hong Kong and the Philippines, as well as others.
What we're watching: Ripple's yearslong battle with the Securities and Exchange Commission will soon come to a conclusion, the timing of which will be determined by the courts.
Garlinghouse says he remains optimistic, though, it has cost Ripple about $250 million.
The bottom line: Ripple still has money to spend.
"We will still have $1 billion in cash after this deal. That puts us in a position to look at other deals," Garlinghouse said.
🇪🇺 2. Charted: The U.S. is not the biggest
There's finally some evidence that the cryptocurrency vibes are moving elsewhere, Brady writes.
For the first time, a region other than the U.S. accounted for the biggest proportion of venture funding for a quarter. Well, at least if you lump the U.K. in with Europe (as it has been historically until recent family quarrels).
The big picture: Europe proper just completed final final passage of its Markets in Crypto Assets (MiCA) rules, which will start to go into effect next year.
It means the industry has rules for the road in the globe's third-largest economy.
Zoom in: The land of baguettes and lazy Sunday afternoons is eager to take U.S. expatriate firms. "In France, we are proud to be pioneers" Benoît de Juvigny, secretary general of the Autorité des marchés financiers (AMF), told reporters this week, according to CoinDesk.
Quick take: Someone needs to make a "Schoolhouse Rock" style YouTube video for how a bill becomes a law in Europe (because I honestly thought MiCA was already done).
🔢 3. Self-custody drama from Ledger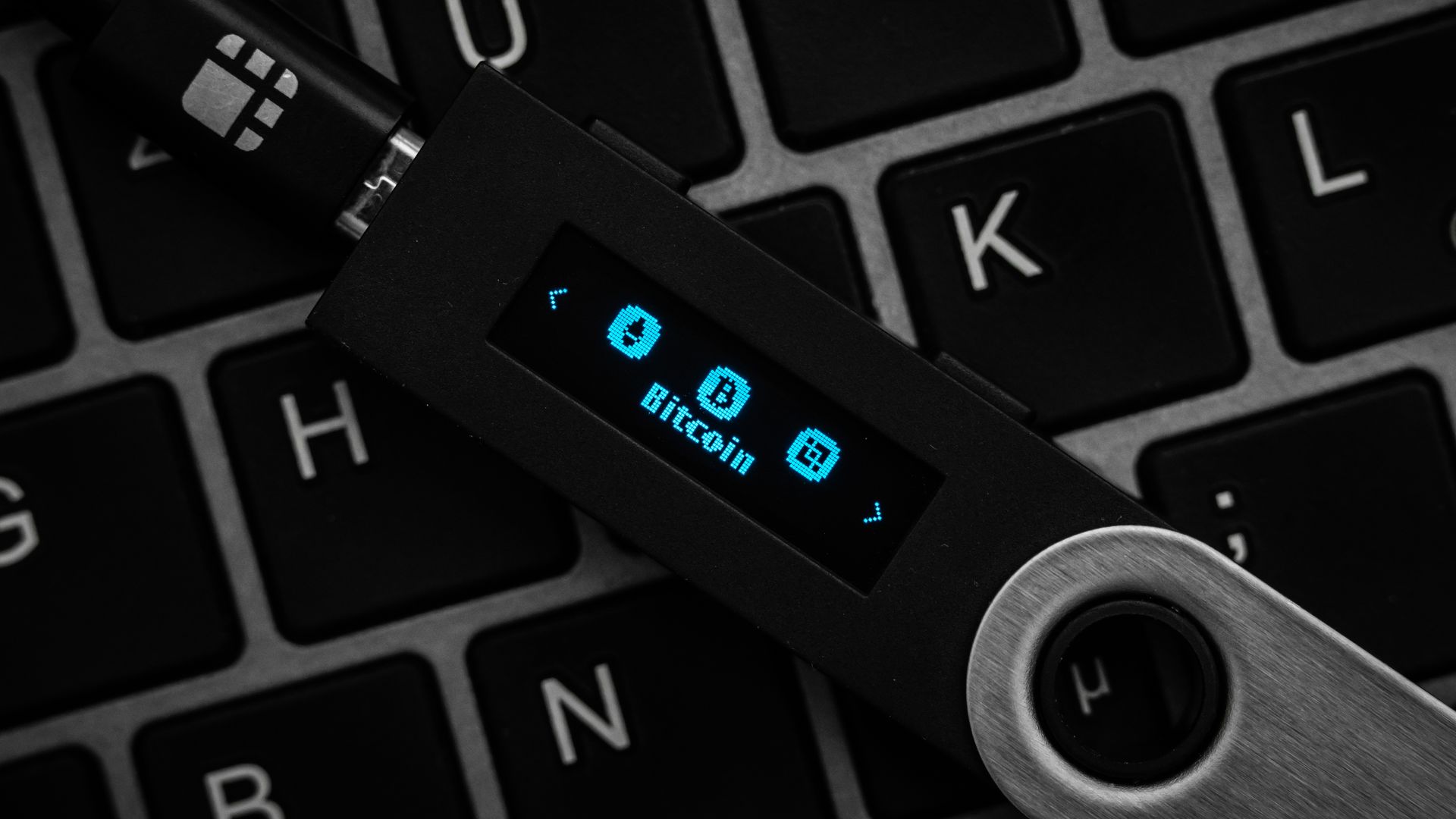 The leading hardware wallet maker, Ledger, announced a new feature yesterday that has crypto diehards in an uproar, Brady writes.
Driving the news: Ledger Recover is an opt-in system enabled on the Ledger Nano that will allow a user to recover a private key in a relatively safe way — in theory.
Be smart: Ledger is a hardware wallet designed for self-custody of cryptocurrency assets. Self-custody means that the user is responsible for stewarding their passwords — with no fallback.
There is a certain logic here. It's one thing to use classic password reset for something like a social media app. If the digital service you're using is effectively a closet full of gold, however, users should expect higher hurdles to restore access.
The intrigue: Crypto's faithful hate everything about this concept, particularly because Ledger has faced security problems with data it stores in the past.
Quick take: It also looks something like a poorly thought-out release. Including it in a firmware update for devices people already owned was unsettling.
People in crypto are also very conspiracy-minded and have a tendency to overreact.
And more, the system relies on personal identification, which is never well-received in this industry.
What they're saying: "A lot of the negative responses are coming from false assumptions or misconceptions around how the product works," Phillip Costigan, a Ledger spokesperson, tells Axios.
Costigan emphasized that Recover is an opt-in service and Ledgers have always updated.
"Your Ledger is as safe as it has always been," he said.
How it works: Those who opt-in to Recover theoretically won't have to trust any one company to completely secure their private key. In order to steal someone's assets, two companies would have to collude.
Ledger and two other companies will have three pieces of a user's private key. (One of them appears to be Coincover, which provides crypto protection and recovery products.)
Using cryptography, any two of those pieces can be combined to make the full key.
The upshot: Cybercriminals would need to hack two places to steal people's keys.
Catch up fast: In 2020, Ledger data on over 270,000 customers was lost via e-commerce partners.
Zoom out: Multi-signature wallets have been a solution for these sorts of issues for a while, though developers and designers are still working on how to implement them in a way that works for users accustomed to centralized password resets.
This is similar to the recovery offering from a bitcoin lender, Unchained, which we talked about in April.
The bottom line: Longtime cryptopian and VC, Haseeb Qureshi, wrote a thread on Twitter about how — at first — the change freaked him out, but then he wrote: "Now I'm in the 'nvm it's fine' camp."
📢 4. Catch up quick
🍊 Tether announced a plan to invest 15% of its profits in bitcoins. (Tether)
🐳 Ripple and the SEC want to seal documents in their ongoing legal shenanigans, but the judge is saying no to both — though mostly to the SEC. (CoinDesk)
🍎 A lite version of 2021's biggest crypto game, Axie Infinity, has the green light for the iOS store. (Decrypt)
Top coins
🍁 5. Culture hash: Blame Canada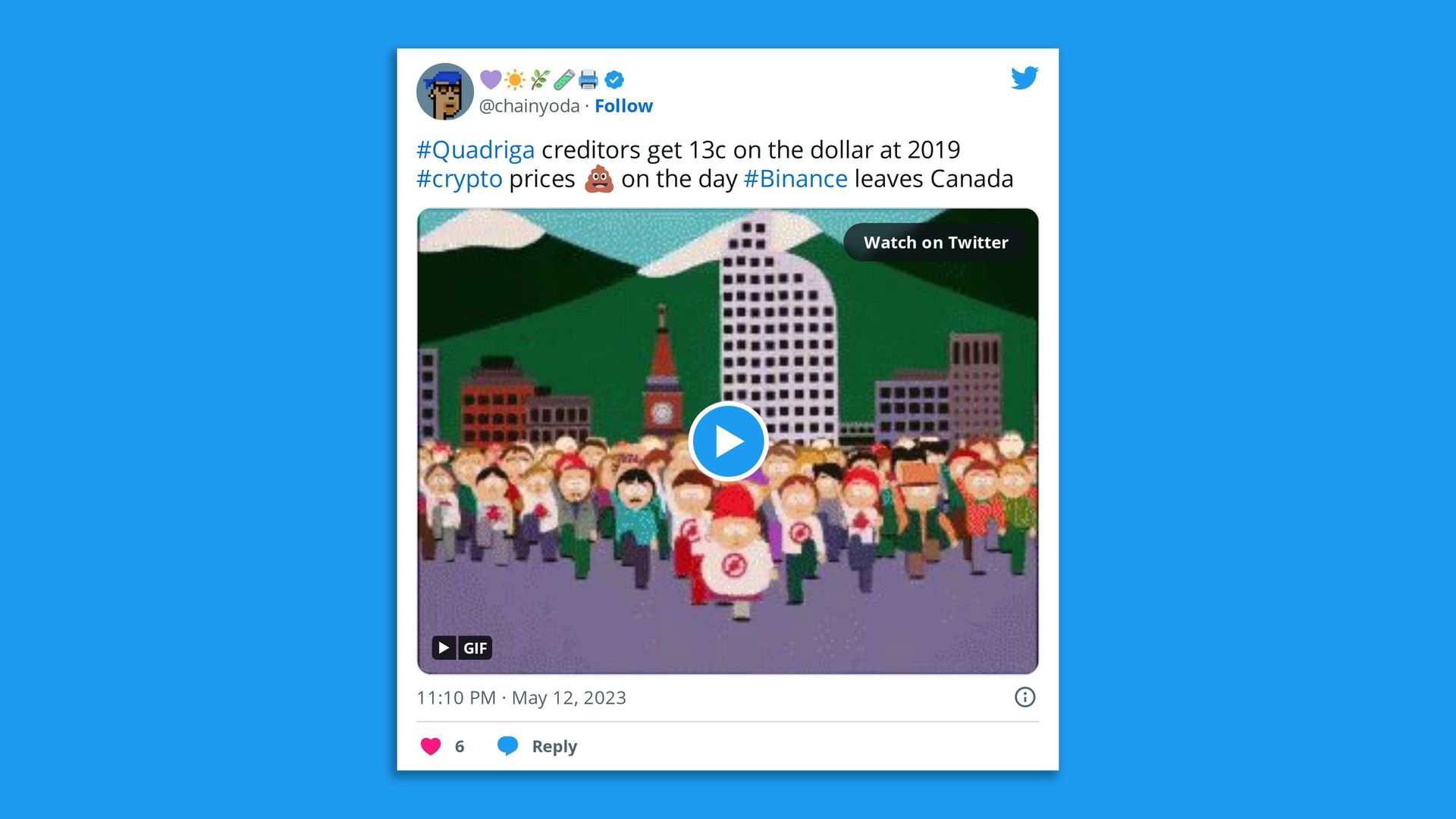 So, lots of recent news about Canada.
Binance left. More importantly, creditors to the long-dead crypto exchange QuadrigaCX learned they would get pennies on the dollar for what they'd lost in the exchange.
Catch up fast: QuadrigaCX shut down after its owner died in India and no one else knew where he kept his keys.
Yes, but: It later became clear the founder of what was once Canada's largest crypto exchange had been stealing everyone's bitcoin all along anyway.
By the numbers: 13 cents on the dollar is depressing, but crypto veteran Taylor Monahan pointed out that creditors were no doubt also taken advantage of by the estate's lawyers who billed piles to recover very little.
The bottom line: The Binance news wasn't a very big deal, and the Quadriga news was just the latest disappointment in years and years of frustration.