Axios Crypto
May 26, 2022
Wow, is it seriously Thursday? 😱 The focus today isn't exactly uplifting, but it is a head-scratcher. Lots of money and stressed-out founders. Plus: More stablecoin stuff and all-new Ethereum.
🚨 Situational awareness: Ethereum's coin, ether, really dropped hard yesterday as consensus that this really is a crypto bear seems to be setting in. As we discussed yesterday, look for investors to either retreat more to bitcoin or just get out of crypto.
This newsletter was edited by Pete Gannon and is 1,151 words, a 4.5-minute read.
🐻‍❄️ 1 big thing: Crypto startups brace for a long bear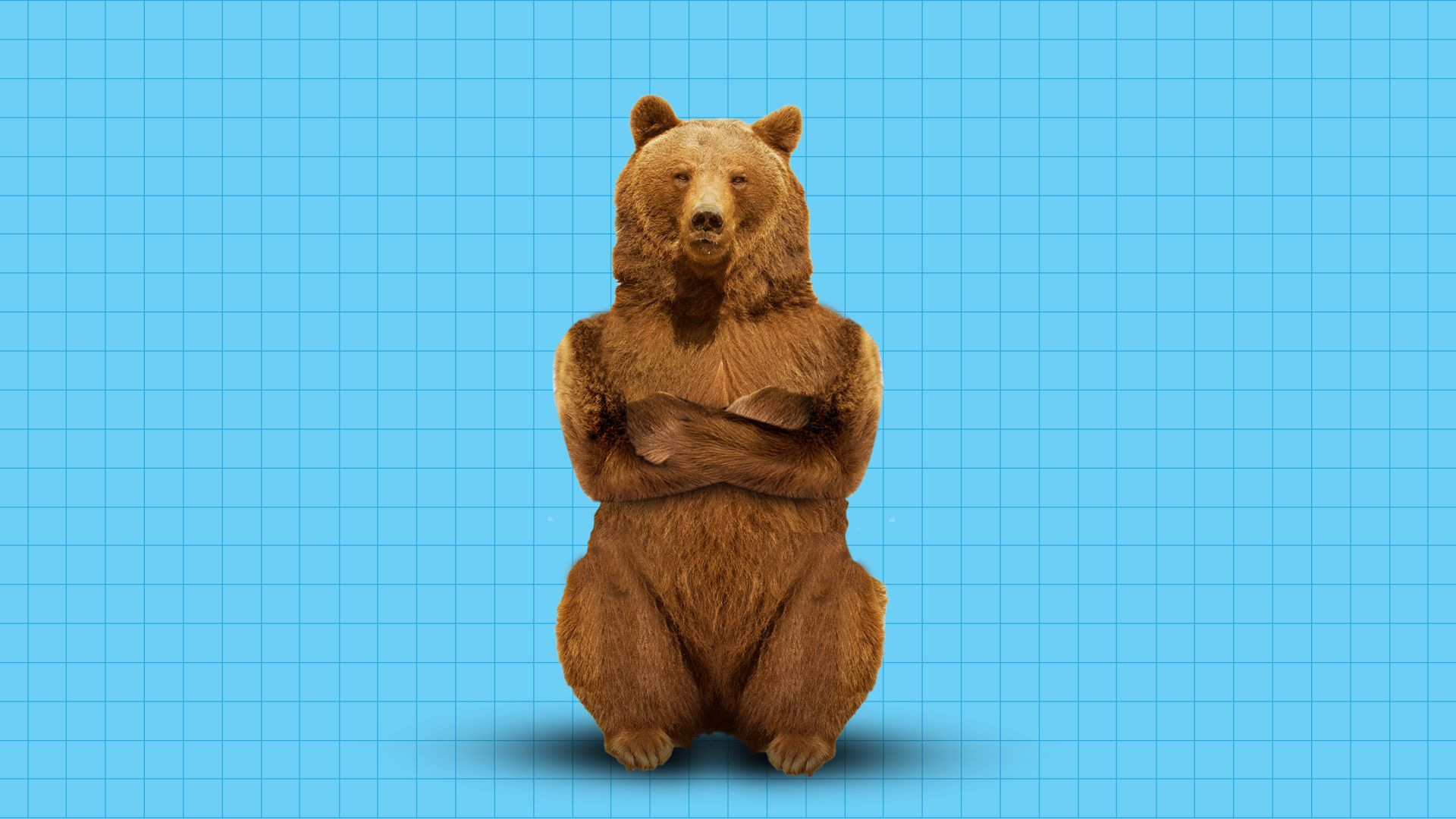 There is a weird disconnect out there in venture capital land, particularly in crypto. Gigantic funds get announced every week, and yet startups are being told to look for ways to extend their runways and tighten belts, Brady writes.
Beyond just crypto, Sequoia Capital (which has a lot of money set aside for crypto) has been advising firms that we're headed for a long downturn and that policymakers can't help this time.
Why it matters: Money in crypto VC funds is like a runway for the whole industry.
Let's imagine that this bear market is really different than the prior ones and reflects the fact that there's no product-market fit for crypto out there. Without VC funds, startups would just wind down.
With billions committed, though, VCs can simply fund more time for startups and pay to launch a zillion new ones. With enough money, eventually, something will stick.
Situational awareness: Despite their well-resourced benefactors, crypto startups tell Axios that they are expecting leaner days ahead.
🤑 Zooming out: Just this week we've learned about Andreessen Horowitz raising a new $4.5 billion crypto fund and Standard Crypto closing a $500 million fund.
The Axios Pro team has found nine different crypto funds with more than a billion dollars in them (two at a16z).
The number of billion-dollar funds going into 2018's bear market? Zero.
Which makes all of this weird 👇
What they're saying: Joseph Kelly, CEO of bitcoin-backed lender Unchained Capital, tells Axios that his firm isn't raising funds now, but, "I can confirm that firms I've spoken with have either a) seen bitcoin or crypto deals where term sheets have been pulled and b) are prioritizing existing portfolio companies for the time being over new deal flow."
Joseph DeLong is building Astaria, a decentralized finance lender that hasn't released a lot of details yet. He tells Axios that his team and his peers are all planning for a long bear.
Bears present opportunities, though. "Prolonged downtrends like this are always good for teams that are prepared to pick up new talent that is otherwise occupied during a bull market," he said.
Customers are more circumspect, Jessica Finger of the NFT launching company Mason, tells Axios, but investors still seem keen. "Anyone interested in the crypto space has continued (and will continue) to pour money in," she said.
The bottom line: "I can sometimes feel like I'm swimming in an ocean but dying for thirst," Leighton Cusack, creator of PoolTogether, the lottery where no one loses. (Really. It's a savings game.) "That is, I'm surrounded by lots of money, but it's hard to actually get money for a specific thing."
🤸‍♀️ 2. Charted: Stablecoin gap closing
The gap between the two leading stablecoins is closing.
Correlation is not causation, but... the timing lines up really well with the collapse of the terraUSD stablecoin, Brady writes.
Be smart: Neither of these projects had any direct exposure to Terra, but the incident seems to have caused crypto denizens to rethink their risk models.
In the weeds: The term "flippening" originally referred to the notion of bitcoin eventually becoming more widely used than the dollar. Then it started to refer to the day when ether would be more widely used than bitcoin.
Now, any time one cryptocurrency overtakes another it competes with, that's a flippening.
Way back on April 5, in our second-ever newsletter, we told you about terraUSD flippening the original decentralized stablecoin, dai. Well, dai's not dead, but guess what is?
🇲🇽 Situational awareness: Tether just launched a stablecoin pegged to the Mexican peso.
3. Sovereign money draws big critic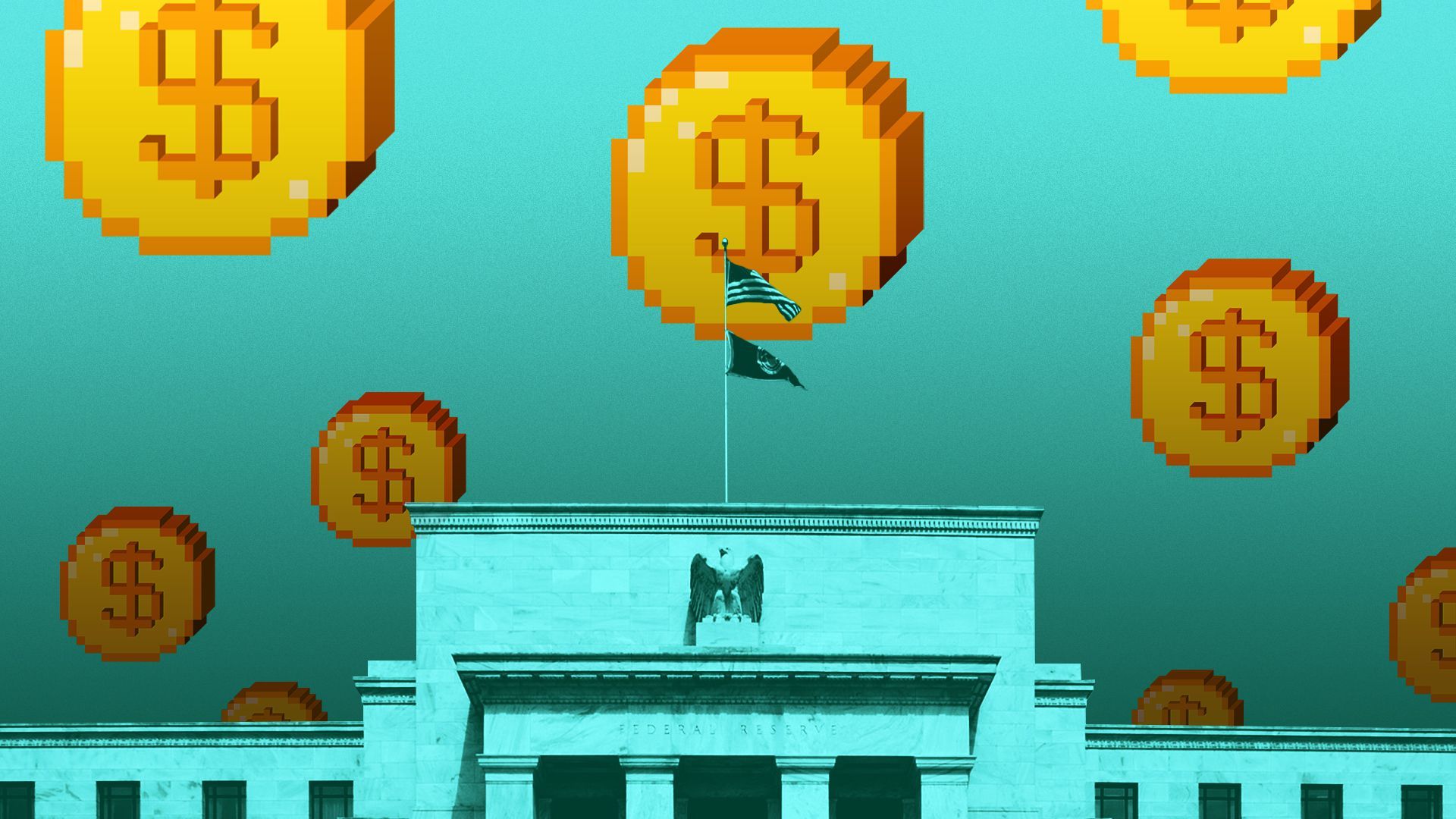 Circle Internet Financial, the issuer behind the second-largest stablecoin by market capitalization, is telling the Fed that its stablecoin is already doing what a potential central-bank-issued digital currency could do, Crystal writes.
(Subtext: So why bother?)
Driving the news: Circle's comment letter to the Fed was published just a day before Lael Brainard, vice chair of the Federal Reserve, is set to testify today to the House Committee on Financial Services addressing the potential benefits and risks to a U.S. CBDC.
Why it matters: Heightened regulatory scrutiny of stablecoins pits the private sector's answer to sovereign money against the U.S. central bank's.
Details: Brainard, in written testimony published ahead of the hearing, reflected on the potential risks of stablecoins and other cryptocurrency.
She referenced two stablecoins — the largest based on trading volume and the now infamous algorithmically backed one. She did not refer to Circle's.
"The recent turmoil in crypto financial markets makes clear that the actions we take now — whether on the regulatory framework or a digital dollar — should be robust to the future evolution of the financial system," she said.
Circle's main point against a U.S. central-bank-issued digital currency is that its stablecoin, USDC, is effectively already doing what a U.S. CBDC could offer.
USDC's reserves are held "in the care, custody and control of the U.S.-regulated banking system," according to Circle.
Circle also argues that CBDCs might "exacerbate existing problems with financial inclusion" because surveyed Americans showed a lack of confidence in government institutions as well as banks.
The firm warns that a CBDC could make the existing banking system less stable and that the U.S. government may not be "well-situated" to create one, citing U.S. Treasury Secretary Janet Yellen's speech in which she said a CBDC would likely require time measured in years, less months.
Read the rest of it here.
Flashback: Circle is in the middle of charting its listing debut on U.S. exchanges. The firm in February agreed to a new deal with a SPAC that puts its valuation at $9 billion, double the figure from when it first announced its reverse merger with Concord Acquisition in July 2021.
The USDC issuer's deadline to close its deal is Dec. 8.
The bottom line: The battle between stablecoins and CBDCs is heating up.
🚴‍♀️ 4. Catch up quick
💣 Ethereum's switch to the less energy-intensive proof-of-stake seems likely for August. (Decrypt)
🍴 Luna holders voted to support Terra founder Do Kwon's vision for a fork of the original Terra blockchain (which will become Terra Classic) without a stablecoin. (The Block)
🔄 FTX took part in a roundtable at the CFTC to discuss allowing it to operate in the U.S. as it does everywhere else. (The Block)
Top coins
🥹 5. Culture hash: Brace yourselves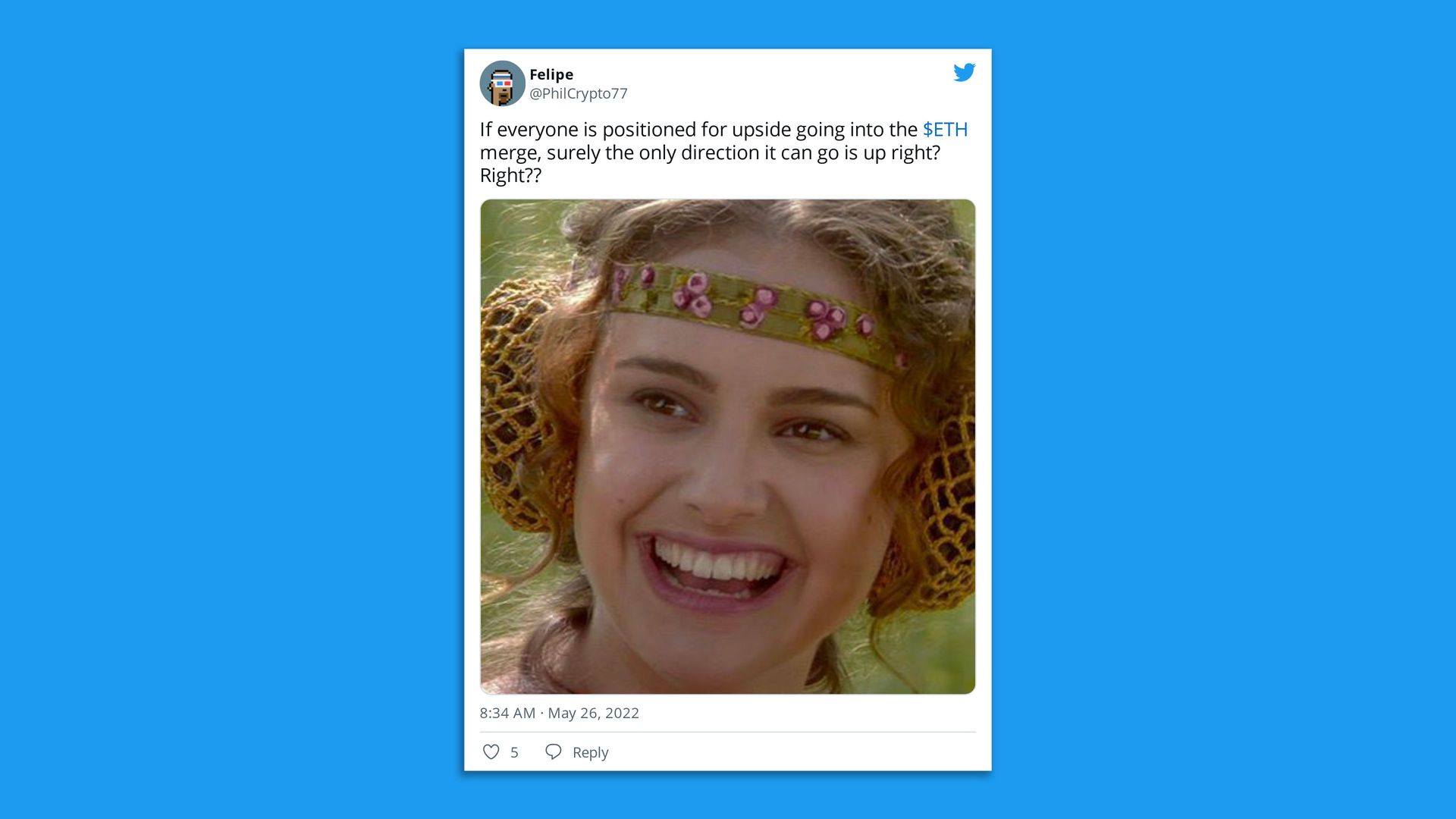 Ethereum's pivot from proof-of-work (which requires a lot of electricity) to proof-of-stake (which does not) looks very likely to happen this year (finally, after many delays).
Why it matters: This is a massive change. It's sort of like every car in the U.S. got their steering wheels removed one day and replaced with PlayStation-style joysticks, Brady writes.
Everything is going to go fine, right?
The tweet above (whose screenshot is missing the image of Natalie Portman looking concerned from the classic "Attack of the Clones" meme) speaks to the fact that everyone is only talking about how great the switch will be.
The bottom line: No one really knows what will happen.
It's (basically) the weekend! Don't let all these red charts make you blue! —B & C