Axios Communicators
November 10, 2022
Welcome back!
Comms pros across all industries are being affected by layoffs. Axios Communicators is dedicated to building community around the content. Reply directly if you're looking for your next opportunity and we'll try to help.
Today's newsletter is 1,339 words, a 5-minute read.
1 big thing: Twitter ditches comms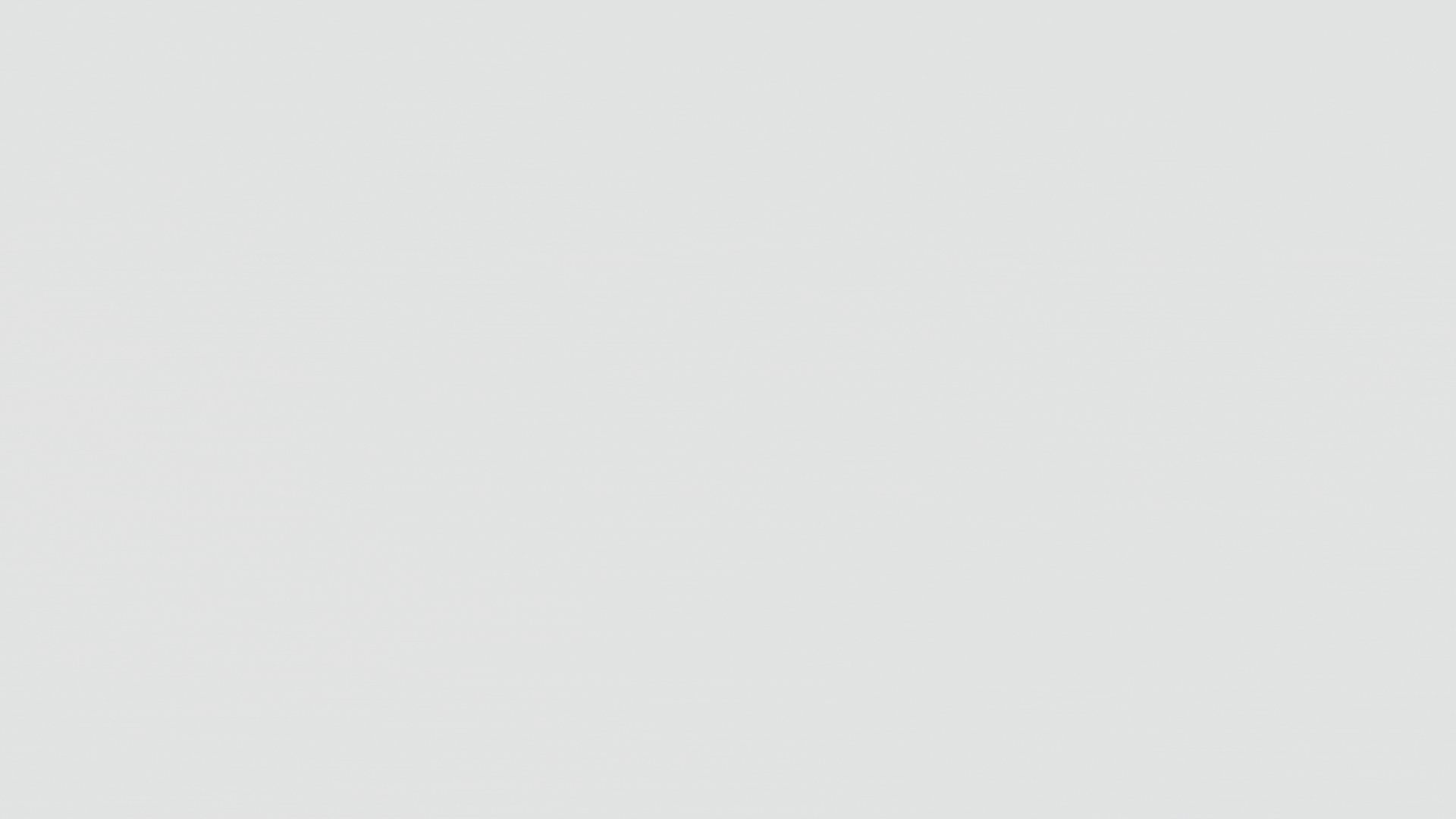 Twitter's new CEO Elon Musk doesn't value communications, and it shows.
Why it matters: Communication teams are the protectors of brand reputation, strategic partners in executing business strategy and the command center for corporate culture. Twitter is now vulnerable in all three of these key areas.
State of play: Since taking over, Musk has upended corporate culture, jeopardized brand reputation (and his own, by tweeting misinformation, an image of a Nazi soldier and lewd jokes) and hurt business prospects as advertisers flee.
Late Wednesday night, Musk emailed Twitter employees for the first time and announced a full return to office. He also eliminated previously established mental health days.
Driving the news: Sources tell Axios that Musk has axed all but one member of the Twitter communications team and plans to deprioritize the communications function, as he's done at Tesla and SpaceX.
Zoom in: Tesla famously shuttered its comms operation in 2020. Since then, the auto company has been bogged down by lawsuits and regulatory challenges, shares have dropped and Musk's return-to-work rollout was botched.
"Ignoring the press, and thus the public and customers, which is basically what is happening without a PR department, is only adding to something that most Tesla owners would probably agree was already one of Tesla's biggest weaknesses: communication," writes Electrek editor-in-chief Fred Lambert.
What they're saying: This strategy is even more disastrous at a company like Twitter, says Sean Garrett — who was Twitter's first communications hire back in 2009 and now serves as the founder of Mixing Board.
"Twitter is in the communications business, and the DNA of Twitter is open, transparent dialogue," he told Axios. "Even in the early days, there was no way to possibly run Twitter with less than five people in comms, and I can't imagine how they would manage today's current landscape without significant support."
Until a few days ago, the Twitter comms department was a proactive, global team embedded in product, trust and safety and public policy.
Zoom out: Without a robust comms shop crafting a clear message, confusion is spreading among all stakeholders.
Employees are in the dark, advertisers are uneasy and pulling out by the day, and users are perplexed by the subscription model, platform guidelines and safety measures.
"Twitter talked for years about losing public trust. No team worked harder to earn public trust by living and breathing Twitter's values of transparency, integrity and authenticity," wrote ex-employee Lauren Myers-Cavanagh.
💭 Our thought bubble: The current business and communication strategy is at the whim of Musk, and it's likely to cause more uncertainty and whiplash.
As one source put it, Musk's Twitter is like the corporate version of Trump's White House — every day there's a new shock. However, unlike the Trump presidency, Twitter users and advertisers can easily walk away.
2. Chart: Twitter's "no comment"
Between the lines: Musk's takeover has led to an uptick in critical news coverage, but no team is there to field media inquiries, shape the narrative or protect the brand.
3. How Musk's layoff actions compare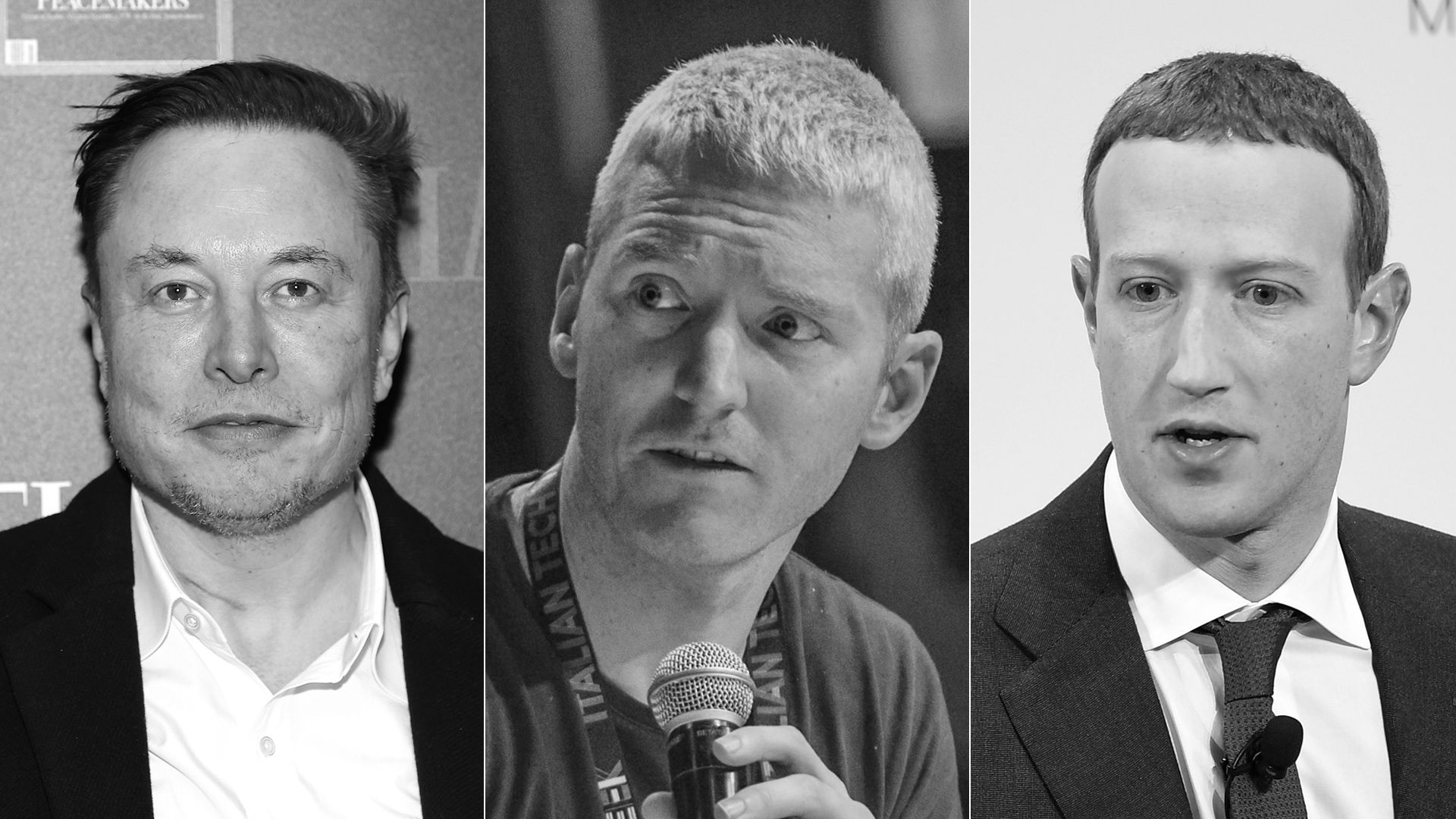 How a company communicates during tough times says everything about its culture and leadership — and over the past week, we've seen very different approaches.
State of play: Meta laid off 11,000 employees (13% of its workforce), Stripe released about 14% and Twitter cut 50% of its employee base, while Salesforce and Lyft let go hundreds of workers.
Zoom in: In notes to employees, Meta CEO Mark Zuckerberg and Stripe CEO Patrick Collison took ownership of their company's missteps, were candid about the challenges ahead and shared exit package details for those affected by the cuts.
Both notes included the line, "There is no good way to do a layoff, but ..." and then followed up with tones of sympathy and support.
Twitter took the opposite approach. Since taking over, Musk shut down the internal chain of communication.
"Zero email. Zero slack. Zero internal comms from any of the new regime," one source told Axios.
An email — signed by "Twitter" — notifying staff about impending layoffs was the first communication employees received from new leadership.
A few hours later, dozens of staffers tweeted they had lost access to work email and Slack channels before receiving an official layoff notice.
That prompted an outpouring of laments by current and former employees on the platform they had built — and by Friday, a class-action lawsuit was filed against Twitter for conducting mass layoffs without giving 60 days' notice.
Flash forward: Twitter has asked some former employees to come back to help maintain service and launch new features, Bloomberg reports.
Zoom out: Twitter isn't the first to conduct layoffs in a cruel way.
Better.com received major backlash after CEO Vishal Garg cut 900 employees during a Zoom meeting last year — and Better's top communication staffers resigned because of it.
The bottom line: You know there's a problem when your communications style makes Zuckerberg look good.
The way a company conducts layoffs can shatter your employer brand and erode employee trust, says Johnny C. Taylor Jr., chief executive officer of the Society for Human Resource Management (SHRM). 
"Twitter has gone through a fair share of crazy times, and employees have always jumped on the grenades to keep the site alive," Garrett said. "So, while I worry about the people who have left, I also think about the employees who are still there. Are they going to jump on the grenade now? "
"We have the phrase at SHRM: red carpet in, red carpet out," Taylor said. "If you aren't known for that, then it can directly impact your ability to attract and retain talent in the future." 
Or in Twitter's case, advertisers.
Go deeper: How to communicate layoffs with dignity.
4. Chart: Emoji shelf life
Roughly 1-in-5 tweets include an emoji. While the emoji du jour is ever-changing, ❤️ and 😂 remain consistently popular across Twitter, Axios visual journalist Erin Davis found.
Zoom in: Although emoji use can cause misreadings in the workplace, they have been widely embraced by younger communicators.
According to Discord's Emoji Effect report, a majority of Gen Zers and millennials say they can be more honest and better express their emotions through emojis.
Go deeper: The emoji divide.
5. Communicator Spotlight: J.C. Lapierre of PwC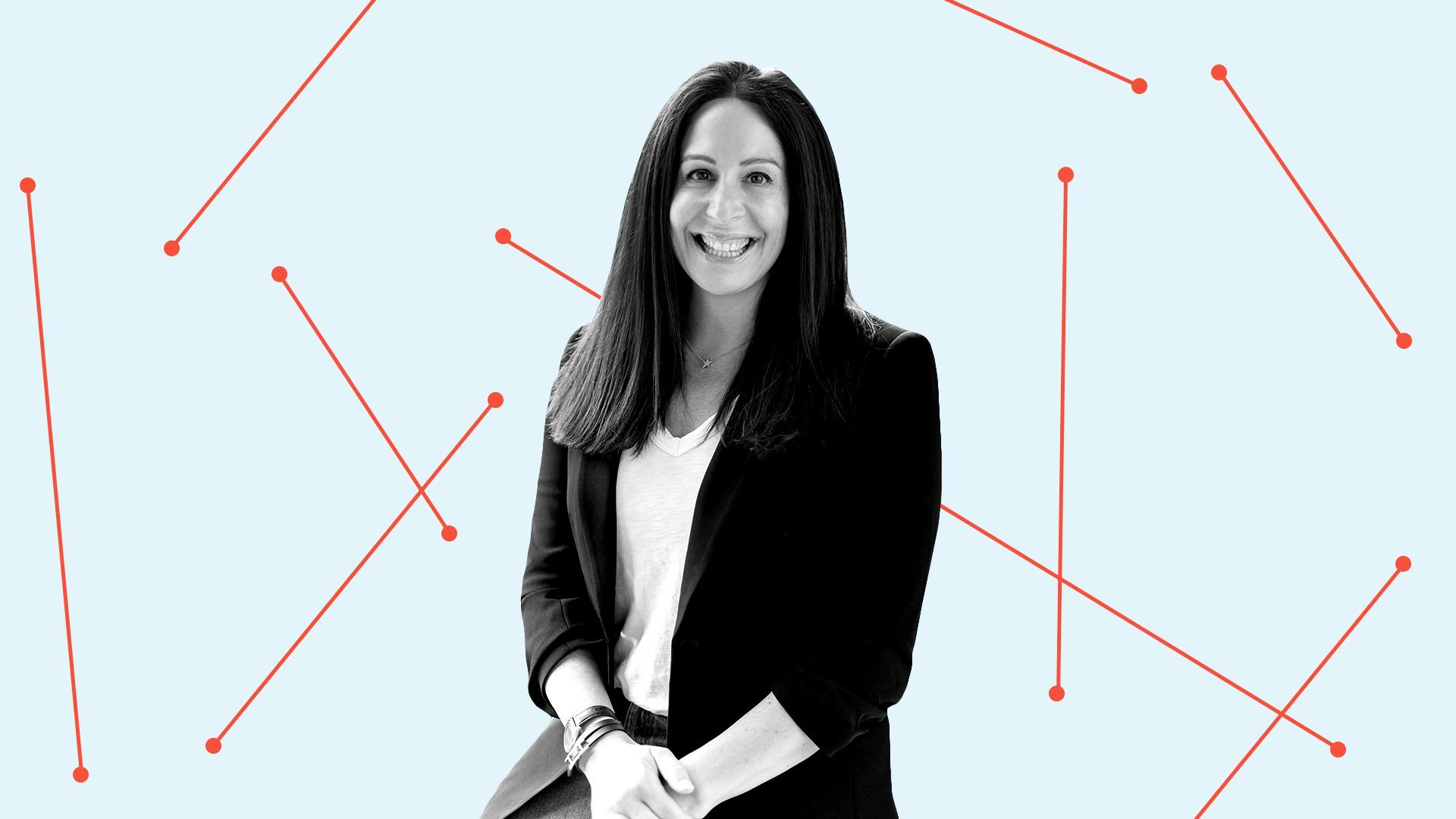 J.C. Lapierre is chief strategy and communications officer at PricewaterhouseCoopers (PwC), but her title should really be chief dot connector, she tells Axios.
Why it matters: In her role at PwC, Lapierre talks to business leaders all day, and "more and more CEOs are starting to recognize that communicators are the most strategic asset they need sitting by their side," she says.
📍How she got here: Lapierre has spent more than 25 years at PwC and served in many capacities across risk assurance, human capital, client services, marketing and sales. The role of CCO is technically her first foray into communications.
🏗 How it's structured: She oversees a team of more than 700 across all of the functions that communicate with stakeholders — including internal, external, change management, creative, brand, marketing and sales enablement.
"We've pulled marketing and communications together into one organization ... and ultimately, we drive the strategic agenda because we own every channel. It's an awesome responsibility."
🌅 Morning ritual: Lapierre enjoys uninterrupted, heads-down time from 5-7:30am.
"It's a little bit of personal and professional. That's when I catch up on emails or I'll send out birthday notes and text friends."
📺 De-stress routine: Lapierre is solving companies' toughest problems by day, and binging Bravo at night. "Below Deck" is a current favorite.
📱Most used app: Texting and audio apps — on which she listens to everything from Lady Gaga to the "Armchair Expert" podcast.
📈 Trend spot: Lapierre is watching the rise of internal communications and transforming the way PwC engages with its roughly 65,000 U.S. employees.
"We are on a journey to deliver personalized communications — whether it's to our clients or to our people — using real data to determine user preferences. We want to deliver the right information at the right time to help accelerate our strategy."
🧠 Advice: "Take it all in and learn, ask questions and know your voice matters."
6. 🧵Parting words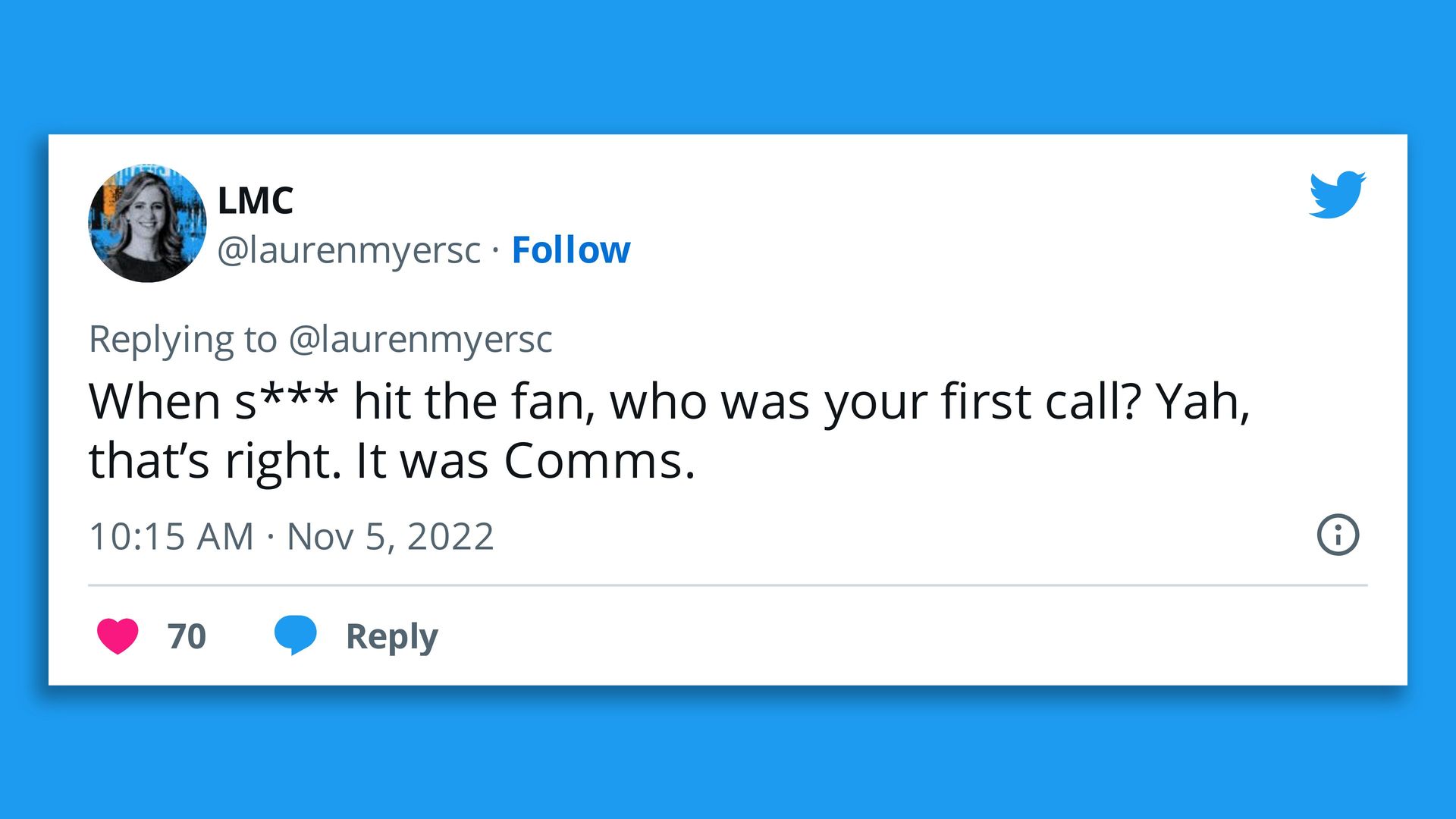 Worthy of your time: Myers-Cavanagh's thread on why axing communications is shortsighted.
Thanks (as always!) to you for reading and to editor Nicholas Johnston and copy editor Kathie Bozanich.