Axios Columbus
February 02, 2023
Happy Thursday! OK, campers, rise and shine — and don't forget your booties because it's cold out there today.
🌤 Today's weather: Mostly sunny! High of 38.
🎵 Sounds like: "I Got You Babe" by Sonny & Cher.
Today's newsletter is 879 words — a 3.5-minute read.
1 big thing: Our Green Book history
When Black travelers visited Columbus in the mid-20th century, the Green Book showed them places where they'd be most welcome in what was still a heavily segregated society.
One was the Macon Hotel, where legends Ella Fitzgerald and Count Basie once played in its popular jazz club.
State of play: The Green Book travel guides, which have received renewed attention thanks to the 2019 Best Picture Oscar winner, ceased publication many decades ago.
But the Macon and several other listed sites are still standing in Columbus' King-Lincoln Bronzeville neighborhood, a prominent commercial area for Black-owned businesses.
Why it matters: The sites are visible reminders that America's segregated past was not so long ago.
Flashback: Ohio enacted a public accommodations law in 1884 prohibiting public discrimination in places like stores and restaurants.
Driving the news: Axios Columbus reviewed the property records as well as nearly two dozen Green Book editions printed between 1938-1967 to track the dozens of entries for local restaurants, shops, clubs and hotels.
Most buildings listed were later demolished, against residents' wishes, via neighborhood development and highway construction.
We found eight that have survived.
Zoom in: The Hotel St. Clair, one example, opened in the 1940s to house Black guests forbidden from staying at whites-only hotels.
The building (now an apartment complex) still stands, as do a pair of former "tourist homes" on Monroe Avenue that are now private residences.
Three other locations on Long Street and Mount Vernon Avenue that were beauty shops and a tavern now sit vacant.
And a building once home to Jeters Restaurant was restored by the Columbus Urban League and now serves the community as the Huntington Empowerment Center.
Meanwhile, the derelict Macon Hotel, considered by preservation advocates to be an "endangered building," may also be getting a makeover.
The city's Historic Resources Commission has greenlighted plans to conduct significant repair work in the hopes of someday reopening a hotel, bar and restaurant.
The bottom line: These rehab projects offer hope that other Green Book sites can also be restored to their former glory.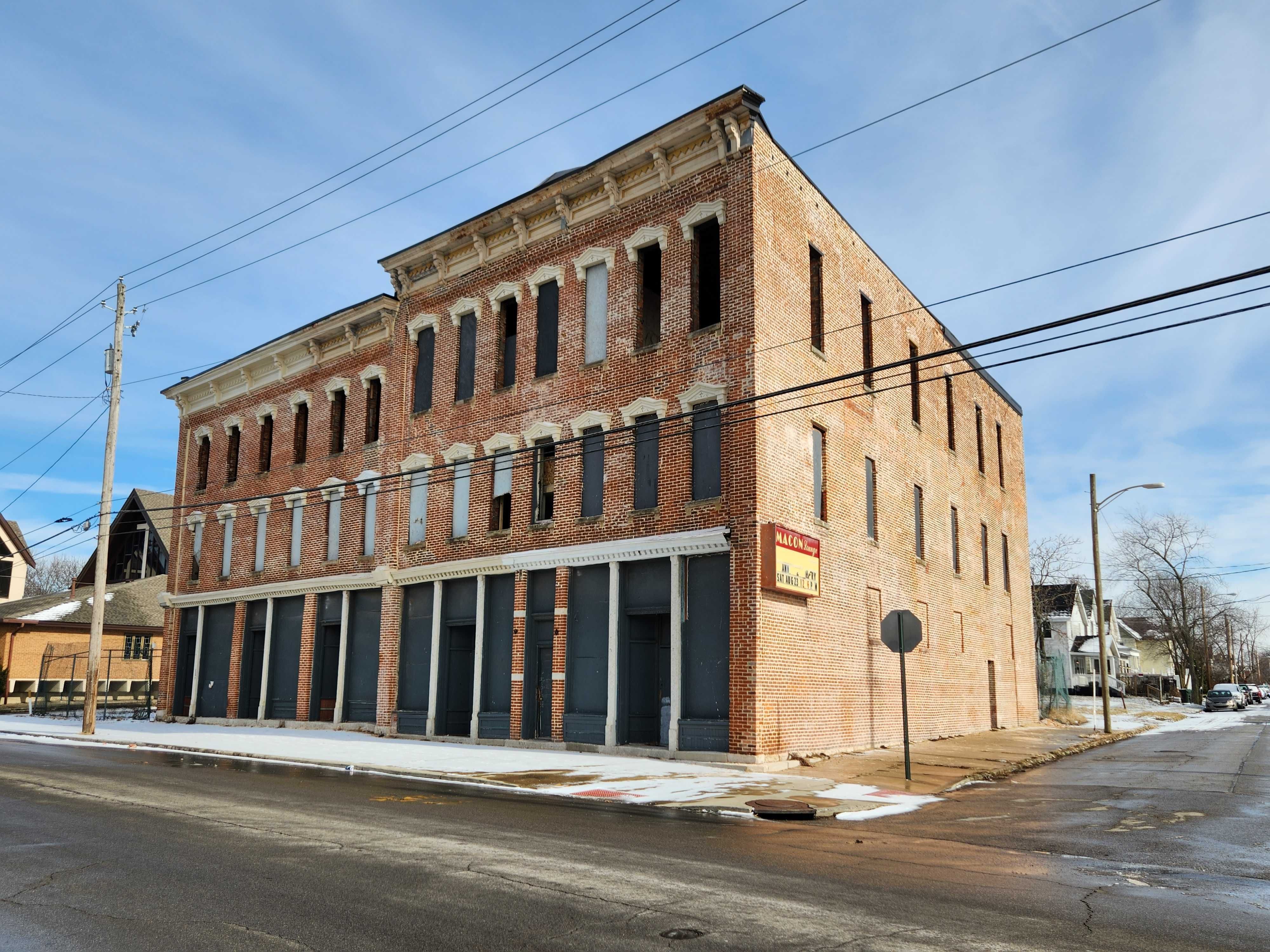 2. Hospital ➡️ Hotel ➡️ Apartments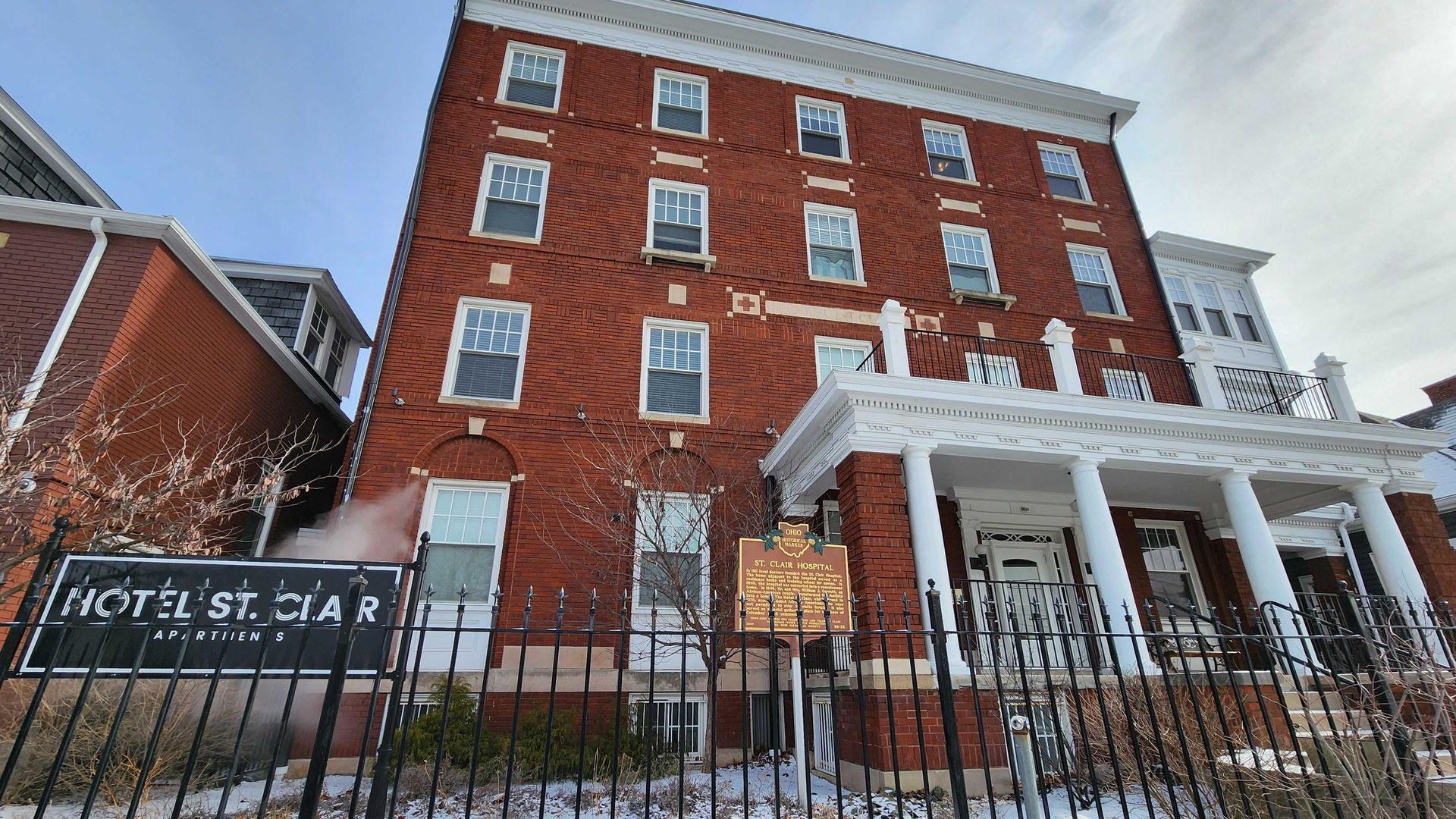 The latest entry in our ongoing historical marker tour sticks with the Green Book theme.
Years before it was listed in the guides, the Hotel St. Clair opened in 1911, not as a place for travelers — but as a hospital.
The marker: St. Clair Hospital at 346 St. Clair Ave., Columbus.
Flashback: The stately brick building spent decades as a hospital and training school, then a few more years as a convalescent home, before turning into a hotel catering to Black guests.
The 1955 edition of the Green Book features the hotel prominently, noting its air-conditioned rooms, elevators and valet service.
"Nothing Old Fashioned But Our Hospitality," the listing reads.
The intrigue: The hotel frequently hosted famous actors and musicians performing at the nearby Pythian, Empress and Ogden Theaters, along with the Macon jazz club.
The present-day building's website claims Ella Fitzgerald slept there, Duke Ellington played piano in the lounge and Sammy Davis Jr. "held court" in the foyer.
Eventually, the hotel closed, in 1976, and the property sat vacant until it was converted into apartments, around the turn of the century.
2️⃣7️⃣ down, 96 to go.
3. Nutshells: Buck-eye object!
🏛 Larry Householder's defense team is accusing the judge presiding over his corruption trial of political bias — a potential ploy for a future appeal. (Ohio Capital Journal)
❤️ Cleveland Guardians fans remember the legacy of John Adams, known for banging a bass drum in the bleachers for many decades. He died this week at 71. (Ideastream Public Media)
🎵 Limp Bizkit, Pantera and Slipknot headline this July's Inkcarceration Festival at the Ohio State Reformatory. Tickets are already on sale, $90 daily or $220 for a weekend pass.
🩺 Republican U.S. Rep. Brad Wenstrup, a physician from Hillsboro, is frustrated with the American Medical Association over its positions on abortion access and transgender medical care. (Axios)
Quote du jour
"It looks like all you care about are woke issues."
— Rep. Wenstrup
4. Where student loan forgiveness stands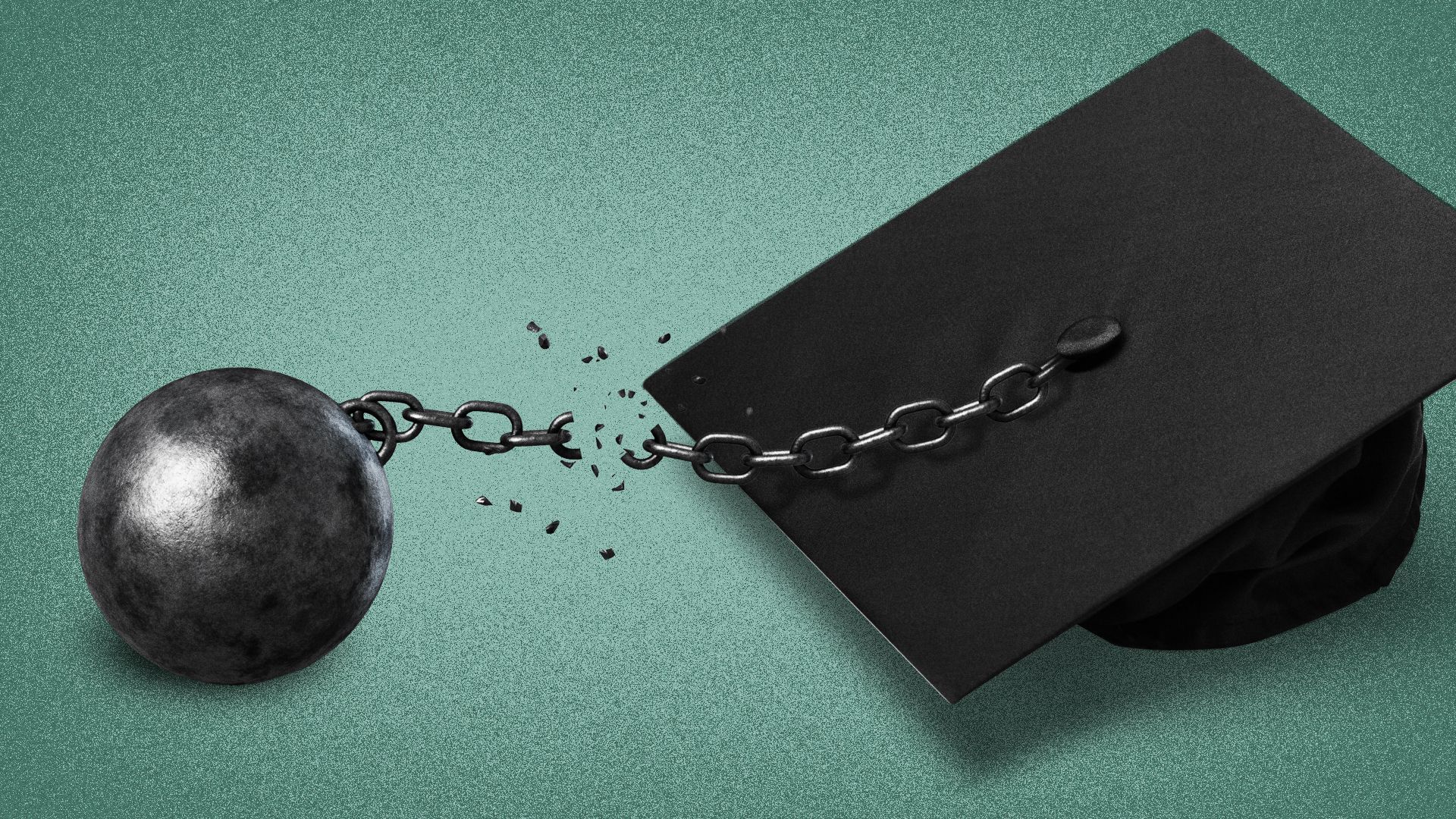 Anxiously awaiting the fate of President Biden's student loan forgiveness plan? You're not alone.
By the numbers: Over 700,000 Ohioans have been approved for debt relief, the White House announced this week.
That's about 6% of our state's population.
It's also about 4% of the over 16 million Americans nationwide whose applications were approved.
What's next: The program is on hold, even for those who have been approved, while the Supreme Court considers a legal challenge brought by a coalition of GOP-led states, Axios' Shawna Chen reports.
Millions of borrowers — including Alissa and Tyler — remain in limbo until the court's ruling, which is expected this summer.
Oral arguments begin Feb. 28.
A new career is waiting for you
5. ⚽ Almost Crew time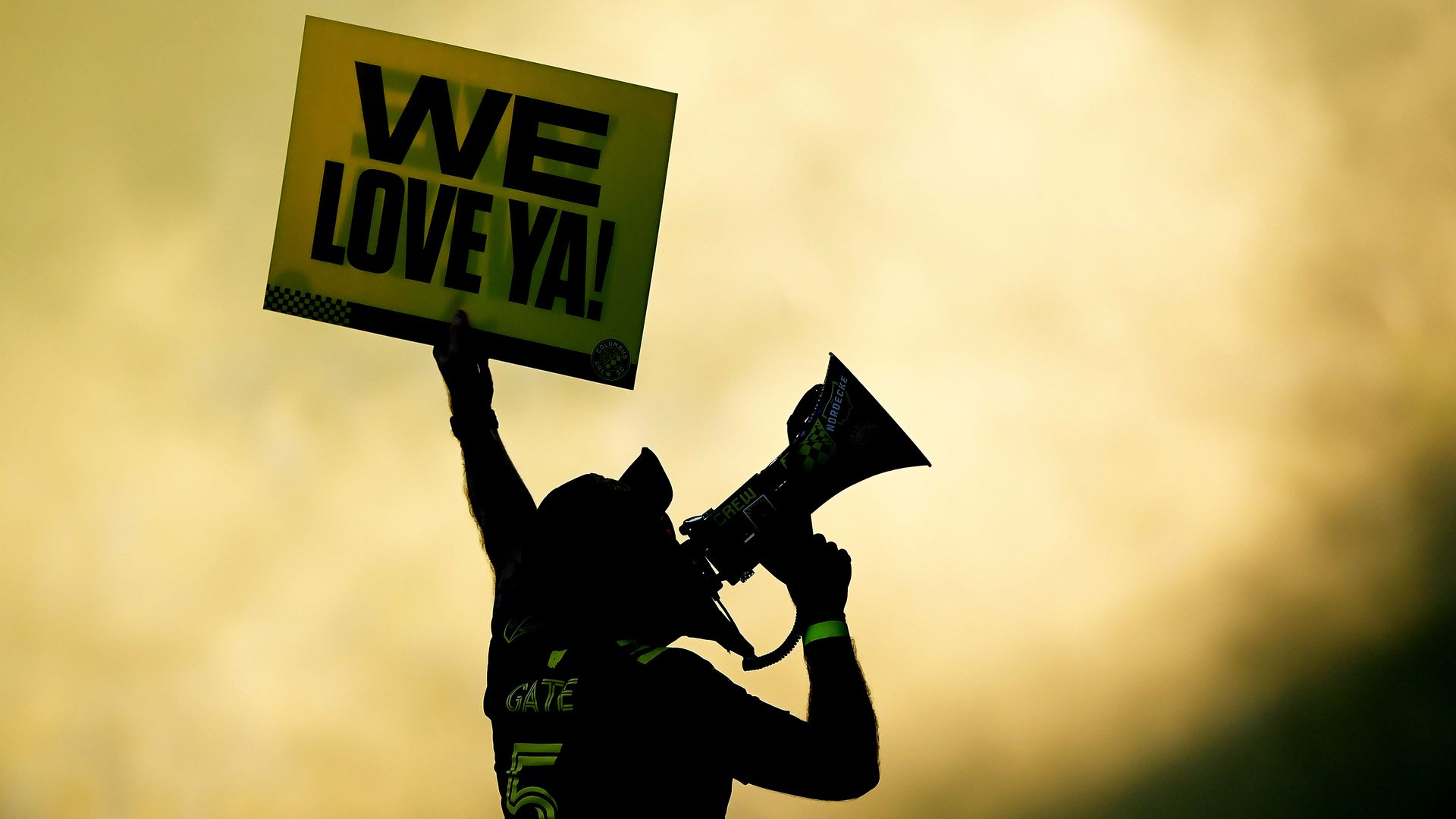 Believe it or not, Major League Soccer is almost upon us, and the Columbus Crew are already gearing up for the 2023 season.
The team plays a closed-door scrimmage at Historic Crew Stadium on Saturday, before heading south to train in a warmer climate.
State of play: New head coach Wilfried Nancy will try to lead the Crew to their first playoff berth since winning the championship in 2020.
When it comes to the Buckeye Chuck vs. Punxsutawney Phil debate, readers Della P. and Loreen R. are watching Chuck's forecast today, while David D. is on Team Phil, saying, "Chuck is a wannabe." Ouch.
Our picks:
😎 Tyler just realized MLB opening day is next month.
🍪 Alissa is looking for Girl Scout cookies. If you're selling, hit reply.
This newsletter was edited by Everett Cook and copy edited by Kate Sommers-Dawes and Keely Bastow.