January 27, 2022
👋 Hello, Thursday! Read to the end for the answer to yesterday's photo quiz.
❄️ Today's weather: You might need that snow shovel. High of 30.
⚽ Situational awareness: The U.S. men's national soccer team takes on El Salvador tonight in a World Cup qualifier at Lower.com Field. Tickets are still available.
Today's newsletter is 880 words — a 3.5-minute read.
1 big thing: Ohio's mortgage denial problem
Ohio's Black mortgage applicants are denied at almost twice the rate of white applicants, according to a new Zillow analysis of Home Mortgage Disclosure Act data.
Why it matters: Homeownership is a key way to build generational wealth, but non-white Americans have historically been shut out of this opportunity due to systemic racism and segregation policies.
By the numbers: More than 20% of Black mortgage applicants in Ohio were denied in 2020, compared to 11.7% of white applicants.
Zoom in: The most common reason for Black applicant denials was poor credit history, Zillow reports.
Pandemic-related setbacks have disproportionately impacted communities of color, and as a result have made gaps in credit access harder to close.
Hispanic (15.3%) and American Indian or Alaska Native Ohioans (23.2%) are also denied at higher rates.
Zoom out: Nationwide, 19.8% of Black applicants were denied, the highest among all races, compared to 10.7% of white applicants.
What they're saying: The pandemic's disproportionate impact is "making the journey to equity even slower than it already was," Zillow market analyst Nicole Bachaud writes in the report.
Black home ownership overall has dipped in recent years, Zillow found, and so have the values of Black-owned homes.
Between the lines: Home prices continue to soar across the central Ohio region, which is narrowing the affordability gap for many potential buyers and creating additional barriers.
Go deeper: Race and housing in America.
2. 🏠 Renting beats buying in Franklin County
Mortgage lending disparities can seriously impact residents in areas where buying a home is actually more affordable than renting in the long run.
That's true for the majority of counties in Ohio, but not Franklin County, according to a new report by real estate database company ATTOM.
Context: Central Ohio follows a nationwide trend in which renting is cheaper in major metropolitan areas but more expensive in rural areas and suburbs where property prices are lower, Axios' Jennifer A. Kingson reports.
Monthly rent for a three-bedroom apartment is $1,372, per ATTOM.
By the numbers: In most areas of the U.S., home prices are rising faster than wages.
The Columbus area's median home sale price increased 12% between 2020 and 2021, from $232,000 to $260,000, according to Columbus Realtors.
In five years, the median price has risen 43%.
The bottom line: Everyone's financial situation is different, market conditions constantly change and all real estate is local, so studies like these are more of an interesting reference point than a true buyer's guide.
🏘️ We have a special real estate newsletter coming Saturday with more insights into the local market. Stay tuned!
3. Senate race heating up
Republican Senate candidates battling for Ohio voters' support and Donald Trump's endorsement share one thing in common, Axios' Sophia Cai writes: opposing Gov. Mike DeWine's handling of the pandemic.
Why it matters: The continued intra-party attacks show how opposition to COVID-19 mitigation policies remains a powerful political force, even as DeWine has taken a more hands-off approach in '21 and '22.
State of play: More than a dozen Republican and Democratic candidates are vying to succeed retiring Sen. Rob Portman.
Early front-runner Josh Mandel, the former state treasurer, was the first to make attacking DeWine a regular part of his stump speech.
Other Republicans in the crowded primary field have joined in, even those who have supported DeWine in the past.
4. Nutshells: Nut your average news roundup
BrewDog founder James Watt is accused of inappropriate behavior and abuse of power in the workplace by more than 15 former staff members. (BBC)
🗳️ Ohio Senate candidates Morgan Harper and Josh Mandel are debating at 7pm tonight at North Columbus Baptist Church. (Matter News)
⚖️ The corruption trial involving former House Speaker Larry Householder may not begin until this fall, more than two years after his July 2020 arrest. (The Columbus Dispatch)
☕ Westerville's Java Central will soon bring its coffee to Zaftig Brewing in Italian Village during daytime hours. (Columbus Underground)
At least three dozen Ohio nursing homes violated protocols meant to control deadly outbreaks at the onset of the pandemic. (Ohio Capital Journal)
5. Holocaust Remembrance Day
Today is International Holocaust Remembrance Day, a commemoration meant to honor the millions of victims while promoting educational programs about the atrocities committed during World War II.
Worthy of your time: The Ohio Holocaust and Liberators Memorial has stood on the Ohio Statehouse grounds since 2014.
The public display features the story of one man's experiences and escape from the Auschwitz concentration camp.
Of note: In 2020, Ohio lawmakers sought to create a Holocaust and Genocide Memorial and Education office to organize education efforts around the state.
The bill passed unanimously in the Ohio Senate, but received no consideration in the House of Representatives before the two-year legislative term ended.
It has not been introduced again this term.
6. 🖍️ Photo quiz: Drawing a blank?
Yesterday we invited readers to guess the whereabouts of this colorful park bench. This was a tough one!
✅ A handful of you correctly identified its location at Friendship Park in Gahanna, not far from a playground, community garden and picnic shelter.
The eclectic park also offers a vibrant mural, metal buckeye tree sculpture, tennis and basketball courts and a scenic trail through the woods near Rocky Fork Creek.
Our take: Even on a chilly day, it's worth stopping by for a visit.
👏 Congrats to Abby Finn Barnes for answering correctly and being randomly chosen to win an Axios drawstring bag!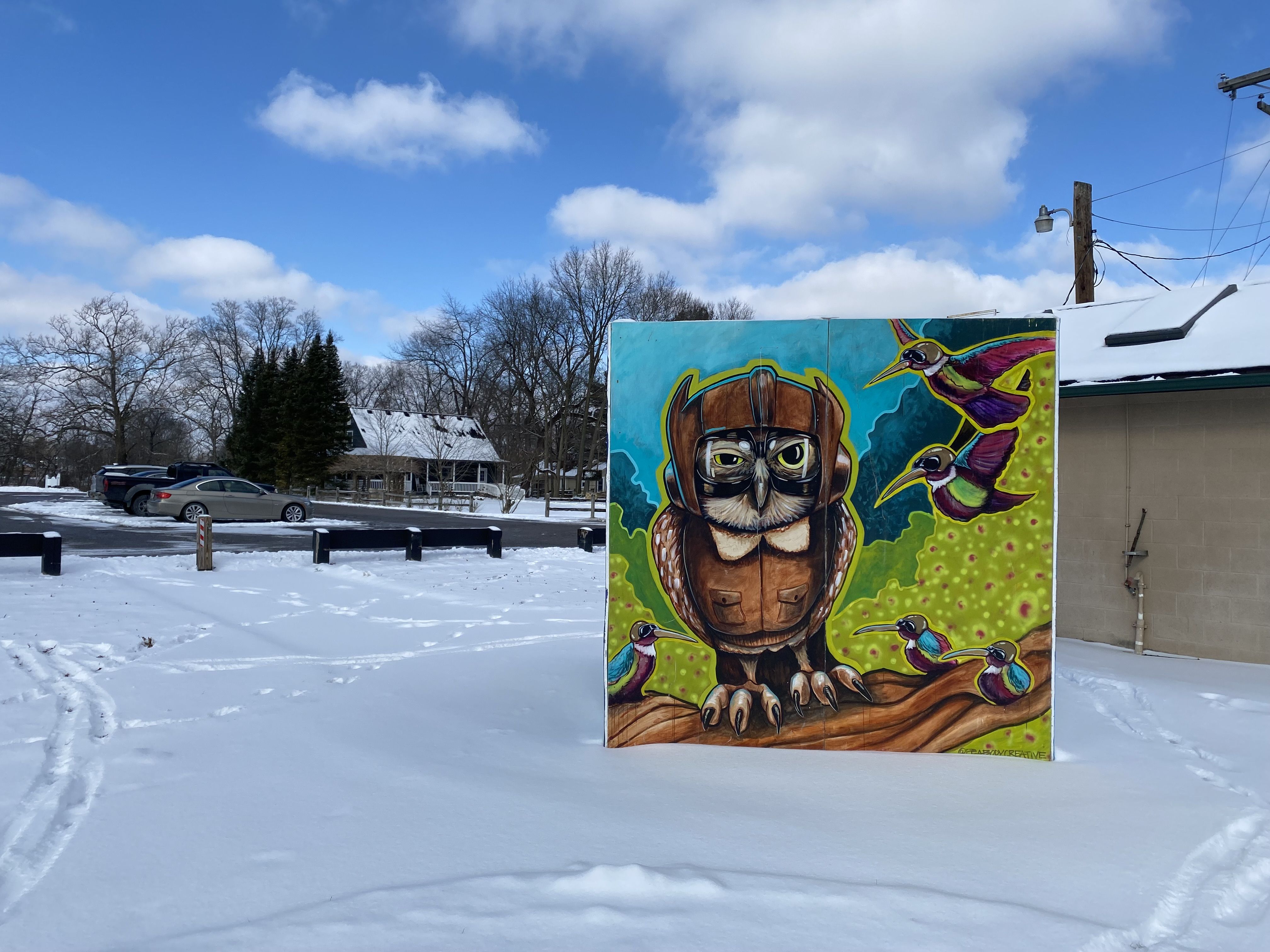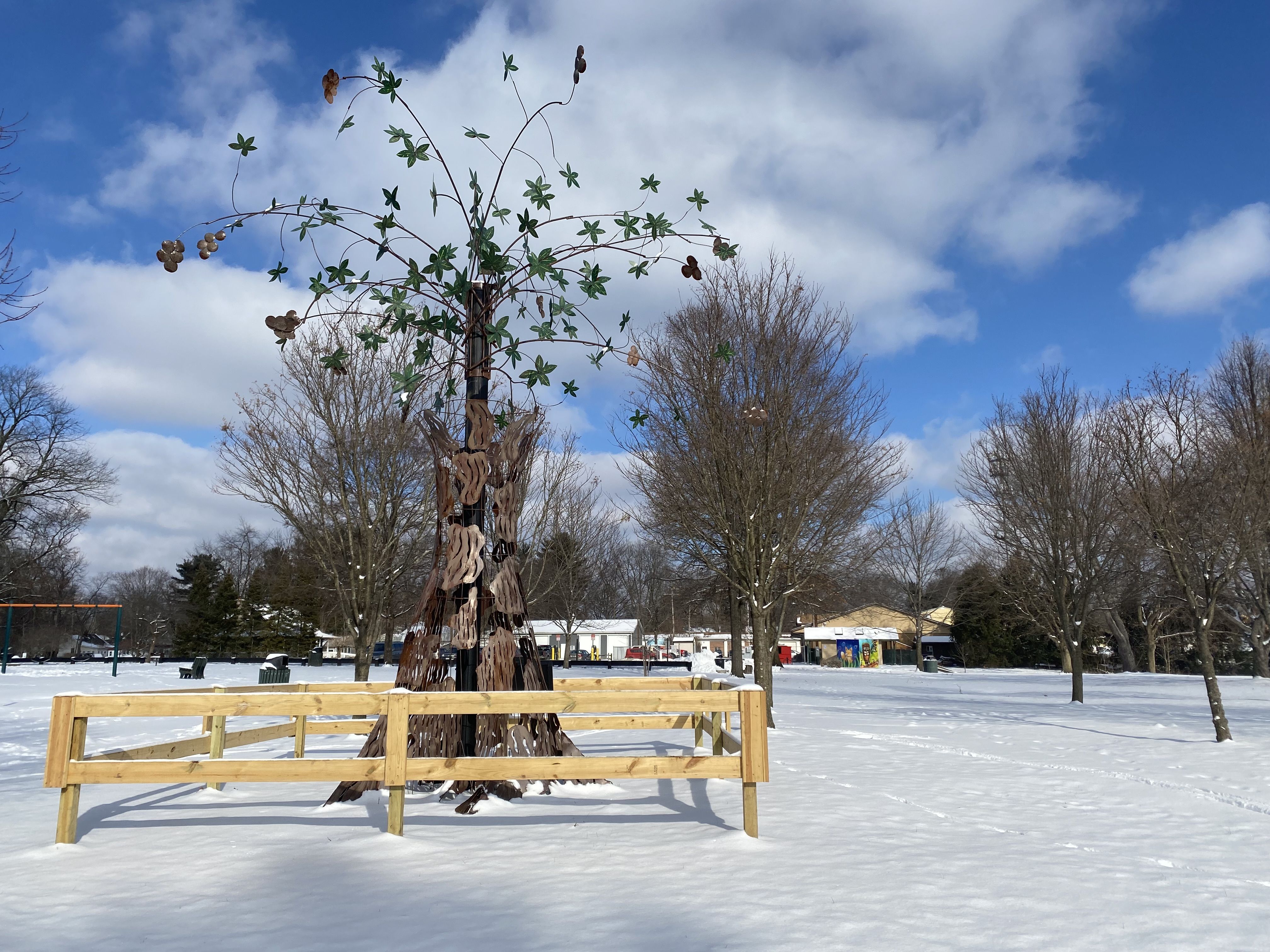 🎢Tyler renewed his Cedar Fair amusement park platinum pass and wants it to get warm again already.
🎻 Alissa is heading to Tennessee for a long weekend. The main event: an epic orchestra dedicated to her favorite video game.