May 17, 2022
Happy Tuesday! Everybody got their spring cleaning done?
😎 Today's weather: Another beautiful, sunny day with a high of 75.
Situational awareness: John Clarke Jr., the man behind last year's Issue 7 clean energy ballot item, was convicted yesterday of falsifying a campaign finance report, per the Columbus Dispatch.
Today's newsletter is 921 words — a 3.5-minute read.
1 big thing: A pandemic "what if"
Vaccinations could have prevented more than half of Ohio's nearly 30,000 COVID-19 deaths between January 2021 and last month, per a new analysis by Brown University School of Public Health.
Driving the news: Researchers created a model illustrating what could have happened if 100% of adult Americans got fully vaccinated and boosted after the shots became available.
The study used real-world data from the CDC and the New York Times while considering variables such as supply and vaccine effectiveness over time.
The big picture: Nationwide, COVID vaccines could have prevented roughly 319,000 deaths, nearly half of those occurring during the study's time frame, Axios' Tina Reed reports.
The news comes as the country's overall recorded death toll hit 1 million people on Monday, per the AP. That includes 38,550 in Ohio.
Zoom in: Ohio, with its 15,875 vaccine-preventable deaths, ranks No. 9 overall per 1 million people when compared to other states.
With just 68% of adults fully vaccinated against the virus and 56% of that group having received a booster, Ohio's vaccination rate is below average nationally.
What they're saying: "The vaccine rollout has been both a remarkable success and a remarkable failure," Brown's Stefanie Friedhoff, one of the analysis' authors, told NPR.
While the U.S. was able to get a large vaccine supply rolled out quickly, the shots are useless if they're not going into arms.
The bottom line: As COVID immunity wanes over time and the virus continues to mutate, vaccines and boosters remain our best tools for fighting off new waves of infections.
💭 Our thought bubble: It's not too late to protect yourself and your loved ones. Find a COVID-19 vaccine near you.
2. Will Ohio catch the train?
👋 Tyler here. Our Axios company retreat doesn't start until tomorrow, but I got to Washington, D.C., a few days early strictly for professional reasons.
By that I mean to watch baseball, eat a dozen panini and generally solve the nation's problems.
🚄 It only took a few hours to prove my axiom about being an Ohio traveler: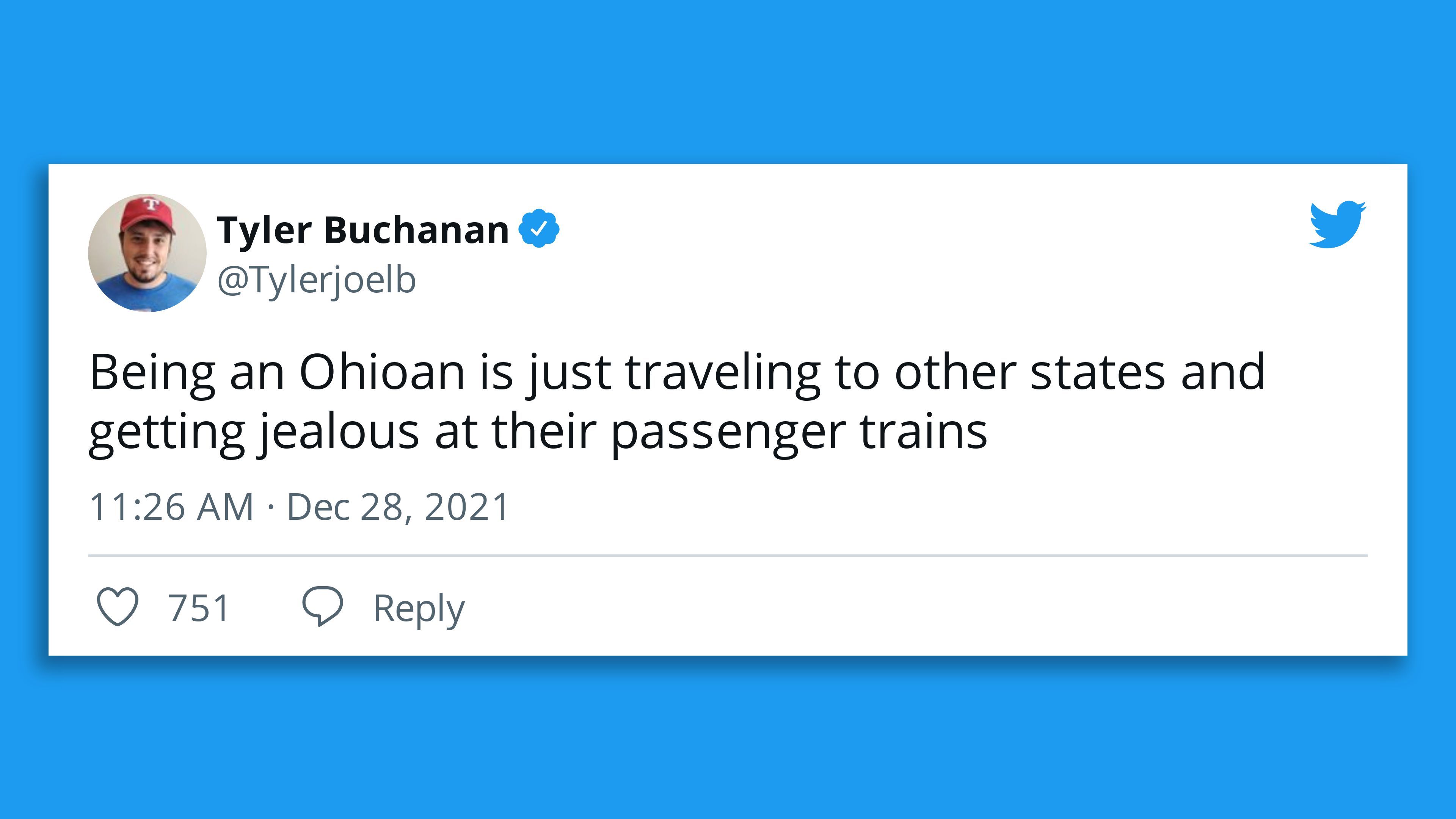 Between the rail lines: For several years, I've written about Ohio's lack of passenger rail connecting our biggest cities.
Numerous Columbus residents and activists have told me variations of: I would love to take the train to a Cleveland Browns/Cincinnati Reds game, have a few drinks, then head back home that night.
Driving the news: My trips to and from Nationals Park this past weekend convinced me those people would follow through if given the option.
The ride into town: Our train gradually filled with fans sporting the Nationals' red, white and navy blue.
Then came the mass exodus at the Navy Yard-Ballpark station, a mere quarter-mile walk from the stadium.
Afterward, my train car back to the hotel included a few passengers who … enjoyed the park's refreshments as much as the Nationals' 13-6 win over Houston, let's say.
They were boisterous, but I didn't mind. It sure beat any of them driving home drunk.
Catch up quick: The national bipartisan infrastructure bill signed into law last year includes billions of dollars toward passenger rail expansion.
Amtrak has proposed a "3C+D" line connecting Cleveland, Columbus, Dayton and Cincinnati, along with a new link between Toledo and Detroit.
A proposed spot for the local station is the Greater Columbus Convention Center.
What's next: This project is in the early planning stages and Gov. Mike DeWine has asked the state rail development commission to analyze its cost and feasibility, we reported last month.
3. Nutshells: Happy National Walnut Day!
🎟️ Columbus Metropolitan Library added Clippers tickets to its Culture Pass program so that families can attend Sunday home games for free. (CML)
💻 Pickerington's school district scrapped a plan for online classes for junior high students next year. (PLSD)
🛴 Motorized scooter rentals will soon be inoperable in some city parks, including Franklin, Goodale and Schiller, as officials plan to implement geofencing technology to address safety concerns. (WBNS-TV)
🎵 Mark your calendars, country fans — Carrie Underwood is coming to Nationwide Arena on March 4, 2023. Tickets go on sale Friday. (Nationwide Arena)
Fresh openings from the job board
4. Photo quiz: Where is this statue?
How well do you know the Columbus area? Every so often, we're quizzing readers to identify the locations of landmarks and oddities.
Pictured is a statue paying tribute to Ohio police officers and firefighters. Do you know where it is?
📬 Reply with the correct answer for a chance to win a fancy new Axios Local water bottle!
We'll have the answer and more backstory tomorrow.
5. 1 helpful shop to go
Otto Beatty Jr. is leaving a legacy made of wool and leather.
Driving the news: County leaders and his wife, U.S. Rep. Joyce Beatty (D-Columbus), celebrated yesterday's opening of the Otto Beatty Jr. Men's Shop at 711 Southwood Ave.
The store provides professional attire for those in need to use in job interviews and work meetings.
Beatty, a former state representative, died last year at the age of 81.
Much of his wardrobe was donated to the shop.
Details: The shop is located at IMPACT Community Action and will provide other employment services to residents.
It's being operated in partnership with other nonprofits, according to a news release, including the Nehemiah House of Refuge and Dress for Success — the latter of which provides professional clothing for local women.
Franklin County also chipped in federal pandemic recovery funds.
What they're saying: "Otto wholeheartedly believed that dressing in professional attire can change how a person feels about themselves and how they are perceived by others," Congresswoman Beatty said in the news release.
🚂 Tyler is always seconds away from missing the train no matter which state he's in.
🤔 Alissa is feeling skeptical about "Elemental," a newly announced Pixar film that sounds an awful lot like one of her favorite childhood TV shows.
Want to get smarter, faster?
📬 Check out other Axios newsletters, with topics ranging from science and sports to gaming and global politics.