November 30, 2021
Happy Tuesday, Columbus! Welcome to the last day of November.
Today's weather: High of 48, low of 29. Sunny skies.
❤️ Situational awareness: It's Giving Tuesday. Do something generous today, such as supporting a local charity or making someone smile.
Today's newsletter is 900 words — a 3.5-minute read.
1 big thing: Quarry Trails Metro Park opens
Central Ohio's 20th metro park debuts today, a combination of urban oasis and adventure tucked away on the West Side in a former limestone quarry.
Quarry Trails Metro Park isn't fully open yet, but many of its signature features — including a 25-foot waterfall — are now accessible to the public.
Why it matters: The 180-acre site achieves the goal of placing a park within five miles of every Franklin County resident's home, Columbus and Franklin County Metro Parks spokesperson Peg Hanley tells Axios.
The intrigue: The spot is also home to central Ohio history. The limestone mined out of the quarry by Italian immigrants who settled nearby was used to construct the Ohio Statehouse and Ohio Stadium, among other area landmarks.
By the numbers: Acquiring and developing the land is an investment of more than $17 million so far, $11 million funded by Metro Parks and $6 million in grants.
What's next: Kayaking and paddle boarding will debut this spring once the weather warms up.
Other features to come: Dog park, picnic areas and a sledding hill.
Metro Parks is still assessing the safety of cliff rappelling and rock-climbing, Hanley says.
👋 Alissa here. Quarry Trails wraps around my neighborhood, so when I heard opening day was approaching, I could hardly contain my excitement.
I popped over last week for a tour with Metro Parks employees.
My take: Once finished, Quarry Trails will offer a little bit of something for everybody. I like the mesh of natural and urban features.
A short, paved path leads to a picturesque, handicap-accessible waterfall overlook.
Descend down a limestone stairway to splash in the water.
Follow trails across the lake to a boardwalk and try to spot turtles and beavers, or continue for what is now a three-mile hike.
For the adventurous — and, unlike me, very coordinated — there are five rugged mountain bike tracks with ramps, steep drops and obstacles.
If you go: 2158 Old Dublin Road, park and waterfall, 2600 Dublin Road, mountain bike area. Open 6:30am till dark.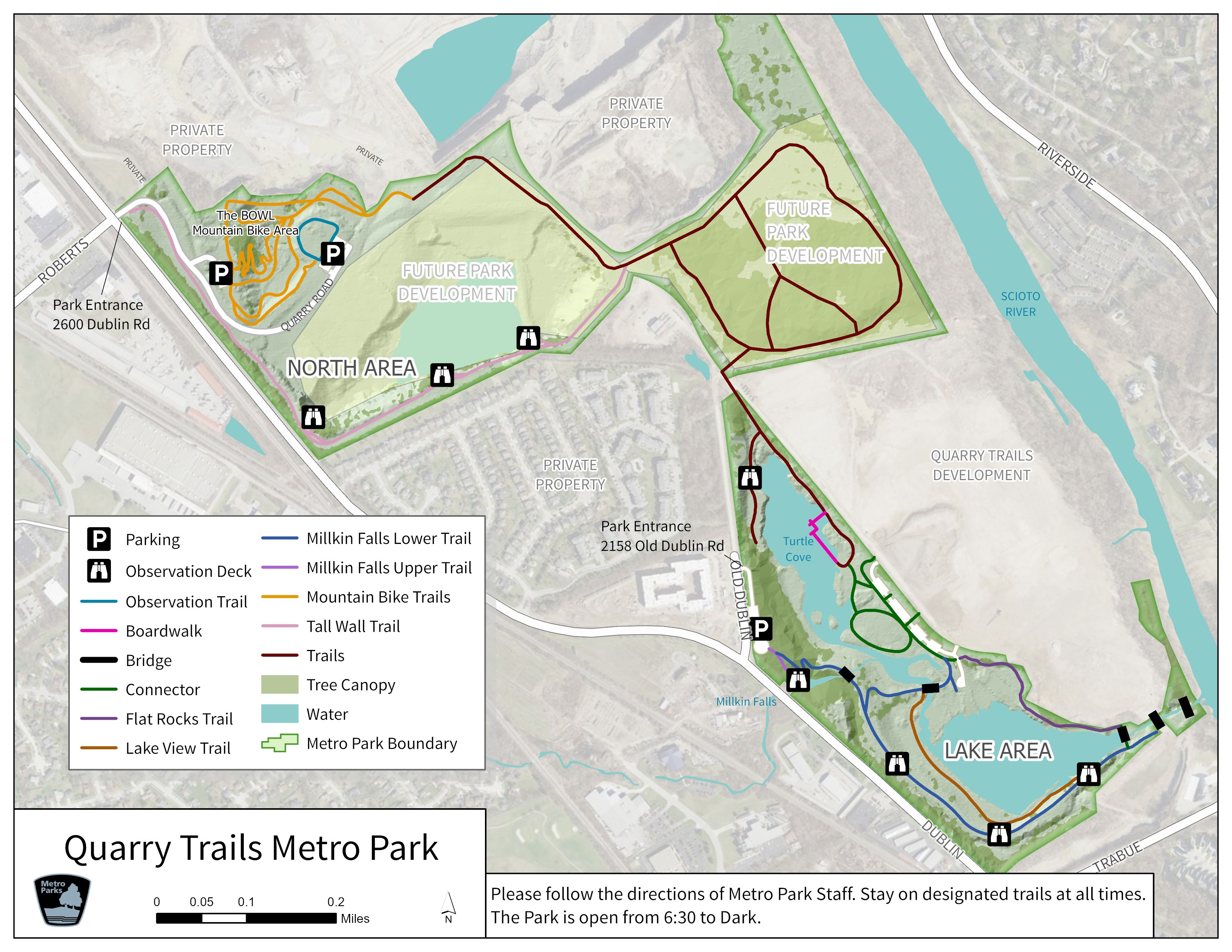 2. Mayor Ginther: "The virus is here to stay"
With winter approaching, Columbus Mayor Andrew Ginther says there are no plans to roll back the city's health orders.
The latest: Columbus' mask mandate for indoor public spaces will remain in place for the foreseeable future, Ginther told reporters yesterday.
What he's saying: "The virus is here to stay."
"We're going to continue to do everything we can to keep each other safe, make informed decisions and follow the science, wherever the science takes us," Ginther said.
State of play: The mayor outlined local goals of maintaining in-person learning, keeping local businesses open and preventing the healthcare system from becoming overwhelmed.
By the numbers: Franklin County continues to record hundreds of new COVID-19 cases each day, per Ohio Department of Health statistics, a slight rise from mid-October.
3. Nutshells: A sight for sore buck-eyes
🦸 Marvel: Universe of Superheroes, the world's largest exhibit dedicated to the franchise, is open through May 30 at COSI. Look for our takes in an upcoming newsletter. (COSI)
🌭 Dad's Coneys and Wraps in Clintonville offers good eats and prices that are a blast from the past, according to this mouthwatering review. (Columbus Alive)
💰 Congratulations to the first winners of Ohio's Vax-2-School lottery! (Vax-2-School)
🎁 Ohio's holiday retail sales are expected to rise 7.3% this year. Of the $31.4 billion in predicted spending, almost 19% will happen in the Columbus area. (Columbus Business First)
🚌 The Westerville school district abruptly altered dismissal times for the seventh time in seven weeks this morning, citing bus driver call-offs and shortages. (Westerville City Schools)
4. 📍 Center of attraction
Columbus and its burgeoning suburbs are shifting the state's population center of gravity closer to the middle of Ohio.
The measurement is the average of where the state's 11.8 million people live, as calculated by the U.S. Census Bureau.
How it works: If every Ohioan weighed equally, the point marks where a flat map of Ohio would balance perfectly.
Why it matters: The drastic shift since 1950 is an illustration of the capital city's rapid growth combined with population decline in rural areas and Cleveland, the state's next-largest city.
The 11-county central Ohio region is now home to 2.2 million people.
Franklin County surpassed Cuyahoga County's population for the first time in 2017.
What's next: The Columbus region is expected to reach 3 million people by 2050.
5. ✈️ A bite before the flight
Those flying out of John Glenn Columbus International Airport this holiday season have a new eatery to try before hitting the skies.
Piloting the news: The flying-themed Hangar 815 recently opened in the airport ticket lobby.
The American menu offers appetizers and a copious drink menu along with a quartet of main dishes, including burgers and a "hipster chicken" sandwich fixed with honey, pickles, red cabbage slaw and cucumber ranch.
Named after the airport's elevation being 815 feet above sea level, the restaurant pays tribute to Ohio aviation history.
Hangar 815 features references to the Tuskegee Airmen, the famed Black World War II unit based at Lockbourne Army Air Base (now known as Rickenbacker) after the war.
If you go: 11am-6pm Monday-Friday, pre-security, near Concourse B.
🎁 Tyler is spending his week hunting for Cyber Monday (and Tuesday, and Wednesday...) deals.
🎵 Alissa is happy to report that pop-punk is still alive and kicking, after discovering this band from Cleveland at a concert on Sunday.