May 26, 2022
It's Thursday! Hug somebody you love today.
⛈️ Today's weather: Thunderstorms all day. High of 81, low of 63.
Situational awareness: Columbus Public Health will distribute free at-home COVID-19 tests today from 11am-1pm and 4-6pm at a drive-thru at 420 Parsons Ave.
Today's newsletter is 890 words — a 3.5- minute read.
1 big thing: Keeping our schools safe
School violence is top of mind for many families this week, following our country's deadliest school shooting in a decade.
What we're watching: A potential resurgence of interest in school safety proposals and funding in the wake of the Uvalde, Texas, shooting:
Arming school employees
House Bill 99 would loosen training requirements to carry firearms in Ohio schools.
The bill passed the House and awaits Senate action.
Police in schools
House Bill 501 would allow districts — along with municipalities and townships — to levy property taxes to fund school resource officers.
The bill has not made legislative progress as of yesterday.
Between the lines: Police presence in schools has been hotly debated in districts like Columbus and Worthington, which both discontinued officer programs in 2020 due to nationwide scrutiny of police brutality.
Columbus employs 104 unarmed security guards, unaffiliated with police, and plans to hire 35 more this year, superintendent Talisa Dixon said yesterday.
Funding for security equipment
The state regularly issues grants for districts to install items such as cameras, locks and public address systems. A funding announcement from Gov. Mike DeWine came five days before the shooting.
Prevention and training
Starting in 2023, Ohio schools serving grades six through 12 are required by law to establish threat assessment teams to detect signs of violence and develop intervention plans.
Health classes must also dedicate time to suicide awareness and prevention, safety training, violence prevention and social inclusion.
DeWine will assemble an Ohio Student Safety Advisory Council this year to give students a voice in finding solutions.
Of note: Ohio Homeland Security operates a school safety hotline (844-SAFEROH) that fields anonymous tips.
What they're saying: While "security theater" upgrades like cameras and metal detectors may make families feel safer, there's no quick fix to a complicated problem, Kenneth Trump, a Cleveland-based school safety consultant, tells Axios.
A bipartisan response to the issue of gun violence is crucial — but with every tragedy, people become more polarized, he says.
"The violence in schools reflects the violence and underlying issues of a broader community. Schools need to be a part of the response, but they can't solve the whole problem."
Bonus chart: states with "red flag" gun laws
Ohio is not among the 20 states with a "red flag" law to let police temporarily seize guns from individuals considered to be a dangerous threat.
Flashback: Gov. Mike DeWine promoted proposed gun control legislation following the 2019 mass shooting in Dayton.
The bill didn't include a complete red flag law, though it would have allowed police to seize guns from those with substance abuse and mental health issues.
Republicans rejected the proposal and DeWine loosened gun restrictions later in his first term.
The latest: Starting June 13, Ohio will no longer require a permit to carry a concealed gun, joining 22 other "constitutional carry" states.
State of play: More than two dozen other gun laws are under consideration at the Ohio Statehouse, though few have made any progress.
2. Quote du jour
3. These historic landmarks are in danger
An old theater, a community center that once aided immigrants and a church modeled after George Washington's house of worship are entries on this year's list of Most Endangered Sites.
Why it matters: The nine properties highlighted by the Columbus Landmarks Foundation have "architectural, cultural and historical value" dating back to the early 1800s.
Notable entries in 2022:
South Dormitory at Columbus Public Health
Once used as the Ohio State School for the Blind, this property was slated for the wrecking ball to make room for a new parking lot before city councilmembers stepped in to save it.
It's unclear what the site — also on the National Register of Historic Places — will ultimately be used for.
Eldon Smith House
This historic home has served many purposes, including as an HIV/AIDS hospice center.
It is here that the "Photo That Changed the Face of AIDS" was taken and published in a 1990 issue of Life magazine.
4. Nutshells: In the public buckeye
🏳️‍🌈 The city of Delaware won't fly rainbow flags on street poles during Pride Month as part of a broader legal debate on local governments and free speech rights. (Columbus Dispatch)
🚓 Police arrested a man after he allegedly fired shots at a Columbus Division of Police substation and led them on a chase. (WBNS-TV)
📍 The Ohio Supreme Court has rejected state redistricting maps for a fifth time for gerrymandering. (Supreme Court)
🦊 Fox in the Snow has the best cinnamon rolls in all of Ohio, according to "Eat This, Not That!" (614 Magazine)
5. 🐢 A shell-ebration to go
The Columbus Zoo's oldest resident, Bubba the Aldabra tortoise, celebrated a milestone 75th birthday this week. His companion Sonny turned 55.
Of note: With an impressive lifespan of 150 years or more, these gentle giants are still in their prime.
The intrigue: The tortoises are pampered during the cold months they spend indoors by a team of volunteer "tortoise snugglers" who provide neck and leg rubs, per the Columbus Dispatch.
Their birthday party included cakes made of fruits and vegetables.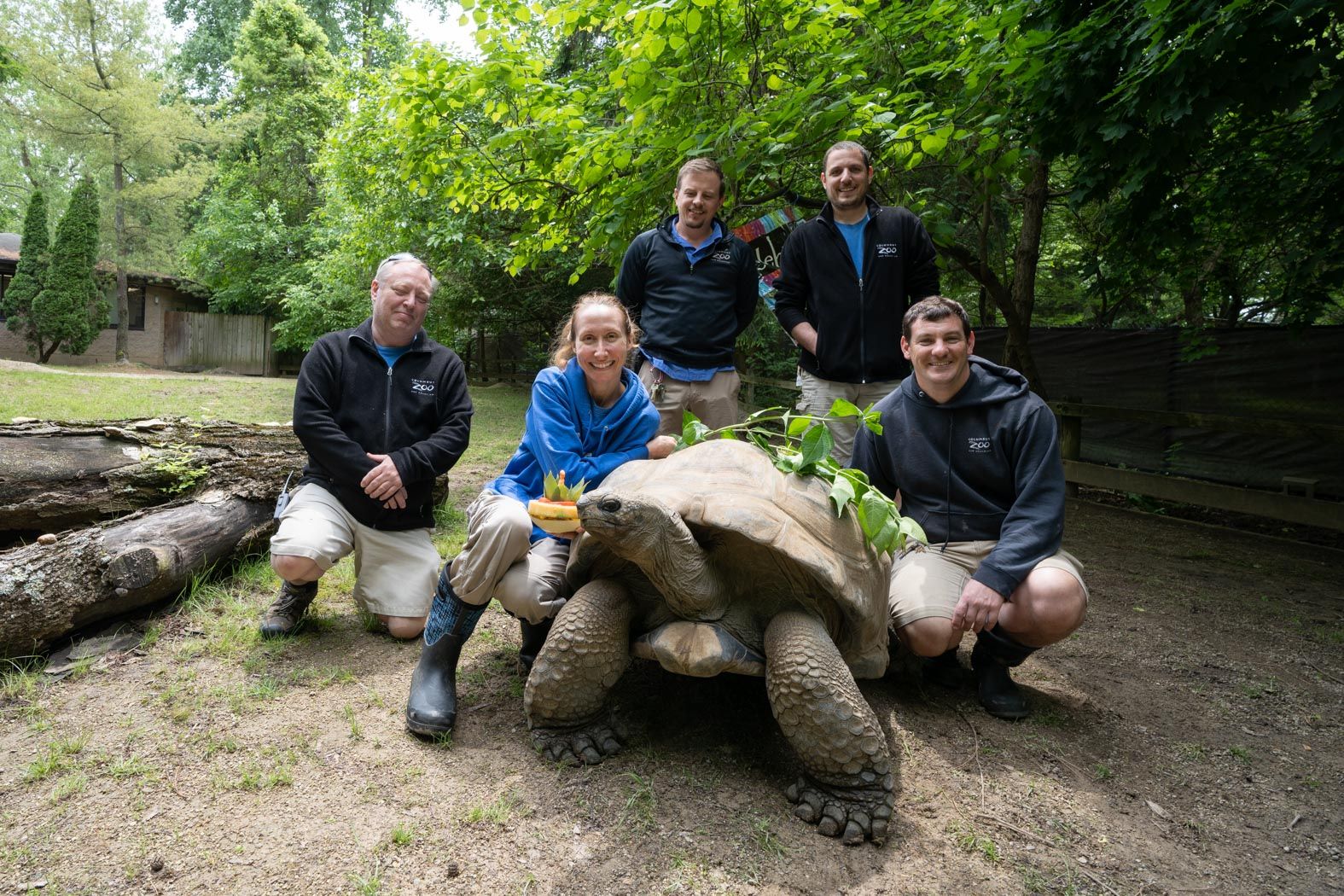 📚 Tyler is finally getting around to donating and recycling his old college textbooks.
😔 Alissa is feeling sad after reading this tweet.
🎁 Share Axios Local with friends, family and colleagues to earn rewards with our referral program! The more subscribers you refer, the bigger the rewards. Get started.