October 15, 2021
Happy Friday! Another week down. Break out the balloons and bubbly. 🥂
⛈️ Today's weather: Thunderstorms expected throughout the day, with a high of 79.
💝 Situational awareness: Sweetest Day is tomorrow. We suggest you shop local and get your loved one an Ohio-made gift.
Today's newsletter is 939 words — a 3.5-minute read.
1 big thing: COVID's impact on education
Ohio's K-12 school report cards were released Thursday, shining a spotlight on pandemic-related challenges that include spiking absenteeism and a significant drop in statewide test scores.
Why it matters: The state's annual reports provide families and taxpayers a snapshot of their district's academic achievement, spending and demographic data, while also shaping instructional decisions.
Having baseline data is especially important for identifying ways to help helping struggling students.
What's happening: A striking 24% of Ohio's students were chronically absent in 2020-21 academic year, defined as missing more than 18 days of school, or 10% of the year. The figure is a 7.3% increase from the 2018-19, the most recent data available.
The issue was more pronounced among economically disadvantaged students (38%).
In Columbus City Schools, nearly 75% of students were chronically absent.
Quick take: The data accompanying the report cards includes other takeaways.
The Class of 2020's four-year graduation rate was 87.2%, up from the Class of 2019's 85.9%, though 2020 graduates were given more flexibility.
Three Franklin County districts — Groveport Madison (80.7%), Columbus (81.2%) and Whitehall (84.3%) — were below the state average and local rates were fairly comparable to 2019.
The statewide performance index, which measures overall student achievement on state assessments, declined from 84.7 to 72.5 between 2018-19 and 2020-21.
Yes, but: The state notes that not all students took assessments in the spring, especially vulnerable students, which could impact results.
The big picture: While proponents say report cards hold districts accountable, critics say they're misleading, overly simplistic and mostly reflect factors such as poverty.
Yet the report can have serious consequences:
Typically, low-performing districts are subject to a state takeover if they consistently fail to meet certain thresholds.
Students are eligible for tuition vouchers for private school if they live near a low-performing school, a hotly debated issue.
Report cards won't be used punitively this year, though, nor were they in 2020.
What's next: The state will overhaul its report card system yet again before 2022, including switching to a 1-5 "star" scale rather than A-F grades, which haven't been used the past two years anyway.
2. A bona fide soccer town
Tim Weah's shot went off the goalkeeper's hands, hit the goalpost and spun in, giving his team a 2-1 lead and sending the 19,000 fans at Lower.com Field into a frenzy.
But it wasn't black-and-yellow-clad Columbus Crew fans cheering on Wednesday. It was a sea of spectators dressed in red, white and blue who celebrated the U.S. Men's National Team earning a crucial World Cup qualifier victory over Costa Rica.
Driving the news: Columbus has become what ESPN calls the "spiritual home" for the USMNT.
The national team has now played a dozen matches in Columbus, including seven World Cup qualifier wins — the most of any American city.
What they're saying: "When I moved to Columbus, it was my dream to make this city a soccer town," former MLS and USMNT player Frankie Hejduk told ESPN.
"I knew it was a [college] football town. I thought, 'Let's make this a soccer town.' "
State of play: It's been three years since the successful Save the Crew campaign, and the Crew followed a championship 2020 season with the opening of Lower.com Field in July.
The Crew has played nine MLS regular season games at the new stadium, in addition to a 2-0 win over Mexico's Cruz Azul on Sept. 29 to earn the Campeones Cup.
Columbus returns home to face Inter Miami CF tomorrow at 6pm, with seats still available on Ticketmaster.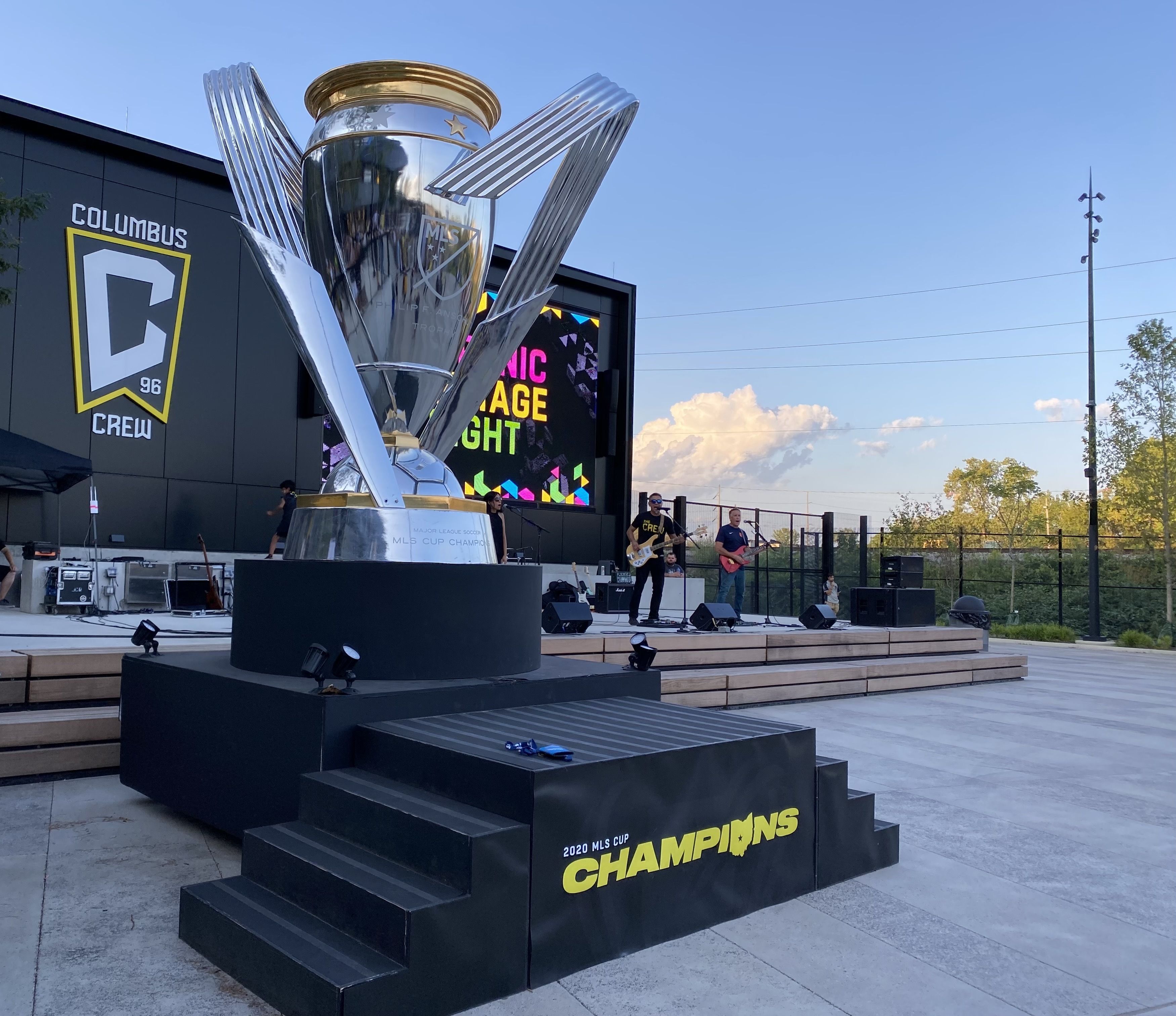 3. Nutshells: Cashew later!
🏫 The State Board of Education repealed an anti-racism resolution its members had passed during the summer of 2020 following allegations of its divisiveness. (Columbus Dispatch)
🍳 Chapman's Eat Market in German Village earned a spot on The New York Times' list of 50 "most vibrant and delicious restaurants in 2021." (NYT)
🛒 GN International Grocery, reportedly the largest Nepali-owned grocery store in the U.S., is now open in Pickerington. (614 Magazine)
A Columbus Division of Police officer has died of COVID. (WBNS)
4. Startup funding up 554%
Startup funding in Columbus has officially rebounded from a pandemic drop-off last year.
Investments of more than $250 million have gone to area tech companies in Q3 2021, per data from Pitchbook.
Why it matters: The investments range from seed money to later stage rounds, indicating young established companies are benefiting as well as new startups.
Deals range from a $100M Series C investment in robot manufacturer Path Robotics to a $1M angel investment for contactless alcohol ordering service Refill Technologies.
By the numbers: The $255 million invested in Columbus companies in Q3 is a 554% increase compared with the same quarter last year.
5. What to do this weekend
🍂 Franklin Park Conservatory and Botanical Gardens will display hundreds of jack-o'-lanterns and fall plants at its annual Pumpkins Aglow event, which kicked off this week.
Tickets range from $12-22. Wednesdays-Sundays in October, 5-9pm.
🍩 Donut and Beer Fest takes over Huntington Park on Saturday, with dozens of vendors lined up to serve sweet treats and local brews from 2-7pm.
$35 admission comes with ample donut and beer tokens, with non-alcohol tickets available. Kids 12 and under enter free.
🎃 All Hallows' Eve at Ohio Village offers fall-themed activities including pumpkin carving, fortune telling, kid-friendly crafts and a retelling of "The Legend of Sleepy Hollow."
$16 adults, $12 for kids 4-12. Each Saturday in October, 5:30-9:30pm.
6. Photo Quiz: Scene from an Italian park
In yesterday's newsletter, we invited readers to guess the location of a small, triangle-shaped park somewhere in Columbus.
✅ Many of you correctly identified Christopher Columbus Park, seen from a different angle above in Italian Village next to the Wonder Bread sign.
👏 Our congratulations to Mark Krugman for being the first correct response.
🧐 Tyler is confused by this local interviewee's insistence that Columbus doesn't have a pro sports team.
🤒 Alissa is feeling better, but plans to take it easy this weekend.
To ensure this newsletter reaches your inbox, add [email protected] to your contacts. If you use Gmail, just drag this email to your "Primary" tab. For other mail clients, check out this page.