Axios Closer
July 07, 2021
🐪 Today's newsletter is 675 words ... 2½ minutes.
🔔 The dashboard: The S&P 500 closed up 0.3%.
Biggest gainer? Oracle (+4%). Other cloud rivals like SAP also rallied.
Biggest decliner? Bond trading platform MarketAxess (-4%) after reporting trading activity below analyst expectations.
1 big thing: A new record low for layoffs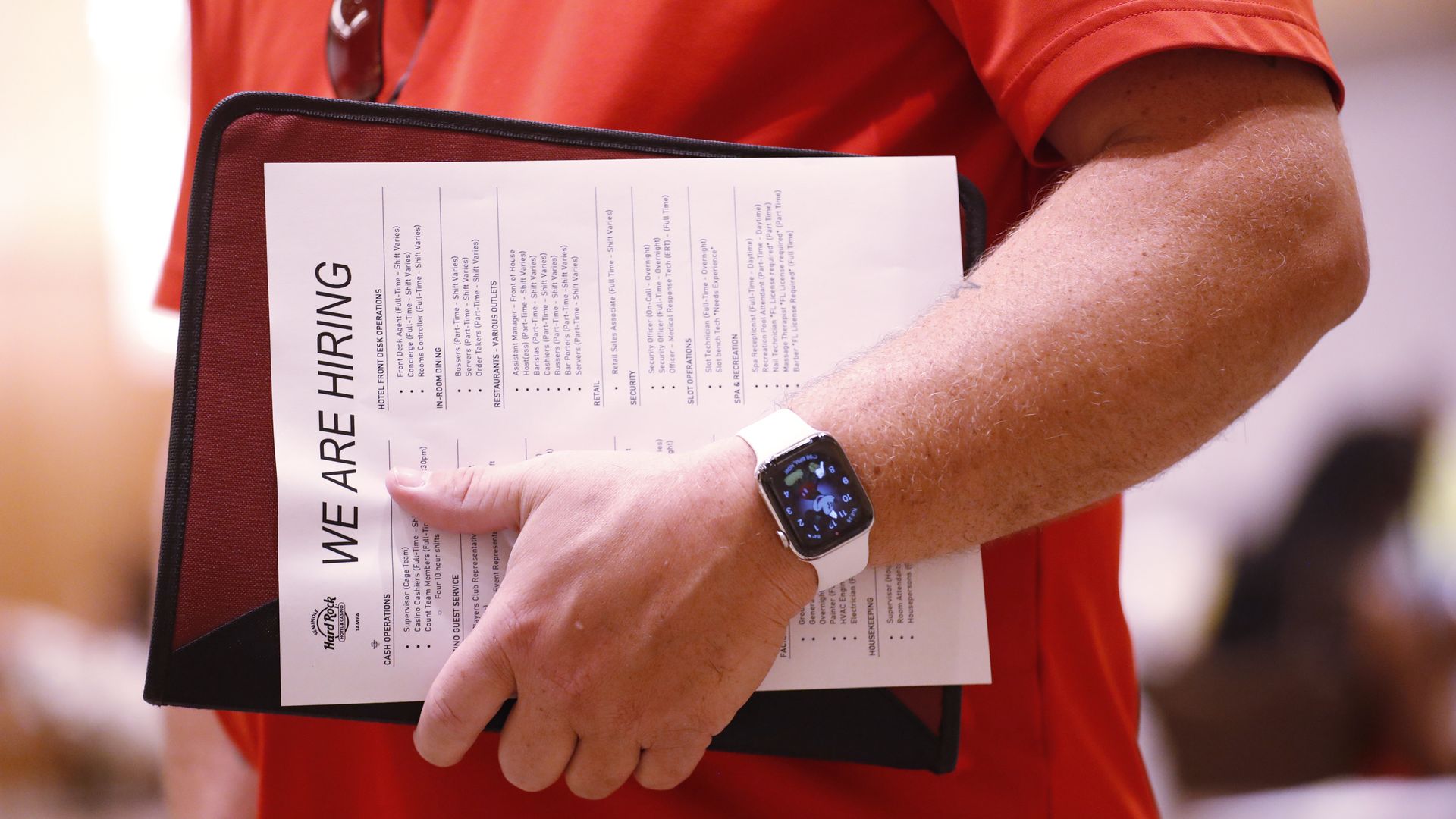 Never have so few people been let go by employers, according to closely watched jobs data out today.
Put another way: Companies are holding onto staff for dear life.
Why it matters: It's another sign of the American worker's newfound leverage, ushered in by businesses' desperation for workers to meet the demand of the economic snapback.
"Demand is high and employers might not be getting the number of hires that they want — so they're holding on to the workers they do have," says Indeed's Nick Bunker.
By the numbers: The layoffs and discharge rate fell to 0.9% in May — a new record low dating back to 2001.
That means for every 1,000 workers, about nine were let go.
The massive shift for workers is particularly notable in the accommodations and food services sector, where labor shortage complaints have been most acute.
That rate of layoffs and discharges fell to 1.2% from 1.5% in a single month.
It's down from 2% in January — and almost a full percentage point below the same period a year ago.
The big picture: The number of open jobs ticked higher to 9.2 million, the second straight record-breaking month.
The bottom line: Workers leaving their jobs mostly aren't getting fired, they're doing so on their own terms — at a historic rate.
About 68% of work separations were categorized at quits — easing from April, when a record number of people quit their job.
It's one of the best times to find a new job or ask for a raise in a while, "which feels like a weird thing to say during the middle of an ongoing pandemic," says Glassdoor's senior economist Daniel Zhao.
2. Charted: The move everyone is talking about
Call it the great reassessment. Investors are hinting that the hot, hot economy — and the inflation that comes along with it — may have peaked.
It's playing out in the bond market: Yields are falling swiftly as investors throw more money into bonds.
It's a reversal of what happened earlier this year: "If you think that inflation is going to pick up, bonds are not a great place to be," says Charles Schwab's Kathy Jones.
What the market moves means for borrowers: "Generally good news — it means if you're looking for a mortgage or car loan, it's going to be cheaper," says Jones. (Not so good news for savers, though.)
3. What's moving
4. New in IPO-land: Forever 21, Aeropostale owner going public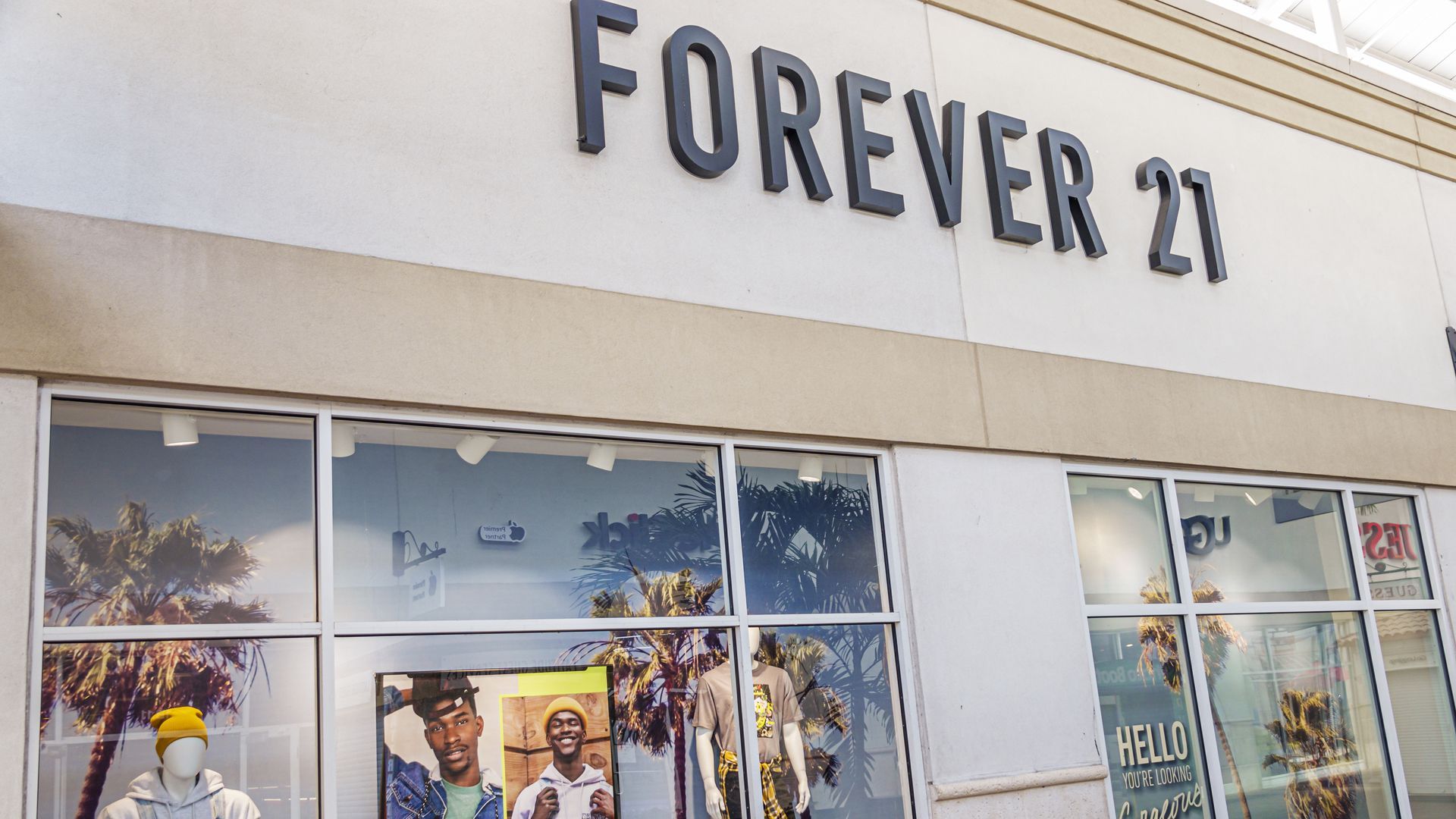 Mega brand management company Authentic Brands Group is going public, Axios' Hope King reports.
That's the company that owns the rights to dozens of brands, like Brooks Brothers, Forever 21 and Aeropostale.
Why it matters: ABG picked up many of its brands in bankruptcy auctions. Bankrupt retailers are popular targets for brand management companies.
Competitors Marquee Brands and WHP Global also recently picked up Sur La Table and Toys "R" US, respectively. 
Brand management companies profit from the royalties generated by all the sales. 
Catch up quick: ABG is now the third-largest licensor in the world, per 2019 retail sales.
Disney is the largest, followed by Meredith Corporation.
5. OK now it's really over: Unstuck ship sets sail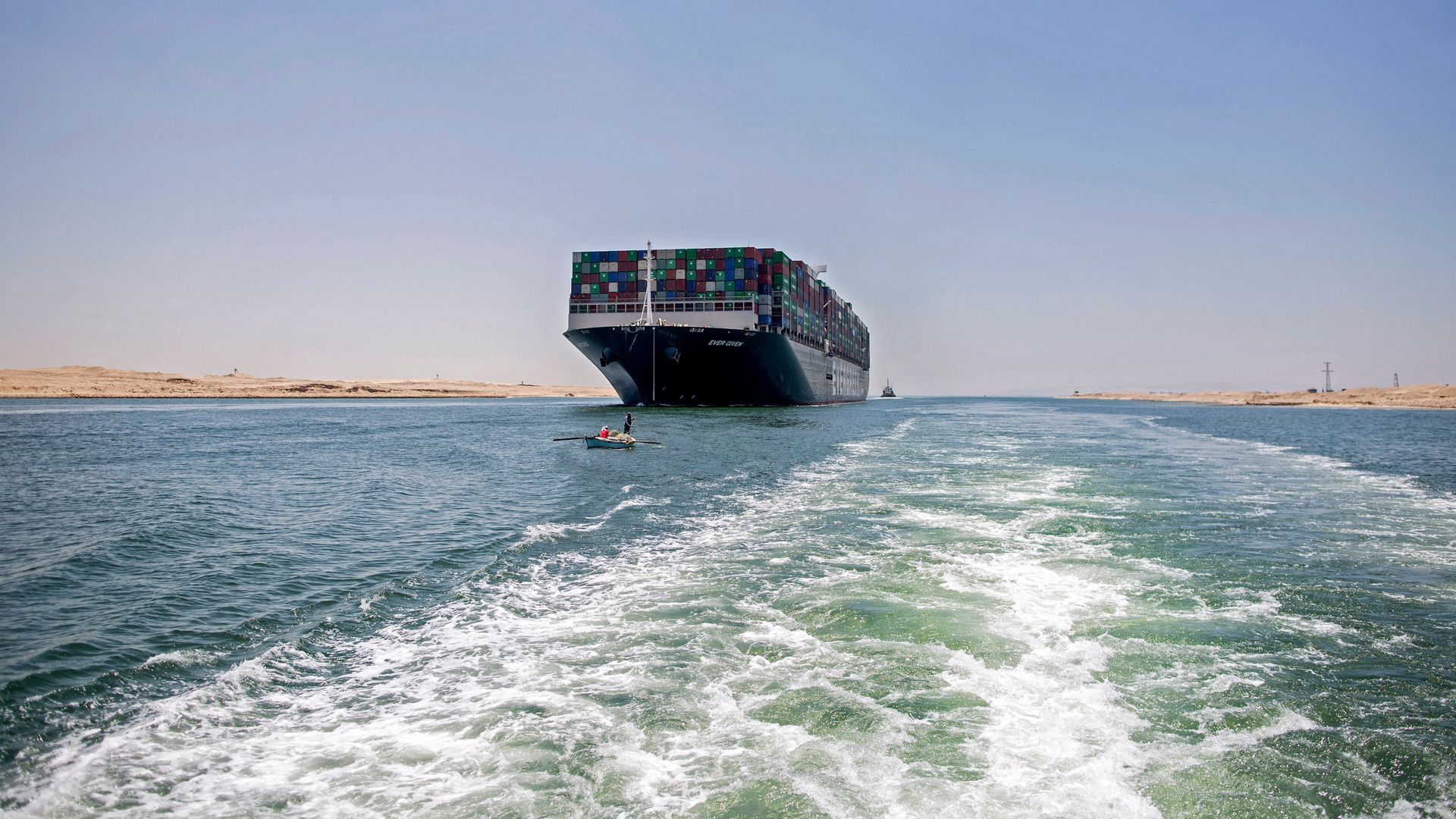 The Ever Given container ship left the Suez Canal today — 106 days after getting lodged in the southern section of the waterway for nearly a week and wreaking havoc on global trade, Axios' Erin Doherty writes.
Loaded with about 18,300 containers, the massive vessel will be escorted by two tug boats and guided by two pilots as it maneuvers through the canal.
6. What they're saying
"I land a little bit more in a moderate world, where the world's probably not going 100 percent back to where it was, but I also don't think the world is going full-on work from home."
— Sweetgreen CEO Jonathan Neman on the return to work in an
interview with the New York Times.
The salad chain — set to go public — is a staple for at-work, lunchtime visitors.
👍 Thanks for reading! Got this email from a family member or friend? Sign up here.