Axios Closer
March 09, 2022
You're over the hump! 🐪
🚨 Situational awareness: Amazon announced a 20-for-1 stock split and a $10 billion share buyback.
Today's newsletter, edited by Pete Gannon, is 692 words, a 2½-minute read.
🔔 The dashboard: The S&P closed up 2.6%.
Biggest gainer? Match Group (+12.8%).
Biggest decliner? Phillips 66 (-5.9%).
1 big thing: No small cars when you need them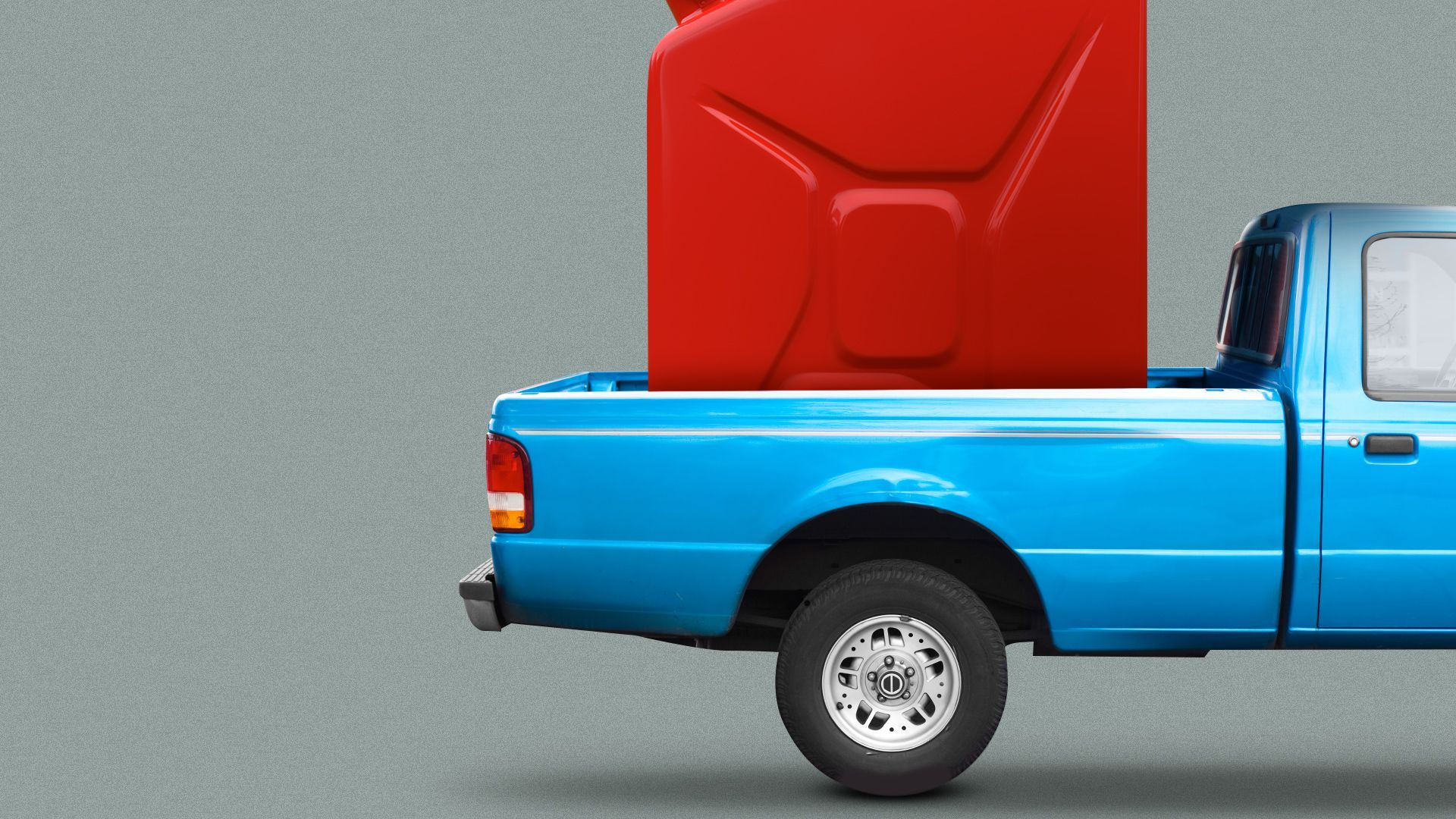 Record gas prices are striking after years of Americans ditching compact cars and sedans for larger, less fuel-efficient SUVs and pickups, Nathan writes.
The average full-size SUV owner is now paying close to $110 more per month to gas up than a year ago, while the average compact car owner is paying $60 more, according to Kelley Blue Book.
Why it matters: Drivers are left with few options to save on fuel in the short term, as automakers have discontinued numerous small vehicles in recent years.
"When consumers now want to go back and buy a cheap, gas-efficient car, they're not finding any," Jesse Toprak, chief analyst for Autonomy, tells Axios. "They're just not around."
Reality check: Automakers discontinued small cars for a reason.
Cars represented 56.2% of new-vehicle sales in July 2008 — when the nation hit its previous gas price record — compared with 20.5% in February 2022, according to data supplied by Edmunds.
Keep in mind: Electric vehicles are poised to replace gas-engine vehicles, as most automakers have committed to phasing out internal combustion engines over the next 15 years or so.
The spike in gas prices to a record national average of $4.25 on Wednesday is leading to "the highest level of interest in EVs" ever, Toprak says. "There's a surge there."
But, but, but: EVs remain less than 10% of car sales globally — and the ones that are available are expected to sell quickly in the weeks and months ahead.
The bottom line: The increase in gas prices will hit Americans harder than it would've had they stuck with smaller rides.
2. Charted: Americans need clothes for work
American office workers are having their own back-to-school spending moment, Nathan writes.
What's happening: Outlays on "return-to-office attire" are soaring as workers head back amid a sharp nationwide decline in COVID-19 cases, according to a MasterCard SpendingPulse report released Wednesday.
By the numbers: Apparel sales jumped 37.6% in February compared with a year earlier.
Both outpaced overall retail sales (excluding auto), which were up 8.7%.
Our thought bubble: Goodbye sweatpants.
3. What's happening
4. Crypto too big to ignore
President Biden's executive order today calling for policy recommendations on cryptocurrencies comes as trading by institutional investors has taken hold, Axios' Pete Gannon writes.
Why it matters: The order is an acknowledgment that crypto is here to stay, and it moves the government one step closer to a policy framework that would legitimize — and regulate — its use in the U.S, as Axios' Ryan Lawler notes.
State of play: Institutional investors like hedge funds and pensions traded ninefold as much value in crypto in 2021 compared to the prior year, amounting to $1.14 trillion, WSJ reports.
That is more than double the $535 billion that individual investors traded.
Roughly 20% of hedge funds overall were investing in digital assets as of October 2021, according to S&P Dow Jones Indices.
What's next: Through the executive order, the White House seeks to understand both the risks and potential benefits of the technology.
Biden aims to create a national policy for digital assets by working with multiple agencies in tandem.
5. The microbus makes a comeback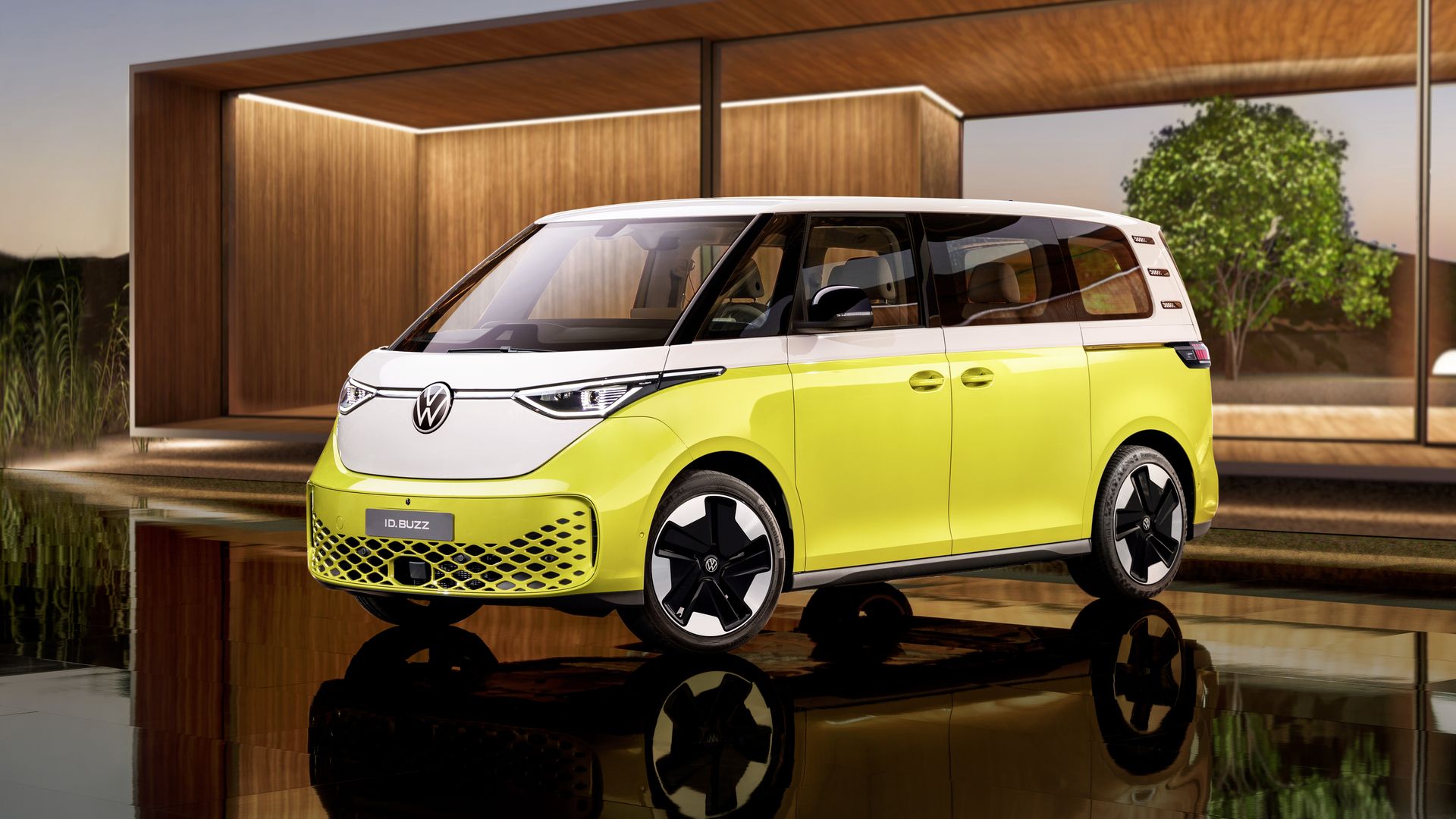 The microbus is back, Nathan writes. And it's an EV.
Driving the news: Volkswagen on Wednesday revealed the European production version of the long-awaited VW ID. Buzz, a modern electric twist on the German automaker's long-discontinued-yet-much-beloved microbus.
Well suited for the #vanlife era, the ID. Buzz — yes, it has an oddly placed period in its name — will hit the U.S. in 2024.
Volkswagen first teased the vehicle's comeback with a concept model at the 2017 Detroit auto show.
Details: The five-seater's price and charging range weren't released, but the vehicle will be made in Germany.
6. What they're saying
"If you sold #DKNG today, just be aware that my team and I are on a mission to make you regret that decision more than any other decision you've ever made in your life."
— DraftKings CEO Jason Robins on investors dumping the sports gambling app's stock.
📅 Join Axios' Dan Primack and Kia Kokalitcheva tomorrow at 3:30pm ET for a virtual event examining the trends shaping venture capital in 2022. Guests include Earthshot Ventures founding partner Dawn Lippert and FTX head of Ventures and Gaming Amy Wu. Register here.