Axios Closer
September 26, 2023
Tuesday ✅.
Today's newsletter is 693 words, a 2½-minute read.
🔔 The dashboard: The S&P 500 closed down 1.5%.
Biggest gainer? ResMed (+3.6%), the maker of medical devices and software applications. ¯\_(ツ)_/¯
Biggest decliner? Cintas (-5.3%), the uniform supplier, following its release of quarterly earnings, where its full-year earnings-per-share and revenue predictions disappointed investors.
1 big thing: Amazon sued by the FTC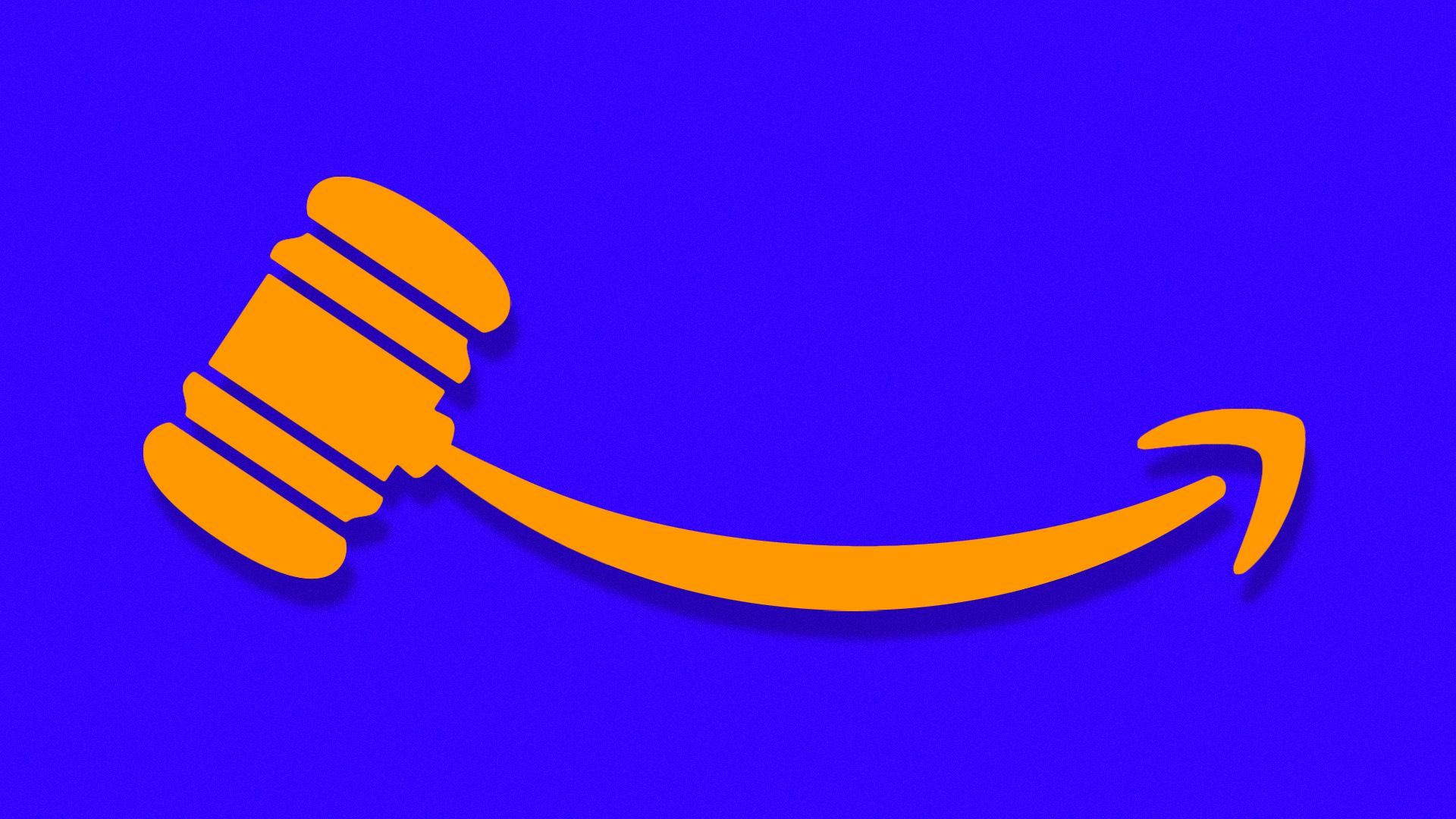 The FTC has officially launched its case against Amazon.
The long-awaited suit accuses the company of wielding anticompetitive business practices to illegally maintain monopoly power.
Why it matters: A win for the FTC, led by Democrat Lina Khan, could fundamentally alter the way Amazon's business operates, writes Ashley Gold, co-author of Axios Pro: Tech Policy.
Details: The FTC alleges the online retail giant uses a set of strategies that "stop rivals and sellers from lowering prices, degrade quality for shoppers, overcharge sellers, stifle innovation, and prevent rivals from fairly competing against Amazon."
Between the lines: Khan has been eyeing Amazon since she was a law student, where she won attention for a paper on how antitrust law should be applied to the company.
The other side: "The lawsuit filed by the FTC today is wrong on the facts and the law, and we look forward to making that case in court," David Zapolsky, Amazon's general counsel, said in a statement.
The immediate impact: Amazon shares closed down 4% today.
2. Charted: Journey of a billion Threads
Threads isn't unraveling, but its momentum has cooled off considerably, Nathan writes.
Why it matters: When Facebook owner Meta introduced the Twitter alternative in July, millions of people signed up within days.
But the platform hasn't added many new features since then — and its meteoric growth has tailed off.
By the numbers: Threads will have nearly 24 million monthly users by the end of 2023 — less than half of X — according to Insider Intelligence projections released today.
That places Threads just ahead of blogging platform Tumblr.
The bottom line: "The path to 1 billion Threads users is longer than Meta would like," Jasmine Enberg, principal analyst at Insider Intelligence, said in a statement.
"The link to Instagram can only take Threads so far, and the clock is ticking for the network effect to take hold."
3. What's happening
4. Historic union stand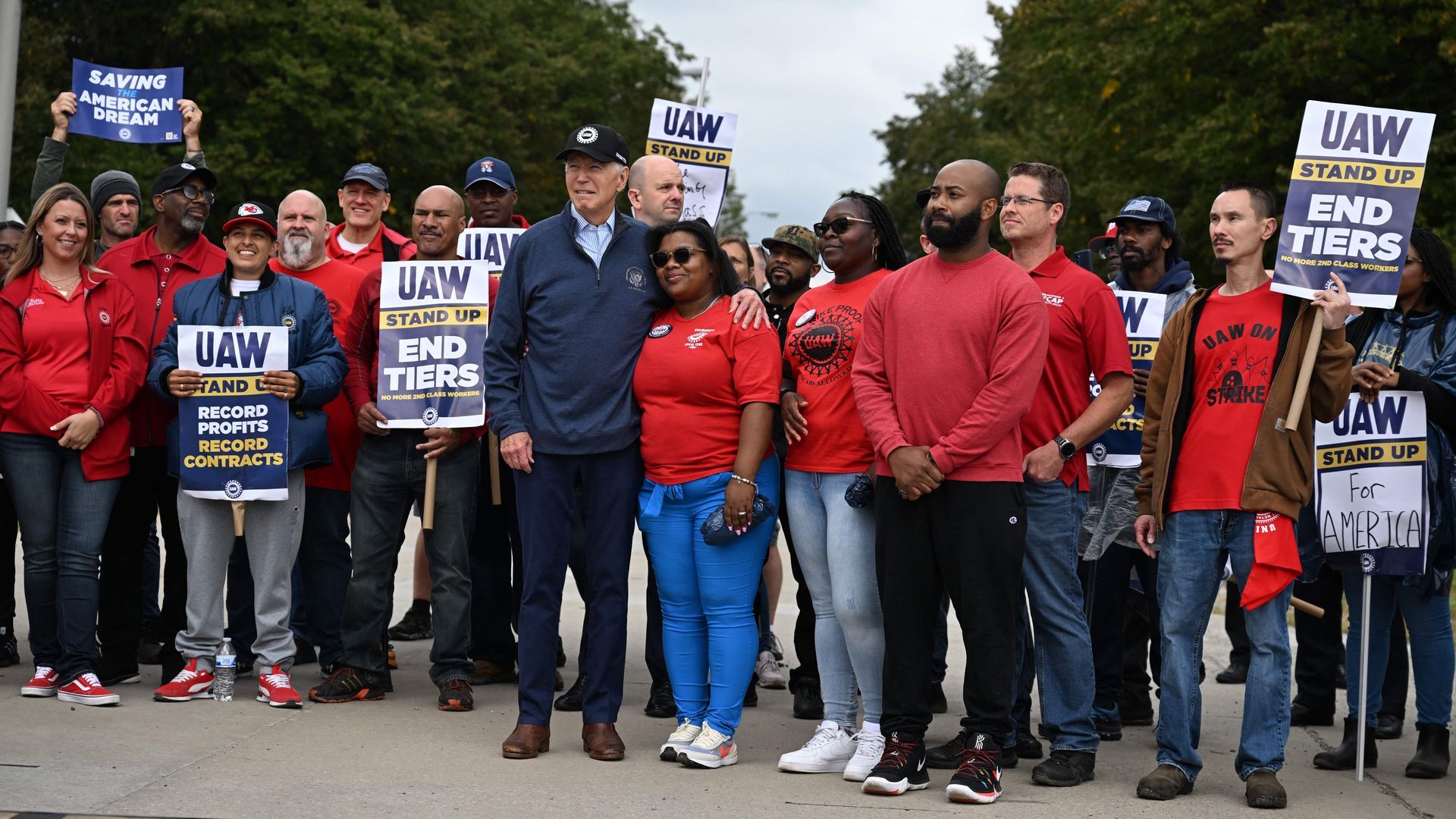 President Biden inserted himself — quite literally — in the ongoing dispute between autoworkers and the Detroit Three automakers today, telling reporters from the picket line that he supports the UAW's wage demands, Axios' April Rubin and Nathan write.
Why it matters: The pro-union Democrat stood for thousands of autoworkers leading an unprecedented strike of the Detroit Three automakers, marking what appeared to be the first time a sitting president has ever visited a picket line.
Driving the news: Biden rallied workers alongside UAW President Shawn Fain and later answered "yes" when asked whether he supports the union's demand for a 40% wage increase.
"You guys, the UAW, you saved the automobile industry back in 2008 and before," Biden said, using a bullhorn. "Made a lot of sacrifices, gave up a lot."
"And the companies were in trouble, but now they're doing incredibly well. And guess what, you should be doing incredibly well too."
The White House had no immediate further comment Tuesday.
The other side: In their latest publicly disclosed offers, GM, Ford and Stellantis offered wage increases of about 20%–21%.
They say 40% hikes would render them unable to keep up with their non-unionized competitors, like Tesla, Toyota and Volkswagen.
5. Mission accomplished ⚾️
Major League Baseball's regular season is wrapping up this week — and if it felt like the season went by fast, that's because it did.
By the numbers: Only nine games lasted 3 hours, 30 minutes or longer, down from the all-time high of 390 games in 2021, Nathan writes.
MLB implemented a pitch clock this year intended to speed games along, forcing pitchers to pitch and batters to step up to the plate.
What we're watching: Television ratings
6. What they're saying
"The market is in the hands of the bears right now."
— Quincy Krosby, chief global strategist for LPL Financial,
to Bloomberg
, following today's stock market drop as investors dig in for a longer period of high-interest rates.
Today's newsletter was edited by Pete Gannon and copy edited by Sheryl Miller.
✏️ Was this email forwarded to you? Sign up here to get Axios Closer in your inbox.