Axios Closer
March 09, 2021
Was this newsletter forwarded to you? Sign up here.
🔔 The dashboard: The S&P 500 jumped 1.4%, and tech was the showstopper. More below.
Biggest decliner? Oil and gas company APA (-7%), amid an energy sector slump.
Biggest gainer? Tesla (+20%), the biggest one-day gain in over a year that came as other beat-up stocks bounced back.
Today's newsletter is 682 words, or a 2½-minute read.
1 big thing: Companies ride the retail wave ... to Clubhouse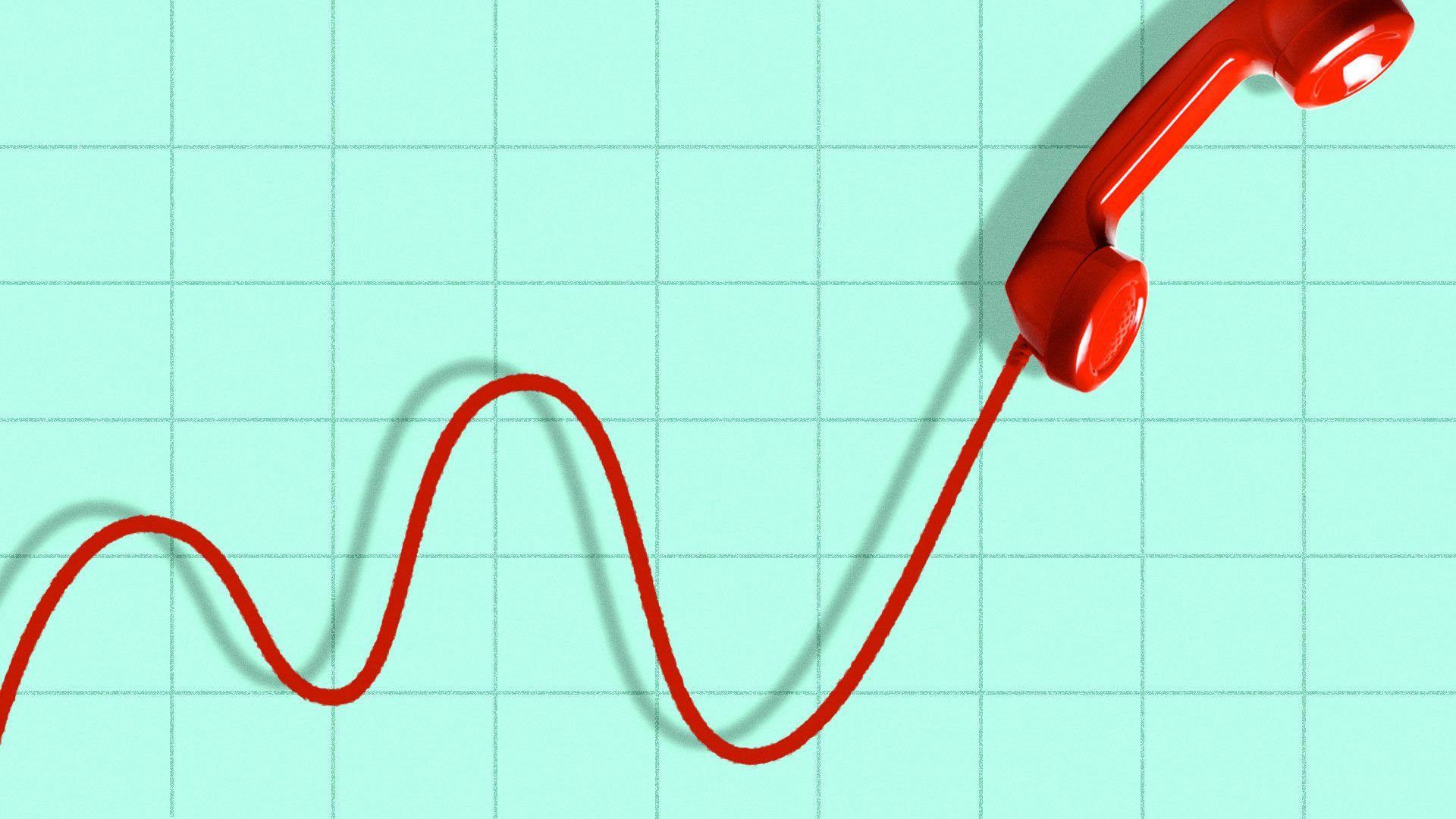 A new trend to watch: Major companies using Clubhouse to hold court with ordinary investors.
Why it matters: Executives are using the invite-only audio app to allow the type of access that was historically only offered up to Wall Street on stodgy, suited-up quarterly earnings calls.
What's happening: Car accessory website Carparts.com hosted a Clubhouse chat last night, with over 2,000 participants — the first time it specifically targeted retail investors.
Retail traders account for nearly as much stock trading volume as mutual funds and hedge funds combined, the FT reports — a milestone of course helped by the Reddit-fueled trading frenzy earlier this year.
Between the lines: Companies are trying to capitalize on the buzz of Clubhouse. Its main allure has been the ability to drop in on conversations with influential people (including CEOs).
What's different now: Using it for conversations after reporting financial results — on a platform that's no doubt teeming with ordinary or would-be investors.
"We never found the perfect forum," Carparts.com CFO David Meniane tells Axios, explaining why it hadn't done a specific event for retail investors before.
"Clubhouse is a fast-growing channel, and the stars really aligned."
Another example: Restaurant Brands International — which owns Burger King, Popeyes and Tim Hortons — put its CEO on Clubhouse last month, one day after it released financial results to Wall Street.
"Companies have calls with investors and business media every 3 months ... [w]hy not give our customers/guests the same access to our leaders." the invite read.
2. Charted: Where the U.S. is taking the lead
Biden's stimulus package is expected to "boost the world economy," a new report from the Paris-based policy group OECD said today.
By the numbers: The U.S. will be the only country to finish 2021 with higher economic growth compared to what was expected before the pandemic struck.
What to watch: The House will vote on the relief package tomorrow morning — the final step before it heads to Biden's desk for a signature.
3. What's moving
🎢 Big tech comeback: The Nasdaq closed up 3.6% — its best day in four months — after yesterday's sell-off that put it firmly in correction territory. (Reuters)
✈️ New orders for Boeing aircraft outpaced canceled ones for the first time since November 2019. (CNBC)
🚗 Kia is recalling nearly 380,000 vehicles in the U.S. because of concerns about potential engine fires. (Axios)
👀 More people on average traveled last week than at any point during the pandemic (excluding holidays) ... Airlines are pushing Biden to standardize proof-of-vaccine paperwork ... Meghan Markle's Royal Family revelations were "concerning," though "some recollections may vary," Buckingham Palace says.
4. Burger King says sorry for bad tweet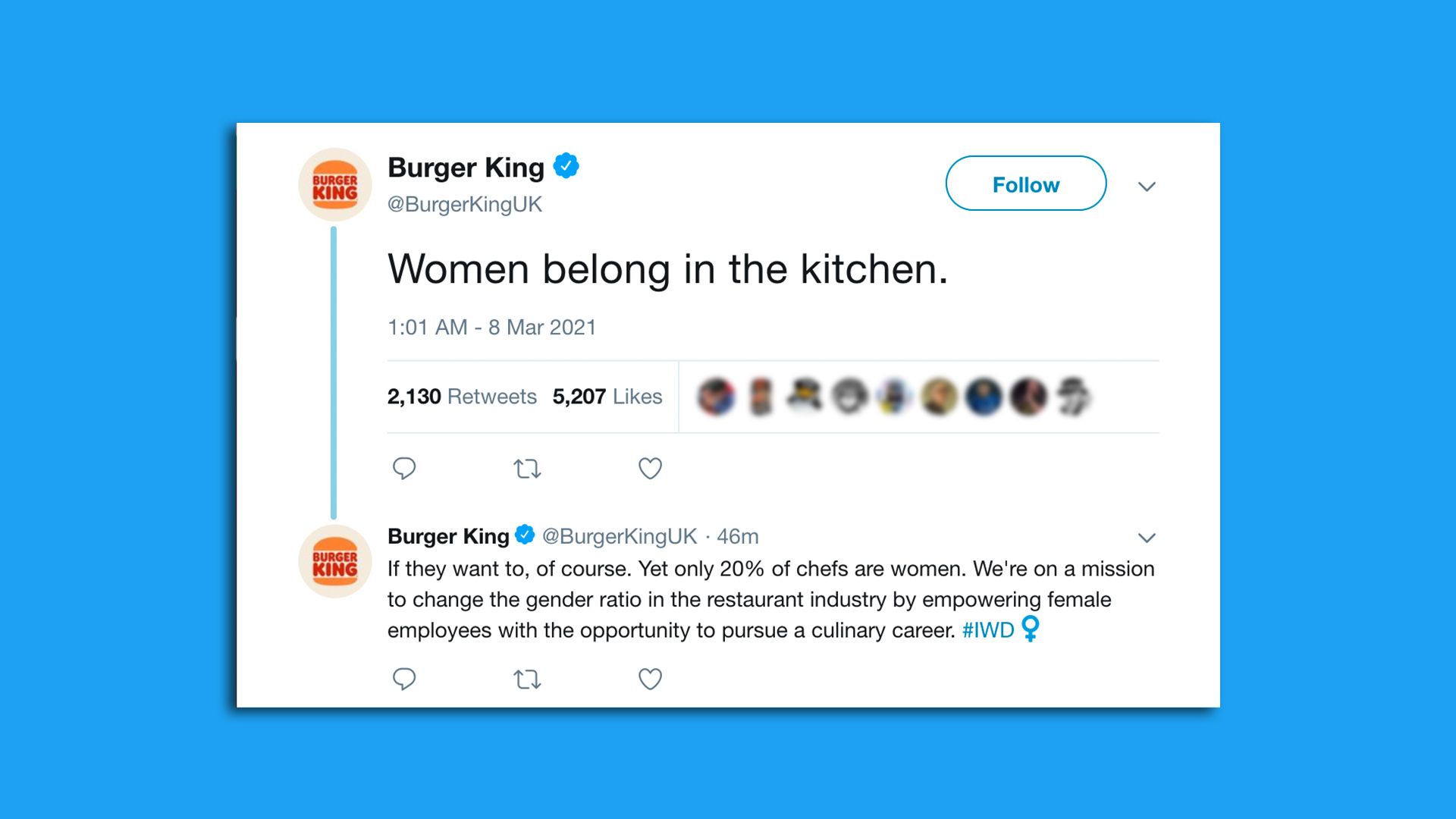 A lesson in tweeting, courtesy of Burger King's U.K. account: The burger chain removed a controversial tweet that caused an uproar.
Catch up quick: The tweet read: "Women belong in the kitchen" — the opening of a thread that went on to say "only if they want to," before advocating for gender equality among chefs in honor of International Women's Day.
What they're saying: "We got our initial tweet wrong and we're sorry."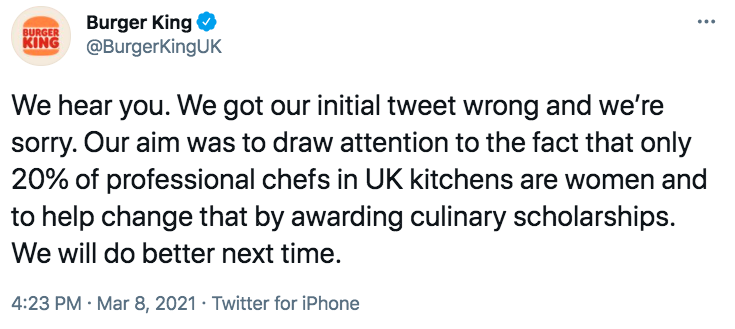 P.S. The full-page ad it took out — which admittedly had better context — will (obviously) remain.
5. 1 year later: How the virus upended LA schools
One year into the pandemic, Axios Re:Cap is looking back at the week of March 9, 2020 — when high-profile leaders were forced to make consequential choices that changed our lives and society.
Here's how Los Angeles schools superintendent Austin Beutner described the country's second-largest school district adapting to at-home learning closures: "It's flying the plane while changing the seats and the wiring in the midst of a thunderstorm running low on fuel. That's what we were doing."
Flashback: Beutner's decision to close schools affected between 3 million and 4 million people, including students, families and employees.
The superintendent received some opposition from families that "didn't necessarily have the same information we did," Beutner said in an interview with Axios Re:Cap.
What he's saying: "If we close schools for fire, everyone can see the fire, it's very visible. Everyone can smell the smoke. It's visible."
"We closed because of this unknown and, at that point in time, unknowable virus, which we thought presented an existential threat of sorts, but we didn't know the conviction."
🎧 Listen to the full episode. Subscribe to Axios Re:Cap here.
🙏 Thanks for reading. Have feedback, tips or questions? Reply to this email or find me on Twitter.