Axios Closer
December 01, 2022
Thursday ✅.
Today's newsletter is 685 words, a 2½-minute read.
🔔 The dashboard: The S&P 500 closed down 0.1%.
Biggest gainer? Etsy (+5.5%), the online retail marketplace, on analyst comments that it fared particularly well on record Black Friday shopping.
Biggest decliner? Salesforce (-8.3%), the cloud-based software company, continuing its slide after yesterday's closing bell following the sudden departure of co-CEO Bret Taylor.
📢 Programming note: Join Hope on Dec. 14 in NYC for Axios Communicators' inaugural event featuring comms leaders from Spotify, Volkswagen and more. Register here.
1 big thing: Balenciaga's big blunder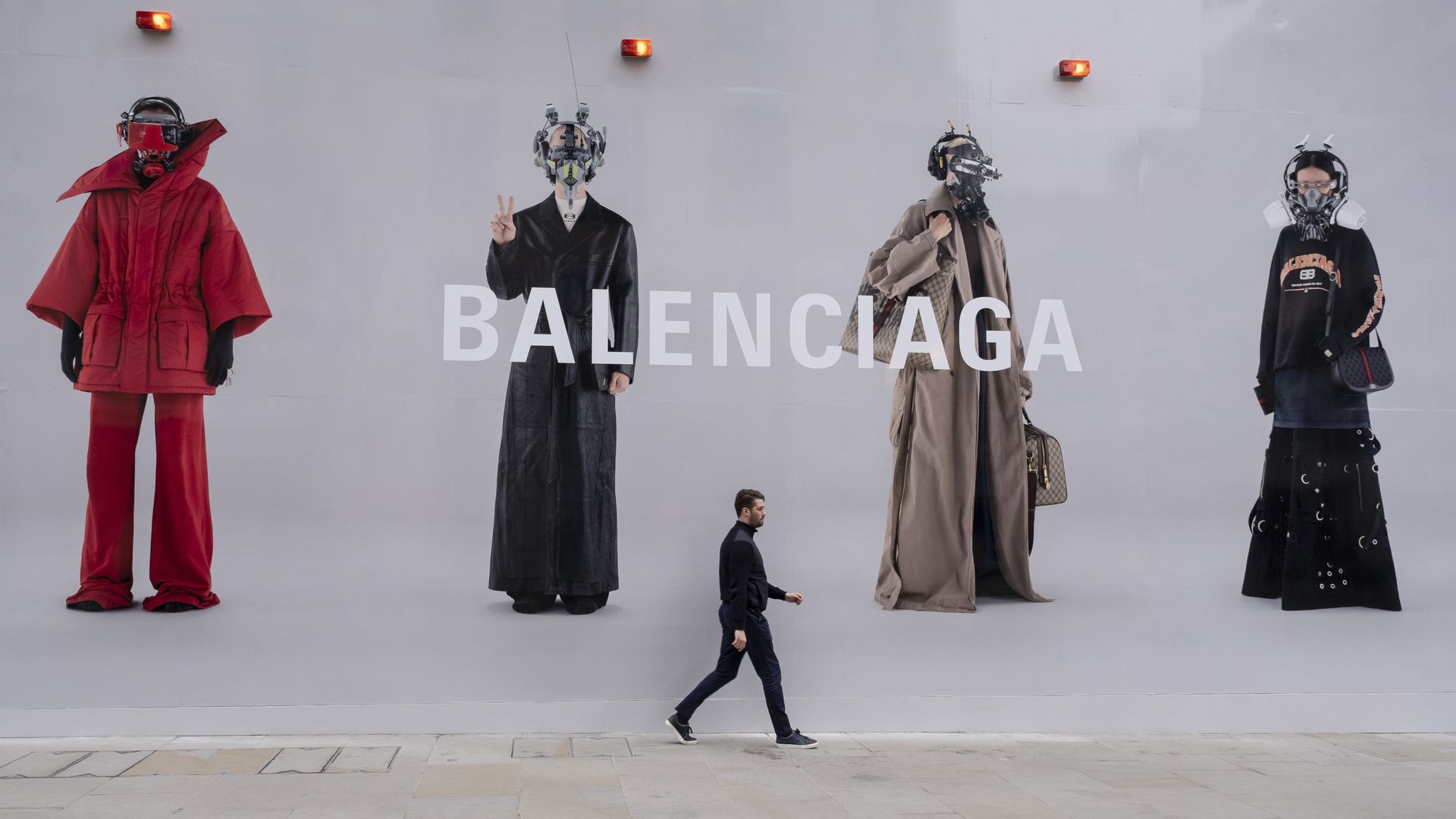 Balenciaga's disturbing editorial decisions paired with its messy, delayed and inadequate response could cause long-term damage to its reputation, Axios Communicators author Eleanor Hawkins writes today.
Catch up quick: The luxury fashion brand released two unsettling ad campaigns in mid-November — one featuring children holding teddy bear-shaped purses covered in bondage and an upcoming one for spring that was staged in an office space featuring a document pertaining to child pornography laws.
These ads sparked outrage across social media and cable news, with many tying the brand to the exploitation of children.
Balenciaga has since removed the bear bondage ad, apologized repeatedly "for any offense" it might've caused, and mapped out steps to ensure this doesn't happen again.
The intrigue: The fashion house on Monday filed a $25 million lawsuit against North Six, the production company, as well as set designer Nicholas Des Jardins for the campaigns featuring the court document.
The suit claims that the document was placed in the campaign photographs without their knowledge, the New York Times reports.
Gabriela Moussaieff, Des Jardins' agent, told the Washington Post that her client is "being used as a scapegoat" by the fashion house because Balenciaga "was present on every shot and worked on the edit of every image in post production."
The brand previously told the Daily Mail that the teddy bear shoot would not be the subject of a lawsuit.
The big picture: "All a brand has is its reputation," SKDK managing director Rae Robinson told Eleanor.
"[Balenciaga] must undertake a comprehensive, internal review of every person involved in creating and approving both ad campaigns."
Read Eleanor's story and sign up for Axios Communicators here.
2. Charted: Inflation flattening
Two main measures of inflation are showing how price gains are slowing down, Hope writes.
New today: The Fed's preferred measure, the Personal Consumption Expenditures index, rose 0.3% in October, the same rate as in August and September.
It was 0.2% when volatile energy and food costs are removed, down from 0.5% in the last two months.
Meanwhile, the Consumer Price Index published a few weeks ago showed a sharp deceleration in monthly core inflation, from 0.6% in September to 0.3% in October.
3. What's happening
4. Summit's most memorable moments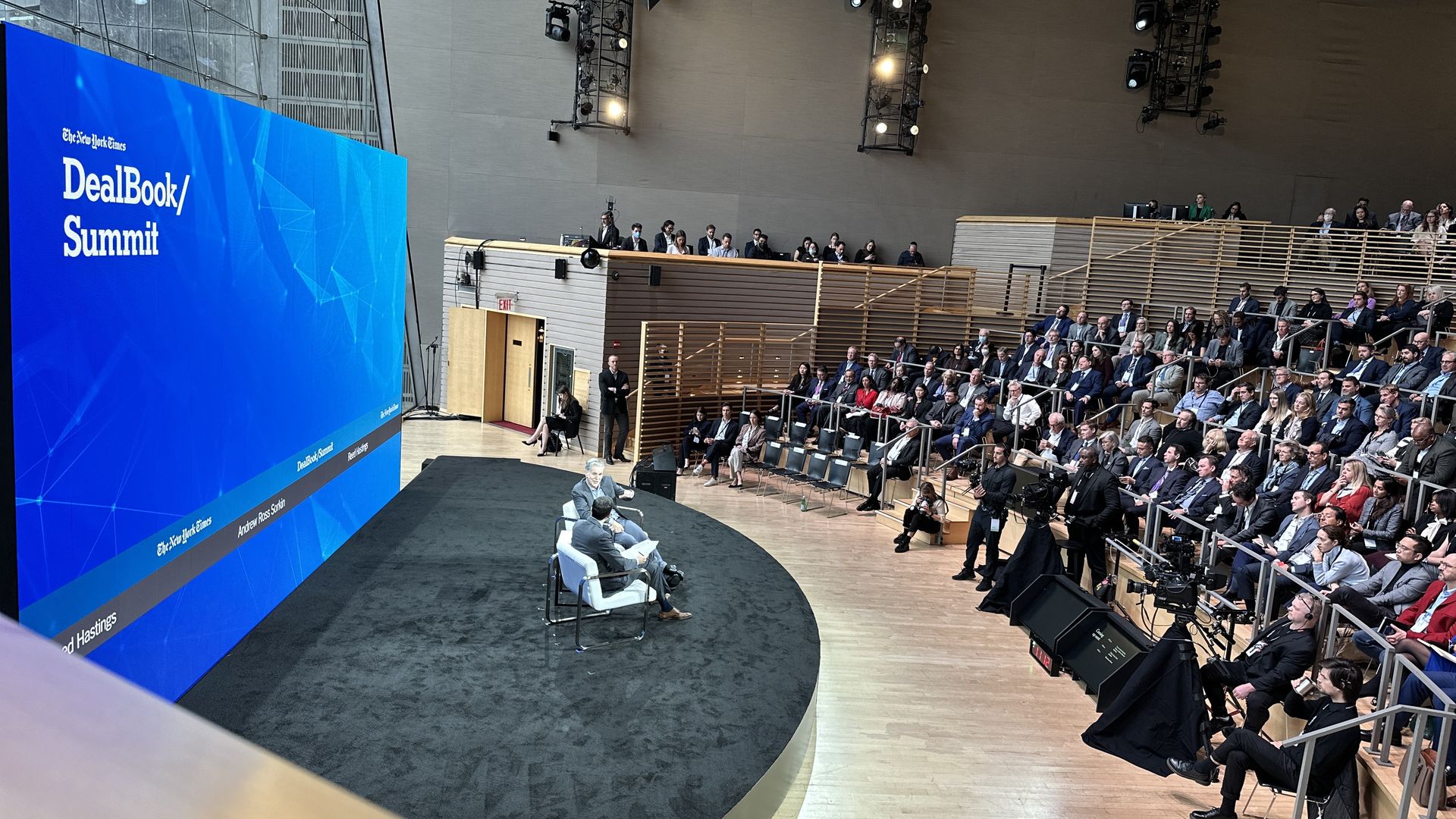 TikTok, China and Elon Musk dominated the non-SBF conversations at the New York Times DealBook Summit yesterday, Hope writes.
The most memorable moments: Treasury Secretary Janet Yellen said there are "legitimate national security concerns" when it comes to TikTok, which is currently in negotiations with CFIUS, an interagency committee that she chairs that reviews foreign companies for threats.
Shou Zi Chew, TikTok's CEO, said he's confident they'll reach a solution that would include allowing only "a team of U.S. residents" to have access to data on its new Oracle Cloud infrastructure.
Netflix co-founder and c0-CEO Reed Hastings called Elon Musk the "bravest, most creative person on the planet" and said he was "excited" about Musk's takeover of Twitter.
Meta CEO Mark Zuckerberg didn't go that far in endorsing Musk but said "it's good that companies take different approaches" to content moderation.
1 fun thing: Yellen said she got hooked on nicotine when she wanted to practice smoking marijuana before a party in college.
5. The powerful's latest power move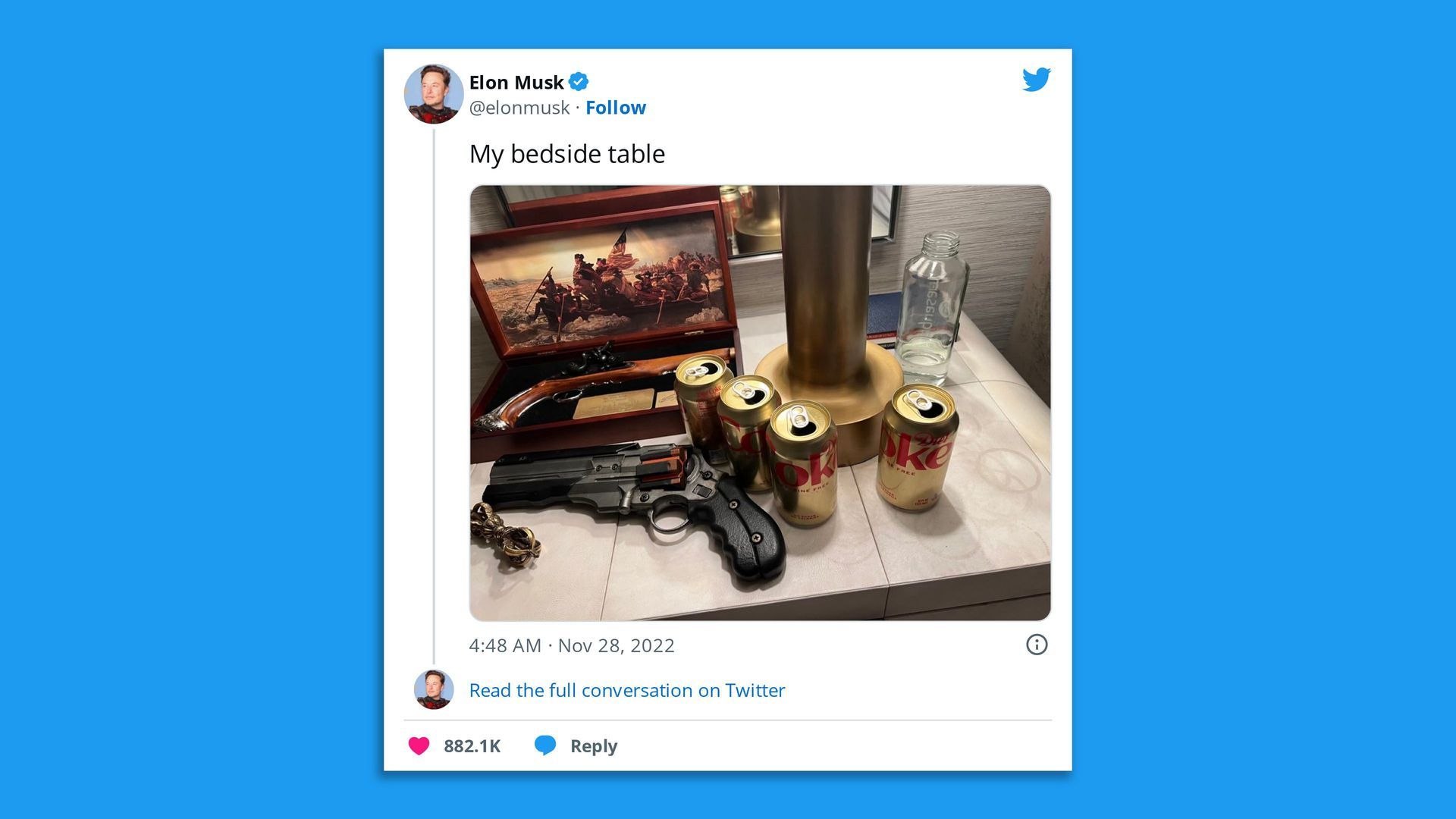 Glimpses of celebrities' nightstands have social media abuzz, Nathan writes.
Driving the news: Elon Musk this week tweeted a photo of a table strewn with empty cans of caffeine-free Diet Coke and what appeared to be two guns.
We're not exactly sure why. But he did.
And it drew nearly 90,000 comments.
The intrigue: This isn't even the first time a bedside table has captured social media's attention, the Wall Street Journal reports.
Sarah Jessica Parker posted hers on Instagram last year. No guns, although a hand cream and deep-sleep pillow spray managed to spark enough discussion.
6. What they're saying
"If we don't do something, customers will continue to lose money and we're going to be right back here in a couple months."
— CFTC chair Rostin Behnam said in a Senate Committee hearing today that
stumped for legislation
to regulate crypto.
Today's newsletter was edited by Pete Gannon and copy edited by Sheryl Miller.
🇨🇭Axios will be at the 2023 World Economic Forum in Davos, Switzerland. Want to attend one of our events? Request an invite here.