Axios Closer
April 30, 2021
Happy Friday! Hope King here in for Courtenay Brown. She'll be back Monday!
🛎 The dashboard: The S&P 500 closed down -0.72%.
Biggest gainer? Professional services company Aon (+5%) after reporting 1Q results this morning.
Biggest decliner? Twitter (-15%). The company released weak 2Q guidance and lower than expected user growth after market close yesterday.
Today's newsletter is 700 words, or a 2.5-minute read.
1 big thing: Scooter comeback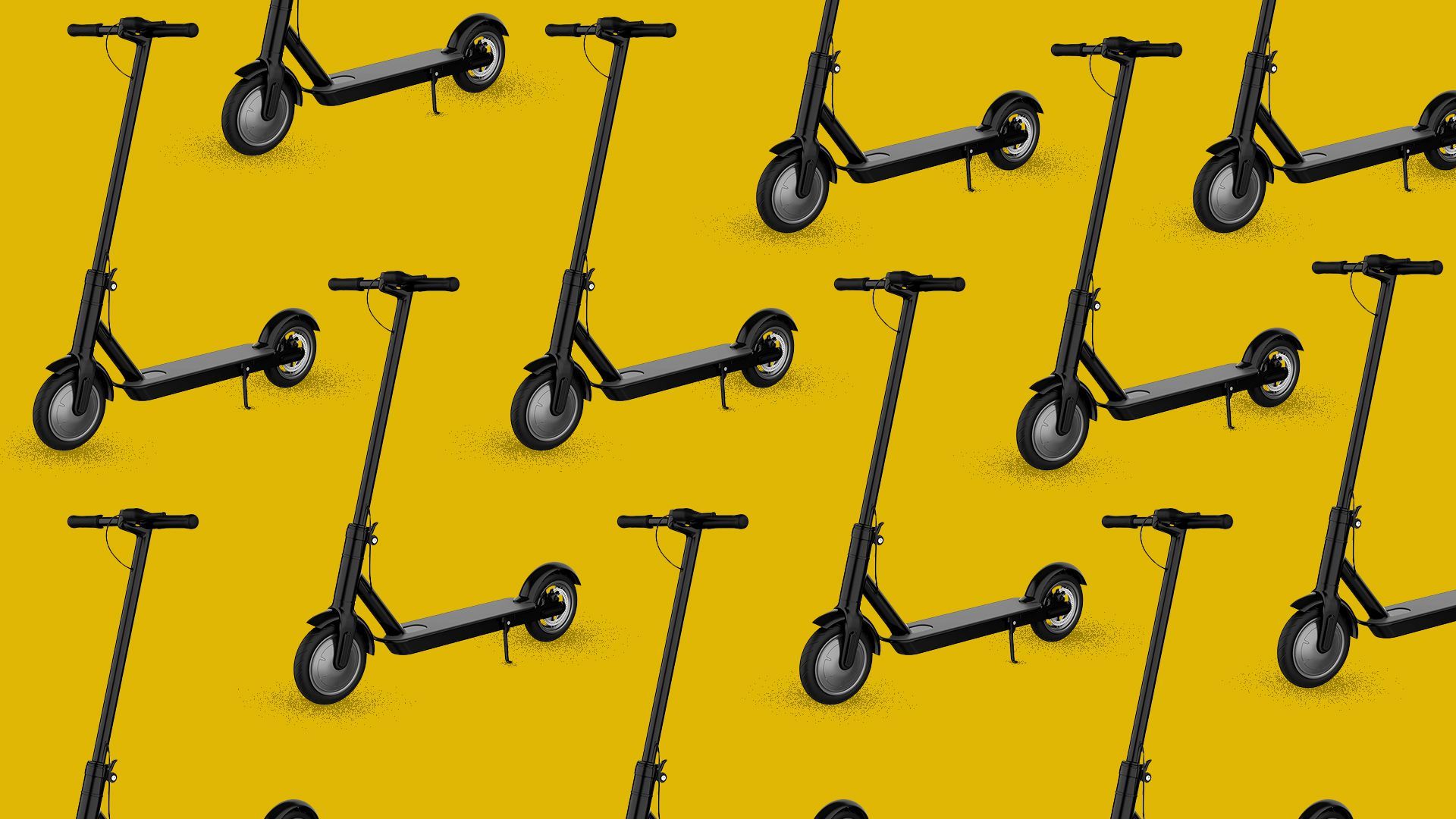 Scooter companies largely survived and in some ways thrived over the past year, despite setbacks early in the pandemic — and that momentum is expected to grow. 
Why it matters: Social distancing, hybrid and permanent work-from-home arrangements and worker relocation patterns have changed transportation needs and cities' attitudes.
Driving the news: New York City's pilot program is starting soon and makes the case for micro-mobility as an alternative, cheaper transit mode.
3,000 Bird, Lime and Veo e-scooters are expected to be available in the East Bronx starting in the early summer for a pilot program, the city announced this month. 
New York City's decision on any permanent shared-scooter system would have a huge impact as it could become the biggest U.S. market for scooters.
Around the country: Cities that experimented with pilot programs before the pandemic are reconsidering the option.
Raleigh, North Carolina, officials are in talks to bring back scooters after companies Bird and Lime abandoned plans in 2019 due to "burdensome regulations." 
Chicago's transportation department is looking into permanent options.
What to watch: Cities are expected to reduce permit fees for scooters and other micro-mobility options as some places like San Francisco shift away from cars.
Scooter companies may also benefit from working with real estate developers to design living communities with micro-mobility options.
2. Charted: Vaxxed and booked ✈️
Demand for travel is back up amid the vaccine-fueled reopenings. The growth rate for flight bookings is inching closer to growth in online spending, according to Adobe Analytics.
What it means: Much of this demand has been pent up over the past year.
For example, flight bookings for Christmas this year are up 17% from March 2019, while Thanksgiving bookings are up 9%.
3. What's moving
⚡Volkswagen is in hot water for its "Voltswagen" marketing stunt with the SEC, which is reportedly looking into whether the company influenced its stock price with the joke. (Reuters)
📈 Facebook, Apple, Amazon, Microsoft and Google continued to benefit in 1Q from demand in cloud services and at-home entertainment. (Axios)
Apple suffered a setback in Europe today when regulators deemed it violates competition rules involving streaming music apps.
4. Berkshire's California showdown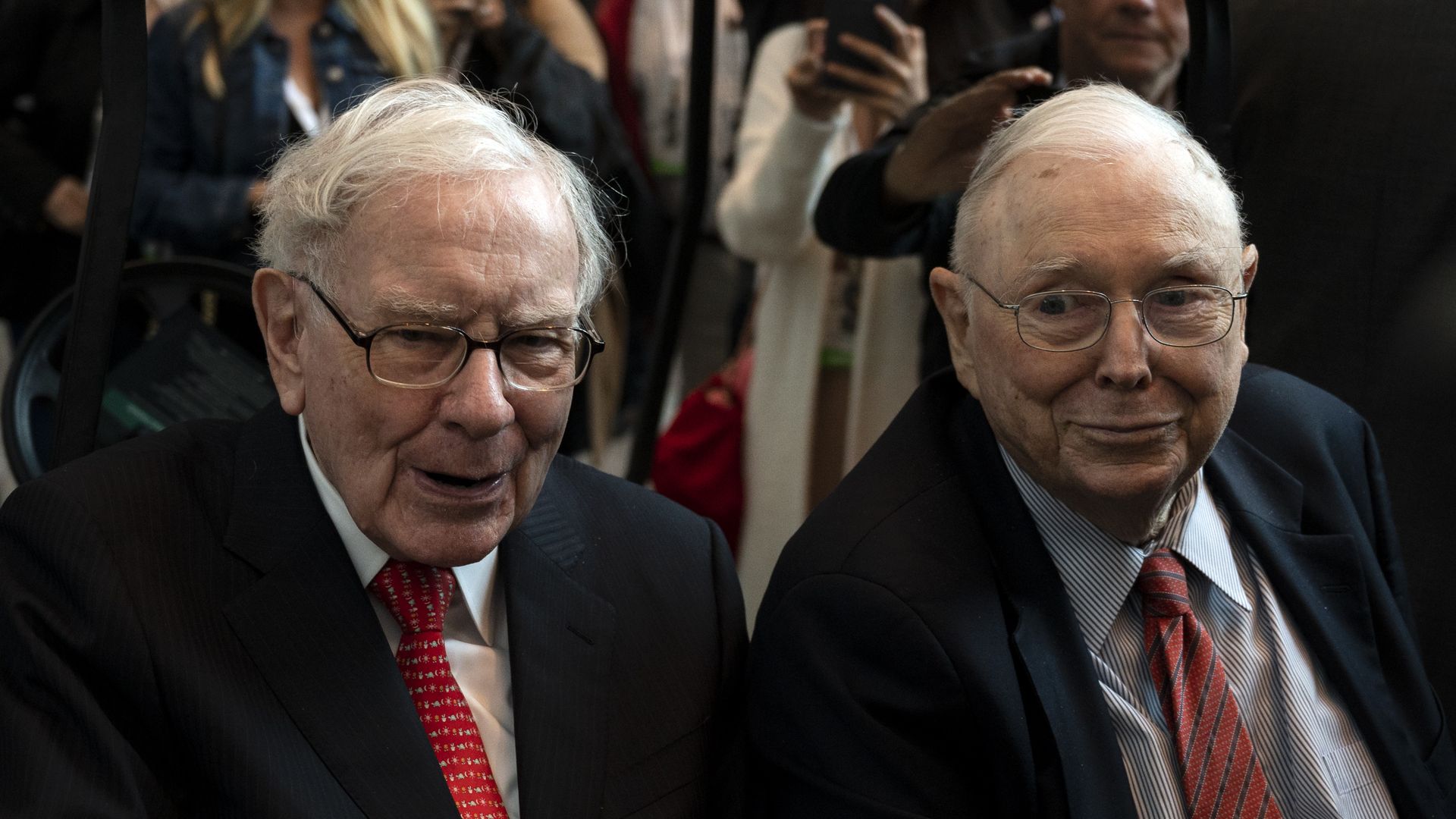 Warren Buffett is heading to Los Angeles to reunite with longtime lieutenant Charlie Munger, showbiz-style, for Berkshire Hathaway's annual shareholder meeting Saturday, writes Axios' Business Editor Kate Marino.
Why it matters: At a time when many companies are taking vocal stands on social, political and environmental issues, Berkshire is bucking the trend.
The conglomerate faces renewed calls from large institutional shareholders to provide more disclosure on climate change and diversity and inclusion progress.
But Buffet recommends shareholders vote against these proposals.
What they're saying: "I don't believe in imposing my political opinions on the activities of our businesses," Buffett said at the 2018 shareholder meeting, per DealBook.
The state of play: California's pension system, CalPERS, is withholding votes on the reelection of members of the board's audit and governance committees for failing to meet climate-risk disclosure demands, writes the WSJ.
Proxy advisers Glass Lewis and Institutional Shareholder Services also recommend investors withhold board votes.
Yes, but: The shareholder proposals aren't expected to pass, thanks in no small part to Buffet's one-third voting power, DealBook notes.
5. Tesla's big Model Y shoes
Elon Musk says the plug-in Tesla Model Y will be the world's best-selling vehicle by next year-ish, writes Axios' Joann Muller.
The big picture: To do that, the electric SUV would need to outsell some of the most iconic vehicles in the world: the Toyota Corolla, Toyota RAV4 and Ford F-Series truck.
Joann's thought bubble: It's a bold prediction, and Musk is known for making a lot of those that don't happen. Still, there's no denying the electric car manufacturer has huge momentum.
Model Y is brand new, and production is still increasing at factories in California and China.
What Elon's saying: "When it comes to Model Y, we think Model Y will be the best-selling car or vehicle of any kind in the world, and probably, next year. ... I'd say more likely than not that in 2022 Model Y is the best-selling car or truck of any kind in the world."
Yes, but: Tesla reports Model 3 and Y deliveries together so it'll be hard to verify his claim.
Last year, Tesla sold 442,511 Model 3/Y units, so sales would need to more than double to come close to No. 1.
6. What they're saying
"These companies are making profits and revenue and I'm not (going to) begrudge anyone for that because that's what we are about in America. But we also want to make sure that success trickles down to the worker."
— Labor Secretary Marty Walsh, in an exclusive interview with Reuters, on why he supports
classifying gig workers
as employees