Axios Closer
May 23, 2022
🍔 Happy Monday! We're not ready to try the first Arby's burger — but don't let us stop you from indulging. YOLO.
Today's newsletter, edited by Pete Gannon, is 671 words, a 2½ -minute read.
⚡️ Situational awareness: Snap shares fell more than 24% after hours following a report that the company will miss revenue and earnings and slow hiring.
🔔 The dashboard: The S&P 500 closed up 1.9%.
Biggest gainer? Ross Stores (+9.6%), the discount retailer, recovered some of the steep losses it suffered Friday after quarterly earnings.
Biggest decliner? Autodesk (-4.1%), following an analyst downgrade.
1 big thing: Cars are getting old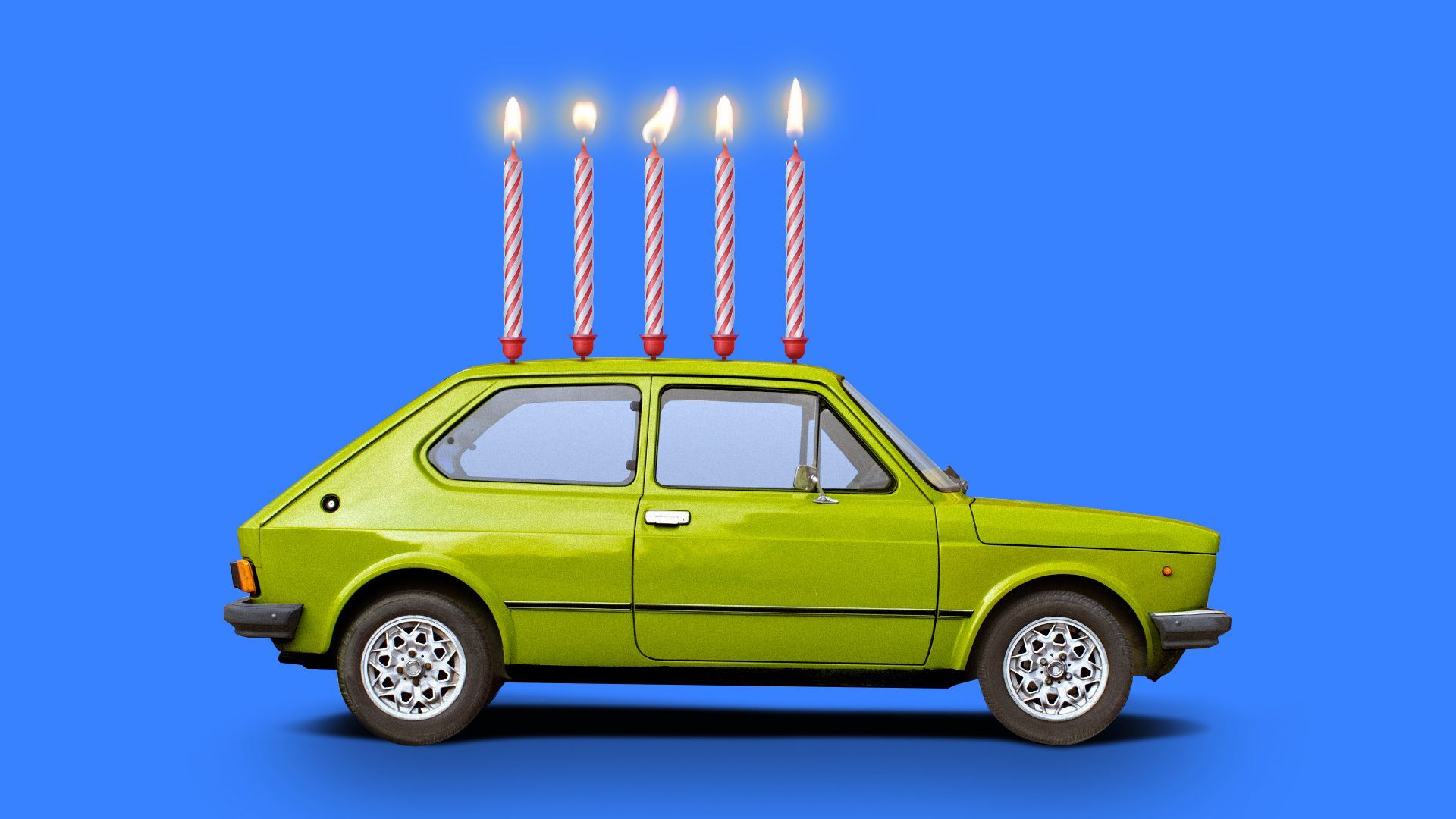 Cars are getting long in the tooth, Nathan writes.
The average age of vehicles on the road hit an all-time high for the fifth straight year, reaching 12.2 in 2022, according to an annual report released today by S&P Global Mobility.
Why it matters: Americans are adapting as they deal with the confluence of price spikes, rising borrowing rates and vehicle shortages.
"People are keeping their vehicles longer and repairing them," Autotrader analyst Michelle Krebs tells Axios. "We're seeing a lot more service business."
By the numbers: The average age of vehicles has been rising for decades, having jumped from 9.6 years in 2002 and 11.1 in 2012.
The figure stems from the annual "scrappage rate" — the share of vehicles that were sent to the junkyard in a given year. That figure is at a two-decade low of 4.2% in 2022, according to the report.
The big picture: With new vehicles in short supply due to the global shortage of semiconductor chips, prices have skyrocketed for new (up 13.2% in April) and used cars (up 22.7%), increasing the incentive for people to hang onto their rides.
Worth noting: Rising interest rates are making it harder for some people to trade up.
The average new-car buyer agreed to an estimated $648 monthly payment on a 70.2-month loan in April, up $68 from April 2021, per Edmunds.
Disclosure: Autotrader is owned by Cox Enterprises, an investor in Axios.
2. Charted: The great package race
Amazon's package delivery business is closing in on UPS, Hope writes.
Its shipping division, Amazon Logistics, already surpassed FedEx in terms of market share by volume in 2020.
Catch up quick: Amazon Logistics last year held a 22% share of the parcel delivery market (by volume), compared to UPS at 24%, according to a new Pitney Bowes report out today.
Yes, but: In terms of revenue, Amazon Logistics commands just 12% of the market compared to FedEx (33%) and UPS (37%).
Be smart: Amazon Prime free shipping limits the company from making the same kind of profits per package as the two legacy carriers, Modern Retail notes.
What to watch: Amazon says it wants to invest $1 billion in other logistics companies as part of a new venture program, the Amazon Industrial Innovation Fund.
3. What's happening
4. Airbnb to remove all China listings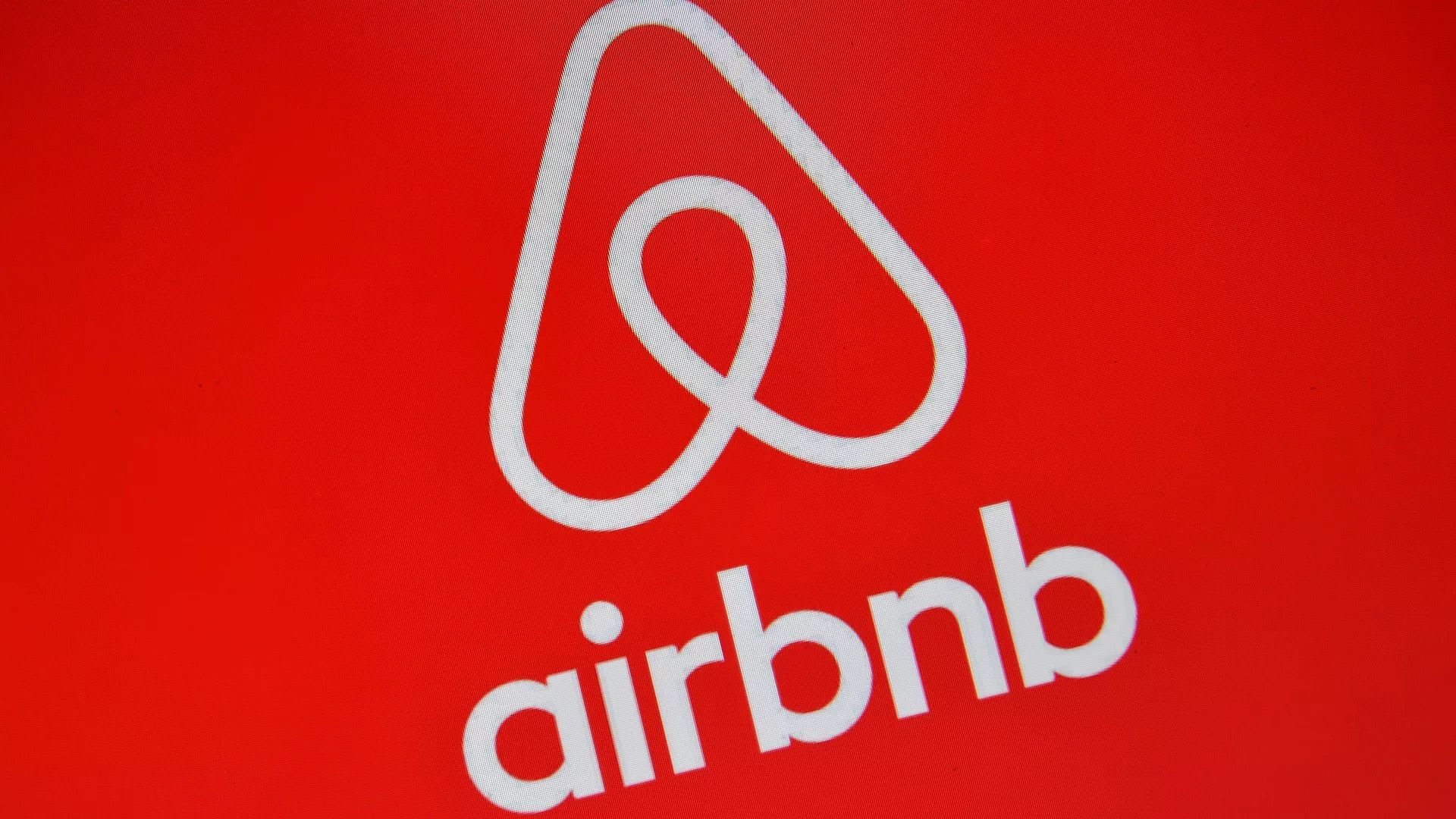 Airbnb will remove all homes and experiences in China from its platform by mid-summer, a source familiar with the situation tells Hope.
The platform has failed to gain popularity in the country since officially launching China-based listings in 2016, with those stays accounting for about 1% of revenue over the past few years, according to the source.
The company's exit from China was first reported by CNBC.
Airbnb intends to maintain an office in Beijing with employees focused on Chinese tourists traveling globally and other global projects, according to the source.
The opportunity to capture that specific demand has now become a bigger priority for Airbnb than trips inside the country, according to the source.
An Airbnb spokesperson declined to comment.
5. Virgil Abloh "Air Force 1" exhibit gives rise to art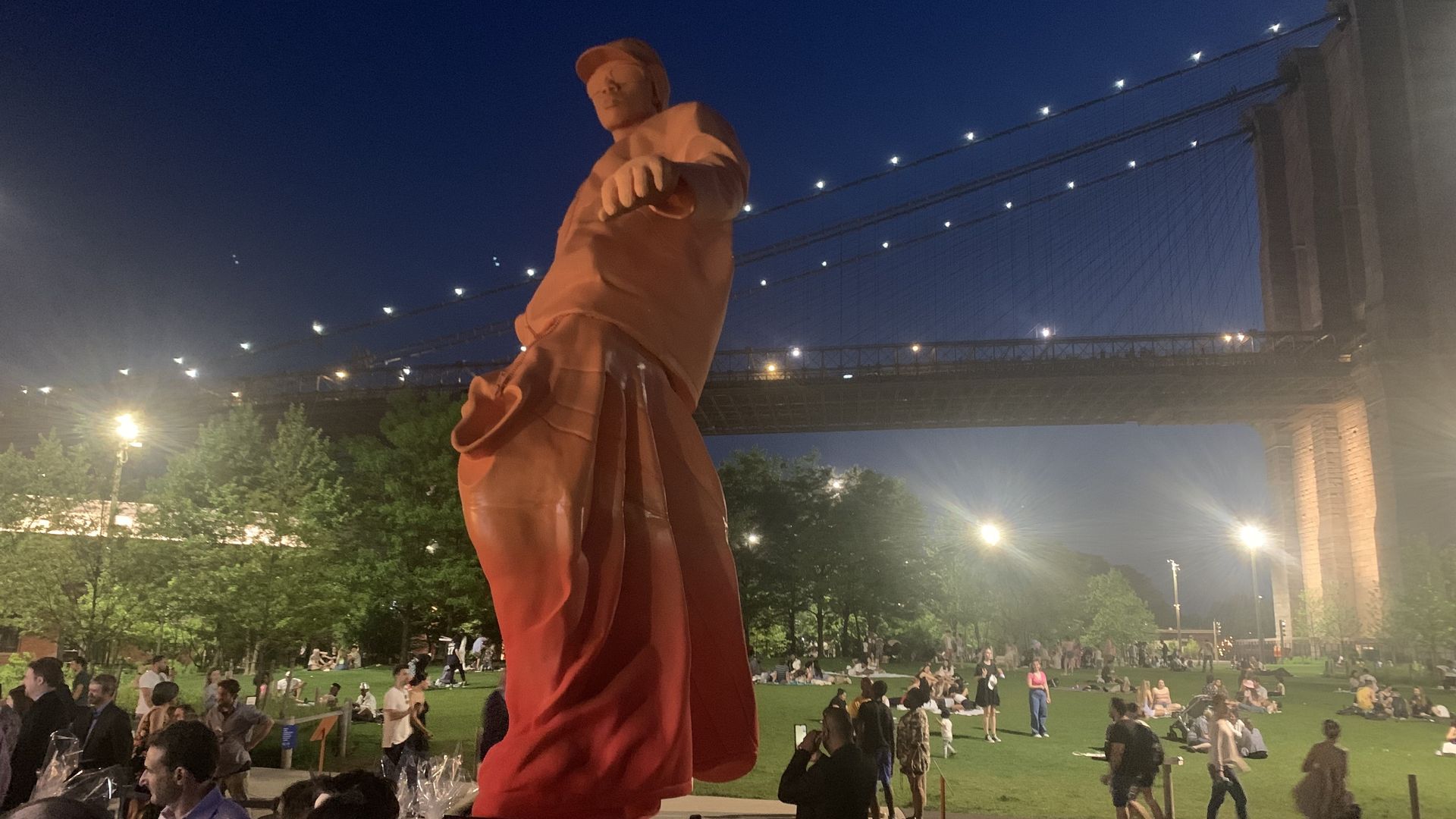 New York nights feature new outdoor art, Hope writes.
Spotted by Axios' Kate Marino: A giant skateboarder designed by the late fashion powerhouse Virgil Abloh in Brooklyn's DUMBO neighborhood.
Why it matters: Abloh, who died at 41 in November from a rare form of cardiac cancer, was — among many things — the first Black artistic director in the history of Louis Vuitton. 
The statute is one of several installations coinciding with an exhibition of Abloh-designed Nike "Air Force 1" sneakers.
6. What they're saying
"The news of Dan's passing in this violent attack in the city that so many of our people call home comes as a shock to all of us."
— Goldman Sachs CEO David Solomon in a letter to employees on the death of Daniel Enriquez, a member of the firm's investment research team, in a
subway shooting
Sunday morning.