🌇 Welcome to Axios Cities. I'm Kim Hart, your tour guide through the issues transforming cities each Wednesday. Please send tips, feedback and urban legends to [email protected], or just reply to this email.
Was this newsletter forwarded to you? Sign up here.
Today's inaugural edition is 1,669 words, ~ 6-minute read.
Let's start with a look at a few reasons why it's a critical time to be covering cities.
1 big thing: Winner-take-all cities
The American urban renaissance has been far from equal, and it's helping drive our politics off the rails.
The new and best-paying jobs are clustered in cities like San Francisco, New York and Seattle.
A widening chasm separates these cities from struggling post-industrial ones like Cleveland, Detroit and Newark.
And distressed areas are fading as their populations age and young workers head to coastal cities.
The top 25 metro areas (out of a total of 384) accounted for more than half of the U.S.' $19.5 trillion GDP in 2017, according to an Axios analysis of data from the Bureau of Economic Analysis.
Why it matters: This winner-take-all dynamic has led to stark inequalities and rising tensions — both inside and outside city limits.
The big picture: Modern cities wield more power on the global stage than ever before, simultaneously serving as tech testbeds, policy pioneers and economic experiments.
But cities also sit at the crux of some deepening divides.
As some places pull ahead, the widening urban-rural gap helps drive today's political polarization.
"Because of this geographic divide, American elections have come to be seen as high-stakes sectional battles pitting the interests and identities of cities and inner suburbs against those of exurbs and the rural periphery," Stanford University professor Jonathan Rodden writes in "Why Cities Lose."
Struggling areas outside urban cores were key to President Trump's 2016 victory, and Trump has criticized some of the most successful U.S. cities — where voters largely rejected him — as decaying hubs of crime, homelessness and filth.
"This is the liberal establishment. This is what I'm fighting," Trump recently told Fox News' Tucker Carlson. "It's a terrible thing that's taking place."
The tech industry, confronting its own winner-take-all backlash, is often the scapegoat for gentrification and out-of-control costs of living in superstar cities — particularly in the San Francisco Bay Area and Seattle.
There is a correlation between the concentration of tech startups and higher levels of wage inequality, urban expert Richard Florida points out in "The New Urban Crisis."
Yet he also found that, while urban tech workers put pressure on real estate, the industry is also a huge driver of jobs and tax revenues.
Yes, but: Only a handful of places have reaped the benefits of the tech boom. Even Amazon's HQ2 went to top-tier locales, despite more than 200 applicants from all corners of the country.
The bottom line: Economic opportunity for most Americans increasingly hinges on one factor: where you live.
Go deeper: Read the full story
2. Exclusive: Immigrants are moving to smaller cities
As young Americans stream to coastal cities, immigrants are seizing opportunities in the Midwest and the South where midsized cities are struggling to maintain a younger, working-age population.
Why it matters: From 2014 to 2017, immigrants contributed nearly 33% of the total population growth in the top 100 U.S. metro areas — and they're settling in smaller cities that aren't typically considered immigration hubs, according to new research from New American Economy.
"Immigrants — very similar to other Americans — are looking for less crowded, more affordable cities that have dynamic job markets," said Andrew Lim, research director at the bipartisan research and advocacy organization.
Details: Immigration helped reverse population decline in several metros, such as Detroit, Memphis, Dayton and St. Louis.
In 2017, immigrants were responsible for 98% of the population growth in metro Cincinnati, 88% of the growth in metro Birmingham, and 87% of growth in metro Miami.
4 of the top 10 cities seeing the most population growth from immigrants are in Florida — a state seeing a disproportionate growth of aging residents.
What's happening: Many of the top destinations are grappling with a demographic double whammy: a growing aging population on one hand, and a dwindling young population on the other.
Immigrants to the U.S. are more likely to be of working age — between 25 and 64 — than the native-born population. Meanwhile, 98 of the top 100 metros saw an increase in population above the age of 65 between 2014 and 2017.
Health care is a popular job area as demands grow in caring for aging residents. In El Paso, for example, immigrants made up a third of health care workers in 2017. In the Minneapolis-St. Paul area, that number was 20%.
The big picture: Immigration is a national flashpoint right now, with controversies around poor conditions in detention centers along the Mexican border and political fights over whether the 2020 Census will include a citizenship question.
Go deeper:
3. Cities without accountability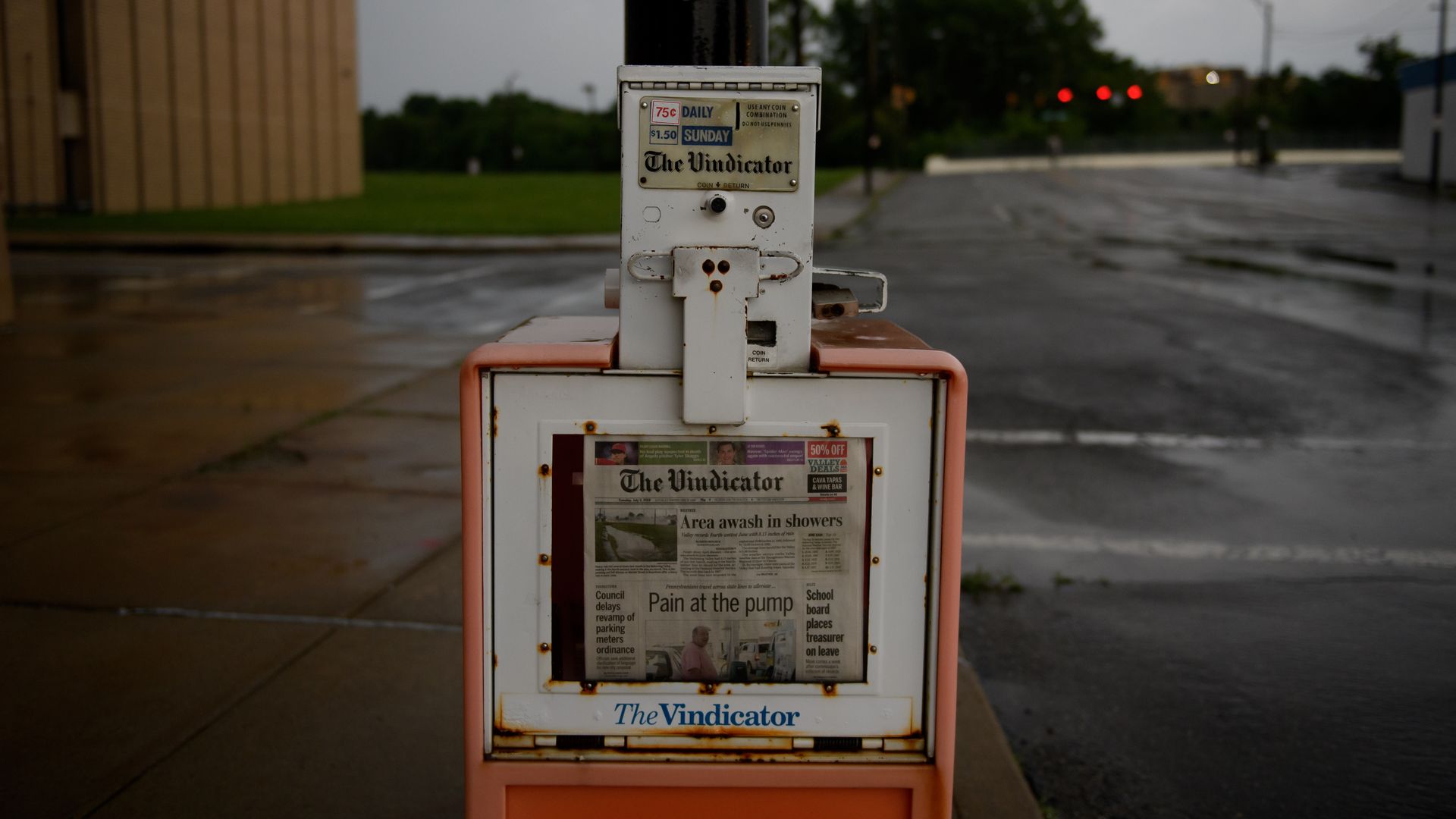 News deserts that have been spreading across rural America are creeping toward small- and medium-sized cities, Axios' Sara Fischer writes.
Why it matters: For decades, newspapers have served as a powerful check on the power of local municipalities. In their absence, city governments are becoming less efficient and fewer politicians want to run for local office.
Driving the news: The closure of The Vindicator, 150-year-old local newspaper for Youngstown, Ohio, has led to fears that many similar small- and medium-sized city newspapers around the country will soon face a similar fate.
As Nieman Lab's Josh Benton notes, many dying papers are owned by families who are tired of trying to revitalize shrinking businesses.
Those family owners typically sell to big newspaper chains, like Gannett or McClatchy. But when even the big chains don't want to save those papers, there's a big problem. 
Papers still in business are scaling back: The Chicago Defender, a paper published for the city's black community since 1905, is ending print publication this week.
Be smart: Academics have found that without the critical government oversight facilitated by newspapers, city municipalities are wasting millions of taxpayer dollars and are becoming less efficient.
"Researchers from the University of Illinois at Chicago and the University of Notre Dame found that municipal borrowing costs increase after a newspaper ceases publication," AP reports.
Fewer people are running for local offices, like mayor, because there's less local newspaper coverage of those races.
The bottom line: The watchdogs that have kept municipal governments accountable and productive for more than a century are disappearing. 
4. Urban files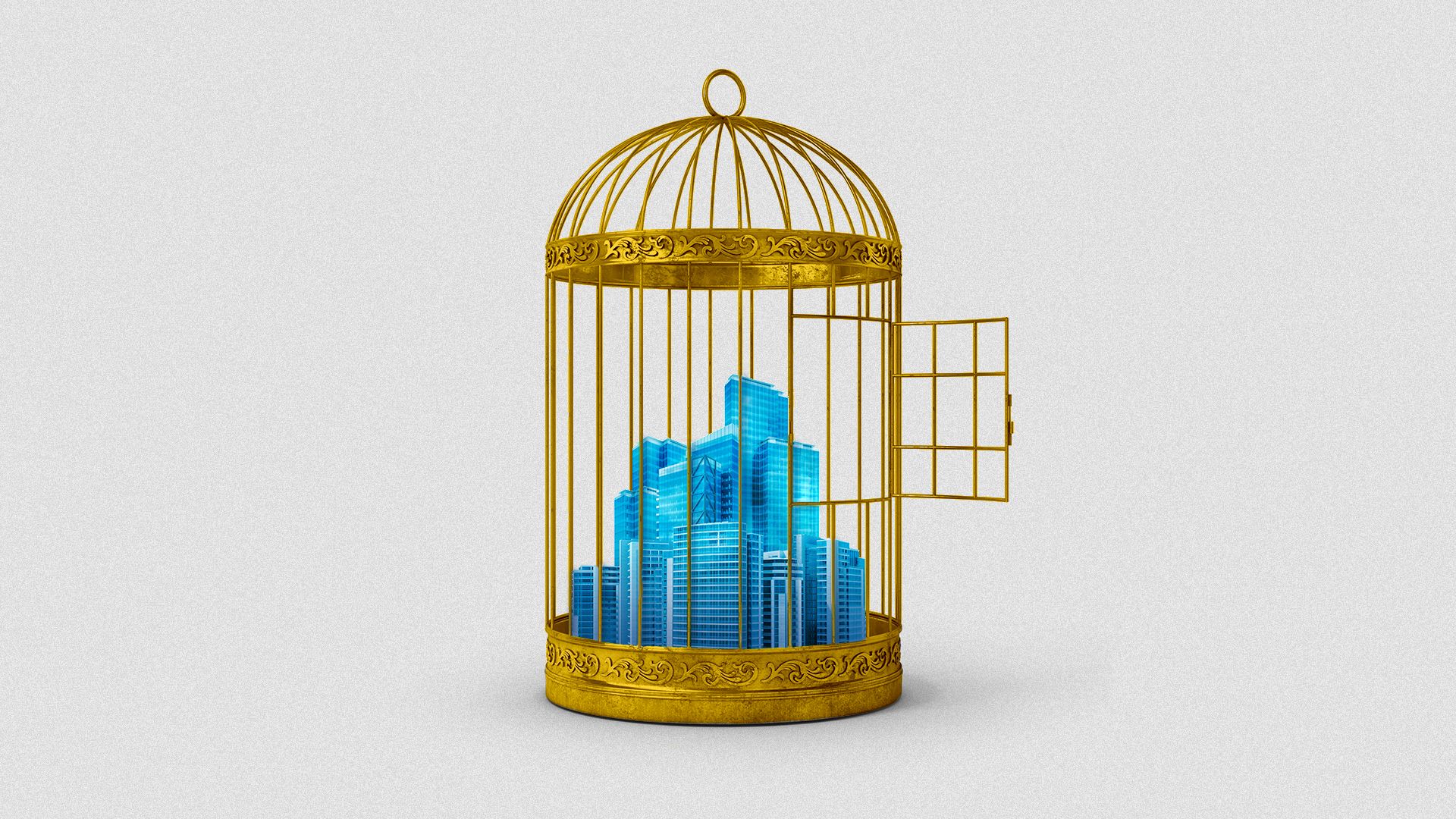 Cities help AVs decipher local rules of the road (Joann Muller, Axios)
LA residents put up barriers to fence out homeless people (Benjamin Oreskes, LA Times)
Maps reveal where the creative class is going (Richard Florida, CityLab)
Satellites can spot failing infrastructure from space (NASA)
Cities' best response to ransomware attacks (Joe Uchill, Axios)
The downside of 5G (Christopher Mims, WSJ)
How NYC's skyline is changing to give the wealthy a better view (Sergio Pecanha, NYT)
EXPERT VOICES
5. Why China is pulling ahead on building smart cities
China is developing 500 smart cities — almost half the worldwide total, and more than 10x North America's figure, Harvard's Graham Allison writes for Axios.
Why it matters: China's smart cities signal the country's strengths not only in technology and infrastructure, but in implementation.
Details: In Canada and the U.S., smart cities face obstacles including skepticism of Big Tech, privacy concerns, outdated infrastructure and the difficulty of aligning stakeholders.
The U.S. is developing 40 smart cities, less than 4% of the globe's total.
In the meantime, over 80 cities and counties in the U.S. are suing the FCC over new rules designed to accelerate the buildout of America's 5G infrastructure, which is expected to be the backbone of advanced "internet of things" (IoT) technology.
Alphabet's Sidewalk Labs is attempting to transform a neighborhood in Toronto into "the most innovative district in the world," but hurdles including protests and lawsuits have delayed plans by 6 months, and construction hasn't begun.
Meanwhile, China's political system and extraordinary rate of rural-to-urban migration work together to fuel the country's full-speed advance.
China's urbanization offers opportunities to deploy advanced technologies.

China owns over 60% of the globe's 1.5 billion cellular connections that use the most promising IoT technology standard.
In Shanghai's Jing'an district, China Telecom has installed more than 500,000 sensors — on everything from fire hydrants to manholes.
Hangzhou's smart city technologies have reportedly increased traffic speeds by 15% and reduced ambulance arrival time by 50%.

But China's sensors and cameras also create a data dragnet, offering China's surveillance state unprecedented omniscience.

China has an estimated 200 million surveillance cameras, while the U.S. has 50 million.
The bottom line: When it comes to building smart city infrastructure, China is at a clear advantage, as many of North America's greatest obstacles are irrelevant for the Chinese government.
6. 1 🚁 thing: Copter commute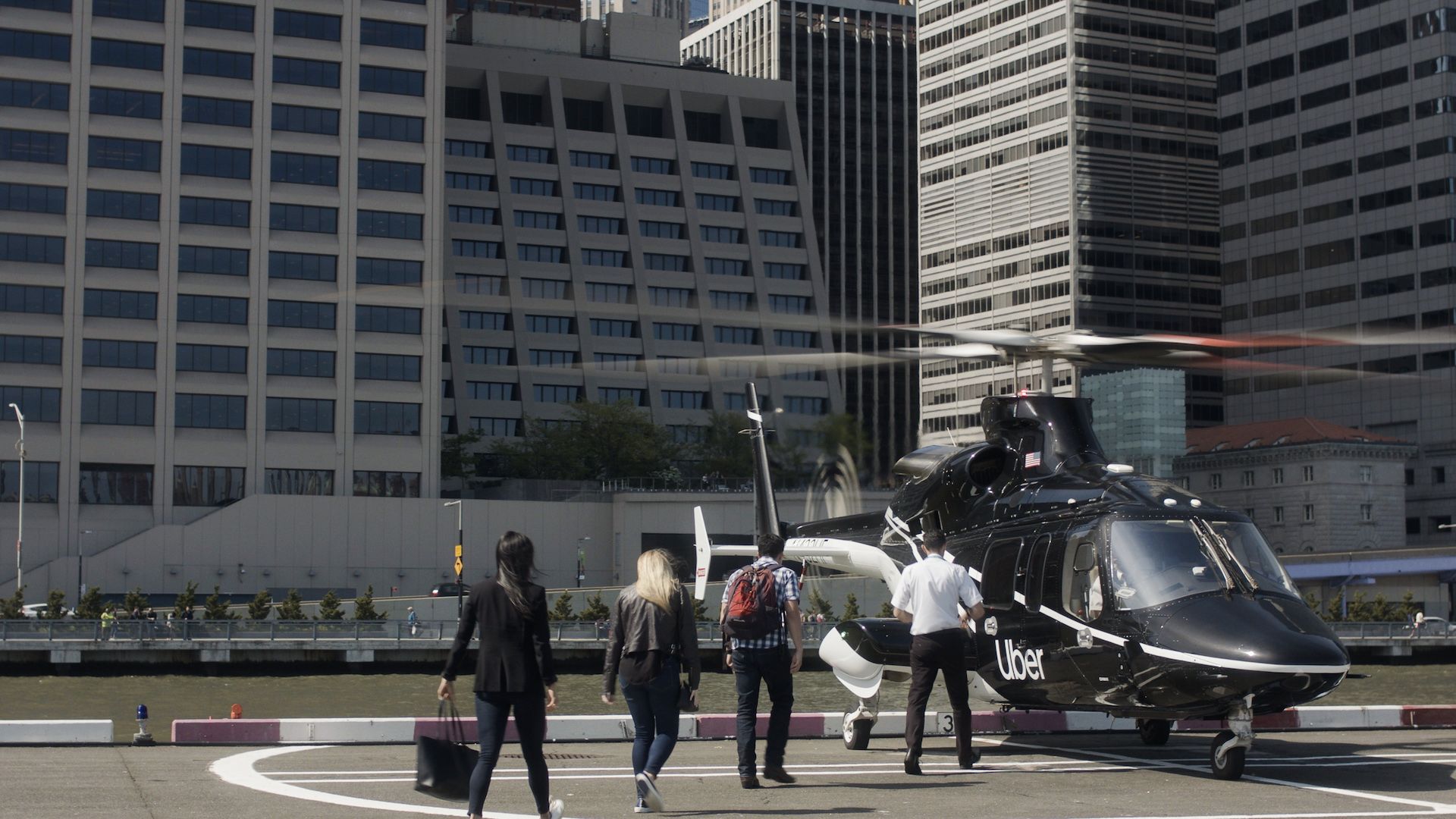 Uber Copter now offers the option to fly above rush-hour traffic between lower Manhattan and JFK International Airport on weekdays.
The average one-way trip will cost you $200–$225 for an 8-minute ride, depending on demand.
That includes an Uber car ride on both ends connecting the rider to and from the heliports.
The bottom line: This isn't for average travelers. For now, the first aerial ride-share program is for Platinum and Diamond Uber Rewards members only. If it's successful, Uber Copter may expand to other cities and customers.
Bonus: You are the traffic
Even RuPaul is sick of all the cars on the road.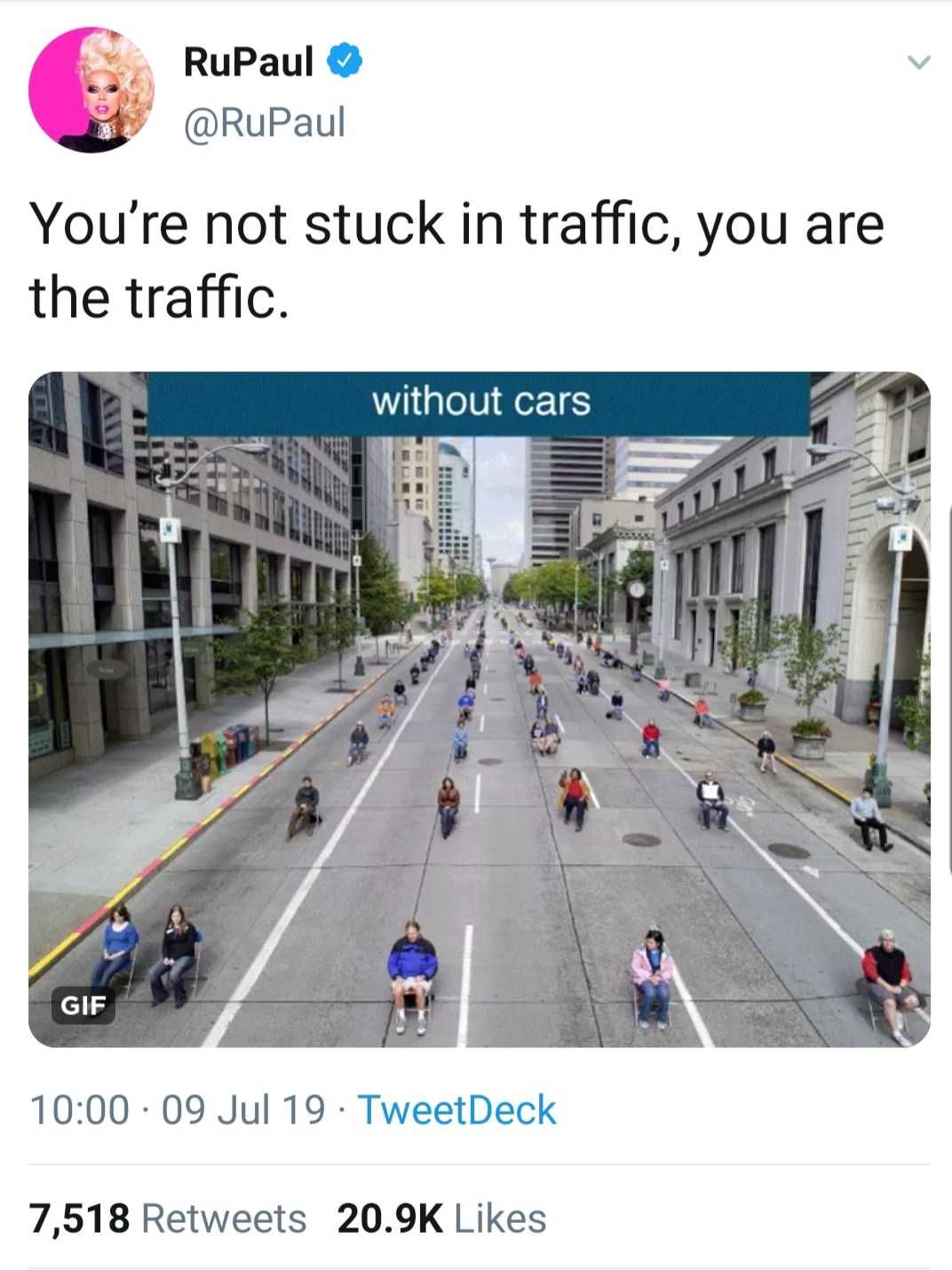 Thanks for reading! See you next week.