Welcome back to Axios Cities! Please send your comments and ideas to kim@axios.com, or just hit reply.
Was this newsletter forwarded to you? Sign up here.
Today's Axios Cities is 1,533 words, <6-minute read.
1 big thing: The other housing crisis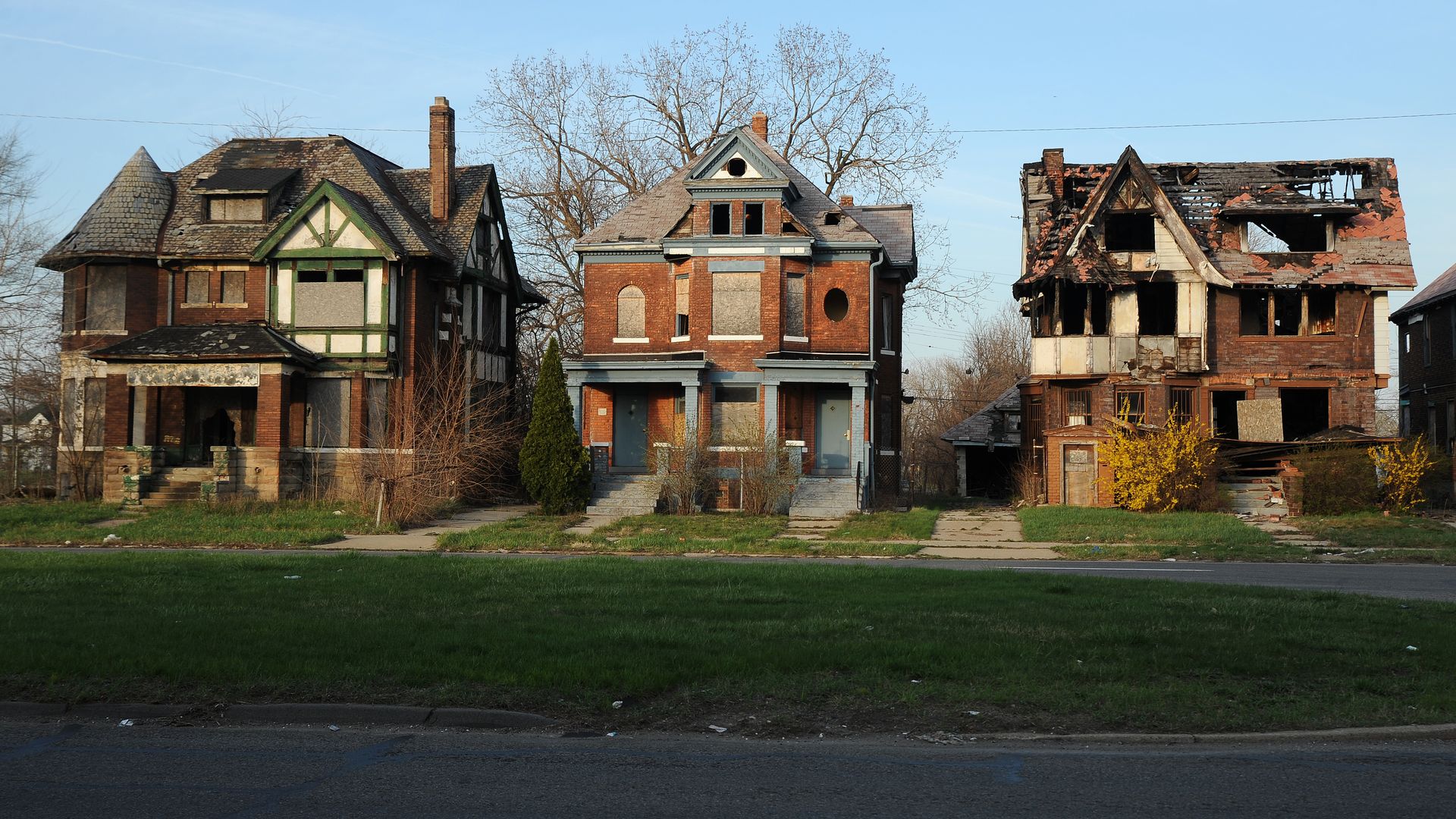 The outcry over affordable housing shortages in America's fastest-growing cities masks an equally devastating problem: persistently high rates of vacant and blighted housing in cities of all sizes.
Why it matters: Vacant housing spiked across the country after the foreclosure crisis of the late 2000s. While things have improved, vacancy rates are still far higher than they were before 2005, according to a 2018 report from the Lincoln Institute of Land Policy.
In many postindustrial cities, vacancies are still at "epidemic levels," per the report.
It's not just an urban problem; rural areas and small towns can have a vacancy rate nearly twice as high as major metro areas.
Abandoned properties are expensive to police, drag down the value of surrounding properties and reduce tax revenues.
Driving the news: Nearly 2 dozen city leaders, as part of the National League of Cities Housing Task Force, released a report this week concluding that blighted properties are one of the biggest challenges for housing in American cities — but one not often addressed by typical efforts to boost economic growth.
What's happening: Hard-hit legacy cities are dealing with some degree of "hypervacancy."
When vacancies rise above about 20% of a community's total properties, the number of vacant buildings may grow indefinitely and the market stops functioning, according to Alan Mallach of the Center for Community Progress and author of the 2018 report.
"These cities are realizing that you can't simply assume that the private market is going to come along and slurp up these properties and turn them into good, productive uses," Mallach told Axios.
Local governments have found creative strategies for incentivizing developers to come in or to turn lots into community parks or gardens.
Gary, Indiana, has the highest vacancy rate of single-family housing in the country.
Working with local universities and nonprofits, the city launched the Gary Counts initiative to take inventory, eventually identifying more than 25,000 vacant lots and nearly 7,000 vacant buildings.
But tearing the structure down is just the start, as vacant lots have a way of destabilizing neighborhoods. "There's often still a cloud hanging over the land," said Mayor Karen Freeman-Wilson.
In Macon, Georgia, the Mill Hill neighborhood flatlined when the mill closed and more than half of the homes sat empty.
The local urban development authority and arts alliance are revitalizing the neighborhood as an arts district and have turned vacant lots into a linear park spanning four blocks.
Baltimore stimulated its own market by providing a steady pipeline of neglected properties to developers through regular auctions.
Since 2010, the "Vacants to Value" program has put 4,200 vacant buildings back into use.
Philadelphia, tired of ugly abandoned lots that attract trash and crime, entered a "LandCare" program with the Pennsylvania Horticultural Society to "green" vacant lots.
It costs about $1,500 per lot to put down sod, plant a few trees and put up a simple fence, and "totally changes the whole feeling of a neighborhood," Mallach said.
The bottom line: In thriving cities, abandoned structures are quickly snapped up by investors looking to turn old warehouses into hip lofts.
But developers aren't knocking down the doors in distressed Rust Belt cities and small towns — the very places that can least afford to fix the problem.
Go deeper: Read the full story here.
2. The new cities to watch
The triumph of rich cities may hog the demographic headlines, but midsize cities' turnaround struggles under the shadow of automation will shape the urban future in the U.S., according to the author of a new McKinsey Global Institute report.
Why it matters: While 2 dozen high-performing cities are poised to pull further ahead of the rest of America, the cities to watch are those in between the mega-cities and the low-growth rural areas — the places McKinsey calls "niche cities" and the "mixed middle," according to report author Susan Lund.
Niche cities have found success by leveraging unique features or locations.
Small powerhouses: Reno has taken advantage of its close proximity to Silicon Valley to lure workers trying to get away from the high cost of living there. Google, Tesla, Amazon, Apple and Microsoft have opened operations there. These powerhouses have the fastest economic growth rates of all the segments.
Silver cities: Aging Americans are flocking to towns designed for retirees — many in sunny climates, like The Villages in Florida.
College towns: Major research universities dominate the economy in some smaller towns that offer low cost of living.
The "mixed middle" is home to about a quarter of the U.S. population, and these cities' economic fates could go either way depending on how proactive their strategies are.
Stable cities: Places like Columbus, Cincinnati and St. Louis have steady economies but low net migration rates.
Independent economies: These cities are reliant on unique industries, like tourism or historical attractions.
America's makers: This includes legacy manufacturing hubs devastated by the first wave of automation that are trying to leverage expertise for a high-tech economy — cities like Akron, Ohio, which declined when tire manufacturers like Goodyear left town and has since developed a new manufacturing business in plastics and polymers.
What to watch: While some of these middle cities have upward momentum, others are at risk of teetering into decline. The most successful strategies will build on existing strengths.
"This is not inexorable. Decisions made by business leaders, local governments, universities and community colleges can create a strategy for local economies and turn this around."
— Susan Lund, McKinsey Global Institute
Go deeper: Read the full story here.
3. Poll: Consumers OK with smart cities, but want control over data
Most people say they're comfortable with the growing hyper-connectedness of their homes and cities, according to an Axios-SurveyMonkey poll.
Yes, but: Even greater majorities want to have control over how much of their data is collected when they're out in public.
More than 8 in 10 people say it's important to control the amount of location, shopping and transportation data that is collected about them.
Safeguarding location data is slightly more important than shopping or transportation data, the poll found.
What's happening: A few cities — New York, Seattle and Oakland — are crafting their own privacy policies.
"We need to build public trust in how the city handles data and technology — especially because we want to handle more data and technology," Kevin Martin, Portland's smart cities manager, told Axios' Kaveh Waddell.
4. The epicenter of Amazon's Virginia housing crunch
Amazon HQ2 in Arlington, Virginia, is just getting started — with a smattering of employees and a new campus construction — but the surrounding housing market is already experiencing a boom in anticipation of the new demand, Axios' Erica Pandey reports.
Between the lines: As housing prices climb and inventory drops, experts predict lower-income residents will be priced out of their neighborhoods, just as they were in Seattle. In Virginia, one of the most vulnerable pockets is the Latinx community in Arlandria — just 2 miles from HQ2.
Why it matters: There are plans to add affordable housing units in northern Virginia, but those homes will be priced for households earning around 60% of the median income. That would leave out almost all Latinx families in Arlandria, researchers wrote.
In a new report by Tenants and Workers United and George Washington University, provided first to Axios, researchers surveyed a sample of 285 Arlandria families living among the city's 3,000 moderately priced apartments.
While homeowners in Arlandria tend to be white, tenants are overwhelmingly Latinx and lower income — and many have been living in the city for 2 or more decades.
Of the households surveyed, 35% earned less than $28,000 per year. That's less that 25% of the Washington metro area's median household income of $117,200.
Around 95% of households earned less than 40% of the area median income, researchers found.
What's next: Amazon has said it is working with local and state officials to address its housing impact. The company has donated $3 million to build affordable housing in the area around HQ2.
5. Urban files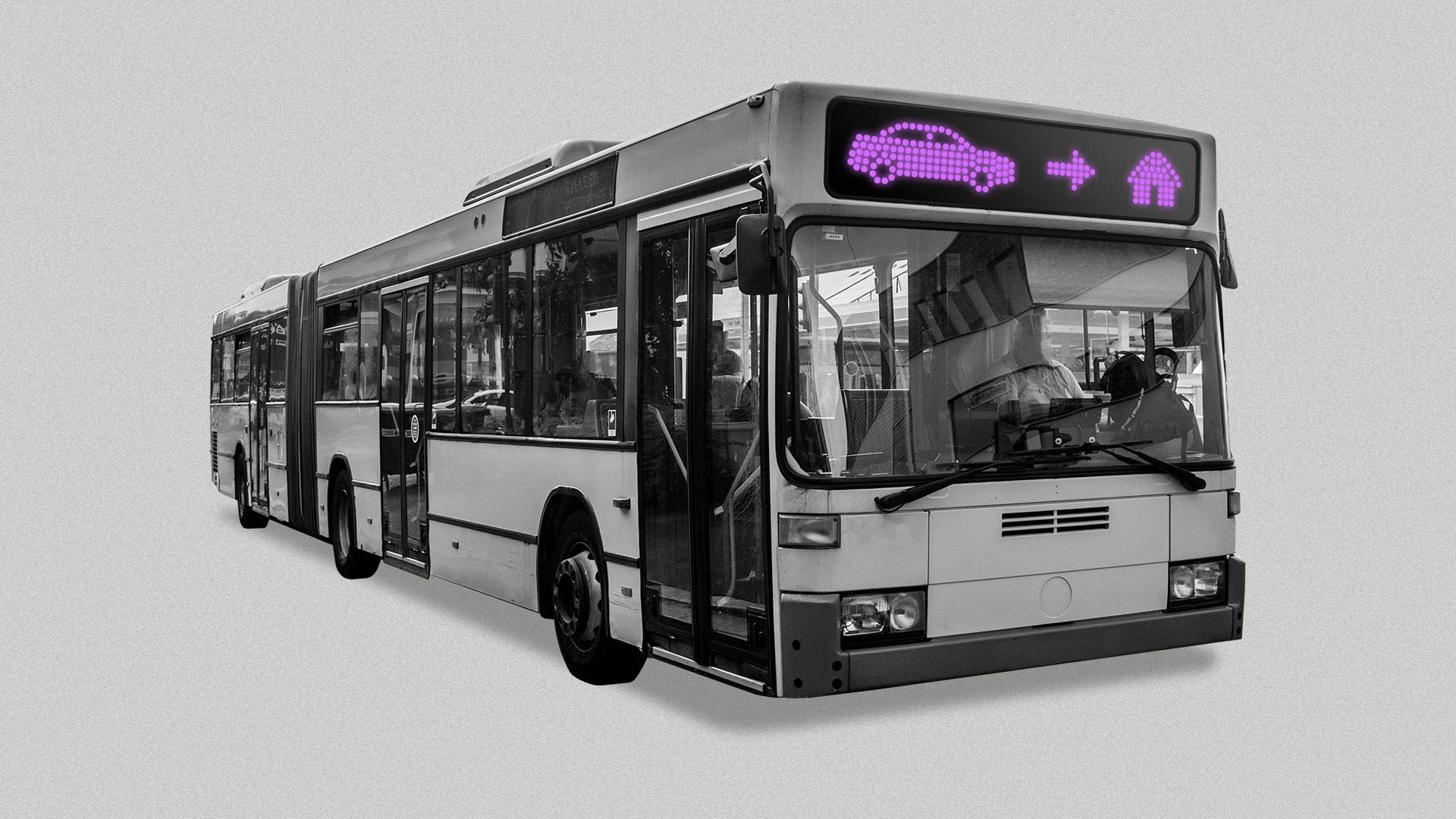 The hidden winners in neighborhood gentrification (Kriston Capps — CityLab)
I'm an engineer, and I'm not buying into "smart cities" (Shoshanna Saxe — NY Times)
Uber, Lyft ridership declines in NYC after fares rise (Shelly Hagan, Marie Patino — Bloomberg)
Space startup aims to beam internet service straight to rural residents' cellphones (Axios)
Millennials are relandscaping the housing market (Marisa Fernandez — Axios)
6. 1 🌎 thing: A warmer, drier world
In 30 years, Washington, D.C.'s climate will be more like Nashville's is today, but with greater temperature swings. New York's will be more like Virginia Beach. Seattle's climate will resemble San Francisco, and London will feel more like Barcelona.
Driving the news: In a study of 520 major cities published in PLOS One, researchers found 77% of global cities will go through drastic climate change by 2050, "even under an optimistic climate scenario."
22% of cities will experience climate conditions not currently experienced by any major cities, as northern cities shift to warmer conditions and cities in the tropics become drier.
In general, Northern Hemisphere cities will have climates like cities more than 620 miles to their south have today, Tom Crowther, a researcher at ETH Zurich, told National Geographic. (It's a sobering, important read.)
Go deeper: What your city's climate will be in 2080
Thanks for reading! See you next week.